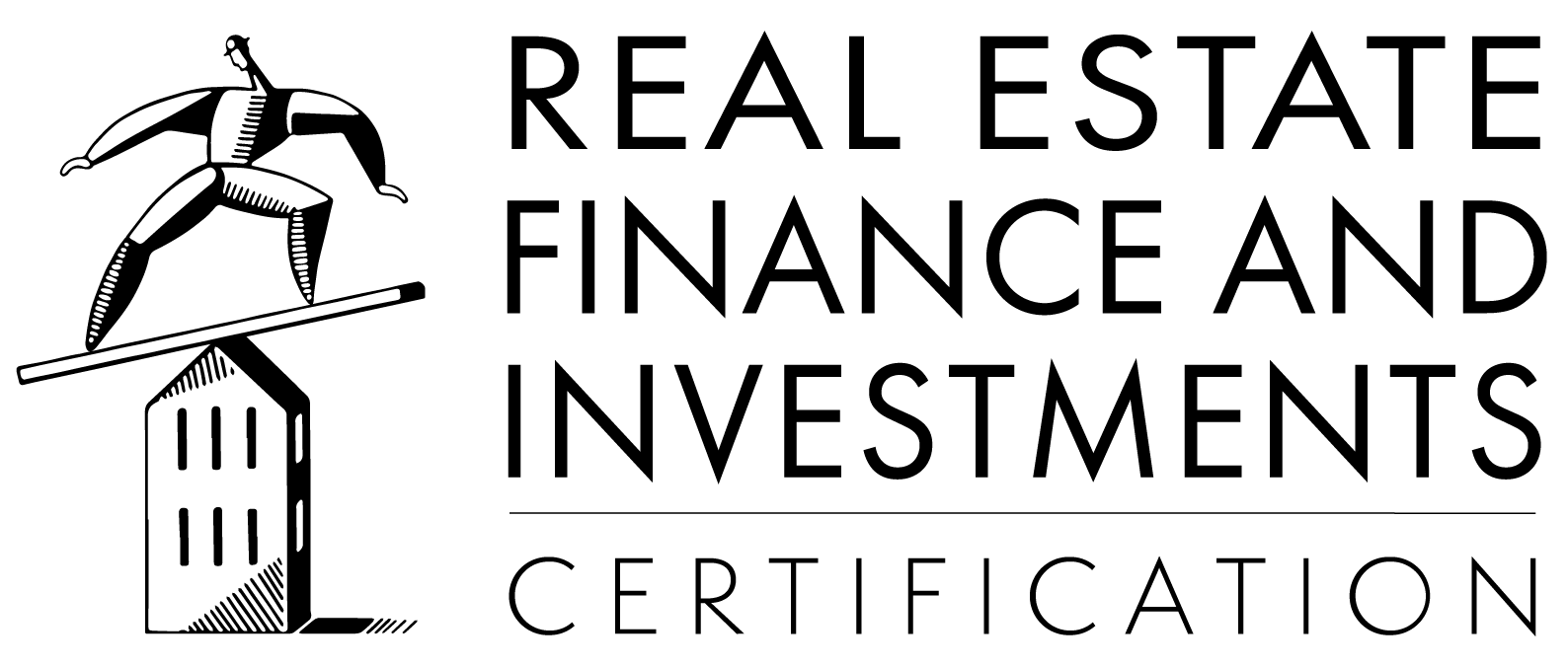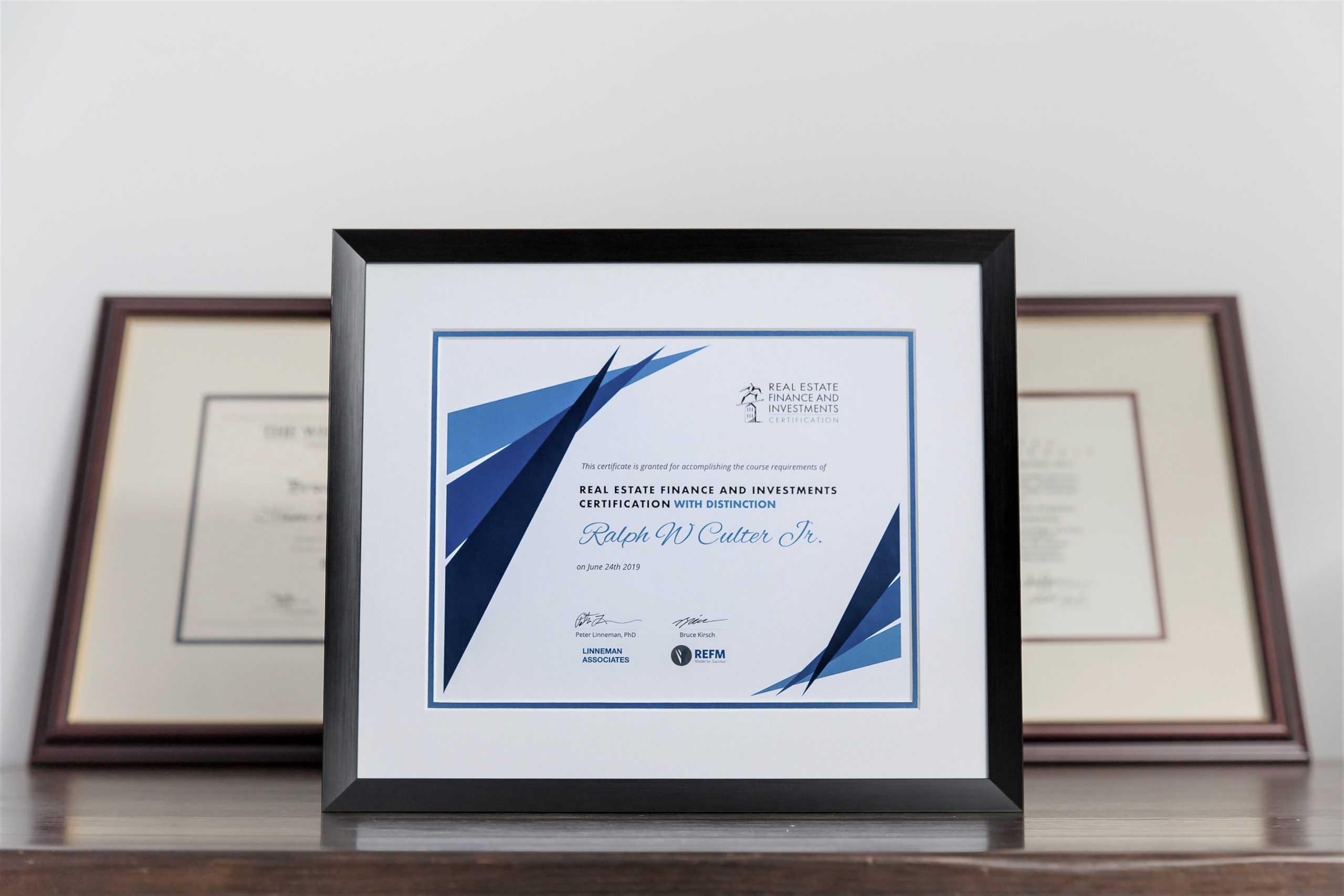 The individuals listed below have prepared for and passed the REFAI Certification course.  Passing requires a score of 70% or better, and passing With Distinction requires a score of 85% or better.
Bruce Kirsch, Program Administrator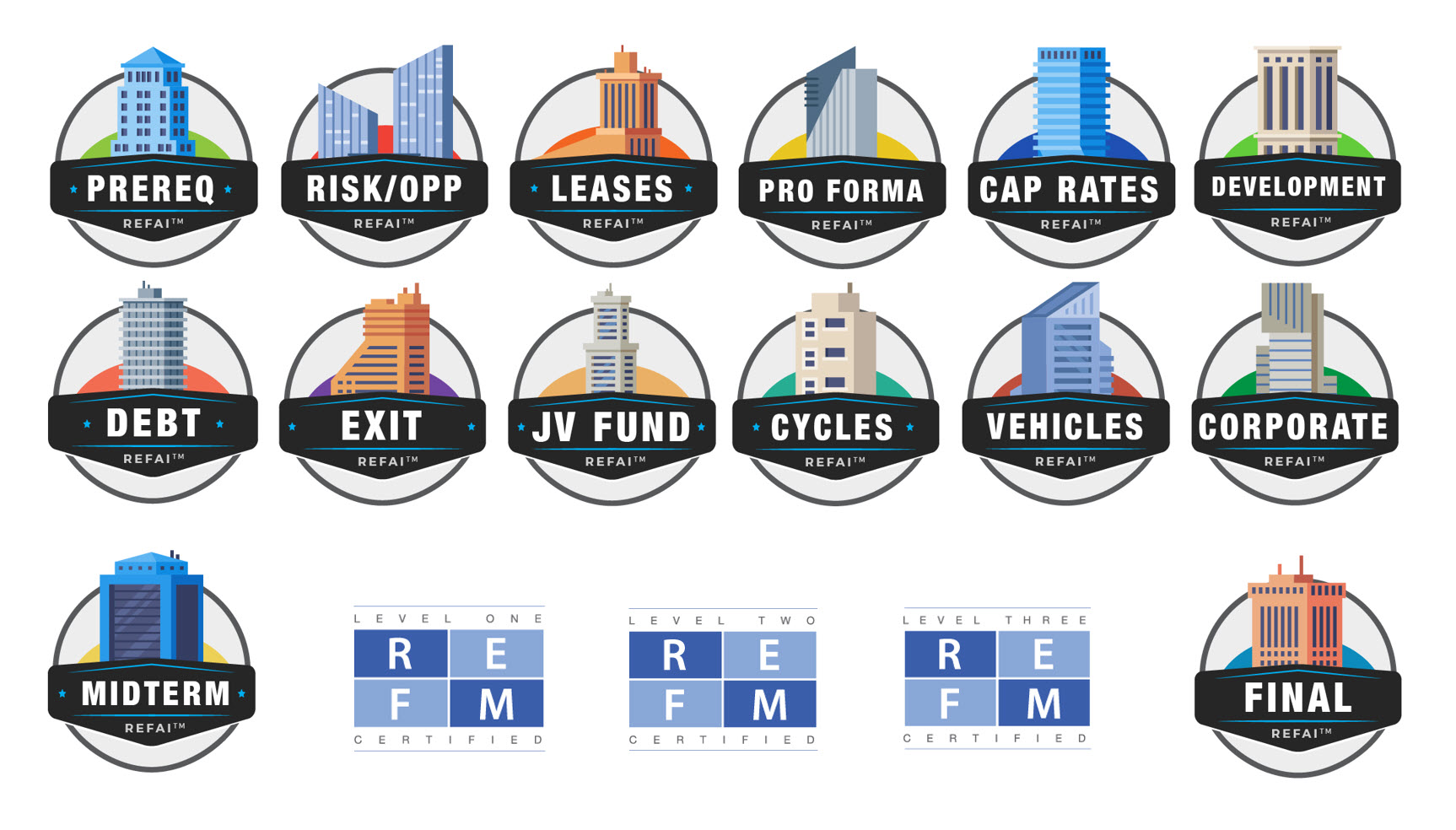 Note to Employers:  This list is updated as tests are completed (i.e., in real time).  Passing REFAI also includes passing all three Levels of REFM's Certification Program In Excel For Real Estate. The full list of Certification Holders for that program can be found here.
Note to Certification Holders:  REFAI Certification can be listed on your resume and LinkedIn profile etc. in the following way — REFAI Certification (With Distinction, if applicable)
You can follow follow these instructions to put the Certification on your LinkedIn profile.  Select either "Linneman Associates" or "Real Estate Financial Modeling" as the Issuing Organization.
Holders of REFAI Certification
The First 100
Madison Whalen, With Distinction – 12/26/2019
Christopher Holder, With Distinction – 1/1/2020
Roberto Gallegos – 2/20/2020
Alejandro Tellez Vazquez, With Distinction – 4/17/2020
Joe Scheck, With Distinction – 4/27/2020
Chris Comet – 5/4/2020
Connor Nolan, With Distinction – 5/4/2020
Nick Catalano, With Distinction – 5/6/2020
Alvaro Carrillo-Sanchez – 5/6/2020
Shruti Mehta, With Distinction – 5/11/2020
Christian Jones, With Distinction – 5/14/2020
Tracy Huang, With Distinction – 5/17/2020
Joshua Kim, With Distinction – 5/25/2020
Adam Hurd, With Distinction – 6/1/2020
Patrick Watkins, With Distinction – 6/3/2020
Andrew Hayward, With Distinction – 6/8/2020
Christopher Cortes, With Distinction – 6/18/2020
Dan Litt, With Distinction – 6/19/2020
Huriyet Anaz – 6/20/2020
Emanuele Mortara, With Distinction – 6/21/2020
Alejandro Banuelos – 6/25/2020
Julian Oquendo, With Distinction – 6/30/2020
Andrew Wright, With Distinction – 7/2/2020
Brooks Arundel, With Distinction – 7/6/2020
Joseph Addeo – 7/7/2020
Trevor White, With Distinction – 7/9/2020
Hunter Douglas, With Distinction – 7/15/2020
Daniel Smith, With Distinction – 7/19/2020
Joe Duggan, With Distinction – 7/23/2020
Daniel Ciapka – 7/26/2020
Cornell Dayne, With Distinction – 7/26/2020
Luke Bingaman – 7/27/2020
Austin Fields, With Distinction – 8/2/2020
Michael Zhou, With Distinction – 8/2/2020
Sam Byczek, With Distinction – 8/3/2020
Jacqueline Yackow – 8/3/2020
Kevin Ruiz-Jimenez, With Distinction – 8/4/2020
Nolan Slovinsky – 8/5/2020
Alec Deane – 8/11/2020
Kyle Stoker, With Distinction – 8/11/2020
Jack Reddeck, With Distinction – 8/11/2020
Tyler Ramatowski, With Distinction – 8/16/2020
Ryan Tice – 8/21/2020
Brian Dentry, With Distinction – 8/24/2020
Benyamin Shaker – 8/28/2020
John Mclaughlin, With Distinction – 9/1/2020
Mandeep Badesh, With Distinction – 9/2/2020
Caleb Billingsley – 9/2/2020
Dylan Dimarchi, With Distinction – 9/2/2020
Zachary Bertucci – 9/8/2020
Michael Shudoma – 9/9/2020
Gary Li, With Distinction – 9/9/2020
Francisco Flores, With Distinction – 9/10/2020
Jason Freedland, With Distinction – 9/16/2020
Jenna Rediker, With Distinction – 9/21/2020
David Sargent – 9/26/2020
Christopher Rawlings – 9/26/2020
Warren Crummett – 10/2/2020
Manuel Del Campo, With Distinction – 10/12/2020
Parker Dietz, With Distinction – 10/16/2020
Landon Wood – 10/19/2020
Marcus Minami – 10/23/2020
Jonathan Ellis, With Distinction – 10/28/2020
Grant Foster, With Distinction – 10/28/2020
Mike Hayes, With Distinction – 10/28/2020
Yilin Wang – 11/5/2020
Matthew L. O'sullivan, With Distinction – 11/15/2020
Tyler Rix – 11/19/2020
George De Rossi, With Distinction – 11/23/2020
Dylan Katz, With Distinction – 11/24/2020
Caleb Augustyn – 11/28/2020
Christopher Elder – 12/3/2020
Jacob Swartz – 12/8/2020
Alex Guindon, With Distinction – 12/14/2020
Nolan Schmitz, With Distinction – 12/16/2020
Daniel Sarman, With Distinction – 12/16/2020
Zachary Brown, With Distinction – 12/17/2020
Scott Tully, With Distinction – 12/18/2020
Jack Gottlieb, With Distinction – 12/25/2020
Aaron Farzan, With Distinction – 12/28/2020
Benjamín Dueñas, With Distinction – 12/30/2020
Will Long, With Distinction – 12/30/2020
Kevin Garden, With Distinction – 1/1/2021
Tommy Romano, With Distinction – 1/4/2021
Tucker Raney – 1/4/2021
William Knight – 1/4/2021
Sebastian Corte – 1/6/2021
Mercy Angaine – 1/8/2021
Octavio Rueda, With Distinction – 1/11/2021
Padraic Walsh, With Distinction – 1/28/2021
Troy Trecroce, With Distinction – 1/30/2021
Nicholas Harris, With Distinction – 2/1/2021
Patrick Ryan, With Distinction – 2/1/2021
Ryan Henkels, With Distinction – 2/5/2021
Gina Shelton – 2/8/2021
Terry Fields, With Distinction – 2/9/2021
David Ballman, With Distinction – 2/13/2021
Taisiia Tsvilyniuk, With Distinction – 2/16/2021
James Williams, With Distinction – 3/1/2021