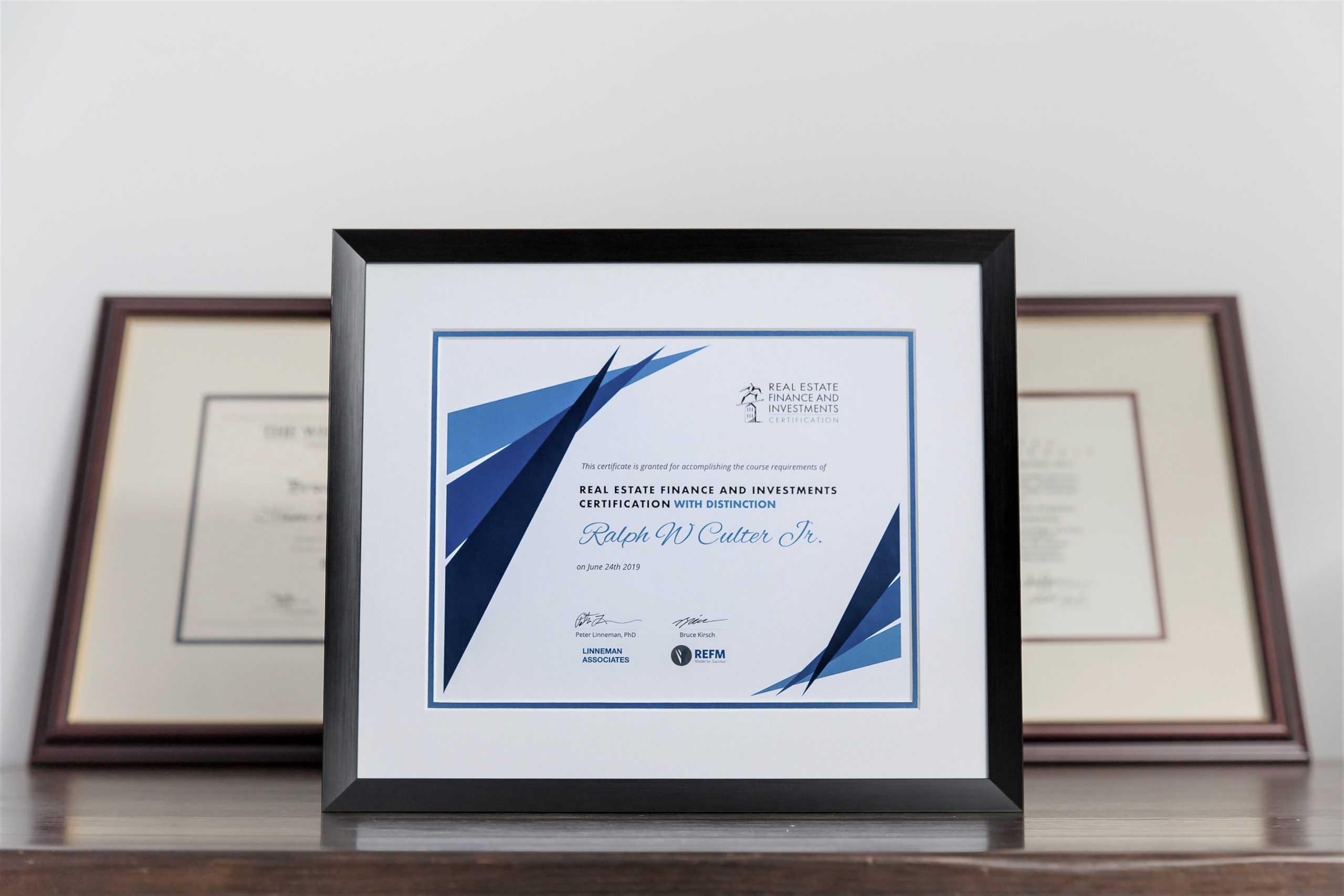 The individuals listed below have prepared for and passed the REFAI® Certification course.  Passing requires a score of 70% or better, and passing With Distinction requires a score of 85% or better.
Bruce Kirsch, Program Administrator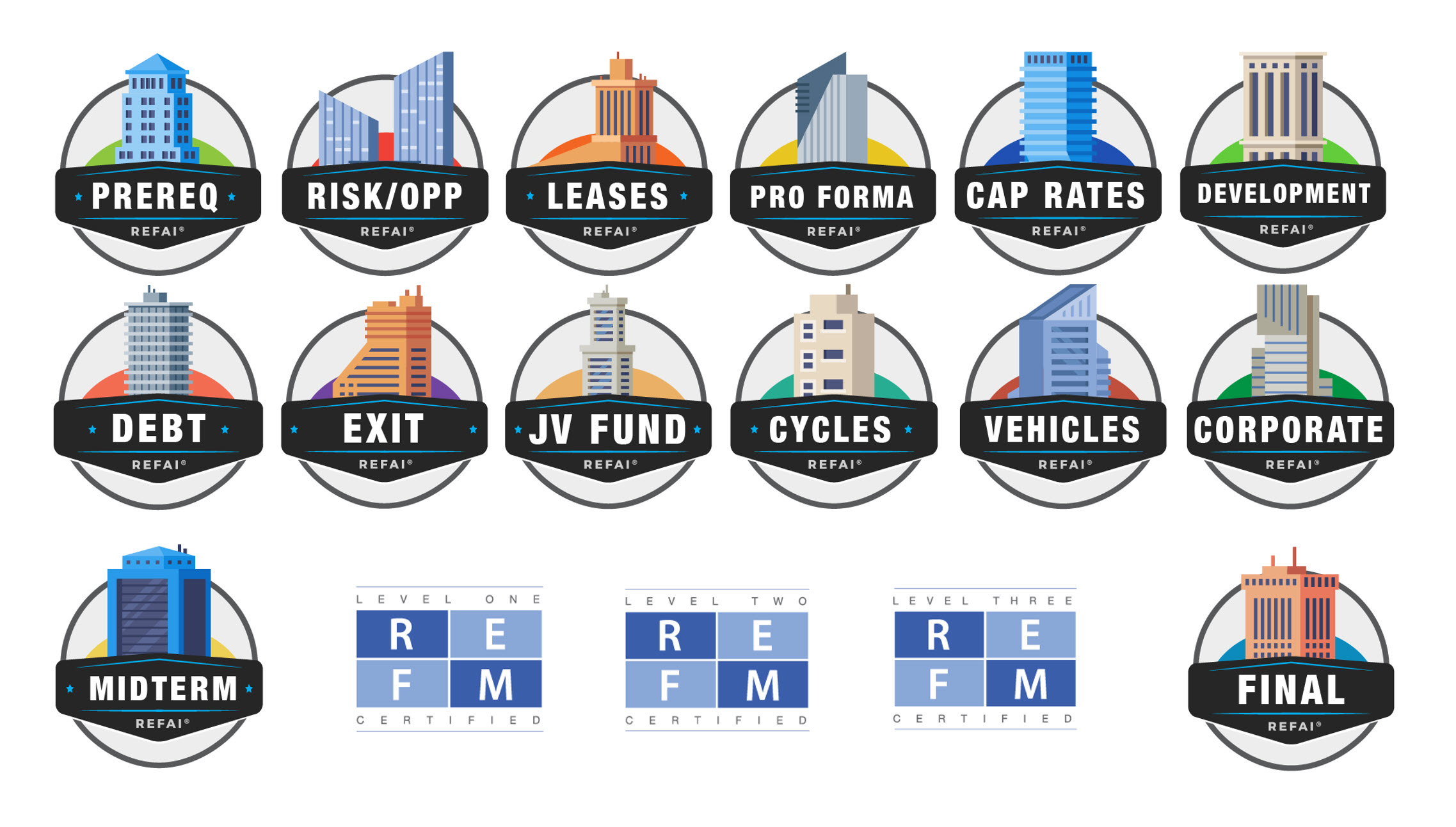 Note to Employers: Earning REFAI Certification also includes earning all three Levels of REFM's Certification Program In Excel For Real Estate. The full list of Certification Holders for that program can be found here.
Note to Certification Holders:  REFAI Certification can be listed on your resume and LinkedIn profile etc. in the following way — REFAI Certification (With Distinction, if applicable)
You can follow follow these instructions to put the Certification on your LinkedIn profile.  Select either "Linneman Associates" or "Real Estate Financial Modeling" as the Issuing Organization.
You can include the following (or a variation of it) in your Education block of your resume:
REFAI® CERTIFICATION(, With Distinction [if applicable])
Committed 150 hours to complete a self-paced curriculum on real estate finance and investments and Excel-based financial modeling designed by the founding chair of The Wharton School's real estate department, Dr. Peter Linneman, and REFM founder Bruce Kirsch. Independently read textbook, consumed video and audio media, and completed more than 500 exam questions.
Holders of REFAI Certification
The First 100
Madison Whalen, With Distinction – 12/26/2019
Christopher Holder, With Distinction – 1/1/2020
Roberto Gallegos – 2/20/2020
Alejandro Tellez Vazquez, With Distinction – 4/17/2020
Joe Scheck, With Distinction – 4/27/2020
Chris Comet – 5/4/2020
Connor Nolan, With Distinction – 5/4/2020
Nick Catalano, With Distinction – 5/6/2020
Alvaro Carrillo-Sanchez – 5/6/2020
Shruti Mehta, With Distinction – 5/11/2020
Christian Jones, With Distinction – 5/14/2020
Tracy Huang, With Distinction – 5/17/2020
Joshua Kim, With Distinction – 5/25/2020
Adam Hurd, With Distinction – 6/1/2020
Patrick Watkins, With Distinction – 6/3/2020
Andrew Hayward, With Distinction – 6/8/2020
Christopher Cortes, With Distinction – 6/18/2020
Dan Litt, With Distinction – 6/19/2020
Huriyet Anaz – 6/20/2020
Emanuele Mortara, With Distinction – 6/21/2020
Alejandro Banuelos – 6/25/2020
Julian Oquendo, With Distinction – 6/30/2020
Andrew Wright, With Distinction – 7/2/2020
Brooks Arundel, With Distinction – 7/6/2020
Joseph Addeo – 7/7/2020
Trevor White, With Distinction – 7/9/2020
Hunter Douglas, With Distinction – 7/15/2020
Daniel Smith, With Distinction – 7/19/2020
Joe Duggan, With Distinction – 7/23/2020
Daniel Ciapka – 7/26/2020
Cornell Dayne, With Distinction – 7/26/2020
Luke Bingaman – 7/27/2020
Austin Fields, With Distinction – 8/2/2020
Michael Zhou, With Distinction – 8/2/2020
Sam Byczek, With Distinction – 8/3/2020
Jacqueline Yackow – 8/3/2020
Kevin Ruiz-Jimenez, With Distinction – 8/4/2020
Nolan Slovinsky – 8/5/2020
Alec Deane – 8/11/2020
Kyle Stoker, With Distinction – 8/11/2020
Jack Reddeck, With Distinction – 8/11/2020
Tyler Ramatowski, With Distinction – 8/16/2020
Ryan Tice – 8/21/2020
Brian Dentry, With Distinction – 8/24/2020
Benyamin Shaker – 8/28/2020
John Mclaughlin, With Distinction – 9/1/2020
Mandeep Badesh, With Distinction – 9/2/2020
Caleb Billingsley – 9/2/2020
Dylan Dimarchi, With Distinction – 9/2/2020
Zachary Bertucci – 9/8/2020
Michael Shudoma – 9/9/2020
Gary Li, With Distinction – 9/9/2020
Francisco Flores, With Distinction – 9/10/2020
Jason Freedland, With Distinction – 9/16/2020
Jenna Rediker, With Distinction – 9/21/2020
David Sargent – 9/26/2020
Christopher Rawlings – 9/26/2020
Warren Crummett – 10/2/2020
Manuel Del Campo, With Distinction – 10/12/2020
Parker Dietz, With Distinction – 10/16/2020
Landon Wood – 10/19/2020
Marcus Minami – 10/23/2020
Jonathan Ellis, With Distinction – 10/28/2020
Grant Foster, With Distinction – 10/28/2020
Mike Hayes, With Distinction – 10/28/2020
Yilin Wang – 11/5/2020
Matthew L. O'sullivan, With Distinction – 11/15/2020
Tyler Rix – 11/19/2020
George De Rossi, With Distinction – 11/23/2020
Dylan Katz, With Distinction – 11/24/2020
Caleb Augustyn – 11/28/2020
Christopher Elder – 12/3/2020
Jacob Swartz – 12/8/2020
Alex Guindon, With Distinction – 12/14/2020
Nolan Schmitz, With Distinction – 12/16/2020
Daniel Sarman, With Distinction – 12/16/2020
Zachary Brown, With Distinction – 12/17/2020
Scott Tully, With Distinction – 12/18/2020
Jack Gottlieb, With Distinction – 12/25/2020
Aaron Farzan, With Distinction – 12/28/2020
Benjamín Dueñas, With Distinction – 12/30/2020
Will Long, With Distinction – 12/30/2020
Kevin Garden, With Distinction – 1/1/2021
Tommy Romano, With Distinction – 1/4/2021
Tucker Raney – 1/4/2021
William Knight – 1/4/2021
Sebastian Corte – 1/6/2021
Mercy Angaine – 1/8/2021
Octavio Rueda, With Distinction – 1/11/2021
Padraic Walsh, With Distinction – 1/28/2021
Troy Trecroce, With Distinction – 1/30/2021
Nicholas Harris, With Distinction – 2/1/2021
Patrick Ryan, With Distinction – 2/1/2021
Ryan Henkels, With Distinction – 2/5/2021
Gina Shelton – 2/8/2021
Terry Fields, With Distinction – 2/9/2021
David Ballman, With Distinction – 2/13/2021
Taisiia Tsvilyniuk, With Distinction – 2/16/2021
James Williams, With Distinction – 3/1/2021
Talisha Rice - 3/12/2021
Matthew Vincent - 3/14/2021
Liheng Fan - 3/23/2021
Mohamad Ramadan - 4/5/2021
Will Davis - 4/12/2021
Travis Winston - 4/19/2021
Jason Moses - 4/30/2021
Connor Mcadams - 5/14/2021
Sameir Madden - 5/17/2021
Matt Stringham - 5/25/2021
David Gibbs - 5/27/2021
Cole Charbonnier - 6/6/2021
Andy Yang - 6/22/2021
Kurt Steinke - 6/23/2021
Andrew Jin - 6/26/2021
James Swartz - 7/11/2021
Charlie Jacob - 7/12/2021
Chalin Fairly - 7/16/2021
Steven Morrison - 7/20/2021
Kristen Gao - 8/16/2021
Peter Ballantyne-Barrell - 8/22/2021
Aaron Rose - 8/23/2021
Robert Cuthbertson - 8/30/2021
Eduardo Rincón Gallardo Maldonado - 9/3/2021
Arturo Salazar - 9/14/2021
Skylar Staib - 9/15/2021
Haonan Liu - 9/16/2021
William Clark - 9/21/2021
Eugene Soto-Beregovoy - 9/21/2021
Ogden Leyens - 9/30/2021
Cole Barnard - 10/5/2021
Nicholas Martucci - 10/5/2021
Wen-Hao Chin - 10/9/2021
Christian Payne - 10/18/2021
Jeff Zenger - 11/5/2021
Emrose Bhalesha - 11/6/2021
Michael Madden - 11/18/2021
Andrew Chan - 11/23/2021
Jack Reddeck - 11/30/2021
Grant Link - 12/7/2021
Thapelo Tyson Mthembi - 12/20/2021
Matthew Kelling - 12/30/2021
Joaquín Márquez - 12/31/2021
Praveen Akula - 1/3/2022
Allison Werner - 1/7/2022
Max-Ulrich Nickel - 1/10/2022
David Carroll - 1/13/2022
Avery Rustad - 1/17/2022
Spencer Kuhlman - 1/17/2022
Elizabeth Tillman - 1/18/2022
Richard Hacking - 1/22/2022
Matthew Brown - 1/25/2022
Daniel Smicka - 1/27/2022
Milton Baxter - 1/30/2022
Alexander Baker - 1/30/2022
Locke Williamson - 1/30/2022
Jacky Cheng - 1/30/2022
Jaime Uota - 1/31/2022
Cooper Mccarthy - 2/15/2022
Chris Langley - 2/18/2022
Charley Gates - 2/19/2022
Imran Anwar - 2/22/2022
Julian Lombard - 2/23/2022
Robert Fox - 2/24/2022
Joel Dayton - 3/5/2022
Trevor Young - 3/12/2022
Juan Diaz - 3/12/2022
Cyrus Johnson - 3/14/2022
Michael Greendyk - 3/17/2022
Megan Milburn - 3/18/2022
Vanessa Whittington - 3/23/2022
Abraham Chapa - 4/6/2022
Larry Buckner - 4/7/2022
Noah Schott - 4/11/2022
Braxton Barker - 4/14/2022
Stephanie Nihei - 4/21/2022
Omar Metwally - 4/23/2022
Conoly Koontz - 4/24/2022
Luke Schmit - 4/29/2022
Kason Curtis - 5/4/2022
Michael Glaspie - 5/6/2022
Jeff Storer - 5/10/2022
Bruce Park - 5/16/2022
Kyle Cunningham - 5/18/2022
Francisco Hernandez Ramos - 5/19/2022
Chen Li, With Distinction - 5/25/2022
Nathan Ward - 5/26/2022
Keith Gabrielson - 6/3/2022
Givi Karbelashvili, With Distinction - 6/8/2022
Matteo Coppola - 6/9/2022
Mitchell Pitts - 6/24/2022
Joe Alessandro - 6/27/2022
James Wood - 6/28/2022
Andrew Dittrich - 7/11/2022
John Grib - 7/12/2022
Stone Barcomb - 7/15/2022
Xiaoyu Wang - 7/23/2022
Conor Neyer - 7/27/2022
Su Jung Choi - 7/29/2022
Will Miner - 8/7/2022
Mack Weems - 8/11/2022
Dominic Guan - 8/11/2022
Corey Hancock - 8/13/2022
Brett Barr - 8/16/2022
Jacob Altshuler - 8/16/2022
Elijah Gilbert - 8/25/2022
Alice Obas - 8/31/2022
Thomas Broderick - 9/7/2022
Jack Mclean - 9/16/2022
Artemios Roussos - 9/18/2022
Sophia Palombo - 9/25/2022
Christopher Carver - 10/4/2022
Noah Englestad - 10/7/2022
Tyler Brochstein - 10/8/2022
Cody Johnson - 10/10/2022
Daniel Yanes - 10/18/2022
Khalid Yosufzai - 10/22/2022
Benjamin Garrison Brock Jr - 10/25/2022
William Perry - 11/7/2022
Henry Percy - 11/13/2022
Tristan Harvey - 12/1/2022
Ethan Hunsucker - 12/22/2022
Erik Digirolamo - 12/22/2022
John Wilson - 12/22/2022
Rhett Saltiel - 1/1/2023
Christopher Ruiz - 1/4/2023
Jacob Rodriguez - 1/12/2023
Isaac Benedict - 1/12/2023
Benjamin Fortunato - 1/14/2023
Thomas Sorbara, With Distinction - 1/16/2023
Oscar Castelan - 1/17/2023
Logan Walker - 1/26/2023
Ismael Concepcion - 2/14/2023
Vitaly Polovin - 2/21/2023
Easton Moore - 3/1/2023
Brian Jennett, With Distinction - 3/4/2023
Joseph Alston - 3/10/2023
Chao Ma - 3/16/2023
Rachel Stringfellow - 3/20/2023
Benjamin Vincent - 3/20/2023
Kevin Conde, With Distinction - 3/29/2023
Júlio Villalobos-Torres, With Distinction - 3/30/2023
Max Hermacinski - 4/10/2023
Sean Bailey - 4/10/2023
Samuel Cremieux - 4/30/2023
Christopher Cortes, With Distinction - 5/2/2023
Max Nunan, With Distinction - 5/3/2023
Benjamín Dueñas, With Distinction - 5/4/2023
Jackson Gill - 5/16/2023
Keith Frantz, With Distinction - 5/20/2023
Giuseppe Penna - 5/30/2023
Dion Huey - 6/6/2023
Maryam Alali - 6/8/2023