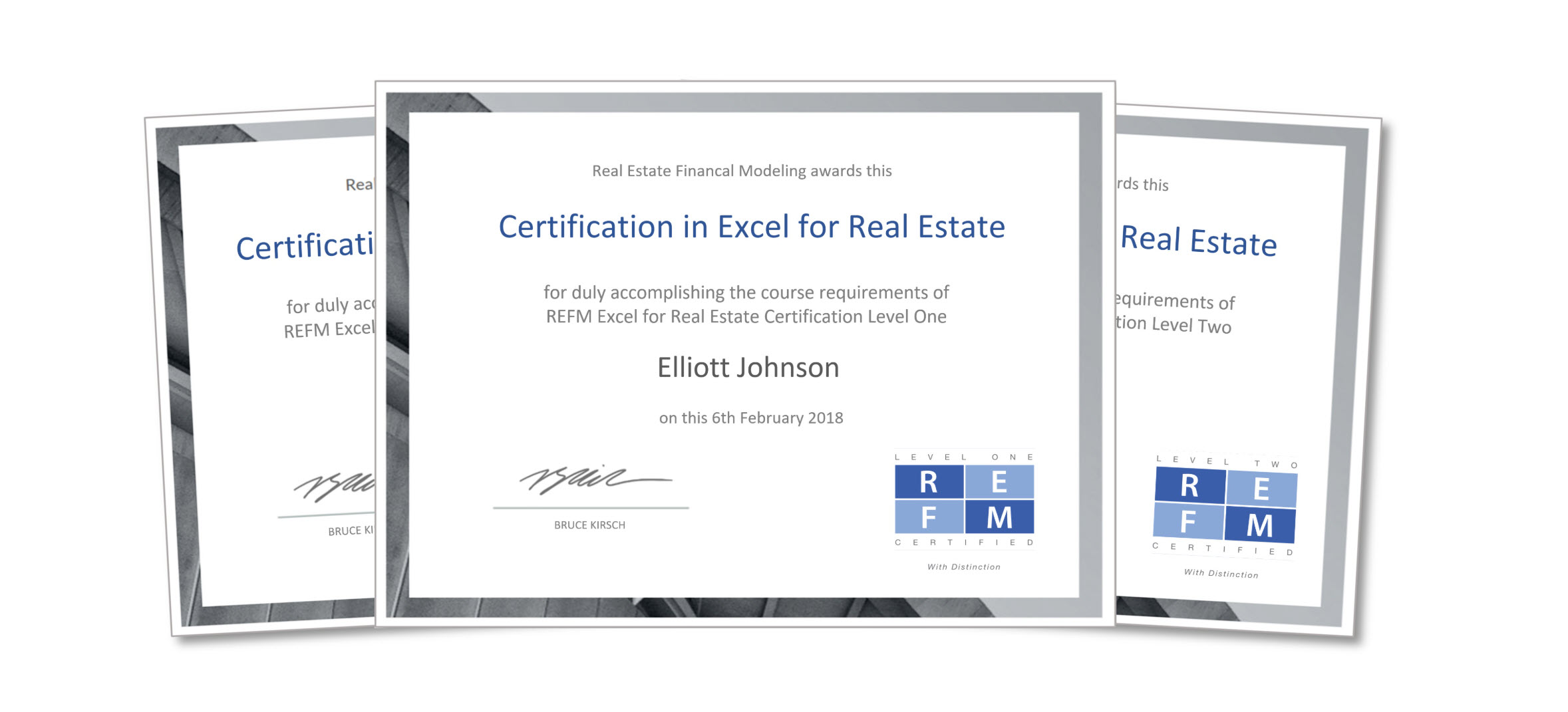 The individuals listed below have prepared for and passed the stated Level of REFM's Certification Program In Excel For Real Estate.  Passing requires a score of 70% or better, and passing With Distinction requires a score of 85% or better.  For more information on the skills and knowledge tested at each Level, please click here.
Bruce Kirsch, Program Administrator
Note to Employers:  You can use Ctrl+F to easily find the name you are seeking.  This list is updated as tests are completed (i.e., in real time).
Note to Certification Holders:  REFM Certification can be listed on your resume and LinkedIn profile etc. in the following way — REFM Certification in Excel for Real Estate – Level(s) 1 (,2, 3 if applicable) (With Distinction, if applicable)
You can follow these instructions to put the Certification on your LinkedIn profile.  You can use the badge images for each level below in your email signature or LinkedIn (right-click on image and Save image as…)

Level 1 Certification Holders
Listed chronologically

Bruce Kirsch, With Distinction – 1/15/11
Bulkeley Banks, With Distinction – 1/20/11
Zachary Wenner, With Distinction – 3/15/11
W. Brett Flanders – 3/21/11
Brian Rand, With Distinction – 3/23/11
Jon Kegerize – 3/24/11
Sean Ziegler – 3/30/11
Michael Augustine – 4/10/11
Scott Furnary – 8/29/11
Matt Hubert, With Distinction – 9/1/11
Shawn Mathew, With Distinction – 9/26/11
Lindsey Ensign – 9/29/11
Andrew Sanders – 1/16/12
Michael Carn – 2/7/12
Thomas Gibson – 6/11/2012
Andy Barnes – 7/12/12
Jean-Paul Irastorza – 7/30/12
Nicholas Platt – 8/13/12
Luke Kline, With Distinction – 8/31/12
Christopher Richards – 9/18/12
Dilshad Abeygunawardana – 9/25/12
Ryan Lowry – 10/12/12
Jaye Patel – 10/14/12
Chad Folse, With Distinction – 10/14/12
Zachary Belair – 10/20/12
Stephanie Cunningham – 11/2/12
Andrei Tarasov, With Distinction – 11/6/12
Christopher Reis – 11/8/12
Eric Salit – 11/25/12
Michael Araujo – 11/26/12
Ryan Williams – 12/9/12
Kristen Joe – 12/10/12
Philip Baron – 12/17/12
Nick Renaud, With Distinction – 1/9/13
Whitson Huffman – 1/20/13
Reid Boggus – 1/26/13
Hua Tang – 1/28/13
John Schoback – 3/24/13
Jackson Brissette – 3/30/13
Richard Lorenzen – 4/11/13
David Dawson – 4/19/13
Victor Amoo – 4/27/13
Ankit Sethi – 6/23/13
Olivia Speck, With Distinction – 6/11/13
Samuel Hollman – 7/8/13
Matthew Klimerman, With Distinction – 7/8/13
Shep Hardison – 7/9/13
Justin Allamano – 7/10/13
Anthony Huerta – 7/13/13
Nicholas Gonzalves – 7/23/13
Jacob Verghese – 7/24/13
Pauline Sim – 7/31/13
Daniel Prendiville – 8/1/13
Ted Lim – 8/2/13
Paul Gherini – 8/7/13
Zachary Hill – 8/15/13
Ashley Cheung – 8/16/13
Matthew Wilson, With Distinction – 8/29/13
Victor Atkins, With Distinction – 9/2/13
Xiaojiong Li – 9/3/13
Shelton Rice – 9/3/13
Greg Dupes – 9/3/13
Mitchell Williams – 9/4/13
Mark Silverman – 9/6/13
Luther Ross – 9/9/13
Mark Palace – 9/11/13
Roshan Verma – 9/11/13
Ross Nossett – 9/21/13
JP Losman, With Distinction – 9/26/13
Veronica Boxley – 9/27/13
Humphrey Piccus – 9/27/13
Dominique Gaspar – 9/29/13
Amit Urban – 10/1/13
Jeremy Rauch – 10/8/13
Jared Riemer – 10/8/13
Andre Mayers – 10/9/13
Patrick Smith, With Distinction – 10/10/13
Charles Carruthers – 10/10/13
Kemal Aysin – 10/11/13
John Sheff – 10/11/13
Gregory Milstein, With Distinction – 10/15/13
Chris Reed, With Distinction – 10/15/13
Adam Dailey – 10/24/13
Nikita Mistri – 10/25/13
Justin Moore – 10/26/13
Huyen Ngo, With Distinction – 10/27/13
Alison Watson – 10/30/13
Azam Firouzi, With Distinction – 11/3/13
Joseph Duffy – 11/6/2013
Brett Matthew Wilburn – 11/8/2013
Jeffrey Fronek, With Distinction – 11/17/2013
Austin Holmes, With Distinction – 11/20/2013
William Justin Adams – 12/3/2013
Oliver Peterson – 12/7/2013
Benjamin Doran – 12/16/2013
James Michalove – 12/17/2013
Kevjorik Jones, With Distinction – 12/21/2013
Jeremy Sloan Reynolds, With Distinction – 12/26/2013
Bruce Doyle, Jr. – 1/2/2014
Matthew Albert, With Distinction – 1/4/2014
Zachary J Greenky – 1/8/2014
Shane Mullin – 1/10/2014
Victor Alfonso, With Distinction – 1/12/2014
Jenghiz von Streng – 1/14/2014
Matthew Shelton Beeson – 1/14/2014
Christian Nogueira – 1/20/2014
William Bettencourt – 1/31/2014
Morgan Pierson – 2/1/2014
Sean P Murphy – 2/2/2014
Jonathan Blank – 2/25/2014
Lori Motooka – 2/25/2014
Benjamin J Murray – 2/27/2014
Bernardo António Freitas da Costa Simões, With Distinction – 3/1/2014
Daniel Meeh – 3/1/2014
Aaron Cook – 3/2/2014
Jared – 3/2/2014
Matthew Kabak – 3/2/2014
Nicholas Kubarych – 3/2/2014
Wendy – 3/2/2014
Jon D Mesa, With Distinction – 3/3/2014
Michael Loc Tran – 3/3/2014
Neil Doshi, With Distinction – 3/3/2014
Yin-Yu Liang – 3/3/2014
Brandon D. Hexsel , With Distinction – 3/8/2014
Ryan Benevides – 3/12/2014
Nicole Simon – 3/25/2014
Marcos Vidal – 4/5/2014
Bryon P Wells, With Distinction – 4/6/2014
John Aspinwall – 4/6/2014
Patrick Brown – 4/7/2014
Lydia Zaleski – 4/8/2014
Steven Samuelson – 4/15/2014
Brett Robert Granum, With Distinction – 4/22/2014
William Tavoulareas – 4/23/2014
Valentin Staller, With Distinction – 5/4/2014
Kristofer Ronning, With Distinction – 5/12/2014
Michael Hunter Webb – 5/15/2014
Wilson Craig – 5/15/2014
Jacob Cohen – 5/18/2014
William David Lawrence Beagles, With Distinction – 5/21/2014
Nason Khomassi – 5/31/2014
Joseph Achenbach – 6/9/2014
Seth Hewitt – 6/10/2014
Trevor Strickland, With Distinction – 6/27/2014
Trevor Cramp – 7/8/2014
Catherine Murtag , With Distinction – 7/11/2014
David Rabin, With Distinction – 7/11/2014
Jason D. Grossman – 7/11/2014
Thomas Underhill, With Distinction – 7/11/2014
Vincent Bohlen, With Distinction – 7/11/2014
Tony Gullo – 7/14/2014
Jonathan Fuller, With Distinction – 7/15/2014
Clayton Charles Hill – 7/26/2014
Eugene Shevaldin, With Distinction – 7/28/2014
Sean Michael O'Donovan – 7/29/2014
Tyler Wood – 7/29/2014
Jack Quaritius, With Distinction – 7/30/2014
Spencer Jarvis – 7/30/2014
Dylan West – 7/31/2014
Denis Gulyarenko, With Distinction – 8/3/2014
Dylan West, With Distinction – 8/4/2014
William McGarry, With Distinction – 8/7/2014
Sean Gulian , With Distinction – 8/9/2014
Eric Tall – 8/10/2014
Meghan Hacas – 8/11/2014
mathias belayneh, With Distinction – 8/15/2014
Kenneth Riley, With Distinction – 8/21/2014
Thomas Threadgill – 8/26/2014
Ian Lesyk, With Distinction – 8/29/2014
Andrew Thomas Carswell – 9/1/2014
Benjamin Doran – 12/17/2013
Kevjorik Jones – 1/3/2014
Zachary J Greenky – 1/8/2014
Lauren Burns – 1/10/2014
Andy Pratt – 1/13/2014
Thomas Klosinski – 1/27/2014
Brad Leader – 2/24/2014
Edward J Allen – 2/28/2014
Omar El Mofty – 3/1/2014
Bradley Williams – 3/3/2014
Jenghiz von Streng – 4/1/2014
Howard Hendler – 4/8/2014
Steven Samuelson – 4/15/2014
William Tavoulareas – 4/23/2014
WEI HSUAN HUANG – 4/27/2014
Katharine D Ragan – 8/3/2014
Thomas Threadgill – 8/27/2014
Julian Addo – 8/28/2014
Alexander Riccio – 9/3/2014
Catherine Saunders – 9/5/2014
Jing Yu, With Distinction – 9/9/2014
John R Sofarelli Jr – 9/10/2014
Thomas R O'Steen – 9/10/2014
Beijia Li – 9/15/2014
Cody Keller – 9/15/2014
Connor Heinton – 9/15/2014
Ismael Yepes – 9/15/2014
Joe Whitebread – 9/15/2014
Seth Mahl – 9/15/2014
Karl Pischke – 9/16/2014
Thomas Allen DiCesare – 9/16/2014
zhonghao wu – 9/16/2014
Cara Newton, With Distinction – 9/17/2014
Cory Yeffet – 9/17/2014
Justin Poisson – 9/17/2014
Kelsey Broadhead – 9/17/2014
Marc Hall – 9/17/2014
Matthew Gourlay – 9/17/2014
Noa Marks – 9/17/2014
Panpan Rao – 9/17/2014
Seun Falade – 9/17/2014
Yifan Yang, With Distinction – 9/17/2014
Brett Clement – 9/18/2014
Candis Pressley – 9/18/2014
James Donald Baker – 9/18/2014
Matthew Douglas Hardy, With Distinction – 9/18/2014
Peter – 9/18/2014
Ye Liu – 9/18/2014
Casey Mog – 9/21/2014
Christopher S. White – 9/25/2014
HAO LI – 9/30/2014
Matt Stewart – 9/30/2014
Ryan Austin Cain – 9/30/2014
Ryan Vinson – 9/30/2014
Justin Sheu – 10/6/2014
Travis Thompson – 10/6/2014
Andrew Thomas Carswell – 10/12/2014
Omid Bensal – 10/16/2014
Michael Vielma – 10/18/2014
Tim Kamas – 10/23/2014
Campbell Estes – 10/25/2014
Michael Nieliwodski – 10/27/2014
Duc Minh Do, With Distinction – 10/31/2014
Ziyin Xie – 11/1/2014
Christopher A. Aiello, With Distinction – 11/2/2014
Caleb Sheldon, With Distinction – 11/3/2014
Jason Eng Ken Yap – 11/9/2014
Matthew Thomson, With Distinction – 11/11/2014
Jason Eng Ken Yap, With Distinction – 11/15/2014
Hoang Chien Cong – 11/24/2014
Thomas Eddleston – 11/24/2014
Ian Bradley, With Distinction – 11/25/2014
Megan Nancy Sessel, With Distinction – 11/25/2014
Jason Archer, With Distinction – 11/29/2014
Benjamin Hale – 11/30/2014
Katherine Moore Hokanson, With Distinction – 11/30/2014
Stuart Carr, With Distinction – 12/1/2014
Christopher Bruner, With Distinction – 12/2/2014
Jonathan Vollinger – 12/2/2014
Michael Begg – 12/2/2014
Reagan Montgomery – 12/2/2014
Sureshkumar G Nair, With Distinction – 12/3/2014
Seokyoung Hong, With Distinction – 12/4/2014
Katherine Moore Hokanson, With Distinction – 12/5/2014
Michael Begg, With Distinction – 12/5/2014
Gabrielle COUZIN – 12/16/2014
Alexander Schapira – 12/17/2014
Michelle Stephanie Katz – 12/17/2014
Clarence E. Wong, With Distinction – 12/22/2014
Luc Dreifuss – 12/23/2014
William Moore – 12/23/2014
Dirk Cahaan – 12/25/2014
Matt Simon – 12/26/2014
Masayo Allen, With Distinction – 12/27/2014
William D'Avella – 12/28/2014
Eric Halpern – 12/29/2014
Mishary Alissa – 12/31/2014
Robert Hamilton Wyatt – 1/1/2015
Matthew Dalton, With Distinction – 1/2/2015
Stefan Steele – 1/3/2015
John Scott – 1/4/2015
Richard Colby Whitehead, With Distinction – 1/6/2015
Robert Shaw, With Distinction – 1/6/2015
Thomas Kochak, With Distinction – 1/6/2015
David Gleitman – 1/7/2015
Maxim Reshulskiy – 1/7/2015
Peter Duan, With Distinction – 1/7/2015
Henry Guy Hopkins IV – 1/8/2015
Justin Temple – 1/13/2015
Leon – 1/14/2015
Ryan Hutchins – 1/16/2015
Austin Dias – 1/22/2015
Brenna Campbell, With Distinction – 1/23/2015
Casey Fashouer – 1/26/2015
Michael Anderson – 1/27/2015
Robert Gettinger – 1/28/2015
Eric Mihalik – 1/29/2015
Richard Schutt – 1/29/2015
Jack Britton – 1/30/2015
Tim Schoenberg – 1/30/2015
Elizabeth Henderson – 1/31/2015
John Bainer – 1/31/2015
Drew Ector – 2/1/2015
James Vu – 2/1/2015
Lexington Henn – 2/2/2015
Elizabeth Ann Fitzgibbons – 2/5/2015
Zachary Britton, With Distinction – 2/5/2015
Gregory Zartarian, With Distinction – 2/6/2015
NIKI TSIVITANOU – 2/8/2015
Andrew Sikiric – 2/8/2015
Cecilia Griffith – 2/9/2015
Andrew Sikiric, With Distinction – 2/9/2015
John William Davis – 2/13/2015
Benoit Rochard – 2/14/2015
Elan Gordon – 2/19/2015
Rex Huddleston – 2/19/2015
Jeff Dayov, With Distinction – 2/20/2015
Adam Elrod – 2/21/2015
Michael Grilli, With Distinction – 2/22/2015
Robert Roth – 2/23/2015
Ron Laventure – 2/24/2015
Jason Cho – 2/25/2015
David Scott – 2/27/2015
Horacio Villarreal – 3/1/2015
Amil K. Gupta – 3/4/2015
Ken Harpster – 3/10/2015
Kevin Kiser – 3/12/2015
John Christensen, With Distinction – 3/13/2015
David Muren, With Distinction – 3/15/2015
George Fraser, With Distinction – 3/16/2015
Tyler S. Arrington – 3/16/2015
Edmund Lord – 3/17/2015
Jessica Ehocrutri, With Distinction – 3/20/2015
Kevin Liu, With Distinction – 3/20/2015
Terry Kipp – 3/21/2015
Thomas Kochak – 3/22/2015
Jorge Daniel Mota – 3/24/2015
Cole Ungar – 3/24/2015
Kyle Barnas, With Distinction – 3/27/2015
Elliott Farmer – 4/1/2015
Andrew L. Gatewood – 4/5/2015
Chad Bonham, With Distinction – 4/8/2015
Charles Penman Fyfe, With Distinction – 4/8/2015
William T. Shiney – 4/10/2015
Fnu Diyan – 4/11/2015
Christopher Thomas – 4/11/2015
Sean Hooton – 4/12/2015
Robin Ahmadi – 4/14/2015
Damian Albrycht, With Distinction – 4/15/2015
Robin Ahmadi – 4/15/2015
Tan Hoang Ho, With Distinction – 4/17/2015
Henry D'Esposito – 4/20/2015
Jeffrey Flynn, With Distinction – 4/24/2015
Jeremy Kubiak, With Distinction – 4/24/2015
Christopher Fletcher, With Distinction – 4/25/2015
Juan F Tellez – 4/28/2015
Kyle McDevitt, With Distinction – 4/28/2015
Nicholas A. Maupin – 4/28/2015
Elizabeth Beliakova, With Distinction – 4/29/2015
Eric Fink, With Distinction – 4/29/2015
Sam Koeppel – 4/30/2015
Derek Hutchison, With Distinction – 5/2/2015
Gisela Prudden, With Distinction – 5/3/2015
Jared Ray – 5/3/2015
Joseph Miller, With Distinction – 5/3/2015
Price Peeler – 5/9/2015
Ashley Mashian, With Distinction – 5/11/2015
Nicholas Leone – 5/13/2015
Geoffrey Palmer, With Distinction – 5/15/2015
Joshua Bush, With Distinction – 5/15/2015
Normann Hauck – 5/18/2015
Christopher Contino, With Distinction – 5/19/2015
Stephan C Gaspar, With Distinction – 5/19/2015
Mark Lewis, With Distinction – 5/20/2015
Roman Blum – 5/21/2015
Chris Dodd, With Distinction – 5/25/2015
Kevin Freels – 5/26/2015
Michael Hall, With Distinction – 5/26/2015
Bradley Eral, With Distinction – 5/27/2015
Chris Dodd, With Distinction – 5/27/2015
Joe Dunne – 5/28/2015
Claire Whitesell – 5/30/2015
Thomas Foley, With Distinction – 6/3/2015
Price Peeler, With Distinction – 6/8/2015
Wilford Wong, With Distinction – 6/9/2015
Nicholas Lawrence – 6/11/2015
Erik Moss, With Distinction – 6/14/2015
Arvo Hartikainen, With Distinction – 6/15/2015
Spencer Todd Anderson, With Distinction – 6/16/2015
Tim Barhite, With Distinction – 6/18/2015
Nicholas Lawrence, With Distinction – 6/21/2015
Michael Ocampo – 6/22/2015
Anthony Meo – 6/22/2015
Brian Murphy – 6/25/2015
Maria Kowalski – 6/26/2015
Eric J Jacobson – 6/28/2015
Dean Vidal, With Distinction – 6/29/2015
Maria Kowalski, With Distinction – 6/29/2015
Angelo Evangelatos, With Distinction – 6/30/2015
Andy Pak Yeung Wai – 7/3/2015
William David Woods – 7/5/2015
Hamilton Cole Wilson – 7/6/2015
Mark G Carney – 7/7/2015
Taylor Briggs Davis, With Distinction – 7/8/2015
Julia Telzak – 7/10/2015
Jack Eidson, With Distinction – 7/10/2015
Rashad Johnson – 7/10/2015
Neel Swami, With Distinction – 7/10/2015
Marcel Garon – 7/10/2015
Ben Spiritos – 7/10/2015
Harrison Gray – 7/10/2015
Nick Melrose – 7/10/2015
Shaireen Karim, With Distinction – 7/10/2015
Aileen Chang, With Distinction – 7/10/2015
Hamilton Cole Wilson, With Distinction – 7/13/2015
Olivier Guerquin, With Distinction – 7/16/2015
Brian Clement, With Distinction – 7/18/2015
Joyce Ma – 7/19/2015
josh strelzik – 7/21/2015
John Szwaronek – 7/23/2015
Keehyun Lee, With Distinction – 7/26/2015
R. George Abood Jr., With Distinction – 7/27/2015
Sik Pun – 7/28/2015
Jonathan McCall – 7/28/2015
Sik Pun, With Distinction – 7/28/2015
Kevin Chandra – 8/2/2015
Jeremy Mandel – 8/2/2015
Connor Bortolazzo – 8/3/2015
Steven Bryan Rojas – 8/3/2015
Alexandre Sediva – 8/3/2015
Steven Bryan Rojas – 8/5/2015
Daniel Marati – 8/6/2015
John Paul Noland – 8/6/2015
Christopher Rubacha – 8/7/2015
Alexander Mollozzi – 8/8/2015
Ksenia Bronnikova, With Distinction – 8/10/2015
Victoria Lash, With Distinction – 8/12/2015
Reginald Holley, With Distinction – 8/13/2015
Kristina Sparrow, With Distinction – 8/18/2015
Brandon Daniels, With Distinction – 8/18/2015
Matthew Whitermore – 8/19/2015
Trevor Arnholt – 8/19/2015
Matthew Whitermore, With Distinction – 8/20/2015
Angel Cuevas – 8/20/2015
Thomas Castelli – 8/22/2015
Monte Lippert, With Distinction – 8/25/2015
Timothy Coy, With Distinction – 8/27/2015
Marcus Oberholzer, With Distinction – 8/28/2015
John Marcus Rosario – 8/31/2015
Elena Gonzalez, With Distinction – 9/1/2015
Yifei Dai, With Distinction – 9/4/2015
Victor Chavez – 9/8/2015
Nader J. Shishechi, With Distinction – 9/14/2015
Dave Hou – 9/15/2015
Gordon Alexander Huey – 9/16/2015
Xiaoyi YIN, With Distinction – 9/16/2015
Francisco R Padilla – 9/16/2015
James Baker – 9/17/2015
Michael Carlone, With Distinction – 9/18/2015
Tanner Andrew Ziebarth, With Distinction – 9/19/2015
Michael Trimble – 9/19/2015
Avery Dorr – 9/19/2015
Michael Trimble, With Distinction – 9/19/2015
John Trimble, With Distinction – 9/19/2015
David J. Saperstein, With Distinction – 9/19/2015
Brandon Perdeck – 9/20/2015
Darren Tretter – 9/20/2015
David Lott, With Distinction – 9/20/2015
Chiwei Zhong – 9/20/2015
Eric Thomas Duda, With Distinction – 9/20/2015
Grace VanDeGrift – 9/20/2015
Alexis Jones – 9/20/2015
David Corbin – 9/20/2015
Robert Price – 9/20/2015
Wesley Hevia – 9/21/2015
Kyle Bellini, With Distinction – 9/21/2015
David J. Saperstein, With Distinction – 9/21/2015
Kevin R Gregory, With Distinction – 9/21/2015
Brandon Perdeck, With Distinction – 9/21/2015
victor sanabria – 9/21/2015
Mahmoud Mihanyar, With Distinction – 9/21/2015
Carey Froelicher – 9/21/2015
Kyle Bellini, With Distinction – 9/21/2015
Chiwei Zhong – 9/21/2015
Coleman Glass – 9/21/2015
James Dreyer – 9/21/2015
Carey Froelicher, With Distinction – 9/21/2015
Alex B. Wilson – 9/21/2015
Chiwei Zhong, With Distinction – 9/21/2015
Maximilian Schmitt, With Distinction – 9/21/2015
Gregory Chapman – 9/21/2015
Rockyoung Kim, With Distinction – 9/21/2015
Olaf Boullé – 9/22/2015
Safak Erseven, With Distinction – 9/22/2015
Jay-Paul Lowry – 9/24/2015
Justin Kennell – 9/26/2015
Hayden Healy – 9/26/2015
Albert K. Chang – 9/26/2015
Justin Kennell, With Distinction – 9/27/2015
Matthew Bacon – 9/28/2015
Alex Savage – 10/2/2015
Matthew J Sieben – 10/4/2015
Kyle Van Natta – 10/6/2015
Griffin Gyr – 10/7/2015
Jeffrey Marver – 10/8/2015
John K DeMartini – 10/9/2015
Josh Brodsky, With Distinction – 10/11/2015
Joshua Giancola – 10/12/2015
Grace Fu – 10/12/2015
Bradley R Morales, With Distinction – 10/13/2015
Hayden Healy, With Distinction – 10/13/2015
David Carpenter, With Distinction – 10/14/2015
Grace Fu – 10/16/2015
Colin John Scarola, With Distinction – 10/18/2015
Michael Dornbusch – 10/19/2015
Brett Zimmerman, With Distinction – 10/20/2015
E H Held – 10/20/2015
Christian Meyer – 10/22/2015
John Lee, With Distinction – 10/23/2015
Mike Gallegos, With Distinction – 10/23/2015
Laura McLeod, With Distinction – 10/24/2015
Christian Meyer, With Distinction – 10/24/2015
Brian Huang, With Distinction – 10/26/2015
Steve Morris – 10/27/2015
William Meeker – 10/28/2015
Warren D. Harris II – 10/28/2015
Hanjie Tang – 10/29/2015
Yu Ding – 10/30/2015
Anastasiia Gubarieva – 10/31/2015
Valentyna Ardonceau – 11/2/2015
Chad O'Connor, With Distinction – 11/3/2015
Isaac Metzger – 11/3/2015
Haitham K – 11/5/2015
Kathryn Morales, With Distinction – 11/7/2015
Brant Patton – 11/8/2015
Ian Gartrell – 11/8/2015
Chace Coleman – 11/8/2015
George O Halsted – 11/9/2015
Yan Ge – 11/9/2015
Timothy Neumann – 11/9/2015
Jason N. Ackerman – 11/11/2015
Andres Castillo Lima, With Distinction – 11/11/2015
Michael Hargrave – 11/18/2015
Yan Ge, With Distinction – 11/20/2015
Kamar Calixte – 11/21/2015
Jonathan Trott, With Distinction – 11/21/2015
Jacob H Smith – 11/22/2015
Robert Gerard Hudert – 11/23/2015
Eric David Kasenetz, With Distinction – 11/24/2015
Christopher Rubacha, With Distinction – 11/24/2015
Luis Portal – 11/24/2015
Christopher Rubacha – 11/24/2015
Thomas L. Edmunds Jr., With Distinction – 11/29/2015
Harold Thomas – 12/4/2015
Mike Gallegos – 12/4/2015
Thomas S. Casey, With Distinction – 12/4/2015
Zach Eyster – 12/4/2015
Jacob H Smith, With Distinction – 12/5/2015
Tiffany Hynek – 12/5/2015
Drew Kenning – 12/6/2015
Rohit Muralidhar, With Distinction – 12/6/2015
Harold Thomas, With Distinction – 12/8/2015
Paxton X. Head – 12/9/2015
Erik J Luedtke – 12/11/2015
Alexander Hondros – 12/14/2015
Corrin James Breeding – 12/14/2015
Timur Kamalovich Ali-Zade – 12/20/2015
Lidia Bardhi, With Distinction – 12/20/2015
Jacob Rice – 12/21/2015
Enrique Huerta – 12/23/2015
Kanan Azizli, With Distinction – 12/23/2015
Matthew C. Dolins, With Distinction – 12/23/2015
Adam Daniel Nourafchan, With Distinction – 12/23/2015
Albert Blanck – 12/26/2015
Cheolmin Cho – 12/27/2015
Albert Blanck, With Distinction – 12/27/2015
Ming Che Lee – 12/28/2015
Jerome Raymond, With Distinction – 12/28/2015
Tanya Fagaly – 12/28/2015
Jeff Sifen, With Distinction – 12/29/2015
Yuxie Li – 12/29/2015
Mark Ambrose – 12/29/2015
Joe Bird, With Distinction – 12/29/2015
Ang Wei Xiang Adriel – 1/1/2016
Brian Hinds – 1/1/2016
Jessica Thao-Nghi Huynh, With Distinction – 1/1/2016
Anthony Paes-Braga, With Distinction – 1/2/2016
Kenneth K McConnell – 1/2/2016
Charles Haack, With Distinction – 1/3/2016
Aaron Glenn Kinsey, With Distinction – 1/4/2016
FANGFANG XIE, With Distinction – 1/4/2016
Ilya Medvedenko – 1/4/2016
Xiao Hu, With Distinction – 1/5/2016
Robert Reyna – 1/6/2016
Andrea Leo – 1/7/2016
Gregory Weisen – 1/9/2016
Joseph Gomez, With Distinction – 1/9/2016
Andrew Milbank – 1/10/2016
Dong Zhu, With Distinction – 1/10/2016
Enrique Claverie Martinez – 1/10/2016
Alexander McPherson, With Distinction – 1/11/2016
Robert L Rossi – 1/11/2016
Yichen Xie, With Distinction – 1/11/2016
Christopher G Rosser, With Distinction – 1/12/2016
Zachary Speigel, With Distinction – 1/12/2016
Aaron Desatnik, With Distinction – 1/13/2016
Clayton Watson, With Distinction – 1/13/2016
Luxi Gao – 1/13/2016
James O'Harrow – 1/14/2016
Lance Johnson – 1/14/2016
Michael Borden – 1/14/2016
Samuel Arnholz – 1/14/2016
Daniel Dembek, With Distinction – 1/15/2016
Jacques Fernandez – 1/15/2016
Amanda K. Lockshiss, With Distinction – 1/16/2016
Justin Kivel, With Distinction – 1/16/2016
Michelle Muniz – 1/17/2016
Timothy John Sullivan, With Distinction – 1/17/2016
Jeannette Del Bosque – 1/18/2016
Jennifer Psaki, With Distinction – 1/18/2016
Julie Quinn – 1/18/2016
Kaitlyn McCarty – 1/18/2016
Xanaan A. Salim – 1/19/2016
Motoi Kojima – 1/20/2016
Max Stern, With Distinction – 1/21/2016
Douglas Stirling – 1/22/2016
Aleksei (Alex) Fedorov – 1/23/2016
Joshua Arthur Jeffery – 1/23/2016
Nan Jiang, With Distinction – 1/23/2016
Fute Wang, With Distinction – 1/25/2016
Preston Watson, With Distinction – 1/26/2016
Chris Dufault – 1/28/2016
Ryan Key – 1/28/2016
Elizabeth Louise Smyth, With Distinction – 1/31/2016
Christopher Meyer, With Distinction – 2/1/2016
Kitanha Toure – 2/1/2016
Jack Noonan Ford, With Distinction – 2/2/2016
Mike Jensen – 2/2/2016
Omar Moid, With Distinction – 2/5/2016
Phillip Melton – 2/5/2016
Spencer Burton, With Distinction – 2/7/2016
Joshua Harris Berger, With Distinction – 2/10/2016
Kevin Weiqun Cao – 2/11/2016
Timothy Eife, With Distinction – 2/12/2016
Rachel E Britain, With Distinction – 2/13/2016
Robert J Mueller – 2/16/2016
Sara Hines – 2/16/2016
Anthony Mera – 2/18/2016
Ilan OZ – 2/19/2016
Stephen Stewart – 2/22/2016
Connor John Driscoll, With Distinction – 2/23/2016
J. Max Snider – 2/24/2016
Jay Yee – 2/25/2016
Steven Dou – 2/26/2016
Chad Rheingold – 2/27/2016
Theodore Katsoulis, With Distinction – 2/28/2016
Isaac Breen-Franklin – 2/29/2016
Addie Hargett – 3/2/2016
Ryan Smith, With Distinction – 3/4/2016
Seth Gorrie – 3/4/2016
Joseph R Adie, With Distinction – 3/5/2016
Matthew G Lish – 3/5/2016
Travis Beane, With Distinction – 3/5/2016
Andrew Greiner – 3/7/2016
Russell Tunes, With Distinction – 3/7/2016
Victoria Marks, With Distinction – 3/8/2016
Zach Eyster, With Distinction – 3/9/2016
Emily Elizabeth Hedeman – 3/11/2016
Jae Hun Ro – 3/12/2016
Ryan Key, With Distinction – 3/12/2016
Brian Duncan – 3/13/2016
Caroline Escobar, With Distinction – 3/13/2016
Chad E. Leines, With Distinction – 3/13/2016
Michael Ellis, With Distinction – 3/13/2016
David McKenery – 3/15/2016
Andrew Bieker – 3/16/2016
Jackie Ashley – 3/16/2016
Matthew Muehlstein, With Distinction – 3/16/2016
Daria Anne Rose – 3/17/2016
Miles McGinley – 3/21/2016
Ryan Maziuk – 3/21/2016
Barret J. Bradley – 3/23/2016
Brian Rogeness – 3/25/2016
Daniel Pinkus – 3/26/2016
Fred Levine – 3/28/2016
Adam Spengler – 3/30/2016
Tong Qin – 3/30/2016
Ben Barlow – 3/31/2016
Jasmine Polson – 3/31/2016
Regan Carroll – 4/1/2016
Charles Edward Sean Buchanan-Boardman – 4/2/2016
Samuel Paul Lawhead – 4/2/2016
Ariel Weiser, With Distinction – 4/3/2016
Cheng-Yu Wang, With Distinction – 4/3/2016
Evan James Guell – 4/3/2016
Vahe Nokhoudian – 4/9/2016
Robin Dutt – 4/11/2016
Luke Symonds, With Distinction – 4/15/2016
Steven M. Heller – 4/15/2016
Ricardo Higuera – 4/22/2016
Giovanni Wrobel – 4/23/2016
Saniya Gupta – 4/23/2016
Eric Marcella – 4/24/2016
Nicole Iglehart, With Distinction – 4/25/2016
Daniel Lenze – 4/26/2016
Luke Koczela, With Distinction – 4/26/2016
Danny Biega – 4/27/2016
Jerry Hsieh, With Distinction – 4/27/2016
Brian Grisaru, With Distinction – 4/29/2016
Thomas Eliopoulos II – 4/29/2016
Kevin Lutz, With Distinction – 5/2/2016
Michael Payton, With Distinction – 5/3/2016
Eddie Gonzalez – 5/4/2016
Rohin Dewan, With Distinction – 5/4/2016
Jonathan Eckerd, With Distinction – 5/5/2016
William McClintic – 5/8/2016
Danny Biega, With Distinction – 5/9/2016
Brian Dunn, With Distinction – 5/10/2016
Kelly Whelan – 5/12/2016
Chad Rheingold, With Distinction – 5/13/2016
Michael Dishi – 5/14/2016
Anthony Nathaniel Cohen, With Distinction – 5/16/2016
Joshua Mitchell, With Distinction – 5/17/2016
Rob Fauntleroy – 5/18/2016
John Joseph Hoecker Jr., With Distinction – 5/20/2016
Benjamin Carlson, With Distinction – 5/21/2016
Jackson Stegge Wahlgren – 5/24/2016
Edgar De La Torre, With Distinction – 5/26/2016
Jake Sherman – 5/27/2016
Jon Wright – 5/27/2016
Erik Christophe Bertin, With Distinction – 5/29/2016
Hieu Nguyen, With Distinction – 6/1/2016
Daniel Luis Herrera, With Distinction – 6/2/2016
Jagger Riefler – 6/2/2016
Ryan Salvino, With Distinction – 6/2/2016
Erik Christophe Bertin – 6/4/2016
Daniel Lee – 6/5/2016
Ryan Kalaf, With Distinction – 6/7/2016
Nick Liu – 6/8/2016
Thomas Focht, With Distinction – 6/8/2016
Austin Duehring – 6/13/2016
Alexandru Popescu, With Distinction – 6/15/2016
Brad Greeson, With Distinction – 6/15/2016
Robert Michael Fox – 6/15/2016
Chase Hagen, With Distinction – 6/16/2016
Chase Hagen – 6/16/2016
Craig Jordens – 6/17/2016
Daniel Alvarez, With Distinction – 6/17/2016
Austin Coleman, With Distinction – 6/18/2016
Damian Mackowiak, With Distinction – 6/18/2016
Emily Balazik – 6/20/2016
Patrick Joseph Hogan – 6/21/2016
Alexandru Popescu, With Distinction – 6/22/2016
Charles Cochran, With Distinction – 6/22/2016
Shitong Sun, With Distinction – 6/22/2016
John B. Pearson – 6/28/2016
Dylan Joshua Kriz – 6/29/2016
Jonathan Rhoden, With Distinction – 7/1/2016
Matthew Rose – 7/1/2016
Michael O'Dea, With Distinction – 7/1/2016
Logan Canter, With Distinction – 7/4/2016
Ryan M. Walsh – 7/4/2016
Alex Menashe, With Distinction – 7/6/2016
Fabian Egg, With Distinction – 7/6/2016
Jim Wierson II, With Distinction – 7/6/2016
Ryan Davenport, With Distinction – 7/6/2016
Abigail Miller, With Distinction – 7/7/2016
Alexandra Kramer – 7/7/2016
Guillaume Prigent, With Distinction – 7/7/2016
Jason Simon Najm, With Distinction – 7/7/2016
Kaman Stark, With Distinction – 7/7/2016
Oscar Casanova, With Distinction – 7/7/2016
Roisin Vasquel – 7/7/2016
Yang Qiao – 7/7/2016
Alex Ransenberg, With Distinction – 7/8/2016
Arielle Miller – 7/8/2016
David Steiner, With Distinction – 7/8/2016
Dong Woo Lee, With Distinction – 7/8/2016
Mark Thomas Luzzi, With Distinction – 7/8/2016
Max Hengeveld, With Distinction – 7/8/2016
Sean Mintz – 7/8/2016
Dominique Johnson – 7/10/2016
Zhyldyz Sadyralieva – 7/11/2016
Julian Scheeff, With Distinction – 7/14/2016
Timothy Willis, With Distinction – 7/14/2016
Thomas Hoy – 7/15/2016
Greg Liautaud – 7/18/2016
Carlos Daccach – 7/20/2016
Ross C. Ferguson – 7/20/2016
Andreas Dal Piaz – 7/21/2016
Sagan Lampe – 7/25/2016
Stuart Kennedy, With Distinction – 7/25/2016
Landon Carter Kemp – 7/26/2016
Clifton Dimitrios Beasley, With Distinction – 7/27/2016
Thomas Bender – 7/27/2016
Matthew B Smith – 7/29/2016
Alfredo Vargas – 7/30/2016
Chris Economou, With Distinction – 7/31/2016
Thomas John Courlas, With Distinction – 7/31/2016
Greg Moiseve – 8/5/2016
Kiana Henry, With Distinction – 8/5/2016
Alec Milton – 8/6/2016
Roberto Luis Lopez-Molina – 8/6/2016
Andrew Basso – 8/9/2016
Xavier Morin – 8/10/2016
Paul Ketchum – 8/11/2016
Hairong Yin – 8/15/2016
Jake Weiss – 8/15/2016
Pierre Marks – 8/15/2016
Robert Alan Conroy, With Distinction – 8/15/2016
William Lenkin – 8/15/2016
Emily Abbott, With Distinction – 8/17/2016
Zhuoyang Min – 8/22/2016
Roni Lovaton – 8/24/2016
Thibaut Pieters, With Distinction – 8/24/2016
Alex Trager, With Distinction – 8/25/2016
Bryan Robert Sikes – 8/25/2016
Michael McBroom – 8/25/2016
Colton Hager, With Distinction – 8/29/2016
Barron Panson – 8/30/2016
Max Lescano – 8/31/2016
Raja Sibai, With Distinction – 8/31/2016
Cheng Zhang – 9/1/2016
Grace Fu, With Distinction – 9/1/2016
Robert Hall, With Distinction – 9/3/2016
Wayne Doug Gurr – 9/5/2016
Jose Nunez – 9/6/2016
Yu Huang – 9/7/2016
Adam Ioannou, With Distinction – 9/8/2016
Zhongcheng Li, With Distinction – 9/9/2016
Siying Huang, With Distinction – 9/10/2016
Matthew Turzewski, With Distinction – 9/11/2016
Eliza Schuett – 9/12/2016
Mason Garry Waite – 9/13/2016
Matthew J. Shannon – 9/13/2016
Eddy Chatmon – 9/14/2016
Zach Reece – 9/16/2016
Trevor Taylor, With Distinction – 9/17/2016
Christopher Monsour, With Distinction – 9/19/2016
David Whinfrey – 9/20/2016
Jake Olsman, With Distinction – 9/21/2016
Keenan Klett – 9/22/2016
Nikolas James Scoolis, With Distinction – 9/22/2016
William B Seippel III – 9/22/2016
Brendan Kruzan, With Distinction – 9/23/2016
Grant Wishner – 9/23/2016
Maxwell Opperman, With Distinction – 9/23/2016
Hayden Scillitoe, With Distinction – 9/24/2016
R. Anthony Johnston – 9/25/2016
Michael Carter, With Distinction – 9/27/2016
Antonino G DiMaggio, With Distinction – 9/28/2016
Tyler Darden, With Distinction – 9/29/2016
Zeke John Patterson, With Distinction – 9/29/2016
Arvind Dharur – 9/30/2016
Cole Coss – 9/30/2016
George Hajjar – 10/1/2016
Brian Meehan, With Distinction – 10/2/2016
Chris Nesbitt, With Distinction – 10/2/2016
Bradley Gaulden – 10/3/2016
Alden Smith – 10/5/2016
Jonathan Lachance – 10/10/2016
Neal Patel, With Distinction – 10/10/2016
Colin Coughlin – 10/13/2016
Harrison M. M. McCarthy, With Distinction – 10/15/2016
Sean Maguire, With Distinction – 10/18/2016
Oliver Hellested, With Distinction – 10/25/2016
Pace Tripp, With Distinction – 10/26/2016
Gregory Kosh – 10/27/2016
Lau Ka Yan – 10/27/2016
Frank Joseph Koziara III, With Distinction – 10/28/2016
Matthew Moss – 10/31/2016
William Jenkins – 10/31/2016
Minjie Zou – 11/2/2016
Javier Henriquez, With Distinction – 11/5/2016
Marcelo Siller Magallanes – 11/10/2016
Thomas Manglaviti Jr., With Distinction – 11/14/2016
Joseph Phipps, With Distinction – 11/15/2016
Nikunj Makharia, With Distinction – 11/16/2016
William Yang, With Distinction – 11/17/2016
Zachary Lasorsa, With Distinction – 11/17/2016
Christopher McLean – 11/20/2016
Ross Bender – 11/25/2016
Bradley James Bonneau – 11/26/2016
Travis Gallivan – 11/27/2016
Elissa Wu, With Distinction – 11/29/2016
Ryan St. Onge – 11/29/2016
Andrew W Gilligan – 12/1/2016
Jacob Linsky, With Distinction – 12/1/2016
Jonathan Petrini, With Distinction – 12/1/2016
Erik Flores – 12/4/2016
Ryan Rosendin – 12/8/2016
Andrew Michael Howe, With Distinction – 12/10/2016
Samuel Bryce Welty – 12/12/2016
Samantha Jay, With Distinction – 12/13/2016
Maxwell Baird, With Distinction – 12/15/2016
Kevin Wang – 12/16/2016
Matthew Bowyer – 12/17/2016
Hunter Graham – 12/21/2016
Nickolas Kolbe, With Distinction – 12/21/2016
Adam Tannenbaum, With Distinction – 12/23/2016
Kyle Coven – 12/24/2016
Ari Shaw – 12/25/2016
Jared Lowe, With Distinction – 12/25/2016
Tianliang Zhang – 12/25/2016
Evan Solomon – 12/27/2016
Lingyan Yao – 12/27/2016
Ethan Stern – 12/28/2016
Garrett Pisarik, With Distinction – 12/28/2016
Scott Edward Smith – 12/28/2016
Andrew Bunting, With Distinction – 12/29/2016
Colin Coughlin, With Distinction – 12/29/2016
Kevin John Mungenast – 12/29/2016
Timothy Mason, With Distinction – 12/29/2016
Tyler Sinks – 12/29/2016
William Gandre, With Distinction – 12/30/2016
Mark A. Rios – 12/31/2016
Alex Janeck, With Distinction – 1/2/2017
Karamarie White – 1/2/2017
Amit Zaman, With Distinction – 1/3/2017
Christian James Segner – 1/4/2017
Max Pantalena, With Distinction – 1/4/2017
Weston Bronconnier – 1/4/2017
Adam Goff – 1/5/2017
Bahman Dashti – 1/5/2017
David Pizitz, With Distinction – 1/5/2017
John Peacock – 1/5/2017
Mason Alsbrooks – 1/5/2017
Michael Koullas – 1/5/2017
Quentin Monaghan – 1/5/2017
Benjamin T Jackson – 1/6/2017
Jacob Brown – 1/6/2017
Lauren Kofoet, With Distinction – 1/6/2017
Timothy Maslow – 1/6/2017
Xiao Hu – 1/6/2017
Arnold Chu, With Distinction – 1/7/2017
Hansen Harris – 1/7/2017
Jackson Randolph, With Distinction – 1/7/2017
Richard Armstrong – 1/7/2017
Robert Hugh Deng – 1/7/2017
Yiwei Chen – 1/7/2017
Brenden William Duffey – 1/8/2017
Carl Stephens – 1/8/2017
Clare Losey, With Distinction – 1/8/2017
Crystal Calhoun – 1/8/2017
David Bryson Burtnett – 1/8/2017
Ford DuBose – 1/8/2017
Grant Speakes – 1/8/2017
Jessica Greene – 1/8/2017
John David Bertelson – 1/8/2017
John Schell, With Distinction – 1/8/2017
Joseph P. Cabral – 1/8/2017
Kevin Patrick Rushing – 1/8/2017
Kristi Leonard – 1/8/2017
Kyle Parker – 1/8/2017
Morgan Plaster – 1/8/2017
Nicholas Lamb – 1/8/2017
Parker Todd – 1/8/2017
Priya Chopra, With Distinction – 1/8/2017
Robert Arthur McClendon – 1/8/2017
Ross Ohlrich Johnson – 1/8/2017
sherine elgamal – 1/8/2017
Taylor Bedford – 1/8/2017
Val E Cadena III, With Distinction – 1/8/2017
Vincent Fasone – 1/8/2017
Vincent Holub – 1/8/2017
Zane Carman – 1/8/2017
Georgiana Earle – 1/9/2017
James Johnson – 1/9/2017
Katrina Benson – 1/9/2017
Margaret Stewart – 1/9/2017
Michael Glynn – 1/9/2017
Nicholas George File, With Distinction – 1/9/2017
Sarah J Shaw – 1/9/2017
Zachary Martin – 1/9/2017
Joshua Giles – 1/10/2017
Monica Huffer – 1/10/2017
Ronald Ott – 1/10/2017
Yiwei Wu – 1/10/2017
Marina Koelbl, With Distinction – 1/11/2017
Dillon Weisner – 1/12/2017
Michael Roukis, With Distinction – 1/13/2017
Marcus Robinson – 1/14/2017
Zachary Robbins – 1/14/2017
Amandeep Bhatti, With Distinction – 1/15/2017
Anthony Marsala, With Distinction – 1/15/2017
Nolan Moore – 1/16/2017
Alexander Grant Freeman – 1/17/2017
Huijing Zhang – 1/17/2017
kerline Benoit – 1/18/2017
Dan Shanahan – 1/19/2017
Hubert Golay – 1/20/2017
Je Hoon Kim, With Distinction – 1/20/2017
Evan Barna, With Distinction – 1/21/2017
Christian Holbrook – 1/22/2017
Foley George, With Distinction – 1/22/2017
Neil E Ostrander – 1/22/2017
Scott Angell – 1/22/2017
Justin A. Capuano – 1/23/2017
Fernando Mendez, With Distinction – 1/24/2017
Mitchell Logan Nachman – 1/24/2017
Brock Hudson, With Distinction – 1/25/2017
Joseph Sheridan – 1/25/2017
Robert Gallman, With Distinction – 1/28/2017
Matthew Peckham – 1/30/2017
Matthew Sorensen – 1/30/2017
Matthew Warter – 1/30/2017
Andrew Paisley, With Distinction – 1/31/2017
Joe Hurtado, With Distinction – 1/31/2017
Judge Ryan – 1/31/2017
Ashley Eckhoff – 2/1/2017
Robert Case – 2/1/2017
Angelo Koutoupis, With Distinction – 2/3/2017
Jeet Desai, With Distinction – 2/3/2017
Hiradean Sadik, With Distinction – 2/5/2017
Fabiola S Edouard, With Distinction – 2/6/2017
Timothy gillespie, With Distinction – 2/6/2017
Zach Forrer, With Distinction – 2/6/2017
Margaret Barry, With Distinction – 2/7/2017
Mark Perreault – 2/7/2017
Jeong Min Cho – 2/9/2017
Mohamed Saad Mohamed Altaf – 2/9/2017
Adam Wolk – 2/14/2017
Douglas deVerges, With Distinction – 2/15/2017
Adam Wolfson – 2/16/2017
Ethan Bidna, With Distinction – 2/16/2017
Randy J. Marble-Lobo – 2/16/2017
Charles A. Steelman, With Distinction – 2/18/2017
David Henderson – 2/18/2017
Jimmy Warren – 2/19/2017
Nicholas A Mouriz – 2/20/2017
Calvin Tong – 2/21/2017
Connor Monaghan – 2/22/2017
Mauricio Gutierrez – 2/22/2017
Garrett P. Hughes, With Distinction – 2/23/2017
Jose Antonio Lorido, With Distinction – 2/23/2017
Nkrumah Nanga – 2/23/2017
Jeffrey Reed, With Distinction – 2/24/2017
Vince Mejia – 2/25/2017
John I Okocha – 2/26/2017
Edward Ranier Gonzalez Pereira – 2/28/2017
Shuo Wang, With Distinction – 2/28/2017
Emerson Gibbs – 3/6/2017
Peter James Hamilton – 3/6/2017
Michael Renna, With Distinction – 3/7/2017
Steven Lubrano, With Distinction – 3/7/2017
Patrick A Jacek, With Distinction – 3/9/2017
Joseph Gruseke, With Distinction – 3/13/2017
Rami Chehabi – 3/13/2017
Zach Sobel, With Distinction – 3/14/2017
Braeden Wilson, With Distinction – 3/15/2017
Bowei Wang, With Distinction – 3/17/2017
Andy Herg, With Distinction – 3/19/2017
Ming Che Lee, With Distinction – 3/19/2017
George M Adams – 3/20/2017
Margaret Duffy – 3/22/2017
John Ludders – 3/23/2017
Suhas Prabhakar, With Distinction – 3/23/2017
Andrew Kim – 3/26/2017
John Walker, With Distinction – 3/26/2017
Will Purcell, With Distinction – 3/26/2017
Maximilian Haub – 3/27/2017
Patrick Monahan – 3/27/2017
Alexander Julian Brenner – 3/28/2017
Joshua Villarreal, With Distinction – 3/28/2017
Scott A Davidson, With Distinction – 3/30/2017
Wendi Su, With Distinction – 4/2/2017
Mitchell Hartley Gruen, With Distinction – 4/4/2017
Celine Comeau – 4/5/2017
Jace M. Bentle – 4/5/2017
Bryant Abiyatar, With Distinction – 4/6/2017
Jared Steinberg, With Distinction – 4/6/2017
Maxwell Ross Wyman – 4/6/2017
Yawen Liu, With Distinction – 4/10/2017
Christopher A. Wade – 4/11/2017
Dean Atkinson – 4/14/2017
Ryan Irvin, With Distinction – 4/15/2017
Lawren Doyle – 4/18/2017
Brian Patrick Cucinelli, With Distinction – 4/19/2017
John Foster – 4/20/2017
Jaden Rosselli, With Distinction – 4/23/2017
Mark A Mosby, With Distinction – 4/23/2017
Edward McCarthy – 4/24/2017
Karl Dietterle, With Distinction – 4/25/2017
William V Glosson, With Distinction – 4/28/2017
Tyler P Hickey – 4/30/2017
Christian Hay, With Distinction – 5/1/2017
Lauren Randell – 5/1/2017
Evgen Pushnoy – 5/4/2017
Pablo Linero – 5/4/2017
Joshua Welch, With Distinction – 5/5/2017
Dustin Shaw-Krivosh – 5/7/2017
Braden Brahs, With Distinction – 5/8/2017
Taylor M. Epperson, With Distinction – 5/10/2017
Wesley Weecks – 5/10/2017
Jonathan Keren – 5/11/2017
Julien Bottereau, With Distinction – 5/12/2017
Herb Tousley – 5/13/2017
Tina Jill Angell – 5/13/2017
David Harte, With Distinction – 5/14/2017
Diego Garza, With Distinction – 5/14/2017
Kristen Hook – 5/14/2017
Dorcas Gyamerah – 5/15/2017
Brandon E. Johnson – 5/16/2017
Julian Kngiht, With Distinction – 5/16/2017
Kara Kesler – 5/16/2017
Adam Bosch, With Distinction – 5/17/2017
Eric Lundquist, With Distinction – 5/19/2017
Robert C Knisley, With Distinction – 5/22/2017
Paul Anthony Tompkins, With Distinction – 5/23/2017
Paul Reilly, With Distinction – 5/23/2017
Augustus Haney, With Distinction – 5/24/2017
Matthew DeBoth, With Distinction – 5/24/2017
Quefei Zhang – 5/28/2017
Virginia Jacobs – 5/28/2017
Alexander Moore – 5/30/2017
Joseph Scuderi, With Distinction – 5/30/2017
Kristina Rose Kurzweil – 5/30/2017
Oscar Enrique Vila – 5/30/2017
Wesley Gilmer, With Distinction – 5/30/2017
Mary Jordan Burns, With Distinction – 6/1/2017
Virginia Burns, With Distinction – 6/1/2017
Tristan Huerta – 6/2/2017
Ann Marie Heymann – 6/3/2017
Christopher Doscher, With Distinction – 6/3/2017
Mitchell Bowman – 6/4/2017
Jasper S. Wilson, With Distinction – 6/6/2017
John Richard Mak, With Distinction – 6/6/2017
Louis Puma, With Distinction – 6/6/2017
Nick Dominato – 6/7/2017
Alex Shelby – 6/8/2017
Alexander Hein – 6/10/2017
Robert McKay Siegel, With Distinction – 6/10/2017
Cornelis de Nysschen, With Distinction – 6/11/2017
Eli Jonas De Peyer Evans, With Distinction – 6/11/2017
Michael T Ward – 6/11/2017
Alexander Legakis, With Distinction – 6/13/2017
Julia Vilner, With Distinction – 6/15/2017
Christopher Lloyd, With Distinction – 6/16/2017
Steven Dumanski, With Distinction – 6/17/2017
Paul Bagnasco – 6/19/2017
David Le, With Distinction – 6/21/2017
Jack Barkley, With Distinction – 6/21/2017
Tyler S. Arrington – 6/21/2017
Trey Golston, With Distinction – 6/22/2017
Blake Dean – 6/24/2017
Kyle Ulman, With Distinction – 6/27/2017
Candice Baijing Wang – 6/29/2017
Matthew Fagella – 6/29/2017
Alexander B Chamberlain, With Distinction – 7/1/2017
Rachel Summer Monsees – 7/3/2017
Adam Dearling, With Distinction – 7/4/2017
Nader J. Shishechi – 7/4/2017
A Morgan – 7/5/2017
Caleb Tuke, With Distinction – 7/5/2017
Candice Baijing Wang, With Distinction – 7/5/2017
Claire Clayton, With Distinction – 7/5/2017
Andrew Mistry, With Distinction – 7/6/2017
Harris Teitelbaum, With Distinction – 7/6/2017
Koji Son – 7/6/2017
Landon A. Gull, With Distinction – 7/6/2017
Laura Lonardi, With Distinction – 7/6/2017
Victor Gutierrez de Pineres – 7/6/2017
Andrew Kradjel, With Distinction – 7/7/2017
Brenda Simental, With Distinction – 7/7/2017
Da Jong Fan, With Distinction – 7/7/2017
Edward Mansius, With Distinction – 7/7/2017
Jack Henry Kapp, With Distinction – 7/7/2017
Jared Karpf, With Distinction – 7/7/2017
Jordan Trafton, With Distinction – 7/7/2017
Joseph Miller – 7/7/2017
Justin Donaldson, With Distinction – 7/7/2017
Madeleine Roberts, With Distinction – 7/7/2017
Martin Urdapilleta – 7/7/2017
Meredith Jonker, With Distinction – 7/7/2017
Oscar Paulin – 7/7/2017
Rachel Linton, With Distinction – 7/7/2017
Victoria Coates – 7/7/2017
Woody Axelson, With Distinction – 7/7/2017
Devin Ondre'us Deloney-Forte', With Distinction – 7/10/2017
Ray Seely, With Distinction – 7/10/2017
Benjamin Torchman – 7/11/2017
Manuel Fernandez III – 7/11/2017
Tyler M. Whitt, With Distinction – 7/12/2017
Thomas F. McHugh V, With Distinction – 7/13/2017
Nishad Kokate, With Distinction – 7/14/2017
Mirko Djujic, With Distinction – 7/16/2017
Emily Rivers, With Distinction – 7/17/2017
Mason McDavid, With Distinction – 7/17/2017
Wayne Thompson, With Distinction – 7/17/2017
Alexandra Natsis – 7/18/2017
David Kuivinen, With Distinction – 7/18/2017
Victor Villagran – 7/18/2017
Nate Wilson, With Distinction – 7/19/2017
Willis John Dillard Hayashi – 7/20/2017
Jeffrey Begley, With Distinction – 7/21/2017
Brice Eidson – 7/23/2017
Lowell Lewis, With Distinction – 7/23/2017
Steig Peterson, With Distinction – 7/23/2017
Alexandra Bennett – 7/25/2017
Hanna Galvin – 7/25/2017
Harrison Conly – 7/25/2017
Kevin Chen – 7/26/2017
Scott Tocco, With Distinction – 8/1/2017
Anthony Thomas Haake – 8/2/2017
Marc Baecht – 8/2/2017
Thomas Ford Moriarty, With Distinction – 8/2/2017
Akashchandra Pandey, With Distinction – 8/3/2017
Brian Matthew Cohn, With Distinction – 8/3/2017
Jan Hoang Xuan, With Distinction – 8/3/2017
Ariel Newfield, With Distinction – 8/4/2017
Chang Joo Cha, With Distinction – 8/4/2017
Elizabeth Liubicich, With Distinction – 8/5/2017
Garrett Mills – 8/5/2017
Christopher Merola, With Distinction – 8/6/2017
Harold Riley – 8/6/2017
Ryan Terracino, With Distinction – 8/6/2017
Ashton Summers, With Distinction – 8/7/2017
David Baillargeon – 8/8/2017
Sergey Ermolaev – 8/8/2017
Jared King, With Distinction – 8/9/2017
Ryan Karbowicz, With Distinction – 8/9/2017
Sandra Lyn Rittenhouse, With Distinction – 8/9/2017
Bill Marting, With Distinction – 8/10/2017
Chad Weinstein – 8/10/2017
Marjorie Junkin – 8/10/2017
Kristin Leigh Vinesett – 8/12/2017
Shawn Joseph Pound – 8/13/2017
Wang Chao, With Distinction – 8/13/2017
Christopher Hernandez, With Distinction – 8/14/2017
Conor Horowitz, With Distinction – 8/15/2017
William Guerriero, With Distinction – 8/15/2017
Christine McGuire, With Distinction – 8/16/2017
Suraj Desai – 8/17/2017
David Lincoln, With Distinction – 8/18/2017
Elizabeth Ann Fitzgibbons – 8/23/2017
Kyle Heath – 8/23/2017
Michael Francescani, With Distinction – 8/23/2017
Thomas Griffin, With Distinction – 8/23/2017
Kaitlyn Marcisz – 8/24/2017
Anthony Colin Bobay – 8/26/2017
Chirag Tolia, With Distinction – 8/26/2017
Ivan Mak, With Distinction – 8/28/2017
Miles N.P. Hamilton – 8/31/2017
Matthew Simoneau – 9/1/2017
Yijun Wang, With Distinction – 9/1/2017
Adrien Deniau, With Distinction – 9/3/2017
Clay Thomas Youngblood, With Distinction – 9/4/2017
Grant Robey, With Distinction – 9/4/2017
Travis Bourgeois, With Distinction – 9/4/2017
Jacob William Bonsteel – 9/5/2017
Brian Page, With Distinction – 9/11/2017
Ryan M. Miller, With Distinction – 9/12/2017
James White – 9/14/2017
Weibin Zeng – 9/14/2017
Charlie Gong – 9/17/2017
Ellene Bricolas – 9/17/2017
Lulin Hu, With Distinction – 9/18/2017
Batkhuu Pad, With Distinction – 9/19/2017
Peter Riley, With Distinction – 9/19/2017
Robert F Cronenberg III, With Distinction – 9/19/2017
Elena Ochsenreither, With Distinction – 9/21/2017
Alexander Meinhold, With Distinction – 9/22/2017
Lauren Dike, With Distinction – 9/23/2017
Joseph Grabinski – 9/25/2017
Brandon Kaller, With Distinction – 9/27/2017
Brant Whiting, With Distinction – 9/27/2017
Jonathan Knight – 9/27/2017
Christopher Wartman – 9/29/2017
Su Zhang, With Distinction – 9/29/2017
Wayne Watson – 9/29/2017
Stephen Matthew Florence, With Distinction – 9/30/2017
Edward Ellis – 10/3/2017
John Bennett, With Distinction – 10/3/2017
Ryan McClure, With Distinction – 10/6/2017
Corbin Eckel – 10/8/2017
Savannah Haney, With Distinction – 10/7/2017
Kurt Turley, With Distinction – 10/7/2017
Anthony J. Mele – 10/11/2017
Erica C. Pereira – 10/13/2017
Jake Weinstein, With Distinction – 10/15/2017
Jade Yingyu Liu – 10/17/2017
Adam Zell – 10/21/2017
Alec Ferguson – 10/22/2017
Alex Krauss, With Distinction – 10/22/2017
Anthony V Giannini, With Distinction – 10/22/2017
Armand Hershowitz – 10/24/2017
Fabrizzio O. Chaves, With Distinction – 10/24/2017
Patrick Carney – 10/24/2017
Alex Rifkind, With Distinction – 10/25/2017
Max Rather, With Distinction – 10/25/2017
Thomas B Mondoux, With Distinction – 10/29/2017
Lauren Amos, With Distinction – 11/2/2017
Thomas Chamieh, With Distinction – 11/2/2017
Franz William Rassman, With Distinction – 11/4/2017
Roshan Khiyani – 11/5/2017
Mauricio Gutierrez, With Distinction – 11/9/2017
Pranay Advani, With Distinction – 11/10/2017
Brandon Wendt – 11/15/2017
John Fowble, With Distinction – 11/17/2017
Rachel Suppa, With Distinction – 11/20/2017
Lance Clinton, With Distinction – 11/20/2017
Dushyant Ravichandran, With Distinction – 11/20/2017
John Fowble, With Distinction – 11/20/2017
Bartholomew Mullin, With Distinction – 11/22/2017
Judy M Williams – 11/23/2017
Michaelangelo Zasy, With Distinction – 11/23/2017
Greg Bohenko, With Distinction – 11/24/2017
Chris Nesbitt, With Distinction – 11/25/2017
Kurt Morgan Luedtke – 11/27/2017
Cameron Lambo – 11/28/2017
Maria Gavilanes, With Distinction – 11/29/2017
Brendan Calafiore – 12/3/2017
Lai Yingru, With Distinction – 12/3/2017
Matthew Zellars, With Distinction – 12/3/2017
Noah Tillipman – 12/8/2017
Baljinnyam Dashdorj – 12/9/2017
Craig Ferreira, With Distinction – 12/10/2017
Ryan Robbins – 12/13/2017
John Hogan, With Distinction – 12/11/2017
Robert Nathaniel Solomson, With Distinction – 12/13/2017
Daniel Frechter, With Distinction – 12/14/2017
David Steven Neinchel – 12/15/2017
Seth Damrow – 12/15/2017
Pasha Norman Johnson, With Distinction – 12/17/2017
Chad Krebs – 12/18/2017
Chandler Kennell – 12/18/2017
Chris Mason, With Distinction – 12/18/2017
Ben Livingston, With Distinction – 12/19/2017
Rolando Rodriguez – 12/19/2017
Jared Pierce – 12/19/2017
Anne Wahl – 12/20/2017
Scott A Shelburne – 12/21/2017
Mark Marash Lucaj – 12/27/2017
Eric Buchalter – 12/28/2017
Taylor Malboeuf, With Distinction – 12/29/2017
Adam Cristelli, With Distinction – 12/30/2017
Michael Manneh – 12/30/2017
Giancarlo Paone – 1/4/2018
Preston Gray, With Distinction – 1/4/2018
Rachel Kreamer – 1/4/2018
Ethan Argov, With Distinction – 1/5/2018
Jonathan Liu – 1/5/2018
Ashley Zubizarreta – 1/6/2018
Garrett Anthony Notzon, With Distinction – 1/6/2018
Isaac M. Rothermel, With Distinction – 1/6/2018
Jeffrey Gustafson, With Distinction – 1/6/2018
Katherine Miller – 1/6/2018
Logan Jefferson Brougher, With Distinction – 1/6/2018
Paul Anslow, With Distinction – 1/6/2018
Alison Gray, With Distinction – 1/7/2018
Andrew William Katzfey, With Distinction – 1/7/2018
Avi Ginsburg – 1/7/2018
Brian Bormann – 1/7/2018
Cecilee Cook, With Distinction – 1/7/2018
Connor Beardmore – 1/7/2018
Ellen Hevenor, With Distinction – 1/7/2018
John Kerns Dickson Jr – 1/7/2018
John-Bradley Greene, With Distinction – 1/7/2018
Jordan Mastrogiovanni – 1/7/2018
Keith Read, With Distinction – 1/7/2018
Remli Price, With Distinction – 1/7/2018
Jacob Maloy – 01/07/2018
Dexter Fulbright – 1/7/2018
Samuel Koch Orton – 1/7/2018
Andrew Montemayor – 1/8/2018
Anthony Osburn – 1/8/2018
Chance Jones – 1/8/2018
Daniel Rueda – 1/8/2018
Joseph Elder – 1/8/2018
Koy Moody – 1/8/2018
Reagan Booth – 1/8/2018
Stephen Brooks Wheatcroft – 1/8/2018
Benjamin Ross Bonilla – 1/9/2018
Bryce S Martin – 1/9/2018
Charles White, With Distinction – 1/9/2018
David Brock – 1/9/2018
Joey Jarrell – 1/9/2018
Jordyn Smith – 1/9/2018
Justin Hunt – 1/9/2018
Tyler Bond – 1/09/2018
Nathan Piers Welty – 1/9/2018
Ali Samee, With Distinction – 1/10/2018
Alexander N Riba – 1/10/2018
Holden Penn – 1/10/2018
Jonathan Trock, With Distinction – 1/10/2018
Kolten Booher – 1/10/2018
Raymond Gabe Terrell – 1/10/2018
Justin Raes – 1/11/2018
. Alexander Antolino – 1/11/2018
Justin Raes, With Distinction – 1/11/2018
Bryant Lach – 1/12/2018
Christopher Hatton Landis – 1/14/2018
Clark Everett, With Distinction – 1/15/2018
George Anagnostopoulos – 1/15/2018
Scott Magaluk, With Distinction – 1/16/2018
Tyler Jenkins – 1/18/2018
Daniel Strent – 1/19/2018
Daniel Yun, With Distinction – 1/20/2018
Jason Langford, With Distinction – 1/20/2018
Sarah Campinski – 1/20/2018
Zakaria Ouali Alami – 1/20/2018
Alexandra Paulus, With Distinction – 1/21/2018
Zhyldyz Sadyralieva, With Distinction – 1/21/2018
Trey Carter – 1/22/2018
Brittany Lodarek, With Distinction – 1/22/2018
Michael S. Marrone, With Distinction – 1/23/2018
Seth Kamphoefner, With Distinction – 1/23/2018
Loukas Zimianitis, With Distinction – 1/23/2018
Adam Wrubel, With Distinction – 1/24/2018
Derek Martin, With Distinction – 1/27/2018
Neha Shetty, With Distinction – 1/27/2018
Patrick Kappel, With Distinction – 1/27/2018
Randy Streig, With Distinction – 1/27/2018
Ross Gray – 1/27/2018
Jay Satpute – 1/28/2018
Jesus Valdivia, With Distinction – 1/28/2018
Whitney Jorgensen, With Distinction – 1/28/2018
Austin Decell, With Distinction – 1/29/2018
Taylor Stack – 1/29/2018
Sean Bare, With Distinction – 1/30/2018
Yili Yang – 1/30/2018
Zachary Harman, With Distinction – 1/30/2018
Martin Reschke, With Distinction – 2/01/2018
Ashutosh Pant – 2/3/2018
Jason Przybyla, With Distinction – 2/6/2018
Charles Morphis – 2/06/2018
Eric Richards, With Distinction – 2/6/2018
Beacham Corontzes, With Distinction – 2/7/2018
Pierre Hills – 2/8/2018
David Nguyen Hoang, With Distinction – 2/10/2018
David M. Waks – 2/11/2018
Alexander Samsonov – 2/11/2018
Mario Alejandro Mendiola – 2/11/2018
Prathiba Yadav – 2/11/2018
Will Henke, With Distinction – 2/11/2018
Ann Duginske – 2/12/2018
Paige Allen – 2/12/2018
Pierre Stassart, With Distinction – 2/12/2018
Zachary Tronti, With Distinction – 2/14/2018
Blake Dean, With Distinction – 2/14/2018
Ivan Alvarado, With Distinction – 2/14/2018
Matthew Ornstein, With Distinction – 2/16/2018
Phillip Ruschmeyer, With Distinction – 2/18/2020
Cole Cherney, With Distinction – 3/27/2020
Giancarlo Foppiano, With Distinction – 4/6/2020
Alysha Lewis, With Distinction – 4/18/2020
Doris Shiju Zhang, With Distinction – May 7, 2020
Samuel Margrey, With Distinction – May 13, 2020
Katherine Loaiza – 2/17/2018
omar sabri – 2/18/2018
Charles Launsbach – 2/20/2018
Austin Newell – 2/20/2018
Ralph Mould, With Distinction – 2/20/2018
Christopher Dixon, With Distinction – 2/21/2018
Dan King, With Distinction – 2/22/2018
William Kern – 2/24/2018
Ryan Corcoran, With Distinction – 2/25/2018
Gun Tae Kim – 2/28/2018
Ranj Dhaliwal – 2/28/2018
Whalen MacHale, With Distinction – 2/28/2018
Connor Arleo, With Distinction – 2/28/2018
Chris Gilman, With Distinction – 3/2/2018
Mitchell Le, With Distinction – 3/2/2018
Man Chung Max Wu – 3/4/2018
Alexander Pascale, With Distinction – 3/4/2018
Bowen Zheng, With Distinction – 3/5/2018
Edward Gaines – 3/7/2018
Ron Ott, With Distinction – 3/7/2018
Michael Mostoff, With Distinction – 3/9/2018
Brent Smith, With Distinction – 3/9/2018
Joseph NGUYEN, With Distinction – 3/9/2018
Phillip Williams – 3/10/2018
Justin Strinka, With Distinction – 3/11/2018
Greg Earnest, With Distinction – 3/11/2018
Gregory Adams, With Distinction – 3/12/2018
Gianrovic Perez Gulino – 3/13/2018
Paul Egiyan, With Distinction – 3/15/2018
James Levy, With Distinction – 3/15/2018
blake Burger, With Distinction – 3/16/2018
Delil Dogan – 3/17/2018
Samuel Rojas – 3/20/2018
Michael Rosenson, With Distinction – 3/24/2018
David O'Harra, With Distinction – 3/25/2018
Tatsiana Yasedchyk, With Distinction – 3/25/2018
James Zaepfel, With Distinction – 3/26/2018
Rex Warner, With Distinction – 3/26/2018
Hunter Schwarz – 3/26/2018
Griffin Greene, With Distinction – 3/27/2018
Pavrik Bhandal, With Distinction – 3/27/2018
Rachel Kreamer, With Distinction – 3/28/2018
Raymond Mazzie, With Distinction – 3/29/2018
Alain Kasparian – 3/30/2018
Sarah Tran – 4/1/2018
Taras Sarvas, With Distinction – 4/1/2018
Kabir Sukhrani, With Distinction – 4/2/2018
Connor Beaumont, With Distinction – 4/2/2018
Craig McLachlan, With Distinction – 4/2/2018
Will Rathman, With Distinction – 4/4/2018
Zach Garland – 4/4/2018
Jesse Garrett, With Distinction – 4/5/2018
Christopher Horn, With Distinction – 4/7/2018
Mike De Carlo, With Distinction – 4/7/2018
Simrun Kochhar, With Distinction – 4/9/2018
Taylor Herrmann, With Distinction – 4/9/2018
Sean Grieve, With Distinction – 4/9/2018
Spencer Solomon, With Distinction – 4/9/2018
Jordan DeWalt, With Distinction – 4/10/2018
Jonathan Lee, With Distinction – 4/10/2018
Tristan Lamontagne, With Distinction – 4/10/2018
Xanaan Salim – 4/12/2018
Stephen Buchanan – 4/13/2018
Chad Williamson, With Distinction – 4/15/2018
Kyle Demers, With Distinction – 4/16/2018
Dyna Ty – 4/16/2018
JINLI HE – 4/17/2018
Zachary Howell – 4/17/2018
Cam Lawson, With Distinction – 4/18/2018
Patrick Lenzi, With Distinction – 4/18/2018
leah more – 4/18/2018
Jaeyong Yoo – 4/20/2018
Matthew Tsung, With Distinction – 4/21/2018
William Fay, With Distinction – 4/21/2018
Shlomo Dahan, With Distinction – 4/22/2018
Joshua Oden, With Distinction – 4/22/2018
Ethan Carlson – 4/23/2018
Seongsu Kim – 4/23/2018
Hofner Rusiana – 4/23/2018
Brittany Davis – 4/23/2018
Connor Sprenkel, With Distinction – 4/24/2018
Alex Evans, With Distinction – 4/25/2018
Xinzhu Fan, With Distinction – 4/26/2018
John David Cobb – 4/26/2018
Blake Dean, With Distinction – 4/28/2018
Khadeja Travis, With Distinction – 4/29/2018
turner loflin – 4/30/2018
Joseph Strick, With Distinction – 4/30/2018
Patrick C Martin, With Distinction – 4/30/2018
Travis Pasker – 5/1/2018
Allie McGehee, With Distinction – 5/2/2018
Edward Liriano, With Distinction – 5/2/2018
Travis Smith – 5/3/2018
Bao-Tran Phan – 5/3/2018
Lawrence Guarnieri, With Distinction – 5/6/2018
Eduardo Gutierrez, With Distinction – 5/9/2018
Ying Li, With Distinction – 5/9/2018
Carlos Bermudez, With Distinction – 5/10/2018
Warren Fuller, With Distinction – 5/10/2018
Guillermo Vadell, With Distinction – 5/12/2018
Jan Hendrik Bokemeyer, With Distinction – 5/12/2018
Hugo Santiago Ruiz, With Distinction – 5/12/2018
Christian Vega-Munguia, With Distinction – 5/13/2018
Nicolas DiCicco, With Distinction – 5/13/2018
Anthony Vega Vega, With Distinction – 5/13/2018
Temaz Ferguson, With Distinction – 5/13/2018
David Wong – 5/13/2018
David Wilson, With Distinction – 5/13/2018
Isaac Alvidrez – 5/14/2018
Evan Castillo – 5/15/2018
Tyler Goldman – 5/15/2018
BRETT BALDA, With Distinction – 5/15/2018
Gabriel Gutierrez-Aragon, With Distinction – 5/16/2018
John Guillett – 5/16/2018
Joshua Stottlemyer, With Distinction – 5/17/2018
Enrique Ruiz, With Distinction – 5/17/2018
Ronan O'Neill, With Distinction – 5/17/2018
Jose Baez, With Distinction – 5/18/2018
Tomas Sanchez, With Distinction – 5/18/2018
Emma Sukenik – 5/18/2018
Bijan Breland – 5/18/2018
Andrew Saad, With Distinction – 5/18/2018
Nicolas Poveda, With Distinction – 5/18/2018
Raquel Perez, With Distinction – 5/20/2018
Ryan Archambo, With Distinction – 5/21/2018
Jared Wisen, With Distinction – 5/21/2018
Joshua Smith, With Distinction – 5/22/2018
Rebecca Hollister, With Distinction – 5/22/2018
Keith Hoddinott, With Distinction – 5/22/2018
Jordan Toumanidis, With Distinction – 5/22/2018
Jimmy Caracheo – 5/23/2018
Eric Moore, With Distinction – 5/24/2018
Amanda Wolf, With Distinction – 5/25/2018
Jordan Banks, With Distinction – 5/25/2018
Thomas Wu, With Distinction – 5/27/2018
Daniel Klein, With Distinction – 5/27/2018
Bryan Hulburd, With Distinction – 5/29/2018
Zachary Armstrong – 5/31/2018
George Schmidbauer, With Distinction – 6/2/2018
LUCAS GRASSANO, With Distinction – 6/2/2018
Jesse Mates – 6/3/2018
Tyler Retzloff – 6/4/2018
Joseph Taylor, With Distinction – 6/5/2018
Anthony Ortiz – 6/5/2018
Matthew Strahan, With Distinction – 6/7/2018
Angelo Koutoupis, With Distinction – 6/8/2018
Madison Trasher – 6/8/2018
Anthony Lago – 6/9/2018
Eduardo Paz, With Distinction – 6/9/2018
Dan Schlesinger, With Distinction – 6/10/2018
Jon Hootman, With Distinction – 6/11/2018
Daniel Beuthner, With Distinction – 6/11/2018
Ulysses Auger, With Distinction – 6/12/2018
Jose Ramirez, With Distinction – 6/14/2018
Derek Humphrey, With Distinction – 6/15/2018
Edward Odgers, With Distinction – 6/15/2018
Tyler Mangiafico, With Distinction – 6/15/2018
Nicole Swisher – 6/16/2018
Júlio Villalobos-Torres – 6/17/2018
Noori Han – 6/18/2018
Justin Patton – 6/19/2018
Matthew Billings, With Distinction – 6/19/2018
Taylor Ellner – 6/19/2018
Austin Erck, With Distinction – 6/20/2018
Maximilian Lavin, With Distinction – 6/20/2018
Victor Dewulf, With Distinction – 6/20/2018
Victoria Tran, With Distinction – 6/20/2018
Nicholas Armstrong – 6/21/2018
Daniel Enten, With Distinction – 6/21/2018
Loic Catastini – 6/21/2018
Patrick Lieser, With Distinction – 6/24/2018
BRANDON FINNIE, With Distinction – 6/25/2018
Victoria Holsey, With Distinction – 6/26/2018
Forrest Williams, With Distinction – 6/26/2018
Chandler Naidu, With Distinction – 6/26/2018
Ravi Mann, With Distinction – 6/26/2018
Davis Cearley, With Distinction – 6/26/2018
Meghan Pellens, With Distinction – 6/27/2018
Sarah Velten, With Distinction – 6/27/2018
Connor Monaghan, With Distinction – 6/27/2018
Aleksandra Paciorek, With Distinction – 6/28/2018
Beau Brand, With Distinction – 6/28/2018
Tatsuya Okada – 6/28/2018
Aniket Patel, With Distinction – 6/28/2018
Matas Rascius, With Distinction – 6/28/2018
Ilvea Morris – 6/28/2018
Marcos Guijarro Navas – 6/29/2018
Joshua Glasser, With Distinction – 6/29/2018
Mackenzie Lee, With Distinction – 6/29/2018
marc fluvia – 6/29/2018
Taylor Press, With Distinction – 6/29/2018
Simon Balaj, With Distinction – 6/29/2018
Jizhou Xu – 6/30/2018
Kurt Cullen, With Distinction – 6/30/2018
Clifford J Gudiel, With Distinction – 7/1/2018
Shotaro Watanabe – 7/1/2018
Gary Lipsky – 7/2/2018
Patrick Maney, With Distinction – 7/2/2018
Joe Hoscheit, With Distinction – 7/2/2018
Cole Murphy, With Distinction – 7/2/2018
Hannah McReynolds – 7/2/2018
Vincent Owoseni, With Distinction – 7/2/2018
Jordan Suther, With Distinction – 7/2/2018
Sean Lindsay, With Distinction – 7/3/2018
Sam Banks, With Distinction – 7/3/2018
Bill MacEwen, With Distinction – 7/3/2018
Chad Zakskorn, With Distinction – 7/3/2018
Neil Nicholson – 7/3/2018
DEREK OREJEL, With Distinction – 7/4/2018
Lauren Flatley – 7/5/2018
Bennett Wallander, With Distinction – 7/5/2018
Sonic Cho, With Distinction – 7/5/2018
Tarah Gilbreth, With Distinction – 7/5/2018
Trevor Stroebel, With Distinction – 7/5/2018
Justin Coppola, With Distinction – 7/5/2018
Zach Spencer, With Distinction – 7/5/2018
Rebekah Kuiken – 7/5/2018
Matthew Radich – 7/5/2018
Patrick Domville – 7/6/2018
Meghan Pellens, With Distinction – 7/6/2018
Tasha Beal, With Distinction – 7/6/2018
Alec Li, With Distinction – 7/6/2018
sally matlock, With Distinction – 7/8/2018
Daniel Nomura, With Distinction – 7/8/2018
Camilo Padilla – 7/8/2018
Shep Hardison, With Distinction – 7/9/2018
Maxwell Kelly, With Distinction – 7/9/2018
Joey Daliapes, With Distinction – 7/9/2018
Joe Wood, With Distinction – 7/9/2018
Carter Clarke, With Distinction – 7/9/2018
Isabella Whalen, With Distinction – 7/9/2018
Benjamin Bowlby, With Distinction – 7/10/2018
Alana Szilagyi – 7/10/2018
gabriele fanciulli, With Distinction – 7/10/2018
Joshua Will, With Distinction – 7/11/2018
Henry Stillwell – 7/11/2018
Cassidy Christensen, With Distinction – 7/11/2018
Dylan Bennett, With Distinction – 7/11/2018
Andrew Fixler, With Distinction – 7/11/2018
Kyle Cook, With Distinction – 7/11/2018
Dalric Fields, With Distinction – 7/11/2018
David Walker – 7/11/2018
William Lenkin, With Distinction – 7/11/2018
Jack Thompson, With Distinction – 7/12/2018
Matthew Long, With Distinction – 7/12/2018
Andrew McAuliffe – 7/13/2018
Mike Sullivan, With Distinction – 7/13/2018
Silvia Waring, With Distinction – 7/14/2018
Alexander Rhea, With Distinction – 7/14/2018
Jeffrey Colston – 7/15/2018
Christian Berry, With Distinction – 7/15/2018
Paul Hernandez, With Distinction – 7/16/2018
George Hill, With Distinction – 7/17/2018
Moulin Deliwala, With Distinction – 7/17/2018
Doug Walterhouse, With Distinction – 7/17/2018
Raul Tamez, With Distinction – 7/18/2018
Austin Pendergist, With Distinction – 7/18/2018
Ina Koch, With Distinction – 7/18/2018
Liesel Scherer, With Distinction – 7/19/2018
Gregory Himmel, With Distinction – 7/19/2018
Daphne Owens – 7/19/2018
Andrew Reppert, With Distinction – 7/19/2018
Leadi Cole, With Distinction – 7/19/2018
Alexander Williams, With Distinction – 7/19/2018
Michael Loya, With Distinction – 7/20/2018
Dana Bowman, With Distinction – 7/20/2018
Matthew Schaney, With Distinction – 7/21/2018
Daryn Smith – 7/22/2018
Nick Zocher, With Distinction – 7/22/2018
Jungwon Choi – 7/23/2018
Hewsan Pang, With Distinction – 7/23/2018
Samuel Boyd, With Distinction – 7/23/2018
Han Chen, With Distinction – 7/23/2018
Brijesh Patel, With Distinction – 7/23/2018
Aaron Herwald, With Distinction – 7/23/2018
Timothy Sesler, With Distinction – 7/24/2018
Evan Lederberg – 7/25/2018
Garrett McCready – 7/25/2018
Esthelle Toure – 7/26/2018
Daniel Molina – 7/27/2018
Mary-Catherine Riley, With Distinction – 7/28/2018
Arpan Barua, With Distinction – 7/29/2018
Jamie Hudson, With Distinction – 7/30/2018
James Linn, With Distinction – 7/31/2018
Lee Cooper, With Distinction – 7/31/2018
Juan Scharffenorth – 7/31/2018
rong xu, With Distinction – 8/1/2018
Tim Gillespie, With Distinction – 8/3/2018
Farid Sheikh, With Distinction – 8/3/2018
Katlyn Krause – 8/3/2018
Reynaldo Vivas, With Distinction – 8/4/2018
John Nicolson, With Distinction – 8/6/2018
Brian Holland, With Distinction – 8/6/2018
Samuel Nichols – 8/7/2018
Wilson Blum, With Distinction – 8/8/2018
Shane Isdaner, With Distinction – 8/8/2018
weijia song, With Distinction – 8/11/2018
Christian Sbily – 8/13/2018
Daniel Yun, With Distinction – 8/13/2018
James Jenkins, With Distinction – 8/13/2018
Clint McClellen, With Distinction – 8/14/2018
Joel Burnham – 8/14/2018
Jeffrey Estano, With Distinction – 8/15/2018
Jacob Leen, With Distinction – 8/17/2018
Chang Min Lee, With Distinction – 8/19/2018
Nikolas Scoolis – 8/20/2018
Michael Hobbs – 8/20/2018
Christopher Hitch, With Distinction – 8/21/2018
Trevor Wright, With Distinction – 8/21/2018
Rene Brillembourg, With Distinction – 8/22/2018
Jessica Taylor – 8/22/2018
Matthew Leonard, With Distinction – 8/22/2018
Jacob Hayden, With Distinction – 8/22/2018
Hao-Heng Frank Fu, With Distinction – 8/23/2018
Michael Hanagan, With Distinction – 8/25/2018
Adrian Jasso, With Distinction – 8/26/2018
Colin McCreary – 8/27/2018
Eric Popp, With Distinction – 8/28/2018
Tais Coelho, With Distinction – 8/28/2018
Dylan Mervis – 8/29/2018
Stephen Monaco, With Distinction – 8/29/2018
Alex Seff, With Distinction – 8/29/2018
Garret Geaccone – 8/30/2018
Daniel Gawley – 8/30/2018
Miho Weisbly, With Distinction – 8/31/2018
Joseph Grabinski, With Distinction – 9/3/2018
Matthew McAuley, With Distinction – 9/4/2018
Bryce Johnson – 9/5/2018
Jesse Lazarus, With Distinction – 9/5/2018
Joseph Gruseke, With Distinction – 9/6/2018
Charles Welch, With Distinction – 9/8/2018
Sammy Alkhatib, With Distinction – 9/9/2018
Johannes Hummel – 9/9/2018
Kerry Worden, With Distinction – 9/10/2018
David Hoang – 9/10/2018
Marvin Wong, With Distinction – 9/10/2018
Alex Sessums – 9/10/2018
Desmond Kieo, With Distinction – 9/11/2018
Matthew Thomas – 9/12/2018
Luke Deitz – 9/13/2018
Ashley Williams – 9/15/2018
Bryce Robertson, With Distinction – 9/15/2018
Ekaterina Volkova – 9/16/2018
kenichi mori – 9/17/2018
James Cooper, With Distinction – 9/17/2018
Jordan Bayne – 9/17/2018
Caitlin Christian, With Distinction – 9/18/2018
Robert Clements, With Distinction – 9/18/2018
Jonathan Chou Chou – 9/18/2018
Ahlaya Donaldson – 9/18/2018
James A Walkup Jr, With Distinction – 9/18/2018
Oliver Saikaly, With Distinction – 9/18/2018
Kathrine Tribbey – 9/18/2018
Isabel Voskoboynik – 9/18/2018
Danielle Allen, With Distinction – 9/18/2018
Lauren Neureuther, With Distinction – 9/18/2018
Grant Polfer – 9/18/2018
Astin Moseley, With Distinction – 9/18/2018
Tyler Slotter – 9/18/2018
Elijah Walsh, With Distinction – 9/18/2018
Brian Chang, With Distinction – 9/18/2018
keenan allen, With Distinction – 9/18/2018
jimmy Nguyen – 9/18/2018
Kate Kulbachna – 9/18/2018
Brianna Powers, With Distinction – 9/18/2018
Nathan Byrne, With Distinction – 9/18/2018
collin kagan, With Distinction – 9/18/2018
Taneigha Marshall, With Distinction – 9/18/2018
Igor Nilo, With Distinction – 9/18/2018
Jackson Cleary – 9/18/2018
Patrick Higgins – 9/18/2018
Phillip Rodgers – 9/18/2018
Mason Freebern, With Distinction – 9/18/2018
Matthew Griffin – 9/18/2018
Djay Carney – 9/18/2018
Matthew Cardenas – 9/18/2018
Sameerali Jessa, With Distinction – 9/18/2018
Justin Davis, With Distinction – 9/18/2018
angel de la cruz – 9/18/2018
Michael Brooks, With Distinction – 9/18/2018
Haley Hermann – 9/18/2018
Garrett Reh, With Distinction – 9/18/2018
Franklin Guemes, With Distinction – 9/18/2018
Mark Noah, With Distinction – 9/18/2018
Clifford Mirschel, With Distinction – 9/18/2018
Ayonitemi Olorunsogo, With Distinction – 9/18/2018
Chadler Myers, With Distinction – 9/18/2018
Cameron Jackson, With Distinction – 9/18/2018
Alec Fabel – 9/18/2018
Kiefer Schoenfeld, With Distinction – 9/18/2018
Colin Campbell – 9/18/2018
Codey Schultz, With Distinction – 9/18/2018
Jose paradela – 9/18/2018
Naomi Lathbridge – 9/18/2018
Brandon McCalla, With Distinction – 9/18/2018
Benjamin Landes, With Distinction – 9/19/2018
Troy Fencl – 9/19/2018
Xutong Liu, With Distinction – 9/20/2018
Stephen Buchanan – 9/20/2018
Alexander Haardt, With Distinction – 9/20/2018
Meridith Vogelsang – 9/20/2018
Konrad Utterback, With Distinction – 9/21/2018
Wislene Charles, With Distinction – 9/23/2018
CAREY OLAUGHLIN, With Distinction – 9/25/2018
William Smith, With Distinction – 9/26/2018
Paisley Freund – 9/26/2018
Lauren Savett, With Distinction – 9/26/2018
Igor Vaysbeyn – 9/26/2018
Chris Turner, With Distinction – 9/27/2018
Domenica Chiriboga – 9/27/2018
Justin Stevens, With Distinction – 9/27/2018
Benjamin Butler, With Distinction – 9/28/2018
Joseph Dagostino, With Distinction – 9/28/2018
Camilo Padron – 9/30/2018
Matt Stein, With Distinction – 9/30/2018
Alexander Lazo – 9/30/2018
Cindy Ryan, With Distinction – 10/1/2018
Mickey Di Pietro – 10/2/2018
Alan Ciminski, With Distinction – 10/2/2018
Ali Oguz, With Distinction – 10/2/2018
Michael Garruto, With Distinction – 10/3/2018
Patty McPoland – 10/5/2018
Philip Winn – 10/5/2018
carson trainer, With Distinction – 10/5/2018
Wing Ho Ng, With Distinction – 10/6/2018
alexandra lee, With Distinction – 10/6/2018
Anita Chen, With Distinction – 10/6/2018
Dayna Neville, With Distinction – 10/6/2018
Nicole Bosetti, With Distinction – 10/6/2018
William Hespe, With Distinction – 10/7/2018
Hengkun Liang, With Distinction – 10/7/2018
Kuan Yuan Ruby Wang, With Distinction – 10/7/2018
Evan Butters, With Distinction – 10/8/2018
Rajesh Gupta, With Distinction – 10/9/2018
Alex Magoon, With Distinction – 10/10/2018
Vincenzo Pannarale – 10/10/2018
Joseph Holmes, With Distinction – 10/10/2018
Wesley Quinzani, With Distinction – 10/10/2018
Rubin Xu – 10/12/2018
Michael Dell'Aquila, With Distinction – 10/14/2018
Nicholas Askew – 10/14/2018
Michael Seong, With Distinction – 10/15/2018
Mario Alessio Nicolai, With Distinction – 10/15/2018
Andrei Prunoiu, With Distinction – 10/15/2018
Lucian LaTourelle, With Distinction – 10/17/2018
Liam Fitzpatrick, With Distinction – 10/17/2018
Colton Jacobs – 10/18/2018
Dan Trulli, With Distinction – 10/18/2018
Roberto Gallegos, With Distinction – 10/19/2018
Nick Carney, With Distinction – 10/19/2018
Kemberly Kantor, With Distinction – 10/19/2018
Maxwell Liporace, With Distinction – 10/20/2018
Nathan Huynh, With Distinction – 10/20/2018
Joe ZUrek – 10/21/2018
Jacob Ross, With Distinction – 10/21/2018
Andrew Bekkevold, With Distinction – 10/22/2018
Andrew Ngo – 10/23/2018
Michael Adelstein, With Distinction – 10/23/2018
Garrett Gill, With Distinction – 10/23/2018
Eric Cheng – 10/23/2018
Chance Schlenk – 10/24/2018
Aryeh Roth – 10/26/2018
Timothy Ryan – 10/27/2018
varun rajan – 10/27/2018
hunter patterson – 10/27/2018
Lauren Stead, With Distinction – 10/28/2018
matt hagar – 10/28/2018
Luke Bingaman – 10/28/2018
Lesley Hudson – 10/29/2018
Arthur Gonzalez – 11/1/2018
Phillip Grafe, With Distinction – 11/1/2018
Aaron Manji, With Distinction – 11/2/2018
Jacob Gauptman, With Distinction – 11/2/2018
Ryan Pristo, With Distinction – 11/3/2018
tyler henschel, With Distinction – 11/4/2018
Joshua Jaouli – 11/5/2018
Charlie Tyler – 11/6/2018
Moneil Abu Speitan, With Distinction – 11/7/2018
Quentin Jaeger, With Distinction – 11/7/2018
jingjing zhu, With Distinction – 11/8/2018
Rocio Budetta, With Distinction – 11/9/2018
Ryan Gaughan – 11/9/2018
Alex Guider – 11/10/2018
Alexander Dow – 11/12/2018
jack dufour, With Distinction – 11/12/2018
Brian Jacobs – 11/12/2018
Elena Frattaroli, With Distinction – 11/12/2018
Kyle McAndrews, With Distinction – 11/12/2018
George Laning, With Distinction – 11/12/2018
Ted Kavich, With Distinction – 11/12/2018
Tanner Wilson, With Distinction – 11/12/2018
Arya Deniz – 11/13/2018
Thomas Grubb – 11/13/2018
Gaddis House, With Distinction – 11/13/2018
Matthew Price – 11/13/2018
Micayla Oniskey, With Distinction – 11/14/2018
Elizabeth Laughlin, With Distinction – 11/14/2018
Elliot Condos, With Distinction – 11/16/2018
Michael Burk – 11/17/2018
Blake Joyner, With Distinction – 11/17/2018
Cristina Istrate, With Distinction – 11/18/2018
Daniel Viner, With Distinction – 11/18/2018
James Looney – 11/18/2018
Philip Lavin, With Distinction – 11/18/2018
Justin Malekan, With Distinction – 11/19/2018
joel curtis – 11/19/2018
william Neely, With Distinction – 11/19/2018
Justin Westfall, With Distinction – 11/19/2018
LAUREN KNUTSON – 11/19/2018
Melissa Braff, With Distinction – 11/20/2018
Hee Lang Park – 11/20/2018
cameron scheib, With Distinction – 11/20/2018
sanjana bysani srinath – 11/20/2018
Daniel Bui – 11/21/2018
Lawrence Pope, With Distinction – 11/23/2018
Ankita Prasad, With Distinction – 11/24/2018
Bradley Vansant – 11/24/2018
Tommy Ng, With Distinction – 11/26/2018
Alex Motiuk – 11/27/2018
Kevin Powell, With Distinction – 11/27/2018
Brian McWeeney, With Distinction – 11/27/2018
Alexander Blagoi, With Distinction – 11/27/2018
Eric Miller, With Distinction – 11/27/2018
Jaque Liu, With Distinction – 11/28/2018
Matthew Dittman, With Distinction – 11/28/2018
William Ryan, With Distinction – 11/28/2018
Josephine Ubben, With Distinction – 11/28/2018
Miles Mamon, With Distinction – 11/28/2018
Alanna Kilroy, With Distinction – 11/29/2018
Matthew Gonzalez, With Distinction – 11/29/2018
Jason Hutcheson, With Distinction – 11/29/2018
Elizabeth Guthrie, With Distinction – 11/29/2018
Jesus Carrasco, With Distinction – 11/30/2018
Alex Schapira, With Distinction – 11/30/2018
Alessandra Habermann, With Distinction – 11/30/2018
Katharina Kuehnle, With Distinction – 11/30/2018
Marcella LaHara, With Distinction – 11/30/2018
Ryan OByrne – 12/1/2018
Ryan Shannahan, With Distinction – 12/1/2018
Brian Munin, With Distinction – 12/1/2018
Justin Starr, With Distinction – 12/1/2018
stephen verp, With Distinction – 12/1/2018
Anthony Hrusovsky – 12/1/2018
Eric Spector – 12/1/2018
Yash Bindal, With Distinction – 12/1/2018
Leonard Allen-Smith, With Distinction – 12/1/2018
William Beckett, With Distinction – 12/3/2018
Brian Marsh, With Distinction – 12/4/2018
Clarence Marsh, With Distinction – 12/4/2018
Andrew Estrada, With Distinction – 12/4/2018
Joe Jones, With Distinction – 12/5/2018
Marc Farris – 12/5/2018
Zach Vierling, With Distinction – 12/5/2018
Angus Isles, With Distinction – 12/5/2018
Jacob Clark, With Distinction – 12/6/2018
Marcus McKinney – 12/7/2018
sheefu ghay – 12/9/2018
preston tucker – 12/10/2018
trevante watson – 12/10/2018
Chaim Schulman – 12/11/2018
Kevin Campbell, With Distinction – 12/13/2018
Travis Schauer, With Distinction – 12/14/2018
Chenglong Xu, With Distinction – 12/14/2018
Mahinthan Subramaniam – 12/15/2018
amit bohra, With Distinction – 12/15/2018
Adam Helmker, With Distinction – 12/16/2018
Manuel Pendola, With Distinction – 12/17/2018
Allison Grona, With Distinction – 12/18/2018
Lewis Kitaj – 12/18/2018
Paxton Hoogland – 12/19/2018
Patrick Finnegan – 12/19/2018
Gregory Barrett, With Distinction – 12/19/2018
Jason Tiensvold, With Distinction – 12/20/2018
Tyler Pruett, With Distinction – 12/21/2018
Clark Elwell – 12/21/2018
Kyle Doerre – 12/22/2018
Galen Sulistyo, With Distinction – 12/24/2018
Bryan Diangson, With Distinction – 12/24/2018
Bryan Hyland, With Distinction – 12/24/2018
Hannah Solomon, With Distinction – 12/25/2018
David Kasten – 12/25/2018
Cole Kenefsky – 12/25/2018
Parmveer Lidhar, With Distinction – 12/25/2018
Thu Pham – 12/25/2018
Matthew Kirchner – 12/27/2018
Michael Sturman, With Distinction – 12/27/2018
Benjamin Lewis, With Distinction – 12/27/2018
Androniki Lagos, With Distinction – 12/28/2018
Mitchell Rigamonti, With Distinction – 12/29/2018
Chelsea Holub, With Distinction – 12/29/2018
Rob Graham – 12/30/2018
Timothy Landry, With Distinction – 12/30/2018
Florian Huber, With Distinction – 12/30/2018
Samuel Auvermann, With Distinction – 12/30/2018
Joshua Isackson, With Distinction – 12/31/2018
Dustin Smith – 12/31/2018
Brendan Thompson, With Distinction – 12/31/2018
Reid Malley, With Distinction – 1/1/2019
Noah Burns, With Distinction – 1/2/2019
Michael Ricciardi, With Distinction – 1/3/2019
Adam Luray, With Distinction – 1/3/2019
Ezra Brathwaite, With Distinction – 1/3/2019
Connor Pieratt, With Distinction – 1/3/2019
Nicholas Boehm, With Distinction – 1/3/2019
Akhil Salwan, With Distinction – 1/4/2019
Jesse Saginor – 1/4/2019
William McDonough – 1/4/2019
Cody Carpenter, With Distinction – 1/4/2019
Cole Wade, With Distinction – 1/4/2019
Sycerika McMahon, With Distinction – 1/4/2019
Brian Jones, With Distinction – 1/4/2019
Shawn Noorani, With Distinction – 1/5/2019
Wren Averyt, With Distinction – 1/5/2019
Andrew Nixon, With Distinction – 1/5/2019
Danielle Watkins, With Distinction – 1/5/2019
Chloe Velasco, With Distinction – 1/5/2019
Connor White, With Distinction – 1/5/2019
Tucker Burns, With Distinction – 1/5/2019
Reid Gillings – 1/5/2019
Christian Koeijmans – 1/5/2019
Cecelia Swanson – 1/6/2019
Autry Warren – 1/6/2019
Trenton Forbes, With Distinction – 1/6/2019
Whitney Allen, With Distinction – 1/6/2019
Brandon Edmonds, With Distinction – 1/6/2019
Carley Smith, With Distinction – 1/6/2019
Carlos Suarez, With Distinction – 1/6/2019
Savannah Noorani, With Distinction – 1/6/2019
Martin Spradley, With Distinction – 1/6/2019
Travis Williamson, With Distinction – 1/6/2019
Kelon Oberg, With Distinction – 1/6/2019
Morgan Pavloske, With Distinction – 1/6/2019
Harrison Heim – 1/6/2019
Paul Marczak, With Distinction – 1/7/2019
Krishtian Bazan, With Distinction – 1/7/2019
Anne-Sophie Houeto – 1/7/2019
HAO CAO, With Distinction – 1/7/2019
Joseph Cheek – 1/7/2019
Taek Kim, With Distinction – 1/7/2019
Robin Stenlund – 1/7/2019
Adam Gorodesky, With Distinction – 1/7/2019
Anastasia Megdanis – 1/7/2019
Conor Sweeney, With Distinction – 1/7/2019
Michael Lia – 1/7/2019
Austin Alves, With Distinction – 1/7/2019
Jacob Nelson – 1/7/2019
Sara Butler – 1/7/2019
Michael McCaffrey, With Distinction – 1/8/2019
Roman Bertozzi, With Distinction – 1/8/2019
Wendy Pierre, With Distinction – 1/8/2019
Mauricio Gutierrez, With Distinction – 1/10/2019
Elijah Upchurch – 1/10/2019
Diego Mion, With Distinction – 1/11/2019
Cheng Zhong, With Distinction – 1/12/2019
Alex Schmitz, With Distinction – 1/12/2019
Andrew Siderides, With Distinction – 1/15/2019
Ed Newman, With Distinction – 1/15/2019
Justin Glanda, With Distinction – 1/15/2019
Elliot Pines, With Distinction – 1/16/2019
Matt Tortorello, With Distinction – 1/16/2019
Emory Parker – 1/17/2019
Randy Mai, With Distinction – 1/18/2019
Jacob Anderson, With Distinction – 1/18/2019
Mitch Meinhart – 1/19/2019
Amanda Moccia – 1/19/2019
Zi Ting Khoo, With Distinction – 1/19/2019
David Ross, With Distinction – 1/20/2019
Wilson P Hightower IV, With Distinction – 1/21/2019
Andrew Kaminsky, With Distinction – 1/22/2019
Jason Lu, With Distinction – 1/22/2019
Elijah Rath, With Distinction – 1/23/2019
Liam Villano – 1/23/2019
Enoch Sng, With Distinction – 1/23/2019
Christian Braden, With Distinction – 1/25/2019
Nicole Chan, With Distinction – 1/26/2019
James Barrios – 1/26/2019
Jaroslaw Cebulla, With Distinction – 1/26/2019
Zan Lee – 1/27/2019
David Rabinowitz, With Distinction – 1/28/2019
Grant Wishner, With Distinction – 1/29/2019
Cecilia Milton – 1/29/2019
Bill Staples, With Distinction – 1/29/2019
Nhung Lam, With Distinction – 1/29/2019
Andrew Dale, With Distinction – 1/29/2019
Jenai Ferguson, With Distinction – 1/29/2019
Sarabeth Lewis, With Distinction – 1/29/2019
Macy Trizonis, With Distinction – 1/29/2019
Natalie Anthony, With Distinction – 1/29/2019
Jonathon Howard, With Distinction – 1/29/2019
Tori Carmichael, With Distinction – 1/29/2019
Kyle Larsen, With Distinction – 1/29/2019
Frank Cubas, With Distinction – 1/29/2019
Kandace Keeling, With Distinction – 1/29/2019
Aaron Garfinkel – 1/29/2019
Alex Adams, With Distinction – 1/29/2019
Austin Taylor, With Distinction – 1/29/2019
Jackson Kilcoyne, With Distinction – 1/29/2019
Chris Hall, With Distinction – 1/29/2019
Will Wyman, With Distinction – 1/29/2019
Kyle Sahlsten, With Distinction – 1/29/2019
Mario Agosto, With Distinction – 1/29/2019
Jordan Madow, With Distinction – 1/29/2019
John Farese, With Distinction – 1/29/2019
Cody Monroe, With Distinction – 1/29/2019
Paige Winters, With Distinction – 1/29/2019
Carlos Alfonso, With Distinction – 1/29/2019
yang li, With Distinction – 1/29/2019
Michael Sacks, With Distinction – 1/29/2019
Sugandha Sharma, With Distinction – 1/29/2019
Aaron Hirschl – 1/29/2019
Alex Caputo, With Distinction – 1/29/2019
Shane O'Connor, With Distinction – 1/29/2019
Matthew Whitmire, With Distinction – 1/29/2019
Carlos Ardavin, With Distinction – 1/29/2019
Connor McAdams – 1/29/2019
Dylan Smith – 1/29/2019
Madison Timms, With Distinction – 1/29/2019
Marc Fischzang, With Distinction – 1/29/2019
Kendall Hatch, With Distinction – 1/30/2019
Michael Fausone, With Distinction – 1/30/2019
Adam Powell – 1/30/2019
Templeton Stump, With Distinction – 1/30/2019
Jake Maya – 1/30/2019
Manuel Del Campo, With Distinction – 1/31/2019
Samuel Marten, With Distinction – 1/31/2019
Kevin Walsh, With Distinction – 1/31/2019
Marc Philippi, With Distinction – 1/31/2019
Tanner Murphy, With Distinction – 1/31/2019
Robert Annis, With Distinction – 2/1/2019
Jonathan Etra – 2/1/2019
Nicholas Strange – 2/1/2019
Frances Klein, With Distinction – 2/2/2019
Alexander Chen, With Distinction – 2/2/2019
jacob kieon, With Distinction – 2/2/2019
Garrett Hoopes, With Distinction – 2/2/2019
Andrew Merkley, With Distinction – 2/2/2019
Joseph McKay, With Distinction – 2/2/2019
Daniel Morris, With Distinction – 2/2/2019
Brett Warner, With Distinction – 2/2/2019
Luis Alvarez – 2/3/2019
Eric Fallon, With Distinction – 2/3/2019
Chase Zirngibl, With Distinction – 2/3/2019
fake user, With Distinction – 2/3/2019
fake user 2, With Distinction – 2/3/2019
Logan Baker, With Distinction – 2/3/2019
Martin Rothman, With Distinction – 2/3/2019
Brandon Blaszczyk, With Distinction – 2/4/2019
Eunjong Lee, With Distinction – 2/4/2019
Alexander Norris-Owens, With Distinction – 2/4/2019
Darren Smith, With Distinction – 2/4/2019
Andrew Sawyer, With Distinction – 2/4/2019
yangfan lu – 2/4/2019
Andreas Steineger, With Distinction – 2/4/2019
Nick Luckow, With Distinction – 2/4/2019
Kimberly Pecho, With Distinction – 2/4/2019
Alex Shields – 2/4/2019
Anthony Minute, With Distinction – 2/4/2019
Weston Miller, With Distinction – 2/4/2019
Justin Mackler, With Distinction – 2/4/2019
Ariana Puertha – 2/4/2019
Tyler Shortlidge, With Distinction – 2/4/2019
David Radford, With Distinction – 2/4/2019
Caleb VanDeventer, With Distinction – 2/4/2019
Mikela McMahon – 2/4/2019
Bennett Hopkins, With Distinction – 2/4/2019
Dallin McKenzie, With Distinction – 2/4/2019
Joey Sasso, With Distinction – 2/4/2019
Andrew Schneider, With Distinction – 2/4/2019
Austin Patton, With Distinction – 2/4/2019
Jay Storm – 2/4/2019
Bryce Banks, With Distinction – 2/5/2019
Sorabh Gupta, With Distinction – 2/5/2019
Yash Patel, With Distinction – 2/5/2019
Daniel Dumas – 2/5/2019
Thomas Clapperton, With Distinction – 2/5/2019
Nicholas Husak, With Distinction – 2/5/2019
Charlie Trotier, With Distinction – 2/5/2019
Benjamin Bride, With Distinction – 2/5/2019
Kyle Clavelli, With Distinction – 2/5/2019
Matthew Sturge, With Distinction – 2/5/2019
Nathan Dahlin, With Distinction – 2/5/2019
Joseph Pecoraro, With Distinction – 2/5/2019
Anna Khandamirian, With Distinction – 2/5/2019
Kristin Beavers, With Distinction – 2/5/2019
Pedro Lamadrid, With Distinction – 2/5/2019
Jordan Wright – 2/5/2019
Nicholas Groos – 2/5/2019
Patrick Pinchera, With Distinction – 2/5/2019
Austin Dodier, With Distinction – 2/5/2019
LUCIANA MINO, With Distinction – 2/5/2019
Fernando Mendez, With Distinction – 2/5/2019
nicholas patricio, With Distinction – 2/5/2019
Patricia Barrera, With Distinction – 2/5/2019
Samantha Cruz, With Distinction – 2/5/2019
Steven Seager, With Distinction – 2/5/2019
Zane Smith – 2/5/2019
Jason Frederick, With Distinction – 2/5/2019
Sarah El-Shafie, With Distinction – 2/5/2019
David Craig, With Distinction – 2/5/2019
Kathryne Bardwell, With Distinction – 2/5/2019
Azucena Venegas, With Distinction – 2/5/2019
Mei Yang, With Distinction – 2/5/2019
Trang Ly, With Distinction – 2/5/2019
Kelly Kasper, With Distinction – 2/5/2019
Andrew Lifferth, With Distinction – 2/5/2019
Joshua August – 2/5/2019
Frank Strobl, With Distinction – 2/5/2019
Savannah Lee, With Distinction – 2/5/2019
Tom Deighton, With Distinction – 2/5/2019
Dani Sassower, With Distinction – 2/5/2019
Peter Toutain – 2/5/2019
Alex Nicholson, With Distinction – 2/5/2019
Maria J Rigoni – 2/5/2019
Corben Cubete, With Distinction – 2/6/2019
William Montgomery, With Distinction – 2/6/2019
Ryan Wong, With Distinction – 2/7/2019
Tanner Hiatt, With Distinction – 2/7/2019
Joseph Baclit, With Distinction – 2/7/2019
Emma Henderson, With Distinction – 2/7/2019
Jake Rosen, With Distinction – 2/7/2019
Gregory Moritz, With Distinction – 2/7/2019
Andrew Schorfhaar – 2/8/2019
Joanne Lao, With Distinction – 2/8/2019
Alexa Shorsteyn, With Distinction – 2/8/2019
Johnathon Ferry, With Distinction – 2/8/2019
Stephen Skolas, With Distinction – 2/8/2019
Jared Litroff, With Distinction – 2/8/2019
Mac Fillet – 2/8/2019
Vitaliy Bukhtulov – 2/9/2019
Ross Friedland, With Distinction – 2/9/2019
Yonatan Bender, With Distinction – 2/9/2019
Nick Witte, With Distinction – 2/9/2019
Patrick Camporini, With Distinction – 2/9/2019
Isul Kim, With Distinction – 2/10/2019
Maria Maiwald, With Distinction – 2/10/2019
Natalie Chakardjian – 2/10/2019
Isaac Tarim, With Distinction – 2/10/2019
Richard Stein, With Distinction – 2/10/2019
Brian Albers, With Distinction – 2/11/2019
John Palmer, With Distinction – 2/11/2019
Daniah Missmar, With Distinction – 2/11/2019
Riley Bartlett, With Distinction – 2/11/2019
Ryan Helkowski, With Distinction – 2/11/2019
Nouri Beesemer – 2/11/2019
Thomas Quindlen, With Distinction – 2/11/2019
Ethan Riemer, With Distinction – 2/11/2019
Michael Clements, With Distinction – 2/11/2019
Cyrus Chini, With Distinction – 2/12/2019
Surinder Pabla – 2/12/2019
Timothy Rogers, With Distinction – 2/12/2019
Joshua Siegel – 2/13/2019
Farshad Charmforoosh, With Distinction – 2/13/2019
John Krzyminski, With Distinction – 2/13/2019
linmay ximeno, With Distinction – 2/13/2019
Tamara Khanjahanbakhsh, With Distinction – 2/13/2019
Drake Dickerson, With Distinction – 2/13/2019
Joseph Yu – 2/13/2019
Najee Owens, With Distinction – 2/13/2019
Mitchell Hoffman, With Distinction – 2/14/2019
Daniel Cowin – 2/15/2019
Keller Latty, With Distinction – 2/16/2019
Rhet Porter – 2/16/2019
Melanie Martinez, With Distinction – 2/16/2019
Fitim Lajqi, With Distinction – 2/18/2019
Jacob Carlson, With Distinction – 2/18/2019
Matthew Reeves, With Distinction – 2/19/2019
Quentin Campbell, With Distinction – 2/21/2019
Tianzhou Wu, With Distinction – 2/23/2019
Joshua Lee – 2/24/2019
Steven Saxey, With Distinction – 2/25/2019
Drew Myers, With Distinction – 2/26/2019
Jackie Goldsmith, With Distinction – 2/26/2019
Stephen Okawaki, With Distinction – 2/27/2019
Ari Bulman – 2/28/2019
Natalie Costanza – 2/28/2019
Grace Stephens – 3/2/2019
Andrew MacDonald, With Distinction – 3/3/2019
Jonathan Colecraft-Peters – 3/3/2019
Daniel Sanchez, With Distinction – 3/3/2019
Moritz Schäfer – 3/4/2019
MK EVANS, With Distinction – 3/5/2019
Brandon Miller, With Distinction – 3/5/2019
Philip de Bruyn – 3/5/2019
Johannes Fromm – 3/7/2019
Shruti User2, With Distinction – 3/8/2019
Sean Rucker, With Distinction – 3/8/2019
Cristine Nelson, With Distinction – 3/8/2019
Pablo Castaneda – 3/9/2019
Justin Fortner, With Distinction – 3/10/2019
Sunghoon Kim, With Distinction – 3/10/2019
Joseph McLean – 3/10/2019
Shawn Fang – 3/11/2019
Don Pavlov, With Distinction – 3/13/2019
Andreas Wehrle – 3/13/2019
Garrett Parsons – 3/13/2019
Francis Purritano, With Distinction – 3/15/2019
Jeremy Loiacono, With Distinction – 3/17/2019
Ron Cruz, With Distinction – 3/17/2019
Ryan Stewart, With Distinction – 3/19/2019
Clay Garrett, With Distinction – 3/19/2019
Joseph Zaniboni, With Distinction – 3/19/2019
Jungmoon Ham – 3/19/2019
Laura Leone – 3/20/2019
Gabriel Crespi, With Distinction – 3/20/2019
Ben Marks, With Distinction – 3/20/2019
Sungha Shin, With Distinction – 3/21/2019
Tyler Wislow, With Distinction – 3/22/2019
Raj Kharvari, With Distinction – 3/22/2019
Edward Carroll, With Distinction – 3/24/2019
Maurice Ang, With Distinction – 3/25/2019
Marc Schaevitz – 3/25/2019
oscar castaneda, With Distinction – 3/26/2019
Adam Kessler, With Distinction – 3/27/2019
Erin L'Huillier, With Distinction – 3/27/2019
CHASE SMITH, With Distinction – 3/27/2019
Bernd Wesendahl – 3/27/2019
Ryan Gardiner, With Distinction – 3/29/2019
Stefan Coburn, With Distinction – 3/30/2019
Riley Duncan – 3/30/2019
Robert Gill, With Distinction – 3/31/2019
Tyler Salter, With Distinction – 4/1/2019
Kyle Sneed, With Distinction – 4/2/2019
Mason Bartlett – 4/2/2019
Benjamin Cooper, With Distinction – 4/2/2019
Shane Maher, With Distinction – 4/3/2019
Ryan OConnell, With Distinction – 4/4/2019
Marshall Smith, With Distinction – 4/4/2019
Robert Winter, With Distinction – 4/5/2019
Laszlo Syrop, With Distinction – 4/6/2019
Andrew Hotchkiss – 4/6/2019
Phu Vu, With Distinction – 4/6/2019
Cole Stern, With Distinction – 4/7/2019
William Trenkelbach, With Distinction – 4/7/2019
Conner Gray – 4/8/2019
Cresa Toronto – 4/9/2019
JP Grevsmuehl, With Distinction – 4/11/2019
Francis Monsada, With Distinction – 4/11/2019
Travis Howe, With Distinction – 4/11/2019
Joseph Naas, With Distinction – 4/12/2019
Maurice Eggen – 4/12/2019
Christopher Bornhorst – 4/12/2019
Pat Qualley, With Distinction – 4/13/2019
Cory Dickerson, With Distinction – 4/14/2019
Jared Warren, With Distinction – 4/14/2019
Michael Rosengren – 4/14/2019
Marc Cianciola, With Distinction – 4/15/2019
Campbell Bracken – 4/16/2019
Jake Gateman – 4/16/2019
James Farrar, With Distinction – 4/16/2019
Evan Burrer – 4/17/2019
James Polk, With Distinction – 4/17/2019
PAK MING YUEN, With Distinction – 4/18/2019
Troy Muller – 4/18/2019
Jacob Fowler, With Distinction – 4/18/2019
Mike Paczkowski – 4/19/2019
Vidit Hirani, With Distinction – 4/20/2019
William Seffens, With Distinction – 4/20/2019
Henry Heyser, With Distinction – 4/21/2019
Spencer Garza – 4/22/2019
Malak Benmassaoud, With Distinction – 4/23/2019
J. Alex Albarracin, With Distinction – 4/24/2019
Carson ONeal – 4/24/2019
Stephen Okawaki, With Distinction – 4/25/2019
Ryan Sandles, With Distinction – 4/26/2019
Baptiste Destain, With Distinction – 4/26/2019
thanh Tran, With Distinction – 4/26/2019
Thomas Henry, With Distinction – 4/27/2019
Adam Neumann, With Distinction – 4/28/2019
Jared Pierce – 4/29/2019
Gizella Wade – 4/30/2019
Jonathan Listro, With Distinction – 4/30/2019
Madeline Lindsey, With Distinction – 4/30/2019
Eric VanWinkle, With Distinction – 5/1/2019
Ryan Sadeghi – 5/2/2019
Kendrick Logan, With Distinction – 5/2/2019
Daryl Cheng – 5/2/2019
Connor Stark, With Distinction – 5/3/2019
Will Adefehinti, With Distinction – 5/4/2019
Cameron Dixon, With Distinction – 5/4/2019
Anthony Deras, With Distinction – 5/5/2019
Jose Baez – 5/5/2019
Javier Zuniga – 5/5/2019
Amira Sparks – 5/5/2019
May Khang – 5/5/2019
Xinwen Chen – 5/5/2019
Kaden Burlison, With Distinction – 5/6/2019
Trevor Miller, With Distinction – 5/6/2019
Grant Cutler – 5/6/2019
Guillermo Gameros, With Distinction – 5/6/2019
Sean Hickey – 5/6/2019
Miles Lewis – 5/7/2019
Evan Thomas, With Distinction – 5/7/2019
Miguel Vivar-Alcalde, With Distinction – 5/8/2019
Steven Hickman – 5/8/2019
CJ Araujo – 5/8/2019
Robert Sobczak, With Distinction – 5/8/2019
Nick Catalano – 5/9/2019
Jeramy Staton, With Distinction – 5/9/2019
Spencer Forrest, With Distinction – 5/9/2019
Patrick Hopkins – 5/10/2019
Jake Nash – 5/10/2019
Maggie Nolan – 5/10/2019
Max Mazzone, With Distinction – 5/10/2019
Zola Lo, With Distinction – 5/10/2019
Michael Guardiola, With Distinction – 5/12/2019
Alissa Tejani, With Distinction – 5/13/2019
Augusto Useche – 5/13/2019
Conrad Classen, With Distinction – 5/13/2019
Umair Nasser, With Distinction – 5/13/2019
Mallory Adams, With Distinction – 5/13/2019
Matthew Luther, With Distinction – 5/14/2019
Hengsha Pang, With Distinction – 5/15/2019
Salvador Fierro – 5/15/2019
John-Bradley Greene, With Distinction – 5/15/2019
Evan Ott, With Distinction – 5/15/2019
Kenneth Horton, With Distinction – 5/15/2019
Olivia Cherry, With Distinction – 5/16/2019
Stephen Rainer, With Distinction – 5/16/2019
Jerald Watson – 5/17/2019
Leon Nguyen, With Distinction – 5/17/2019
Garrid Dixon – 5/17/2019
Simon Lim, With Distinction – 5/17/2019
Grace Gardner, With Distinction – 5/18/2019
Chris Adams – 5/18/2019
Ryan Lopez – 5/18/2019
Naomi Santiago – 5/18/2019
Alex Zakhary – 5/18/2019
Gabriella Gomez, With Distinction – 5/18/2019
Daniel Raw – 5/18/2019
Anne Rosenblatt, With Distinction – 5/19/2019
Viktoryia Aliasiuk – 5/19/2019
Lucas Sherrod – 5/19/2019
Dylan Wells – 5/19/2019
Fernando Soto – 5/19/2019
Gina Tersini, With Distinction – 5/20/2019
Dylan Plummer, With Distinction – 5/21/2019
Harrison Kalt, With Distinction – 5/21/2019
Greer Shetler – 5/23/2019
Adrian Rodriguez, With Distinction – 5/23/2019
Nikolay Nedev, With Distinction – 5/24/2019
Thayer Hunt, With Distinction – 5/24/2019
Willis Hayashi, With Distinction – 5/24/2019
Benjamin Miller, With Distinction – 5/25/2019
David Storch, With Distinction – 5/25/2019
Mijael Shapiro, With Distinction – 5/25/2019
Donald Kei Lun Pang, With Distinction – 5/25/2019
James Roberts, With Distinction – 5/26/2019
Jackson Huggett, With Distinction – 5/26/2019
George Hernandez, With Distinction – 5/26/2019
Michael Reed, With Distinction – 5/27/2019
Landon Cibulka, With Distinction – 5/27/2019
Steven Bentolila, With Distinction – 5/27/2019
Francis Henry – 5/28/2019
Nick Ignaczak, With Distinction – 5/29/2019
Lee Cohen, With Distinction – 5/29/2019
Yiorgos Takoudis, With Distinction – 5/29/2019
David Walker – 5/29/2019
Payton Mayes – 5/30/2019
Rodney Herenton, With Distinction – 5/31/2019
Graham Murphy, With Distinction – 5/31/2019
Themistoklis Kosmidis, With Distinction – 6/1/2019
Demetri Demascus – 6/1/2019
Justin Cao – 6/2/2019
Kevin Buxton – 6/2/2019
Peter Smith, With Distinction – 6/3/2019
Bruce Grant, With Distinction – 6/4/2019
Tianran Xu, With Distinction – 6/4/2019
Dylan Higgins, With Distinction – 6/5/2019
Kelly McIntosh – 6/5/2019
Nathan Zhao, With Distinction – 6/6/2019
Alex Elbogen, With Distinction – 6/6/2019
Joseph Vuskovich – 6/7/2019
Logan Kidwill – 6/7/2019
Tyler Suchman, With Distinction – 6/7/2019
Shay Aslani, With Distinction – 6/7/2019
Michael Grant – 6/8/2019
Glenn Callahan-Mayo, With Distinction – 6/9/2019
Michael Hovey – 6/9/2019
Ronald Bedway, With Distinction – 6/10/2019
Erica Yaguchi, With Distinction – 6/11/2019
Crystal Gamboa, With Distinction – 6/11/2019
Adam Friedman, With Distinction – 6/11/2019
Andrew Elias, With Distinction – 6/12/2019
Steven Speer, With Distinction – 6/13/2019
Michael Genovesi, With Distinction – 6/13/2019
Will Jackson, With Distinction – 6/14/2019
Kevin Ken, With Distinction – 6/14/2019
Solomon Michailow, With Distinction – 6/14/2019
Samuel Brown, With Distinction – 6/14/2019
Simon Graff, With Distinction – 6/14/2019
Peyton Dandridge, With Distinction – 6/14/2019
Conner Cheves, With Distinction – 6/14/2019
Vale Fitzpatrick, With Distinction – 6/14/2019
Kyra Perry, With Distinction – 6/16/2019
Jie Zhou, With Distinction – 6/17/2019
Austin Holmes, With Distinction – 6/18/2019
Mia Blackman, With Distinction – 6/18/2019
Charles Rusch, With Distinction – 6/19/2019
Cole Frantz, With Distinction – 6/19/2019
Jedidiah Meisner – 6/19/2019
Sunwoo Kim, With Distinction – 6/19/2019
Michael Rose – 6/20/2019
Harrison Allen, With Distinction – 6/20/2019
Rebecca Bendetson, With Distinction – 6/21/2019
Andrew Bull, With Distinction – 6/21/2019
Matthew Johnson, With Distinction – 6/22/2019
Anthony Chammah – 6/23/2019
mario diloreto, With Distinction – 6/23/2019
Andrew Miller, With Distinction – 6/24/2019
Eric Reardon – 6/24/2019
Jonathan Kleiman – 6/24/2019
Christopher Crane, With Distinction – 6/25/2019
Logan Zeigler, With Distinction – 6/25/2019
Paige Taylor, With Distinction – 6/26/2019
Jack Ayoub, With Distinction – 6/26/2019
karim khaiboullin – 6/27/2019
John Hunter – 6/27/2019
Philip Meisner, With Distinction – 6/27/2019
Daniel Geary, With Distinction – 6/29/2019
Henry King – 6/30/2019
Alfonso Valencia, With Distinction – 6/30/2019
Aaron Marcus, With Distinction – 7/2/2019
Matthew Murphy, With Distinction – 7/2/2019
Ford Corbett, With Distinction – 7/2/2019
Nick Yeh, With Distinction – 7/4/2019
Angela Liu, With Distinction – 7/4/2019
Nash Horne, With Distinction – 7/6/2019
Avishai Zarifpour, With Distinction – 7/8/2019
Luciano Lara, With Distinction – 7/8/2019
Spencer Rasmussen, With Distinction – 7/8/2019
Jenna Moustafa, With Distinction – 7/9/2019
PATRICK TIMPERIO – 7/9/2019
Elliot Straus, With Distinction – 7/10/2019
Ian Chu, With Distinction – 7/10/2019
Avani Katta – 7/10/2019
Grant Waldron – 7/10/2019
Natalie Revers – 7/10/2019
Nick Anderson, With Distinction – 7/10/2019
Blakeley Simpler, With Distinction – 7/10/2019
Hunter Conti, With Distinction – 7/10/2019
Sachin Swami – 7/10/2019
Alec Li, With Distinction – 7/10/2019
Luke hall, With Distinction – 7/10/2019
Tanya Oblak – 7/11/2019
Louis Giordano – 7/11/2019
John Lankford – 7/11/2019
Connor Curry, With Distinction – 7/12/2019
Jacob Hamel, With Distinction – 7/13/2019
Alberto Figueroa, With Distinction – 7/13/2019
Sam Young, With Distinction – 7/14/2019
Lingyan Yao, With Distinction – 7/15/2019
KYLE Mannheimer, With Distinction – 7/16/2019
meredith anderson, With Distinction – 7/16/2019
Antonios Bernakos, With Distinction – 7/16/2019
Sean Mullaney – 7/16/2019
Nicholas Pereira – 7/17/2019
William Carney – 7/17/2019
carlton stewart – 7/18/2019
Nick Dmochowski, With Distinction – 7/18/2019
Zac Jones – 7/18/2019
Akhilesh Neppalli – 7/18/2019
Roberto Bazzi – 7/19/2019
Catherine Floyd – 7/21/2019
Dimitris Nikas – 7/22/2019
Bailey Amenabar, With Distinction – 7/22/2019
Nicholas Cipolle, With Distinction – 7/22/2019
Mario Lagnese, With Distinction – 7/23/2019
Jeremy Chosnek – 7/23/2019
Courtney Druckman, With Distinction – 7/23/2019
Jordan Bernstein, With Distinction – 7/23/2019
Nathaniel Wilson – 7/23/2019
CHRISTIAN BANISTER, With Distinction – 7/24/2019
James Clancy, With Distinction – 7/24/2019
Jason Strauss, With Distinction – 7/25/2019
Nicholas Ludwig, With Distinction – 7/25/2019
Jose Paneda, With Distinction – 7/26/2019
Fabrice Golay, With Distinction – 7/27/2019
Daniel Kim, With Distinction – 7/27/2019
Ismael Ahmed, With Distinction – 7/28/2019
Davis Oudet – 7/29/2019
Matthew Hausman, With Distinction – 7/30/2019
Bridget Cuthbert, With Distinction – 8/1/2019
Nicolas Zaia, With Distinction – 8/1/2019
William Morey, With Distinction – 8/1/2019
Anthony Richards, With Distinction – 8/1/2019
Jadde Rowe – 8/3/2019
Matthew Bowen, With Distinction – 8/3/2019
Brendan Mairs, With Distinction – 8/4/2019
Si Yuan Kuang, With Distinction – 8/5/2019
Grant Hagstrom – 8/5/2019
Petra Sobotova – 8/5/2019
Federico Fermin – 8/5/2019
Riya Luthra, With Distinction – 8/6/2019
Cameron Mayer, With Distinction – 8/6/2019
Adam Hurd, With Distinction – 8/6/2019
Brent Sander, With Distinction – 8/7/2019
Shannon Emerson, With Distinction – 8/8/2019
Tasuku Agari – 8/8/2019
Michael Bertakis, With Distinction – 8/9/2019
Christopher Zulch – 8/9/2019
Bryce Tokatlian – 8/10/2019
Andrew Reiley OConnor – 8/11/2019
Sam Herrera – 8/11/2019
Guillermo Quirch, With Distinction – 8/11/2019
Ryan Dunphy, With Distinction – 8/12/2019
Christie Leonardi, With Distinction – 8/12/2019
Daniel Lin, With Distinction – 8/12/2019
you zhou – 8/12/2019
Suying Zhang – 8/12/2019
Gabrielle Cambronne – 8/12/2019
Lorenzo Gonzales, With Distinction – 8/14/2019
Bowen Clymer, With Distinction – 8/14/2019
Andres Gutierrez, With Distinction – 8/15/2019
Robert Dymond, With Distinction – 8/15/2019
Barrett Albrecht, With Distinction – 8/15/2019
Adrian Gutierrez, With Distinction – 8/15/2019
– 8/15/2019
Chase Calderon, With Distinction – 8/15/2019
Xing Ming, With Distinction – 8/15/2019
Jo Napolitano, With Distinction – 8/16/2019
Aki Naka, With Distinction – 8/16/2019
Max Chapin, With Distinction – 8/17/2019
Darren Critchlow – 8/18/2019
Caiden Comito, With Distinction – 8/18/2019
Louis Jackson, With Distinction – 8/19/2019
Michael Winnitoy – 8/20/2019
Si Yuan Kuang, With Distinction – 8/21/2019
Matthew Alfonso, With Distinction – 8/22/2019
, With Distinction – 8/22/2019
Anna Yao, With Distinction – 8/23/2019
Erik Thunberg – 8/24/2019
John Major, With Distinction – 8/25/2019
Joseph Anello, With Distinction – 8/26/2019
Mark Hughes, With Distinction – 8/26/2019
Jordan Josephs – 8/28/2019
Sam Eaton, With Distinction – 8/28/2019
Benjamin Winter, With Distinction – 8/29/2019
Jeremiah Watson – 8/29/2019
Oren Richkin, With Distinction – 8/29/2019
, With Distinction – 8/29/2019
Peter Menne, With Distinction – 8/30/2019
Jack Lovell, With Distinction – 8/30/2019
Jarell Watson, With Distinction – 9/1/2019
Jingchen Liu, With Distinction – 9/1/2019
Nathan Matos, With Distinction – 9/2/2019
Eulodie B. Mapangou – 9/2/2019
Jarrod Woodley, With Distinction – 9/2/2019
Michael Gobin, With Distinction – 9/4/2019
Thomas Henry, With Distinction – 9/4/2019
Adam Giordano, With Distinction – 9/5/2019
Madison Baker, With Distinction – 9/5/2019
Friederike von Bunau – 9/5/2019
Trevor Kierecki, With Distinction – 9/5/2019
Weston Nalley – 9/5/2019
Brittney Ortiz, With Distinction – 9/5/2019
Reed Jones, With Distinction – 9/5/2019
Kris Simmons, With Distinction – 9/6/2019
Rachel Bradshaw, With Distinction – 9/6/2019
JAMES GREGG, With Distinction – 9/6/2019
Lyles Davis – 9/6/2019
Joseph Toledo, With Distinction – 9/7/2019
Justin Ipema – 9/8/2019
Brendan Swinehart, With Distinction – 9/8/2019
Jalecia Coley, With Distinction – 9/8/2019
Jim Frazier, With Distinction – 9/8/2019
Reid Hofstetter, With Distinction – 9/8/2019
Connor Kreis, With Distinction – 9/8/2019
Nicholas Goff, With Distinction – 9/9/2019
Sahil Patel, With Distinction – 9/9/2019
Daniel Raynor – 9/9/2019
Kris Samaras, With Distinction – 9/9/2019
Racquel Collier – 9/9/2019
Logan Storts, With Distinction – 9/10/2019
Andrea Johansson – 9/10/2019
Clayton Robinson, With Distinction – 9/10/2019
Bryan Dentici, With Distinction – 9/10/2019
Blake Bryant – 9/10/2019
Enrique Triana, With Distinction – 9/10/2019
Margo Utter, With Distinction – 9/10/2019
Daniel Rodriguez, With Distinction – 9/10/2019
Connor Kreis, With Distinction – 9/10/2019
Yixuan Zhang – 9/10/2019
Ian Breyer, With Distinction – 9/10/2019
Andrew Miller, With Distinction – 9/10/2019
Tyler Kasten, With Distinction – 9/10/2019
Elizabeth Collins, With Distinction – 9/10/2019
Michael Germi, With Distinction – 9/10/2019
Alex Gottlieb, With Distinction – 9/10/2019
Kyle Sarbak, With Distinction – 9/10/2019
Steven Halsey, With Distinction – 9/10/2019
Robert Holihan, With Distinction – 9/10/2019
James Barrios, With Distinction – 9/10/2019
Jake Smith, With Distinction – 9/10/2019
Edmund Aramayo, With Distinction – 9/10/2019
Yifeng Xie – 9/10/2019
Clayton Crevasse, With Distinction – 9/10/2019
Carter Nash, With Distinction – 9/10/2019
Bryan Sheldon, With Distinction – 9/10/2019
Somerville Wang, With Distinction – 9/10/2019
Mike Harris, With Distinction – 9/10/2019
Antoun Chebat, With Distinction – 9/10/2019
Jack Bergida, With Distinction – 9/10/2019
Alex Guluzian, With Distinction – 9/10/2019
Josue Collado, With Distinction – 9/10/2019
Sarah Ermer – 9/10/2019
Shannon Hess, With Distinction – 9/10/2019
Kemal Sengul, With Distinction – 9/10/2019
Sean West, With Distinction – 9/10/2019
Cary Brown, With Distinction – 9/10/2019
Schuyler Velten, With Distinction – 9/11/2019
Brad Foster, With Distinction – 9/12/2019
Stella Zimmermann, With Distinction – 9/13/2019
Taylor McClendon – 9/16/2019
Jeffrey Lipschutz, With Distinction – 9/16/2019
Peter Schropp, With Distinction – 9/17/2019
Jake Salmirs, With Distinction – 9/17/2019
Lauren Hyland – 9/17/2019
Griffin Marcus, With Distinction – 9/17/2019
Ryan Kriftcher, With Distinction – 9/17/2019
John McCann – 9/17/2019
Curt Owen, With Distinction – 9/17/2019
Henry Korzec, With Distinction – 9/17/2019
Kaitlyn Buchholz, With Distinction – 9/17/2019
Benjamin Puche, With Distinction – 9/17/2019
samantha triolo, With Distinction – 9/17/2019
Meaghan Philbin – 9/17/2019
Bryan Hartog, With Distinction – 9/18/2019
Donald Monroe III, With Distinction – 9/18/2019
Jamal Fountain, With Distinction – 9/19/2019
jaden Theodora, With Distinction – 9/19/2019
Ramon Fondren, With Distinction – 9/20/2019
marissa stavola, With Distinction – 9/20/2019
Stella Haglund, With Distinction – 9/21/2019
John Saylor, With Distinction – 9/21/2019
, With Distinction – 9/22/2019
Lazare Herzi, With Distinction – 9/22/2019
Jameson Parker, With Distinction – 9/22/2019
Luis Flores, With Distinction – 9/23/2019
Julius Richardson, With Distinction – 9/23/2019
Colin Chou, With Distinction – 9/23/2019
Jared Nebrat – 9/24/2019
Dylan Longstreth – 9/24/2019
Jake DeGeare – 9/24/2019
Matthew Hemmer – 9/24/2019
Elaine Glatz – 9/24/2019
Kyle Beaver – 9/24/2019
Axel Munoz-Ortega – 9/24/2019
Joseph Tosti – 9/24/2019
Emprey Shivers – 9/24/2019
Vanessa White – 9/24/2019
Theresa Costabile – 9/24/2019
Eduardo Villalta, With Distinction – 9/24/2019
Renee Helling, With Distinction – 9/24/2019
Joseph Manjarrez, With Distinction – 9/24/2019
Madison Aldrich, With Distinction – 9/24/2019
Nicolette Donovan, With Distinction – 9/24/2019
Natalia Serrano Garcia, With Distinction – 9/24/2019
Christine Williams – 9/24/2019
Brandon Halbert – 9/24/2019
Lynn Hadley – 9/24/2019
susana arredondo, With Distinction – 9/24/2019
Terrence Chung, With Distinction – 9/24/2019
John Gitzen, With Distinction – 9/24/2019
santiago zapata – 9/24/2019
Giovanni Caal, With Distinction – 9/24/2019
Alexis Nunez Marrufo, With Distinction – 9/24/2019
Jonathan Carter – 9/24/2019
Shaun Baker – 9/24/2019
Charles Buckner – 9/24/2019
Christopher Adams, With Distinction – 9/24/2019
Rumaisah Vorajee, With Distinction – 9/24/2019
Shivam Shah, With Distinction – 9/24/2019
Aurora Pavlish-Carpenter, With Distinction – 9/24/2019
Alex Eastwood, With Distinction – 9/24/2019
Kurt Adler, With Distinction – 9/24/2019
Gavin Oliver – 9/24/2019
Akash Mehta, With Distinction – 9/24/2019
Giovana Noguchi Potiens, With Distinction – 9/24/2019
Madison Woodson, With Distinction – 9/24/2019
Alec Carter – 9/24/2019
Sergio Marin, With Distinction – 9/24/2019
Drew Grossman – 9/24/2019
Ana Burgos – 9/24/2019
Craig Williams, With Distinction – 9/24/2019
Sebastian Rios, With Distinction – 9/24/2019
Ansar Hassan, With Distinction – 9/24/2019
Afraz Inshanally – 9/24/2019
Luis Garcia Reyes, With Distinction – 9/24/2019
Savannah Mitchell – 9/24/2019
Nikolay Azhmyakov, With Distinction – 9/24/2019
Andrew Hellburg, With Distinction – 9/24/2019
Alec Bentman, With Distinction – 9/24/2019
Juan Gamboa, With Distinction – 9/24/2019
Paul Brennan, With Distinction – 9/24/2019
Morgan Stinchcomb – 9/24/2019
Brian Schmucker – 9/24/2019
Nash Hounanian, With Distinction – 9/24/2019
Anthony Johnson – 9/24/2019
Ariela Valdez – 9/25/2019
Eric Hua, With Distinction – 9/25/2019
Evan Hudson, With Distinction – 9/25/2019
Jasper Joseph, With Distinction – 9/25/2019
Jagger Havlik, With Distinction – 9/26/2019
Logan Kemper, With Distinction – 9/26/2019
Micah Kessler, With Distinction – 9/26/2019
Luke Pappas, With Distinction – 9/26/2019
Abeyalew Alemneh – 9/26/2019
Anecia Simmons – 9/26/2019
Andrew Gomez, With Distinction – 9/26/2019
JT Williams, With Distinction – 9/27/2019
Marcus Perez, With Distinction – 9/27/2019
Andrea Kunzik – 9/27/2019
Eva Qiu, With Distinction – 9/27/2019
Humberto Arechiga, With Distinction – 9/27/2019
Bianca Di Mauro, With Distinction – 9/27/2019
Joyce Lee – 9/27/2019
Bretton Bowman – 9/27/2019
Matthew Fairchild, With Distinction – 9/27/2019
Ying Mo, With Distinction – 9/28/2019
Alexander Allione, With Distinction – 9/29/2019
Parker Lewis, With Distinction – 9/29/2019
Roman Scholten, With Distinction – 9/29/2019
Josh Briant, With Distinction – 9/29/2019
Shannon Ormel, With Distinction – 9/29/2019
Tobias Lopez – 9/30/2019
Keith Eckert – 9/30/2019
Layla Khademi – 9/30/2019
Reuben Deal – 9/30/2019
brian tucker – 9/30/2019
Frank Karako, With Distinction – 9/30/2019
Carson Pierce, With Distinction – 10/1/2019
Richard Haddock, With Distinction – 10/2/2019
Kyle Montiel-Berner, With Distinction – 10/4/2019
, With Distinction – 10/4/2019
Max Harada, With Distinction – 10/4/2019
Abby Jackson – 10/4/2019
Nathan Ho, With Distinction – 10/4/2019
Wesley Greason, With Distinction – 10/5/2019
Marc Rutchik, With Distinction – 10/6/2019
Jimmy Quach, With Distinction – 10/6/2019
Michael Brunelli, With Distinction – 10/6/2019
Will Goldstick, With Distinction – 10/7/2019
Megan Brisson, With Distinction – 10/8/2019
Steven Amundrud, With Distinction – 10/8/2019
Michael Beck, With Distinction – 10/8/2019
Chad Morgan, With Distinction – 10/8/2019
Jefferson Burk, With Distinction – 10/9/2019
, With Distinction – 10/9/2019
, With Distinction – 10/9/2019
Peter Fink, With Distinction – 10/9/2019
Alan Cusack, With Distinction – 10/9/2019
Arturo Vidal, With Distinction – 10/12/2019
– 10/12/2019
Zack Waldher, With Distinction – 10/14/2019
Max Golopol, With Distinction – 10/14/2019
MARLICA LEUNG – 10/14/2019
Jimmy Wang-Guo, With Distinction – 10/14/2019
Kevin Akbari, With Distinction – 10/15/2019
Harry Salnikow, With Distinction – 10/15/2019
Marco Varela, With Distinction – 10/15/2019
, With Distinction – 10/16/2019
Sam Mishra, With Distinction – 10/16/2019
Stephen Lucas – 10/18/2019
Daniel Roberts, With Distinction – 10/18/2019
Joyce Leon, With Distinction – 10/20/2019
Inigo Sumaza – 10/21/2019
Lucas Visser – 10/21/2019
William Rosato, With Distinction – 10/21/2019
Patrick Johnson, With Distinction – 10/21/2019
, With Distinction – 10/23/2019
Corey Dyer – 10/23/2019
– 10/24/2019
Tyler Roberts, With Distinction – 10/24/2019
Danielle McDaniel – 10/24/2019
, With Distinction – 10/24/2019
, With Distinction – 10/24/2019
Bryan Tran, With Distinction – 10/24/2019
Micah Balogh, With Distinction – 10/29/2019
Sean Montgomery, With Distinction – 10/30/2019
Clay Danly, With Distinction – 10/30/2019
Liam Stewart – 10/31/2019
Jesse Bailey, With Distinction – 11/2/2019
Tiffany Poon – 11/3/2019
Rebecca Park, With Distinction – 11/4/2019
McKay Harris, With Distinction – 11/4/2019
Merlin Hafen – 11/5/2019
Douglass Shumaker, With Distinction – 11/6/2019
Steven Carlisle, With Distinction – 11/7/2019
Logan Fawcett, With Distinction – 11/8/2019
, With Distinction – 11/8/2019
Garrett Pisarik, With Distinction – 11/8/2019
Gabriel Lazcano, With Distinction – 11/9/2019
, With Distinction – 11/9/2019
, With Distinction – 11/11/2019
Patrick O'Reilly, With Distinction – 11/12/2019
Jack Carroll, With Distinction – 11/14/2019
– 11/14/2019
Connor Bennett, With Distinction – 11/14/2019
Ludwig Wolff-Metternich, With Distinction – 11/14/2019
Ford Childress, With Distinction – 11/15/2019
Elizabeth DeLong, With Distinction – 11/15/2019
, With Distinction – 11/15/2019
Tyler Brickle – 11/15/2019
Gabriel Borunda, With Distinction – 11/15/2019
Tim Patterson – 11/17/2019
Sam Love, With Distinction – 11/17/2019
Eric Megnia – 11/17/2019
Michael Ackerman, With Distinction – 11/18/2019
Max Waple, With Distinction – 11/19/2019
Alexander Breinin, With Distinction – 11/19/2019
Kyler LeMaster, With Distinction – 11/20/2019
Devon Hansen, With Distinction – 11/20/2019
Curtis Hodges – 11/21/2019
James Poulnot, With Distinction – 11/22/2019
Eric Spencer, With Distinction – 11/22/2019
, With Distinction – 11/22/2019
Anna Gallegos – 11/23/2019
Shannon Wilson, With Distinction – 11/24/2019
Alexander King, With Distinction – 11/24/2019
Scott Hiler, With Distinction – 11/24/2019
Barry Hart – 11/25/2019
Joel George, With Distinction – 11/25/2019
Aidan Thornton, With Distinction – 11/25/2019
Bennett Ellis – 11/26/2019
Jeremy Reyes – 11/26/2019
Junjie Tan, With Distinction – 11/26/2019
Drew Shields, With Distinction – 11/26/2019
David Zahedi Brown, With Distinction – 11/26/2019
, With Distinction – 11/26/2019
– 11/27/2019
Julian Garcia, With Distinction – 11/27/2019
Jonathan Carreno, With Distinction – 11/27/2019
Nathan Federico, With Distinction – 11/28/2019
, With Distinction – 11/28/2019
, With Distinction – 11/29/2019
Elizabeth Grater, With Distinction – 11/29/2019
Shaharyar Ahsan, With Distinction – 12/1/2019
Andy Randall, With Distinction – 12/1/2019
Callie Strickland, With Distinction – 12/2/2019
Nicole James, With Distinction – 12/2/2019
Reynaldo Torres Arellano – 12/2/2019
– 12/2/2019
, With Distinction – 12/2/2019
– 12/3/2019
, With Distinction – 12/4/2019
Trevor Berry, With Distinction – 12/4/2019
Glen Huff, With Distinction – 12/4/2019
– 12/4/2019
Nick Hughes, With Distinction – 12/5/2019
Pierson Souza, With Distinction – 12/5/2019
Caroline Weisstuch – 12/5/2019
Wendi Worthington – 12/6/2019
Bailey Dawson, With Distinction – 12/6/2019
Niasia Ferguson – 12/6/2019
, With Distinction – 12/6/2019
Anil Balkis – 12/7/2019
Matt Anderson, With Distinction – 12/8/2019
Drew Austin, With Distinction – 12/8/2019
Jonathon Horan, With Distinction – 12/8/2019
Arman Boroumand, With Distinction – 12/9/2019
Monica Brendsel – 12/9/2019
Peter Griffith – 12/10/2019
James Byrd – 12/10/2019
James Lonergan – 12/10/2019
Kyle Galin – 12/12/2019
Christian Jensen, With Distinction – 12/13/2019
– 12/14/2019
Patrick Wilkins, With Distinction – 12/14/2019
, With Distinction – 12/15/2019
Zongxuan Li, With Distinction – 12/15/2019
, With Distinction – 12/15/2019
Anna Hatzispiros, With Distinction – 12/15/2019
, With Distinction – 12/15/2019
– 12/15/2019
Colby Everett, With Distinction – 12/16/2019
Simon Kye, With Distinction – 12/16/2019
Ryan Klaff, With Distinction – 12/16/2019
Brooke Gray, With Distinction – 12/18/2019
, With Distinction – 12/18/2019
Jacqueline Victoria Teer – 12/19/2019
Jessy Gendelman, With Distinction – 12/19/2019
Alex Feinman, With Distinction – 12/19/2019
Boyd Spaulding – 12/19/2019
Richard Wilkinson – 12/20/2019
Brett Wippler, With Distinction – 12/20/2019
Li-Yan Chang, With Distinction – 12/20/2019
, With Distinction – 12/24/2019
Addison Lubert – 12/24/2019
Matthew Concordia, With Distinction – 12/26/2019
Kevin Cheung, With Distinction – 12/26/2019
Anthony Colonnetta – 12/27/2019
Jesse Ross, With Distinction – 12/27/2019
Michal Jastrzebski, With Distinction – 12/28/2019
Stephen Mikeska, With Distinction – 12/28/2019
Mason Ellard, With Distinction – 12/28/2019
Clayton Bryan, With Distinction – 12/29/2019
Yasamin Rahmanparast, With Distinction – 12/29/2019
David Reddy, With Distinction – 12/29/2019
Maureen Cohen, With Distinction – 12/29/2019
Christian Macellari, With Distinction – 12/29/2019
Or Levy, With Distinction – 12/29/2019
Jose Aguilar, With Distinction – 12/30/2019
Avi Ginsburg, With Distinction – 12/30/2019
Ben Wiggins, With Distinction – 12/30/2019
Greg Moore, With Distinction – 12/30/2019
Darence Lim, With Distinction – 12/30/2019
Brian Santana De La Rosa, With Distinction – 12/31/2019
Kevin Burbano, With Distinction – 12/31/2019
Colin Trautman, With Distinction – 12/31/2019
Alyssa Berger, With Distinction – 12/31/2019
Willis Melvin, With Distinction – 1/1/2020
Connor Russell, With Distinction – 1/2/2020
Jason Pollan, With Distinction – 1/2/2020
Jordan Nguyen, With Distinction – 1/2/2020
Brad Wetzel, With Distinction – 1/2/2020
Joshua Fern, With Distinction – 1/2/2020
Yanika Magan, With Distinction – 1/2/2020
, With Distinction – 1/2/2020
Tristan Quizeo, With Distinction – 1/2/2020
Justin Nutt – 1/3/2020
Andrew DeVries, With Distinction – 1/3/2020
Joshua Su, With Distinction – 1/3/2020
Taylor Dahlgren, With Distinction – 1/3/2020
Garrison Kinsel, With Distinction – 1/3/2020
Brian Griffith, With Distinction – 1/3/2020
Samantha Graves, With Distinction – 1/3/2020
Carlton Orange, With Distinction – 1/3/2020
Will Burns, With Distinction – 1/3/2020
Harris Brown, With Distinction – 1/3/2020
John Bormann, With Distinction – 1/4/2020
Caleb Smoot, With Distinction – 1/4/2020
Samuel Woolsey, With Distinction – 1/4/2020
Ryan McCollum, With Distinction – 1/4/2020
Cassidy Springer, With Distinction – 1/4/2020
Farbod Jahanshahi, With Distinction – 1/4/2020
James Todd, With Distinction – 1/5/2020
Connor Schwartz, With Distinction – 1/5/2020
Matthew Kulbicki – 1/5/2020
Kurt Hoelscher, With Distinction – 1/5/2020
Shelbi Greaves, With Distinction – 1/5/2020
Blake Wampler, With Distinction – 1/5/2020
Caitlin Edwards – 1/5/2020
Garrett Newman, With Distinction – 1/5/2020
Valarie Bradley, With Distinction – 1/5/2020
Reagan Heddins – 1/5/2020
Caleb Snow – 1/5/2020
Braden Horton, With Distinction – 1/5/2020
Lucas Duhon, With Distinction – 1/5/2020
Sloan Crady, With Distinction – 1/5/2020
Zoey Pawlik, With Distinction – 1/5/2020
Karsten Greil, With Distinction – 1/6/2020
Will Rouse, With Distinction – 1/6/2020
Logan Jones, With Distinction – 1/6/2020
Thomas Byers – 1/6/2020
Clayton Korell, With Distinction – 1/7/2020
Ian Schrager, With Distinction – 1/7/2020
, With Distinction – 1/7/2020
Hannah Schraeger, With Distinction – 1/8/2020
Matthew Perlmutter – 1/8/2020
James Cathcart, With Distinction – 1/8/2020
Asi Ackerman, With Distinction – 1/8/2020
Alicia Mendoza, With Distinction – 1/9/2020
Yasmeen Altaha, With Distinction – 1/9/2020
Austin Baker, With Distinction – 1/9/2020
Brendan McKeon, With Distinction – 1/9/2020
HARRISON THAYER, With Distinction – 1/9/2020
Maulik Prajapati – 1/9/2020
Harrison Moir, With Distinction – 1/9/2020
Alina Salvail, With Distinction – 1/10/2020
Tim Busch – 1/10/2020
Matt Huschke, With Distinction – 1/10/2020
Jud Webre, With Distinction – 1/11/2020
Eric Stahl, With Distinction – 1/11/2020
Alexis Sowuleski, With Distinction – 1/11/2020
Bryan Kee, With Distinction – 1/12/2020
Thomas Kennedy – 1/12/2020
Sasha Jules – 1/12/2020
Tyler Hodgdon, With Distinction – 1/12/2020
Josh Graf, With Distinction – 1/12/2020
Jonathan Ceballos – 1/12/2020
Harrison Hart, With Distinction – 1/12/2020
Max Wasserman, With Distinction – 1/13/2020
Sean Willson – 1/13/2020
Ruiqian Yang – 1/13/2020
Joseph Bryan, With Distinction – 1/13/2020
Dustin Woodyard, With Distinction – 1/13/2020
bo li, With Distinction – 1/13/2020
Spencer Langley, With Distinction – 1/14/2020
Bryce Long, With Distinction – 1/14/2020
Elizabeth Porter – 1/14/2020
Ira Green, With Distinction – 1/14/2020
Charles Hoge, With Distinction – 1/14/2020
Julia Cooper – 1/14/2020
Reid Watler, With Distinction – 1/14/2020
Timothy Racine, With Distinction – 1/14/2020
Jordan Howe, With Distinction – 1/14/2020
William Corrigan, With Distinction – 1/14/2020
Reasat Bhuiyan, With Distinction – 1/15/2020
Weston Clark, With Distinction – 1/15/2020
Stephen Patton, With Distinction – 1/15/2020
Michael Patterson, With Distinction – 1/16/2020
John Uppgren, With Distinction – 1/16/2020
Oliver Brown, With Distinction – 1/17/2020
Max Allen, With Distinction – 1/17/2020
Charlie G, With Distinction – 1/18/2020
MUJIE LI, With Distinction – 1/19/2020
Kian McGee – 1/19/2020
Shannon Bergen, With Distinction – 1/19/2020
Steve Da Cruz – 1/21/2020
Kyle Ruperto, With Distinction – 1/21/2020
Tina Welch – 1/21/2020
Frank Giardina, With Distinction – 1/21/2020
Nathan Shearer, With Distinction – 1/21/2020
Tyler Pilgrim, With Distinction – 1/22/2020
Katie Gache – 1/22/2020
Mathew Ronk, With Distinction – 1/22/2020
Melvin Strasser-Nicol, With Distinction – 1/23/2020
Jack McCann, With Distinction – 1/23/2020
Camilo Mexsen, With Distinction – 1/24/2020
Hubert Golay, With Distinction – 1/24/2020
Blake John, With Distinction – 1/25/2020
Madrid Danner-Smith, With Distinction – 1/25/2020
Michael Scarnato – 1/25/2020
Aaron McIntyre, With Distinction – 1/26/2020
Jason Zhang, With Distinction – 1/26/2020
Alexander Updyke, With Distinction – 1/26/2020
Dylan Clancy – 1/27/2020
molly wilson – 1/27/2020
Drew Johnson, With Distinction – 1/27/2020
, With Distinction – 1/28/2020
– 1/28/2020
Aiden Sherman-Collins, With Distinction – 1/28/2020
Joseph Barbarito – 1/28/2020
Chenkai Zhao, With Distinction – 1/29/2020
Tommy Faust – 1/29/2020
Mark Freis, With Distinction – 1/30/2020
Christian May, With Distinction – 1/30/2020
Michael Boyd, With Distinction – 1/30/2020
Perry Tindle, With Distinction – 1/30/2020
Varun Sikri, With Distinction – 1/31/2020
Shermika Roberts – 1/31/2020
Pablo Santacruz – 2/3/2020
Nicholas Tramazzo – 2/4/2020
doris cruz pena – 2/4/2020
Nicholas Sellas, With Distinction – 2/4/2020
Riley Gordon, With Distinction – 2/4/2020
Brandon Morsillo, With Distinction – 2/4/2020
Ngoc Van, With Distinction – 2/4/2020
Dominic Coluccio, With Distinction – 2/4/2020
Jahir Hernandez – 2/4/2020
Gabrielle Kenniston – 2/4/2020
Jillian Boose – 2/4/2020
Carl Hoyte – 2/4/2020
Jake Manzano, With Distinction – 2/4/2020
Nino Brancato – 2/4/2020
Stian Funk, With Distinction – 2/4/2020
Cameron Byman – 2/4/2020
Jack Shannon – 2/4/2020
Tyler Somers, With Distinction – 2/4/2020
Erik Sande – 2/4/2020
Jose Joachin – 2/4/2020
Chase Lott, With Distinction – 2/4/2020
Jordan Lips, With Distinction – 2/4/2020
Kimberly Henkel, With Distinction – 2/4/2020
Danielle Buffomante – 2/4/2020
Hunter Burke, With Distinction – 2/4/2020
Alexis Marini, With Distinction – 2/4/2020
Duvanny Pineda – 2/4/2020
Aquirira Lane – 2/4/2020
Binit Parikkh, With Distinction – 2/4/2020
Robert Davidson – 2/4/2020
Arturo Acosta, With Distinction – 2/4/2020
Karly Engert, With Distinction – 2/4/2020
Cory Freeman, With Distinction – 2/4/2020
Kathryn Spindler – 2/4/2020
Zachary Wesche – 2/4/2020
Ashraful Chowdhury, With Distinction – 2/4/2020
Kayla Dubuc – 2/4/2020
Chad Boole – 2/4/2020
Daniel Cabeza, With Distinction – 2/4/2020
Ryan Griffith – 2/4/2020
Salomon Lapco, With Distinction – 2/4/2020
Kevin Lowe, With Distinction – 2/4/2020
, With Distinction – 2/4/2020
Madison Cassidy – 2/4/2020
Alejandro Santiago – 2/4/2020
Samer Diab, With Distinction – 2/4/2020
Kai Johnston, With Distinction – 2/4/2020
Zachary Buentello, With Distinction – 2/4/2020
Cooper Feltis, With Distinction – 2/4/2020
Erin Brickfield, With Distinction – 2/4/2020
James McMullen – 2/4/2020
Matthew Santangelo, With Distinction – 2/4/2020
Keslie Mora – 2/4/2020
Youssef Bishara – 2/4/2020
Lauren Stokes, With Distinction – 2/4/2020
QING XIA ZHANG – 2/4/2020
Alexa Scher – 2/4/2020
Kristina Groetsch, With Distinction – 2/4/2020
Cynthia Lewis – 2/4/2020
Sarah Schwinden – 2/4/2020
Kyle Schofield, With Distinction – 2/4/2020
Zian Guo, With Distinction – 2/4/2020
Simon Beck, With Distinction – 2/5/2020
Grant Gaffney – 2/6/2020
Jon Livadas, With Distinction – 2/6/2020
Luke Bricca, With Distinction – 2/6/2020
Hyun Ham – 2/6/2020
Dakota Oswald-Braucher – 2/6/2020
Dylan Gilsenan – 2/6/2020
, With Distinction – 2/7/2020
Hannah Han, With Distinction – 2/7/2020
Yiu-Kuen Pang, With Distinction – 2/7/2020
Runhua Xu, With Distinction – 2/8/2020
Christopher Osuna – 2/9/2020
Luis Gonzalez, With Distinction – 2/9/2020
hudson hankins, With Distinction – 2/10/2020
Jenna Goudswaard, With Distinction – 2/10/2020
Lane Baker, With Distinction – 2/10/2020
, With Distinction – 2/11/2020
Karim Sutton – 2/11/2020
Sang Hyun Kim – 2/12/2020
Nicholas Sommariva, With Distinction – 2/12/2020
, With Distinction – 2/12/2020
James Short, With Distinction – 2/12/2020
Luke Schaaf – 2/14/2020
, With Distinction – 2/14/2020
Brandon Van Hal, With Distinction – 2/14/2020
Dann Smith, With Distinction – 2/15/2020
Bret Heath – 2/15/2020
Erika Jobson, With Distinction – 2/15/2020
Dominique Alves, With Distinction – 2/15/2020
Jeremy Principe, With Distinction – 2/16/2020
Thu Nguyen, With Distinction – 2/18/2020
Joseph Ellis, With Distinction – 2/19/2020
Tanner Gummersall, With Distinction – 2/19/2020
Mia Hallgrimson, With Distinction – 2/20/2020
, With Distinction – 2/20/2020
Thomas Holzman – 2/20/2020
Derek Orr, With Distinction – 2/20/2020
Taylor Bills, With Distinction – 2/21/2020
, With Distinction – 2/21/2020
Pascal Herrmann, With Distinction – 2/22/2020
Dominic Gibson – 2/22/2020
Zachary Nar – 2/25/2020
Ian McIntyre, With Distinction – 2/25/2020
Jason Peacock, With Distinction – 2/28/2020
Jack McPhail, With Distinction – 3/2/2020
Jeremiah Davies, With Distinction – 3/2/2020
Steve Hartman – 3/2/2020
Carter Bailey, With Distinction – 3/3/2020
Luke Zabinski – 3/3/2020
Zachary Kim – 3/4/2020
John Bustard – 3/4/2020
Cameron Coughlin, With Distinction – 3/4/2020
Noah Greenwald – 3/5/2020
Price Peters, With Distinction – 3/5/2020
Charles Laing, With Distinction – 3/6/2020
Jackson Peacock, With Distinction – 3/6/2020
Darwin Cortez, With Distinction – 3/7/2020
Yue Dou, With Distinction – 3/8/2020
Ryan Lipps, With Distinction – 3/8/2020
Michael Messina, With Distinction – 3/8/2020
Patrick Leugers, With Distinction – 3/8/2020
Jonathan Gubbay, With Distinction – 3/9/2020
Christopher Raphel, With Distinction – 3/10/2020
Jacob Madorsky, With Distinction – 3/10/2020
John Caputo, With Distinction – 3/11/2020
Max Lico, With Distinction – 3/11/2020
Arif Momin, With Distinction – 3/12/2020
Kenneth Abod, With Distinction – 3/14/2020
Matthew Bellomo, With Distinction – 3/15/2020
Max Brown – 3/15/2020
Zachary Halpryn, With Distinction – 3/15/2020
– 3/16/2020
Austin Hunt, With Distinction – 3/16/2020
Bradley Weiner, With Distinction – 3/16/2020
Evan Campbell, With Distinction – 3/17/2020
Rodrigo de los Santos, With Distinction – 3/17/2020
Spencer Vickers, With Distinction – 3/19/2020
Edmond Hui, With Distinction – 3/19/2020
Oleana Hsu, With Distinction – 3/19/2020
Athina Atalioti, With Distinction – 3/21/2020
Ferran Brown – 3/22/2020
Spyros Davaris, With Distinction – 3/22/2020
Juan Acosta – 3/22/2020
– 3/23/2020
, With Distinction – 3/23/2020
Mareike Grebener, With Distinction – 3/23/2020
, With Distinction – 3/24/2020
Nicholas Ferran, With Distinction – 3/24/2020
Brayden Bergum – 3/24/2020
Weston Popp, With Distinction – 3/24/2020
Liyan Zhang, With Distinction – 3/25/2020
Robin Elihu, With Distinction – 3/25/2020
Robert Davis, With Distinction – 3/25/2020
Daniella Cohan, With Distinction – 3/25/2020
– 3/26/2020
Adam Elbaz – 3/28/2020
Givi Karbelashvili, With Distinction – 3/29/2020
Lethabo Setata – 3/29/2020
Samantha Sugarman, With Distinction – 3/29/2020
John McDavid V, With Distinction – 3/29/2020
Ritwik Bhatia, With Distinction – 3/29/2020
Razvan Druga, With Distinction – 3/29/2020
Dhalia Dupree – 3/30/2020
Ben DeCarlo, With Distinction – 3/30/2020
– 3/30/2020
John Jackson, With Distinction – 3/30/2020
austin assad – 3/31/2020
Dylan Smith, With Distinction – 4/1/2020
Allen Ubaha – 4/2/2020
Santiago Eliaschev, With Distinction – 4/3/2020
Max Mehlman – 4/4/2020
Erich Wallis, With Distinction – 4/5/2020
Alejandro Alvarez Mitre, With Distinction – 4/5/2020
Kopal Maheshwari Mulay, With Distinction – 4/7/2020
Christopher Wartman, With Distinction – 4/7/2020
William Scott, With Distinction – 4/8/2020
Apostolos Kalantzis – 4/9/2020
Devon Geraghty – 4/9/2020
Brian James, With Distinction – 4/10/2020
Marc Cutler, With Distinction – 4/11/2020
Dennis Rorie – 4/12/2020
Brandon Turk, With Distinction – 4/13/2020
Alec Schenk, With Distinction – 4/14/2020
Rachel Rust, With Distinction – 4/14/2020
Alexander Ball, With Distinction – 4/14/2020
Sam Barrett, With Distinction – 4/15/2020
Benjamin Ader, With Distinction – 4/15/2020
Wyatt Martin, With Distinction – 4/16/2020
Austin Conti, With Distinction – 4/16/2020
Catherine Wellen, With Distinction – 4/16/2020
Anders Meyer, With Distinction – 4/17/2020
Rahmaan Hamid, With Distinction – 4/17/2020
Colton Cortese, With Distinction – 4/18/2020
Maria Velasco – 4/18/2020
William Schuettler, With Distinction – 4/19/2020
Jack Gordon – 4/19/2020
Mirko Djujic, With Distinction – 4/19/2020
Anthony Poon, With Distinction – 4/20/2020
, With Distinction – 4/21/2020
William Marron, With Distinction – 4/22/2020
– 4/22/2020
Yaqi Du – 4/22/2020
Tamir Hochman, With Distinction – 4/22/2020
William Shepley, With Distinction – 4/22/2020
, With Distinction – 4/23/2020
– 4/24/2020
Justin Zeitchik, With Distinction – 4/24/2020
Ryan Larkin, With Distinction – 4/24/2020
Sean Kirk, With Distinction – 4/24/2020
Ryan Pelman, With Distinction – 4/24/2020
Seth Millington, With Distinction – 4/25/2020
Marek Malik, With Distinction – 4/25/2020
Cole Bamberger, With Distinction – 4/25/2020
Julien van Ophem – 4/26/2020
Dylan Marma – 4/27/2020
, With Distinction – 4/27/2020
, With Distinction – 4/28/2020
Chad Hesiey, With Distinction – 4/28/2020
Shakiel Randolph, With Distinction – 4/28/2020
Matt Snebold – 4/29/2020
Tim Hemmersmeier, With Distinction – 4/29/2020
Jared Hershler, With Distinction – 4/30/2020
Pierce Corpening, With Distinction – 5/2/2020
Egzon Thaqi, With Distinction – 5/3/2020
Stephen Sawicki, With Distinction – 5/5/2020
Julian Solomon, With Distinction – 5/6/2020
Yanal Kamal – 5/7/2020
Andrew Ionescu, With Distinction – 5/7/2020
Shelby Griggs, With Distinction – 5/7/2020
Matthew Rosenfeld, With Distinction – 5/7/2020
– 5/8/2020
– 5/8/2020
– 5/9/2020
Brad Davey, With Distinction – 5/9/2020
Colleen Ryan, With Distinction – 5/10/2020
Tyler Arnold – 5/10/2020
Brendan Johnson, With Distinction – 5/11/2020
Griffin Vasile, With Distinction – 5/12/2020
Yuwei Kong, With Distinction – 5/12/2020
Evan Bolender, With Distinction – 5/12/2020
Joel Lazovitz, With Distinction – 5/13/2020
anna grouzdev – 5/14/2020
Don R Hause, With Distinction – 5/15/2020
Jonathan Liesch, With Distinction – 5/15/2020
Shreyas Krishna Shrestha, With Distinction – 5/16/2020
David Yedlin, With Distinction – 5/18/2020
Injae Alex Park, With Distinction – 5/18/2020
Guy Petrie – 5/19/2020
Joshua Kim, With Distinction – 5/19/2020
– 5/21/2020
Kunal Patel, With Distinction – 5/22/2020
Julien Domenech – 5/22/2020
Jeremy Mack, With Distinction – 5/22/2020
Taylor Haag – 5/24/2020
Stephen DePietto, With Distinction – 5/25/2020
, With Distinction – 5/25/2020
Nicholas Rosetta, With Distinction – 5/26/2020
Jason Graves – 5/26/2020
Clinton Ivy, With Distinction – 5/27/2020
, With Distinction – 5/27/2020
, With Distinction – 5/28/2020
– 5/28/2020
Koji Fujita, With Distinction – 5/28/2020
George Blocker, With Distinction – 5/28/2020
Luke Kadey, With Distinction – 5/29/2020
Charan Singh, With Distinction – 5/31/2020
Christopher Lubrano, With Distinction – 6/1/2020
Felix Henning, With Distinction – 6/1/2020
Mikhail Dyreby – 6/2/2020
Collin Blanchard, With Distinction – 6/3/2020
Yuhao Wang, With Distinction – 6/3/2020
Josh Klein, With Distinction – 6/4/2020
, With Distinction – 6/4/2020
Fernando Lopez, With Distinction – 6/4/2020
QiQi Chen, With Distinction – 6/5/2020
– 6/5/2020
Sam Fisher, With Distinction – 6/5/2020
Patrick Collins – 6/6/2020
Hailee Orton, With Distinction – 6/7/2020
Alec Clifford, With Distinction – 6/9/2020
Richard Russell – 6/9/2020
– 6/9/2020
Alexander Renfrow, With Distinction – 6/9/2020
Raj Patel, With Distinction – 6/9/2020
, With Distinction – 6/9/2020
Madison Gregor, With Distinction – 6/10/2020
, With Distinction – 6/10/2020
Tristan Cade, With Distinction – 6/11/2020
Shoaeb Mohammed Khan – 6/11/2020
Ameya Bhalerao, With Distinction – 6/12/2020
Haseeb Sanage – 6/12/2020
Mark Ahrens, With Distinction – 6/13/2020
Salman Nymulla Asadulla – 6/13/2020
Mackin Boylan, With Distinction – 6/14/2020
Nimi Kalmanovich, With Distinction – 6/14/2020
Ryan Schraier, With Distinction – 6/15/2020
Evans Horton, With Distinction – 6/16/2020
Jessica Riedman, With Distinction – 6/16/2020
Steven Mulkhan Mulkhan, With Distinction – 6/16/2020
, With Distinction – 6/16/2020
Jessica Riedman, With Distinction – 6/16/2020
Daniel Hernandez – 6/17/2020
Zhaoyu Li, With Distinction – 6/18/2020
jeff koby, With Distinction – 6/19/2020
Alfredo Sanchez, With Distinction – 6/19/2020
Zach Murset – 6/24/2020
Travis Duhn, With Distinction – 6/24/2020
Ashley Zilenziger, With Distinction – 6/24/2020
Sophia Linkas, With Distinction – 6/25/2020
Steve Vasquez – 6/26/2020
Josue Pilon, With Distinction – 6/28/2020
Ethan Ravencamp, With Distinction – 6/29/2020
Colby Pair – 6/30/2020
Anthony Okelberry, With Distinction – 6/30/2020
Shai Galapo, With Distinction – 7/1/2020
Kevin Dixon, With Distinction – 7/2/2020
Anna Ding, With Distinction – 7/3/2020
Mario Mendiola, With Distinction – 7/4/2020
Sean Kelly – 7/6/2020
Michael Lau, With Distinction – 7/6/2020
Liam Stewart, With Distinction – 7/8/2020
Alejandro Mendoza, With Distinction – 7/8/2020
Norman Yam, With Distinction – 7/9/2020
Dominic Gallardi, With Distinction – 7/9/2020
Robert Davis, With Distinction – 7/16/2020
Steven Nguyen, With Distinction – 7/16/2020
Dylan Mikson, With Distinction – 7/24/2020
samuel cohen – 7/27/2020
Jacob Richter, With Distinction – 7/27/2020
Zhen Wu, With Distinction – 7/31/2020
Kyle Bilchik – 8/3/2020
Kessler Evan – 8/14/2020
david nardella, With Distinction – 8/20/2020
Antonio Chopitea, With Distinction – 8/20/2020
Robert Lawton, With Distinction – 8/21/2020
Ulysses Auger, With Distinction – 8/27/2020
Gabe Stolar, With Distinction – 8/28/2020
Gabriel Ramirez, With Distinction – 9/4/2020
Pedro Brasil, With Distinction – 9/11/2020
Brian Camilli, With Distinction – 9/23/2020
Aaron Fierros – 9/24/2020
Osman Khan, With Distinction – 9/29/2020
Aiden Lee – 9/30/2020
Daniel Gaule, With Distinction – 10/5/2020
Artem Makarevitch, With Distinction – 10/30/2020
Sophia Badoux – 11/1/2020
Erik Bertin – 11/10/2020
Jackson Kalmbach, With Distinction – 11/17/2020
Muhammad Saad Kazi, With Distinction – 11/20/2020
Mariano Diaz Rivera, With Distinction – 11/27/2020
Fredrik Diederichs, With Distinction – 12/8/2020
Emily Bethel, With Distinction – 12/9/2020
Daniel Sarmiento – 12/11/2020
Kyle Corrigan, With Distinction – 12/13/2020
Paul Zaharia, With Distinction – 12/27/2020
Margarita Sinko, With Distinction – 1/17/2021
Grant Butler, With Distinction – 2/4/2021
Zachary Tonks, With Distinction – 2/12/2021
Wiz Maloney, With Distinction – 2/13/2021
Forrest Greenwalt, With Distinction – 2/26/2021
Kat Wise, With Distinction – 3/10/2021
Colin Coughlin, With Distinction – 4/4/2021
Evan Colburn, With Distinction – 4/20/2021
Srikanth Ganduri, With Distinction – 5/11/2021
Raffaele Mannarelli – 6/9/2021
Jack Kenny, With Distinction – 7/3/2021
Hayden Glasco, With Distinction – 8/10/2021
Sean Bailey Duffy – 8/17/2021
Justin Guzman – 5/30/2022
Jonathan Figueroa Castro, With Distinction - 3/19/2019
Christopher Bartlett, With Distinction - 3/30/2019
Nicholas Meyer - 3/31/2019
Austin Tragni - 4/1/2019
Joel Reubenstein, With Distinction - 4/25/2019
Benjamín Dueñas, With Distinction - 8/25/2019
Bucky Banks, With Distinction - 8/27/2019
Carter Ransom, With Distinction - 9/1/2019
Lorenzo Gonzales, With Distinction - 9/7/2019
Madison Whalen, With Distinction - 9/18/2019
Daneisha Nichols - 9/24/2019
Manuel Del Campo, With Distinction - 9/24/2019
Reed Curtis, With Distinction - 10/2/2019
Shruti Mehta, With Distinction - 10/8/2019
Bretton Bowman - 10/9/2019
Grant Kaku - 10/13/2019
Jonathan Zelnick - 10/14/2019
Jinglei Cui - 10/21/2019
Kiel Von Feldt, With Distinction - 10/24/2019
William Knight, With Distinction - 10/30/2019
Zhe Zhang, With Distinction - 11/1/2019
Moe Bakri - 11/4/2019
Justin Barbos, With Distinction - 11/12/2019
Truett Eckeberger - 11/18/2019
Ben Brooks, With Distinction - 11/19/2019
Jack Kemps, With Distinction - 11/19/2019
Jack Campbell, With Distinction - 11/21/2019
Mark Adair Rios - 12/1/2019
Ford Childress, With Distinction - 12/4/2019
Christoph Leivici - 12/10/2019
Matthew Hayes, With Distinction - 12/11/2019
Samuel Duda, With Distinction - 12/17/2019
Matthew L. O'Sullivan, With Distinction - 12/22/2019
Ben Hoopes - 12/27/2019
Jacky Cheng, With Distinction - 12/29/2019
Marko Brelih, With Distinction - 1/3/2020
Michael Swalwell, With Distinction - 1/4/2020
Christopher Holder - 1/7/2020
Grayson Grisanti, With Distinction - 1/10/2020
Kert Kaiser, With Distinction - 1/10/2020
Ryan Guso, With Distinction - 1/14/2020
Patrick Rabalais - 1/17/2020
Dean Rowbotham, With Distinction - 1/21/2020
Daniel Ciapka, With Distinction - 1/22/2020
Taylor Hare, With Distinction - 1/23/2020
John Warman, With Distinction - 1/27/2020
Sean Kniznik, With Distinction - 1/30/2020
Mercy Angaine, With Distinction - 2/1/2020
Nick Catalano, With Distinction - 2/2/2020
Aaron Flores - 2/4/2020
Spencer Langley - 2/6/2020
Andrew Hayward, With Distinction - 2/8/2020
Brian Seruya - 2/11/2020
Huriyet Anaz - 2/11/2020
Ryan Smith, With Distinction - 2/11/2020
Tim Carey - 2/12/2020
Alexa Patnode, With Distinction - 2/16/2020
Phillip Ruschmeyer - 2/18/2020
Alvaro Carrillo-Sanchez, With Distinction - 2/20/2020
Roberto Gallegos - 2/20/2020
Lukas Supovitz-Aznar, With Distinction - 2/20/2020
Beecher Huegel, With Distinction - 2/23/2020
Dimantha Andrahennady, With Distinction - 2/23/2020
Juan Jesus Trevino, With Distinction - 2/23/2020
Michael Castro-Blanco, With Distinction - 2/24/2020
Joseph Escobar, With Distinction - 2/25/2020
Chrysa Tsakopoulos - 2/28/2020
Alejandro Tellez Vazquez, With Distinction - 3/1/2020
Timothy Randall, With Distinction - 3/1/2020
David Cepeda, With Distinction - 3/6/2020
Davis Kirby, With Distinction - 3/7/2020
Alexander Narvaez-Duckworth, With Distinction - 3/9/2020
Drexel Costello, With Distinction - 3/9/2020
Taisiia Tsvilyniuk, With Distinction - 3/12/2020
Ryan Tice, With Distinction - 3/14/2020
Michael Culham, With Distinction - 3/16/2020
Connor Mcgarvey, With Distinction - 3/16/2020
Daniel Hillman, With Distinction - 3/17/2020
Jared Donaldson, With Distinction - 3/18/2020
Yuyi Chen, With Distinction - 3/18/2020
Andrew Wright, With Distinction - 3/18/2020
Tyler Rix - 3/19/2020
Ritwik Bhatia, With Distinction - 3/20/2020
Mikela Mcmahon - 3/20/2020
Jake Celeste, With Distinction - 3/20/2020
Robert Baklik, With Distinction - 3/21/2020
Franck Djoumessi - 3/23/2020
James Rudicil, With Distinction - 3/23/2020
Nolan Slovinsky, With Distinction - 3/25/2020
Daniel Smicka, With Distinction - 3/25/2020
Gabriella Gomez, With Distinction - 3/26/2020
Robert Brandt - 3/26/2020
Aaron Katz, With Distinction - 3/26/2020
Caroline Luk, With Distinction - 3/27/2020
Cole Cherney, With Distinction - 3/27/2020
Christian Jones, With Distinction - 3/27/2020
Michael Sitzer, With Distinction - 3/28/2020
Tyler Arnold, With Distinction - 3/28/2020
Alexis Goihman, With Distinction - 3/28/2020
Razvan Druga, With Distinction - 3/29/2020
Charles Rusch, With Distinction - 3/29/2020
David Sargent, With Distinction - 3/29/2020
Leonard Arippol, With Distinction - 3/29/2020
Tracy Huang, With Distinction - 3/30/2020
Dan Litt - 3/30/2020
Alejandro Banuelos, With Distinction - 3/31/2020
Fernando Del Valle Soriano, With Distinction - 3/31/2020
Julian Oquendo, With Distinction - 3/31/2020
Moises.coriat, With Distinction - 4/1/2020
Oab269, With Distinction - 4/1/2020
Austin Southerland, With Distinction - 4/2/2020
Dylan Katz, With Distinction - 4/3/2020
Taylor Bazley - 4/4/2020
Ernie Pichardo, With Distinction - 4/5/2020
Giancarlo Foppiano, With Distinction - 4/6/2020
Joe Scheck, With Distinction - 4/6/2020
Dilan Patel, With Distinction - 4/7/2020
Alexander Thomas - 4/7/2020
William Haire, With Distinction - 4/7/2020
Patrick Watkins - 4/7/2020
Pierce Schneider - 4/7/2020
Adam Miklas, With Distinction - 4/7/2020
James Danso, With Distinction - 4/9/2020
Wilson Hightower, With Distinction - 4/9/2020
Anton Storchak, With Distinction - 4/10/2020
Andrew Crawford, With Distinction - 4/10/2020
Kok Tong Neo, With Distinction - 4/10/2020
Kevin Lopez - 4/10/2020
William Knutsen - 4/10/2020
Chris Comet, With Distinction - 4/11/2020
Matthew Overton, With Distinction - 4/12/2020
Alexandre Fisse, With Distinction - 4/14/2020
Luke Bingaman, With Distinction - 4/15/2020
Julian Epps - 4/15/2020
John Torp, With Distinction - 4/15/2020
Wbnuga, With Distinction - 4/16/2020
Warren Crummett, With Distinction - 4/16/2020
Benjamin Dankner, With Distinction - 4/16/2020
Joshua Higgs, With Distinction - 4/16/2020
Matthew Shell, With Distinction - 4/17/2020
Dane Reinhart, With Distinction - 4/18/2020
Eric Lawrence, With Distinction - 4/18/2020
Brooks Arundel, With Distinction - 4/18/2020
Alysha Lewis, With Distinction - 4/19/2020
Alecia Mund, With Distinction - 4/19/2020
Samuel Wadsworth, With Distinction - 4/19/2020
Joseph Burke - 4/20/2020
Christopher Elder, With Distinction - 4/20/2020
Griffin Morgan - 4/22/2020
Carter Jones, With Distinction - 4/22/2020
Ting Zhang, With Distinction - 4/23/2020
Kyle Saviano, With Distinction - 4/23/2020
Naomi Santiago, With Distinction - 4/23/2020
Francisco Flores, With Distinction - 4/24/2020
Akbar Dosani, With Distinction - 4/24/2020
Connor Nolan - 4/24/2020
Hunter Douglas, With Distinction - 4/24/2020
Zach Weik - 4/24/2020
Andrew Hildebrand - 4/26/2020
Mandeep Badesh, With Distinction - 4/26/2020
Timothy Brinsek, With Distinction - 4/27/2020
Jason Freedland - 4/28/2020
Bryan Butler, With Distinction - 4/28/2020
David Kimball, With Distinction - 4/28/2020
Paolo Buffa - 4/28/2020
Ryan Bub, With Distinction - 4/28/2020
Vincent D'Aguilar, With Distinction - 4/29/2020
Declan Casey, With Distinction - 4/29/2020
Christian Moore, With Distinction - 4/29/2020
Joseph Cohen, With Distinction - 4/30/2020
Adam Hurd, With Distinction - 4/30/2020
Nelson Kingery, With Distinction - 4/30/2020
Nichole Horton, With Distinction - 4/30/2020
Matt Erfle - 5/1/2020
Dylan Garner - 5/1/2020
Luis Navarro, With Distinction - 5/2/2020
William Rawlings, With Distinction - 5/2/2020
Paul Maguire, With Distinction - 5/2/2020
Jonathan Edmond, With Distinction - 5/3/2020
Tanner Tovy, With Distinction - 5/4/2020
Cody Owens, With Distinction - 5/4/2020
Greg Drakos, With Distinction - 5/5/2020
Jorge Arozarena, With Distinction - 5/5/2020
Godson Akinnawo, With Distinction - 5/6/2020
William Isles, With Distinction - 5/6/2020
Samantha Rosenberg, With Distinction - 5/6/2020
Joshua Kim - 5/6/2020
Cody Ela - 5/6/2020
Trevor White, With Distinction - 5/6/2020
Mikmoon - 5/6/2020
Joshua Taub, With Distinction - 5/7/2020
Sunvir Pandher - 5/7/2020
Blake King, With Distinction - 5/7/2020
Robert Rosenblood, With Distinction - 5/8/2020
Doris Shiju Zhang - 5/8/2020
Natalie Hunter, With Distinction - 5/8/2020
Jason Zhang, With Distinction - 5/10/2020
Timothy Connor, With Distinction - 5/10/2020
Aaron Sagin - 5/10/2020
Shruti M11, With Distinction - 5/11/2020
Morgan Weinbel, With Distinction - 5/11/2020
Roswell Dunn, With Distinction - 5/11/2020
Tadashi Ito - 5/11/2020
Ari Zeen - 5/11/2020
Miles Lewis, With Distinction - 5/12/2020
Nathan Berman - 5/13/2020
Gabrielle Chock, With Distinction - 5/13/2020
Samuel Margrey, With Distinction - 5/13/2020
Evan Fichter, With Distinction - 5/14/2020
Stephen Wheatcroft, With Distinction - 5/14/2020
Cornell Dayne, With Distinction - 5/14/2020
John Kompson - 5/14/2020
Matthew O'Connor, With Distinction - 5/15/2020
Randall Hause - 5/15/2020
Jeremy Mack, With Distinction - 5/17/2020
Emanuele Mortara, With Distinction - 5/18/2020
Tighe Kenney, With Distinction - 5/18/2020
Mark Huang - 5/18/2020
Anuroy Vyas, With Distinction - 5/19/2020
Daniela Tour, With Distinction - 5/19/2020
Joe Duggan, With Distinction - 5/19/2020
Ryan Peykar, With Distinction - 5/19/2020
Adam Marcuvitz - 5/19/2020
Justin Helbling, With Distinction - 5/19/2020
Peter Graves, With Distinction - 5/19/2020
Madison Williams, With Distinction - 5/21/2020
Jay Van Ert, With Distinction - 5/22/2020
Alexis Devaney, With Distinction - 5/22/2020
Kevin Garden, With Distinction - 5/24/2020
Praise Emmanuel, With Distinction - 5/25/2020
George Sotelo, With Distinction - 5/26/2020
Diego Guerra, With Distinction - 5/26/2020
Michael Canzanese, With Distinction - 5/26/2020
Gina Shelton, With Distinction - 5/26/2020
Nathan Allentoff, With Distinction - 5/26/2020
Maria Veronica Cardenas Vignes, With Distinction - 5/26/2020
Ethan Cohen - 5/26/2020
Jeremy Cohen, With Distinction - 5/27/2020
Sam Byczek, With Distinction - 5/27/2020
Shruti Prod - 5/28/2020
Justin Berk, With Distinction - 5/28/2020
Mark Smith, With Distinction - 5/29/2020
Joshua Smith, With Distinction - 5/29/2020
Tyler Ramatowski, With Distinction - 5/30/2020
Meghan Yancy - 6/1/2020
Fares Albanna, With Distinction - 6/1/2020
Joseph Addeo - 6/1/2020
Robert Obradovich - 6/1/2020
Jacqueline Yackow, With Distinction - 6/2/2020
Daniel Smith, With Distinction - 6/2/2020
J Thomas Moore - 6/2/2020
Thiago Bittar, With Distinction - 6/2/2020
Andrew Olinger, With Distinction - 6/3/2020
James Cantrell, With Distinction - 6/3/2020
Nolan Schmitz - 6/3/2020
Jing Hai, With Distinction - 6/4/2020
Jose Escallon - 6/4/2020
Austin Lee, With Distinction - 6/4/2020
Ruolin Wang, With Distinction - 6/4/2020
William Carlson, With Distinction - 6/4/2020
Nick Premer - 6/5/2020
Christopher Cortes, With Distinction - 6/5/2020
Benjamin Sudduth, With Distinction - 6/5/2020
Stephen Giuntini, With Distinction - 6/5/2020
Christopher Rawlings, With Distinction - 6/5/2020
Elle Miraglia, With Distinction - 6/6/2020
Kelly Kaine, With Distinction - 6/6/2020
Marcos Vidal, With Distinction - 6/7/2020
Julian Ford, With Distinction - 6/7/2020
Ashley Anderson, With Distinction - 6/7/2020
Kene Orjioke, With Distinction - 6/7/2020
Terry Chau, With Distinction - 6/7/2020
Christie Audet, With Distinction - 6/8/2020
Julia Johnson, With Distinction - 6/8/2020
Aaron Benenson, With Distinction - 6/8/2020
Nick Desatnick, With Distinction - 6/8/2020
Songyi Wang, With Distinction - 6/8/2020
Edward Fitzgerald, With Distinction - 6/8/2020
Jake Celeste - 6/8/2020
Srijan Nirgun, With Distinction - 6/8/2020
Erik Ekstrom, With Distinction - 6/8/2020
Rafaela Bayas, With Distinction - 6/8/2020
Lee Gilbert, With Distinction - 6/8/2020
Hayden Gordon, With Distinction - 6/8/2020
Sara Graham, With Distinction - 6/8/2020
Jeffrey Liu, With Distinction - 6/9/2020
Vladimir Bogdashkin, With Distinction - 6/9/2020
Brian Yang, With Distinction - 6/9/2020
Liam Conner, With Distinction - 6/9/2020
Aaron Peltz, With Distinction - 6/9/2020
Alec Deane, With Distinction - 6/9/2020
Spencer Ward - 6/9/2020
Massimo Mattacola, With Distinction - 6/9/2020
Marcus Minami, With Distinction - 6/9/2020
Daniel Stern, With Distinction - 6/10/2020
Alexander Jimenez, With Distinction - 6/10/2020
Broderick Flagg, With Distinction - 6/11/2020
Jonathan Hammond, With Distinction - 6/11/2020
Emily Anderson, With Distinction - 6/11/2020
Kyle Stoker, With Distinction - 6/11/2020
Michael Mena - 6/12/2020
Zbigniew Szczerba, With Distinction - 6/13/2020
Gunnar Lawler - 6/15/2020
Conor Flannery, With Distinction - 6/15/2020
Chris Nguyen, With Distinction - 6/15/2020
John-Luke D'Amico, With Distinction - 6/16/2020
Ian Ozimec, With Distinction - 6/16/2020
Billy Fauntleroy - 6/16/2020
Jack Mclaughlin2, With Distinction - 6/16/2020
Michael Murphy, With Distinction - 6/17/2020
Charles Looney, With Distinction - 6/17/2020
Maximilian Carson, With Distinction - 6/17/2020
Abbas Hararwala, With Distinction - 6/17/2020
Ray Arredondo, With Distinction - 6/18/2020
Jesse Punn, With Distinction - 6/18/2020
Miles Farlow, With Distinction - 6/18/2020
Matthew Loving, With Distinction - 6/18/2020
Garrett Smith, With Distinction - 6/20/2020
Shuai Li, With Distinction - 6/21/2020
Joshua Kaidanow - 6/21/2020
Sam Kurtzman, With Distinction - 6/21/2020
Robert Lee, With Distinction - 6/21/2020
Daniel Shuman - 6/21/2020
Adam Fisher, With Distinction - 6/22/2020
Alex Tanke, With Distinction - 6/22/2020
Michael Shudoma, With Distinction - 6/22/2020
Matthew Sheard, With Distinction - 6/22/2020
Emil Klos - 6/23/2020
Michael Von Schledorn, With Distinction - 6/23/2020
Patrik Ekestubbe, With Distinction - 6/23/2020
Christian Palmer, With Distinction - 6/24/2020
Campbell Miller, With Distinction - 6/25/2020
Benjamin Coden, With Distinction - 6/25/2020
Christian Sullivan, With Distinction - 6/25/2020
Bradley Iino, With Distinction - 6/25/2020
Lin Hou, With Distinction - 6/26/2020
Reid Blynn, With Distinction - 6/26/2020
Tyler Jutting, With Distinction - 6/26/2020
Corey Hancock, With Distinction - 6/26/2020
Kevin Ottati, With Distinction - 6/27/2020
Michael Madden, With Distinction - 6/27/2020
Johan Graham - 6/28/2020
Richard Robinson - 6/29/2020
Andrew Chan, With Distinction - 6/30/2020
John Mcintyre, With Distinction - 6/30/2020
Samuel Moon, With Distinction - 6/30/2020
Ben Baker, With Distinction - 7/1/2020
Aiden Hayes - 7/1/2020
Zach Sheck, With Distinction - 7/1/2020
Alexa Nourafchan, With Distinction - 7/1/2020
Joseph Lipsich, With Distinction - 7/1/2020
Thomas Stokes - 7/1/2020
Madison Phillips, With Distinction - 7/1/2020
Jason Platkin, With Distinction - 7/2/2020
David Mcmurtrie, With Distinction - 7/3/2020
Victoria Fyfe, With Distinction - 7/3/2020
Jonathan Gibson, With Distinction - 7/3/2020
David Gallagher, With Distinction - 7/3/2020
Logan Baird - 7/3/2020
Telless Cade - 7/4/2020
Grant Kobrin, With Distinction - 7/5/2020
Zachary Janfaza - 7/6/2020
Junyong Kwon - 7/6/2020
Paul Callero, With Distinction - 7/6/2020
Thomas Jung, With Distinction - 7/6/2020
Julian Sarrola - 7/6/2020
Jacob Mathson, With Distinction - 7/6/2020
Mitchell Haly - 7/7/2020
Eli Iaslovits - 7/7/2020
Caleb Billingsley, With Distinction - 7/7/2020
Claire Mueller, With Distinction - 7/8/2020
Harrison Fertitta, With Distinction - 7/8/2020
Gershom Espinoza - 7/8/2020
Austin Hall, With Distinction - 7/9/2020
Keaton Sheffert, With Distinction - 7/9/2020
Nicholas Brandenburg, With Distinction - 7/9/2020
Parker Nielsen - 7/9/2020
Ibrahim Mozawalla, With Distinction - 7/9/2020
Justin Thompson, With Distinction - 7/9/2020
Daniel Mullen, With Distinction - 7/9/2020
Grace Amandes, With Distinction - 7/9/2020
Hannah Jurgensmeyer, With Distinction - 7/9/2020
Matthew Dobson, With Distinction - 7/10/2020
Coleman Green, With Distinction - 7/10/2020
Murtatha Ali, With Distinction - 7/10/2020
Benjamin Gordon, With Distinction - 7/10/2020
Harrison Wolstein, With Distinction - 7/10/2020
Kevin Ruiz-Jimenez - 7/11/2020
Fernando Lopez, With Distinction - 7/11/2020
Alex Guindon, With Distinction - 7/11/2020
Ryan Naidu - 7/11/2020
Caroline Reynolds, With Distinction - 7/12/2020
Xiaoyi Zheng, With Distinction - 7/12/2020
Trevor Lundquist, With Distinction - 7/12/2020
Noah Zaionz - 7/12/2020
Eric Rutledge, With Distinction - 7/13/2020
Jiasheng Qu, With Distinction - 7/13/2020
William Young, With Distinction - 7/13/2020
Zachary Bertucci - 7/13/2020
Reetinder Brar, With Distinction - 7/13/2020
Samuel Odutola, With Distinction - 7/14/2020
Eric Chen - 7/14/2020
Adrian Sheppe, With Distinction - 7/14/2020
Nick Blanda - 7/14/2020
Christopher Karpinski, With Distinction - 7/15/2020
Brian Dentry, With Distinction - 7/15/2020
Charles Jackson - 7/15/2020
Max Finkelstein, With Distinction - 7/15/2020
Tyler Hitch, With Distinction - 7/15/2020
Jacob Bass, With Distinction - 7/15/2020
Alex Andra Livingstone, With Distinction - 7/15/2020
Hannah Markowitz, With Distinction - 7/15/2020
Alex Sykes, With Distinction - 7/15/2020
Riley Bartlett, With Distinction - 7/15/2020
Katherine Salvatori, With Distinction - 7/15/2020
Greydon Fauvre, With Distinction - 7/15/2020
Brendan Clark, With Distinction - 7/15/2020
Faizan Qureshi, With Distinction - 7/15/2020
Max Morgan, With Distinction - 7/15/2020
Fabian Castillo Diaz, With Distinction - 7/15/2020
Davis Oudet, With Distinction - 7/15/2020
Kelly Caulfield, With Distinction - 7/16/2020
Robert Fox - 7/16/2020
Alex Fitzgerald - 7/16/2020
Godson Akinnawo, With Distinction - 7/16/2020
Kevin Perrone, With Distinction - 7/16/2020
Jake Myatt, With Distinction - 7/16/2020
Jacob Bennett, With Distinction - 7/16/2020
Jack Gottlieb, With Distinction - 7/17/2020
Jalen Jones, With Distinction - 7/17/2020
Mccord Perry, With Distinction - 7/17/2020
Ryan Dalton, With Distinction - 7/18/2020
Michael Ifejika, With Distinction - 7/19/2020
Pat Portillo, With Distinction - 7/19/2020
Kai Chon Lai, With Distinction - 7/19/2020
Thomas Blitchok, With Distinction - 7/19/2020
Casey Mchale, With Distinction - 7/19/2020
Nick Beardslee, With Distinction - 7/20/2020
Alex Rosen, With Distinction - 7/21/2020
Grant Foster, With Distinction - 7/21/2020
Jalen Jones, With Distinction - 7/22/2020
Lisa Wen, With Distinction - 7/22/2020
James Bobo - 7/22/2020
Joelle Zingerman, With Distinction - 7/23/2020
Rully Adisuryo - 7/23/2020
Brandon Hester - 7/23/2020
Kyle Cunningham, With Distinction - 7/24/2020
Ankur Chadha - 7/25/2020
Josh Montgomery, With Distinction - 7/25/2020
Darren Rodriguez, With Distinction - 7/25/2020
Reagan Rainwater, With Distinction - 7/26/2020
Michael Ennis, With Distinction - 7/26/2020
Margo Black, With Distinction - 7/27/2020
Oriana Salazar, With Distinction - 7/27/2020
Jacob Epstein, With Distinction - 7/27/2020
Tyler Sehon, With Distinction - 7/27/2020
Michael Zhou - 7/28/2020
Austin Fields, With Distinction - 7/28/2020
Jonathan Ellis, With Distinction - 7/28/2020
Margot Ouazana, With Distinction - 7/28/2020
Ryan Murray - 7/29/2020
Andrew Smith, With Distinction - 7/29/2020
Grace Bricken, With Distinction - 7/29/2020
Julie Effron, With Distinction - 7/30/2020
Jack Delaney, With Distinction - 7/30/2020
Joseph Leon, With Distinction - 7/30/2020
Jenna Rediker, With Distinction - 7/31/2020
Pierre Decoste, With Distinction - 7/31/2020
Matthew Schlidt, With Distinction - 7/31/2020
William Martin, With Distinction - 7/31/2020
Federico Cuevas, With Distinction - 7/31/2020
Samuel Cohen - 7/31/2020
Jacob Richter, With Distinction - 7/31/2020
Zachary Yoselowitz, With Distinction - 8/1/2020
Daniel Otero, With Distinction - 8/1/2020
Alix Ha, With Distinction - 8/1/2020
Dylan Dimarchi, With Distinction - 8/1/2020
Nicki Pu, With Distinction - 8/1/2020
Benyamin Shaker - 8/1/2020
Luoya Xu - 8/2/2020
Cole Mcnally, With Distinction - 8/2/2020
Carly Adams, With Distinction - 8/2/2020
Celine Lim, With Distinction - 8/2/2020
Jason Oelbaum, With Distinction - 8/3/2020
Emily Zhou, With Distinction - 8/3/2020
Thano Mazas - 8/3/2020
Michael Glozman, With Distinction - 8/3/2020
Anya Ganeshan, With Distinction - 8/4/2020
Aliza Herz, With Distinction - 8/4/2020
Isaiah Charles, With Distinction - 8/4/2020
Eurner, With Distinction - 8/4/2020
Bobby Cotsen - 8/4/2020
Benjamin Wichlacz, With Distinction - 8/4/2020
Jp Hajjar - 8/4/2020
Jasper Feinberg, With Distinction - 8/5/2020
Christopher Lento, With Distinction - 8/5/2020
Katherine Pfluger, With Distinction - 8/6/2020
William Phinney, With Distinction - 8/6/2020
Parker Dietz, With Distinction - 8/6/2020
Sam Bernstein, With Distinction - 8/6/2020
Kyle Vizzo - 8/6/2020
Travis Winston, With Distinction - 8/7/2020
Nathaniel Hruby, With Distinction - 8/7/2020
Gary Li, With Distinction - 8/8/2020
Renauld Edwards, With Distinction - 8/10/2020
Nicholas Favorito, With Distinction - 8/10/2020
Josh Yates, With Distinction - 8/10/2020
Zachary Goldman, With Distinction - 8/10/2020
Roman.federico, With Distinction - 8/11/2020
Caston Clausen, With Distinction - 8/11/2020
Mike Hayes, With Distinction - 8/12/2020
Tate Horowitz, With Distinction - 8/12/2020
Spencer Sorfleet, With Distinction - 8/12/2020
Virginie Rombauts, With Distinction - 8/12/2020
Emily Kimball, With Distinction - 8/12/2020
Andrew Tai, With Distinction - 8/12/2020
Harlan Schade, With Distinction - 8/12/2020
Elvins Derisma, With Distinction - 8/13/2020
Douglas Tyler, With Distinction - 8/13/2020
Connor Mcadams, With Distinction - 8/13/2020
Arman.boroumand, With Distinction - 8/13/2020
Dakota Brown, With Distinction - 8/14/2020
Julia Hong, With Distinction - 8/14/2020
Jessica Monterrubio, With Distinction - 8/15/2020
Chandler Gee - 8/15/2020
Caleb Augustyn, With Distinction - 8/15/2020
Graham Palmer, With Distinction - 8/15/2020
Haley Templeton - 8/16/2020
Talisha Rice, With Distinction - 8/16/2020
Joshua Polner, With Distinction - 8/16/2020
Benjamin Burnap, With Distinction - 8/16/2020
Jose Latorre, With Distinction - 8/16/2020
Jared Gentry - 8/16/2020
Gabriel Diaz, With Distinction - 8/16/2020
Wilson Cecil, With Distinction - 8/16/2020
Boyd Somerville, With Distinction - 8/17/2020
Niko Ludwig, With Distinction - 8/17/2020
Micahpatrickkessler, With Distinction - 8/17/2020
Austin Mose - 8/17/2020
Robert Faith, With Distinction - 8/17/2020
Hannah Schmidt, With Distinction - 8/17/2020
Eli Roddey, With Distinction - 8/17/2020
Jenn Barenbaum, With Distinction - 8/17/2020
Matt Fanelli, With Distinction - 8/18/2020
Eason Zheng, With Distinction - 8/18/2020
Stephanie Barton, With Distinction - 8/18/2020
William Patriarca, With Distinction - 8/18/2020
Cari Lieberman, With Distinction - 8/19/2020
Alok Abhilash, With Distinction - 8/20/2020
Stephen White, With Distinction - 8/20/2020
Kaylen Bach - 8/20/2020
Daniel Cox, With Distinction - 8/21/2020
Alec Delgado, With Distinction - 8/21/2020
Michael Hall - 8/21/2020
Francisco Boccardo, With Distinction - 8/21/2020
Alexandra Marban, With Distinction - 8/21/2020
Cameron Chuback, With Distinction - 8/21/2020
Tineke Klaassen - 8/22/2020
Alberto Irazola, With Distinction - 8/23/2020
Cristina Griffith - 8/23/2020
Armando A Zapata M, With Distinction - 8/23/2020
Cameron Izadi, With Distinction - 8/23/2020
Vivek Kadiwar, With Distinction - 8/23/2020
Antwan Felton - 8/24/2020
Mario Alberto Bautista Solis - 8/24/2020
Stephen Schraedel, With Distinction - 8/25/2020
Robert Price, With Distinction - 8/26/2020
Travor Nguyen, With Distinction - 8/27/2020
Bill Bianco, With Distinction - 8/27/2020
Wade Cox, With Distinction - 8/27/2020
Abraham Ahmed, With Distinction - 8/27/2020
Catherine Laspina, With Distinction - 8/28/2020
Austin Copeland - 8/28/2020
Mujie Li, With Distinction - 8/29/2020
Christopher Nickels, With Distinction - 8/29/2020
Tom Hennessy, With Distinction - 8/29/2020
Zachary Port, With Distinction - 8/31/2020
Myles Barnes, With Distinction - 8/31/2020
Adam Bustamante, With Distinction - 9/1/2020
Austin Copeland, With Distinction - 9/2/2020
Alejandro Cacciamani, With Distinction - 9/2/2020
Jacob Swartz - 9/3/2020
Emily Viera, With Distinction - 9/4/2020
Tiffany Meng - 9/4/2020
Emma Waterhouse, With Distinction - 9/5/2020
Gregg Infante, With Distinction - 9/6/2020
Erika Read, With Distinction - 9/7/2020
Emil Jabbour, With Distinction - 9/7/2020
Matthew Christopher, With Distinction - 9/8/2020
Truman Lee - 9/8/2020
Julian Olin, With Distinction - 9/8/2020
Spencer Brown, With Distinction - 9/8/2020
Andrew Bechtel, With Distinction - 9/8/2020
Neal Patel, With Distinction - 9/8/2020
Eric Amrhein, With Distinction - 9/8/2020
Michael Bass, With Distinction - 9/8/2020
Andrew Hall, With Distinction - 9/8/2020
Barry Mcdonnell, With Distinction - 9/8/2020
Charles Madden, With Distinction - 9/8/2020
Jesse Clark, With Distinction - 9/8/2020
Alexander Wajsman - 9/8/2020
T2mo2424, With Distinction - 9/8/2020
Jason Banky, With Distinction - 9/8/2020
Erin Elferdink, With Distinction - 9/8/2020
Daniel Becker, With Distinction - 9/8/2020
Maria Muzaurieta, With Distinction - 9/8/2020
Charles Buckner, With Distinction - 9/8/2020
Justin Mackler, With Distinction - 9/8/2020
Blake Paradise, With Distinction - 9/8/2020
Dylan Stavitsky, With Distinction - 9/8/2020
Matthew Henkel, With Distinction - 9/8/2020
Katherine Rosica, With Distinction - 9/8/2020
Maxwell Eisenberg - 9/8/2020
Nishan Singh - 9/8/2020
Saya Perez, With Distinction - 9/8/2020
Noah Rolnick, With Distinction - 9/8/2020
David Rieth, With Distinction - 9/8/2020
Adam Elbaz, With Distinction - 9/8/2020
Noah Liebling, With Distinction - 9/8/2020
Robert Roxas - 9/8/2020
Wyatt Andrews, With Distinction - 9/8/2020
Victoria Noska - 9/8/2020
James Shea, With Distinction - 9/8/2020
Louis Fischer, With Distinction - 9/8/2020
Jacob Eisenberg, With Distinction - 9/8/2020
Matthew Mosiello, With Distinction - 9/8/2020
Brett Bohannon, With Distinction - 9/8/2020
Cameron Cunningham - 9/8/2020
Cheney Hedrick, With Distinction - 9/8/2020
Drew Davis - 9/8/2020
Evan Moorhouse, With Distinction - 9/8/2020
Patrick Farese, With Distinction - 9/8/2020
Reis Spicer, With Distinction - 9/8/2020
Fabiana Matiz - 9/8/2020
Sammy Coker, With Distinction - 9/8/2020
Shane Bierfeldt, With Distinction - 9/10/2020
Jack Kidd, With Distinction - 9/10/2020
David Henson, With Distinction - 9/10/2020
Landon Wood, With Distinction - 9/10/2020
Alexandre Barcellini, With Distinction - 9/11/2020
Josh Balaban, With Distinction - 9/11/2020
Zane Lau - 9/12/2020
Fredrick West, With Distinction - 9/13/2020
Andrew Teague, With Distinction - 9/13/2020
Amber Little, With Distinction - 9/13/2020
Jackmgordon63, With Distinction - 9/14/2020
Massimo Bucci, With Distinction - 9/14/2020
Issaree Anantwatanapong, With Distinction - 9/14/2020
Cody Kuhne, With Distinction - 9/15/2020
Deborah Costigan - 9/16/2020
David Norris, With Distinction - 9/16/2020
Eric Hirani, With Distinction - 9/17/2020
Hannah Radziewicz, With Distinction - 9/17/2020
Bryan Grimm, With Distinction - 9/17/2020
Muhammad U Khan, With Distinction - 9/18/2020
Shayne Burgess, With Distinction - 9/19/2020
Shane Faulkner - 9/19/2020
Jett Brookes, With Distinction - 9/19/2020
Mengyuan Zhang, With Distinction - 9/21/2020
Samlevere - 9/21/2020
Mark Gately, With Distinction - 9/21/2020
Riley Simas, With Distinction - 9/22/2020
Sean Noone, With Distinction - 9/22/2020
Kyle Lewis, With Distinction - 9/22/2020
Andrew Sloane, With Distinction - 9/22/2020
Maya Simkowitz - 9/23/2020
Danah Yoon, With Distinction - 9/23/2020
Matthew Williamson, With Distinction - 9/23/2020
Lanebaker, With Distinction - 9/23/2020
Kmmcgee, With Distinction - 9/23/2020
Kelsey Clay - 9/23/2020
Joshua Lurie - 9/25/2020
John Mcdonald, With Distinction - 9/26/2020
Max Claussen, With Distinction - 9/26/2020
Maria Noy, With Distinction - 9/27/2020
Cameron Alexander, With Distinction - 9/27/2020
Warren Watson, With Distinction - 9/28/2020
Garrett Smith - 9/28/2020
Jon Dehaan, With Distinction - 9/28/2020
Madeline Koepper, With Distinction - 9/28/2020
Pj Borde - 9/28/2020
Gianna Papa, With Distinction - 9/28/2020
Jane Walsh, With Distinction - 9/29/2020
Charlotte Porter, With Distinction - 9/29/2020
Zachary Carter, With Distinction - 9/29/2020
Dulce Mancilla Diaz, With Distinction - 9/29/2020
Auston Pownall, With Distinction - 9/29/2020
Jack Shannon, With Distinction - 9/29/2020
Maya Phan, With Distinction - 9/29/2020
Faizul Kabir, With Distinction - 9/29/2020
Kyle Hong, With Distinction - 9/29/2020
Erik Jacobsen - 9/29/2020
Fausto Gomez - 9/29/2020
Kaixin Zhou, With Distinction - 9/29/2020
Steven Antonio, With Distinction - 9/29/2020
Alex Diaz, With Distinction - 9/29/2020
Cristian Bonilla - 9/29/2020
Stuart Kocha - 9/29/2020
Klevis Bela - 9/29/2020
Ryan Ortiz - 9/29/2020
Kenneth Daniel - 9/29/2020
Ryan Hanna - 9/29/2020
Colleen Keenan - 9/29/2020
Alek Zervos - 9/29/2020
Darien Romero, With Distinction - 9/29/2020
Rhea Shrestha - 9/29/2020
Valeria Lopez, With Distinction - 9/29/2020
Dalton Herring, With Distinction - 9/29/2020
Christopher Congdon - 9/29/2020
Luke Kania, With Distinction - 9/29/2020
Akshay Makan - 9/29/2020
Ciara Boyd, With Distinction - 9/29/2020
Karan Patel, With Distinction - 9/29/2020
Amoy Anderson - 9/29/2020
Robert Cerami - 9/29/2020
Joshua Cloutier - 9/29/2020
Belma Mehanovic, With Distinction - 9/29/2020
Matthew Kania, With Distinction - 9/29/2020
Claudia Jerez - 9/29/2020
Charles Marsala, With Distinction - 9/29/2020
Darius Darr, With Distinction - 9/29/2020
Austin Golove, With Distinction - 9/29/2020
Michael Yucht - 9/29/2020
Alyssa Dequattro - 9/29/2020
Shaye Wood, With Distinction - 9/29/2020
William Clarke - 9/29/2020
Christopher Mendoza - 9/29/2020
Kamrynn Staana - 9/29/2020
David Findley - 9/29/2020
Nicholasdrake, With Distinction - 9/29/2020
Harold Berry - 9/29/2020
Andrew Smith, With Distinction - 9/29/2020
Emanuel Gomez, With Distinction - 9/29/2020
Ethan Perron - 9/29/2020
Kyle Watts - 9/29/2020
Rachel Phan, With Distinction - 9/29/2020
Eduardo Trejo - 9/29/2020
Lindsay Amoroso - 9/29/2020
Taira Hodge - 9/29/2020
Ross Bernstein - 9/29/2020
Hayden Wright, With Distinction - 9/29/2020
Jason Taylor, With Distinction - 9/29/2020
Joseph Paneque, With Distinction - 9/29/2020
Kayla Casella - 9/29/2020
Logan Foss, With Distinction - 9/29/2020
Juan Catano, With Distinction - 9/29/2020
Nyla Halim, With Distinction - 9/29/2020
Nima Fazeli, With Distinction - 9/29/2020
Taylor Chandler - 9/29/2020
Ludmilla Marcondes, With Distinction - 9/29/2020
Alejandro Casablanca - 9/29/2020
Eliza Ross, With Distinction - 9/30/2020
Brian Hamada, With Distinction - 9/30/2020
Colby Parker, With Distinction - 9/30/2020
Christopher Schade, With Distinction - 9/30/2020
Joey Hakola - 9/30/2020
Parker Elliott, With Distinction - 10/1/2020
Andrew Hyans, With Distinction - 10/2/2020
Patrick Ryan, With Distinction - 10/2/2020
Jeremy Grab, With Distinction - 10/2/2020
, With Distinction - 10/2/2020
Nicholas Long, With Distinction - 10/3/2020
Max Gleicher, With Distinction - 10/3/2020
Tucker Raney, With Distinction - 10/3/2020
Robert Hall, With Distinction - 10/3/2020
Brian Bracey, With Distinction - 10/4/2020
Samuel White, With Distinction - 10/4/2020
Max Bank, With Distinction - 10/4/2020
David Dieguez, With Distinction - 10/4/2020
Octavio Rueda, With Distinction - 10/4/2020
Shahid Feroz Patel, With Distinction - 10/4/2020
Angus Brabham, With Distinction - 10/4/2020
Jasmine Murphy, With Distinction - 10/4/2020
Maher Alkanhal, With Distinction - 10/4/2020
Daniel Fallas, With Distinction - 10/5/2020
Will Ellis, With Distinction - 10/5/2020
Matthew Huff, With Distinction - 10/5/2020
Chak Pan Lee, With Distinction - 10/6/2020
Kyle Hongamen, With Distinction - 10/6/2020
Alberto Herrejon, With Distinction - 10/6/2020
Craig Buchanan, With Distinction - 10/6/2020
Justin Delavalle - 10/7/2020
David R Jones, With Distinction - 10/7/2020
Jason Teitelbaum, With Distinction - 10/7/2020
Charles Williams, With Distinction - 10/7/2020
Abdulaziz Almansour, With Distinction - 10/7/2020
Michael Parrott - 10/7/2020
Yilin Wang, With Distinction - 10/8/2020
Halsey Mchenry, With Distinction - 10/9/2020
Daniel Gorczyca, With Distinction - 10/9/2020
Jiang Jiang, With Distinction - 10/9/2020
Peraj Lulla, With Distinction - 10/10/2020
Blanka Thibaud, With Distinction - 10/10/2020
Philip Johnson, With Distinction - 10/10/2020
Alireza Mohseni-K, With Distinction - 10/11/2020
Matthew Olivero, With Distinction - 10/12/2020
Martin Davis, With Distinction - 10/12/2020
German Kurbaji - 10/13/2020
Romil Sorathia, With Distinction - 10/13/2020
Michael Deantonio, With Distinction - 10/13/2020
James Hughes, With Distinction - 10/13/2020
Aaron Weidner, With Distinction - 10/14/2020
Bradly Wei, With Distinction - 10/14/2020
Jens Odegard, With Distinction - 10/14/2020
Daniel Sarman, With Distinction - 10/14/2020
Will Long - 10/15/2020
Cameron Beck, With Distinction - 10/15/2020
Sebastian Coello, With Distinction - 10/15/2020
Jonathan Solomon, With Distinction - 10/16/2020
Jikai Lu, With Distinction - 10/16/2020
Garrett Grassau, With Distinction - 10/16/2020
Zachary Brown, With Distinction - 10/16/2020
Riley Duncan, With Distinction - 10/16/2020
Jacob Carlton, With Distinction - 10/17/2020
Cameron Ayles, With Distinction - 10/18/2020
Jason Carter - 10/19/2020
Robert Abookire, With Distinction - 10/20/2020
Jonathan Garfinkel, With Distinction - 10/20/2020
Austin Risley, With Distinction - 10/20/2020
Chance Covan - 10/20/2020
Scott Tully, With Distinction - 10/21/2020
Kyle Bentz, With Distinction - 10/22/2020
Mark Jones, With Distinction - 10/23/2020
Zain Yousaf-Fuentes, With Distinction - 10/24/2020
William Massaro - 10/25/2020
Jessica Moore, With Distinction - 10/25/2020
Jack Lovell, With Distinction - 10/26/2020
Charles Remington, With Distinction - 10/26/2020
Robert Brailsford, With Distinction - 10/27/2020
Jorge Murillo, With Distinction - 10/27/2020
Kevin Hale - 10/27/2020
Donovan Varney, With Distinction - 10/27/2020
Ryan Thomas, With Distinction - 10/27/2020
Skylar Staib, With Distinction - 10/28/2020
Guillermo Del Camino, With Distinction - 10/29/2020
Edward Pierrepont, With Distinction - 10/29/2020
Stefanieh, With Distinction - 10/30/2020
Spencer Dok - 10/30/2020
Alexander Lippert, With Distinction - 10/31/2020
Michael Rapoli - 10/31/2020
Stephanie Decena, With Distinction - 10/31/2020
Nicholas Harris, With Distinction - 10/31/2020
Haojia Li, With Distinction - 11/1/2020
George Baltakian, With Distinction - 11/1/2020
Andrew Marquardt, With Distinction - 11/1/2020
Stone Barcomb, With Distinction - 11/2/2020
Jack Herring, With Distinction - 11/3/2020
Alexander Holliday - 11/4/2020
David Brena - 11/4/2020
Philip Lee, With Distinction - 11/4/2020
Jonathan Tsirlin, With Distinction - 11/5/2020
Julie Saunders, With Distinction - 11/5/2020
Chad Price, With Distinction - 11/6/2020
Roberto Garcia, With Distinction - 11/8/2020
Thomas Beckett, With Distinction - 11/8/2020
Grant Brutten, With Distinction - 11/9/2020
Ryan Cashman, With Distinction - 11/9/2020
Brian Sonner - 11/9/2020
Caroline Mcnamara, With Distinction - 11/11/2020
Jashan Hara, With Distinction - 11/11/2020
James Smeallie, With Distinction - 11/11/2020
Justine Murphy, With Distinction - 11/12/2020
Jackson Nethercot, With Distinction - 11/12/2020
Eduardo Rincón Gallardo Maldonado, With Distinction - 11/12/2020
Robert Blaine, With Distinction - 11/13/2020
Patrick Ford, With Distinction - 11/15/2020
Erik Bertin, With Distinction - 11/15/2020
Michael Gorman, With Distinction - 11/15/2020
Givi Karbelashvili, With Distinction - 11/16/2020
Eric Schach, With Distinction - 11/17/2020
David Okin, With Distinction - 11/18/2020
Dylan Rogers, With Distinction - 11/19/2020
Matthew Candler, With Distinction - 11/19/2020
Danny Shurtz, With Distinction - 11/20/2020
Ramon Oseguera - 11/22/2020
George De Rossi, With Distinction - 11/23/2020
Robert Miyajima, With Distinction - 11/23/2020
Thomas Bralower, With Distinction - 11/24/2020
Troy Trecroce, With Distinction - 11/25/2020
Joseph Keifer, With Distinction - 11/27/2020
Eric Fitzgerald - 11/27/2020
Yves Lau, With Distinction - 11/28/2020
Tracy Germany, With Distinction - 11/28/2020
Hunter Leonard - 11/28/2020
Daniel Macmaster, With Distinction - 11/28/2020
Joseph Keifer, With Distinction - 11/29/2020
Cindy Wong, With Distinction - 11/29/2020
Ryan Murray, With Distinction - 11/29/2020
Joe Cookson, With Distinction - 11/29/2020
Abdulelah Shaikh, With Distinction - 11/30/2020
Tommy Romano, With Distinction - 11/30/2020
Stanislas Turon-Barrere, With Distinction - 12/1/2020
James Ryan, With Distinction - 12/1/2020
Nicholas Tsoutsouras - 12/2/2020
Taji Abdullah, With Distinction - 12/3/2020
Andreas Kalavrytinos - 12/3/2020
David Ballman, With Distinction - 12/3/2020
John Stephens, With Distinction - 12/3/2020
Kevin Tan, With Distinction - 12/4/2020
Robert Dolinar, With Distinction - 12/4/2020
Dorian Pickens, With Distinction - 12/4/2020
Sam Koplar, With Distinction - 12/4/2020
Kyle Andelin, With Distinction - 12/5/2020
Jiaoyang Wang, With Distinction - 12/6/2020
Rafael Sanchez, With Distinction - 12/6/2020
Derek Richter, With Distinction - 12/6/2020
Jaspreet Padam, With Distinction - 12/7/2020
Andrew Zhu, With Distinction - 12/7/2020
Bobby Trickett - 12/7/2020
Henrique Ferreira, With Distinction - 12/8/2020
Mcqueenie Gavin, With Distinction - 12/8/2020
Samantha Groves, With Distinction - 12/8/2020
Zade Dwaik, With Distinction - 12/8/2020
Liheng Fan, With Distinction - 12/8/2020
Bardia Baheri, With Distinction - 12/9/2020
Jared Benjamin, With Distinction - 12/9/2020
Matt Stringham, With Distinction - 12/9/2020
Nicole Orlow - 12/9/2020
Sally Chen, With Distinction - 12/10/2020
Colin Stewart - 12/10/2020
Christine Zhu, With Distinction - 12/10/2020
Sebastian Corte, With Distinction - 12/10/2020
Kathy Gao, With Distinction - 12/10/2020
Madeleine Payne, With Distinction - 12/11/2020
Spencer Tsai - 12/11/2020
Andrew Philps, With Distinction - 12/11/2020
Nathan Ho, With Distinction - 12/11/2020
Jacob Park, With Distinction - 12/11/2020
Justin Roh, With Distinction - 12/11/2020
Padraic Walsh, With Distinction - 12/11/2020
Romel Fernandez - 12/12/2020
David Gibbs, With Distinction - 12/12/2020
Jaryd Rudolph, With Distinction - 12/13/2020
Brandon Serota, With Distinction - 12/13/2020
Kylie Lam, With Distinction - 12/14/2020
Gavin Pohlhaus, With Distinction - 12/14/2020
Luigi Crevoisier, With Distinction - 12/14/2020
Carl Davies - 12/14/2020
Mariel Arias, With Distinction - 12/15/2020
Angela Co, With Distinction - 12/15/2020
Jason Hunter, With Distinction - 12/15/2020
Jonathan Le, With Distinction - 12/16/2020
Daniel Simonds, With Distinction - 12/16/2020
Brian Bradley, With Distinction - 12/17/2020
Corey Dempster, With Distinction - 12/17/2020
Bruno Cesar Do Amaral De Andrade Sophia, With Distinction - 12/18/2020
Darvin Hosseinyoun, With Distinction - 12/18/2020
Terry Fields, With Distinction - 12/18/2020
Gabe Quigley, With Distinction - 12/18/2020
Samantha Sugarman, With Distinction - 12/19/2020
Aaron Farzan, With Distinction - 12/19/2020
Josiah Hatch, With Distinction - 12/20/2020
Rikesh Patel, With Distinction - 12/20/2020
Carter Langford, With Distinction - 12/20/2020
Paolo Palazzolo Russo, With Distinction - 12/21/2020
Jared Fried, With Distinction - 12/21/2020
Austin Rosso, With Distinction - 12/21/2020
Corey James, With Distinction - 12/22/2020
John Richards, With Distinction - 12/23/2020
Lucas Jones, With Distinction - 12/23/2020
Carlos Figueroa, With Distinction - 12/24/2020
Rafael Oliveira - 12/24/2020
James Brunelli, With Distinction - 12/25/2020
Kazi Najeeb Hasan, With Distinction - 12/25/2020
Andrew Johnson, With Distinction - 12/26/2020
Dana Lain, With Distinction - 12/26/2020
Cynthia Phung, With Distinction - 12/27/2020
Kevin Dicalvo, With Distinction - 12/27/2020
Erich Cotham, With Distinction - 12/28/2020
Braxton Frasure, With Distinction - 12/28/2020
Supreeti Sharma, With Distinction - 12/28/2020
Jeremy Belgau - 12/29/2020
Jason Luu, With Distinction - 12/29/2020
Cristina Esquivel, With Distinction - 12/29/2020
Nikki Thompson, With Distinction - 12/29/2020
Saurav Sharma, With Distinction - 12/29/2020
Tomas Mashidlauskas - 12/29/2020
Jenna Zhong, With Distinction - 12/29/2020
Annie Leanse - 12/30/2020
Mark Lutzker - 12/30/2020
Caleb Aldrich, With Distinction - 12/30/2020
Andrew Kim, With Distinction - 12/30/2020
Felix Bruglemans, With Distinction - 12/31/2020
Juan Moreno Rovira, With Distinction - 12/31/2020
Will Davis, With Distinction - 12/31/2020
Gregory Lopez - 1/1/2021
Nuvie Ewharekuko, With Distinction - 1/1/2021
Carlos Lopez, With Distinction - 1/2/2021
Robert Farah, With Distinction - 1/2/2021
Samuel De Leon, With Distinction - 1/3/2021
Marco Price, With Distinction - 1/3/2021
Qiwen Guan, With Distinction - 1/3/2021
Kevin Bergbauer, With Distinction - 1/4/2021
Max Rosner, With Distinction - 1/5/2021
Dongxu Zhang, With Distinction - 1/5/2021
Peter Dulany - 1/5/2021
Justin Markowitz, With Distinction - 1/6/2021
Snehann Kapnadak, With Distinction - 1/6/2021
Sam Atefyekta, With Distinction - 1/6/2021
Tj Fleming, With Distinction - 1/7/2021
Ryan Henkels, With Distinction - 1/7/2021
David Gold-Matejka, With Distinction - 1/7/2021
Zachary Feldman, With Distinction - 1/7/2021
James Smith - 1/8/2021
Tara Gupta, With Distinction - 1/8/2021
Brandon Bannigan, With Distinction - 1/8/2021
Joshua Issertell, With Distinction - 1/8/2021
Mammad Shahbazov, With Distinction - 1/9/2021
Abby Louderback, With Distinction - 1/10/2021
Bo Diamond - 1/10/2021
Zach Mandel, With Distinction - 1/10/2021
Peng Jen Su, With Distinction - 1/10/2021
Ben Mcnaughton, With Distinction - 1/11/2021
Geremy Mahn, With Distinction - 1/11/2021
Ben Rinke, With Distinction - 1/11/2021
Dane Garson, With Distinction - 1/11/2021
Jamie Honsberger, With Distinction - 1/11/2021
Yi-Cheng Lu, With Distinction - 1/12/2021
Cameron Hsieh, With Distinction - 1/12/2021
Cooper Dolan, With Distinction - 1/12/2021
James Williams, With Distinction - 1/13/2021
Larry English, With Distinction - 1/14/2021
Conoly Koontz, With Distinction - 1/15/2021
Stephanie Garcia, With Distinction - 1/15/2021
Mohamad Ramadan, With Distinction - 1/15/2021
Jason Moses, With Distinction - 1/15/2021
Christian D'Emilia - 1/16/2021
Vanessa Whittington - 1/16/2021
Thomas Adamietz, With Distinction - 1/16/2021
Gabriel Cohen - 1/17/2021
Dominick Isom, With Distinction - 1/17/2021
Jake Waltemire, With Distinction - 1/18/2021
Yu Zhang, With Distinction - 1/18/2021
Alec Drury-Singh, With Distinction - 1/18/2021
Jacob Harper, With Distinction - 1/18/2021
Mckay Anderson - 1/18/2021
Desmond Ellis, With Distinction - 1/18/2021
Spencer Miller, With Distinction - 1/18/2021
Yonaton Abramove - 1/18/2021
Will Floersheimer - 1/19/2021
Taylor Price, With Distinction - 1/19/2021
Chad Griffiths, With Distinction - 1/19/2021
Matthew Vincent, With Distinction - 1/20/2021
Sebastian Ordonez, With Distinction - 1/20/2021
Kevin Logue, With Distinction - 1/20/2021
Adrian Farina, With Distinction - 1/20/2021
Nick Turner, With Distinction - 1/20/2021
Jake Paladino, With Distinction - 1/20/2021
Robert Carmer, With Distinction - 1/20/2021
Jack Parmele - 1/20/2021
Sophie Huimin Tsai, With Distinction - 1/20/2021
Rose Chambers, With Distinction - 1/20/2021
Brooke Womack, With Distinction - 1/20/2021
Andrew Keith, With Distinction - 1/20/2021
Riley Lam, With Distinction - 1/20/2021
Reed Hollingsworth, With Distinction - 1/20/2021
Nicholas Turner, With Distinction - 1/20/2021
Cesar Torres - 1/20/2021
Andrew Robeson, With Distinction - 1/20/2021
Tanner Lloyd, With Distinction - 1/20/2021
Ben Cook - 1/20/2021
Pascal Camarillo - 1/20/2021
Stone Coburn - 1/20/2021
Niko Prokos, With Distinction - 1/20/2021
Carter Perkins - 1/21/2021
Logan Risk - 1/21/2021
Ehlysa Ingalls, With Distinction - 1/21/2021
Benjamin Gatewood - 1/21/2021
Luke Bryan - 1/21/2021
Creed Simonton - 1/21/2021
Andrew Simms, With Distinction - 1/21/2021
Nick Ingram, With Distinction - 1/21/2021
Abby Oltmann - 1/21/2021
Benjamin Farzley, With Distinction - 1/21/2021
Mason Anderson, With Distinction - 1/21/2021
Kyle Kilgore, With Distinction - 1/21/2021
Jacob Hall - 1/21/2021
Braeden Fleming, With Distinction - 1/21/2021
Roby Martin, With Distinction - 1/21/2021
Andrew Gootos - 1/21/2021
Parker Lowe, With Distinction - 1/21/2021
Tyler Walters, With Distinction - 1/21/2021
Kevin Tran - 1/21/2021
Julia Howes, With Distinction - 1/21/2021
Peyton Wann, With Distinction - 1/21/2021
Jared Ross - 1/21/2021
Levi Cope, With Distinction - 1/21/2021
Joel Burgess - 1/21/2021
Bailey Dial, With Distinction - 1/21/2021
Max Gee, With Distinction - 1/21/2021
Will Harding, With Distinction - 1/21/2021
Ashley Sekhon, With Distinction - 1/21/2021
Carter Maass, With Distinction - 1/21/2021
Camri Farmer, With Distinction - 1/21/2021
Jake Vaughn - 1/21/2021
Alexander Durham, With Distinction - 1/21/2021
Chanpraseth Soam - 1/21/2021
Brenden Manivong, With Distinction - 1/21/2021
Antwain Parker, With Distinction - 1/21/2021
Sebastian Echeverri, With Distinction - 1/21/2021
Daniela Graterol - 1/21/2021
Kenneth Coyle, With Distinction - 1/21/2021
Nino Bosco - 1/21/2021
Logan Mahurt, With Distinction - 1/22/2021
Vedanth Shetty, With Distinction - 1/22/2021
Heather Culver, With Distinction - 1/22/2021
Thomas Altmayer, With Distinction - 1/22/2021
Tiffany Ning, With Distinction - 1/22/2021
Christopher Meyer - 1/22/2021
Allyson Mason, With Distinction - 1/22/2021
Allison Nudel, With Distinction - 1/22/2021
Thomas Coffey, With Distinction - 1/23/2021
Jasmeet Combo, With Distinction - 1/23/2021
Eitan Newfield, With Distinction - 1/23/2021
Taylor Halsey, With Distinction - 1/23/2021
Junyu Huang, With Distinction - 1/24/2021
Yovani Leon - 1/24/2021
Kirk Lindberg, With Distinction - 1/25/2021
William Robert Stahlke Iv, With Distinction - 1/25/2021
Michael Davis, With Distinction - 1/25/2021
Ashwath Ramdas, With Distinction - 1/26/2021
Ricardo Mayo - 1/26/2021
Alex Kucera - 1/26/2021
Rio Maier, With Distinction - 1/26/2021
Charlie Bernet - 1/26/2021
Omar Hinedi, With Distinction - 1/26/2021
William Holtforster, With Distinction - 1/27/2021
Rafael Pinero, With Distinction - 1/27/2021
Stephen Graziano, With Distinction - 1/27/2021
John Foley - 1/27/2021
Aaron Kline, With Distinction - 1/27/2021
Bennett Biggers - 1/27/2021
Landon Munson, With Distinction - 1/28/2021
Isaac Zhang, With Distinction - 1/28/2021
Mark Freis, With Distinction - 1/28/2021
Kelly Ruffing, With Distinction - 1/28/2021
Shannon Comolli, With Distinction - 1/28/2021
Arshad Balwa - 1/29/2021
Mitchell Pitts, With Distinction - 1/29/2021
Mitchell Rice, With Distinction - 1/30/2021
Joan Murrell, With Distinction - 1/30/2021
Brian Denning, With Distinction - 1/30/2021
Claudia Verdecia, With Distinction - 1/31/2021
Ming Hong Choi, With Distinction - 1/31/2021
Gianni Colbertaldo - 1/31/2021
Josiah Berhane, With Distinction - 2/1/2021
Robert Dubberly, With Distinction - 2/1/2021
Chase Moralejo, With Distinction - 2/1/2021
Matthew Mullen, With Distinction - 2/1/2021
Khaled Abdelatey, With Distinction - 2/1/2021
Nery Rodriguez, With Distinction - 2/1/2021
Brian Liekhus, With Distinction - 2/2/2021
Taylor Ouwerkerk, With Distinction - 2/2/2021
Mary Kate Cruise, With Distinction - 2/2/2021
Douglas Kosann, With Distinction - 2/2/2021
Bruce Kirsch, Refai®, With Distinction - 2/2/2021
Andrew Hernandez, With Distinction - 2/2/2021
Nick Stuck, With Distinction - 2/4/2021
Reuben Ting, With Distinction - 2/4/2021
Marshall Warnock, With Distinction - 2/4/2021
Xiaoxi Wang, With Distinction - 2/4/2021
Semiramis C Rodriguez Marte, With Distinction - 2/4/2021
Alvieno Stinson - 2/5/2021
Nick Dinunzio, With Distinction - 2/5/2021
Armando Castillo, With Distinction - 2/5/2021
David Emerson, With Distinction - 2/5/2021
Tom Stewart, With Distinction - 2/5/2021
Andrea Sloter, With Distinction - 2/6/2021
Bryce Tobias, With Distinction - 2/6/2021
Nikki Liao, With Distinction - 2/6/2021
Ramiro Pacheco - 2/7/2021
Holt Madden - 2/8/2021
Will Nuga, With Distinction - 2/8/2021
Brydell Ward, With Distinction - 2/8/2021
Jeremy Heister, With Distinction - 2/8/2021
Sahil Patel - 2/9/2021
Francisco Marulanda, With Distinction - 2/9/2021
James Pantano, With Distinction - 2/10/2021
Josh Leblanc, With Distinction - 2/10/2021
Percy Oliver, With Distinction - 2/10/2021
Jeffrey Liu, With Distinction - 2/11/2021
Andrew Gordon, With Distinction - 2/11/2021
Chloe Lim, With Distinction - 2/11/2021
Darryl Lindie, With Distinction - 2/11/2021
Alden Kramer, With Distinction - 2/11/2021
Nicolai Waner, With Distinction - 2/12/2021
Ariel Ilarslan Russo, With Distinction - 2/12/2021
Lucas Santana - 2/12/2021
Trevor Friedrich, With Distinction - 2/13/2021
Benjamin Vick, With Distinction - 2/13/2021
Francisco Gomez - 2/13/2021
Jack Graveline, With Distinction - 2/13/2021
Arturo Salazar, With Distinction - 2/14/2021
Michael Sellis, With Distinction - 2/14/2021
Catherine Vilar, With Distinction - 2/14/2021
Jonathan Fearn - 2/14/2021
Jonathan Garza - 2/15/2021
Ziqi Lin - 2/15/2021
Adam Lindberg, With Distinction - 2/15/2021
Jeremy Coppels, With Distinction - 2/15/2021
James Near, With Distinction - 2/15/2021
Parmys Kompani, With Distinction - 2/16/2021
Seamus Walsh - 2/16/2021
James Duke, With Distinction - 2/16/2021
Aaron Seyoum, With Distinction - 2/16/2021
Grant Manny, With Distinction - 2/16/2021
Brandon Gonzalez, With Distinction - 2/16/2021
Amanda Schmidt, With Distinction - 2/16/2021
Robert Leblanc, With Distinction - 2/16/2021
Rickey Cardona, With Distinction - 2/16/2021
Alyson Friedman - 2/16/2021
Clay Shaw, With Distinction - 2/16/2021
Noah Mease, With Distinction - 2/16/2021
Valerie Hale - 2/16/2021
Nicholas Neugebauer, With Distinction - 2/16/2021
Cheyenne Knueppel, With Distinction - 2/16/2021
Lorencio Tizol, With Distinction - 2/16/2021
Sean Kidwell, With Distinction - 2/16/2021
Anna Glazunova, With Distinction - 2/16/2021
Brenden Rendo - 2/16/2021
Tyler Tran, With Distinction - 2/16/2021
Casey Khamphoumy, With Distinction - 2/16/2021
Damian Berges, With Distinction - 2/16/2021
Tyler Blizzard, With Distinction - 2/16/2021
Stephanie Flores, With Distinction - 2/16/2021
Samuel Cooper, With Distinction - 2/16/2021
Eli Kovacs, With Distinction - 2/16/2021
Patrick Traitz, With Distinction - 2/16/2021
Jose Rodriguez - 2/16/2021
Jordan Feldman, With Distinction - 2/16/2021
Vincent Ferreira - 2/16/2021
Eli Lauber, With Distinction - 2/16/2021
Daniel Wiggins - 2/16/2021
Brandon Capon, With Distinction - 2/16/2021
Jason Thirkell, With Distinction - 2/16/2021
Andrew Dobson, With Distinction - 2/16/2021
Aaron Ferrer, With Distinction - 2/16/2021
Eduardo Gutierrez, With Distinction - 2/16/2021
Tony Dang, With Distinction - 2/16/2021
Leah Purdy, With Distinction - 2/16/2021
Haley Thomas, With Distinction - 2/16/2021
Jackson Bracken, With Distinction - 2/16/2021
Casey Conn, With Distinction - 2/16/2021
Kenny Reiss, With Distinction - 2/16/2021
Sean Baran, With Distinction - 2/16/2021
Nicholas Shirkey, With Distinction - 2/16/2021
Ariel Gardelin, With Distinction - 2/16/2021
Bassel Fares, With Distinction - 2/16/2021
Mario Bermudez, With Distinction - 2/16/2021
Matthew Lipari, With Distinction - 2/16/2021
Samuel Orcutt, With Distinction - 2/16/2021
Reina Rodriguez - 2/16/2021
Charles Duvall, With Distinction - 2/16/2021
Luis Naranjo, With Distinction - 2/16/2021
Shawn Lalbachan - 2/16/2021
Jose Carapaica - 2/16/2021
Matthew Lawson - 2/16/2021
Michael Cilurso, With Distinction - 2/16/2021
Ashley Kurtzweg, With Distinction - 2/16/2021
Diego Mangandi - 2/16/2021
Daniel Fixler, With Distinction - 2/16/2021
Nick Dryfoos, With Distinction - 2/16/2021
Michael Hernandez, With Distinction - 2/16/2021
Brayton Cauchon, With Distinction - 2/16/2021
Kyle Moss-Solomon - 2/16/2021
Samantha Gibbons, With Distinction - 2/16/2021
Thomas Urban - 2/16/2021
Eduardo Reyna - 2/16/2021
Zachary Hobby, With Distinction - 2/16/2021
Robert Leary, With Distinction - 2/16/2021
Samuel Diaz, With Distinction - 2/16/2021
Jazmina Hutchins, With Distinction - 2/16/2021
Julio Allen - 2/16/2021
George Morgan, With Distinction - 2/16/2021
Matthew Morris - 2/16/2021
Sarah Smith, With Distinction - 2/16/2021
Joshua Fidelo, With Distinction - 2/16/2021
Brittany West, With Distinction - 2/16/2021
Lucy Senseman - 2/16/2021
Sydney Alvarez, With Distinction - 2/16/2021
Taylor Walden - 2/16/2021
Michael Odowd, With Distinction - 2/16/2021
Minh Tran, With Distinction - 2/16/2021
Leonard Burmann, With Distinction - 2/16/2021
Glenn Brinson, With Distinction - 2/16/2021
William Cronin - 2/16/2021
Jalyni Mcguire - 2/16/2021
Yanelis Pagan - 2/16/2021
Shannon Potter, With Distinction - 2/16/2021
Benjamin Vincent, With Distinction - 2/16/2021
Briana Ochoa - 2/17/2021
Michael Verini, With Distinction - 2/17/2021
Kyle Kelly, With Distinction - 2/17/2021
Daniel Skerrett, With Distinction - 2/17/2021
Nathan Medina - 2/18/2021
Brendan Mullen, With Distinction - 2/18/2021
Guangfen Cox - 2/18/2021
Ana Laura Collado Diaz, With Distinction - 2/18/2021
Brenson Saint Jean, With Distinction - 2/19/2021
Weylen Chang - 2/19/2021
Joseph Pody, With Distinction - 2/20/2021
Ekaterina Udodova, With Distinction - 2/20/2021
Christopher Bares, With Distinction - 2/21/2021
Gary Thompson, With Distinction - 2/21/2021
Chandler.owen, With Distinction - 2/21/2021
Chris Mendez, With Distinction - 2/21/2021
Timothy Findlay, With Distinction - 2/22/2021
Colby Wang, With Distinction - 2/22/2021
David London, With Distinction - 2/22/2021
Jack Lucier, With Distinction - 2/23/2021
Wouter Lips, With Distinction - 2/23/2021
Donovan Hampton, With Distinction - 2/23/2021
Makinnon Baugh - 2/23/2021
Daniel Bryant, With Distinction - 2/24/2021
Neal Robin, With Distinction - 2/24/2021
Benjamin Fortunato, With Distinction - 2/24/2021
Helena He, With Distinction - 2/25/2021
Sanaea Patel, With Distinction - 2/25/2021
Daniel Ugalde, With Distinction - 2/27/2021
Orry Michael - 2/27/2021
Faisal Alskait - 2/28/2021
Anas Alselmi, With Distinction - 2/28/2021
Jonathan Hsu, With Distinction - 3/1/2021
Brian Lee, With Distinction - 3/1/2021
Kristen Allen, With Distinction - 3/1/2021
Cagan Friend, With Distinction - 3/1/2021
Jaesung Yoon, With Distinction - 3/2/2021
Michael Caballero, With Distinction - 3/2/2021
Robert Manning, With Distinction - 3/3/2021
Sam Husken, With Distinction - 3/4/2021
Kevin Carlson, With Distinction - 3/5/2021
Lukas Davaz, With Distinction - 3/6/2021
Joaquín Márquez, With Distinction - 3/7/2021
Ivy Nnakabonge, With Distinction - 3/7/2021
Ray Vivas, With Distinction - 3/7/2021
Simin Zhang, With Distinction - 3/8/2021
Alden Freddo, With Distinction - 3/9/2021
Jackson Diaz - 3/10/2021
Christopher Lowder, With Distinction - 3/10/2021
Spiros Buas, With Distinction - 3/10/2021
Khaled Abdullah, With Distinction - 3/11/2021
Brian Schroeder, With Distinction - 3/11/2021
Quinlan Hughes, With Distinction - 3/11/2021
Colin Veney, With Distinction - 3/11/2021
Vasudha Kaul, With Distinction - 3/14/2021
Berkano Kleymeyer, With Distinction - 3/16/2021
Justin Carmack, With Distinction - 3/16/2021
Aaron Tam, With Distinction - 3/16/2021
David Morales, With Distinction - 3/17/2021
Isaac Lilien, With Distinction - 3/17/2021
Jarrod Willis, With Distinction - 3/18/2021
William Rosatti, With Distinction - 3/19/2021
William Clark, With Distinction - 3/19/2021
Jamie Fash, With Distinction - 3/19/2021
Ioannis Katsaounis, With Distinction - 3/21/2021
Jack Zicovich, With Distinction - 3/21/2021
Yasamin Enshaeian - 3/21/2021
Oriel Nottea, With Distinction - 3/22/2021
Luke Lavelle, With Distinction - 3/22/2021
Lynne Andre, With Distinction - 3/23/2021
Thapelo Tyson Mthembi, With Distinction - 3/23/2021
Christopher Ivsin, With Distinction - 3/23/2021
Kelland Drumgoole - 3/24/2021
Jake Gosnell, With Distinction - 3/24/2021
Dallin Blank, With Distinction - 3/24/2021
Todd Sessums, With Distinction - 3/25/2021
Alex Luchtenberg, With Distinction - 3/25/2021
Charles Cook - 3/25/2021
Luca Traverso, With Distinction - 3/26/2021
Emily Oler, With Distinction - 3/28/2021
John Grib, With Distinction - 3/28/2021
Dominic Freschet, With Distinction - 3/28/2021
Marco Alvarez, With Distinction - 3/29/2021
Robert Ceh - 3/30/2021
Yaashna Kapoor - 3/30/2021
Doug Kutzgar, With Distinction - 3/30/2021
Carl Barreto, With Distinction - 3/31/2021
Sam Watts, With Distinction - 3/31/2021
Christopher Wu, With Distinction - 3/31/2021
Mathew Saiontz, With Distinction - 3/31/2021
Louis Sherman, With Distinction - 3/31/2021
Dan Mazur, With Distinction - 4/1/2021
Brian Winstanley, With Distinction - 4/1/2021
Joel Lazovitz - 4/2/2021
Anjali Kapadia, With Distinction - 4/2/2021
Bradley Coulter - 4/3/2021
Morgan Machado - 4/4/2021
Wen Shao Chen, With Distinction - 4/4/2021
Jordan Wagstaff, With Distinction - 4/4/2021
Scott Reasoner, With Distinction - 4/4/2021
Armen Alashaian, With Distinction - 4/5/2021
Alexander Low, With Distinction - 4/5/2021
Grant Uberstine, With Distinction - 4/6/2021
Ankit Mittal, With Distinction - 4/6/2021
Nicholas Boccuzzi - 4/6/2021
Sandrine Scott, With Distinction - 4/8/2021
Luke Stup, With Distinction - 4/9/2021
Chalin Fairly, With Distinction - 4/9/2021
Carlos Castellanos, With Distinction - 4/9/2021
Matthew Sherburne - 4/9/2021
Ying Shean Chua, With Distinction - 4/10/2021
Henry Menn, With Distinction - 4/10/2021
Andrew Miller, With Distinction - 4/11/2021
Arthur Ranque, With Distinction - 4/12/2021
Shane Cassidy - 4/12/2021
Thomas Casey, With Distinction - 4/13/2021
Ben Westphal - 4/13/2021
Jeffrey Albaum, With Distinction - 4/13/2021
Oskar Golebiowski, With Distinction - 4/16/2021
Palmer Lincoln, With Distinction - 4/16/2021
Nur Izzat Aiman Bin Nur Aziz, With Distinction - 4/16/2021
Ali Almansour - 4/17/2021
Austin Gioseffi, With Distinction - 4/17/2021
John Macke, With Distinction - 4/17/2021
Fernando Morales, With Distinction - 4/18/2021
Gabriella Sullo, With Distinction - 4/18/2021
Jered Baker, With Distinction - 4/18/2021
Mark Baker, With Distinction - 4/19/2021
Morgan Grimsley, With Distinction - 4/20/2021
Andrew Meyers, With Distinction - 4/21/2021
Henry Wilhelm, With Distinction - 4/21/2021
Grace Carmouche, With Distinction - 4/21/2021
William Wykoff, With Distinction - 4/21/2021
Christian Hall, With Distinction - 4/22/2021
Chris Parthum, With Distinction - 4/22/2021
Jorge Murrieta, With Distinction - 4/22/2021
William Bartlett - 4/22/2021
Daniel Dishi, With Distinction - 4/23/2021
Robert Cuthbertson, With Distinction - 4/24/2021
Nolan Moder, With Distinction - 4/26/2021
Tarik Gezmis, With Distinction - 4/27/2021
Ted Baltz, With Distinction - 4/27/2021
Steven Provenzano, With Distinction - 4/27/2021
Luke Lecoche, With Distinction - 4/29/2021
Sameir Madden, With Distinction - 4/29/2021
Omar Metwally, With Distinction - 4/29/2021
Denys Kashtelian, With Distinction - 4/29/2021
Marcus St Paul - 4/30/2021
Kelley Jay, With Distinction - 4/30/2021
Paul Geiger, With Distinction - 4/30/2021
Jaxon Kim, With Distinction - 4/30/2021
Nicholasludwig_1, With Distinction - 4/30/2021
Patrick Harris, With Distinction - 5/2/2021
Shubham Kansal, With Distinction - 5/2/2021
Edley Alcide, With Distinction - 5/2/2021
Ryan Stanton, With Distinction - 5/3/2021
Raymond Ryder, With Distinction - 5/3/2021
Alexander George, With Distinction - 5/4/2021
Gregory Miller, With Distinction - 5/4/2021
Marcellus Mckinley, With Distinction - 5/5/2021
Garret Barnes, With Distinction - 5/5/2021
Sitara Kishore, With Distinction - 5/5/2021
William Huschka, With Distinction - 5/5/2021
John Thomas Schmidt, With Distinction - 5/5/2021
Luke Hansen - 5/5/2021
Grant Link, With Distinction - 5/6/2021
Matthew Carfaro - 5/6/2021
Oliver Woodruff, With Distinction - 5/7/2021
Riley Rossomanno, With Distinction - 5/7/2021
William Brault, With Distinction - 5/7/2021
Adam Surico, With Distinction - 5/7/2021
John Lyddon, With Distinction - 5/8/2021
Charlie Davio, With Distinction - 5/8/2021
Benjamin Reader, With Distinction - 5/8/2021
Peter Waschenko, With Distinction - 5/8/2021
Stephanie Choe, With Distinction - 5/9/2021
Tommy Larsen, With Distinction - 5/9/2021
Jeff Wilhelm, With Distinction - 5/9/2021
Kyle White, With Distinction - 5/9/2021
Emily Heng, With Distinction - 5/9/2021
Antonio Lulli, With Distinction - 5/11/2021
Deric Obeldobel, With Distinction - 5/11/2021
Eduardo Mancilla, With Distinction - 5/11/2021
Steven Morrison, With Distinction - 5/11/2021
Matthew Verrone, With Distinction - 5/12/2021
Tommy Waller, With Distinction - 5/13/2021
Paul Lovullo, With Distinction - 5/13/2021
Dennis Vila, With Distinction - 5/13/2021
Wayne Thompson, With Distinction - 5/14/2021
Sean Sindhunirmala, With Distinction - 5/16/2021
Harry Day-Reiss, With Distinction - 5/16/2021
Sean Scott, With Distinction - 5/16/2021
Roman Orozov, With Distinction - 5/16/2021
Shan Rodgers, With Distinction - 5/17/2021
Julian Reed, With Distinction - 5/17/2021
Cameron Welter, With Distinction - 5/18/2021
Osama El-Gizawy, With Distinction - 5/18/2021
Hannah Nguyen - 5/18/2021
Andrew Jin, With Distinction - 5/19/2021
Eric Ritchie, With Distinction - 5/19/2021
Gerard Madden, With Distinction - 5/20/2021
Joel Scarbriel, With Distinction - 5/20/2021
Cyrill Vollmeier, With Distinction - 5/20/2021
Carly Ross, With Distinction - 5/20/2021
Robert Compean, With Distinction - 5/21/2021
Arif Momin, With Distinction - 5/21/2021
Jake Dieber, With Distinction - 5/21/2021
Calvin Short, With Distinction - 5/22/2021
Santiago Jaramillo, With Distinction - 5/23/2021
Stephen Nguyen, With Distinction - 5/23/2021
Kaitlyn Vogel, With Distinction - 5/24/2021
Sean Renken, With Distinction - 5/24/2021
Jonathon Despres, With Distinction - 5/24/2021
Cameron Nikroo, With Distinction - 5/24/2021
Natalia Crescitelli, With Distinction - 5/25/2021
Andres Pinate, With Distinction - 5/25/2021
Alex May, With Distinction - 5/26/2021
Arya Chawla, With Distinction - 5/26/2021
Jack Levin, With Distinction - 5/26/2021
Rosemary Gong - 5/26/2021
Marc Schwartz, With Distinction - 5/26/2021
Andy Hernandez, With Distinction - 5/27/2021
Andy Yang, With Distinction - 5/27/2021
Michael Porco - 5/27/2021
Aminata Sam - 5/28/2021
Haonan Liu, With Distinction - 5/28/2021
Hayde Gibson, With Distinction - 5/28/2021
Kristen Gao, With Distinction - 5/28/2021
Christopher Yasko, With Distinction - 5/28/2021
Nathan Niemiec, With Distinction - 5/28/2021
Kevin Huang, With Distinction - 5/29/2021
Trey Rielly, With Distinction - 5/29/2021
Young Uk Kim, With Distinction - 5/29/2021
Lorna Wilson, With Distinction - 5/29/2021
Cole Charbonnier, With Distinction - 5/29/2021
Nick Nicola - 5/29/2021
Oleg Enik, With Distinction - 5/30/2021
Samuel Despeaux, With Distinction - 5/30/2021
Aaliyah St. Louis, With Distinction - 5/30/2021
Shay Mac Ban, With Distinction - 5/31/2021
Edward Porter, With Distinction - 5/31/2021
Mansi Pandya, With Distinction - 5/31/2021
Jacob Stansberry - 5/31/2021
Brian Mooney, With Distinction - 5/31/2021
Robin Roper, With Distinction - 5/31/2021
Andrew Fernandez - 5/31/2021
Justin Lloyd, With Distinction - 5/31/2021
Maverick Noack, With Distinction - 6/1/2021
Joseph Lalli, With Distinction - 6/1/2021
Jackeline Ramirez, With Distinction - 6/1/2021
Daniel Forrester, With Distinction - 6/1/2021
Brendan Scott, With Distinction - 6/1/2021
Max Trinkle, With Distinction - 6/1/2021
Elliott Aliff, With Distinction - 6/1/2021
Lorren Royston, With Distinction - 6/1/2021
Rachel Wei - 6/1/2021
Tarek Elkady, With Distinction - 6/1/2021
Margaret Schlesinger - 6/1/2021
Logan Mobasser, With Distinction - 6/1/2021
Samir Anastasio - 6/1/2021
Christian Payne, With Distinction - 6/2/2021
Silvia Perez, With Distinction - 6/2/2021
Collin Bryant, With Distinction - 6/2/2021
Peter Ballantyne-Barrell, With Distinction - 6/2/2021
Benjamin Krupp, With Distinction - 6/2/2021
Christopher Read, With Distinction - 6/2/2021
Christopher Marin, With Distinction - 6/3/2021
James Swartz, With Distinction - 6/3/2021
Jacob Alchek - 6/4/2021
Joseph Lefors, With Distinction - 6/4/2021
Cole Barnard, With Distinction - 6/5/2021
Charles Mccabe, With Distinction - 6/6/2021
Tyson Bryan, With Distinction - 6/6/2021
Noor Elsharif, With Distinction - 6/6/2021
Aris Dhanani, With Distinction - 6/6/2021
Charlie Jacob, With Distinction - 6/6/2021
Caroline Curran, With Distinction - 6/6/2021
Jon-Paul Dumelle, With Distinction - 6/6/2021
Matthew Newman, With Distinction - 6/7/2021
Kylewuuu18, With Distinction - 6/7/2021
Kyle Trauffler, With Distinction - 6/7/2021
Will Perlman, With Distinction - 6/7/2021
Ryan Bowen, With Distinction - 6/7/2021
Michael Mcmonigle, With Distinction - 6/7/2021
Suman Gidwani, With Distinction - 6/8/2021
Adam Welch, With Distinction - 6/8/2021
Kathryn Condon - 6/8/2021
Ding Wang, With Distinction - 6/8/2021
Daniel Kang Hyung Kim, With Distinction - 6/8/2021
Luis Butz De Leon, With Distinction - 6/9/2021
Tiffany Kaya, With Distinction - 6/9/2021
Michael Burger, With Distinction - 6/11/2021
Kenneth Fleming, With Distinction - 6/11/2021
Daniel Berenson, With Distinction - 6/11/2021
Kevin Carder, With Distinction - 6/11/2021
John Andreasen - 6/11/2021
Igal Sultanov - 6/12/2021
Jessica Weir, With Distinction - 6/12/2021
Matthew Kaufman, With Distinction - 6/13/2021
Mariano Moya, With Distinction - 6/13/2021
Roderick Hughes, With Distinction - 6/13/2021
Michael Fernandez, With Distinction - 6/13/2021
William Ghadimi, With Distinction - 6/13/2021
Katherine Rauner, With Distinction - 6/13/2021
Aryeh Halpert, With Distinction - 6/14/2021
Elizabeth Delong - Kritenbrink, With Distinction - 6/14/2021
Edward Butler, With Distinction - 6/14/2021
Will Miner, With Distinction - 6/14/2021
Kurt Steinke, With Distinction - 6/15/2021
Ruth Edgar - 6/15/2021
Elias Ware, With Distinction - 6/15/2021
Ogden Leyens, With Distinction - 6/16/2021
Stuart Young, With Distinction - 6/16/2021
Nicolas Diaz, With Distinction - 6/16/2021
Haley Bell, With Distinction - 6/16/2021
Eitan Gerszberg, With Distinction - 6/16/2021
Aaron Rose, With Distinction - 6/16/2021
Frank Desloge, With Distinction - 6/17/2021
Danielle Johnson - 6/17/2021
Lauren Greminger, With Distinction - 6/17/2021
Robbie Chaudhri, With Distinction - 6/17/2021
Ian Mckenzie - 6/17/2021
Frank Bradshaw, With Distinction - 6/17/2021
Darren Wong, With Distinction - 6/17/2021
Cannon Clark - 6/17/2021
Rikki Jack, With Distinction - 6/18/2021
Tahnee German, With Distinction - 6/18/2021
Leah Mogabgab, With Distinction - 6/18/2021
James Peace, With Distinction - 6/19/2021
Helen Clay - 6/19/2021
Caitlin Jinkins, With Distinction - 6/20/2021
Lily Clarkson, With Distinction - 6/20/2021
Samika Jain, With Distinction - 6/20/2021
Madison Rollins - 6/21/2021
Taylor Williams, With Distinction - 6/21/2021
Judson Webre, With Distinction - 6/21/2021
Cooper Mccarthy, With Distinction - 6/21/2021
Trey Bentley, With Distinction - 6/21/2021
Jonathan Epstein, With Distinction - 6/22/2021
Seth Westerman, With Distinction - 6/22/2021
Erick Reyes, With Distinction - 6/22/2021
Andy Paulus, With Distinction - 6/22/2021
Carlos Perez-Hernandez, With Distinction - 6/22/2021
Kevan Endres, With Distinction - 6/22/2021
Charul Chandra, With Distinction - 6/22/2021
Timothy Smith, With Distinction - 6/22/2021
Lily Myers, With Distinction - 6/22/2021
Maxx Trotsky, With Distinction - 6/22/2021
Claire Dickman, With Distinction - 6/22/2021
Ephraim Poloner - 6/22/2021
Steve Martin, With Distinction - 6/22/2021
Ward Frisby - 6/22/2021
Chris Moore, With Distinction - 6/22/2021
Edward Fitzgerald, With Distinction - 6/22/2021
Alex Leonard, With Distinction - 6/22/2021
Clara Zion, With Distinction - 6/23/2021
Brian Piscopo, With Distinction - 6/23/2021
Igor Kaga, With Distinction - 6/23/2021
Sean Holahan, With Distinction - 6/23/2021
Jessica Matthews, With Distinction - 6/23/2021
Peyton Flory, With Distinction - 6/23/2021
Larisa Strungs, With Distinction - 6/23/2021
Harry Horner, With Distinction - 6/23/2021
Tom Van Keppel, With Distinction - 6/23/2021
Emma Cauldwell, With Distinction - 6/23/2021
Jennifer Buchanan, With Distinction - 6/23/2021
Edward Lindner, With Distinction - 6/23/2021
Dallin Curriden, With Distinction - 6/23/2021
Zach Sparacia, With Distinction - 6/23/2021
Ross Urbahns, With Distinction - 6/23/2021
Arianne Wong, With Distinction - 6/24/2021
Angel Gonzalez, With Distinction - 6/24/2021
Douglas Carrescia, With Distinction - 6/24/2021
Dayne Jagga, With Distinction - 6/25/2021
Max Brodsky, With Distinction - 6/27/2021
Stephanie De Zarraga, With Distinction - 6/27/2021
Mitchell Saltzstein, With Distinction - 6/27/2021
Edward Harari, With Distinction - 6/28/2021
Margot Luria, With Distinction - 6/29/2021
Alastair Kilner, With Distinction - 6/29/2021
Shikher Verma - 6/29/2021
Zev Markowitz, With Distinction - 6/29/2021
Thad Doyka - 6/29/2021
Clayton Barker, With Distinction - 6/29/2021
Parker Watson, With Distinction - 6/30/2021
Tharaa Gazzaz - 6/30/2021
Benjamin Marshall, With Distinction - 6/30/2021
Nicholas Clifford, With Distinction - 6/30/2021
Ines Andrade - 7/1/2021
Jason Law, With Distinction - 7/2/2021
Yuhao Zhang, With Distinction - 7/2/2021
Eve Blears - 7/2/2021
Charles Adare, With Distinction - 7/4/2021
Arvin I, With Distinction - 7/6/2021
Xiaofeng Harman, With Distinction - 7/6/2021
Clayton Brand, With Distinction - 7/7/2021
Jun Yong Lee, With Distinction - 7/7/2021
Megan Mangines, With Distinction - 7/8/2021
Mitch Souza, With Distinction - 7/9/2021
Mallori Allen, With Distinction - 7/9/2021
Harrison Jones, With Distinction - 7/9/2021
Grant Swecker, With Distinction - 7/10/2021
James Marinier, With Distinction - 7/10/2021
Bar Castro Hon, With Distinction - 7/13/2021
Alison Hu, With Distinction - 7/13/2021
Alex Charles, With Distinction - 7/13/2021
Maya Klaris, With Distinction - 7/13/2021
Gage Sanchez - 7/13/2021
Marques Bouyer, With Distinction - 7/13/2021
Jorge Fournier, With Distinction - 7/13/2021
Wesley Wells, With Distinction - 7/14/2021
Juan Avila, With Distinction - 7/14/2021
Logan Rocco, With Distinction - 7/14/2021
Nix Park, With Distinction - 7/14/2021
John Anton, With Distinction - 7/14/2021
William Guerriero, With Distinction - 7/14/2021
Luke Montgomery - 7/14/2021
Kyle Stein, With Distinction - 7/14/2021
Brock Thompson - 7/14/2021
Hannah Mann, With Distinction - 7/14/2021
Liam Stenberg, With Distinction - 7/14/2021
Caroline Britt, With Distinction - 7/14/2021
Alyssa Galindo, With Distinction - 7/14/2021
Sanjana Neerumalla, With Distinction - 7/14/2021
Adam James, With Distinction - 7/14/2021
Colin Morrison, With Distinction - 7/15/2021
Sebastian Olavarria, With Distinction - 7/15/2021
Cassie Scandalios, With Distinction - 7/15/2021
Lauren Hughes, With Distinction - 7/15/2021
Hannah O'Brien, With Distinction - 7/15/2021
William Segal, With Distinction - 7/15/2021
Carter Steuart, With Distinction - 7/15/2021
Felix Tubiera, With Distinction - 7/16/2021
Neil Duggal, With Distinction - 7/16/2021
Abraham Yacob, With Distinction - 7/16/2021
Caroline Ward, With Distinction - 7/16/2021
Sarah Bishop - 7/16/2021
Silas Newsome, With Distinction - 7/16/2021
Ethan Benville, With Distinction - 7/16/2021
Kevin Perrone, With Distinction - 7/16/2021
Justin Cross - 7/16/2021
Caleb Keeney, With Distinction - 7/16/2021
Luca Civita, With Distinction - 7/18/2021
Jintae Kim, With Distinction - 7/18/2021
Ray Zhang, With Distinction - 7/18/2021
Quinn Komen, With Distinction - 7/18/2021
Dominic Guan, With Distinction - 7/18/2021
Jeff Zenger, With Distinction - 7/19/2021
Jennie Chiu, With Distinction - 7/19/2021
Jack Frank, With Distinction - 7/19/2021
Christopher Melligon, With Distinction - 7/19/2021
Adam La Croix, With Distinction - 7/19/2021
Chase Rebeil - 7/20/2021
Hunter Shaughnessy, With Distinction - 7/20/2021
Thomas Porter - 7/20/2021
Andrew Sylvester, With Distinction - 7/21/2021
Anson Shum, With Distinction - 7/21/2021
Eugene Soto-Beregovoy, With Distinction - 7/22/2021
Su Jung Choi, With Distinction - 7/22/2021
Mitchell Stark, With Distinction - 7/23/2021
Juan.lumbreras, With Distinction - 7/24/2021
Julia Cornelissen, With Distinction - 7/24/2021
Alexander Siomin - 7/24/2021
Cameron Newton, With Distinction - 7/27/2021
Claudio Toledo, With Distinction - 7/27/2021
Blake Stelter, With Distinction - 7/27/2021
David Rooney - 7/27/2021
Danielle Fernandez, With Distinction - 7/27/2021
Matt Turzewski, With Distinction - 7/28/2021
Francois Turner, With Distinction - 7/28/2021
William Dixon, With Distinction - 7/29/2021
Monica Pernecky, With Distinction - 7/29/2021
Yiqiong Zhang, With Distinction - 7/30/2021
Amani Jawhari - 7/30/2021
David Severe, With Distinction - 7/31/2021
Christian Smith - 8/1/2021
Cole Berry, With Distinction - 8/1/2021
Ayuk Ebang Etah Akoh Ebai, With Distinction - 8/2/2021
Jay Lee, With Distinction - 8/2/2021
William Hamilton, With Distinction - 8/3/2021
Arman Ramezani, With Distinction - 8/3/2021
Ryancorcoran, With Distinction - 8/3/2021
Daniel Gilmartin, With Distinction - 8/3/2021
Jackson Law, With Distinction - 8/4/2021
Garreth Lautz, With Distinction - 8/4/2021
Brett Ingleby - 8/5/2021
Yash Bazari, With Distinction - 8/6/2021
Dominic Jose, With Distinction - 8/7/2021
Will Biderman, With Distinction - 8/8/2021
Daniel Brennan - 8/9/2021
Karim Marshall, With Distinction - 8/10/2021
Dorian Desjardins, With Distinction - 8/10/2021
Andrew Feibus, With Distinction - 8/10/2021
Nicholas Rangel, With Distinction - 8/10/2021
Matthew Rakowich - 8/11/2021
Jackson Mades, With Distinction - 8/11/2021
Lorenzo Aguirre, With Distinction - 8/11/2021
Lanier Evans, With Distinction - 8/12/2021
Jonathan Song, With Distinction - 8/12/2021
Andrew Tham, With Distinction - 8/12/2021
Jacob Cohen, With Distinction - 8/12/2021
Connor Kreis, With Distinction - 8/13/2021
Adam Caruso, With Distinction - 8/13/2021
Jackson Helms, With Distinction - 8/13/2021
Samuel Levin, With Distinction - 8/14/2021
Charlotte Lefkovitz, With Distinction - 8/15/2021
Paul Jakobson, With Distinction - 8/15/2021
Miguel Martinez, With Distinction - 8/15/2021
Justin Cafiero, With Distinction - 8/15/2021
Victor Quan, With Distinction - 8/15/2021
John Cordrey, With Distinction - 8/16/2021
Ed Johnson - 8/16/2021
George Clark, With Distinction - 8/16/2021
Jason Haun, With Distinction - 8/16/2021
Michael Aronow, With Distinction - 8/16/2021
Trevor Young, With Distinction - 8/16/2021
Grace Singel, With Distinction - 8/16/2021
Sophie West, With Distinction - 8/16/2021
Claire Park, With Distinction - 8/16/2021
Garrett Andrew, With Distinction - 8/17/2021
Philip Jones, With Distinction - 8/17/2021
Cameron Osiecki, With Distinction - 8/17/2021
Gregory Clancy, With Distinction - 8/17/2021
Valeria Castillo - 8/17/2021
Kate Ryan, With Distinction - 8/17/2021
David Carroll, With Distinction - 8/17/2021
Ryan Converse, With Distinction - 8/17/2021
Walter Schoultz, With Distinction - 8/18/2021
Bradley Galazka, With Distinction - 8/18/2021
Nicholas Martucci - 8/18/2021
William Prince, With Distinction - 8/18/2021
Connor Rockrohr, With Distinction - 8/19/2021
Maximillian Doctor, With Distinction - 8/19/2021
Alex Nielsen, With Distinction - 8/19/2021
Connor Henderson, With Distinction - 8/19/2021
Brice Richardson, With Distinction - 8/19/2021
Avery Rustad, With Distinction - 8/19/2021
Max Spitalnick, With Distinction - 8/20/2021
Ian Lawrence, With Distinction - 8/20/2021
Jiaqi Deng, With Distinction - 8/20/2021
Santiago De Urbina, With Distinction - 8/20/2021
Khalid Yosufzai, With Distinction - 8/20/2021
Ben Brown, With Distinction - 8/20/2021
Jacob Stauber, With Distinction - 8/20/2021
Sebastian Vanegas, With Distinction - 8/21/2021
Donovan Perry, With Distinction - 8/22/2021
Trent Lupton, With Distinction - 8/22/2021
Hayden.glasco, With Distinction - 8/24/2021
Austin Settoon - 8/24/2021
Yunchao Fu, With Distinction - 8/24/2021
Damian Betancourt - 8/24/2021
John Stader, With Distinction - 8/24/2021
William Rader, With Distinction - 8/24/2021
Nathan Viskovich, With Distinction - 8/25/2021
Cole Borror - 8/25/2021
Angelo Culotta, With Distinction - 8/25/2021
Davide Frignani, With Distinction - 8/26/2021
Mary Eason, With Distinction - 8/26/2021
Jerome Dawn, With Distinction - 8/26/2021
Richard Hacking, With Distinction - 8/26/2021
Tyler Helbing, With Distinction - 8/26/2021
Matheus Frosi Amaral, With Distinction - 8/27/2021
Rosario Missiti, With Distinction - 8/27/2021
Milton Baxter, With Distinction - 8/28/2021
Benjamin Jansen, With Distinction - 8/28/2021
Matthew Monahemi, With Distinction - 8/29/2021
Brandon Li, With Distinction - 8/29/2021
Andrew Greven, With Distinction - 8/29/2021
Hunter Pflueger, With Distinction - 8/29/2021
Gonzalo Trapote, With Distinction - 8/30/2021
Sofia Olivera, With Distinction - 8/30/2021
Matthew Kelling, With Distinction - 8/30/2021
Rubin Carlis, With Distinction - 8/31/2021
Addy Pillsbury, With Distinction - 9/1/2021
Cameron Miller, With Distinction - 9/1/2021
Jackson Sincerbeaux, With Distinction - 9/2/2021
John Tao, With Distinction - 9/2/2021
Tasuku Agari, With Distinction - 9/2/2021
Janet Pudelko - 9/2/2021
Grant Shine, With Distinction - 9/3/2021
Emrose Bhalesha, With Distinction - 9/3/2021
Sean Homsy - 9/3/2021
Elijah Lax, With Distinction - 9/3/2021
Nabil Darmani, With Distinction - 9/4/2021
Jose De La Tejera, With Distinction - 9/5/2021
Morgan Mccuaig - 9/6/2021
Chad Duncan, With Distinction - 9/6/2021
Kristin Webb, With Distinction - 9/7/2021
Connor Laverty, With Distinction - 9/7/2021
Preston Schwartz, With Distinction - 9/7/2021
Nathan Litwiller, With Distinction - 9/7/2021
Kyle Gould, With Distinction - 9/7/2021
Grayson Laman - 9/7/2021
Sofia Bayyaari, With Distinction - 9/7/2021
Abigail Jolley, With Distinction - 9/7/2021
Chase Johnson, With Distinction - 9/7/2021
Brandon Atchison - 9/7/2021
Spencer Day, With Distinction - 9/7/2021
Harry Goodwin, With Distinction - 9/7/2021
Bradley Buff, With Distinction - 9/7/2021
Pedro Delgado - 9/7/2021
Paige Kramer, With Distinction - 9/7/2021
Carson Black, With Distinction - 9/7/2021
Clark Israeli, With Distinction - 9/7/2021
Sophia Palombo, With Distinction - 9/7/2021
Ethan Vaughan, With Distinction - 9/7/2021
Bradley Yucht, With Distinction - 9/7/2021
Spencer Preston - 9/7/2021
Andrei Larion, With Distinction - 9/7/2021
Michael Sabat, With Distinction - 9/7/2021
Jack Reddeck, With Distinction - 9/7/2021
Manny Cordova, With Distinction - 9/7/2021
Francesco Camarda - 9/7/2021
Tyler Arnold - 9/7/2021
Maria Lombardi - 9/7/2021
Moriah Marquette, With Distinction - 9/7/2021
Brian Piccolo, With Distinction - 9/7/2021
Michael Gibbons, With Distinction - 9/7/2021
Nicholas Sharpe, With Distinction - 9/7/2021
John Woodman, With Distinction - 9/7/2021
Brittani Nelson, With Distinction - 9/7/2021
Chad Brittain, With Distinction - 9/7/2021
Pedro Vintimilla, With Distinction - 9/7/2021
Louis Danner, With Distinction - 9/7/2021
Nicolas Hernandez, With Distinction - 9/7/2021
Mary Kate Urbanski, With Distinction - 9/7/2021
Khaled Al Budeiri, With Distinction - 9/7/2021
Alexis Ashley - 9/7/2021
Morgan Odonnell, With Distinction - 9/7/2021
Hope Stephens, With Distinction - 9/7/2021
Joshua Umman - 9/7/2021
Nicole Barba, With Distinction - 9/7/2021
Carolina Varas, With Distinction - 9/7/2021
Jayme Morrall, With Distinction - 9/7/2021
Jake Duff - 9/7/2021
Matthew Kabolowsky, With Distinction - 9/7/2021
Alejandro Castrillon - 9/7/2021
Anthony Cimino, With Distinction - 9/7/2021
Matthew Gomez, With Distinction - 9/7/2021
Jack Thyer, With Distinction - 9/7/2021
Kris Cisek, With Distinction - 9/8/2021
Zach Fischer, With Distinction - 9/8/2021
Kevin Mohabir, With Distinction - 9/8/2021
Sean Valenta, With Distinction - 9/9/2021
Justin Okumus, With Distinction - 9/9/2021
Bennett Ensor - 9/9/2021
Briana Rayhaun, With Distinction - 9/10/2021
Jeremy Fischer, With Distinction - 9/10/2021
Ning Li - 9/10/2021
Blake Andrus, With Distinction - 9/10/2021
Timothy Loiseau, With Distinction - 9/12/2021
Kerry Joyce, With Distinction - 9/12/2021
Jamie Mcnamara, With Distinction - 9/12/2021
Ryan Sullivan - 9/12/2021
Mayra Juarez Gutierrez - 9/13/2021
Kurt Cullen, With Distinction - 9/13/2021
Michelle Man Chi Lo, With Distinction - 9/13/2021
Faith Runnells, With Distinction - 9/14/2021
Dawson Dewar - 9/14/2021
Gabrielle Sirazi - 9/14/2021
Kason Curtis, With Distinction - 9/14/2021
Michael Daniels, With Distinction - 9/14/2021
Brayden Curry, With Distinction - 9/16/2021
Thomas Pirinoli, With Distinction - 9/16/2021
John Russell, With Distinction - 9/16/2021
Wen-Hao Chin, With Distinction - 9/16/2021
Michael Maskalunas, With Distinction - 9/16/2021
Leila Kabalan, With Distinction - 9/16/2021
Reid Allen, With Distinction - 9/17/2021
Zachary Ahmad, With Distinction - 9/17/2021
Leah Thompson, With Distinction - 9/18/2021
Peihao Loke - 9/18/2021
Angel Oliveras - 9/18/2021
Joshua Mader, With Distinction - 9/18/2021
Austin Dimatteo - 9/19/2021
Eric Lysak, With Distinction - 9/19/2021
Kimberly Saintjuste, With Distinction - 9/20/2021
Thomas Cholnoky, With Distinction - 9/21/2021
Spencer Brody, With Distinction - 9/21/2021
Haiden Kusserow, With Distinction - 9/21/2021
Nick Menchero, With Distinction - 9/22/2021
Alex Chandler, With Distinction - 9/22/2021
Ty Bieber, With Distinction - 9/22/2021
Sebastian Smith - 9/23/2021
George Abood, With Distinction - 9/23/2021
Keith Rosenthal - 9/24/2021
Graydon Kimme, With Distinction - 9/24/2021
Mark Scarola, With Distinction - 9/25/2021
Justin Kim, With Distinction - 9/25/2021
Rhett Balliet, With Distinction - 9/26/2021
Zhangbai Xia, With Distinction - 9/29/2021
Edward Turner, With Distinction - 9/29/2021
Jason Sung, With Distinction - 9/29/2021
Josh Urwick, With Distinction - 9/29/2021
Ebee Johnson, With Distinction - 9/29/2021
Alex Mcfarland, With Distinction - 9/29/2021
Kyle Duffy, With Distinction - 9/29/2021
Carmen Zammiello, With Distinction - 9/29/2021
Archer Price, With Distinction - 9/29/2021
Robert Reeves, With Distinction - 9/29/2021
Cooper Cross, With Distinction - 9/29/2021
Madison Crump, With Distinction - 9/29/2021
Henry Sullivan, With Distinction - 9/29/2021
John Lee, With Distinction - 9/29/2021
Garrett Besse, With Distinction - 9/30/2021
Corban Williams, With Distinction - 9/30/2021
Lindsey Stegall, With Distinction - 9/30/2021
Adam Drummond, With Distinction - 9/30/2021
Reed Bennett, With Distinction - 9/30/2021
Kameron Mccloskey, With Distinction - 9/30/2021
John Kanaan, With Distinction - 9/30/2021
Reese Howell, With Distinction - 9/30/2021
Logan Gibbons, With Distinction - 9/30/2021
Gerald Bennett, With Distinction - 9/30/2021
Kimberly Faist, With Distinction - 9/30/2021
John Gallagher, With Distinction - 9/30/2021
Kamu Kakizaki, With Distinction - 10/1/2021
Dyesha Jones, With Distinction - 10/1/2021
David Fitzpatrick, With Distinction - 10/1/2021
William Lang - 10/1/2021
Samuel Fourman, With Distinction - 10/3/2021
Matthew Brown - 10/3/2021
Allison Werner, With Distinction - 10/4/2021
Tyler Anselm, With Distinction - 10/5/2021
Alexandru Cojocaru, With Distinction - 10/5/2021
Andrew Putney - 10/5/2021
Cameron Gonzalez, With Distinction - 10/5/2021
Rodney Allen, With Distinction - 10/5/2021
Anthony Thomason, With Distinction - 10/5/2021
Alexander Utter, With Distinction - 10/5/2021
Junaid Al Balushi, With Distinction - 10/5/2021
Daniel Garcia, With Distinction - 10/5/2021
Michael Malinasky, With Distinction - 10/5/2021
Emma Stack, With Distinction - 10/5/2021
Mitchell Inloes, With Distinction - 10/5/2021
Matthew Newsome, With Distinction - 10/5/2021
Kyle Horvath, With Distinction - 10/5/2021
Lawson Lawrence, With Distinction - 10/5/2021
Javier Amaya, With Distinction - 10/5/2021
Tyler Saavedra, With Distinction - 10/5/2021
Gabriela Rozo, With Distinction - 10/5/2021
Fayola Adgar, With Distinction - 10/5/2021
Derek Lipp, With Distinction - 10/5/2021
Shaelah Mcgilton, With Distinction - 10/5/2021
Kasper Kujala, With Distinction - 10/5/2021
Andres Hernandez Betancur, With Distinction - 10/5/2021
Leah Benjamin, With Distinction - 10/5/2021
Bailey Kramer, With Distinction - 10/5/2021
Victoria Johnston, With Distinction - 10/5/2021
Jay Patel, With Distinction - 10/5/2021
Daniel Rodriguez, With Distinction - 10/5/2021
Atit Patel, With Distinction - 10/5/2021
Keaton Mcdonald, With Distinction - 10/5/2021
Jacob Manor, With Distinction - 10/5/2021
Yaniel Carrillo, With Distinction - 10/5/2021
Dalton Wells, With Distinction - 10/5/2021
Michael Mendez, With Distinction - 10/5/2021
Jessica Bartles, With Distinction - 10/5/2021
Elyana Hernandez, With Distinction - 10/5/2021
Harrison Kaye, With Distinction - 10/5/2021
Alondra Bravo Martinez, With Distinction - 10/5/2021
Jackson Lee, With Distinction - 10/5/2021
Malik Little - 10/5/2021
Anthony Merdjane, With Distinction - 10/5/2021
Jeffrey Banack, With Distinction - 10/5/2021
Jordan Lips, With Distinction - 10/5/2021
Jessica Graffy, With Distinction - 10/5/2021
Thomas Martinez, With Distinction - 10/5/2021
Nebi Balla, With Distinction - 10/5/2021
Zach Martinez - 10/5/2021
Kelly Zaccaria - 10/5/2021
Nicholas Martino, With Distinction - 10/5/2021
Farhan Bari, With Distinction - 10/5/2021
Cameron Sousa, With Distinction - 10/5/2021
Noli Muratovic, With Distinction - 10/5/2021
Siddi Hussain, With Distinction - 10/5/2021
Aseel Al Sabahi, With Distinction - 10/5/2021
Luana Cegarra, With Distinction - 10/5/2021
Naama Yair, With Distinction - 10/5/2021
Taylor Moorman, With Distinction - 10/5/2021
Adem Zec, With Distinction - 10/5/2021
William Pritchard, With Distinction - 10/5/2021
Guillermo Amaya - 10/5/2021
Armani Riggins, With Distinction - 10/5/2021
Jensen Helling, With Distinction - 10/5/2021
Ross Koehn, With Distinction - 10/5/2021
Manuel Droz, With Distinction - 10/5/2021
Jack Carson - 10/5/2021
Amie Mcduffie, With Distinction - 10/5/2021
Theodore Strachan - 10/5/2021
Joshua Scharnberg, With Distinction - 10/5/2021
Ferdaous Challa, With Distinction - 10/5/2021
Jin Nam, With Distinction - 10/6/2021
Logan Roche, With Distinction - 10/6/2021
Andrew Shattuck, With Distinction - 10/7/2021
Brayden Jones, With Distinction - 10/7/2021
Jhong Lee, With Distinction - 10/8/2021
Emil Peithner, With Distinction - 10/9/2021
Tom Weissenborn, With Distinction - 10/9/2021
Nuno Silva, With Distinction - 10/10/2021
Anna Knoppik, With Distinction - 10/10/2021
Noah Schott, With Distinction - 10/11/2021
Amanda Aaron, With Distinction - 10/11/2021
Mark Meigher, With Distinction - 10/11/2021
Kimberly Silgado - 10/12/2021
Daniel Garcia Canales - 10/12/2021
Winston Fox, With Distinction - 10/12/2021
Tobias Kirkman, With Distinction - 10/13/2021
Chris Armstrong, With Distinction - 10/13/2021
John Akpan, With Distinction - 10/13/2021
Riley Southard, With Distinction - 10/14/2021
Emily Adrid, With Distinction - 10/14/2021
Florian Schick, With Distinction - 10/14/2021
Colin Pancrazi, With Distinction - 10/14/2021
Trevor Currie - 10/15/2021
Moritz Marten, With Distinction - 10/15/2021
Brenden Woodley, With Distinction - 10/15/2021
Marlon Schubert, With Distinction - 10/16/2021
Angelina Lugo, With Distinction - 10/16/2021
Teresa Hauck, With Distinction - 10/16/2021
Juhi Goyal, With Distinction - 10/16/2021
Timothy Ryan, With Distinction - 10/17/2021
Conner Whitton, With Distinction - 10/17/2021
Taylor Klein, With Distinction - 10/17/2021
Gene Wentz - 10/18/2021
Daniel O'Halloran, With Distinction - 10/18/2021
Conrad Tomaszkiewicz, With Distinction - 10/19/2021
Cole Smith, With Distinction - 10/19/2021
Grant Johnson, With Distinction - 10/19/2021
Spencer Kuhlman, With Distinction - 10/19/2021
Noah Bezar, With Distinction - 10/19/2021
Spencer Keenan, With Distinction - 10/20/2021
Anastasia Irodotou, With Distinction - 10/22/2021
Alexander Ryan, With Distinction - 10/22/2021
Takis Gounaris, With Distinction - 10/23/2021
Young-Deok Won, With Distinction - 10/24/2021
Brandon Fikhman, With Distinction - 10/24/2021
Daniel Rytel, With Distinction - 10/24/2021
Chase Gaiefsky, With Distinction - 10/25/2021
Nicole Stratton, With Distinction - 10/25/2021
Ron Handsel - 10/26/2021
Craig Cordero, With Distinction - 10/27/2021
Oliver Monaghan, With Distinction - 10/27/2021
Alex Crosby, With Distinction - 10/28/2021
Jack Loewengart - 10/28/2021
Nicolas Schwartz, With Distinction - 10/29/2021
Xu Zhang, With Distinction - 10/29/2021
Samuel Hoffmann - 10/29/2021
Miles Colley, With Distinction - 10/30/2021
Sean Whang, With Distinction - 10/31/2021
Aramis Santiago, With Distinction - 11/1/2021
Rohit Kolar, With Distinction - 11/1/2021
Charlie Wigdale, With Distinction - 11/2/2021
Russell Goodman, With Distinction - 11/2/2021
David Ramsey, With Distinction - 11/2/2021
Sukhmaneet Singh, With Distinction - 11/2/2021
Emily Richardson, With Distinction - 11/4/2021
Tyler Mead, With Distinction - 11/5/2021
Max-Ulrich Nickel, With Distinction - 11/5/2021
Hosam El-Hammamy, With Distinction - 11/6/2021
Scott Weigel, With Distinction - 11/7/2021
Benjamin Schloss, With Distinction - 11/7/2021
Aaron Silver, With Distinction - 11/8/2021
Haoying Sun, With Distinction - 11/10/2021
Anthony Trinh, With Distinction - 11/11/2021
Nick Salameda, With Distinction - 11/11/2021
Marc Graff, With Distinction - 11/11/2021
Michael Greendyk - 11/12/2021
Devan Perry, With Distinction - 11/12/2021
Elizabeth Tillman - 11/12/2021
Parker Kendall, With Distinction - 11/14/2021
William Mcbride, With Distinction - 11/14/2021
Caleb Moser, With Distinction - 11/15/2021
Nick Ureta, With Distinction - 11/16/2021
Cole Gandolfo, With Distinction - 11/17/2021
Charlotte Lefkovitz, With Distinction - 11/17/2021
Max Wyman, With Distinction - 11/17/2021
Wilson Lin, With Distinction - 11/18/2021
James Mendel, With Distinction - 11/18/2021
Brooke Kellam, With Distinction - 11/18/2021
Michael Prohov, With Distinction - 11/19/2021
Imran Anwar, With Distinction - 11/19/2021
Moksh Rajput, With Distinction - 11/20/2021
Charley Gates, With Distinction - 11/20/2021
Hugh Mackay, With Distinction - 11/20/2021
Larry Buckner, With Distinction - 11/20/2021
Alex Poulos, With Distinction - 11/20/2021
Zach Scott, With Distinction - 11/22/2021
Dennis Kennelly, With Distinction - 11/22/2021
Mohammed Al-Hadhrami, With Distinction - 11/22/2021
Hao Wang, With Distinction - 11/23/2021
Thomas Grazer, With Distinction - 11/23/2021
Michael Merlone, With Distinction - 11/24/2021
Michael Pavicic, With Distinction - 11/25/2021
Christopher Durbin, With Distinction - 11/25/2021
Nolan Greeley, With Distinction - 11/26/2021
Tyler Brochstein, With Distinction - 11/26/2021
Weichen Li, With Distinction - 11/27/2021
Bruce Park, With Distinction - 11/27/2021
Timothy Rutten, With Distinction - 11/30/2021
Aidan Regan, With Distinction - 11/30/2021
Gus Avarello, With Distinction - 12/1/2021
Brett Barr, With Distinction - 12/1/2021
Tighe Ekern, With Distinction - 12/2/2021
Giorgio Caterini, With Distinction - 12/3/2021
Pedro Blanco, With Distinction - 12/4/2021
Linda Wang - 12/6/2021
Leah More, With Distinction - 12/7/2021
Christopher Adnams, With Distinction - 12/9/2021
Febru Bima Karunia - 12/9/2021
James Burns, With Distinction - 12/10/2021
Robert Forenza, With Distinction - 12/10/2021
Jean-Marc Peters, With Distinction - 12/11/2021
Ensam Lee, With Distinction - 12/11/2021
Daniel Cleaver, With Distinction - 12/12/2021
Elisa Sacchetti, With Distinction - 12/13/2021
Hongxia Gao, With Distinction - 12/14/2021
Richard Olguin, With Distinction - 12/15/2021
Brad Schierhorn, With Distinction - 12/15/2021
Preston Landrum, With Distinction - 12/15/2021
Ryan Valte - 12/15/2021
Alexander Baker - 12/15/2021
Robert Johnson, With Distinction - 12/16/2021
Max Harkavy, With Distinction - 12/16/2021
Locke Williamson, With Distinction - 12/16/2021
Anna Robinowitz, With Distinction - 12/17/2021
David Goodrich, With Distinction - 12/17/2021
Julian Lombard, With Distinction - 12/17/2021
Dallin Vallejo, With Distinction - 12/17/2021
Ryan Gold, With Distinction - 12/17/2021
Mitch Stedman - 12/17/2021
Lane Robertson, With Distinction - 12/19/2021
Nick Larsen, With Distinction - 12/21/2021
Nicholas Fong, With Distinction - 12/22/2021
Praveen Akula, With Distinction - 12/22/2021
Kevin Cai, With Distinction - 12/23/2021
Martin Culver, With Distinction - 12/23/2021
Luke Behrmann, With Distinction - 12/23/2021
James Zubizarreta, With Distinction - 12/24/2021
Jasmine Johanesen, With Distinction - 12/24/2021
James Baugh, With Distinction - 12/24/2021
Braxton Smith, With Distinction - 12/24/2021
Andrew Edwards, With Distinction - 12/24/2021
Anh Nguyen, With Distinction - 12/25/2021
Nikhil Patel, With Distinction - 12/25/2021
Ryan Rabinowitz, With Distinction - 12/26/2021
Daniel Flynn, With Distinction - 12/27/2021
Morgan Hammans, With Distinction - 12/27/2021
Robert Curren, With Distinction - 12/27/2021
Eli Wilson, With Distinction - 12/27/2021
Adam Steiner, With Distinction - 12/27/2021
Brian Robinson - 12/28/2021
Austin Eassa, With Distinction - 12/28/2021
Lucas Luquire, With Distinction - 12/28/2021
Colin Trigani, With Distinction - 12/28/2021
Maxwell Van Hollebeke, With Distinction - 12/28/2021
Przemyslaw Moson, With Distinction - 12/29/2021
Carlos Lopez, With Distinction - 12/29/2021
Greg Wanamaker - 12/29/2021
Thomas Bennett, With Distinction - 12/30/2021
Chuan Huang, With Distinction - 12/30/2021
Teddy Nacos, With Distinction - 12/30/2021
Nathan Ward, With Distinction - 12/30/2021
Alex Talebi, With Distinction - 12/30/2021
Mason Pistone, With Distinction - 12/31/2021
Daniel Harkins, With Distinction - 12/31/2021
Stephanie Nihei, With Distinction - 12/31/2021
Moritz Mayer, With Distinction - 1/1/2022
Justin Hatchett, With Distinction - 1/1/2022
Anson Call, With Distinction - 1/1/2022
Julien Bergametti - 1/1/2022
Youngin Kang, With Distinction - 1/2/2022
Jaime Uota, With Distinction - 1/2/2022
Patrick Craig, With Distinction - 1/2/2022
Eitan Abu, With Distinction - 1/2/2022
Conor Foster - 1/2/2022
Aneesh Kumar - 1/3/2022
Parth Arora, With Distinction - 1/3/2022
Evan Bopp, With Distinction - 1/3/2022
Theodore Shurman, With Distinction - 1/3/2022
Duke Ballard, With Distinction - 1/3/2022
Jonathan Li, With Distinction - 1/4/2022
Elena Shenkar, With Distinction - 1/5/2022
Ritvik Chennupati - 1/5/2022
Frank Okonkwo, With Distinction - 1/5/2022
Max Kingman, With Distinction - 1/5/2022
Adwitiya Patro, With Distinction - 1/5/2022
Frank Cerullo, With Distinction - 1/5/2022
Omar Albudeiri, With Distinction - 1/5/2022
Mark Delillo, With Distinction - 1/5/2022
Nicholas Fortney, With Distinction - 1/6/2022
Jonah Briskin, With Distinction - 1/6/2022
Nathan Highducheck, With Distinction - 1/6/2022
Olivia Ratiner, With Distinction - 1/7/2022
Zachary Estes, With Distinction - 1/8/2022
Justin Kurian, With Distinction - 1/8/2022
Ian Peterson, With Distinction - 1/9/2022
Taylor Samuel, With Distinction - 1/9/2022
Stanley Cheung, With Distinction - 1/9/2022
Ian Nordfors, With Distinction - 1/10/2022
Zachary Beavor, With Distinction - 1/11/2022
Michael Morgan, With Distinction - 1/11/2022
Gianni Lupo, With Distinction - 1/11/2022
Renzo Figueroa Pacheco, With Distinction - 1/12/2022
Abraham Chapa, With Distinction - 1/12/2022
Cameron Hutcheson, With Distinction - 1/12/2022
Christopher Haugen, With Distinction - 1/13/2022
Chencheng Tao, With Distinction - 1/13/2022
Nathaniel Hruby, With Distinction - 1/13/2022
Chun Lau, With Distinction - 1/13/2022
Timothy Kraics - 1/13/2022
John Orscheln - 1/13/2022
Cyrus Johnson, With Distinction - 1/14/2022
Joel Dayton, With Distinction - 1/14/2022
Travis Haynes, With Distinction - 1/15/2022
Patricio Dieck, With Distinction - 1/16/2022
Andrew Miner, With Distinction - 1/17/2022
Wilson Purcell, With Distinction - 1/17/2022
Devin Cass, With Distinction - 1/17/2022
Alexander Makransky, With Distinction - 1/17/2022
Hubert Yang, With Distinction - 1/17/2022
Alex Barnes, With Distinction - 1/18/2022
Francis Weiss, With Distinction - 1/19/2022
Nicolas Leuvrey, With Distinction - 1/19/2022
Regan Goldberg, With Distinction - 1/19/2022
Barry Stokes, With Distinction - 1/19/2022
Gabriel Braun, With Distinction - 1/20/2022
Axel Adriel Peluso Nieto, With Distinction - 1/20/2022
Michael Salusti, With Distinction - 1/20/2022
Maosen Li, With Distinction - 1/20/2022
Marcus Pak Hei Chan, With Distinction - 1/20/2022
Paige Peltzer, With Distinction - 1/20/2022
Charles Frank, With Distinction - 1/21/2022
Jacob Jaimes, With Distinction - 1/21/2022
Bartow Morgan, With Distinction - 1/21/2022
Alberto Ribe, With Distinction - 1/21/2022
Jannette Ruiz, With Distinction - 1/22/2022
Sebastian Urcuyo, With Distinction - 1/22/2022
John Zuber, With Distinction - 1/22/2022
Cheyenne Jannace, With Distinction - 1/22/2022
Megan Milburn, With Distinction - 1/22/2022
Shon Mckinley - 1/23/2022
Sang Yoon Park, With Distinction - 1/23/2022
Max Freeman, With Distinction - 1/23/2022
Will Larossa, With Distinction - 1/23/2022
Jose Esquerdo, With Distinction - 1/23/2022
Josh White, With Distinction - 1/23/2022
Giuliano D'Arrigo, With Distinction - 1/24/2022
David Furst, With Distinction - 1/24/2022
Stefano Biasini, With Distinction - 1/24/2022
Chen Li, With Distinction - 1/24/2022
Santiago Rodriguez Florez, With Distinction - 1/24/2022
Zachary Schneider, With Distinction - 1/24/2022
Andrea Allison, With Distinction - 1/25/2022
Trevor Du, With Distinction - 1/25/2022
Susan Charette, With Distinction - 1/25/2022
Becca Punch - 1/26/2022
Matthew Deluca, With Distinction - 1/26/2022
Eliza Eastman, With Distinction - 1/26/2022
Katie Young, With Distinction - 1/26/2022
Doug White - 1/26/2022
Addison Haas, With Distinction - 1/26/2022
Isaac Abraham Iii - 1/27/2022
Gill Cavazos, With Distinction - 1/27/2022
Chris Langley, With Distinction - 1/27/2022
Anna Gorman, With Distinction - 1/27/2022
Anna Lovell, With Distinction - 1/27/2022
Jonathan Fischer, With Distinction - 1/27/2022
Zhanna Bivens - 1/27/2022
John Horton, With Distinction - 1/28/2022
Susan Al'Khafaji, With Distinction - 1/28/2022
Alyssa Jordan, With Distinction - 1/28/2022
Quintin Farrell - 1/28/2022
Edward Ford, With Distinction - 1/28/2022
Seth Singh, With Distinction - 1/28/2022
Andrew Ruf, With Distinction - 1/28/2022
Luciano Torres, With Distinction - 1/29/2022
Elizabeth Shawkey - 1/29/2022
Claire Petty, With Distinction - 1/29/2022
Logan Heydt - 1/30/2022
Tj Welch, With Distinction - 1/30/2022
Christopher Hapchuk, With Distinction - 1/30/2022
Juan Diaz, With Distinction - 1/30/2022
Julie Snyder, With Distinction - 1/30/2022
David Sadlier, With Distinction - 1/30/2022
Conor Walsh, With Distinction - 1/31/2022
Remi Guyett, With Distinction - 1/31/2022
Matthew Bucklaew - 1/31/2022
Taighe Wilson, With Distinction - 1/31/2022
Jack Goodkin, With Distinction - 1/31/2022
Garrett Daniel, With Distinction - 1/31/2022
A.j. Navarro, With Distinction - 1/31/2022
Carter Vincent - 2/1/2022
Violet West - 2/1/2022
Phillip Rinehart - 2/1/2022
Matthew Mitarotonda - 2/1/2022
Tamara Baptiste, With Distinction - 2/1/2022
Dunklin Anthony, With Distinction - 2/1/2022
Andrew Johnstone, With Distinction - 2/1/2022
Jared Hobby, With Distinction - 2/1/2022
Alexis Ward, With Distinction - 2/1/2022
Adam Smith, With Distinction - 2/1/2022
Griffin Saltzman, With Distinction - 2/1/2022
Francisco Castillo, With Distinction - 2/2/2022
Noah Van Der Burgt, With Distinction - 2/2/2022
Cole Sumner, With Distinction - 2/2/2022
Robert Rodriguez, With Distinction - 2/2/2022
Matthew Miller - 2/2/2022
Emily Lowery, With Distinction - 2/2/2022
Jacob Avni, With Distinction - 2/2/2022
Valentina Suero, With Distinction - 2/2/2022
Leonardo Contreras, With Distinction - 2/2/2022
Mohammed Al Mahrouqi, With Distinction - 2/2/2022
Ammad Mansoor, With Distinction - 2/2/2022
Tanner Fetters, With Distinction - 2/2/2022
James Goich, With Distinction - 2/2/2022
Kellen Huntley, With Distinction - 2/2/2022
Peter Bassil, With Distinction - 2/2/2022
Anastasiia Mykhailenko, With Distinction - 2/2/2022
Esteban Rodnon, With Distinction - 2/2/2022
Jaxon Fellers, With Distinction - 2/2/2022
Jake Perna, With Distinction - 2/2/2022
Amanda Chin, With Distinction - 2/2/2022
Owen Mildner, With Distinction - 2/2/2022
Sarah Teel, With Distinction - 2/2/2022
William Pham, With Distinction - 2/2/2022
Aaron Jacobson, With Distinction - 2/2/2022
Nola Smith, With Distinction - 2/2/2022
Michael Barbosa, With Distinction - 2/2/2022
Katelynn Bontrager, With Distinction - 2/2/2022
Chetan Patel, With Distinction - 2/2/2022
Gregory Pasek, With Distinction - 2/2/2022
Thomas Hoyla, With Distinction - 2/2/2022
Alexander Mora, With Distinction - 2/2/2022
Payal Kumari, With Distinction - 2/2/2022
Samuel Pereira, With Distinction - 2/2/2022
Daniel Yalch, With Distinction - 2/2/2022
Jacob Berard, With Distinction - 2/2/2022
Jonathon Long, With Distinction - 2/2/2022
Katelyn Johnson, With Distinction - 2/2/2022
Yelena Orlovic - 2/2/2022
Kalyn Gaines - 2/2/2022
Lola Berastegui, With Distinction - 2/2/2022
Haley Blatt, With Distinction - 2/2/2022
Alexander Holler, With Distinction - 2/2/2022
Kishan Patel, With Distinction - 2/2/2022
Kyle Ryan, With Distinction - 2/2/2022
Ryann Mcgee, With Distinction - 2/2/2022
Ethan Rossler, With Distinction - 2/2/2022
Alexander Schebovitz, With Distinction - 2/2/2022
Conner Carlson, With Distinction - 2/2/2022
Liane Chatuel, With Distinction - 2/2/2022
Rita Prevosk - 2/2/2022
Brandon Schrot, With Distinction - 2/2/2022
Cypress Johnson, With Distinction - 2/2/2022
Nick Larocca, With Distinction - 2/2/2022
Adam Glantz, With Distinction - 2/2/2022
Michael Bitar - 2/2/2022
Matthew Pineda, With Distinction - 2/2/2022
Didi Malka, With Distinction - 2/2/2022
Mcneilmohen Ridore, With Distinction - 2/2/2022
Dyllan Mastrodicasa, With Distinction - 2/2/2022
Vismay Patel, With Distinction - 2/2/2022
Katherine Mendez Zambrano, With Distinction - 2/2/2022
Morgan Sterling, With Distinction - 2/2/2022
Susan Perez, With Distinction - 2/2/2022
Reis Ehman, With Distinction - 2/2/2022
Rechelle Suggs, With Distinction - 2/2/2022
Fabio Di Lollo, With Distinction - 2/2/2022
Milton Sanchez, With Distinction - 2/2/2022
Alex Leon - 2/2/2022
Devlin Brick - 2/2/2022
Patrick Coppieters, With Distinction - 2/2/2022
Andrew Tuttle, With Distinction - 2/2/2022
Lori Rattray - 2/2/2022
Richard Zhu, With Distinction - 2/2/2022
Garrett Racenstein, With Distinction - 2/2/2022
Macy Santo, With Distinction - 2/2/2022
Michael Davanzo, With Distinction - 2/2/2022
Kayla Estrada - 2/2/2022
Nicholas Taylor, With Distinction - 2/2/2022
Alexander Peters, With Distinction - 2/2/2022
Amritpaul Singh - 2/2/2022
Amanda Aruny, With Distinction - 2/3/2022
Vitaly Polovin, With Distinction - 2/4/2022
Yechiel Dan, With Distinction - 2/4/2022
Casey Christensen, With Distinction - 2/5/2022
Chiharu Watanabe, With Distinction - 2/5/2022
Paul M Piperno, With Distinction - 2/6/2022
Kevinnick Pong - 2/7/2022
Liam Mchale, With Distinction - 2/7/2022
Justin Simmons, With Distinction - 2/7/2022
Michael A Richardson, With Distinction - 2/8/2022
Ty Price, With Distinction - 2/8/2022
Elijah Walsh, With Distinction - 2/8/2022
David Bailey - 2/8/2022
Brianna Sawyer, With Distinction - 2/8/2022
John Lee - 2/8/2022
Matthew Arnold, With Distinction - 2/8/2022
Charles Wolf - 2/8/2022
Jonathan Peters - 2/8/2022
Nemesie Esteves - 2/8/2022
Wolfgang Hueck - 2/8/2022
Ryan Renken, With Distinction - 2/8/2022
Juan Cortes, With Distinction - 2/8/2022
Mitchell Rusten, With Distinction - 2/8/2022
Shandon Gubler - 2/9/2022
Jacob Bennett, With Distinction - 2/10/2022
Sara Anglin, With Distinction - 2/10/2022
Kae Audette, With Distinction - 2/11/2022
George Harwell, With Distinction - 2/12/2022
Georgios Avramides, With Distinction - 2/12/2022
Stephanie Florez, With Distinction - 2/12/2022
Joe Alessandro, With Distinction - 2/13/2022
Nate Branham - 2/13/2022
Justin Goodin, With Distinction - 2/14/2022
Andres Defelice, With Distinction - 2/14/2022
Aviv Pikary, With Distinction - 2/15/2022
Christopher Warrington - 2/16/2022
Ben Lindau, With Distinction - 2/17/2022
Shandon Gubler - 2/17/2022
Rand Hough, With Distinction - 2/18/2022
Michael Herzog, With Distinction - 2/18/2022
Justyna Stachnik, With Distinction - 2/19/2022
Daniel Ugalde, With Distinction - 2/19/2022
James Godbold, With Distinction - 2/19/2022
Nathaniel Hanson - 2/20/2022
Grace Nolan, With Distinction - 2/20/2022
Isul Kim, With Distinction - 2/21/2022
Bishop Polizzotto, With Distinction - 2/21/2022
Jordany Dominique - 2/21/2022
Nicholas Wilder - 2/21/2022
Marshall Shaffar-Roggeveen - 2/21/2022
Malo Koob, With Distinction - 2/22/2022
Helamana Semo, With Distinction - 2/22/2022
Isaac Shapiro, With Distinction - 2/22/2022
Arbi Shakhgiriev - 2/23/2022
Jack Duboff, With Distinction - 2/23/2022
Mac Fillet, With Distinction - 2/23/2022
Jonah Brunel, With Distinction - 2/23/2022
Max Goldstein, With Distinction - 2/23/2022
Kathryn Hintze, With Distinction - 2/23/2022
Michael Doxie, With Distinction - 2/24/2022
Felix Nguyen, With Distinction - 2/25/2022
Jay Kennedy, With Distinction - 2/25/2022
Robert Rodman, With Distinction - 2/27/2022
Pedro Cruells, With Distinction - 2/28/2022
Jake Hymes - 3/1/2022
Braxton Barker, With Distinction - 3/2/2022
Michael Wong, With Distinction - 3/4/2022
Zoe Heyman, With Distinction - 3/4/2022
Max Nanula, With Distinction - 3/6/2022
Mel Evans, With Distinction - 3/7/2022
John Robinson, With Distinction - 3/8/2022
Immanuel Shoyombo, With Distinction - 3/8/2022
Kevin Mccormick, With Distinction - 3/8/2022
George Carameros, With Distinction - 3/10/2022
Jordan Nesvig, With Distinction - 3/11/2022
Lakatos John, With Distinction - 3/11/2022
Aidan Cheung, With Distinction - 3/12/2022
Nicholas Brid, With Distinction - 3/12/2022
Miguel Castro Morales, With Distinction - 3/13/2022
Zachary St Vincent, With Distinction - 3/13/2022
Brady Neill, With Distinction - 3/13/2022
Max Feld, With Distinction - 3/13/2022
Daniel Fredericks, With Distinction - 3/13/2022
Parker Lund, With Distinction - 3/14/2022
Axel Hjertstedt, With Distinction - 3/14/2022
Maurice Zekaria, With Distinction - 3/15/2022
Tevin Johnson, With Distinction - 3/15/2022
Jeff Storer - 3/15/2022
Jacob Hannawa, With Distinction - 3/17/2022
Evan Pastrano, With Distinction - 3/17/2022
Joshua Edwards, With Distinction - 3/18/2022
Matthew Smith, With Distinction - 3/18/2022
Yun Do Hwang, With Distinction - 3/19/2022
Jared Mittelberg, With Distinction - 3/19/2022
Yvonne Ondego-Hamalah, With Distinction - 3/19/2022
Michael Glaspie, With Distinction - 3/19/2022
Andrew Howard - 3/19/2022
James Chau, With Distinction - 3/20/2022
Idan Tarsky, With Distinction - 3/20/2022
Gabriela Espinoza Ferrini, With Distinction - 3/20/2022
John Hester, With Distinction - 3/20/2022
Alexander Corbett, With Distinction - 3/21/2022
Meeran Amir, With Distinction - 3/21/2022
Andrew Lui, With Distinction - 3/22/2022
Zachary Brenner, With Distinction - 3/22/2022
Danial Arun, With Distinction - 3/22/2022
Connor Roberts, With Distinction - 3/22/2022
Noah Rodriguez-Trammell, With Distinction - 3/23/2022
Elijah Gilbert, With Distinction - 3/24/2022
Barira Siddiqui, With Distinction - 3/24/2022
Clayton Salloum, With Distinction - 3/24/2022
Tristan Frank, With Distinction - 3/24/2022
Jay Patel, With Distinction - 3/25/2022
James Long, With Distinction - 3/25/2022
Matas Stankevicius, With Distinction - 3/26/2022
Tyler Crabtree - 3/26/2022
Linsley Truesdale, With Distinction - 3/26/2022
Arjun Lenin, With Distinction - 3/27/2022
Alexa Corwin, With Distinction - 3/27/2022
Dayuan Liu, With Distinction - 3/27/2022
Erik Fishman, With Distinction - 3/28/2022
Alec Wansikehian, With Distinction - 3/28/2022
Louay Elsakr, With Distinction - 3/29/2022
Ashley Spruill, With Distinction - 3/29/2022
Phillip James - 3/29/2022
Carlos Ituarte, With Distinction - 3/30/2022
Ryan To, With Distinction - 3/30/2022
Matteo Coppola, With Distinction - 3/30/2022
Daniel Drew, With Distinction - 3/30/2022
Brandon Frazee, With Distinction - 3/30/2022
Luke Schmit, With Distinction - 3/31/2022
Elizabeth Romenesko, With Distinction - 4/1/2022
Luca Mura - 4/1/2022
Li Liu, With Distinction - 4/2/2022
Nicholas Catranis, With Distinction - 4/2/2022
Nick Rosa, With Distinction - 4/3/2022
Leon Spies - 4/3/2022
James Zollinger, With Distinction - 4/4/2022
Joshua Luke, With Distinction - 4/5/2022
Steven Taylor, With Distinction - 4/5/2022
David Irvine, With Distinction - 4/5/2022
Matt Brading, With Distinction - 4/5/2022
Zach Finkelstein, With Distinction - 4/6/2022
Connor Newton, With Distinction - 4/6/2022
Jack Taylor, With Distinction - 4/6/2022
Ben Barker, With Distinction - 4/7/2022
Annika Mccool, With Distinction - 4/8/2022
Joseph Yu, With Distinction - 4/9/2022
Jack Ryan, With Distinction - 4/10/2022
Michael Tagaris, With Distinction - 4/10/2022
Shaique Rahman, With Distinction - 4/11/2022
James Wood, With Distinction - 4/11/2022
Hamilton Hertz, With Distinction - 4/12/2022
Jacob Rodriguez, With Distinction - 4/12/2022
Tanvir Khan, With Distinction - 4/12/2022
Agustin Smith, With Distinction - 4/12/2022
Dean Tal, With Distinction - 4/12/2022
Mark Mizrahi, With Distinction - 4/12/2022
Gadea Aguado Sierra, With Distinction - 4/13/2022
Brett Baskin, With Distinction - 4/14/2022
Hugh Nguyen - 4/14/2022
Jordan Jachens, With Distinction - 4/16/2022
Amedeo Rodio, With Distinction - 4/18/2022
Krissy Saraceno, With Distinction - 4/19/2022
Hayden Hoover, With Distinction - 4/19/2022
Markus Schoen - 4/22/2022
Fabian Kuhn, With Distinction - 4/22/2022
Francisco Hernandez Ramos, With Distinction - 4/24/2022
Jeremy Yan, With Distinction - 4/24/2022
Eric Kuefler, With Distinction - 4/24/2022
Ryan Krafczik - 4/25/2022
Matthew.berry, With Distinction - 4/25/2022
Aidan Kutner, With Distinction - 4/25/2022
Hung Nguyen, With Distinction - 4/25/2022
Chance Morris, With Distinction - 4/25/2022
Hoan Vo, With Distinction - 4/26/2022
Ian Maclachlan - 4/26/2022
Maximilian Kühnl, With Distinction - 4/27/2022
Peter Joseph, With Distinction - 4/28/2022
Boston Byerly, With Distinction - 5/1/2022
Armando Chocron Arwas, With Distinction - 5/1/2022
Greg Gaudio, With Distinction - 5/2/2022
Perry Oster, With Distinction - 5/3/2022
Michael Reilly, With Distinction - 5/3/2022
Kibong Cho, With Distinction - 5/4/2022
Kitty Mareschi, With Distinction - 5/4/2022
William Marron - 5/5/2022
Sammi Benak - 5/5/2022
Zachary Matz, With Distinction - 5/5/2022
Jon Hartunian - 5/6/2022
Kenneth Gomez, With Distinction - 5/6/2022
Nicholas Gaw, With Distinction - 5/7/2022
Giuseppe Penna, With Distinction - 5/7/2022
Gyu Eon Kim, With Distinction - 5/8/2022
Timur Murillo, With Distinction - 5/8/2022
Mack Carter, With Distinction - 5/9/2022
Andrea Troske, With Distinction - 5/9/2022
Kolton Thompson, With Distinction - 5/9/2022
Ahmad Alhuwaidi, With Distinction - 5/10/2022
Evan Blum, With Distinction - 5/10/2022
Rick Gropper, With Distinction - 5/10/2022
Peter Gottsacker, With Distinction - 5/10/2022
Sarin Kotoyan, With Distinction - 5/11/2022
Treivor Cashion, With Distinction - 5/11/2022
Ismael Concepcion, With Distinction - 5/11/2022
Bryce Daneshrad, With Distinction - 5/12/2022
Adam Tarantino, With Distinction - 5/12/2022
Garret Corr, With Distinction - 5/12/2022
Dustin Turner, With Distinction - 5/13/2022
Henrique Melo, With Distinction - 5/13/2022
Hunt Mitchell, With Distinction - 5/13/2022
Garleni Martinez, With Distinction - 5/14/2022
Jiaming He - 5/14/2022
Alexandre Hebert, With Distinction - 5/15/2022
Carlos Silguero, With Distinction - 5/15/2022
Drake Powell, With Distinction - 5/16/2022
Mark Abdelmessih, With Distinction - 5/16/2022
David Paredes, With Distinction - 5/16/2022
Alan Li, With Distinction - 5/17/2022
Alyssa Galindo, With Distinction - 5/17/2022
Jackson Schoep, With Distinction - 5/17/2022
Charles Lynch, With Distinction - 5/18/2022
Ismael Almanzar, With Distinction - 5/18/2022
Dillon Murphy - 5/18/2022
Zachariah Popp, With Distinction - 5/18/2022
Daniel Sapozhnikov, With Distinction - 5/19/2022
Thomas Rigal, With Distinction - 5/19/2022
Oleksandra Droval - 5/19/2022
Zoe Athanason, With Distinction - 5/19/2022
Christopher Prideaux, With Distinction - 5/20/2022
Nathan Etheridge - 5/20/2022
Hy Zhang, With Distinction - 5/20/2022
Max Weberman, With Distinction - 5/21/2022
Alwyn Taylor, With Distinction - 5/22/2022
David Stukey, With Distinction - 5/22/2022
Connor Burton, With Distinction - 5/22/2022
Jiliang Qian, With Distinction - 5/23/2022
Michael Combs, With Distinction - 5/23/2022
Nick Ardakani, With Distinction - 5/23/2022
Joshua Simpson - 5/23/2022
Eli Kupferberg, With Distinction - 5/24/2022
Serena Crawford - 5/24/2022
Pablo Beitman, With Distinction - 5/24/2022
Sumana Sirigeri, With Distinction - 5/25/2022
Sean Fowler, With Distinction - 5/25/2022
Toa Lobendahn - 5/25/2022
Yang Wang, With Distinction - 5/25/2022
Matthew Mattia, With Distinction - 5/25/2022
Mateo Duchatellier, With Distinction - 5/26/2022
Keith Gabrielson, With Distinction - 5/26/2022
Alexander Cooperstone, With Distinction - 5/26/2022
Isaac Kahn, With Distinction - 5/26/2022
Kenneth Akin, With Distinction - 5/26/2022
Sterling Stockwell - 5/27/2022
Andres Lincon, With Distinction - 5/27/2022
Ryan Ruffo, With Distinction - 5/27/2022
Mario Das, With Distinction - 5/28/2022
Alejandro Gallagher, With Distinction - 5/29/2022
Woods Novak, With Distinction - 5/30/2022
Kyle Weldon - 5/30/2022
Daniel Tighe, With Distinction - 5/30/2022
Colton Hoffman, With Distinction - 5/30/2022
Erin Joseph - 5/31/2022
Jiaqi Luo, With Distinction - 5/31/2022
Regiah Taylor, With Distinction - 5/31/2022
Logan Hampton, With Distinction - 5/31/2022
Kevin Haskins, With Distinction - 5/31/2022
Jay Dempsey, With Distinction - 5/31/2022
Michael Jackson Ii, With Distinction - 6/1/2022
Isidoro Beraja, With Distinction - 6/1/2022
Jake Stack, With Distinction - 6/1/2022
Zachary Parnas, With Distinction - 6/2/2022
Ryan Richard Covington, With Distinction - 6/2/2022
Andrew Pfeiffer, With Distinction - 6/2/2022
Carlton Disalvo, With Distinction - 6/2/2022
Samya Ababou, With Distinction - 6/3/2022
Rachel Pasternak, With Distinction - 6/3/2022
Garrett Hinge, With Distinction - 6/3/2022
Yvan Martinez, With Distinction - 6/3/2022
Matt Dominguez - 6/3/2022
Alejandro Villanueva, With Distinction - 6/3/2022
Lucas Iacovelli, With Distinction - 6/3/2022
Emma Durham, With Distinction - 6/3/2022
Braden White, With Distinction - 6/3/2022
Alfonso Orozco Cabeza De Vaca, With Distinction - 6/3/2022
Jasper Shi, With Distinction - 6/3/2022
Peter Zinsner, With Distinction - 6/4/2022
Kalani Lucas - 6/4/2022
Aden Wiener - 6/4/2022
Lisa Gordon, With Distinction - 6/4/2022
Austin E, With Distinction - 6/4/2022
Michael Lehmann, With Distinction - 6/5/2022
Harrison Koeppel, With Distinction - 6/5/2022
Davis Bebon, With Distinction - 6/5/2022
Conor Neyer, With Distinction - 6/5/2022
Patrick Sikorski, With Distinction - 6/5/2022
Megan Fitzgerald - 6/5/2022
Sauleh Ahmed, With Distinction - 6/6/2022
Brooks Glanton, With Distinction - 6/6/2022
Mathias Thoma, With Distinction - 6/6/2022
Joseph Berley, With Distinction - 6/7/2022
Arthur Michie - 6/7/2022
Jake Ligos, With Distinction - 6/7/2022
Weston Gervais, With Distinction - 6/8/2022
Adam Miah, With Distinction - 6/8/2022
Tim Hensley - 6/8/2022
Christen Mungia, With Distinction - 6/8/2022
Brendan Neary, With Distinction - 6/8/2022
Jacob Denison, With Distinction - 6/9/2022
Jackson Alton, With Distinction - 6/9/2022
Christian Amato, With Distinction - 6/9/2022
Sean Finnerty, With Distinction - 6/10/2022
Sam Baughman, With Distinction - 6/10/2022
Dylan Berget, With Distinction - 6/12/2022
Robert Melkesian - 6/12/2022
Mark Baldwin, With Distinction - 6/12/2022
Cole Rodgers, With Distinction - 6/12/2022
Ke Tang, With Distinction - 6/12/2022
Pierre Leonard, With Distinction - 6/13/2022
Harrison Fulton - 6/13/2022
Kyle Saifi, With Distinction - 6/13/2022
Nicholas Morgan, With Distinction - 6/13/2022
Bryn Coughlan, With Distinction - 6/13/2022
Kenyon Kay, With Distinction - 6/14/2022
John Carpenter, With Distinction - 6/14/2022
Margaret Duggan, With Distinction - 6/14/2022
Chris Odom, With Distinction - 6/14/2022
Will Marquardt, With Distinction - 6/14/2022
Larkin Mcliney - 6/14/2022
Sean Leary, With Distinction - 6/15/2022
James Reilly, With Distinction - 6/15/2022
Patrick Murdock, With Distinction - 6/15/2022
Bob Horning, With Distinction - 6/15/2022
Bennett Wooten, With Distinction - 6/15/2022
Brendan Kish, With Distinction - 6/15/2022
Kyle Layman, With Distinction - 6/16/2022
Raul Zserai, With Distinction - 6/16/2022
Gentry Bowen, With Distinction - 6/16/2022
Jackson Mcginley - 6/17/2022
Sammy Indyk, With Distinction - 6/17/2022
Meghan Dieroff, With Distinction - 6/17/2022
Jonathan Um, With Distinction - 6/17/2022
Robert Cobean, With Distinction - 6/17/2022
Alex Fung, With Distinction - 6/17/2022
Elizabeth Fuller, With Distinction - 6/17/2022
Kristin Houpt, With Distinction - 6/17/2022
Olivia Tantleff, With Distinction - 6/17/2022
Gabriel Starms - 6/18/2022
Marisa Brewer - 6/19/2022
Rebecca Curren, With Distinction - 6/19/2022
Rashed Bin Qutami, With Distinction - 6/19/2022
Nwakaego Uzoh, With Distinction - 6/19/2022
Kaysen Takenaka, With Distinction - 6/19/2022
Anirban Dasgupta, With Distinction - 6/20/2022
Matt Pohlen, With Distinction - 6/20/2022
Mahreen Arain, With Distinction - 6/20/2022
Matthew Trow - 6/20/2022
Rosemary Gong, With Distinction - 6/20/2022
Badder Shabbir, With Distinction - 6/20/2022
Mike Cvejanovich, With Distinction - 6/20/2022
Gonzalo Castiñeira Larrabide, With Distinction - 6/20/2022
Jessica Mclemore - 6/20/2022
Kyle Thompson - 6/20/2022
Christopher Ono, With Distinction - 6/20/2022
Thomas Sorbara, With Distinction - 6/20/2022
Jake Meyrowitz, With Distinction - 6/20/2022
Jacob Psyk, With Distinction - 6/20/2022
Austin Stacey, With Distinction - 6/21/2022
Rahul Maheshwari, With Distinction - 6/21/2022
Jose Sanchez, With Distinction - 6/21/2022
Trice Babb, With Distinction - 6/21/2022
Cory Schraier, With Distinction - 6/21/2022
Juan Cardenas, With Distinction - 6/21/2022
Robert O'Connor Jr, With Distinction - 6/21/2022
Grecia Jimenez, With Distinction - 6/21/2022
Eden Bunce, With Distinction - 6/22/2022
Cindy Abuyaghi, With Distinction - 6/22/2022
Sheryl Sun - 6/22/2022
Jennifer Deblanc, With Distinction - 6/22/2022
Yvan Martinez, With Distinction - 6/23/2022
Blair Brown, With Distinction - 6/23/2022
Xiaoyu Wang, With Distinction - 6/23/2022
Adam Faber, With Distinction - 6/23/2022
Constantino Argimon, With Distinction - 6/23/2022
Ian Kumar, With Distinction - 6/23/2022
Sung Woo Yoon, With Distinction - 6/24/2022
Andrew Dittrich, With Distinction - 6/24/2022
Miguel Rojas, With Distinction - 6/25/2022
Terry Larson, With Distinction - 6/26/2022
Jie Ma - 6/27/2022
Eleazar Escobedo, With Distinction - 6/27/2022
Zed Truong, With Distinction - 6/27/2022
Jeffrey Martino, With Distinction - 6/27/2022
Corentin Soyer - 6/27/2022
Greyson Ergenbright, With Distinction - 6/28/2022
Joanna Tang, With Distinction - 6/29/2022
Marshall Johnson, With Distinction - 6/29/2022
Zachary Luttrell, With Distinction - 6/29/2022
Shantae Shand, With Distinction - 6/30/2022
Pimlapus Tanpisuth, With Distinction - 6/30/2022
Benjamin Murrell, With Distinction - 6/30/2022
Sheeshum Galle, With Distinction - 7/1/2022
Cole Davis, With Distinction - 7/1/2022
Jake Fenlon, With Distinction - 7/1/2022
Matthew Harrison, With Distinction - 7/1/2022
Olivia Roncaglia, With Distinction - 7/1/2022
Conor Bradley, With Distinction - 7/1/2022
Christopher Carver - 7/2/2022
Matthew Reith, With Distinction - 7/2/2022
Steele Burkett, With Distinction - 7/2/2022
Julie Ye, With Distinction - 7/3/2022
Jackie Siegmund, With Distinction - 7/5/2022
Kevin John, With Distinction - 7/5/2022
John Sullivan, With Distinction - 7/5/2022
Michael Olohan, With Distinction - 7/5/2022
Callan Salter, With Distinction - 7/6/2022
Sandro Tubertini, With Distinction - 7/6/2022
Ezra Zucker, With Distinction - 7/6/2022
Andres Arozarena, With Distinction - 7/6/2022
Nicholas Jackson, With Distinction - 7/7/2022
Joe Dillon, With Distinction - 7/7/2022
Gunner Miller, With Distinction - 7/7/2022
Noah Englestad - 7/7/2022
Dennis Brillantes, With Distinction - 7/8/2022
Kevin Feehan, With Distinction - 7/8/2022
Altaz Dharamsi, With Distinction - 7/8/2022
Ruth Kiflu, With Distinction - 7/8/2022
Cameron Deruosi, With Distinction - 7/8/2022
Ilshin Han, With Distinction - 7/8/2022
Chris Field, With Distinction - 7/9/2022
William Leung, With Distinction - 7/10/2022
Michael Accinelli, With Distinction - 7/10/2022
Luke Hodge, With Distinction - 7/10/2022
Bessie Winston, With Distinction - 7/10/2022
Thomas Decker, With Distinction - 7/11/2022
Bryce Letcher - 7/11/2022
Jakub Witczak, With Distinction - 7/11/2022
Scott Sinks, With Distinction - 7/11/2022
Nichol Falk, With Distinction - 7/11/2022
Joe Binkowski - 7/12/2022
James Mackle, With Distinction - 7/12/2022
Oliver Maddahi, With Distinction - 7/13/2022
Leo Kao, With Distinction - 7/13/2022
Danny Karbowski, With Distinction - 7/13/2022
Roger Kao, With Distinction - 7/13/2022
Mack Weems, With Distinction - 7/13/2022
Will Harned, With Distinction - 7/13/2022
Gustavo Boros, With Distinction - 7/13/2022
Daniel Yanes, With Distinction - 7/13/2022
Brian Pham, With Distinction - 7/14/2022
Katie Cassidy, With Distinction - 7/14/2022
Mark Driscoll, With Distinction - 7/14/2022
Taylor Posey, With Distinction - 7/14/2022
Elliott Rotenberg, With Distinction - 7/14/2022
Scott Westerman, With Distinction - 7/14/2022
Riley Quezada - 7/14/2022
Ernest Adendorff, With Distinction - 7/14/2022
Baleigh Yancy, With Distinction - 7/15/2022
Keith Dulmage, With Distinction - 7/15/2022
Ryan Schwartz - 7/16/2022
John Gerber, With Distinction - 7/16/2022
Cade Lefler, With Distinction - 7/18/2022
Alexandra Cowin, With Distinction - 7/18/2022
Nate Hoffman, With Distinction - 7/19/2022
Ben Burgess, With Distinction - 7/19/2022
Analise Doorhy, With Distinction - 7/19/2022
Angelo Bonvino, With Distinction - 7/19/2022
Olivia Mcsweeney - 7/19/2022
Mario Martinez, With Distinction - 7/19/2022
Jimin Lee, With Distinction - 7/20/2022
Davidnardella - 7/21/2022
Michelle Montroy, With Distinction - 7/21/2022
Carson Brown, With Distinction - 7/22/2022
Logan Walker, With Distinction - 7/23/2022
George Sticca, With Distinction - 7/24/2022
Andy Camacho - 7/25/2022
Jack Dunavant, With Distinction - 7/25/2022
Eric Erdossy, With Distinction - 7/25/2022
Ryan Smyth, With Distinction - 7/25/2022
Aram Apanian, With Distinction - 7/25/2022
David Friedland, With Distinction - 7/26/2022
Devin Combs, With Distinction - 7/26/2022
Anastasiia Buiadzhy, With Distinction - 7/26/2022
Jonathan Kluger, With Distinction - 7/26/2022
Patrick Mcelroy, With Distinction - 7/26/2022
Jackie Chan - 7/26/2022
Rafael Pinero, With Distinction - 7/27/2022
Cole Palmby, With Distinction - 7/27/2022
Solomon Wistreich, With Distinction - 7/27/2022
Lila Weston - 7/27/2022
Samuel Jackson, With Distinction - 7/27/2022
Lauren Neumeister, With Distinction - 7/27/2022
Eli Townsend, With Distinction - 7/27/2022
Anthony Giuffre, With Distinction - 7/27/2022
Hutch Farris, With Distinction - 7/27/2022
Eduardo Baresi - 7/27/2022
Stavros Markakis - 7/27/2022
Jack Zelezny, With Distinction - 7/28/2022
Alejandro Pons Sotolongo, With Distinction - 7/28/2022
Tim Knauss, With Distinction - 7/29/2022
Elias Zaoutis, With Distinction - 7/29/2022
Chad Stanley, With Distinction - 7/30/2022
Tristan Villamagna, With Distinction - 7/31/2022
Alex Junquera, With Distinction - 7/31/2022
Bradford Deflin - 7/31/2022
Daniel Cashdan - 7/31/2022
Hsiaoying Yau, With Distinction - 8/1/2022
Kelly Chu, With Distinction - 8/1/2022
Nicholas Stailey, With Distinction - 8/1/2022
Naomi Santiago-Ruiz, With Distinction - 8/2/2022
Robert Ulrich, With Distinction - 8/2/2022
Nicolas Kaveh, With Distinction - 8/2/2022
Jacob Altshuler, With Distinction - 8/3/2022
Michael Hart - 8/3/2022
Connor Halligan, With Distinction - 8/4/2022
Henry Percy, With Distinction - 8/4/2022
Joseph Kim, With Distinction - 8/4/2022
Ryan Smith, With Distinction - 8/4/2022
Jack Kaplan, With Distinction - 8/4/2022
Noah Roslin, With Distinction - 8/5/2022
Alexander Lerer, With Distinction - 8/5/2022
Thomas Gallagher, With Distinction - 8/6/2022
Gabriel Grossman, With Distinction - 8/6/2022
John Agudelo, With Distinction - 8/6/2022
Lashae Gordon Strickland - 8/7/2022
Michael Wilson, With Distinction - 8/7/2022
Yves Martinez, With Distinction - 8/7/2022
Blaine Seifert, With Distinction - 8/7/2022
Hannah Spaan, With Distinction - 8/7/2022
Sarah Cannoy, With Distinction - 8/7/2022
Trevor Conley, With Distinction - 8/7/2022
Max Molod - 8/8/2022
Hartej Dale, With Distinction - 8/9/2022
Brandon Glass, With Distinction - 8/9/2022
Joseph Leddy, With Distinction - 8/9/2022
Sean Sprinkel, With Distinction - 8/9/2022
Seon Woo Kim, With Distinction - 8/9/2022
Joseph Hobbs, With Distinction - 8/10/2022
Jonah Jacobson - 8/10/2022
Anna Tamshinsky, With Distinction - 8/10/2022
Jackson Douglas, With Distinction - 8/10/2022
Samrat Singh, With Distinction - 8/10/2022
Jordan Briceland, With Distinction - 8/11/2022
Preston Lim, With Distinction - 8/11/2022
Maliha Sultana, With Distinction - 8/11/2022
Joseph Debaca, With Distinction - 8/11/2022
Jim Farris, With Distinction - 8/11/2022
Zixiao Tong, With Distinction - 8/11/2022
Aditya Reddy, With Distinction - 8/11/2022
John Najjar, With Distinction - 8/11/2022
Thomas Broderick, With Distinction - 8/11/2022
Rodrigo Hawit, With Distinction - 8/12/2022
Terry Mangham, With Distinction - 8/12/2022
Pierce Skelly, With Distinction - 8/12/2022
Mev Ajdin, With Distinction - 8/13/2022
Kevin Cho, With Distinction - 8/14/2022
Emily Murphy - 8/14/2022
Daniel Kelly, With Distinction - 8/14/2022
Akhilesh Saravanan, With Distinction - 8/14/2022
Rachel Stringfellow, With Distinction - 8/14/2022
Prashant Kamath - 8/15/2022
Benjamin Wilson, With Distinction - 8/15/2022
Chris Kennedy, With Distinction - 8/15/2022
Michael Abramovich, With Distinction - 8/15/2022
Anton Soetopo - 8/16/2022
Alexander Garcia - 8/16/2022
Alice Obas, With Distinction - 8/17/2022
Timothy Wooters, With Distinction - 8/17/2022
Morgan Spitzer, With Distinction - 8/17/2022
David Dwyer - 8/18/2022
Chris Tsavoussis - 8/18/2022
Zachary Ericksen, With Distinction - 8/18/2022
Sam Valenti, With Distinction - 8/18/2022
Rebecca Mueller - 8/18/2022
Levi Veleanu, With Distinction - 8/18/2022
Jean Lapoyan, With Distinction - 8/19/2022
Jack Deline - 8/19/2022
Kyle Wu, With Distinction - 8/19/2022
Stewart Kaye - 8/21/2022
Mitchell Ly, With Distinction - 8/22/2022
Zachary Roth, With Distinction - 8/23/2022
Lynn Reed, With Distinction - 8/23/2022
Ashley Katz, With Distinction - 8/23/2022
Blake Sufferling, With Distinction - 8/23/2022
Daniel Kassis, With Distinction - 8/24/2022
James Randazzo, With Distinction - 8/24/2022
Brendon Bourne, With Distinction - 8/27/2022
George Koutros, With Distinction - 8/28/2022
Adelajdo Ferko, With Distinction - 8/29/2022
Sage Lawrence, With Distinction - 8/29/2022
Isaac Levin, With Distinction - 8/29/2022
Grant Meyer, With Distinction - 8/29/2022
Andy Opsahl, With Distinction - 8/29/2022
Blaine Gerick, With Distinction - 8/30/2022
Marcus Williams, With Distinction - 8/30/2022
Benjamin Leary, With Distinction - 8/30/2022
Andrew Sprague - 8/30/2022
Nicolas Chaves, With Distinction - 8/31/2022
Thao Le, With Distinction - 8/31/2022
Connor Emsley, With Distinction - 8/31/2022
Patrick Lucas, With Distinction - 9/1/2022
Cody Johnson, With Distinction - 9/1/2022
Jack Ballato, With Distinction - 9/1/2022
Jack Mclean, With Distinction - 9/1/2022
Sophia Palombo, With Distinction - 9/2/2022
Steven Zonsius, With Distinction - 9/2/2022
Garett Rosten - 9/3/2022
Weijian Liu, With Distinction - 9/3/2022
Artemios Roussos, With Distinction - 9/4/2022
Eduardo Garcia, With Distinction - 9/5/2022
William Harris, With Distinction - 9/5/2022
Kavon Borghani, With Distinction - 9/5/2022
Aliakbar Hassonjee, With Distinction - 9/5/2022
Oscar Castelan, With Distinction - 9/7/2022
Seth Gergel - 9/7/2022
Gussie Gordon - 9/7/2022
Jocelyn Fan, With Distinction - 9/7/2022
Luke Filipic, With Distinction - 9/8/2022
Ryan Kaelin, With Distinction - 9/8/2022
Jack Sherwood, With Distinction - 9/8/2022
William D'Orsi, With Distinction - 9/9/2022
Tyler Naughten, With Distinction - 9/9/2022
Ethan Hunsucker, With Distinction - 9/9/2022
Inna Holodniuk, With Distinction - 9/9/2022
Curtis Wong, With Distinction - 9/11/2022
James Cacciola, With Distinction - 9/11/2022
Alice Hagemann, With Distinction - 9/12/2022
Brian Stutz, With Distinction - 9/13/2022
Stephen Harlan Iv, With Distinction - 9/13/2022
Houyu Xie, With Distinction - 9/13/2022
Michael Brown, With Distinction - 9/13/2022
Luke Hurbanis, With Distinction - 9/13/2022
Nicola Moreland, With Distinction - 9/13/2022
Charles Marquardt, With Distinction - 9/13/2022
Megan Magee, With Distinction - 9/13/2022
Michael Van Ness, With Distinction - 9/13/2022
Mariana Villicana, With Distinction - 9/13/2022
Ezekiel Silverman, With Distinction - 9/13/2022
Sarah Cornide, With Distinction - 9/13/2022
Zachary Brandon, With Distinction - 9/13/2022
Zachary Wilson, With Distinction - 9/13/2022
Kimi Orlin - 9/13/2022
Isabella Moore - 9/13/2022
Domenic Ciricillo, With Distinction - 9/13/2022
Ethan Coakley - 9/13/2022
Connor Tamarkin, With Distinction - 9/13/2022
Aaron Lazar - 9/13/2022
Jorge Sardinas, With Distinction - 9/13/2022
Kyle Nguyen, With Distinction - 9/13/2022
Muellerzane - 9/13/2022
Coryell Dreyer, With Distinction - 9/13/2022
Jasmeen Randhawa, With Distinction - 9/13/2022
Angel Vicioso - 9/13/2022
James Davilmar - 9/13/2022
Bennett Davis, With Distinction - 9/13/2022
Lillyan Magley - 9/13/2022
Victoria Kane, With Distinction - 9/13/2022
Harrison Haber - 9/13/2022
Bryan Madeya - 9/13/2022
Jenny Kim - 9/13/2022
Eleanor Mccoy - 9/13/2022
Finn Hilberts, With Distinction - 9/13/2022
Tristan Harvey - 9/13/2022
Tyler Patterson - 9/14/2022
Josh Silverman, With Distinction - 9/14/2022
Octavio Rueda - 9/14/2022
Morris Nadjar, With Distinction - 9/14/2022
Jiayi Tan, With Distinction - 9/14/2022
Cole Wilson, With Distinction - 9/14/2022
Benjamin Garrison Brock Jr, With Distinction - 9/14/2022
Brodie Whitla, With Distinction - 9/15/2022
Alexander Bakke, With Distinction - 9/15/2022
Conner Bays, With Distinction - 9/16/2022
Nick Baldwin, With Distinction - 9/16/2022
Shiv Karthik, With Distinction - 9/17/2022
Tzu-Hsiang Cho, With Distinction - 9/17/2022
Adonis Duarte, With Distinction - 9/17/2022
James Hodgson, With Distinction - 9/19/2022
Hogan Green, With Distinction - 9/20/2022
Gabrielle Beaudoin Lemay, With Distinction - 9/20/2022
Jeremy Chang - 9/20/2022
Christopher Alvarez, With Distinction - 9/21/2022
Benjamin Naftalis, With Distinction - 9/21/2022
Sean Madden, With Distinction - 9/21/2022
Katharina Shultz, With Distinction - 9/21/2022
Jacob Verner, With Distinction - 9/22/2022
Alexander Azar, With Distinction - 9/22/2022
Sebastien Fouilloux, With Distinction - 9/23/2022
Frank Winkler, With Distinction - 9/26/2022
Spencer Small, With Distinction - 9/27/2022
Michael Richards, With Distinction - 9/27/2022
Christian Wolf, With Distinction - 9/27/2022
Christian Herrera, With Distinction - 9/27/2022
Gregory Robinson, With Distinction - 9/27/2022
Ryan Sullivan, With Distinction - 9/27/2022
Stephen Ramkelawan, With Distinction - 9/28/2022
Christopher Willis, With Distinction - 9/28/2022
Christian Gray - 9/28/2022
Clark Bowring, With Distinction - 9/29/2022
Rami Rifai, With Distinction - 9/29/2022
Mary Sweitzer, With Distinction - 9/29/2022
David Abel, With Distinction - 9/30/2022
Yamilet Polanco, With Distinction - 9/30/2022
Alain Kasparian, With Distinction - 9/30/2022
Caleb Green, With Distinction - 9/30/2022
Benjamin Perez, With Distinction - 10/2/2022
Kailey Poore, With Distinction - 10/2/2022
Alexander Garovi, With Distinction - 10/3/2022
Ethan Dorman, With Distinction - 10/3/2022
Albert Valdes, With Distinction - 10/4/2022
Surender Singh, With Distinction - 10/4/2022
Stefani Feldman, With Distinction - 10/4/2022
Gabriel Guzman, With Distinction - 10/4/2022
Pascal Camarillo, With Distinction - 10/6/2022
Brendan Cavender, With Distinction - 10/6/2022
Jack Nini, With Distinction - 10/6/2022
Robert Carmichael, With Distinction - 10/6/2022
Maryam Alali, With Distinction - 10/7/2022
Conor Downey, With Distinction - 10/7/2022
Ryan Arinaga, With Distinction - 10/7/2022
Gabe Stern, With Distinction - 10/9/2022
Hale Johnson, With Distinction - 10/9/2022
Samantha Hoyle, With Distinction - 10/9/2022
Nicola Viggiani, With Distinction - 10/10/2022
Esther Min - 10/10/2022
Georgy Bellani Orvid, With Distinction - 10/10/2022
Sayali Wagh - 10/10/2022
Mark Murphy, With Distinction - 10/10/2022
Reem Al Shehhi, With Distinction - 10/11/2022
Jelena Milosev, With Distinction - 10/11/2022
Jack Koreyva, With Distinction - 10/11/2022
Christopher Ruiz, With Distinction - 10/12/2022
Oran O'Donnell, With Distinction - 10/12/2022
Alexander Baur, With Distinction - 10/13/2022
Cb Paulk, With Distinction - 10/14/2022
Lalit Jagtap, With Distinction - 10/14/2022
William Perry, With Distinction - 10/14/2022
Nathan Horgan, With Distinction - 10/15/2022
John Wilson, With Distinction - 10/15/2022
Marco Siracusa, With Distinction - 10/16/2022
Dylan Connelly, With Distinction - 10/17/2022
Kiernan Gillespie, With Distinction - 10/18/2022
David Gahagan, With Distinction - 10/18/2022
Hogan Wierda, With Distinction - 10/18/2022
Todd Manjuck, With Distinction - 10/19/2022
Christopher Nicol, With Distinction - 10/19/2022
Auden Menke - 10/19/2022
Omar Ford - 10/20/2022
Megan Davies, With Distinction - 10/20/2022
Oliver Dennis, With Distinction - 10/22/2022
Jessie Kelley, With Distinction - 10/23/2022
Sultan Alkhoori, With Distinction - 10/24/2022
Henry Smith, With Distinction - 10/24/2022
Joshua Hay, With Distinction - 10/24/2022
Christopher Durbin, With Distinction - 10/24/2022
Jack Guenoun, With Distinction - 10/24/2022
Spencer Howard - 10/25/2022
Cole Fisher, With Distinction - 10/25/2022
Luke Annicharico, With Distinction - 10/25/2022
Riley Wood, With Distinction - 10/26/2022
Alex Burd - 10/26/2022
Morgan Hampel - 10/27/2022
John Engh, With Distinction - 10/27/2022
Douglas Gensler, With Distinction - 10/27/2022
Jordan Ohara, With Distinction - 10/27/2022
Matthew Appelbaum, With Distinction - 10/27/2022
Jenna Resnick, With Distinction - 10/28/2022
Brett Lauritzen, With Distinction - 10/29/2022
Bobby Morales, With Distinction - 10/29/2022
Jake Levine, With Distinction - 10/29/2022
Alex Cesta - 10/30/2022
Diego Lozano, With Distinction - 10/30/2022
Bryan White, With Distinction - 10/30/2022
Stephen Quinn, With Distinction - 10/30/2022
Manuel Velasquez - 10/30/2022
Eric Diego Ocampo - 10/31/2022
Zachary Weinger, With Distinction - 10/31/2022
Jacob Donick, With Distinction - 10/31/2022
Alex Johnstone - 10/31/2022
Brendan May, With Distinction - 10/31/2022
Leonardo Neumayer, With Distinction - 10/31/2022
Slater Hobbs, With Distinction - 10/31/2022
Gladys Atienza, With Distinction - 11/1/2022
Alistair Mitchell, With Distinction - 11/1/2022
Michael Lizanich, With Distinction - 11/2/2022
Jeremy Kauffman, With Distinction - 11/3/2022
Christopher Schultz, With Distinction - 11/3/2022
Wesley Van Steenbergen, With Distinction - 11/3/2022
Scott Griffin, With Distinction - 11/4/2022
Andre Evans - 11/4/2022
Pradip Lalitcumar, With Distinction - 11/5/2022
Colin Theye, With Distinction - 11/5/2022
John Prus, With Distinction - 11/6/2022
Jonathan Betschart - 11/6/2022
Benjamin Schuster - 11/6/2022
Jordan Harris, With Distinction - 11/7/2022
Alex Heyrend, With Distinction - 11/7/2022
Marc-David Aube-Frenette - 11/8/2022
Emmanuel Soriano - 11/9/2022
Brendan Boyle, With Distinction - 11/9/2022
Alexandra Hung - 11/10/2022
Alvaro Ruiz, With Distinction - 11/13/2022
Taylor Frey, With Distinction - 11/14/2022
Grant Martin, With Distinction - 11/16/2022
Caleb Harris, With Distinction - 11/16/2022
Charles Anania, With Distinction - 11/16/2022
Douglas Woolley, With Distinction - 11/16/2022
Jonathan Stern - 11/16/2022
Erik Digirolamo, With Distinction - 11/16/2022
Andrew Gallagher, With Distinction - 11/17/2022
Connor Barry - 11/17/2022
Joshua Moore, With Distinction - 11/17/2022
Carter Bateman, With Distinction - 11/18/2022
Edwin Mendez, With Distinction - 11/18/2022
Bobby Distler, With Distinction - 11/18/2022
Ben Spencer, With Distinction - 11/18/2022
Marie Herman, With Distinction - 11/18/2022
Dylan Erwin, With Distinction - 11/21/2022
Adrian Nowak, With Distinction - 11/21/2022
Hunter Loncar, With Distinction - 11/21/2022
Duke Zherka, With Distinction - 11/21/2022
Whit Shelburne, With Distinction - 11/21/2022
Andrew Clark, With Distinction - 11/21/2022
Thomas Martin, With Distinction - 11/22/2022
Tyler Sinks - 11/22/2022
Elaine Beeson, With Distinction - 11/23/2022
Robert Lin, With Distinction - 11/23/2022
Chris Cho - 11/24/2022
Calvin Mooney - 11/26/2022
Robert Galos, With Distinction - 11/28/2022
Miles Matalon, With Distinction - 11/28/2022
Dion Huey, With Distinction - 11/29/2022
Mark Erbstoesser, With Distinction - 12/1/2022
Anthony Milliano, With Distinction - 12/1/2022
Becca Stapp, With Distinction - 12/2/2022
Joseph Alston, With Distinction - 12/4/2022
Kanan Azizli, With Distinction - 12/5/2022
Andrea Granados Pechkova, With Distinction - 12/6/2022
Justin Evans, With Distinction - 12/8/2022
Jeremy Rueth, With Distinction - 12/8/2022
Tyson Garrett, With Distinction - 12/9/2022
Alan Albagli Link, With Distinction - 12/9/2022
Colby Mead, With Distinction - 12/13/2022
Joseph Philippi - 12/14/2022
Nate Hoffman, With Distinction - 12/14/2022
Scott Henson, With Distinction - 12/14/2022
Pedro Rodrigues De Castro Jalles, With Distinction - 12/14/2022
Max Hermacinski, With Distinction - 12/15/2022
Isaac Benedict, With Distinction - 12/15/2022
Adam Margolis, With Distinction - 12/15/2022
Reed Bender, With Distinction - 12/16/2022
Chao Ma - 12/16/2022
Alan Grynberg, With Distinction - 12/16/2022
Justin Zakariaie, With Distinction - 12/18/2022
Jeremy Bowinkel, With Distinction - 12/18/2022
Aj Lachini, With Distinction - 12/20/2022
Kenneth Li, With Distinction - 12/20/2022
William Heywood, With Distinction - 12/20/2022
Chance Gordon, With Distinction - 12/20/2022
Mongting Tsai - 12/21/2022
Brian Kelly, With Distinction - 12/21/2022
John Sullivan, With Distinction - 12/21/2022
Nayeon Hong, With Distinction - 12/22/2022
George Stedfast, With Distinction - 12/22/2022
Matthew Beelman, With Distinction - 12/23/2022
Matthew Harris, With Distinction - 12/23/2022
Alyssa Shapiro, With Distinction - 12/23/2022
Matthew Russell, With Distinction - 12/24/2022
Max Capogrosso, With Distinction - 12/24/2022
Jacob Dubay, With Distinction - 12/24/2022
Noah Andrews, With Distinction - 12/25/2022
Sandy Lee, With Distinction - 12/26/2022
Ariel Hanasab, With Distinction - 12/26/2022
Rhett Saltiel, With Distinction - 12/27/2022
Dustin Villwock, With Distinction - 12/28/2022
Jack Burns, With Distinction - 12/28/2022
Alessandro Kulutbanis, With Distinction - 12/28/2022
Jose Roberto Moreno Quezada, With Distinction - 12/28/2022
Tyler Hamel, With Distinction - 12/28/2022
Ethan Layton - 12/28/2022
Kyler Johns, With Distinction - 12/29/2022
Jonathan Fletcher, With Distinction - 12/29/2022
Yayi Ding, With Distinction - 12/29/2022
Yasmeen Pasierb, With Distinction - 12/30/2022
Tyler Wetzel, With Distinction - 12/30/2022
Rohit Kharche, With Distinction - 12/31/2022
Noora Albastaki, With Distinction - 12/31/2022
Mohammed Al-Banaa - 12/31/2022
Slater Rodberg - 12/31/2022
Simone Stanton, With Distinction - 12/31/2022
Shamim Ahmed, With Distinction - 12/31/2022
Luke Watts-Russell, With Distinction - 12/31/2022
Hutton Wooters, With Distinction - 12/31/2022
Bhavay Ahuja, With Distinction - 1/2/2023
Woojung Lee, With Distinction - 1/2/2023
Finnegan Syrie, With Distinction - 1/3/2023
Daniel Hidalgo, With Distinction - 1/4/2023
Jobe Mackley - 1/4/2023
Alexis Zecua, With Distinction - 1/4/2023
Sean Wallisch, With Distinction - 1/4/2023
Ben Applebaum, With Distinction - 1/4/2023
Peter Kidwell, With Distinction - 1/5/2023
Yan Zhou, With Distinction - 1/5/2023
Jennifer Ferreira, With Distinction - 1/7/2023
Grant Houde, With Distinction - 1/7/2023
Henry Su, With Distinction - 1/7/2023
Bryan Wynne, With Distinction - 1/7/2023
Eric Hansen, With Distinction - 1/8/2023
Jackson Gill, With Distinction - 1/9/2023
Ash Zahran, With Distinction - 1/11/2023
Steven Wang, With Distinction - 1/11/2023
Talis Stockton, With Distinction - 1/11/2023
Damon Germanides, With Distinction - 1/11/2023
Drew Balser, With Distinction - 1/11/2023
Shane Pizzo, With Distinction - 1/11/2023
Jared Paul - 1/12/2023
Mark Shoenfeld, With Distinction - 1/12/2023
Zack Billick - 1/12/2023
Brad Leventhal, With Distinction - 1/13/2023
Kade Josephson - 1/13/2023
Hayden Stroop, With Distinction - 1/13/2023
Grace Cassar - 1/15/2023
Brennan Wilcox - 1/15/2023
Luis Fernando Machado, With Distinction - 1/15/2023
Seira Melendez, With Distinction - 1/15/2023
Fatema Alhammadi - 1/16/2023
John Pairitz, With Distinction - 1/16/2023
Colin Mowbray, With Distinction - 1/16/2023
Adolfo Arguello, With Distinction - 1/16/2023
Owen Brennan - 1/17/2023
Patrick Xander, With Distinction - 1/17/2023
Guy Lyle, With Distinction - 1/18/2023
Chaitanya Guthikonda, With Distinction - 1/18/2023
Gerry Wheaton, With Distinction - 1/19/2023
Vernon Pape, With Distinction - 1/20/2023
Omar Uddin, With Distinction - 1/20/2023
John Kelly, With Distinction - 1/20/2023
James Earley - 1/21/2023
Franco Mellone, With Distinction - 1/21/2023
Marek Sullivan, With Distinction - 1/22/2023
Albert Martinezarizala, With Distinction - 1/23/2023
Monserrate Deleon, With Distinction - 1/23/2023
Hunter Lazare, With Distinction - 1/23/2023
Richard Tamkin, With Distinction - 1/23/2023
Jose Prado, With Distinction - 1/23/2023
Brian Jennett, With Distinction - 1/23/2023
Tyler Wilson, With Distinction - 1/24/2023
Michael Hines, With Distinction - 1/25/2023
Nikit Reddy, With Distinction - 1/25/2023
Jingyu Zhang, With Distinction - 1/25/2023
Kim Nguyen Lam, With Distinction - 1/26/2023
Solomon Zarling, With Distinction - 1/26/2023
Sunny Kim - 1/27/2023
Marc Bartolini, With Distinction - 1/28/2023
Emmanuel Ndikum, With Distinction - 1/28/2023
John Tukivakala, With Distinction - 1/29/2023
Daniel Snoey - 1/31/2023
Conner Ogdon, With Distinction - 1/31/2023
Albert Martinez-Castro, With Distinction - 1/31/2023
Nicholas Davies, With Distinction - 1/31/2023
Zach Barnett, With Distinction - 1/31/2023
Isaiah Suggs, With Distinction - 2/1/2023
Nathan Thomas - 2/1/2023
Kevaneau Green, With Distinction - 2/2/2023
Keith Frantz, With Distinction - 2/2/2023
Champion Whitton - 2/4/2023
Bruno Reis, With Distinction - 2/5/2023
Tommy Segars Iii, With Distinction - 2/5/2023
Joshua Horner, With Distinction - 2/5/2023
Easton Moore - 2/7/2023
Elliot Kim, With Distinction - 2/7/2023
Max Nunan, With Distinction - 2/8/2023
Devin Fleischer - 2/8/2023
Andrew Grant, With Distinction - 2/8/2023
Domenic Caniglia, With Distinction - 2/9/2023
Andrew Leogrande, With Distinction - 2/9/2023
Connor Ledwith, With Distinction - 2/9/2023
Alex Li, With Distinction - 2/10/2023
Stephen Holt, With Distinction - 2/10/2023
Sam Rooney, With Distinction - 2/10/2023
Josiah Shvartsakh, With Distinction - 2/11/2023
Michael Ross, With Distinction - 2/11/2023
Mytiah Caldwell, With Distinction - 2/12/2023
Tyler Maghen, With Distinction - 2/12/2023
Darío De San Sebastián Ruiz-Ayúcar, With Distinction - 2/13/2023
Mark Foley, With Distinction - 2/14/2023
Patrick Eulmi, With Distinction - 2/14/2023
Steven Vrablic, With Distinction - 2/15/2023
Marton Avila Tezelli, With Distinction - 2/15/2023
Andrew Whitcomb, With Distinction - 2/16/2023
Dallin Waldvogel - 2/16/2023
Andres Cepeda - 2/17/2023
Christopher Romano - 2/19/2023
Othmane Lazrak, With Distinction - 2/19/2023
Aaron Goodale, With Distinction - 2/20/2023
Andrew Weisman - 2/20/2023
Maxwell Goodwin, With Distinction - 2/20/2023
Lizzie Benedict - 2/21/2023
Omar Hossain - 2/22/2023
Jonathan Rhodes - 2/22/2023
Kallin Sipe - 2/22/2023
Enzo Jiannalone - 2/24/2023
Henry Dupont - 2/24/2023
Timothy Keller - 2/24/2023
Richard Matheson - 2/25/2023
Chad Call, With Distinction - 2/26/2023
Sean Boissonnault, With Distinction - 2/26/2023
Veronica Hernandez Delgado, With Distinction - 2/26/2023
Mitchell Pagliuso - 2/27/2023
Bryce Guynes - 2/28/2023
Jake Marthens - 2/28/2023
Jackson Neill - 3/1/2023
Júlio Villalobos-Torres - 3/2/2023
Parker Peterson - 3/2/2023
Kevin Conde, With Distinction - 3/2/2023
Erick Martinez, With Distinction - 3/3/2023
Arshnoor Singh - 3/3/2023
John Solis - 3/5/2023
Guillermo Ivan Sanchez Ramirez, With Distinction - 3/5/2023
Peerati Upatising, With Distinction - 3/7/2023
Noah Halfon - 3/7/2023
David Stewart, With Distinction - 3/7/2023
Nick Englhard - 3/8/2023
Harris Hudson - 3/8/2023
Jesus Sapien, With Distinction - 3/8/2023
Wei Kang Tan - 3/10/2023
Ty Borghi, With Distinction - 3/10/2023
Tobi Ojeyemi - 3/11/2023
Dani Alameddine, With Distinction - 3/12/2023
Bryan Lue - 3/13/2023
Josh Buck, With Distinction - 3/13/2023
Mcclain Awalt, With Distinction - 3/13/2023
Logan Shanahan - 3/14/2023
Shrey Mehta - 3/14/2023
Jack Sorenson, With Distinction - 3/14/2023
Kai Xiao, With Distinction - 3/14/2023
Maxwell Reiter, With Distinction - 3/17/2023
Frank Schmidt - 3/17/2023
Kin Poon - 3/17/2023
Mitch Gordon - 3/18/2023
Jack Gebhardt - 3/18/2023
Fritz Loewy - 3/18/2023
James Fowler - 3/21/2023
Sebastian Rivero, With Distinction - 3/22/2023
Luke Metzger, With Distinction - 3/22/2023
John Morgan Manley - 3/22/2023
Clayton Rae - 3/22/2023
Eduardo Rehder - 3/23/2023
J. Shane Mcmeans - 3/23/2023
Walter Wyatt - 3/23/2023
Myles Campbell - 3/24/2023
Richard Nealy, With Distinction - 3/24/2023
Quinton Cheney - 3/24/2023
Fayaz Rohan - 3/26/2023
Serge Du Lau D'Allemans, With Distinction - 3/27/2023
Wililam Wagner, With Distinction - 3/27/2023
Long Ma, With Distinction - 3/28/2023
Connor Cole - 3/28/2023
Samuel Cremieux - 3/28/2023
Kyle Isaacs, With Distinction - 3/31/2023
Sean Bailey, With Distinction - 3/31/2023
Felipe Alvarez - 4/1/2023
Eric Ritchie - 4/1/2023
Ashley Henthorn - 4/2/2023
Chris Crawford, With Distinction - 4/2/2023
Audrey Craighead - 4/2/2023
John Accardi - 4/3/2023
Michael Odinlo - 4/5/2023
Felix Galan, With Distinction - 4/5/2023
Torrey Feimster, With Distinction - 4/5/2023
David Lawson, With Distinction - 4/8/2023
Ty Chau - 4/8/2023
David Phillips, With Distinction - 4/11/2023
Ford Eldredge - 4/11/2023
Joy Man Wong, With Distinction - 4/12/2023
Abel Torres, With Distinction - 4/12/2023
Hernan Hernandez, With Distinction - 4/13/2023
Miller Hamilton, With Distinction - 4/13/2023
Zeke Galloway, With Distinction - 4/14/2023
Aditya Singh, With Distinction - 4/17/2023
Ben Pobuda - 4/17/2023
Raegan Brown, With Distinction - 4/17/2023
Jackson Dembski, With Distinction - 4/17/2023
Austin Olvera, With Distinction - 4/17/2023
Hardik Goyal, With Distinction - 4/17/2023
Peixian Wang - 4/18/2023
Brett Deloach, With Distinction - 4/18/2023
Douglas Deutser - 4/18/2023
Carson Hoover, With Distinction - 4/18/2023
Brandon Barkwell, With Distinction - 4/19/2023
Aakash Patel, With Distinction - 4/20/2023
Mathias Salmon - 4/20/2023
Colton Hoisager, With Distinction - 4/21/2023
Nicholas Cipolle - 4/22/2023
Jack Kelley, With Distinction - 4/22/2023
Evan Chien - 4/23/2023
Ariel Wachsler, With Distinction - 4/23/2023
Carlo Zarro, With Distinction - 4/23/2023
Zachary Maghsoud, With Distinction - 4/24/2023
Larry Suprun, With Distinction - 4/24/2023
Eric Garibian, With Distinction - 4/25/2023
Ryan Childers, With Distinction - 4/25/2023
David Tang - 4/28/2023
Viren Sood - 4/29/2023
Liam Bell - 4/30/2023
Justin Hudson - 4/30/2023
Ari Rosenberg - 4/30/2023
Thomas Feldman, With Distinction - 4/30/2023
Andrew Williams, With Distinction - 5/1/2023
Udaya Kumar Pelluru, With Distinction - 5/1/2023
Taylor Channell, With Distinction - 5/1/2023
Georgia Dozier - 5/2/2023
Summit Schmerse - 5/2/2023
Andy Lee - 5/2/2023
Tae Soo Chun, With Distinction - 5/3/2023
Angela Pham, With Distinction - 5/3/2023
Timothy Parker - 5/5/2023
Adrian Cako, With Distinction - 5/5/2023
Guifang Chen - 5/6/2023
Samuel Adams - 5/6/2023
Zaire Marin, With Distinction - 5/10/2023
Taylor Hornsby - 5/11/2023
Seth Caslin - 5/15/2023
Wood Boone, With Distinction - 5/15/2023
Miguel Angel Tortolero Casarrubias - 5/15/2023
Zack Bauman, With Distinction - 5/16/2023
Kaleo Nelson - 5/16/2023
Aran Midha - 5/16/2023
Jonathan Arroyo - 5/16/2023
Andrea Johnson - 5/16/2023
Sandeep Singh - 5/18/2023
Michael Kim, With Distinction - 5/18/2023
William Horton, With Distinction - 5/18/2023
Nasir Prade - 5/18/2023
Femi Aina, With Distinction - 5/19/2023
Patrick Dea - 5/21/2023
Ayo Kolawole - 5/21/2023
Daniel Lin, With Distinction - 5/22/2023
Will Bennett - 5/23/2023
Destry Straight - 5/23/2023
James Danso, With Distinction - 5/23/2023
Jordan Tayeh - 5/24/2023
Maxime Guillotin, With Distinction - 5/24/2023
Sebastian Baltodano, With Distinction - 5/24/2023
Jorge Serafio - 5/25/2023
Avi Kwestel - 5/25/2023
Matthew Bryant, With Distinction - 5/25/2023
James Ivey - 5/25/2023
Evan Holt - 5/26/2023
Aidan Pink, With Distinction - 5/27/2023
Jetal Patel - 5/29/2023
Marissa Brown - 5/29/2023
Nima Parsakish, With Distinction - 5/29/2023
Andrew Spalti - 5/29/2023
Jaime Peralta Esquivel, With Distinction - 5/30/2023
Ian Sehgal, With Distinction - 5/30/2023
Mackenzie Clark, With Distinction - 5/30/2023
Trinity Davis, With Distinction - 5/30/2023
Jade Johnson, With Distinction - 5/30/2023
Caleb Bridges - 5/30/2023
Matthews Cornejo - 5/31/2023
Stephen Cox - 5/31/2023
Anthony Antillon - 5/31/2023
Sydney Whiting, With Distinction - 6/1/2023
Frank Anastasio, With Distinction - 6/1/2023
Brandon Tatis - 6/1/2023
Zachary Clifford, With Distinction - 6/1/2023
Mega Martina - 6/1/2023
Luke Cabrey, With Distinction - 6/2/2023
Julia Heilman, With Distinction - 6/2/2023
Matthew Turzewski, With Distinction - 6/2/2023
Ayden Stenberg, With Distinction - 6/2/2023
Baldric Bermudez, With Distinction - 6/2/2023
Tushar Batham, With Distinction - 6/3/2023
Anant Rai, With Distinction - 6/3/2023
Austin Dear, With Distinction - 6/3/2023
Jack Gallagher - 6/4/2023
Vera Socolsky - 6/4/2023
Diego Torrealba, With Distinction - 6/4/2023
Harrison Casagrande - 6/4/2023
Pryor Thomas - 6/4/2023
Jacob Palecki - 6/5/2023
Peter Leone - 6/5/2023
Eric Rivas, With Distinction - 6/5/2023
Jake Fishman - 6/5/2023
Lake Periman, With Distinction - 6/5/2023
Somin Park - 6/6/2023
Avramie Schwalb - 6/6/2023
Liam O'Hara - 6/6/2023
Menachem Rabizadeh - 6/6/2023
Carly Dvorkin - 6/7/2023
Nicholas Bilotta, With Distinction - 6/7/2023
Jennifer Kim, With Distinction - 6/7/2023
Jackson Smith - 6/8/2023
Nicholas Lee, With Distinction - 6/8/2023
Wyatt Awtrey, With Distinction - 6/8/2023
Henslee Ogle, With Distinction - 6/8/2023
Christine Sieber - 6/8/2023
Level 2 Certification Holders

Listed chronologically
Bruce Kirsch, With Distinction – 6/8/11
Bulkeley Banks, With Distinction – 6/8/11
Zachary Wenner, With Distinction – 6/20/11
Andrew Sanders – 1/16/12
Thomas Gibson, With Distinction – 6/26/12
Jean-Paul Irastorza – 8/1/12
Nicholas Platt – 8/20/12
Luke Kline – 9/5/12
Dilshad Abeygunawardana, With Distinction – 10/24/12
Stephanie Cunningham, With Distinction – 11/7/12
Christopher Reis – 11/17/12
Eric Salit, With Distinction – 11/28/12
Ryan Williams – 12/9/12
Kristen Joe, With Distinction – 12/10/12
Philip Baron, With Distinction – 12/21/12
Hua Tang, With Distinction – 2/13/13
John Schoback, With Distinction – 4/7/13
Jackson Brissette, With Distinction – 4/7/13
Ian Johnson – 4/23/13
David Dawson, With Distinction – 4/24/13
Richard Lorenzen, With Distinction – 4/30/13
Olivia Speck, With Distinction – 6/13/13
Samuel Hollman – 7/8/13
Matthew Klimerman – 7/8/13
Anthony Huerta, With Distinction – 7/14/13
Nicholas Gonzalves, With Distinction – 7/26/13
Daniel Prendiville, With Distinction – 8/16/13
Reid Boggus – 9/9/13
Roshan Verma, With Distinction – 9/11/13
Paul Gherini – 9/17/13
JP Losman, With Distinction – 9/26/13
Ryan Lowry – 9/26/13
Dominique Gaspar – 9/29/13
Amit Urban – 10/3/13
Veronica Boxley – 10/8/13
Jeremy Rauch, With Distinction – 10/10/13
Kemal Aysin – 10/11/13
Patrick Smith, With Distinction – 10/11/13
Chris Reed, With Distinction – 10/26/13
Huyen Ngo, With Distinction – 10/28/13
Justin Moore – 10/28/13
Nikita Mistri, With Distinction – 10/29/13
Joseph Duffy – 11/6/2013
Brett Matthew Wilburn – 11/8/2013
Jeffrey Fronek, With Distinction – 11/17/2013
Gregory Milstein, With Distinction – 11/6/2013
Brett Matthew Wilburn, With Distinction – 11/15/2013
William Justin Adams, With Distinction – 12/3/2013
mitchell williams – 12/9/2013
Benjamin Doran – 12/26/2013
Jeremy Sloan Reynolds , With Distinction – 12/27/2013
Bruce Doyle, Jr., With Distinction – 1/2/2014
Matthew Albert, With Distinction – 1/11/2014
Zachary J Greenky, With Distinction – 1/19/2014
Lauren Burns – 1/23/2014
Thomas Klosinski – 1/27/2014
Jonathan Blank, With Distinction – 3/3/2014
Nicole Simon, With Distinction – 3/28/2014
Jenghiz von Streng, With Distinction – 4/4/2014
Howard Hendler, With Distinction – 4/13/2014
Lydia Zaleski, With Distinction – 4/15/2014
Steven Samuelson , With Distinction – 4/18/2014
Zach Lebwohl, With Distinction – 4/25/2014
Brett Robert Granum, With Distinction – 5/8/2014
Kristofer Ronning, With Distinction – 5/14/2014
Michael Hunter Webb – 5/16/2014
Tri Minh Truong – 5/16/2014
Yehuda Gordon – 5/18/2014
Eli Kopciel, With Distinction – 5/21/2014
Hunter Wilson Craig – 5/28/2014
William David Lawrence Beagles, With Distinction – 5/28/2014
Nason Khomassi, With Distinction – 6/2/2014
Joseph Achenbach – 6/9/2014
Seth Hewitt, With Distinction – 6/10/2014
Charles – 7/10/2014
Catherine Murtagh, With Distinction – 7/11/2014
David Rabin, With Distinction – 7/11/2014
Jason D. Grossman, With Distinction – 7/11/2014
Thomas Underhill, With Distinction – 7/11/2014
Vincent Bohlen, With Distinction – 7/11/2014
Tony Gullo, With Distinction – 7/15/2014
Clay Friend – 7/20/2014
Eugene Shevaldin, With Distinction – 7/30/2014
Sean Michael O'Donovan, With Distinction – 7/30/2014
Katharine D Ragan, With Distinction – 8/4/2014
Tyler Wood, With Distinction – 8/5/2014
Dylan West – 8/7/2014
William McGarry, With Distinction – 8/12/2014
Denis Gulyarenko, With Distinction – 8/27/2014
Catherine Saunders – 9/7/2014
Jing Yu, With Distinction – 9/9/2014
Thomas Threadgill, With Distinction – 9/9/2014
Beijia Li – 9/21/2014
Cara Newton – 9/21/2014
Cody Keller – 9/21/2014
Kelsey Broadhead – 9/21/2014
Marc Hall – 9/21/2014
Matthew Gourlay, With Distinction – 9/21/2014
Noa Marks – 9/21/2014
Panpan Rao – 9/21/2014
zhonghao wu – 9/21/2014
Panpan Rao – 9/22/2014
Thomas Allen DiCesare – 9/22/2014
Ismael Yepes – 9/23/2014
John R Sofarelli Jr, With Distinction – 9/23/2014
Justin Poisson, With Distinction – 9/23/2014
Peter, With Distinction – 9/23/2014
Seth Mahl – 9/23/2014
Thomas R O'Steen – 9/23/2014
Ye Liu – 9/23/2014
Brett Clement – 9/24/2014
Candis Pressley – 9/24/2014
Connor Heinton – 9/24/2014
Cory Yeffet – 9/24/2014
Ian Perkovich, With Distinction – 9/24/2014
Karl Pischke – 9/24/2014
Michael Grandoff, With Distinction – 9/24/2014
Seun Falade – 9/25/2014
mathias belayneh, With Distinction – 9/28/2014
Christopher S. White, With Distinction – 9/29/2014
Michael Loc Tran, With Distinction – 10/2/2014
Eric Tall – 10/4/2014
Ryan Austin Cain – 10/8/2014
Omid Bensal – 10/21/2014
Justin Sheu, With Distinction – 10/22/2014
Michael Nieliwodski – 10/27/2014
Matthew Douglas Hardy, With Distinction – 10/30/2014
Caleb Sheldon, With Distinction – 11/10/2014
Matthew Thomson, With Distinction – 11/11/2014
Jason Eng Ken Yap, With Distinction – 11/12/2014
Jacob Cohen, With Distinction – 11/13/2014
Christopher A. Aiello, With Distinction – 11/24/2014
Thomas Eddleston – 11/25/2014
Katherine Moore Hokanson – 12/1/2014
Stuart Carr – 12/1/2014
Jason Archer, With Distinction – 12/6/2014
Christopher Bruner – 12/8/2014
Seokyoung Hong, With Distinction – 12/17/2014
Gabrielle COUZIN – 12/19/2014
Alexander Schapira, With Distinction – 12/20/2014
Trevor Strickland, With Distinction – 12/22/2014
Clarence E. Wong, With Distinction – 12/24/2014
Panpan Rao, With Distinction – 12/27/2014
Sureshkumar G Nair, With Distinction – 12/27/2014
WEI HSUAN HUANG, With Distinction – 12/27/2014
Yifan Yang, With Distinction – 12/27/2014
William D'Avella, With Distinction – 12/29/2014
Leon, With Distinction – 1/2/2015
Masayo Allen, With Distinction – 1/2/2015
Matthew Dalton, With Distinction – 1/3/2015
Jonathan Vollinger, With Distinction – 1/4/2015
Michael Begg, With Distinction – 1/6/2015
Richard Colby Whitehead, With Distinction – 1/6/2015
Robert Hamilton Wyatt – 1/6/2015
Robert Shaw – 1/10/2015
David Gleitman, With Distinction – 1/11/2015
Henry Guy Hopkins IV, With Distinction – 1/11/2015
Thomas Kochak, With Distinction – 1/18/2015
Ian Lesyk, With Distinction – 1/29/2015
Brenna Campbell, With Distinction – 1/31/2015
James Vu, With Distinction – 2/1/2015
Michael Carn, With Distinction – 2/8/2015
Eric Mihalik, With Distinction – 2/15/2015
Elan Gordon – 2/19/2015
Rex Huddleston, With Distinction – 2/22/2015
Adam Elrod – 2/22/2015
Andrew Pennington, With Distinction – 2/24/2015
Jason Cho – 2/25/2015
Oliver Peterson, With Distinction – 2/28/2015
Michael Grilli, With Distinction – 2/28/2015
Benoit Rochard, With Distinction – 2/28/2015
Andrew Sikiric, With Distinction – 3/1/2015
Horacio Villarreal – 3/1/2015
NIKI TSIVITANOU, With Distinction – 3/3/2015
Jeff Dayov, With Distinction – 3/3/2015
Robert Roth, With Distinction – 3/5/2015
John Christensen, With Distinction – 3/14/2015
David Muren, With Distinction – 3/15/2015
Edmund Lord, With Distinction – 3/25/2015
Cole Ungar – 3/25/2015
Kevin Kiser – 3/25/2015
Gregory Zartarian, With Distinction – 3/28/2015
Ken Harpster – 3/30/2015
Kyle Barnas, With Distinction – 4/3/2015
Elliott Farmer, With Distinction – 4/6/2015
Henry Ibocrepri, With Distinction – 4/6/2015
Chad Bonham, With Distinction – 4/13/2015
Kevin Liu, With Distinction – 4/18/2015
Jeremy Kubiak, With Distinction – 4/25/2015
William T. Shiney, With Distinction – 4/29/2015
Eric Fink, With Distinction – 4/30/2015
Derek Hutchison, With Distinction – 5/7/2015
Gisela Prudden, With Distinction – 5/7/2015
Joseph Miller, With Distinction – 5/9/2015
Jared Ray, With Distinction – 5/10/2015
Jared Riemer, With Distinction – 5/16/2015
Geoffrey Palmer, With Distinction – 5/16/2015
Sean Mashian, With Distinction – 5/16/2015
Mark Lewis, With Distinction – 5/19/2015
Damian Albrycht, With Distinction – 5/22/2015
Joshua Bush, With Distinction – 5/22/2015
Roman Blum, With Distinction – 5/22/2015
Chris Dodd, With Distinction – 5/25/2015
Kyle McDevitt, With Distinction – 5/27/2015
Michael Hall, With Distinction – 5/27/2015
Bradley Eral, With Distinction – 5/28/2015
David Scott, With Distinction – 6/1/2015
Thomas Foley, With Distinction – 6/3/2015
Joe Dunne – 6/5/2015
Wilford Wong – 6/10/2015
Arvo Hartikainen – 6/15/2015
Sean Hooton, With Distinction – 6/22/2015
Jonathan Cleary, With Distinction – 6/23/2015
Spencer Todd Anderson, With Distinction – 6/23/2015
George Fraser, With Distinction – 6/27/2015
Nicholas Lawrence, With Distinction – 6/27/2015
Maria Kowalski, With Distinction – 6/30/2015
Brian Murphy – 7/1/2015
Dean Vidal, With Distinction – 7/2/2015
Price Peeler, With Distinction – 7/2/2015
Taylor Briggs Davis – 7/3/2015
Hamilton Cole Wilson – 7/6/2015
Mark G Carney, With Distinction – 7/7/2015
Jack Eidson, With Distinction – 7/10/2015
Rashad Johnson – 7/10/2015
Aileen Chang, With Distinction – 7/10/2015
Julia Telzak, With Distinction – 7/10/2015
Neel Swami, With Distinction – 7/10/2015
Ben Spiritos, With Distinction – 7/10/2015
Marcel Garon, With Distinction – 7/10/2015
Shaireen Karim, With Distinction – 7/10/2015
Harrison Gray, With Distinction – 7/10/2015
Nick Melrose, With Distinction – 7/13/2015
Robin Ahmadi, With Distinction – 7/16/2015
Brian Clement – 7/19/2015
Eric J Jacobson, With Distinction – 7/19/2015
Brian Clement, With Distinction – 7/19/2015
Spencer Jarvis – 7/23/2015
R. George Abood Jr., With Distinction – 7/28/2015
Joyce Ma – 8/2/2015
Sik Pun, With Distinction – 8/3/2015
Stephan C Gaspar, With Distinction – 8/4/2015
Daniel Marati, With Distinction – 8/6/2015
Connor Bortolazzo, With Distinction – 8/6/2015
Steven Bryan Rojas – 8/6/2015
Joyce Ma, With Distinction – 8/8/2015
Alexander Mollozzi – 8/9/2015
Ksenia Bronnikova – 8/10/2015
Reginald Holley, With Distinction – 8/11/2015
Christopher Rubacha, With Distinction – 8/18/2015
Brandon Daniels, With Distinction – 8/19/2015
Matthew Whitermore, With Distinction – 8/19/2015
Tim Barhite – 8/20/2015
Simon Ardonceau, With Distinction – 8/22/2015
Victoria Lash, With Distinction – 8/25/2015
Angel Cuevas, With Distinction – 8/28/2015
Thomas Castelli – 8/30/2015
William Tavoulareas, With Distinction – 9/3/2015
William David Woods – 9/11/2015
Xiaoyi YIN, With Distinction – 9/16/2015
Marcus Oberholzer – 9/18/2015
Christopher Fletcher, With Distinction – 9/19/2015
Michael Carlone, With Distinction – 9/21/2015
Yifei Dai, With Distinction – 9/21/2015
Maximilian Schmitt, With Distinction – 9/22/2015
Jeremy Mandel – 10/3/2015
Justin Kennell, With Distinction – 10/4/2015
Angelo Evangelatos, With Distinction – 10/6/2015
Alex Savage, With Distinction – 10/6/2015
Matthew Bacon – 10/7/2015
Hayden Healy, With Distinction – 10/13/2015
Joshua Giancola – 10/18/2015
Colin John Scarola, With Distinction – 10/18/2015
Michael Dornbusch – 10/20/2015
Christian Meyer, With Distinction – 10/25/2015
Brett Zimmerman – 10/28/2015
Chiwei Zhong – 10/28/2015
Brett Zimmerman, With Distinction – 10/29/2015
E H Held, With Distinction – 10/30/2015
James Baker, With Distinction – 10/30/2015
Yu Ding, With Distinction – 10/31/2015
David Lott, With Distinction – 11/1/2015
John Trimble, With Distinction – 11/1/2015
David J. Saperstein, With Distinction – 11/1/2015
Brandon Perdeck – 11/1/2015
Olaf Boullé, With Distinction – 11/1/2015
Avery Dorr – 11/1/2015
David Corbin – 11/1/2015
James Dreyer – 11/2/2015
Darren Tretter – 11/2/2015
Tanner Andrew Ziebarth, With Distinction – 11/2/2015
Carey Froelicher, With Distinction – 11/2/2015
Chiwei Zhong, With Distinction – 11/2/2015
Robert Price – 11/2/2015
Mahmoud Mihanyar – 11/2/2015
Grace VanDeGrift, With Distinction – 11/2/2015
Michael Trimble – 11/2/2015
Francisco R Padilla, With Distinction – 11/2/2015
Coleman Glass, With Distinction – 11/2/2015
Safak Erseven – 11/2/2015
Rockyoung Kim – 11/2/2015
Kyle Bellini – 11/2/2015
Eric Thomas Duda – 11/2/2015
Alexis Jones – 11/2/2015
John Lee – 11/4/2015
Haitham K, With Distinction – 11/5/2015
John Lee, With Distinction – 11/5/2015
Mike Gallegos, With Distinction – 11/5/2015
Bradley R Morales, With Distinction – 11/6/2015
Anastasiia Gubarieva, With Distinction – 11/6/2015
Brian Huang, With Distinction – 11/6/2015
Anastasiia Gubarieva, With Distinction – 11/6/2015
Charles Penman Fyfe – 11/6/2015
Kathryn Morales, With Distinction – 11/8/2015
Brant Patton, With Distinction – 11/8/2015
Ryan Hutchins – 11/9/2015
Chace Coleman – 11/9/2015
Laura McLeod, With Distinction – 11/9/2015
Jeffrey Marver, With Distinction – 11/9/2015
Chad O'Connor, With Distinction – 11/10/2015
Josh Strelzik, With Distinction – 11/11/2015
Jason N. Ackerman – 11/11/2015
Andres Castillo Lima, With Distinction – 11/14/2015
Chad O'Connor, With Distinction – 11/16/2015
George O Halsted – 11/18/2015
Yan Ge, With Distinction – 11/20/2015
Jacob H Smith, With Distinction – 11/29/2015
Cecilia Griffith – 11/30/2015
Robert Gerard Hudert, With Distinction – 12/1/2015
Kamar Calixte – 12/5/2015
Rohit Muralidhar, With Distinction – 12/7/2015
Drew Kenning – 12/8/2015
David Corbin, With Distinction – 12/13/2015
Brandon Perdeck, With Distinction – 12/14/2015
Alexander Hondros, With Distinction – 12/14/2015
Jacob Rice – 12/22/2015
Matthew C. Dolins, With Distinction – 12/24/2015
Cheolmin Cho, With Distinction – 12/27/2015
Tanya Fagaly – 12/28/2015
David Carpenter – 12/28/2015
Kanan Azizli, With Distinction – 12/29/2015
David Carpenter, With Distinction – 12/29/2015
Jeff Sifen, With Distinction – 12/29/2015
Jerome Raymond, With Distinction – 12/29/2015
Ming Che Lee, With Distinction – 12/30/2015
Albert Blanck – 12/30/2015
Lidia Bardhi, With Distinction – 12/30/2015
Yuxie Li – 12/31/2015
Jon Kegerize, With Distinction – 12/31/2015
Ang Wei Xiang Adriel, With Distinction – 1/1/2016
Thomas S. Casey – 1/1/2016
Jessica Thao-Nghi Huynh, With Distinction – 1/2/2016
Hanjie Tang, With Distinction – 1/3/2016
Brian Hinds – 1/4/2016
Charles Haack, With Distinction – 1/5/2016
Eric David Kasenetz, With Distinction – 1/5/2016
FANGFANG XIE, With Distinction – 1/5/2016
Aaron Glenn Kinsey, With Distinction – 1/6/2016
Kyle Van Natta – 1/7/2016
Reagan Montgomery, With Distinction – 1/7/2016
Kristina Sparrow, With Distinction – 1/8/2016
Xiao Hu, With Distinction – 1/9/2016
Dong Zhu, With Distinction – 1/10/2016
maria nickolova, With Distinction – 1/10/2016
Christopher G Rosser, With Distinction – 1/12/2016
Yichen Xie, With Distinction – 1/12/2016
Alexander McPherson, With Distinction – 1/13/2016
Clayton Watson, With Distinction – 1/13/2016
Robert L Rossi, With Distinction – 1/13/2016
Michael Borden – 1/14/2016
Enrique Claverie Martinez – 1/16/2016
Amanda K. Lockshiss, With Distinction – 1/17/2016
Justin Kivel – 1/17/2016
Zachary Speigel, With Distinction – 1/19/2016
Timothy John Sullivan, With Distinction – 1/20/2016
Xanaan A. Salim – 1/21/2016
Motoi Kojima – 1/22/2016
Max Stern, With Distinction – 1/24/2016
Timur Kamalovich Ali-Zade – 1/29/2016
Jonathan Trott, With Distinction – 2/1/2016
Preston Watson, With Distinction – 2/3/2016
Sandra Choy, With Distinction – 2/3/2016
Omar Moid, With Distinction – 2/6/2016
Elizabeth Louise Smyth, With Distinction – 2/7/2016
Tanya Fagaly – 2/9/2016
Rachel E Britain – 2/13/2016
Anthony Mera – 2/15/2016
Dave Hou, With Distinction – 2/16/2016
Harold Thomas, With Distinction – 2/16/2016
Robert J Mueller, With Distinction – 2/17/2016
Sara Hines, With Distinction – 2/17/2016
Timothy Eife, With Distinction – 2/18/2016
Phillip Melton, With Distinction – 2/21/2016
Stephen Stewart – 2/22/2016
Jack Noonan Ford, With Distinction – 2/27/2016
Luis Portal – 2/27/2016
Ilya Medvedenko, With Distinction – 2/28/2016
Isaac Breen-Franklin – 2/29/2016
Joseph R Adie, With Distinction – 3/6/2016
Regan Carroll, With Distinction – 3/7/2016
Matthew G Lish – 3/7/2016
Daniel Dembek, With Distinction – 3/8/2016
Lauren Burns, With Distinction – 3/10/2016
Victoria Marks, With Distinction – 3/10/2016
Seth Gorrie – 3/11/2016
Chad E. Leines – 3/13/2016
Steven Dou, With Distinction – 3/14/2016
Andrew Greiner, With Distinction – 3/14/2016
Gregory Weisen – 3/14/2016
Connor John Driscoll, With Distinction – 3/15/2016
Adam Daniel Nourafchan, With Distinction – 3/16/2016
Matthew Muehlstein, With Distinction – 3/17/2016
Addie Hargett, With Distinction – 3/19/2016
Ryan Key – 3/19/2016
Spencer Burton, With Distinction – 3/19/2016
Russell Tunes, With Distinction – 3/28/2016
Tong Qin – 3/31/2016
Jasmine Polson, With Distinction – 4/1/2016
Daria Anne Rose – 4/2/2016
Ariel Weiser, With Distinction – 4/3/2016
Cheng-Yu Wang – 4/3/2016
Ben Barlow, With Distinction – 4/4/2016
Vahe Nokhoudian, With Distinction – 4/9/2016
Steven M. Heller, With Distinction – 4/21/2016
Chad Rheingold – 4/22/2016
Jay Yee – 4/25/2016
Luke Koczela, With Distinction – 4/26/2016
Daniel Lenze – 4/27/2016
Anthony Meo – 4/27/2016
Eric Marcella, With Distinction – 4/28/2016
Adam Spengler – 4/29/2016
Thomas Eliopoulos II – 5/1/2016
Michael Payton, With Distinction – 5/3/2016
Kevin Lutz – 5/4/2016
Danny Biega, With Distinction – 5/5/2016
Saniya Gupta – 5/6/2016
Giovanni Wrobel – 5/7/2016
Mike Jensen, With Distinction – 5/7/2016
Brian Dunn, With Distinction – 5/11/2016
Jerry Hsieh, With Distinction – 5/11/2016
James Vallely – 5/15/2016
Kelly Whelan – 5/16/2016
Andrew Bieker – 5/18/2016
Joshua Mitchell, With Distinction – 5/19/2016
Anthony Nathaniel Cohen, With Distinction – 5/30/2016
Jackson Stegge Wahlgren, With Distinction – 5/31/2016
Ryan Salvino, With Distinction – 6/3/2016
Edgar De La Torre, With Distinction – 6/4/2016
Erik Christophe Bertin, With Distinction – 6/4/2016
Nicole Iglehart, With Distinction – 6/4/2016
Jon Wright, With Distinction – 6/7/2016
Nick Liu – 6/8/2016
Ryan Kalaf, With Distinction – 6/8/2016
Thomas Focht, With Distinction – 6/9/2016
Daniel Lee – 6/13/2016
William McClintic – 6/14/2016
Brad Greeson – 6/16/2016
Robert Michael Fox, With Distinction – 6/20/2016
Alexandru Popescu, With Distinction – 6/22/2016
Charles Cochran – 6/22/2016
Patrick Joseph Hogan, With Distinction – 6/23/2016
Shitong Sun, With Distinction – 6/23/2016
Emily Balazik – 6/28/2016
John B. Pearson – 6/28/2016
Dylan Joshua Kriz – 6/29/2016
Chase Hagen, With Distinction – 7/6/2016
Alex Ransenberg – 7/8/2016
Arielle Miller – 7/8/2016
David Steiner, With Distinction – 7/8/2016
Dong Woo Lee, With Distinction – 7/8/2016
Mark Thomas Luzzi, With Distinction – 7/8/2016
Max Hengeveld, With Distinction – 7/8/2016
Sean Mintz – 7/8/2016
Dominique Johnson, With Distinction – 7/11/2016
Luke Symonds, With Distinction – 7/13/2016
Megan Nancy Sessel, With Distinction – 7/14/2016
Julian Scheeff – 7/16/2016
Timothy Willis, With Distinction – 7/17/2016
Greg Liautaud – 7/19/2016
Carlos Daccach – 7/27/2016
Matthew Rose, With Distinction – 7/30/2016
Yang Qiao – 7/30/2016
Andreas Dal Piaz, With Distinction – 7/31/2016
Thomas John Courlas, With Distinction – 8/1/2016
Stuart Kennedy, With Distinction – 8/2/2016
Alfredo Vargas, With Distinction – 8/5/2016
Sagan Lampe – 8/5/2016
Alec Milton – 8/6/2016
Chris Economou, With Distinction – 8/6/2016
Roberto Luis Lopez-Molina – 8/6/2016
Paul Ketchum – 8/12/2016
Robert Alan Conroy, With Distinction – 8/12/2016
Emily Abbott – 8/20/2016
Xavier Morin, With Distinction – 8/21/2016
Jay-Paul Lowry – 8/22/2016
Thibaut Pieters, With Distinction – 8/25/2016
Bryan Robert Sikes, With Distinction – 8/27/2016
Mason Garry Waite, With Distinction – 8/28/2016
Roni Lovaton, With Distinction – 8/31/2016
Chris Dufault, With Distinction – 9/1/2016
Grace Fu – 9/1/2016
Cheng Zhang, With Distinction – 9/3/2016
Robert Hall, With Distinction – 9/7/2016
Yu Huang – 9/8/2016
Barron Panson, With Distinction – 9/12/2016
Colton Hager, With Distinction – 9/12/2016
Eliza Schuett, With Distinction – 9/13/2016
Max Lescano, With Distinction – 9/14/2016
Jose Nunez – 9/18/2016
Tyler Darden, With Distinction – 9/18/2016
Pierre Marks, With Distinction – 9/24/2016
Hayden Scillitoe, With Distinction – 9/26/2016
Keenan Klett, With Distinction – 9/26/2016
Aaron Desatnik, With Distinction – 9/27/2016
George Hajjar – 10/1/2016
Zeke John Patterson, With Distinction – 10/1/2016
Michael Carter, With Distinction – 10/4/2016
Antonino G DiMaggio – 10/7/2016
Ryan Davenport, With Distinction – 10/8/2016
Jonathan Lachance, With Distinction – 10/19/2016
Harrison M. M. McCarthy, With Distinction – 10/20/2016
Hairong Yin – 10/22/2016
Christopher Monsour, With Distinction – 10/23/2016
Lau Ka Yan – 10/27/2016
Brendan Kruzan, With Distinction – 10/30/2016
Jake Olsman, With Distinction – 10/30/2016
Matthew Turzewski, With Distinction – 10/30/2016
Frank Joseph Koziara III, With Distinction – 10/31/2016
Javier Henriquez, With Distinction – 11/5/2016
Gregory Kosh, With Distinction – 11/10/2016
William Jenkins, With Distinction – 11/14/2016
Justin Lai – 11/14/2016
Thomas Bender, With Distinction – 11/15/2016
Daniel Alvarez, With Distinction – 11/16/2016
Thomas Manglaviti Jr., With Distinction – 11/18/2016
Joseph Phipps – 11/22/2016
William Yang, With Distinction – 11/29/2016
Jonathan Petrini, With Distinction – 12/1/2016
Zachary Lasorsa, With Distinction – 12/2/2016
Daniel Amodio, With Distinction – 12/6/2016
Ryan Rosendin, With Distinction – 12/8/2016
Elissa Wu, With Distinction – 12/11/2016
Samantha Jay, With Distinction – 12/14/2016
Andrew Michael Howe – 12/17/2016
Kevin Wang – 12/17/2016
Maxwell Baird, With Distinction – 12/19/2016
Elaine Liu – 12/25/2016
Adam Tannenbaum, With Distinction – 12/26/2016
Richard Mayer Segal – 12/29/2016
Matthew Bowyer – 12/29/2016
Hunter Graham, With Distinction – 12/30/2016
Jared Lowe, With Distinction – 1/1/2017
William Gandre, With Distinction – 1/1/2017
Mark A. Rios, With Distinction – 1/2/2017
Andrew Bunting, With Distinction – 1/3/2017
Alex Janeck, With Distinction – 1/4/2017
Colin Coughlin, With Distinction – 1/4/2017
Weston Bronconnier – 1/5/2017
Arvind Dharur, With Distinction – 1/6/2017
David Pizitz, With Distinction – 1/6/2017
Evan Solomon, With Distinction – 1/6/2017
Xiao Hu – 1/6/2017
Mason Alsbrooks – 1/7/2017
Christian James Segner – 1/8/2017
Clare Losey – 1/8/2017
John Schell, With Distinction – 1/8/2017
Joseph P. Cabral, With Distinction – 1/8/2017
Kristi Leonard – 1/8/2017
Lauren Kofoet, With Distinction – 1/8/2017
Quentin Monaghan, With Distinction – 1/8/2017
Ford DuBose – 1/9/2017
Morgan Plaster – 1/9/2017
Robert Hugh Deng – 1/9/2017
Sherine Elgamal – 1/9/2017
Zane Carman – 1/9/2017
Aleksei "Alex" Fedorov – 1/10/2017
Amit Zaman – 1/10/2017
Arnold Chu, With Distinction – 1/10/2017
Benjamin T Jackson – 1/10/2017
Carl Stephens – 1/10/2017
David Bryson Burtnett, With Distinction – 1/10/2017
John Peacock – 1/10/2017
Kevin Patrick Rushing – 1/10/2017
Nicholas Lamb – 1/10/2017
Parker Todd, With Distinction – 1/10/2017
Richard Armstrong, With Distinction – 1/10/2017
Robert Arthur McClendon, With Distinction – 1/10/2017
Sarah J Shaw – 1/10/2017
Zachary Martin, With Distinction – 1/10/2017
Crystal Calhoun – 1/11/2017
Hansen Harris – 1/11/2017
Jackson Randolph, With Distinction – 1/11/2017
James Johnson – 1/11/2017
Jessica Greene – 1/11/2017
Scott Edward Smith – 1/11/2017
Vincent Fasone – 1/11/2017
Brenden William Duffey – 1/12/2017
Grant Speakes – 1/12/2017
Jacob Brown – 1/12/2017
John David Bertelson – 1/12/2017
Joshua Giles – 1/12/2017
Kyle Parker – 1/12/2017
Margaret Stewart – 1/12/2017
Monica Huffer – 1/12/2017
Nicholas George File, With Distinction – 1/12/2017
Ross Ohlrich Johnson – 1/12/2017
Taylor Bedford – 1/12/2017
Vincent Holub – 1/12/2017
Yiwei Chen – 1/12/2017
Yiwei Wu – 1/13/2017
Jake Sherman, With Distinction – 1/14/2017
Michael Glynn, With Distinction – 1/14/2017
Anthony Marsala, With Distinction – 1/15/2017
Christopher McLean, With Distinction – 1/15/2017
Val E Cadena III – 1/15/2017
Bahman Dashti, With Distinction – 1/16/2017
Michael Roukis, With Distinction – 1/16/2017
Katrina Benson – 1/17/2017
Je Hoon Kim, With Distinction – 1/22/2017
Mitchell Logan Nachman, With Distinction – 1/25/2017
Neil E Ostrander, With Distinction – 1/25/2017
Alexandre Cole, With Distinction – 1/26/2017
Justin Allamano, With Distinction – 1/26/2017
Samuel Bryce Welty – 1/26/2017
Timothy Maslow – 1/29/2017
Huijing Zhang, With Distinction – 1/30/2017
Ashley Eckhoff – 2/1/2017
Angelo Koutoupis, With Distinction – 2/4/2017
Robert Gallman, With Distinction – 2/4/2017
Margaret Barry – 2/7/2017
Fabiola S Edouard, With Distinction – 2/8/2017
Foley George, With Distinction – 2/9/2017
Jeong Min Cho – 2/10/2017
Garrett Pisarik, With Distinction – 2/11/2017
Landon Carter Kemp, With Distinction – 2/11/2017
Scott Angell, With Distinction – 2/11/2017
Hiradean Sadik, With Distinction – 2/12/2017
Justin A. Capuano, With Distinction – 2/12/2017
Zachary Robbins, With Distinction – 2/14/2017
Brock Hudson, With Distinction – 2/15/2017
Adam Wolfson, With Distinction – 2/16/2017
Mauricio Gutierrez, With Distinction – 2/17/2017
Marcus Robinson, With Distinction – 2/18/2017
Randy J. Marble-Lobo, With Distinction – 2/19/2017
Jimmy Warren, With Distinction – 2/20/2017
Mohamed Saad Mohamed Altaf, With Distinction – 2/20/2017
Priya Chopra, With Distinction – 2/20/2017
Nicholas A Mouriz, With Distinction – 2/22/2017
Garrett P. Hughes – 2/23/2017
Jeffrey Reed – 2/24/2017
Charles A. Steelman, With Distinction – 2/26/2017
Shuo Wang, With Distinction – 2/28/2017
Vince Mejia – 2/28/2017
Emerson Gibbs – 3/7/2017
Michael Renna, With Distinction – 3/7/2017
Francesc Garcia Uriel, With Distinction – 3/12/2017
Ethan Bidna, With Distinction – 3/13/2017
Rami Chehabi – 3/13/2017
Jose Antonio Lorido, With Distinction – 3/14/2017
Andy Herg, With Distinction – 3/19/2017
Bowei Wang, With Distinction – 3/21/2017
Margaret Duffy – 3/21/2017
Minjie Zou, With Distinction – 3/21/2017
Yin-Yu Liang, With Distinction – 3/21/2017
Zach Sobel, With Distinction – 3/21/2017
Braeden Wilson, With Distinction – 3/22/2017
Suhas Prabhakar, With Distinction – 3/22/2017
John Walker, With Distinction – 3/27/2017
Patrick A Jacek, With Distinction – 3/28/2017
Scott A Davidson, With Distinction – 4/2/2017
Zach Forrer, With Distinction – 4/4/2017
Wendi Su – 4/6/2017
Patrick Monahan – 4/9/2017
Ryan Irvin, With Distinction – 4/16/2017
Calvin Tong – 4/18/2017
Genguo Ju, With Distinction – 4/23/2017
Jaden Rosselli, With Distinction – 4/23/2017
George M Adams – 4/26/2017
Travis Beane, With Distinction – 4/30/2017
John Foster, With Distinction – 5/7/2017
Dustin Shaw-Krivosh – 5/9/2017
Christian Hay, With Distinction – 5/10/2017
Bryant Abiyatar, With Distinction – 5/13/2017
Jonathan Keren – 5/15/2017
Joshua Villarreal, With Distinction – 5/15/2017
Kristen Hook, With Distinction – 5/15/2017
Brandon E. Johnson – 5/16/2017
Jared Steinberg – 5/16/2017
Joshua Welch, With Distinction – 5/16/2017
Taylor M. Epperson, With Distinction – 5/18/2017
Kyle Coven, With Distinction – 5/19/2017
Matthew DeBoth – 5/19/2017
Diego Garza – 5/20/2017
Jeffrey Reed, With Distinction – 5/22/2017
Amandeep Bhatti, With Distinction – 5/23/2017
Augustus Haney, With Distinction – 5/25/2017
Paul Anthony Tompkins, With Distinction – 5/29/2017
Joseph Scuderi, With Distinction – 5/30/2017
Alexander Moore – 5/31/2017
Kristina Rose Kurzweil, With Distinction – 5/31/2017
Oscar Enrique Vila, With Distinction – 5/31/2017
Mary Jordan Burns, With Distinction – 6/2/2017
Virginia Burns, With Distinction – 6/2/2017
Ann Marie Heymann – 6/4/2017
Mitchell Bowman – 6/4/2017
John Richard Mak – 6/8/2017
Cornelis de Nysschen, With Distinction – 6/12/2017
Adam Bosch – 6/13/2017
Alexander Hein, With Distinction – 6/15/2017
Robert McKay Siegel, With Distinction – 6/15/2017
Christopher Lloyd, With Distinction – 6/17/2017
Julia Vilner, With Distinction – 6/17/2017
Steven Dumanski – 6/18/2017
Alexander Legakis, With Distinction – 6/19/2017
Paul Bagnasco, With Distinction – 6/20/2017
Andrew Kim – 6/21/2017
Alex Shelby, With Distinction – 6/23/2017
Michael T Ward – 6/26/2017
Trey Golston – 6/26/2017
Tyler S. Arrington – 6/26/2017
Brian Patrick Cucinelli, With Distinction – 6/27/2017
Dan Shanahan – 6/27/2017
Alexander B Chamberlain, With Distinction – 7/1/2017
Lawren Doyle, With Distinction – 7/2/2017
Andrew Kradjel, With Distinction – 7/7/2017
Da Jong Fan, With Distinction – 7/7/2017
Edward Mansius, With Distinction – 7/7/2017
Jack Henry Kapp – 7/7/2017
Jared Karpf, With Distinction – 7/7/2017
Joseph Miller, With Distinction – 7/7/2017
Justin Donaldson, With Distinction – 7/7/2017
Meredith Jonker, With Distinction – 7/7/2017
Victoria Coates, With Distinction – 7/7/2017
Woody Axelson, With Distinction – 7/7/2017
Madeleine Roberts, With Distinction – 7/10/2017
Benjamin Torchman – 7/11/2017
Jordan Trafton, With Distinction – 7/11/2017
Tyler M. Whitt, With Distinction – 7/12/2017
Emily Rivers, With Distinction – 7/18/2017
Landon A. Gull, With Distinction – 7/19/2017
Mason McDavid – 7/19/2017
Ray Seely, With Distinction – 7/19/2017
Nate Wilson, With Distinction – 7/23/2017
Jeffrey Begley – 7/24/2017
Nickolas Kolbe, With Distinction – 7/24/2017
Victor Villagran – 7/24/2017
Alexandra Bennett, With Distinction – 7/25/2017
Hanna Galvin, With Distinction – 7/25/2017
Brice Eidson – 7/28/2017
Scott Tocco – 8/2/2017
Brian Matthew Cohn – 8/3/2017
Marc Baecht – 8/3/2017
Thomas Ford Moriarty – 8/3/2017
Akashchandra Pandey, With Distinction – 8/6/2017
Tyler P Hickey, With Distinction – 8/6/2017
Devin Ondre'us Deloney-Forte', With Distinction – 8/7/2017
Garrett Mills – 8/7/2017
Ariel Newfield – 8/8/2017
Sergey Ermolaev – 8/8/2017
Sandra Lyn Rittenhouse – 8/9/2017
Jared King, With Distinction – 8/10/2017
Christopher A. Wade, With Distinction – 8/12/2017
Marjorie Junkin, With Distinction – 8/12/2017
Ashton Summers, With Distinction – 8/13/2017
Herb Tousley, With Distinction – 8/14/2017
Elizabeth Liubicich, With Distinction – 8/19/2017
Chang Joo Cha, With Distinction – 8/20/2017
Christine McGuire, With Distinction – 8/22/2017
Kaitlyn Marcisz – 8/24/2017
Michael Francescani, With Distinction – 8/24/2017
Thomas Griffin, With Distinction – 8/26/2017
Kyle Heath, With Distinction – 8/29/2017
Andrew Thomas Carswell, With Distinction – 8/31/2017
Anthony Colin Bobay, With Distinction – 8/31/2017
Yijun Wang – 9/1/2017
Chirag Tolia – 9/4/2017
Clay Thomas Youngblood – 9/4/2017
Ivan Mak, With Distinction – 9/4/2017
Braden Brahs – 9/7/2017
Jacob William Bonsteel – 9/12/2017
Harrison Conly – 9/13/2017
Adrien Deniau, With Distinction – 9/15/2017
Travis Bourgeois, With Distinction – 9/17/2017
Brian Page, With Distinction – 9/21/2017
Lulin Hu – 9/21/2017
Robert F Cronenberg III, With Distinction – 9/21/2017
Peter Riley, With Distinction – 9/26/2017
Yawen Liu – 9/28/2017
Ellene Bricolas – 9/29/2017
Wayne Watson – 9/30/2017
Ryan M. Miller, With Distinction – 10/1/2017
Lee John Kenneth – 10/2/2017
Ryan Karbowicz, With Distinction – 10/2/2017
Alex Morrison, With Distinction – 10/4/2017
John Bennett, With Distinction – 10/5/2017
Su Zhang, With Distinction – 10/6/2017
Brandon Kaller – 10/8/2017
Savannah Haney – 10/8/2017
Carlson Milikin, With Distinction – 10/8/2017
Kurt Turley, With Distinction – 10/10/2017
Ryan McClure, With Distinction – 10/10/2017
Bill Marting – 10/17/2017
Christopher Wartman – 10/20/2017
Adam Zell, With Distinction – 10/21/2017
Fabrizzio O. Chaves, With Distinction – 10/25/2017
Max Rather – 10/25/2017
Alex Rifkind, With Distinction – 10/27/2017
Alex Krauss – 10/30/2017
Patrick Carney, With Distinction – 10/31/2017
Thomas Chamieh, With Distinction – 10/31/2017
David Harte, With Distinction – 11/2/2017
Jake Weinstein, With Distinction – 11/2/2017
Franz William Rassman, With Distinction – 11/4/2017
Alec Ferguson – 11/6/2017
Lauren Amos, With Distinction – 11/6/2017
Elena Ochsenreither – 11/8/2017
William Guerriero, With Distinction – 11/8/2017
Chris Nesbitt, With Distinction – 11/12/2017
Timothy Mason, With Distinction – 11/12/2017
Jacques Fernandez – 11/14/2017
Brandon Wendt – 11/15/2017
Armand Hershowitz, With Distinction – 11/17/2017
Rachel Suppa, With Distinction – 11/19/2017
Greg Bohenko, With Distinction – 11/25/2017
Chris Nesbitt, With Distinction – 11/26/2017
Judy M Williams – 11/26/2017
Brendan Calafiore – 12/3/2017
Bartholomew Mullin, With Distinction – 12/4/2017
Jade Yingyu Liu, With Distinction – 12/4/2017
Jack Barkley, With Distinction – 12/11/2017
Noah Tillipman, With Distinction – 12/12/2017
Craig Ferreira, With Distinction – 12/13/2017
Robert Nathaniel Solomson – 12/13/2017
Chandler Kennell, With Distinction – 12/18/2017
Anne Wahl, With Distinction – 12/27/2017
Mark Marash Lucaj, With Distinction – 12/27/2017
Daniel Frechter, With Distinction – 12/28/2017
Eric Buchalter – 12/29/2017
Adam Cristelli, With Distinction – 12/31/2017
Seth Damrow, With Distinction – 12/31/2017
Chad Krebs – 1/2/2018
John Hogan, With Distinction – 1/2/2018
Connor Jaeger, With Distinction – 1/4/2018
Ethan Argov, With Distinction – 1/6/2018
Paul Anslow, With Distinction – 1/6/2018
Taylor Malboeuf, With Distinction – 1/7/2018
Andrew William Katzfey – 1/8/2018
Avi Ginsburg – 1/8/2018
Logan Jefferson Brougher, With Distinction – 1/8/2018
Andrew Montemayor – 1/9/2018
Anthony Osburn, With Distinction – 1/9/2018
Cecilee Cook – 1/9/2018
Daniel Rueda, With Distinction – 1/9/2018
John Kerns Dickson Jr, With Distinction – 1/9/2018
Joseph Elder – 1/9/2018
Dexter Fulbright, With Distinction – 1/9/2018
Justin Hunt – 1/9/2018
Katherine Miller – 1/9/2018
Keith Read – 1/9/2018
Koy Moody – 1/9/2018
Reagan Booth – 1/9/2018
Jacob Maloy – 1/10/2018
Alexander N Riba – 1/10/2018
Alison Gray – 1/10/2018
John-Bradley Greene – 1/10/2018
Ashley Zubizarreta – 1/10/2018
Benjamin Ross Bonilla – 1/10/2018
Brian Bormann – 1/10/2018
Bryce S Martin – 1/10/2018
Chance Jones – 1/10/2018
Charles White – 1/10/2018
Connor Beardmore – 1/10/2018
David Brock – 1/10/2018
Ellen Hevenor – 1/10/2018
Garrett Anthony Notzon – 1/10/2018
Jeffrey Gustafson – 1/10/2018
Nathan Piers Welty – 1/10/2018
Raymond Gabe Terrell – 1/10/2018
Remli Price – 1/10/2018
Samuel Koch Orton, With Distinction – 1/10/2018
Stephen Brooks Wheatcroft – 1/10/2018
Stephen Matthew Florence – 1/10/2018
Tyler Bond – 1/10/2018
Holden Penn – 1/11/2018
Kolten Booher, With Distinction – 1/11/2018
Ali Samee, With Distinction – 1/12/2018
Giancarlo Paone – 1/13/2018
Pasha Norman Johnson, With Distinction – 1/13/2018
Ben Livingston, With Distinction – 1/15/2018
Jordan Mastrogiovanni – 1/15/2018
Jordyn Smith – 1/15/2018
Bryant Lach, With Distinction – 1/16/2018
Justin Raes – 1/16/2018
Daniel Strent – 1/19/2018
Christopher Hatton Landis, With Distinction – 1/20/2018
Jason Langford, With Distinction – 1/26/2018
Randy Streig, With Distinction – 1/27/2018
Neha Shetty, With Distinction – 1/28/2018
Jan Hoang Xuan, With Distinction – 1/30/2018
Daniel Yun, With Distinction – 2/1/2018
George Anagnostopoulos, With Distinction – 2/1/2018
Sarah Campinski – 2/2/2018
Zhyldyz Sadyralieva, With Distinction – 2/3/2018
Harrison Braha, With Distinction – 2/4/2018
Alexander Samsonov, With Distinction – 2/11/2018
Isaac M. Rothermel – 2/12/2018
David Nguyen Hoang, With Distinction – 2/18/18
Cole Cherney, With Distinction – 3/31/2020
Phillip Ruschmeyer, With Distinction – 4/22/2020
Alysha Lewis, With Distinction – 5/2/2020
omar sabri – 2/18/2018
Will Henke, With Distinction – 2/18/2018
Ann Duginske, With Distinction – 2/18/2018
Pierre Stassart, With Distinction – 2/19/2018
Matthew Ornstein, With Distinction – 2/19/2018
Clark Everett, With Distinction – 2/19/2018
Ralph Mould, With Distinction – 2/20/2018
Zachary Tronti, With Distinction – 2/21/2018
Katherine Loaiza, With Distinction – 2/25/2018
Sean Bare, With Distinction – 2/26/2018
Ivan Alvarado – 2/26/2018
Maria Gavilanes – 2/27/2018
Christopher Dixon, With Distinction – 2/27/2018
ashutosh pant, With Distinction – 2/28/2018
Ranj Dhaliwal, With Distinction – 2/28/2018
Mitchell Le, With Distinction – 3/2/2018
Gun Tae Kim – 3/3/2018
William Kern – 3/4/2018
Whalen MacHale, With Distinction – 3/5/2018
Austin Decell, With Distinction – 3/6/2018
Man Chung Max Wu – 3/6/2018
Ron Ott – 3/7/2018
Joseph NGUYEN, With Distinction – 3/9/2018
Brent Smith – 3/9/2018
Alexander Pascale, With Distinction – 3/11/2018
Gregory Adams – 3/12/2018
Phillip Williams, With Distinction – 3/13/2018
Gianrovic Perez Gulino – 3/13/2018
Paul Egiyan, With Distinction – 3/14/2018
James Levy – 3/15/2018
Connor Arleo, With Distinction – 3/16/2018
Charles Morphis, With Distinction – 3/18/2018
blake Burger – 3/19/2018
Justin Strinka, With Distinction – 3/25/2018
Nikunj Makharia, With Distinction – 3/26/2018
Rex Warner, With Distinction – 3/27/2018
Rachel Kreamer – 3/28/2018
Griffin Greene – 3/29/2018
Raymond Mazzie – 3/30/2018
Hunter Schwarz – 3/31/2018
Michael Rosenson, With Distinction – 4/1/2018
Michael Mostoff, With Distinction – 4/3/2018
Kabir Sukhrani, With Distinction – 4/4/2018
Zach Garland – 4/5/2018
Alain Kasparian, With Distinction – 4/5/2018
Jesse Garrett, With Distinction – 4/5/2018
Connor Beaumont – 4/6/2018
Greg Earnest – 4/6/2018
Mike De Carlo – 4/7/2018
David O'Harra, With Distinction – 4/9/2018
Rebecca Allen – 4/9/2018
Christopher Horn, With Distinction – 4/10/2018
Matthew Zellars, With Distinction – 4/11/2018
Simrun Kochhar – 4/16/2018
Zachary Howell – 4/18/2018
Pavrik Bhandal, With Distinction – 4/18/2018
William Fay, With Distinction – 4/22/2018
Matthew Tsung, With Distinction – 4/22/2018
Cam Lawson, With Distinction – 4/24/2018
Xinzhu Fan, With Distinction – 4/25/2018
JINLI HE, With Distinction – 4/26/2018
Andrew Basso, With Distinction – 4/27/2018
Alex Evans, With Distinction – 4/28/2018
Chad Williamson, With Distinction – 4/30/2018
Kyle Demers, With Distinction – 5/1/2018
John David Cobb – 5/1/2018
Patrick C Martin, With Distinction – 5/2/2018
Allie McGehee, With Distinction – 5/2/2018
Will Rathman – 5/8/2018
Warren Fuller, With Distinction – 5/11/2018
Lawrence Guarnieri, With Distinction – 5/11/2018
David Wong – 5/13/2018
Temaz Ferguson – 5/13/2018
Anthony Vega Vega – 5/13/2018
Nicolas DiCicco, With Distinction – 5/14/2018
Ethan Carlson, With Distinction – 5/14/2018
Rebecca Hollister – 5/14/2018
Jan Hendrik Bokemeyer – 5/15/2018
Guillermo Vadell, With Distinction – 5/15/2018
Edward Liriano, With Distinction – 5/15/2018
Carlos Bermudez, With Distinction – 5/15/2018
William Seffens – 5/15/2018
Tyler Goldman – 5/16/2018
Hugo Santiago Ruiz, With Distinction – 5/16/2018
Tristan Lamontagne, With Distinction – 5/16/2018
Eduardo Gutierrez, With Distinction – 5/17/2018
Joseph Strick, With Distinction – 5/17/2018
Nicolas Poveda – 5/18/2018
John Guillett – 5/18/2018
Julien Bottereau, With Distinction – 5/20/2018
Ryan Archambo, With Distinction – 5/21/2018
Tomas Sanchez – 5/21/2018
Christian Vega-Munguia – 5/21/2018
Taylor-Paige Buchberger, With Distinction – 5/22/2018
Jared Wisen – 5/23/2018
Jimmy Caracheo – 5/24/2018
Joshua Smith, With Distinction – 5/24/2018
Jordan Toumanidis, With Distinction – 5/24/2018
Sean Grieve – 5/27/2018
Daniel Klein, With Distinction – 5/28/2018
Ying Li, With Distinction – 5/30/2018
Thomas Wu, With Distinction – 5/30/2018
Gabriel Gutierrez-Aragon, With Distinction – 6/1/2018
Keith Hoddinott, With Distinction – 6/5/2018
Bryan Hulburd, With Distinction – 6/5/2018
Zachary Armstrong – 6/7/2018
Tianliang Zhang, With Distinction – 6/9/2018
Matthew Strahan, With Distinction – 6/9/2018
Eric Moore, With Distinction – 6/10/2018
George Schmidbauer, With Distinction – 6/12/2018
Ulysses Auger, With Distinction – 6/14/2018
Madison Trasher – 6/15/2018
Angelo Koutoupis, With Distinction – 6/15/2018
Taras Sarvas, With Distinction – 6/15/2018
Jose Ramirez, With Distinction – 6/15/2018
Dan Schlesinger, With Distinction – 6/17/2018
Seth LOHT LOHT – 6/17/2018
Noori Han, With Distinction – 6/18/2018
Nikolai Sadeghi, With Distinction – 6/18/2018
Edward Odgers, With Distinction – 6/19/2018
Steven Lubrano – 6/19/2018
Júlio Villalobos-Torres – 6/22/2018
Nicholas Armstrong, With Distinction – 6/23/2018
Justin Patton – 6/23/2018
Matthew Billings, With Distinction – 6/25/2018
Matas Rascius – 6/28/2018
Tyler Retzloff – 6/29/2018
Ilvea Morris – 6/29/2018
Beau Brand, With Distinction – 6/30/2018
Connor Monaghan, With Distinction – 7/2/2018
Jordan Suther, With Distinction – 7/3/2018
Neil Nicholson, With Distinction – 7/3/2018
Shotaro Watanabe, With Distinction – 7/4/2018
Kurt Cullen, With Distinction – 7/4/2018
Chad Zakskorn, With Distinction – 7/5/2018
Quefei Zhang, With Distinction – 7/5/2018
Meghan Pellens, With Distinction – 7/5/2018
Sean Lindsay, With Distinction – 7/5/2018
Sonic Cho, With Distinction – 7/5/2018
Sam Banks, With Distinction – 7/5/2018
Zach Spencer, With Distinction – 7/5/2018
Bennett Wallander, With Distinction – 7/6/2018
Justin Coppola, With Distinction – 7/6/2018
Tasha Beal, With Distinction – 7/6/2018
DEREK OREJEL, With Distinction – 7/6/2018
Bill MacEwen, With Distinction – 7/6/2018
shadee mozafari – 7/7/2018
Alec Li, With Distinction – 7/8/2018
sally matlock, With Distinction – 7/8/2018
Lauren Flatley, With Distinction – 7/9/2018
Joe Wood – 7/9/2018
Taylor Ellner – 7/9/2018
Daniel Nomura, With Distinction – 7/9/2018
gabriele fanciulli, With Distinction – 7/9/2018
Maxwell Kelly, With Distinction – 7/10/2018
Trevor Stroebel, With Distinction – 7/10/2018
Hannah McReynolds – 7/10/2018
Carter Clarke, With Distinction – 7/11/2018
Dylan Bennett – 7/11/2018
David Walker – 7/11/2018
Cole Murphy – 7/11/2018
Andrew Fixler, With Distinction – 7/11/2018
Taylor Press, With Distinction – 7/11/2018
Henry Stillwell – 7/11/2018
William Lenkin, With Distinction – 7/11/2018
Patrick Maney, With Distinction – 7/12/2018
Tarah Gilbreth, With Distinction – 7/12/2018
Alana Szilagyi, With Distinction – 7/12/2018
Vincent Owoseni – 7/12/2018
Joe Hoscheit, With Distinction – 7/12/2018
Cassidy Christensen – 7/13/2018
Dalric Fields – 7/13/2018
Silvia Waring, With Distinction – 7/15/2018
Eduardo Paz, With Distinction – 7/15/2018
Matthew Long, With Distinction – 7/16/2018
Joey Daliapes, With Distinction – 7/16/2018
Benjamin Bowlby – 7/16/2018
Anthony Ortiz – 7/17/2018
Jack Thompson, With Distinction – 7/17/2018
Jeffrey Colston – 7/17/2018
Mike Sullivan – 7/18/2018
George Hill, With Distinction – 7/18/2018
Doug Walterhouse, With Distinction – 7/18/2018
Moulin Deliwala, With Distinction – 7/18/2018
Ina Koch, With Distinction – 7/19/2018
Gregory Himmel – 7/19/2018
Loukas Zimianitis, With Distinction – 7/20/2018
Austin Pendergist – 7/20/2018
Michael Loya, With Distinction – 7/21/2018
Conor Horowitz, With Distinction – 7/23/2018
Han Chen – 7/23/2018
Forrest Greenwalt, With Distinction – 7/24/2018
Brijesh Patel – 7/24/2018
Jungwon Choi, With Distinction – 7/24/2018
Patrick Domville, With Distinction – 7/24/2018
Leadi Cole, With Distinction – 7/24/2018
Hewsan Pang, With Distinction – 7/24/2018
Matthew Schaney, With Distinction – 7/25/2018
Alexander Williams, With Distinction – 7/25/2018
Paul Hernandez, With Distinction – 7/29/2018
Christian Berry, With Distinction – 7/30/2018
Camilo Padilla, With Distinction – 7/30/2018
Daryn Smith, With Distinction – 7/31/2018
Alexander Rhea – 7/31/2018
Mary-Catherine Riley, With Distinction – 8/1/2018
Nicolas Toffoli, With Distinction – 8/1/2018
James Linn, With Distinction – 8/2/2018
Katlyn Krause – 8/6/2018
Tim Gillespie, With Distinction – 8/6/2018
John Nicolson – 8/7/2018
Farid Sheikh, With Distinction – 8/7/2018
Andrew Reppert, With Distinction – 8/8/2018
Daniel Molina – 8/8/2018
Reynaldo Vivas, With Distinction – 8/8/2018
rong xu, With Distinction – 8/8/2018
weijia song, With Distinction – 8/12/2018
Michael Hobbs, With Distinction – 8/20/2018
Forrest Williams, With Distinction – 8/21/2018
Jacob Leen – 8/21/2018
Victoria Holsey, With Distinction – 8/21/2018
Joshua Will, With Distinction – 8/21/2018
Juan Scharffenorth – 8/21/2018
Clint McClellen, With Distinction – 8/21/2018
Samuel Nichols, With Distinction – 8/26/2018
Adrian Jasso, With Distinction – 8/26/2018
Spencer Solomon, With Distinction – 8/26/2018
Taylor Herrmann, With Distinction – 8/26/2018
Hao-Heng Frank Fu, With Distinction – 8/28/2018
Colin McCreary – 8/28/2018
Chang Min Lee – 8/28/2018
Tais Coelho – 8/28/2018
James Zaepfel – 8/29/2018
Blake Dean, With Distinction – 8/29/2018
James Jenkins, With Distinction – 8/30/2018
Stephen Monaco – 8/31/2018
Daniel Gawley – 8/31/2018
Joseph Grabinski, With Distinction – 9/2/2018
Trevor Wright – 9/5/2018
Matthew McAuley, With Distinction – 9/6/2018
Jeffrey Estano, With Distinction – 9/6/2018
Jesse Lazarus, With Distinction – 9/7/2018
Matthew Leonard, With Distinction – 9/7/2018
Garret Geaccone, With Distinction – 9/7/2018
Charles Welch, With Distinction – 9/8/2018
Jordan Banks, With Distinction – 9/8/2018
Nick Zocher, With Distinction – 9/9/2018
Alex Sessums – 9/10/2018
Eric Popp, With Distinction – 9/10/2018
Desmond Kieo – 9/11/2018
Miho Weisbly – 9/12/2018
Marvin Wong, With Distinction – 9/12/2018
Rene Brillembourg, With Distinction – 9/13/2018
Luke Deitz – 9/14/2018
Matthew Thomas – 9/15/2018
James Cooper, With Distinction – 9/17/2018
Jordan Bayne, With Distinction – 9/18/2018
Joseph Gruseke, With Distinction – 9/18/2018
Colin Campbell, With Distinction – 9/19/2018
Konrad Utterback, With Distinction – 9/24/2018
Tristan Huerta – 9/26/2018
Justin Stevens, With Distinction – 9/27/2018
Domenica Chiriboga – 9/27/2018
Paisley Freund – 9/27/2018
Joseph Dagostino, With Distinction – 9/28/2018
Benjamin Butler, With Distinction – 9/28/2018
Jessica Taylor – 9/29/2018
Camilo Padron – 10/1/2018
Matt Stein, With Distinction – 10/1/2018
Ekaterina Volkova, With Distinction – 10/1/2018
Michael Garruto, With Distinction – 10/4/2018
Philip Winn – 10/5/2018
Alexander Lazo – 10/5/2018
Patty McPoland – 10/5/2018
William Hespe, With Distinction – 10/9/2018
Evan Butters – 10/9/2018
Lauren Savett – 10/10/2018
Vincenzo Pannarale – 10/11/2018
Kuan Yuan Ruby Wang, With Distinction – 10/11/2018
Alan Ciminski, With Distinction – 10/12/2018
Wesley Quinzani, With Distinction – 10/12/2018
Rubin Xu – 10/12/2018
Dillon Rupp – 10/13/2018
Igor Vaysbeyn – 10/15/2018
Andrew Ngo – 10/16/2018
Nicholas Askew – 10/17/2018
Liam Fitzpatrick, With Distinction – 10/18/2018
Michael Seong, With Distinction – 10/19/2018
Nick Carney, With Distinction – 10/19/2018
Lucian LaTourelle, With Distinction – 10/20/2018
Maxwell Liporace, With Distinction – 10/21/2018
Joseph Holmes, With Distinction – 10/21/2018
Chris Turner – 10/22/2018
Michael Adelstein – 10/23/2018
Roberto Gallegos – 10/26/2018
Garrett Gill, With Distinction – 10/26/2018
Andrei Prunoiu – 10/27/2018
hunter patterson – 10/29/2018
Sammy Alkhatib, With Distinction – 11/3/2018
Joshua Jaouli, With Distinction – 11/5/2018
Jacob Gauptman, With Distinction – 11/6/2018
jingjing zhu – 11/10/2018
Tanner Wilson, With Distinction – 11/10/2018
Ryan Gaughan – 11/11/2018
Thomas Grubb, With Distinction – 11/13/2018
Christopher Hitch, With Distinction – 11/13/2018
Arya Deniz, With Distinction – 11/16/2018
Rajesh Gupta – 11/16/2018
Blake Joyner, With Distinction – 11/17/2018
Elliot Condos – 11/17/2018
Kyle McAndrews – 11/18/2018
timothy neumann, With Distinction – 11/18/2018
James Looney – 11/18/2018
Shane Maher, With Distinction – 11/18/2018
varun rajan, With Distinction – 11/18/2018
joel curtis, With Distinction – 11/19/2018
Justin Malekan, With Distinction – 11/19/2018
tyler henschel – 11/20/2018
Chance Schlenk – 11/20/2018
Philip Lavin – 11/20/2018
cameron scheib, With Distinction – 11/20/2018
sanjana bysani srinath – 11/20/2018
Cristina Istrate – 11/20/2018
LAUREN KNUTSON – 11/20/2018
Brian Jacobs, With Distinction – 11/25/2018
Cody Johnson, With Distinction – 11/27/2018
Kevin Powell – 11/27/2018
Tommy Ng, With Distinction – 11/28/2018
Alex Motiuk, With Distinction – 11/28/2018
Jaque Liu, With Distinction – 11/28/2018
Bradley Vansant – 11/29/2018
Elizabeth Guthrie, With Distinction – 11/30/2018
Jesus Carrasco, With Distinction – 11/30/2018
Jacob Ross, With Distinction – 12/2/2018
Miguel Chico, With Distinction – 12/3/2018
Mason Freebern, With Distinction – 12/3/2018
Alanna Kilroy, With Distinction – 12/4/2018
Andrew Estrada, With Distinction – 12/4/2018
Daniel Bui – 12/5/2018
Garrett Reh, With Distinction – 12/6/2018
Patrick Higgins, With Distinction – 12/6/2018
Oliver Saikaly, With Distinction – 12/6/2018
Danielle Allen, With Distinction – 12/6/2018
Mark Noah, With Distinction – 12/6/2018
Avelie Breneus – 12/6/2018
Brandon McCalla, With Distinction – 12/6/2018
keenan allen, With Distinction – 12/6/2018
Haley Hermann, With Distinction – 12/6/2018
Matthew Griffin, With Distinction – 12/6/2018
Jonathan Chou Chou, With Distinction – 12/6/2018
Jacob Attaway, With Distinction – 12/6/2018
Kate Kulbachna, With Distinction – 12/6/2018
Cameron Jackson – 12/6/2018
Igor Nilo, With Distinction – 12/6/2018
Astin Moseley, With Distinction – 12/6/2018
Phillip Rodgers, With Distinction – 12/6/2018
Tyler Slotter, With Distinction – 12/6/2018
Jackson Cleary, With Distinction – 12/6/2018
Naomi Lathbridge – 12/6/2018
Chadler Myers, With Distinction – 12/6/2018
sheefu ghay – 12/6/2018
Sameerali Jessa – 12/6/2018
Rob Graham, With Distinction – 12/6/2018
Patrick Brass – 12/6/2018
Elijah Walsh – 12/6/2018
Robert Clements, With Distinction – 12/6/2018
Justin Davis, With Distinction – 12/6/2018
Wislene Charles – 12/6/2018
Troy Fencl, With Distinction – 12/6/2018
Melanie Martinez, With Distinction – 12/6/2018
Codey Schultz, With Distinction – 12/6/2018
Nathan Byrne, With Distinction – 12/6/2018
Kiefer Schoenfeld, With Distinction – 12/6/2018
Jacob Clark, With Distinction – 12/6/2018
Jose paradela – 12/6/2018
Taneigha Marshall – 12/6/2018
Matthew Cardenas, With Distinction – 12/6/2018
Brian Chang, With Distinction – 12/6/2018
Level Two – 12/6/2018
Brianna Powers – 12/6/2018
Ahlaya Donaldson, With Distinction – 12/6/2018
Benjamin Landes, With Distinction – 12/6/2018
Caitlin Christian, With Distinction – 12/6/2018
Lauren Neureuther, With Distinction – 12/6/2018
Kathrine Tribbey, With Distinction – 12/6/2018
Franklin Guemes – 12/6/2018
James A Walkup Jr, With Distinction – 12/6/2018
Michael Brooks, With Distinction – 12/6/2018
angel de la cruz, With Distinction – 12/6/2018
Isabel Voskoboynik, With Distinction – 12/6/2018
Elena Frattaroli, With Distinction – 12/11/2018
Gaddis House – 12/12/2018
Clarence Marsh, With Distinction – 12/13/2018
Kevin Campbell – 12/13/2018
Angus Isles, With Distinction – 12/16/2018
Micayla Oniskey, With Distinction – 12/17/2018
amit bohra – 12/17/2018
Travis Schauer, With Distinction – 12/18/2018
Matthew Dittman, With Distinction – 12/18/2018
Lewis Kitaj – 12/19/2018
Allison Grona – 12/20/2018
Elizabeth Laughlin – 12/20/2018
Clark Elwell – 12/21/2018
Chaim Schulman – 12/21/2018
Paxton Hoogland, With Distinction – 12/22/2018
trevante watson – 12/22/2018
Matthew Kirchner – 12/27/2018
David Kasten, With Distinction – 12/28/2018
Bryan Hyland, With Distinction – 12/28/2018
Benjamin Lewis, With Distinction – 12/28/2018
Hannah Solomon, With Distinction – 12/29/2018
Samuel Auvermann, With Distinction – 12/30/2018
Florian Huber, With Distinction – 12/30/2018
Timothy Landry, With Distinction – 12/30/2018
Brendan Thompson, With Distinction – 12/31/2018
Adrian Jacob, With Distinction – 12/31/2018
Galen Sulistyo, With Distinction – 12/31/2018
Bryan Diangson, With Distinction – 1/1/2019
Tyler Pruett, With Distinction – 1/2/2019
Chelsea Holub, With Distinction – 1/2/2019
Dustin Smith, With Distinction – 1/3/2019
Joshua Isackson, With Distinction – 1/3/2019
Androniki Lagos – 1/3/2019
Michael Ricciardi – 1/4/2019
BRETT BALDA, With Distinction – 1/4/2019
Whitney Allen – 1/4/2019
Tucker Burns – 1/5/2019
Brian Jones, With Distinction – 1/5/2019
Andrew Nixon, With Distinction – 1/5/2019
Nicholas Boehm, With Distinction – 1/5/2019
William McDonough – 1/5/2019
Connor White, With Distinction – 1/5/2019
Carter Neill, With Distinction – 1/5/2019
Sycerika McMahon, With Distinction – 1/5/2019
Danielle Watkins, With Distinction – 1/5/2019
Reid Malley, With Distinction – 1/6/2019
Carley Smith, With Distinction – 1/6/2019
Christian Koeijmans, With Distinction – 1/6/2019
Autry Warren, With Distinction – 1/6/2019
Edgar Garnys, With Distinction – 1/6/2019
Noah Burns, With Distinction – 1/6/2019
Cole Wade, With Distinction – 1/6/2019
Wren Averyt, With Distinction – 1/6/2019
Marc Farris – 1/6/2019
Connor Pieratt, With Distinction – 1/6/2019
Brandon Edmonds, With Distinction – 1/7/2019
Charlie Tyler – 1/7/2019
Harrison Heim – 1/8/2019
Wendy Pierre – 1/8/2019
Krishtian Bazan, With Distinction – 1/8/2019
Ezra Brathwaite, With Distinction – 1/8/2019
Michael Lia, With Distinction – 1/8/2019
Kyle Doerre, With Distinction – 1/8/2019
Cody Carpenter, With Distinction – 1/8/2019
Travis Williamson, With Distinction – 1/8/2019
Cecelia Swanson, With Distinction – 1/8/2019
Roman Bertozzi, With Distinction – 1/8/2019
Martin Spradley, With Distinction – 1/8/2019
Mitchell Rigamonti, With Distinction – 1/8/2019
Alex Seff, With Distinction – 1/8/2019
Trenton Forbes, With Distinction – 1/8/2019
Paul Marczak, With Distinction – 1/8/2019
Joseph Cheek, With Distinction – 1/8/2019
Carlos Suarez – 1/9/2019
Sara Butler – 1/9/2019
Kelon Oberg – 1/9/2019
Morgan Pavloske, With Distinction – 1/9/2019
Taek Kim – 1/9/2019
Scott Magaluk, With Distinction – 1/9/2019
Cole Kenefsky, With Distinction – 1/9/2019
Anastasia Megdanis – 1/9/2019
Chloe Velasco – 1/9/2019
Austin Alves – 1/9/2019
Mauricio Gutierrez, With Distinction – 1/10/2019
Jacob Nelson – 1/10/2019
Elijah Upchurch, With Distinction – 1/11/2019
HAO CAO, With Distinction – 1/12/2019
Parmveer Lidhar, With Distinction – 1/13/2019
Conor Sweeney, With Distinction – 1/16/2019
Justin Glanda, With Distinction – 1/16/2019
Jacob Anderson, With Distinction – 1/18/2019
Matt Tortorello, With Distinction – 1/18/2019
Alex Schmitz, With Distinction – 1/19/2019
Mahinthan Subramaniam – 1/20/2019
David Ross, With Distinction – 1/20/2019
Hengkun Liang – 1/20/2019
Ed Newman, With Distinction – 1/21/2019
Emory Parker, With Distinction – 1/21/2019
Amanda Wolf, With Distinction – 1/23/2019
Adam Gorodesky, With Distinction – 1/23/2019
Cheng Zhong, With Distinction – 1/24/2019
Liam Villano – 1/25/2019
Robin Stenlund, With Distinction – 1/26/2019
Andrew Siderides, With Distinction – 1/27/2019
Nicole Chan, With Distinction – 1/27/2019
Zi Ting Khoo, With Distinction – 1/27/2019
Stefan Kulas, With Distinction – 1/28/2019
Connor McAdams – 1/29/2019
Aaron Hirschl – 1/29/2019
Dylan Smith – 1/29/2019
Michael Fausone, With Distinction – 1/30/2019
Adam Powell, With Distinction – 1/31/2019
Templeton Stump – 1/31/2019
Elliot Pines, With Distinction – 1/31/2019
Manuel Del Campo, With Distinction – 2/1/2019
Wilson P Hightower IV, With Distinction – 2/1/2019
Joseph McKay, With Distinction – 2/2/2019
James Barrios, With Distinction – 2/2/2019
Garrett Hoopes, With Distinction – 2/2/2019
Andrew Kaminsky, With Distinction – 2/3/2019
Alexander Chen, With Distinction – 2/3/2019
Kevin Walsh, With Distinction – 2/4/2019
Dallin McKenzie – 2/5/2019
Robert Annis – 2/5/2019
Florian Bauer, With Distinction – 2/5/2019
Tanner Murphy – 2/5/2019
Ryan Pristo – 2/5/2019
William Montgomery, With Distinction – 2/6/2019
Nick Luckow, With Distinction – 2/6/2019
Andrew Lifferth – 2/6/2019
Zane Smith – 2/6/2019
Emma Henderson, With Distinction – 2/7/2019
Gregory Moritz, With Distinction – 2/7/2019
Charlie Trotier, With Distinction – 2/7/2019
Dani Sassower, With Distinction – 2/7/2019
Amanda Moccia – 2/8/2019
Joanne Lao, With Distinction – 2/8/2019
Mac Fillet, With Distinction – 2/8/2019
Jake Rosen, With Distinction – 2/8/2019
Ryan Wong, With Distinction – 2/8/2019
Randy Mai, With Distinction – 2/8/2019
Ross Friedland, With Distinction – 2/9/2019
Andrew Schorfhaar, With Distinction – 2/9/2019
Martin Rothman, With Distinction – 2/9/2019
Nhung Lam, With Distinction – 2/9/2019
Mikela McMahon – 2/9/2019
Brett Warner, With Distinction – 2/9/2019
Eunjong Lee, With Distinction – 2/9/2019
Nick Witte, With Distinction – 2/10/2019
Vitaliy Bukhtulov – 2/10/2019
Patrick Camporini, With Distinction – 2/10/2019
Tom Deighton, With Distinction – 2/10/2019
Joseph Baclit, With Distinction – 2/10/2019
John Palmer, With Distinction – 2/11/2019
Nouri Beesemer – 2/11/2019
Ryan Helkowski, With Distinction – 2/11/2019
Matthew Whitmire, With Distinction – 2/11/2019
Alexa Shorsteyn – 2/11/2019
Jared Litroff, With Distinction – 2/11/2019
Thomas Quindlen – 2/11/2019
Johnathon Ferry, With Distinction – 2/11/2019
Natalie Chakardjian – 2/11/2019
Maria Maiwald, With Distinction – 2/11/2019
Isul Kim, With Distinction – 2/12/2019
Kendall Hatch, With Distinction – 2/12/2019
Daniah Missmar – 2/12/2019
Michael Clements, With Distinction – 2/12/2019
Brian Albers, With Distinction – 2/12/2019
Joshua Siegel – 2/13/2019
Alexander Blagoi – 2/14/2019
Matthew Reeves – 2/19/2019
Mitchell Hoffman, With Distinction – 2/22/2019
Steven Saxey, With Distinction – 2/25/2019
Natalie Costanza – 3/3/2019
Stephen Okawaki, With Distinction – 3/3/2019
Jackie Goldsmith, With Distinction – 3/3/2019
MK EVANS, With Distinction – 3/5/2019
Brandon Miller, With Distinction – 3/6/2019
Timothy Rogers, With Distinction – 3/11/2019
Richard Stein, With Distinction – 3/12/2019
Tianzhou Wu, With Distinction – 3/13/2019
John Krzyminski, With Distinction – 3/13/2019
linmay ximeno, With Distinction – 3/13/2019
Diego Mion, With Distinction – 3/13/2019
Joseph McLean, With Distinction – 3/13/2019
Don Pavlov, With Distinction – 3/14/2019
Andreas Wehrle – 3/14/2019
Garrett Parsons – 3/14/2019
Sean Rucker, With Distinction – 3/15/2019
Farshad Charmforoosh – 3/16/2019
Tamara Khanjahanbakhsh, With Distinction – 3/16/2019
Justin Fortner, With Distinction – 3/17/2019
Joshua Lee – 3/17/2019
Ron Cruz – 3/18/2019
Mark Bredemann, With Distinction – 3/19/2019
Drake Dickerson, With Distinction – 3/20/2019
Ben Marks, With Distinction – 3/20/2019
Shawn Fang – 3/20/2019
Clay Garrett, With Distinction – 3/20/2019
Joseph NOrt, With Distinction – 3/20/2019
Andrew MacDonald, With Distinction – 3/20/2019
Joseph Yu – 3/24/2019
Rhet Porter, With Distinction – 3/24/2019
Quentin Campbell, With Distinction – 3/27/2019
Marc Schaevitz, With Distinction – 3/27/2019
Ryan Gardiner, With Distinction – 3/29/2019
Moritz Schäfer – 3/29/2019
David Neinchel, With Distinction – 3/29/2019
Erin L'Huillier, With Distinction – 4/3/2019
Leonard Allen-Smith – 4/4/2019
Jacob Jalet – 4/5/2019
Benjamin Cooper, With Distinction – 4/5/2019
Laszlo Syrop, With Distinction – 4/6/2019
William Trenkelbach, With Distinction – 4/7/2019
Phu Vu, With Distinction – 4/7/2019
Mason Bartlett, With Distinction – 4/7/2019
Bradley James, With Distinction – 4/8/2019
Joseph Zaniboni, With Distinction – 4/8/2019
Robert Winter, With Distinction – 4/8/2019
Grant Wishner – 4/9/2019
Paige Winters – 4/9/2019
Carlos Alfonso – 4/9/2019
Carlos Ardavin, With Distinction – 4/9/2019
Sugandha Sharma – 4/9/2019
Jake Maya, With Distinction – 4/9/2019
Sarabeth Lewis, With Distinction – 4/9/2019
Jenai Ferguson, With Distinction – 4/9/2019
Austin Taylor, With Distinction – 4/9/2019
Aaron Garfinkel – 4/9/2019
Jonathon Howard – 4/9/2019
John Farese, With Distinction – 4/9/2019
Shane O'Connor, With Distinction – 4/9/2019
Frank Cubas – 4/9/2019
Jackson Kilcoyne – 4/9/2019
Cody Monroe, With Distinction – 4/9/2019
yang li, With Distinction – 4/9/2019
Kyle Larsen – 4/9/2019
Chris Hall, With Distinction – 4/9/2019
Kyle Sahlsten, With Distinction – 4/9/2019
Kandace Keeling, With Distinction – 4/9/2019
Jordan Madow, With Distinction – 4/9/2019
Natalie Anthony – 4/9/2019
Alex Adams, With Distinction – 4/9/2019
Macy Trizonis, With Distinction – 4/9/2019
Cecilia Milton – 4/9/2019
Will Wyman, With Distinction – 4/9/2019
Mario Agosto – 4/9/2019
Michael Sacks, With Distinction – 4/9/2019
Andrew Dale, With Distinction – 4/9/2019
Alex Caputo – 4/9/2019
Ryan OConnell, With Distinction – 4/10/2019
Riley Duncan – 4/15/2019
Michael Rosengren, With Distinction – 4/15/2019
Jason Tiensvold, With Distinction – 4/15/2019
Travis Howe, With Distinction – 4/16/2019
Francis Monsada, With Distinction – 4/16/2019
Pablo Castaneda – 4/16/2019
Kyle Sneed, With Distinction – 4/16/2019
Tyler Salter, With Distinction – 4/16/2019
Jared Warren, With Distinction – 4/17/2019
Adam Kessler, With Distinction – 4/18/2019
Marc Cianciola, With Distinction – 4/18/2019
Pat Qualley, With Distinction – 4/20/2019
Aaron Manji, With Distinction – 4/21/2019
Sarah El-Shafie – 4/22/2019
Campbell Bracken – 4/22/2019
Nicholas Strange, With Distinction – 4/23/2019
James Farrar, With Distinction – 4/23/2019
Jason Frederick – 4/23/2019
J. Alex Albarracin, With Distinction – 4/23/2019
Austin Dodier, With Distinction – 4/23/2019
Robert Lotts – 4/23/2019
Anna Khandamirian, With Distinction – 4/23/2019
James Polk, With Distinction – 4/23/2019
Anthony Minute, With Distinction – 4/23/2019
Sydney Goode, With Distinction – 4/24/2019
random name – 4/24/2019
Mike Paczkowski – 4/24/2019
Samuel Marten – 4/25/2019
Austin Becker – 4/25/2019
Nicholas Groos – 4/25/2019
David Radford, With Distinction – 4/25/2019
Andrew Sawyer – 4/25/2019
David Craig – 4/25/2019
Caleb VanDeventer, With Distinction – 4/25/2019
Bennett Hopkins, With Distinction – 4/25/2019
Kristin Beavers, With Distinction – 4/25/2019
Nicholas Husak – 4/25/2019
Steven Seager – 4/25/2019
Mei Yang – 4/25/2019
Patrick Pinchera, With Distinction – 4/25/2019
Tyler Shortlidge, With Distinction – 4/25/2019
Thomas Clapperton, With Distinction – 4/25/2019
Nathan Dahlin – 4/25/2019
Pedro Lamadrid, With Distinction – 4/25/2019
Luis Sanchez – 4/25/2019
Austin Patton – 4/25/2019
Kelly Kasper – 4/25/2019
Alex Shields, With Distinction – 4/25/2019
Peter Toutain, With Distinction – 4/25/2019
Andrew Schneider, With Distinction – 4/25/2019
Brandon Blaszczyk, With Distinction – 4/25/2019
Joey Sasso – 4/25/2019
LUCIANA MINO, With Distinction – 4/25/2019
Daniel Dumas – 4/25/2019
Chase Zirngibl – 4/25/2019
Logan Baker – 4/25/2019
Joseph Pecoraro – 4/25/2019
nicholas patricio, With Distinction – 4/25/2019
Benjamin Bride, With Distinction – 4/25/2019
Patricia Barrera, With Distinction – 4/25/2019
Jordan Wright – 4/25/2019
Savannah Lee, With Distinction – 4/25/2019
Samantha Cruz – 4/25/2019
Alexander Norris-Owens – 4/25/2019
Jay Storm, With Distinction – 4/25/2019
Bryce Banks, With Distinction – 4/25/2019
Josh Turner, With Distinction – 4/25/2019
Troy Muller – 4/25/2019
Weston Miller, With Distinction – 4/25/2019
Justin Mackler, With Distinction – 4/25/2019
Alex Nicholson, With Distinction – 4/25/2019
Jack Roberts, With Distinction – 4/25/2019
Jannette Ruiz, With Distinction – 4/25/2019
Julius Richardson, With Distinction – 4/25/2019
Kathryne Bardwell, With Distinction – 4/25/2019
fake email – 4/25/2019
Kyle Clavelli, With Distinction – 4/25/2019
Trang Ly – 4/25/2019
Azucena Venegas – 4/25/2019
Frank Strobl, With Distinction – 4/25/2019
Yash Patel, With Distinction – 4/25/2019
Frances Klein, With Distinction – 4/25/2019
Kimberly Pecho – 4/25/2019
Sorabh Gupta, With Distinction – 4/25/2019
Matthew Sturge – 4/25/2019
Thomas Henry, With Distinction – 4/28/2019
Adam Neumann, With Distinction – 4/29/2019
Robert Gill, With Distinction – 4/29/2019
Jared Pierce – 4/30/2019
Gizella Wade – 4/30/2019
Eric VanWinkle, With Distinction – 5/1/2019
Daryl Cheng – 5/2/2019
Baptiste Destain – 5/2/2019
Cameron Dixon – 5/4/2019
May Khang – 5/5/2019
Xinwen Chen – 5/5/2019
thanh Tran – 5/6/2019
Kaden Burlison – 5/6/2019
Guillermo Gameros – 5/6/2019
Kendrick Logan, With Distinction – 5/6/2019
Anthony Deras, With Distinction – 5/6/2019
Javier Zuniga – 5/6/2019
Will Adefehinti, With Distinction – 5/6/2019
Bernd Wesendahl – 5/6/2019
Jake Gateman – 5/6/2019
Ryan Sandles, With Distinction – 5/7/2019
Evan Thomas – 5/7/2019
Steven Hickman – 5/8/2019
Sean Hickey – 5/8/2019
Jeramy Staton – 5/9/2019
Edward Carroll, With Distinction – 5/9/2019
Miguel Vivar-Alcalde, With Distinction – 5/10/2019
Zola Lo – 5/11/2019
Michael Guardiola, With Distinction – 5/12/2019
Max Mazzone, With Distinction – 5/12/2019
DAVID LINCOLN, With Distinction – 5/13/2019
Yonatan Bender, With Distinction – 5/13/2019
Robert Sobczak, With Distinction – 5/13/2019
Ryan Sadeghi, With Distinction – 5/14/2019
Matthew Luther, With Distinction – 5/14/2019
Vidit Hirani, With Distinction – 5/15/2019
Hengsha Pang, With Distinction – 5/16/2019
Stephen Rainer, With Distinction – 5/17/2019
Olivia Cherry, With Distinction – 5/17/2019
Simon Lim, With Distinction – 5/17/2019
Jerald Watson, With Distinction – 5/17/2019
John-Bradley Greene, With Distinction – 5/18/2019
Grace Gardner – 5/19/2019
Gabriella Gomez – 5/19/2019
Nick Catalano – 5/19/2019
Lucas Sherrod – 5/19/2019
Chris Adams, With Distinction – 5/19/2019
Connor Stark, With Distinction – 5/20/2019
oscar castaneda, With Distinction – 5/20/2019
PAK MING YUEN, With Distinction – 5/20/2019
Anne Rosenblatt – 5/21/2019
Malak Benmassaoud – 5/22/2019
Christian Braden – 5/22/2019
Mallory Adams – 5/25/2019
James Roberts, With Distinction – 5/26/2019
Jackson Huggett, With Distinction – 5/26/2019
David Storch, With Distinction – 5/26/2019
Michael Reed, With Distinction – 5/27/2019
Benjamin Miller, With Distinction – 5/27/2019
Jacob Fowler, With Distinction – 5/27/2019
Thayer Hunt, With Distinction – 5/28/2019
Rolando Rodriguez – 5/28/2019
Steven Bentolila, With Distinction – 5/28/2019
Gina Tersini, With Distinction – 5/28/2019
Nikolay Nedev, With Distinction – 5/28/2019
Jason Lu – 5/28/2019
Jacob Carlson, With Distinction – 5/28/2019
Nick Ignaczak, With Distinction – 5/30/2019
Yiorgos Takoudis, With Distinction – 5/30/2019
David Walker – 5/30/2019
Lee Cohen, With Distinction – 5/30/2019
Conrad Classen, With Distinction – 5/31/2019
Kevin Buxton – 6/2/2019
Demetri Demascus – 6/2/2019
Rodney Herenton, With Distinction – 6/3/2019
Themistoklis Kosmidis, With Distinction – 6/3/2019
Harrison Kalt, With Distinction – 6/3/2019
Landon Cibulka, With Distinction – 6/3/2019
Peter Smith, With Distinction – 6/5/2019
josh dicker – 6/5/2019
Payton Mayes – 6/6/2019
Tianran Xu, With Distinction – 6/6/2019
Dylan Higgins – 6/6/2019
Shay Aslani, With Distinction – 6/7/2019
Bruce Grant, With Distinction – 6/8/2019
Joseph Vuskovich, With Distinction – 6/8/2019
Tyler Suchman, With Distinction – 6/9/2019
Steven Speer, With Distinction – 6/10/2019
Michael Hovey, With Distinction – 6/10/2019
Ronald Bedway – 6/10/2019
Nathan Zhao, With Distinction – 6/10/2019
Kenneth Horton, With Distinction – 6/10/2019
Erica Yaguchi, With Distinction – 6/11/2019
Crystal Gamboa – 6/14/2019
Dylan Plummer – 6/15/2019
Ryan McWilliams, With Distinction – 6/17/2019
Wing Yan Lau, With Distinction – 6/18/2019
Michael Genovesi, With Distinction – 6/20/2019
Kevin Ken – 6/20/2019
Alex Elbogen, With Distinction – 6/20/2019
Andrew Bull, With Distinction – 6/21/2019
Francis Henry – 6/23/2019
Cole Frantz, With Distinction – 6/23/2019
Vale Fitzpatrick, With Distinction – 6/23/2019
Will Jackson, With Distinction – 6/24/2019
Matthew Johnson – 6/24/2019
Peyton Dandridge, With Distinction – 6/24/2019
mario diloreto, With Distinction – 6/24/2019
Michael Grant, With Distinction – 6/24/2019
Kyra Perry, With Distinction – 6/24/2019
Conner Cheves – 6/25/2019
Anthony Chammah – 6/25/2019
Michael Rose, With Distinction – 6/25/2019
Jie Zhou, With Distinction – 6/25/2019
Logan Zeigler, With Distinction – 6/26/2019
Bryon Wells, With Distinction – 6/27/2019
Marc Philippi – 6/29/2019
Adam Decker – 7/1/2019
Graham Murphy, With Distinction – 7/1/2019
Mia Blackman – 7/2/2019
Alfonso Valencia, With Distinction – 7/2/2019
Jack Ayoub, With Distinction – 7/3/2019
Matthew Murphy, With Distinction – 7/4/2019
Angela Liu – 7/6/2019
Eric Reardon – 7/6/2019
Austin Holmes, With Distinction – 7/8/2019
Nick Yeh, With Distinction – 7/8/2019
Ford Corbett, With Distinction – 7/9/2019
Alec Li, With Distinction – 7/10/2019
Luke hall, With Distinction – 7/10/2019
Henry Heyser – 7/10/2019
Natalie Revers – 7/10/2019
Sachin Swami – 7/10/2019
Nick Anderson, With Distinction – 7/10/2019
Jenna Moustafa, With Distinction – 7/10/2019
Hunter Conti, With Distinction – 7/10/2019
Avani Katta, With Distinction – 7/10/2019
Blakeley Simpler, With Distinction – 7/10/2019
Ian Chu, With Distinction – 7/10/2019
Elliot Straus – 7/11/2019
PATRICK TIMPERIO, With Distinction – 7/11/2019
Luciano Lara, With Distinction – 7/13/2019
Nash Horne, With Distinction – 7/14/2019
Sam Young, With Distinction – 7/14/2019
Daniel Hendren, With Distinction – 7/15/2019
Jonathan Kleiman, With Distinction – 7/16/2019
Alberto Figueroa, With Distinction – 7/16/2019
Paige Taylor, With Distinction – 7/16/2019
KYLE Mannheimer, With Distinction – 7/17/2019
Philip Meisner, With Distinction – 7/17/2019
karim khaiboullin – 7/17/2019
Antonios Bernakos, With Distinction – 7/21/2019
Spencer Rasmussen, With Distinction – 7/22/2019
Nicholas Cipolle, With Distinction – 7/23/2019
Jacob Hamel, With Distinction – 7/24/2019
Spencer Forrest, With Distinction – 7/25/2019
Courtney Druckman, With Distinction – 7/27/2019
Ismael Ahmed, With Distinction – 7/28/2019
Zac Jones – 7/28/2019
Rebecca Bendetson, With Distinction – 7/29/2019
Geoff O'Connor, With Distinction – 7/30/2019
Matthew Hausman, With Distinction – 7/31/2019
Grant Waldron, With Distinction – 8/1/2019
Bailey Amenabar – 8/1/2019
Jose Paneda, With Distinction – 8/1/2019
Anthony Richards, With Distinction – 8/2/2019
William Morey, With Distinction – 8/2/2019
Benjamin Carlson, With Distinction – 8/4/2019
Jordan Bernstein, With Distinction – 8/4/2019
Jadde Rowe, With Distinction – 8/4/2019
CHRISTIAN BANISTER, With Distinction – 8/5/2019
Avishai Zarifpour – 8/5/2019
Brendan Mairs, With Distinction – 8/5/2019
Nicolas Zaia, With Distinction – 8/6/2019
Petra Sobotova, With Distinction – 8/6/2019
Matthew Bowen – 8/6/2019
Grant Hagstrom – 8/6/2019
Lingyan Yao – 8/6/2019
Christopher Crane, With Distinction – 8/7/2019
Federico Fermin, With Distinction – 8/7/2019
Adam Hurd, With Distinction – 8/9/2019
Michael Bertakis – 8/10/2019
Guillermo Quirch, With Distinction – 8/11/2019
Suying Zhang, With Distinction – 8/12/2019
Gabrielle Cambronne, With Distinction – 8/12/2019
Nicholas Pereira – 8/13/2019
Daniel Lin, With Distinction – 8/13/2019
Robert Dymond, With Distinction – 8/15/2019
Jo Napolitano – 8/16/2019
Bowen Clymer – 8/16/2019
Daniel Kim, With Distinction – 8/18/2019
Max Chapin, With Distinction – 8/18/2019
John Hunter – 8/19/2019
Andres Gutierrez, With Distinction – 8/19/2019
Barrett Albrecht, With Distinction – 8/20/2019
Andrew Reiley OConnor, With Distinction – 8/20/2019
Jonathan Trock – 8/20/2019
Si Yuan Kuang, With Distinction – 8/21/2019
Louis Jackson, With Distinction – 8/21/2019
Lorenzo Gonzales, With Distinction – 8/22/2019
Anna Yao – 8/23/2019
– 8/23/2019
Caiden Comito – 8/23/2019
Erik Thunberg, With Distinction – 8/25/2019
Sunwoo Kim – 8/26/2019
Christie Leonardi, With Distinction – 8/27/2019
Bridget Cuthbert, With Distinction – 8/29/2019
Alberto Gedaly, With Distinction – 9/2/2019
James Clancy, With Distinction – 9/2/2019
Jeremiah Watson – 9/3/2019
Friederike von Bunau, With Distinction – 9/6/2019
Jarrod Woodley, With Distinction – 9/6/2019
Kris Samaras, With Distinction – 9/6/2019
Rachel Bradshaw, With Distinction – 9/8/2019
Nathan Matos, With Distinction – 9/8/2019
Reed Jones, With Distinction – 9/8/2019
Benjamin Winter, With Distinction – 9/9/2019
Xing Ming, With Distinction – 9/10/2019
Reid Hofstetter, With Distinction – 9/10/2019
Matthew Alfonso, With Distinction – 9/10/2019
Michael Winnitoy – 9/11/2019
Brad Foster, With Distinction – 9/13/2019
Nicholas Goff, With Distinction – 9/13/2019
Gaurav Dhume, With Distinction – 9/15/2019
Simon Graff, With Distinction – 9/16/2019
Taylor McClendon – 9/17/2019
Bryan Hartog, With Distinction – 9/20/2019
John Major, With Distinction – 9/22/2019
Justin Cao – 9/22/2019
Griffin Marcus, With Distinction – 9/22/2019
Schuyler Velten, With Distinction – 9/23/2019
Darren Critchlow – 9/24/2019
Kaitlyn Buchholz, With Distinction – 9/25/2019
Donald Monroe III, With Distinction – 9/26/2019
Bretton Bowman – 9/28/2019
Justin Ipema – 9/29/2019
Brent Sander – 9/29/2019
Lazare Herzi, With Distinction – 9/29/2019
brian tucker – 9/30/2019
Keith Eckert – 9/30/2019
Alex Guluzian, With Distinction – 10/1/2019
Yixuan Zhang – 10/1/2019
Jack Bergida, With Distinction – 10/1/2019
Mike Harris, With Distinction – 10/1/2019
Yifeng Xie, With Distinction – 10/1/2019
Steven Halsey, With Distinction – 10/1/2019
Connor Kreis, With Distinction – 10/1/2019
Cary Brown, With Distinction – 10/1/2019
Jake Smith, With Distinction – 10/1/2019
Logan Storts, With Distinction – 10/1/2019
Margo Utter – 10/1/2019
Carter Nash, With Distinction – 10/1/2019
Phillip Mackey – 10/1/2019
Somerville Wang, With Distinction – 10/1/2019
Michael Germi, With Distinction – 10/1/2019
Clayton Robinson, With Distinction – 10/1/2019
Josue Collado, With Distinction – 10/1/2019
Andrea Johansson, With Distinction – 10/1/2019
Ian Breyer, With Distinction – 10/1/2019
Tyler Kasten, With Distinction – 10/1/2019
Edmund Aramayo, With Distinction – 10/1/2019
Sean West, With Distinction – 10/1/2019
Kyle Sarbak – 10/1/2019
James Barrios, With Distinction – 10/1/2019
Enrique Triana, With Distinction – 10/1/2019
Blake Bryant, With Distinction – 10/1/2019
Bryan Sheldon, With Distinction – 10/1/2019
Sarah Ermer, With Distinction – 10/1/2019
Alex Guluzian, With Distinction – 10/1/2019
Elizabeth Collins – 10/1/2019
Antoun Chebat – 10/1/2019
Clayton Crevasse, With Distinction – 10/1/2019
Bryan Dentici, With Distinction – 10/1/2019
Daniel Rodriguez, With Distinction – 10/1/2019
Andrew Miller, With Distinction – 10/1/2019
Shannon Hess, With Distinction – 10/1/2019
Alex Gottlieb, With Distinction – 10/1/2019
Carson Pierce, With Distinction – 10/1/2019
Jesse Graham, With Distinction – 10/1/2019
Robert Holihan, With Distinction – 10/1/2019
Shannon Ormel, With Distinction – 10/3/2019
Kemal Sengul – 10/3/2019
Max Harada, With Distinction – 10/4/2019
Nathan Ho, With Distinction – 10/4/2019
Parker Lewis – 10/6/2019
Jimmy Quach – 10/6/2019
Eva Qiu, With Distinction – 10/7/2019
Trevor Kierecki, With Distinction – 10/7/2019
– 10/8/2019
Steven Amundrud, With Distinction – 10/9/2019
, With Distinction – 10/9/2019
Alan Cusack – 10/9/2019
Kris Simmons, With Distinction – 10/10/2019
Abby Jackson – 10/11/2019
Michael Brunelli, With Distinction – 10/12/2019
Arturo Vidal, With Distinction – 10/12/2019
Zack Waldher, With Distinction – 10/14/2019
Jimmy Wang-Guo – 10/14/2019
Max Golopol – 10/15/2019
MARLICA LEUNG – 10/15/2019
Harry Salnikow – 10/15/2019
Sam Mishra, With Distinction – 10/18/2019
Connor Bennett – 10/18/2019
Ethan Riemer – 10/20/2019
Marshall Smith, With Distinction – 10/20/2019
Weston Nalley – 10/22/2019
, With Distinction – 10/24/2019
– 10/24/2019
– 10/24/2019
, With Distinction – 10/28/2019
Jim Frazier, With Distinction – 10/28/2019
Sahil Patel – 10/28/2019
Alexander King, With Distinction – 10/28/2019
Will Goldstick, With Distinction – 10/29/2019
Oren Richkin, With Distinction – 10/30/2019
Sean Montgomery – 10/30/2019
Liam Stewart, With Distinction – 11/1/2019
Daniel Sanchez, With Distinction – 11/3/2019
Jesse Bailey, With Distinction – 11/3/2019
McKay Harris – 11/5/2019
Jonathan Listro, With Distinction – 11/5/2019
Ramon Fondren, With Distinction – 11/6/2019
Blake Rodgers – 11/7/2019
Rebecca Park, With Distinction – 11/7/2019
Steven Carlisle, With Distinction – 11/9/2019
Daniel Roberts, With Distinction – 11/11/2019
Douglass Shumaker, With Distinction – 11/11/2019
Patrick O'Reilly – 11/13/2019
Joseph Toledo, With Distinction – 11/13/2019
Grace Stephens, With Distinction – 11/13/2019
Adam Giordano, With Distinction – 11/13/2019
Brendan Swinehart, With Distinction – 11/13/2019
Jack Carroll, With Distinction – 11/14/2019
Dennis Rorie – 11/14/2019
Inigo Sumaza – 11/14/2019
Thomas Henry, With Distinction – 11/15/2019
– 11/17/2019
Henry King, With Distinction – 11/17/2019
Alexander Breinin, With Distinction – 11/19/2019
Ludwig Wolff-Metternich, With Distinction – 11/20/2019
jaden Theodora, With Distinction – 11/20/2019
William Rosato, With Distinction – 11/20/2019
Mark Hughes, With Distinction – 11/21/2019
Marc Rutchik – 11/21/2019
Scott Hiler, With Distinction – 11/22/2019
Racquel Collier – 11/22/2019
Benjamin Puche, With Distinction – 11/23/2019
Anna Gallegos, With Distinction – 11/23/2019
Gabriel Lazcano, With Distinction – 11/23/2019
Micah Kessler – 11/23/2019
James Poulnot, With Distinction – 11/24/2019
Joel George, With Distinction – 11/26/2019
Sam Love, With Distinction – 11/26/2019
Jeremy Reyes – 11/26/2019
Drew Shields, With Distinction – 11/26/2019
Tiffany Poon – 11/27/2019
Kyler LeMaster, With Distinction – 11/27/2019
– 11/27/2019
Junjie Tan, With Distinction – 11/27/2019
, With Distinction – 11/28/2019
David Zahedi Brown – 11/28/2019
Michael Gobin, With Distinction – 11/29/2019
Elizabeth Grater, With Distinction – 11/30/2019
Shannon Wilson, With Distinction – 12/1/2019
Eric Megnia – 12/1/2019
Jalecia Coley, With Distinction – 12/1/2019
, With Distinction – 12/1/2019
Brittney Ortiz, With Distinction – 12/1/2019
Colin Chou, With Distinction – 12/1/2019
Daniel Raynor, With Distinction – 12/2/2019
John Saylor, With Distinction – 12/2/2019
JAMES GREGG, With Distinction – 12/2/2019
Reynaldo Torres Arellano – 12/2/2019
, With Distinction – 12/2/2019
Madison Baker – 12/2/2019
Nathan Federico – 12/2/2019
Lyles Davis, With Distinction – 12/2/2019
Alexander Candoo, With Distinction – 12/3/2019
Max Waple – 12/3/2019
Taylor Benjamin, With Distinction – 12/3/2019
– 12/4/2019
Matthew Fairchild, With Distinction – 12/4/2019
Elijah Rath, With Distinction – 12/4/2019
Andrew Gomez – 12/4/2019
– 12/4/2019
Abeyalew Alemneh – 12/4/2019
santiago zapata, With Distinction – 12/5/2019
Shantese Fashaw, With Distinction – 12/5/2019
Jameson Parker, With Distinction – 12/5/2019
Aurora Pavlish-Carpenter, With Distinction – 12/5/2019
Sebastian Rios, With Distinction – 12/5/2019
Charles Buckner – 12/5/2019
Terrence Chung – 12/5/2019
Anecia Simmons – 12/5/2019
Joseph Tosti, With Distinction – 12/5/2019
Renee Helling, With Distinction – 12/5/2019
Kyle Beaver – 12/5/2019
Lynn Hadley, With Distinction – 12/5/2019
Vanessa White – 12/5/2019
Matthew Hemmer, With Distinction – 12/5/2019
Shivam Shah, With Distinction – 12/5/2019
Alec Carter, With Distinction – 12/5/2019
Jared Nebrat, With Distinction – 12/5/2019
Ana Burgos – 12/5/2019
Joseph Manjarrez, With Distinction – 12/5/2019
Jagger Havlik – 12/5/2019
Drew Grossman, With Distinction – 12/5/2019
Jonathan Carter – 12/5/2019
Alexandra Carrillo – 12/5/2019
Emprey Shivers, With Distinction – 12/5/2019
marissa stavola, With Distinction – 12/5/2019
Luke Pappas – 12/5/2019
Alexis Nunez Marrufo, With Distinction – 12/5/2019
Jake DeGeare – 12/5/2019
Luis Flores, With Distinction – 12/5/2019
Luis Garcia Reyes, With Distinction – 12/5/2019
Alex Eastwood, With Distinction – 12/5/2019
Savannah Mitchell – 12/5/2019
Rumaisah Vorajee – 12/5/2019
Shaun Baker, With Distinction – 12/5/2019
Alec Bentman – 12/5/2019
Craig Williams – 12/5/2019
Kurt Adler – 12/5/2019
Madison Woodson, With Distinction – 12/5/2019
Alex chrisnter, With Distinction – 12/5/2019
Jeffrey Guillaume – 12/5/2019
Logan Kemper – 12/5/2019
Caroline Weisstuch – 12/5/2019
Paul Brennan, With Distinction – 12/5/2019
Brian Schmucker – 12/5/2019
Anthony Johnson, With Distinction – 12/5/2019
Sergio Marin, With Distinction – 12/5/2019
Elaine Glatz – 12/5/2019
Brandon Halbert, With Distinction – 12/5/2019
Natalie Lefler – 12/5/2019
Gavin Oliver, With Distinction – 12/5/2019
Axel Munoz-Ortega – 12/5/2019
Natalia Serrano Garcia, With Distinction – 12/5/2019
Eduardo Villalta, With Distinction – 12/5/2019
Nicolette Donovan, With Distinction – 12/5/2019
Dylan Longstreth – 12/5/2019
Juan Gamboa – 12/5/2019
Morgan Stinchcomb – 12/5/2019
John Gitzen – 12/5/2019
Ben O'Connor, With Distinction – 12/6/2019
Shaharyar Ahsan, With Distinction – 12/8/2019
, With Distinction – 12/9/2019
Bailey Dawson, With Distinction – 12/9/2019
Peter Griffith – 12/10/2019
James Lonergan – 12/10/2019
James Byrd – 12/10/2019
Jungmoon Ham – 12/12/2019
Matt Anderson, With Distinction – 12/12/2019
Monica Brendsel, With Distinction – 12/13/2019
Mason Ellard, With Distinction – 12/14/2019
Jefferson Burk, With Distinction – 12/14/2019
Bennett Ellis, With Distinction – 12/15/2019
Tianyi Fan, With Distinction – 12/17/2019
Clay Danly, With Distinction – 12/18/2019
Ford Childress – 12/18/2019
Jake Salmirs, With Distinction – 12/20/2019
Eric Fallon, With Distinction – 12/23/2019
, With Distinction – 12/26/2019
Kevin Cheung, With Distinction – 12/27/2019
Richard Wilkinson, With Distinction – 12/28/2019
Jesse Ross, With Distinction – 12/29/2019
Garrett Pisarik, With Distinction – 12/30/2019
Maureen Cohen, With Distinction – 12/30/2019
Tyler Kertson, With Distinction – 12/30/2019
Yasamin Rahmanparast, With Distinction – 12/30/2019
Avi Ginsburg, With Distinction – 12/30/2019
Alyssa Berger, With Distinction – 12/31/2019
Darence Lim, With Distinction – 12/31/2019
David Reddy, With Distinction – 12/31/2019
Anthony Colonnetta, With Distinction – 12/31/2019
Brian Santana De La Rosa, With Distinction – 1/1/2020
Jasper Joseph, With Distinction – 1/2/2020
Joshua Su, With Distinction – 1/2/2020
Joshua Fern – 1/2/2020
Willis Melvin – 1/2/2020
Addison Lubert – 1/3/2020
Harris Brown – 1/3/2020
Brooke Gray, With Distinction – 1/3/2020
Yanika Magan, With Distinction – 1/3/2020
Greg Moore – 1/3/2020
Ryan Kriftcher, With Distinction – 1/3/2020
Jason Pollan, With Distinction – 1/4/2020
Tristan Quizeo, With Distinction – 1/4/2020
Kevin Burbano, With Distinction – 1/5/2020
Jose Aguilar, With Distinction – 1/5/2020
Christian Macellari, With Distinction – 1/5/2020
Jacqueline Victoria Teer – 1/6/2020
Kyle Galin – 1/6/2020
Caleb Smoot – 1/6/2020
Thomas Byers, With Distinction – 1/6/2020
Shelbi Greaves – 1/6/2020
Carlton Orange – 1/6/2020
Ben Wiggins, With Distinction – 1/6/2020
Clayton Bryan – 1/6/2020
samantha triolo, With Distinction – 1/6/2020
Garrison Kinsel – 1/6/2020
Blake Wampler, With Distinction – 1/7/2020
Andrew DeVries – 1/7/2020
Caleb Snow – 1/7/2020
Karsten Greil – 1/7/2020
Reagan Heddins – 1/7/2020
Cassidy Springer – 1/7/2020
Taylor Dahlgren – 1/7/2020
Justin Nutt – 1/7/2020
Samuel Woolsey, With Distinction – 1/7/2020
Reid Gillings – 1/7/2020
Meaghan Philbin, With Distinction – 1/7/2020
Samantha Graves – 1/7/2020
Logan Jones, With Distinction – 1/7/2020
William Corrigan, With Distinction – 1/7/2020
Zoey Pawlik – 1/7/2020
Ryan Klaff, With Distinction – 1/7/2020
Valarie Bradley – 1/7/2020
Kurt Hoelscher – 1/7/2020
Brian Griffith, With Distinction – 1/7/2020
Stephen Mikeska, With Distinction – 1/7/2020
Matthew Kulbicki – 1/7/2020
Colin Trautman, With Distinction – 1/7/2020
Jordan Nguyen – 1/7/2020
Will Burns – 1/7/2020
Ryan McCollum, With Distinction – 1/7/2020
Garrett Newman, With Distinction – 1/7/2020
– 1/7/2020
Connor Russell, With Distinction – 1/7/2020
John Bormann, With Distinction – 1/7/2020
Lucas Duhon, With Distinction – 1/7/2020
Caitlin Edwards – 1/7/2020
Will Rouse, With Distinction – 1/7/2020
Bianca Di Mauro, With Distinction – 1/8/2020
Braden Horton, With Distinction – 1/8/2020
James Cathcart – 1/8/2020
Farbod Jahanshahi – 1/8/2020
James Todd – 1/8/2020
Sloan Crady – 1/8/2020
Connor Schwartz, With Distinction – 1/8/2020
Asi Ackerman, With Distinction – 1/9/2020
Brendan McKeon, With Distinction – 1/9/2020
Matthew Concordia, With Distinction – 1/9/2020
Alicia Mendoza, With Distinction – 1/9/2020
HARRISON THAYER, With Distinction – 1/9/2020
Tim Busch – 1/10/2020
Austin Baker, With Distinction – 1/10/2020
Alina Salvail, With Distinction – 1/10/2020
Matthew Perlmutter – 1/10/2020
Daniel Geary – 1/11/2020
Pierson Souza, With Distinction – 1/12/2020
Christine Williams – 1/12/2020
Alexis Sowuleski, With Distinction – 1/12/2020
Ian Schrager, With Distinction – 1/12/2020
Ruiqian Yang – 1/13/2020
Sasha Jules, With Distinction – 1/13/2020
Max Wasserman, With Distinction – 1/13/2020
Jud Webre, With Distinction – 1/13/2020
Harrison Hart, With Distinction – 1/14/2020
bo li – 1/14/2020
Clayton Korell, With Distinction – 1/14/2020
Reid Watler, With Distinction – 1/14/2020
Ira Green, With Distinction – 1/14/2020
Jordan Howe, With Distinction – 1/14/2020
Bryce Long – 1/14/2020
Tyler Hodgdon, With Distinction – 1/14/2020
Sean Willson – 1/14/2020
Joseph Bryan, With Distinction – 1/14/2020
Eric Stahl, With Distinction – 1/14/2020
Timothy Racine, With Distinction – 1/14/2020
Josh Graf, With Distinction – 1/14/2020
Patrick Finnegan, With Distinction – 1/14/2020
Jonathan Ceballos, With Distinction – 1/14/2020
Jessy Gendelman, With Distinction – 1/14/2020
Markus Jones – 1/15/2020
Spencer Langley, With Distinction – 1/15/2020
– 1/15/2020
Stephen Lucas – 1/15/2020
Peter Anderson, With Distinction – 1/15/2020
Julia Cooper, With Distinction – 1/16/2020
Reasat Bhuiyan, With Distinction – 1/16/2020
Maulik Prajapati – 1/18/2020
Harrison Moir, With Distinction – 1/20/2020
Oliver Brown, With Distinction – 1/21/2020
Nathan Shearer – 1/22/2020
Tyler Pilgrim, With Distinction – 1/22/2020
Katie Gache, With Distinction – 1/22/2020
Brett Wippler – 1/22/2020
Kyle Montiel-Berner, With Distinction – 1/22/2020
Mathew Ronk, With Distinction – 1/23/2020
Hubert Golay, With Distinction – 1/24/2020
Madrid Danner-Smith – 1/25/2020
Michael Scarnato – 1/25/2020
Melvin Strasser-Nicol – 1/26/2020
Blake John, With Distinction – 1/26/2020
Drew Johnson, With Distinction – 1/27/2020
molly wilson, With Distinction – 1/27/2020
Camilo Mexsen – 1/27/2020
Arman Boroumand, With Distinction – 1/28/2020
Frank Giardina, With Distinction – 1/28/2020
Weston Clark – 1/28/2020
Kyle Ruperto, With Distinction – 1/28/2020
Dylan Clancy – 1/29/2020
Joseph Barbarito – 1/29/2020
Jason Zhang, With Distinction – 1/29/2020
Peter Schropp, With Distinction – 1/29/2020
Max Allen, With Distinction – 2/1/2020
Steve Da Cruz, With Distinction – 2/1/2020
Trevor Berry, With Distinction – 2/2/2020
Li-Yan Chang, With Distinction – 2/2/2020
– 2/4/2020
Sean Mullaney – 2/5/2020
, With Distinction – 2/5/2020
Matt Huschke, With Distinction – 2/5/2020
Luke Bricca, With Distinction – 2/6/2020
Alexander Updyke, With Distinction – 2/6/2020
Simon Beck, With Distinction – 2/7/2020
Yiu-Kuen Pang – 2/7/2020
Hannah Han – 2/7/2020
Jon Livadas – 2/7/2020
Runhua Xu, With Distinction – 2/8/2020
– 2/8/2020
Luis Gonzalez – 2/9/2020
Jenna Goudswaard – 2/10/2020
Christopher Osuna – 2/11/2020
Karim Sutton, With Distinction – 2/11/2020
Sam Boxley, With Distinction – 2/11/2020
– 2/12/2020
Sang Hyun Kim, With Distinction – 2/12/2020
Lane Baker, With Distinction – 2/13/2020
Fabrice Golay, With Distinction – 2/13/2020
Stella Haglund – 2/13/2020
Aaron McIntyre, With Distinction – 2/15/2020
James Short, With Distinction – 2/16/2020
– 2/16/2020
Dominique Alves, With Distinction – 2/16/2020
Jeremy Principe – 2/17/2020
– 2/18/2020
Patrick Johnson, With Distinction – 2/18/2020
Thu Nguyen, With Distinction – 2/19/2020
Bret Heath – 2/19/2020
Dann Smith, With Distinction – 2/19/2020
Michael Boyd, With Distinction – 2/20/2020
Nicholas Sommariva, With Distinction – 2/20/2020
Jack Lovell, With Distinction – 2/21/2020
Taylor Bills, With Distinction – 2/22/2020
Erika Jobson, With Distinction – 2/23/2020
Jack McCann – 2/24/2020
Pascal Herrmann, With Distinction – 2/24/2020
Pablo Santacruz, With Distinction – 2/27/2020
Perry Tindle, With Distinction – 3/2/2020
Jeremiah Davies – 3/2/2020
Zachary Kim – 3/4/2020
Enoch Sng, With Distinction – 3/6/2020
Jackson Peacock, With Distinction – 3/6/2020
Jack McPhail – 3/8/2020
Charles Laing, With Distinction – 3/9/2020
Steve Hartman – 3/9/2020
Jonathan Gubbay, With Distinction – 3/9/2020
Yue Dou, With Distinction – 3/10/2020
Michael Messina, With Distinction – 3/10/2020
Max Lico – 3/12/2020
Patrick Leugers, With Distinction – 3/12/2020
Kenneth Abod, With Distinction – 3/14/2020
Ravi Mann, With Distinction – 3/16/2020
Price Peters – 3/16/2020
– 3/18/2020
Rodrigo de los Santos, With Distinction – 3/18/2020
Evan Campbell – 3/19/2020
Oleana Hsu – 3/19/2020
Or Levy, With Distinction – 3/20/2020
Zachary Halpryn – 3/21/2020
Dimitris Nikas, With Distinction – 3/21/2020
Luke Schaaf – 3/21/2020
Spyros Davaris, With Distinction – 3/22/2020
Carol Lin, With Distinction – 3/22/2020
Conner Gray – 3/22/2020
Chenkai Zhao, With Distinction – 3/22/2020
Jacob Hayden – 3/23/2020
– 3/23/2020
John Caputo, With Distinction – 3/23/2020
Nicholas Ferran, With Distinction – 3/24/2020
Shannon Bergen – 3/24/2020
Evan Burrer, With Distinction – 3/24/2020
Ferran Brown, With Distinction – 3/24/2020
Cameron Coughlin, With Distinction – 3/26/2020
Ian McIntyre, With Distinction – 3/26/2020
Juan Acosta – 3/26/2020
Ryan Lipps – 3/27/2020
Razvan Druga, With Distinction – 3/29/2020
Ritwik Bhatia, With Distinction – 3/29/2020
, With Distinction – 3/30/2020
Weston Popp, With Distinction – 3/30/2020
Adam Luray – 3/30/2020
Robert Davis – 3/31/2020
John Jackson, With Distinction – 3/31/2020
Ryan Dunphy, With Distinction – 3/31/2020
Dylan Smith – 4/1/2020
Mareike Grebener – 4/2/2020
Logan Kidwill, With Distinction – 4/3/2020
Liyan Zhang, With Distinction – 4/5/2020
Robin Elihu, With Distinction – 4/6/2020
Santiago Eliaschev – 4/7/2020
Isaac Rothermel, With Distinction – 4/8/2020
Alejandro Alvarez Mitre, With Distinction – 4/8/2020
Apostolos Kalantzis – 4/8/2020
Dan Trulli, With Distinction – 4/9/2020
Bryan Tran, With Distinction – 4/9/2020
Dhalia Dupree – 4/10/2020
Chad Morgan, With Distinction – 4/10/2020
Devon Geraghty, With Distinction – 4/12/2020
Kopal Maheshwari Mulay – 4/12/2020
Grant Robey, With Distinction – 4/14/2020
Brandon Turk – 4/14/2020
Zachary Nar – 4/15/2020
William Glosson, With Distinction – 4/16/2020
Catherine Wellen, With Distinction – 4/17/2020
John Lankford – 4/18/2020
Allen Ubaha – 4/18/2020
Dylan Gilsenan – 4/18/2020
Wyatt Martin, With Distinction – 4/20/2020
Matthew Santangelo – 4/20/2020
Benjamin Ader, With Distinction – 4/20/2020
Nicholas Sellas, With Distinction – 4/21/2020
Rahmaan Hamid, With Distinction – 4/21/2020
Anthony Poon, With Distinction – 4/21/2020
Jack Shannon, With Distinction – 4/22/2020
Zian Guo – 4/22/2020
Spencer Vickers, With Distinction – 4/22/2020
Ngoc Van, With Distinction – 4/22/2020
carly jolliff, With Distinction – 4/22/2020
Kai Johnston – 4/22/2020
Cooper Feltis, With Distinction – 4/22/2020
Stian Funk – 4/22/2020
Jake Manzano, With Distinction – 4/22/2020
Ryan Griffith – 4/22/2020
Anders Meyer, With Distinction – 4/22/2020
Robert Davidson – 4/23/2020
Nino Brancato, With Distinction – 4/23/2020
Alexis Marini, With Distinction – 4/23/2020
Youssef Bishara, With Distinction – 4/23/2020
Riley Gordon, With Distinction – 4/23/2020
Sam Barrett – 4/23/2020
Maria Velasco, With Distinction – 4/23/2020
doris cruz pena, With Distinction – 4/23/2020
Samer Diab – 4/23/2020
Madison Cassidy, With Distinction – 4/23/2020
Chad Boole – 4/23/2020
Duvanny Pineda, With Distinction – 4/23/2020
Brenda Castillo, With Distinction – 4/23/2020
Erik Sande – 4/23/2020
Craig Chaney – 4/23/2020
Chase Lott, With Distinction – 4/23/2020
Cory Freeman, With Distinction – 4/23/2020
Kathryn Spindler, With Distinction – 4/23/2020
Brandon Morsillo, With Distinction – 4/23/2020
Karly Engert, With Distinction – 4/23/2020
Ashraful Chowdhury, With Distinction – 4/23/2020
Jose Joachin, With Distinction – 4/23/2020
Dominic Coluccio – 4/23/2020
Kyle Schofield – 4/23/2020
Kathleen Shiflett, With Distinction – 4/23/2020
Hunter Burke, With Distinction – 4/23/2020
Alexa Scher, With Distinction – 4/23/2020
Arturo Acosta, With Distinction – 4/23/2020
Tyler Somers, With Distinction – 4/23/2020
Alejandro Santiago – 4/23/2020
Kristina Groetsch, With Distinction – 4/23/2020
Marcello Parisi – 4/23/2020
Cynthia Lewis – 4/23/2020
Kevin Lowe – 4/23/2020
QING XIA ZHANG, With Distinction – 4/23/2020
Keslie Mora, With Distinction – 4/23/2020
Binit Parikkh, With Distinction – 4/23/2020
Carl Hoyte, With Distinction – 4/23/2020
Jahir Hernandez, With Distinction – 4/23/2020
Gabrielle Kenniston, With Distinction – 4/23/2020
James McMullen, With Distinction – 4/23/2020
Lauren Stokes, With Distinction – 4/23/2020
Danielle Buffomante – 4/23/2020
Kayla Dubuc, With Distinction – 4/23/2020
Cameron Byman, With Distinction – 4/23/2020
Salomon Lapco, With Distinction – 4/23/2020
Zachary Wesche – 4/23/2020
Sarah Schwinden, With Distinction – 4/23/2020
Zachary Buentello – 4/23/2020
Jillian Boose – 4/23/2020
Aquirira Lane, With Distinction – 4/23/2020
Kimberly Henkel, With Distinction – 4/23/2020
Nicholas Tramazzo – 4/23/2020
Grant Gaffney – 4/23/2020
Daniel Cabeza, With Distinction – 4/23/2020
Mirko Djujic, With Distinction – 4/24/2020
Givi Karbelashvili, With Distinction – 4/24/2020
William Schuettler, With Distinction – 4/25/2020
Cole Bamberger, With Distinction – 4/26/2020
Marek Malik, With Distinction – 4/26/2020
Austin Conti, With Distinction – 4/26/2020
Ryan Pelman, With Distinction – 4/27/2020
Nick Dmochowski – 4/28/2020
, With Distinction – 4/28/2020
Chad Hesiey – 4/29/2020
Ryan Larkin, With Distinction – 4/30/2020
Matthew Homsher, With Distinction – 5/1/2020
Justin Zeitchik – 5/1/2020
Colton Cortese – 5/3/2020
Stephen Sawicki, With Distinction – 5/5/2020
Jared Hershler, With Distinction – 5/6/2020
Sean Kirk, With Distinction – 5/6/2020
Tyler Arnold, With Distinction – 5/7/2020
Shelby Griggs, With Distinction – 5/7/2020
Matthew Rosenfeld, With Distinction – 5/7/2020
Brian James – 5/7/2020
William Shepley, With Distinction – 5/8/2020
Tim Hemmersmeier, With Distinction – 5/8/2020
– 5/8/2020
Colleen Ryan – 5/10/2020
Julian Solomon, With Distinction – 5/11/2020
Brad Davey, With Distinction – 5/11/2020
Alexander Ball, With Distinction – 5/12/2020
Adam Friedman, With Distinction – 5/13/2020
John McDavid V, With Distinction – 5/13/2020
Yuwei Kong – 5/13/2020
Mario Lagnese – 5/13/2020
Evan Bolender, With Distinction – 5/14/2020
anna grouzdev – 5/14/2020
Griffin Vasile – 5/14/2020
Yanal Kamal – 5/15/2020
Pierce Corpening, With Distinction – 5/16/2020
Andrew Ionescu, With Distinction – 5/19/2020
Injae Alex Park – 5/19/2020
Joshua Kim, With Distinction – 5/19/2020
Marc Cutler, With Distinction – 5/20/2020
Don R Hause, With Distinction – 5/22/2020
Jeremy Mack, With Distinction – 5/22/2020
Jason Graves – 5/23/2020
Kunal Patel, With Distinction – 5/23/2020
Guy Petrie, With Distinction – 5/25/2020
, With Distinction – 5/27/2020
Marco Varela, With Distinction – 5/27/2020
Colby Everett – 5/27/2020
Jonathan Liesch, With Distinction – 5/28/2020
, With Distinction – 5/28/2020
Julien van Ophem – 5/29/2020
Rachel Rust, With Distinction – 5/29/2020
Jack Gordon – 5/30/2020
Koji Fujita, With Distinction – 5/30/2020
Austin Hunt, With Distinction – 5/31/2020
Seth Millington, With Distinction – 5/31/2020
, With Distinction – 5/31/2020
Christopher Raphel – 6/1/2020
Charan Singh – 6/1/2020
Felix Henning – 6/1/2020
Stephen DePietto – 6/2/2020
– 6/2/2020
Brayden Bergum, With Distinction – 6/4/2020
William Marron – 6/5/2020
Brandon Margio, With Distinction – 6/6/2020
Patrick Collins – 6/6/2020
– 6/6/2020
Sam Fisher, With Distinction – 6/7/2020
Yuhao Wang – 6/7/2020
, With Distinction – 6/7/2020
QiQi Chen, With Distinction – 6/7/2020
Hailee Orton, With Distinction – 6/8/2020
Humberto Arechiga, With Distinction – 6/8/2020
Collin Blanchard, With Distinction – 6/9/2020
Doris Shiju Zhang, With Distinction – 6/9/2020
Christian Jensen, With Distinction – 6/10/2020
Raj Patel, With Distinction – 6/10/2020
Brendan Johnson, With Distinction – 6/10/2020
, With Distinction – 6/11/2020
Josh Klein, With Distinction – 6/11/2020
Madison Gregor, With Distinction – 6/11/2020
Jamie Cantrell, With Distinction – 6/11/2020
Tristan Cade – 6/12/2020
, With Distinction – 6/12/2020
, With Distinction – 6/13/2020
Nimi Kalmanovich, With Distinction – 6/14/2020
, With Distinction – 6/15/2020
Ameya Bhalerao, With Distinction – 6/15/2020
Elizabeth DeLong, With Distinction – 6/18/2020
Alfredo Sanchez – 6/22/2020
Mackin Boylan, With Distinction – 6/22/2020
Steven Mulkhan Mulkhan – 6/22/2020
Akhil Salwan, With Distinction – 6/23/2020
Travis Duhn, With Distinction – 6/24/2020
Mark Ahrens – 6/28/2020
Erich Wallis, With Distinction – 6/29/2020
Colby Pair – 6/30/2020
Shoaeb Mohammed Khan – 6/30/2020
Shai Galapo – 7/1/2020
Sophia Linkas, With Distinction – 7/1/2020
jeff koby, With Distinction – 7/1/2020
Josue Pilon, With Distinction – 7/2/2020
Fernando Lopez, With Distinction – 7/2/2020
Kevin Dixon, With Distinction – 7/3/2020
Shakiel Randolph, With Distinction – 7/4/2020
Anna Ding, With Distinction – 7/4/2020
Sean Kelly – 7/6/2020
Ethan Ravencamp, With Distinction – 7/7/2020
Christopher Lubrano, With Distinction – 7/7/2020
Alejandro Mendoza – 7/9/2020
Norman Yam, With Distinction – 7/13/2020
William Carney – 7/16/2020
Zach Murset – 7/18/2020
Colton Cortese, With Distinction – 7/19/2020
Tobias Lopez – 7/22/2020
Daniel Hernandez – 7/30/2020
Zhen Wu – 7/31/2020
Joel Lazovitz, With Distinction – 8/5/2020
Antonio Chopitea – 8/27/2020
Robert Lawton, With Distinction – 8/27/2020
Ulysses Auger, With Distinction – 8/31/2020
Gabriel Ramirez, With Distinction – 9/8/2020
Pedro Brasil – 9/11/2020
Greer Shetler – 9/15/2020
Nathan Huynh – 10/17/2020
David Yedlin – 10/30/2020
Erik Bertin – 11/10/2020
Bryan Kee, With Distinction – 11/14/2020
George De Rossi – 11/19/2020
Muhammad Saad Kazi, With Distinction – 11/21/2020
Brian James, With Distinction – 12/2/2020
Fredrik Diederichs, With Distinction – 12/8/2020
luke masterman, With Distinction – 12/8/2020
timmy turner, With Distinction – 12/8/2020
Krish astro, With Distinction – 12/8/2020
Osman Khan, With Distinction – 12/8/2020
Kyle Corrigan, With Distinction – 12/19/2020
David Yedlin, With Distinction – 12/27/2020
Paul Zaharia, With Distinction – 12/28/2020
JT Williams – 12/29/2020
Shreyas Krishna Shrestha, With Distinction – 1/14/2021
Grant Butler, With Distinction – 2/4/2021
Mariano Diaz Rivera, With Distinction – 2/10/2021
Forrest Greenwalt, With Distinction – 2/26/2021
Colin Coughlin – 4/3/2021
Sajen Knueppel, With Distinction – 4/22/2021
Evan Colburn – 5/3/2021
Srikanth Ganduri – 5/13/2021
Raffaele Mannarelli – 6/9/2021
Jack Kenny, With Distinction – 7/3/2021
Hayden Glasco, With Distinction – 8/12/2021
Sunghoon Kim, With Distinction – 8/22/2021
Bucky Banks, With Distinction - 8/26/2019
Lorenzo Gonzales, With Distinction - 9/20/2019
Benjamín Dueñas, With Distinction - 9/21/2019
Manuel Del Campo, With Distinction - 9/24/2019
Madison Whalen, With Distinction - 9/26/2019
Daneisha Nichols - 10/9/2019
Bretton Bowman - 10/9/2019
Grant Kaku - 10/21/2019
Jinglei Cui, With Distinction - 10/24/2019
Shruti Mehta, With Distinction - 10/29/2019
Kiel Von Feldt - 11/21/2019
Truett Eckeberger - 12/4/2019
Anthony Torres - 12/7/2019
Christoph Leivici, With Distinction - 12/11/2019
Zhe Zhang, With Distinction - 12/16/2019
Ben Hoopes - 12/28/2019
Christopher Holder - 1/7/2020
Michael Swalwell, With Distinction - 1/8/2020
Moe Bakri - 1/10/2020
Carter Ransom - 1/12/2020
Ryan Guso, With Distinction - 1/17/2020
John Warman, With Distinction - 1/29/2020
Grayson Grisanti, With Distinction - 1/29/2020
Taylor Hare - 1/29/2020
Kert Kaiser, With Distinction - 1/29/2020
Ford Childress - 2/3/2020
Mikmoon - 2/5/2020
Aaron Flores - 2/5/2020
Dean Rowbotham, With Distinction - 2/6/2020
Spencer Langley, With Distinction - 2/6/2020
Nick Catalano, With Distinction - 2/7/2020
Sean Kniznik, With Distinction - 2/10/2020
Marko Brelih, With Distinction - 2/12/2020
Jack Campbell, With Distinction - 2/18/2020
Roberto Gallegos - 2/20/2020
Daniel Ciapka, With Distinction - 2/23/2020
Alvaro Carrillo-Sanchez, With Distinction - 2/24/2020
Joseph Escobar - 2/27/2020
Dimantha Andrahennady, With Distinction - 3/6/2020
Timothy Randall, With Distinction - 3/7/2020
Matthew Hayes, With Distinction - 3/8/2020
Alejandro Tellez Vazquez, With Distinction - 3/11/2020
Beecher Huegel - 3/16/2020
Michael Culham, With Distinction - 3/17/2020
Robert Baklik, With Distinction - 3/21/2020
Ritwik Bhatia, With Distinction - 3/22/2020
Yuyi Chen, With Distinction - 3/23/2020
Jared Donaldson, With Distinction - 3/23/2020
Alexander Narvaez-Duckworth, With Distinction - 3/26/2020
Nolan Slovinsky, With Distinction - 3/27/2020
Razvan Druga - 3/29/2020
Ryan Smith, With Distinction - 3/29/2020
Cole Cherney, With Distinction - 3/31/2020
Taisiia Tsvilyniuk, With Distinction - 4/1/2020
Christian Jones, With Distinction - 4/1/2020
Connor Mcgarvey, With Distinction - 4/2/2020
James Rudicil, With Distinction - 4/3/2020
Tracy Huang, With Distinction - 4/5/2020
Andrew Wright - 4/5/2020
Tyler Arnold, With Distinction - 4/6/2020
Dan Litt - 4/7/2020
Aaron Katz, With Distinction - 4/7/2020
David Sargent, With Distinction - 4/8/2020
Michael Castro-Blanco - 4/10/2020
Giancarlo Foppiano, With Distinction - 4/10/2020
Ernie Pichardo, With Distinction - 4/11/2020
Fernando Del Valle Soriano, With Distinction - 4/11/2020
Matthew L. O'Sullivan, With Distinction - 4/11/2020
Moises.coriat, With Distinction - 4/13/2020
Andrew Crawford, With Distinction - 4/14/2020
Patrick Watkins - 4/14/2020
Tim Carey - 4/15/2020
Joe Scheck, With Distinction - 4/16/2020
Chris Comet, With Distinction - 4/16/2020
Kevin Lopez - 4/16/2020
Anton Storchak, With Distinction - 4/16/2020
Jack Kemps, With Distinction - 4/18/2020
Dane Reinhart, With Distinction - 4/19/2020
Joshua Higgs - 4/20/2020
Charles Rusch, With Distinction - 4/21/2020
Luke Bingaman - 4/21/2020
Ryan Tice, With Distinction - 4/21/2020
Phillip Ruschmeyer, With Distinction - 4/22/2020
Wbnuga - 4/23/2020
Matthew Overton, With Distinction - 4/23/2020
Griffin Morgan, With Distinction - 4/24/2020
Brooks Arundel, With Distinction - 4/25/2020
Samuel Wadsworth, With Distinction - 4/27/2020
Connor Nolan, With Distinction - 4/28/2020
Francisco Flores - 4/28/2020
Zach Weik - 4/28/2020
Kyle Saviano, With Distinction - 4/29/2020
Joseph Burke, With Distinction - 4/29/2020
Adam Hurd, With Distinction - 4/30/2020
Bryan Butler - 4/30/2020
William Haire, With Distinction - 5/1/2020
Warren Crummett, With Distinction - 5/1/2020
Hunter Douglas, With Distinction - 5/2/2020
Christian Moore, With Distinction - 5/2/2020
Alysha Lewis, With Distinction - 5/2/2020
Vincent D'Aguilar, With Distinction - 5/3/2020
Luis Navarro, With Distinction - 5/3/2020
Mandeep Badesh, With Distinction - 5/3/2020
Oab269 - 5/4/2020
David Kimball, With Distinction - 5/4/2020
Paul Maguire - 5/4/2020
Benjamin Dankner, With Distinction - 5/4/2020
Caroline Luk, With Distinction - 5/4/2020
Andrew Hayward - 5/4/2020
Greg Drakos, With Distinction - 5/6/2020
Joshua Kim, With Distinction - 5/6/2020
Ting Zhang - 5/7/2020
Nichole Horton, With Distinction - 5/7/2020
Samantha Rosenberg, With Distinction - 5/7/2020
Jorge Arozarena, With Distinction - 5/7/2020
Naomi Santiago - 5/8/2020
Dylan Garner, With Distinction - 5/8/2020
Natalie Hunter, With Distinction - 5/9/2020
Alexandre Fisse, With Distinction - 5/10/2020
Leonard Arippol, With Distinction - 5/10/2020
Jason Zhang, With Distinction - 5/10/2020
Carter Jones, With Distinction - 5/11/2020
Shruti M11 - 5/11/2020
Matt Erfle - 5/11/2020
Mercy Angaine, With Distinction - 5/11/2020
Godson Akinnawo, With Distinction - 5/11/2020
Jonathan Edmond, With Distinction - 5/11/2020
Dylan Katz, With Distinction - 5/11/2020
Trevor White, With Distinction - 5/12/2020
Joshua Taub, With Distinction - 5/12/2020
Tadashi Ito - 5/12/2020
Robert Rosenblood - 5/13/2020
Miles Lewis - 5/13/2020
Paolo Buffa, With Distinction - 5/13/2020
Christopher Elder - 5/13/2020
Stephen Wheatcroft - 5/15/2020
Doris Shiju Zhang, With Distinction - 5/16/2020
Anuroy Vyas, With Distinction - 5/17/2020
William Rawlings, With Distinction - 5/17/2020
Alexis Goihman, With Distinction - 5/17/2020
Nathan Berman - 5/18/2020
Dilan Patel, With Distinction - 5/18/2020
Robert Brandt - 5/19/2020
Michael Sitzer, With Distinction - 5/19/2020
Emanuele Mortara - 5/20/2020
Evan Fichter - 5/20/2020
Cornell Dayne, With Distinction - 5/20/2020
Joe Duggan, With Distinction - 5/21/2020
Daniela Tour, With Distinction - 5/21/2020
Mark Huang, With Distinction - 5/21/2020
Ryan Peykar, With Distinction - 5/22/2020
Randall Hause, With Distinction - 5/22/2020
Jeremy Mack, With Distinction - 5/22/2020
Lukas Supovitz-Aznar, With Distinction - 5/23/2020
Peter Graves, With Distinction - 5/24/2020
Alejandro Banuelos, With Distinction - 5/26/2020
Julian Oquendo, With Distinction - 5/26/2020
George Sotelo, With Distinction - 5/27/2020
Nathan Allentoff, With Distinction - 5/28/2020
Tyler Rix - 5/28/2020
Maria Veronica Cardenas Vignes - 6/1/2020
Jay Van Ert - 6/1/2020
Justin Berk, With Distinction - 6/2/2020
Matthew O'Connor - 6/3/2020
Fares Albanna, With Distinction - 6/4/2020
Jing Hai, With Distinction - 6/5/2020
Daniel Smith, With Distinction - 6/5/2020
Jacqueline Yackow - 6/5/2020
Alec Deane - 6/5/2020
Tyler Ramatowski, With Distinction - 6/6/2020
Alexander Schwada, With Distinction - 6/6/2020
Davis Kirby, With Distinction - 6/6/2020
Christopher Cortes, With Distinction - 6/7/2020
Sam Byczek, With Distinction - 6/7/2020
Marcos Vidal, With Distinction - 6/7/2020
Kelly Kaine, With Distinction - 6/7/2020
Jose Escallon - 6/7/2020
Christie Audet - 6/8/2020
Julian Ford, With Distinction - 6/8/2020
Kevin Garden, With Distinction - 6/8/2020
Songyi Wang, With Distinction - 6/8/2020
Edward Fitzgerald, With Distinction - 6/8/2020
Nick Desatnick, With Distinction - 6/8/2020
Jake Celeste - 6/8/2020
Erik Ekstrom, With Distinction - 6/8/2020
Lee Gilbert - 6/8/2020
Ashley Anderson, With Distinction - 6/8/2020
Nick Premer, With Distinction - 6/8/2020
Sara Graham, With Distinction - 6/9/2020
Liam Conner - 6/9/2020
Guy Petrie, With Distinction - 6/10/2020
Alecia Mund, With Distinction - 6/10/2020
Jeremy Cohen, With Distinction - 6/10/2020
Hayden Gordon, With Distinction - 6/11/2020
Rafaela Bayas, With Distinction - 6/11/2020
Gina Shelton, With Distinction - 6/11/2020
Terry Chau, With Distinction - 6/11/2020
Christopher Rawlings, With Distinction - 6/12/2020
Mark Smith - 6/12/2020
Jeffrey Liu - 6/13/2020
Elle Miraglia, With Distinction - 6/14/2020
Massimo Mattacola, With Distinction - 6/14/2020
Brian Yang, With Distinction - 6/15/2020
Joseph Addeo - 6/15/2020
Danny Shurtz, With Distinction - 6/15/2020
Chris Nguyen, With Distinction - 6/16/2020
William Carlson, With Distinction - 6/16/2020
Jonathan Hammond, With Distinction - 6/16/2020
Spencer Ward - 6/16/2020
Marcus Minami, With Distinction - 6/17/2020
Ian Ozimec, With Distinction - 6/17/2020
Jack Mclaughlin2, With Distinction - 6/17/2020
Michael Canzanese, With Distinction - 6/17/2020
Gunnar Lawler - 6/18/2020
Maximilian Carson - 6/18/2020
Huriyet Anaz - 6/20/2020
Zbigniew Szczerba, With Distinction - 6/20/2020
Abbas Hararwala, With Distinction - 6/22/2020
Adam Fisher, With Distinction - 6/22/2020
Matthew Loving - 6/22/2020
Aaron Benenson, With Distinction - 6/22/2020
Billy Fauntleroy, With Distinction - 6/23/2020
Daniel Shuman, With Distinction - 6/23/2020
Akeel Marley, With Distinction - 6/23/2020
Robert Obradovich, With Distinction - 6/24/2020
Matthew Sheard, With Distinction - 6/25/2020
Ethan Cohen - 6/25/2020
Vladimir Bogdashkin, With Distinction - 6/25/2020
Garrett Smith - 6/29/2020
Michael Shudoma, With Distinction - 6/29/2020
Alex Tanke, With Distinction - 6/29/2020
Kok Tong Neo, With Distinction - 6/30/2020
Kyle Stoker, With Distinction - 6/30/2020
Chrysa Tsakopoulos - 7/1/2020
Reid Blynn, With Distinction - 7/1/2020
Benjamin Coden, With Distinction - 7/3/2020
Ben Baker, With Distinction - 7/3/2020
Madison Phillips, With Distinction - 7/3/2020
Jason Platkin, With Distinction - 7/3/2020
Cody Owens, With Distinction - 7/3/2020
Lise Wilks - 7/4/2020
Charles Looney, With Distinction - 7/5/2020
Jonathan Gibson, With Distinction - 7/5/2020
Zachary Janfaza, With Distinction - 7/6/2020
Robert Lee, With Distinction - 7/7/2020
Eli Iaslovits, With Distinction - 7/8/2020
Nicholas Brandenburg, With Distinction - 7/9/2020
Justin Thompson - 7/10/2020
Zach Sheck, With Distinction - 7/10/2020
Declan Casey - 7/10/2020
Daniel Mullen, With Distinction - 7/10/2020
Gershom Espinoza, With Distinction - 7/10/2020
Alexander Jimenez, With Distinction - 7/11/2020
Fernando Lopez, With Distinction - 7/11/2020
Matthew Dobson, With Distinction - 7/11/2020
Grace Amandes, With Distinction - 7/12/2020
David Gallagher - 7/12/2020
Keaton Sheffert - 7/12/2020
Ryan Naidu, With Distinction - 7/12/2020
Claire Mueller, With Distinction - 7/13/2020
Noah Zaionz, With Distinction - 7/13/2020
Hannah Jurgensmeyer, With Distinction - 7/13/2020
Harrison Fertitta, With Distinction - 7/13/2020
Michael Mena - 7/13/2020
Eric Rutledge - 7/14/2020
Reetinder Brar, With Distinction - 7/14/2020
Sam Kurtzman - 7/14/2020
Zachary Bertucci, With Distinction - 7/14/2020
Trevor Lundquist, With Distinction - 7/14/2020
Caleb Billingsley, With Distinction - 7/15/2020
Kevin Ruiz-Jimenez, With Distinction - 7/15/2020
Xiaoyi Zheng, With Distinction - 7/15/2020
Alex Andra Livingstone - 7/15/2020
Jacob Bass, With Distinction - 7/15/2020
Hannah Markowitz - 7/15/2020
Faizan Qureshi, With Distinction - 7/15/2020
Brendan Clark, With Distinction - 7/16/2020
Davis Oudet, With Distinction - 7/16/2020
Max Morgan, With Distinction - 7/16/2020
Alex Sykes, With Distinction - 7/16/2020
Godson Akinnawo, With Distinction - 7/16/2020
Fabian Castillo Diaz, With Distinction - 7/16/2020
Kevin Perrone, With Distinction - 7/16/2020
David Mcmurtrie - 7/16/2020
Jake Myatt, With Distinction - 7/16/2020
Riley Bartlett, With Distinction - 7/16/2020
Katherine Salvatori, With Distinction - 7/16/2020
Greydon Fauvre, With Distinction - 7/17/2020
Mervin Sarchet - 7/17/2020
John Mcintyre - 7/17/2020
Alex Guindon, With Distinction - 7/18/2020
Murtatha Ali, With Distinction - 7/19/2020
Conor Flannery, With Distinction - 7/19/2020
Ibrahim Mozawalla, With Distinction - 7/19/2020
Mccord Perry, With Distinction - 7/19/2020
Christopher Karpinski - 7/20/2020
Nolan Schmitz, With Distinction - 7/20/2020
Charles Jackson - 7/20/2020
Michael Ifejika, With Distinction - 7/20/2020
Parker Nielsen, With Distinction - 7/20/2020
Thiago Bittar, With Distinction - 7/21/2020
Samuel Odutola, With Distinction - 7/21/2020
Tyler Jutting, With Distinction - 7/21/2020
Campbell Miller, With Distinction - 7/21/2020
Victoria Fyfe - 7/22/2020
Khevin Pratt - 7/22/2020
Pat Portillo, With Distinction - 7/22/2020
Coleman Green, With Distinction - 7/22/2020
Alexis Devaney, With Distinction - 7/22/2020
Brian Dentry - 7/23/2020
Alex Rosen - 7/24/2020
Nick Blanda, With Distinction - 7/24/2020
Cody Ela, With Distinction - 7/24/2020
Thomas Blitchok, With Distinction - 7/26/2020
Rully Adisuryo, With Distinction - 7/27/2020
Jack Gottlieb, With Distinction - 7/27/2020
Lisa Wen, With Distinction - 7/28/2020
Jacob Epstein, With Distinction - 7/28/2020
Austin Fields, With Distinction - 7/28/2020
Reagan Rainwater, With Distinction - 7/28/2020
Andrew Chan, With Distinction - 7/29/2020
Moonlan Zhang - 7/29/2020
Michael Zhou, With Distinction - 7/30/2020
Robert Fox, With Distinction - 7/30/2020
Joseph Leon - 7/31/2020
Jacob Richter, With Distinction - 7/31/2020
Dylan Dimarchi, With Distinction - 8/1/2020
Jonathan Ellis, With Distinction - 8/1/2020
Benyamin Shaker, With Distinction - 8/2/2020
Jenna Rediker, With Distinction - 8/2/2020
Grace Bricken, With Distinction - 8/2/2020
Carly Adams, With Distinction - 8/3/2020
Jack Delaney, With Distinction - 8/3/2020
Jason Oelbaum, With Distinction - 8/4/2020
Samuel Cohen, With Distinction - 8/4/2020
Daniel Otero, With Distinction - 8/4/2020
Zachary Yoselowitz, With Distinction - 8/5/2020
Margot Ouazana, With Distinction - 8/5/2020
Olivia Cherry, With Distinction - 8/6/2020
Kun Liu - 8/7/2020
Andrew Smith, With Distinction - 8/7/2020
Parker Dietz, With Distinction - 8/7/2020
Jesse Mates - 8/7/2020
Matthew Schlidt - 8/8/2020
Spencer_thomas - 8/9/2020
William Martin, With Distinction - 8/9/2020
Eurner - 8/11/2020
Isaiah Charles - 8/11/2020
Nicki Pu, With Distinction - 8/11/2020
Katherine Pfluger, With Distinction - 8/11/2020
Celine Lim, With Distinction - 8/11/2020
Aliza Herz, With Distinction - 8/11/2020
Kyle Vizzo - 8/12/2020
Renauld Edwards, With Distinction - 8/12/2020
Lucian.fox, With Distinction - 8/13/2020
Emily Kimball, With Distinction - 8/13/2020
Spencer Sorfleet, With Distinction - 8/13/2020
Andrew Tai, With Distinction - 8/13/2020
Arman.boroumand, With Distinction - 8/13/2020
Caston Clausen, With Distinction - 8/13/2020
Travis Winston, With Distinction - 8/14/2020
Harlan Schade, With Distinction - 8/14/2020
Gary Li, With Distinction - 8/15/2020
Jessica Monterrubio, With Distinction - 8/16/2020
Haley Templeton - 8/16/2020
Eric Lawrence, With Distinction - 8/16/2020
Chandler Gee - 8/16/2020
Michael Glozman - 8/16/2020
Jose Latorre, With Distinction - 8/17/2020
Joshua Polner - 8/17/2020
Julia Hong - 8/17/2020
Dakota Brown, With Distinction - 8/17/2020
Austin Mose - 8/17/2020
Robert Faith, With Distinction - 8/17/2020
Steven Vasquez - 8/18/2020
Hannah Schmidt, With Distinction - 8/18/2020
Austin Hall - 8/18/2020
Wilson Cecil, With Distinction - 8/18/2020
Matt Fanelli, With Distinction - 8/18/2020
Eli Roddey, With Distinction - 8/18/2020
Jenn Barenbaum, With Distinction - 8/18/2020
William Phinney, With Distinction - 8/18/2020
Nick Beardslee, With Distinction - 8/18/2020
Jared Gentry, With Distinction - 8/19/2020
Stephanie Barton, With Distinction - 8/19/2020
Evan Kessler, With Distinction - 8/19/2020
Eason Zheng - 8/20/2020
Cari Lieberman, With Distinction - 8/20/2020
Kaylen Bach, With Distinction - 8/20/2020
Alec Delgado, With Distinction - 8/21/2020
Michael Hall - 8/21/2020
Shuai Li - 8/22/2020
Josh Yates, With Distinction - 8/22/2020
Cameron Chuback, With Distinction - 8/22/2020
Nicholas Favorito, With Distinction - 8/22/2020
Kmmcgee - 8/22/2020
Alexandra Marban, With Distinction - 8/22/2020
Mike Hayes, With Distinction - 8/22/2020
Tate Horowitz, With Distinction - 8/22/2020
Francisco Boccardo - 8/23/2020
Tineke Klaassen - 8/23/2020
Armando A Zapata M - 8/23/2020
Alberto Irazola, With Distinction - 8/23/2020
Cristina Griffith, With Distinction - 8/23/2020
Gabriel Diaz, With Distinction - 8/23/2020
Scott Porter - 8/24/2020
Caleb Augustyn, With Distinction - 8/24/2020
Emily Zhou, With Distinction - 8/24/2020
Antwan Felton, With Distinction - 8/24/2020
Alok Abhilash, With Distinction - 8/25/2020
Pierre Decoste, With Distinction - 8/26/2020
Nathaniel Hruby - 8/26/2020
Stephen Schraedel, With Distinction - 8/26/2020
Jp Hajjar, With Distinction - 8/27/2020
Douglas Tyler, With Distinction - 8/27/2020
Catherine Laspina, With Distinction - 8/28/2020
Mujie Li - 8/29/2020
Travor Nguyen, With Distinction - 8/29/2020
Cameron Izadi, With Distinction - 8/29/2020
Christopher Nickels, With Distinction - 8/30/2020
Austin Lee, With Distinction - 8/31/2020
Zachary Port, With Distinction - 8/31/2020
Luoya Xu, With Distinction - 8/31/2020
Niko Ludwig, With Distinction - 9/1/2020
Julian Sarrola, With Distinction - 9/2/2020
Robert Price, With Distinction - 9/3/2020
Graham Palmer, With Distinction - 9/3/2020
Emily Viera, With Distinction - 9/4/2020
Sabrina Tahir, With Distinction - 9/8/2020
Tom Hennessy, With Distinction - 9/8/2020
Bobby Cotsen - 9/8/2020
Vivek Kadiwar, With Distinction - 9/9/2020
Tiffany Meng - 9/10/2020
Davidnardella, With Distinction - 9/10/2020
Miles Farlow, With Distinction - 9/11/2020
Stephen White, With Distinction - 9/11/2020
Erika Read, With Distinction - 9/12/2020
Andrew Teague, With Distinction - 9/15/2020
Landon Wood, With Distinction - 9/15/2020
Roswell Dunn, With Distinction - 9/16/2020
Diego Guerra, With Distinction - 9/16/2020
Massimo Bucci, With Distinction - 9/16/2020
Jackmgordon63, With Distinction - 9/18/2020
Daniel Cox, With Distinction - 9/18/2020
Jacob Swartz, With Distinction - 9/19/2020
Grant Foster, With Distinction - 9/19/2020
Alejandro Cacciamani, With Distinction - 9/20/2020
Jett Brookes, With Distinction - 9/20/2020
Hannah Radziewicz - 9/21/2020
Bryan Grimm, With Distinction - 9/21/2020
Mbellomo1, With Distinction - 9/22/2020
Julian Olin, With Distinction - 9/22/2020
Truman Lee - 9/22/2020
Kyle Lewis, With Distinction - 9/22/2020
Benjamin Burnap, With Distinction - 9/23/2020
Shane Faulkner, With Distinction - 9/23/2020
Pfaender, With Distinction - 9/24/2020
Jack Kidd, With Distinction - 9/24/2020
Danah Yoon, With Distinction - 9/24/2020
Sam Bernstein - 9/24/2020
Gregg Infante, With Distinction - 9/25/2020
Cody Kuhne, With Distinction - 9/25/2020
Mengyuan Zhang, With Distinction - 9/26/2020
Joshua Lurie, With Distinction - 9/26/2020
Max Claussen, With Distinction - 9/27/2020
Jon Dehaan, With Distinction - 9/28/2020
Riley Simas, With Distinction - 9/28/2020
Elvins Derisma, With Distinction - 9/30/2020
Jane Walsh, With Distinction - 9/30/2020
Talisha Rice - 9/30/2020
Maria Noy, With Distinction - 9/30/2020
Sean Noone - 9/30/2020
Benjamin Wichlacz, With Distinction - 9/30/2020
Tyler Hitch, With Distinction - 9/30/2020
Alexander Wajsman, With Distinction - 10/1/2020
Eliza Ross, With Distinction - 10/1/2020
David Norris, With Distinction - 10/5/2020
Domenica Ulloa Rampani, With Distinction - 10/5/2020
Kyle Cunningham, With Distinction - 10/5/2020
Matthew Williamson, With Distinction - 10/5/2020
Christopher Schade, With Distinction - 10/5/2020
Eric Hirani - 10/6/2020
Andrew Bechtel, With Distinction - 10/6/2020
Dylan Stavitsky, With Distinction - 10/6/2020
Matthew Christopher, With Distinction - 10/6/2020
Jesse Clark, With Distinction - 10/6/2020
Maxwell Eisenberg, With Distinction - 10/6/2020
Jason Banky, With Distinction - 10/6/2020
Charles Buckner - 10/6/2020
Wyatt Andrews, With Distinction - 10/6/2020
Michael Bass, With Distinction - 10/6/2020
Shayne Burgess, With Distinction - 10/6/2020
Sammy Coker, With Distinction - 10/6/2020
Charles Madden, With Distinction - 10/6/2020
Nishan Singh, With Distinction - 10/6/2020
Blake Paradise, With Distinction - 10/6/2020
Daniel Becker, With Distinction - 10/6/2020
Justin Mackler, With Distinction - 10/6/2020
Barry Mcdonnell, With Distinction - 10/6/2020
Erin Elferdink, With Distinction - 10/6/2020
Andrew Hall, With Distinction - 10/6/2020
Jacob Eisenberg, With Distinction - 10/6/2020
Patrick Farese - 10/6/2020
Drew Davis - 10/6/2020
Adam Elbaz, With Distinction - 10/6/2020
Eric Amrhein, With Distinction - 10/6/2020
Cheney Hedrick, With Distinction - 10/6/2020
T2mo2424, With Distinction - 10/6/2020
Neal Patel, With Distinction - 10/6/2020
Katherine Rosica - 10/6/2020
Evan Moorhouse, With Distinction - 10/6/2020
Brett Bohannon, With Distinction - 10/6/2020
David Rieth, With Distinction - 10/6/2020
Maria Muzaurieta - 10/6/2020
James Shea, With Distinction - 10/6/2020
Amber Little - 10/6/2020
Noah Liebling, With Distinction - 10/6/2020
Cameron Cunningham, With Distinction - 10/6/2020
Louis Fischer - 10/6/2020
Fabiana Matiz - 10/6/2020
Saya Perez - 10/6/2020
Reis Spicer, With Distinction - 10/6/2020
Matthew Mosiello, With Distinction - 10/6/2020
Robert Roxas, With Distinction - 10/6/2020
Noah Rolnick, With Distinction - 10/6/2020
Kyle Hongamen, With Distinction - 10/6/2020
Victoria Noska, With Distinction - 10/7/2020
Shahid Feroz Patel, With Distinction - 10/7/2020
Andrew Hyans, With Distinction - 10/7/2020
Michael Parrott - 10/7/2020
Chak Pan Lee, With Distinction - 10/8/2020
Jason Teitelbaum, With Distinction - 10/8/2020
Joseph Cohen, With Distinction - 10/9/2020
Abdulaziz Almansour - 10/9/2020
Justin Delavalle - 10/10/2020
Blanka Thibaud, With Distinction - 10/10/2020
Octavio Rueda, With Distinction - 10/11/2020
Tucker Raney, With Distinction - 10/11/2020
Emil Jabbour, With Distinction - 10/11/2020
Yilin Wang - 10/12/2020
Jiang Jiang, With Distinction - 10/12/2020
Adam Bustamante, With Distinction - 10/12/2020
Aiden Lee - 10/12/2020
German Kurbaji, With Distinction - 10/13/2020
Romil Sorathia, With Distinction - 10/13/2020
Michael Deantonio, With Distinction - 10/13/2020
Patrick Ryan - 10/13/2020
Kelsey Clay, With Distinction - 10/13/2020
Parker Elliott, With Distinction - 10/13/2020
Aaron Weidner, With Distinction - 10/14/2020
Henry Ning - 10/15/2020
Sebastian Coello, With Distinction - 10/15/2020
Jonathan Solomon, With Distinction - 10/16/2020
James Hughes - 10/16/2020
Peraj Lulla, With Distinction - 10/17/2020
Zachary Brown, With Distinction - 10/18/2020
Abraham Ahmed, With Distinction - 10/20/2020
Daniel Sarman, With Distinction - 10/20/2020
Mark Gately, With Distinction - 10/22/2020
Cameron Beck, With Distinction - 10/22/2020
Cameron Ayles, With Distinction - 10/25/2020
Jack Lovell, With Distinction - 10/26/2020
Riley Duncan, With Distinction - 10/26/2020
Jikai Lu, With Distinction - 10/27/2020
Robert Abookire, With Distinction - 10/27/2020
Jonathan Garfinkel - 10/27/2020
William Massaro, With Distinction - 10/28/2020
Jacob Carlton, With Distinction - 10/28/2020
Donovan Varney, With Distinction - 10/29/2020
Virginie Rombauts, With Distinction - 11/3/2020
Hi.haon - 11/3/2020
Stefanieh - 11/4/2020
Will Long, With Distinction - 11/4/2020
Stephanie Decena, With Distinction - 11/4/2020
Edward Pierrepont - 11/5/2020
Craig Buchanan, With Distinction - 11/6/2020
Nicholas Harris, With Distinction - 11/6/2020
David Brena - 11/6/2020
Scott Tully, With Distinction - 11/6/2020
Julie Saunders, With Distinction - 11/7/2020
Thomas Jung, With Distinction - 11/9/2020
Warren Watson, With Distinction - 11/9/2020
Matthew Huff - 11/9/2020
Spencer Dok - 11/9/2020
Philip Lee - 11/9/2020
Jason Carter - 11/10/2020
Andrew Sloane - 11/12/2020
Alexander Holliday, With Distinction - 11/12/2020
Caroline Mcnamara, With Distinction - 11/12/2020
Chad Price, With Distinction - 11/13/2020
Jasmine Murphy, With Distinction - 11/14/2020
Madeline Koepper, With Distinction - 11/14/2020
Erik Bertin, With Distinction - 11/15/2020
Givi Karbelashvili, With Distinction - 11/16/2020
Samuel Moon, With Distinction - 11/16/2020
Michael Ackerman, With Distinction - 11/16/2020
Gianna Papa, With Distinction - 11/17/2020
Garrett Smith, With Distinction - 11/17/2020
Robert Blaine, With Distinction - 11/17/2020
Skylar Staib, With Distinction - 11/17/2020
Jackson Nethercot, With Distinction - 11/19/2020
Austin Risley - 11/20/2020
Michael Gorman, With Distinction - 11/20/2020
John Mcdonald, With Distinction - 11/22/2020
Matthew Candler, With Distinction - 11/22/2020
Bradly Wei, With Distinction - 11/23/2020
George De Rossi, With Distinction - 11/23/2020
David Okin, With Distinction - 11/23/2020
Shane Bierfeldt - 11/24/2020
Haojia Li - 11/24/2020
Matthew Henkel, With Distinction - 11/24/2020
Guillermo Del Camino, With Distinction - 11/25/2020
Robert Miyajima, With Distinction - 11/25/2020
Daniel Fallas, With Distinction - 11/27/2020
Nicholas Long, With Distinction - 11/28/2020
Max Bank, With Distinction - 11/28/2020
Jeremy Grab, With Distinction - 11/28/2020
Robert Hall, With Distinction - 11/28/2020
Joseph Keifer, With Distinction - 11/29/2020
Joseph Keifer, With Distinction - 11/29/2020
Cindy Wong - 11/29/2020
Troy Trecroce, With Distinction - 11/29/2020
Angus Brabham, With Distinction - 11/29/2020
Maher Alkanhal, With Distinction - 11/29/2020
Hunter Leonard, With Distinction - 11/29/2020
Will Ellis, With Distinction - 11/30/2020
David R Jones, With Distinction - 11/30/2020
Brian Bracey - 12/1/2020
Eduardo Rincón Gallardo Maldonado, With Distinction - 12/1/2020
Charles Williams - 12/1/2020
Joe Cookson, With Distinction - 12/3/2020
Lanebaker, With Distinction - 12/3/2020
Garrett Grassau, With Distinction - 12/5/2020
Dylan Rogers - 12/5/2020
Jorge Murillo, With Distinction - 12/5/2020
Taji Abdullah, With Distinction - 12/7/2020
Derek Richter, With Distinction - 12/7/2020
Robert Dolinar, With Distinction - 12/7/2020
Samantha Groves, With Distinction - 12/8/2020
Maya Phan, With Distinction - 12/8/2020
Andrew Smith - 12/8/2020
Joshua Cloutier - 12/8/2020
Dulce Mancilla Diaz, With Distinction - 12/8/2020
Shaye Wood - 12/8/2020
Ryan Hanna - 12/8/2020
Stuart Kocha - 12/8/2020
Kenneth Daniel - 12/8/2020
Michael Yucht, With Distinction - 12/8/2020
Karan Patel, With Distinction - 12/8/2020
Ciara Boyd, With Distinction - 12/8/2020
Austin Golove - 12/8/2020
Emanuel Gomez - 12/8/2020
Rhea Shrestha - 12/8/2020
Auston Pownall, With Distinction - 12/8/2020
Christopher Mendoza - 12/8/2020
Amoy Anderson - 12/8/2020
Charles Marsala - 12/8/2020
Belma Mehanovic, With Distinction - 12/8/2020
William Clarke - 12/8/2020
Jack Shannon, With Distinction - 12/8/2020
Joseph Paneque - 12/8/2020
Kamrynn Staana, With Distinction - 12/8/2020
Kayla Casella - 12/8/2020
Kyle Watts - 12/8/2020
Charlotte Porter, With Distinction - 12/8/2020
Juan Catano - 12/8/2020
Logan Foss - 12/8/2020
Robert Cerami, With Distinction - 12/8/2020
Hayden Wright, With Distinction - 12/8/2020
Zachary Carter - 12/8/2020
Eduardo Trejo - 12/8/2020
Nima Fazeli - 12/8/2020
Taylor Chandler - 12/8/2020
Klevis Bela, With Distinction - 12/8/2020
Kyle Hong, With Distinction - 12/8/2020
Claudia Jerez, With Distinction - 12/8/2020
Faizul Kabir, With Distinction - 12/8/2020
Trent Adams - 12/8/2020
Erik Jacobsen - 12/8/2020
Kaixin Zhou, With Distinction - 12/8/2020
Luke Kania, With Distinction - 12/8/2020
Nicolle Montoya - 12/8/2020
Rachel Phan, With Distinction - 12/8/2020
Jason Taylor - 12/8/2020
Mcqueenie Gavin, With Distinction - 12/9/2020
Ross Bernstein, With Distinction - 12/9/2020
Thomas Bralower, With Distinction - 12/9/2020
Matthew Kania, With Distinction - 12/9/2020
Tommy Romano, With Distinction - 12/9/2020
Alyssa Dequattro, With Distinction - 12/9/2020
Daniel Macmaster, With Distinction - 12/10/2020
Stanislas Turon-Barrere, With Distinction - 12/10/2020
Jared Benjamin, With Distinction - 12/10/2020
Jaspreet Padam, With Distinction - 12/10/2020
Boyd Somerville, With Distinction - 12/10/2020
Colin Stewart - 12/10/2020
Kathy Gao, With Distinction - 12/11/2020
Yves Lau, With Distinction - 12/11/2020
Sally Chen, With Distinction - 12/11/2020
Nathan Ho, With Distinction - 12/11/2020
Madeleine Payne, With Distinction - 12/11/2020
Andrew Philps, With Distinction - 12/11/2020
Jacob Park, With Distinction - 12/11/2020
Justin Roh, With Distinction - 12/11/2020
David Ballman, With Distinction - 12/11/2020
Sebastian Corte, With Distinction - 12/11/2020
Colleen Keenan, With Distinction - 12/11/2020
Joey Hakola, With Distinction - 12/11/2020
Jiaoyang Wang, With Distinction - 12/12/2020
Henrique Ferreira, With Distinction - 12/13/2020
Emily Bethel, With Distinction - 12/13/2020
Margo Black, With Distinction - 12/14/2020
Romel Fernandez - 12/14/2020
Kylie Lam, With Distinction - 12/14/2020
Nicholas Tsoutsouras - 12/15/2020
Angela Co, With Distinction - 12/15/2020
Bardia Baheri - 12/15/2020
Jason Hunter, With Distinction - 12/15/2020
Carl Davies - 12/15/2020
Spencer Tsai - 12/15/2020
Jaryd Rudolph, With Distinction - 12/16/2020
Luigi Crevoisier - 12/16/2020
Padraic Walsh, With Distinction - 12/16/2020
Caroline Reynolds, With Distinction - 12/17/2020
Mariel Arias, With Distinction - 12/17/2020
Tracy Germany, With Distinction - 12/18/2020
Darvin Hosseinyoun - 12/18/2020
Zade Dwaik, With Distinction - 12/19/2020
Terry Fields, With Distinction - 12/19/2020
Samantha Sugarman, With Distinction - 12/19/2020
Rafael Sanchez, With Distinction - 12/19/2020
Daniel Simonds, With Distinction - 12/21/2020
Aaron Farzan, With Distinction - 12/22/2020
Liheng Fan, With Distinction - 12/22/2020
Jared Fried, With Distinction - 12/22/2020
Rikesh Patel, With Distinction - 12/23/2020
David Gibbs, With Distinction - 12/23/2020
Bobby Trickett - 12/23/2020
Paolo Palazzolo Russo - 12/23/2020
Steven Nguyen, With Distinction - 12/23/2020
Thomas Beckett, With Distinction - 12/24/2020
Carter Langford - 12/24/2020
Corey James, With Distinction - 12/25/2020
Christopher Lento, With Distinction - 12/25/2020
James Brunelli, With Distinction - 12/25/2020
Kazi Najeeb Hasan, With Distinction - 12/27/2020
John Richards, With Distinction - 12/27/2020
Lucas Jones, With Distinction - 12/28/2020
Cynthia Phung, With Distinction - 12/29/2020
Andrew Johnson, With Distinction - 12/29/2020
Dana Lain, With Distinction - 12/30/2020
Abdulelah Shaikh, With Distinction - 12/30/2020
Carlos Figueroa, With Distinction - 12/30/2020
Ryan Thomas, With Distinction - 12/30/2020
Jason Luu, With Distinction - 12/30/2020
Nikki Thompson, With Distinction - 12/31/2020
Cristina Esquivel, With Distinction - 12/31/2020
Caleb Aldrich, With Distinction - 12/31/2020
Braxton Frasure, With Distinction - 1/2/2021
William Knight, With Distinction - 1/4/2021
Marco Price, With Distinction - 1/4/2021
Cole Mcnally, With Distinction - 1/4/2021
Carlos Lopez, With Distinction - 1/5/2021
Ryan Cashman, With Distinction - 1/5/2021
Robert Farah, With Distinction - 1/5/2021
Nuvie Ewharekuko, With Distinction - 1/6/2021
Will Davis, With Distinction - 1/7/2021
Samuel De Leon, With Distinction - 1/7/2021
Peter Dulany, With Distinction - 1/7/2021
Dongxu Zhang, With Distinction - 1/8/2021
Matthew Shell, With Distinction - 1/9/2021
Juan Moreno Rovira, With Distinction - 1/9/2021
Brandon Bannigan, With Distinction - 1/9/2021
Tj Fleming, With Distinction - 1/10/2021
James Ryan, With Distinction - 1/10/2021
Gregory Lopez, With Distinction - 1/10/2021
James Smith - 1/11/2021
Erich Cotham, With Distinction - 1/11/2021
Peng Jen Su - 1/11/2021
Kevin Bergbauer, With Distinction - 1/12/2021
Andrew Kim, With Distinction - 1/12/2021
Rafael Oliveira, With Distinction - 1/12/2021
David Henson - 1/12/2021
Tara Gupta - 1/13/2021
Nicholas Rosetta - 1/13/2021
Abby Louderback, With Distinction - 1/13/2021
Ryan Henkels, With Distinction - 1/13/2021
Michael Rapoli, With Distinction - 1/14/2021
Cameron Hsieh, With Distinction - 1/14/2021
Adam Miklas, With Distinction - 1/14/2021
Mario Alberto Bautista Solis - 1/14/2021
Sam Atefyekta, With Distinction - 1/14/2021
Geremy Mahn - 1/15/2021
Yi-Cheng Lu, With Distinction - 1/15/2021
Felix Bruglemans, With Distinction - 1/16/2021
Zach Mandel, With Distinction - 1/16/2021
Mohamad Ramadan, With Distinction - 1/17/2021
Dominick Isom - 1/18/2021
Conoly Koontz - 1/18/2021
Jacob Harper, With Distinction - 1/19/2021
Desmond Ellis, With Distinction - 1/19/2021
Qiwen Guan, With Distinction - 1/19/2021
Mammad Shahbazov, With Distinction - 1/19/2021
Cooper Dolan, With Distinction - 1/19/2021
Matt Stringham, With Distinction - 1/20/2021
Spencer Miller, With Distinction - 1/20/2021
Yu Zhang, With Distinction - 1/21/2021
Jake Waltemire - 1/21/2021
Ankur Chadha, With Distinction - 1/21/2021
Daniela Graterol, With Distinction - 1/22/2021
Thomas Altmayer, With Distinction - 1/22/2021
Heather Culver, With Distinction - 1/22/2021
Kenneth Coyle, With Distinction - 1/22/2021
Christopher Meyer - 1/22/2021
David Gold-Matejka - 1/22/2021
Jamie Honsberger, With Distinction - 1/22/2021
Tiffany Ning, With Distinction - 1/23/2021
Thomas Adamietz, With Distinction - 1/23/2021
Stone Barcomb, With Distinction - 1/23/2021
Allyson Mason - 1/23/2021
Allison Nudel, With Distinction - 1/23/2021
Brandon Serota, With Distinction - 1/24/2021
Junyu Huang, With Distinction - 1/24/2021
Eitan Newfield, With Distinction - 1/25/2021
Kirk Lindberg, With Distinction - 1/25/2021
John Stephens, With Distinction - 1/25/2021
James Williams, With Distinction - 1/25/2021
Sebastian Echeverri, With Distinction - 1/25/2021
Dane Garson - 1/26/2021
Brooke Womack, With Distinction - 1/27/2021
Mark Freis, With Distinction - 1/27/2021
Yonaton Abramove - 1/27/2021
Matthew Vincent - 1/27/2021
John Foley - 1/28/2021
Jason Moses, With Distinction - 1/28/2021
Alec Drury-Singh, With Distinction - 1/28/2021
William Robert Stahlke Iv - 1/28/2021
Kelly Ruffing, With Distinction - 1/29/2021
Jasmeet Combo, With Distinction - 1/30/2021
Sebastian Ordonez, With Distinction - 1/30/2021
Isaac Zhang, With Distinction - 1/31/2021
Omar Hinedi, With Distinction - 1/31/2021
Gianni Colbertaldo, With Distinction - 2/1/2021
Arshad Balwa - 2/1/2021
Nick Ingram - 2/1/2021
Christine Zhu, With Distinction - 2/1/2021
Mitchell Rice, With Distinction - 2/1/2021
Rebecca Ward, With Distinction - 2/1/2021
Aaron Kline, With Distinction - 2/1/2021
Jack Parmele - 2/3/2021
Creed Simonton - 2/3/2021
Claudia Verdecia, With Distinction - 2/3/2021
Rose Chambers - 2/3/2021
Tyler Walters, With Distinction - 2/3/2021
Rafael Pinero - 2/3/2021
Christian D'Emilia - 2/3/2021
Robert Carmer, With Distinction - 2/3/2021
Kyle Kilgore, With Distinction - 2/3/2021
Jake Paladino, With Distinction - 2/3/2021
Riley Lam, With Distinction - 2/3/2021
Stone Coburn, With Distinction - 2/3/2021
Reed Hollingsworth, With Distinction - 2/3/2021
Peyton Wann, With Distinction - 2/3/2021
Julia Howes, With Distinction - 2/4/2021
Mason Anderson, With Distinction - 2/4/2021
Bailey Dial - 2/4/2021
Nick Turner, With Distinction - 2/4/2021
Benjamin Farzley, With Distinction - 2/4/2021
Jacob Hall, With Distinction - 2/4/2021
Carter Perkins, With Distinction - 2/4/2021
Logan Risk, With Distinction - 2/4/2021
Andrew Simms, With Distinction - 2/4/2021
Joel Burgess, With Distinction - 2/4/2021
Jared Ross, With Distinction - 2/4/2021
Abby Oltmann, With Distinction - 2/4/2021
Andrew Robeson, With Distinction - 2/4/2021
Niko Prokos, With Distinction - 2/4/2021
Carter Maass, With Distinction - 2/4/2021
Tanner Lloyd - 2/4/2021
Ehlysa Ingalls - 2/4/2021
Levi Cope, With Distinction - 2/4/2021
Ashley Sekhon, With Distinction - 2/4/2021
Luke Bryan, With Distinction - 2/4/2021
Parker Lowe - 2/4/2021
Roby Martin, With Distinction - 2/4/2021
Max Gee - 2/4/2021
Kevin Tran, With Distinction - 2/4/2021
Alexander Durham, With Distinction - 2/4/2021
Will Harding - 2/4/2021
Cesar Torres, With Distinction - 2/4/2021
Ben Cook, With Distinction - 2/4/2021
Jake Vaughn, With Distinction - 2/4/2021
Taylor Price, With Distinction - 2/4/2021
Brenden Manivong, With Distinction - 2/4/2021
Chanpraseth Soam, With Distinction - 2/4/2021
Benjamin Gatewood, With Distinction - 2/4/2021
Alex Kucera, With Distinction - 2/4/2021
Andrew Gootos, With Distinction - 2/4/2021
William Holtforster - 2/5/2021
Logan Mahurt, With Distinction - 2/5/2021
Ming Hong Choi, With Distinction - 2/5/2021
Alvieno Stinson, With Distinction - 2/5/2021
Nick Dinunzio, With Distinction - 2/5/2021
Marshall Warnock, With Distinction - 2/6/2021
Sophie Huimin Tsai, With Distinction - 2/7/2021
Josiah Berhane, With Distinction - 2/7/2021
Yovani Leon - 2/7/2021
Chase Moralejo, With Distinction - 2/7/2021
James Smeallie, With Distinction - 2/8/2021
Robert Dubberly, With Distinction - 2/9/2021
Brydell Ward - 2/9/2021
Michael Denapoles, With Distinction - 2/10/2021
Tom Stewart, With Distinction - 2/10/2021
Holt Madden, With Distinction - 2/12/2021
Ariel Ilarslan Russo - 2/12/2021
James Pantano, With Distinction - 2/12/2021
Bryce Tobias, With Distinction - 2/13/2021
Khaled Abdelatey, With Distinction - 2/13/2021
Ben Rinke, With Distinction - 2/14/2021
Benjamin Vick, With Distinction - 2/14/2021
Kevin Dicalvo, With Distinction - 2/14/2021
Nino Bosco - 2/15/2021
Vanessa Whittington - 2/16/2021
Vedanth Shetty, With Distinction - 2/16/2021
Jeremy Heister, With Distinction - 2/16/2021
Mary Kate Cruise, With Distinction - 2/16/2021
Andrew Gordon, With Distinction - 2/17/2021
Saurav Sharma - 2/18/2021
Catherine Vilar, With Distinction - 2/18/2021
Joseph Pody, With Distinction - 2/20/2021
Jonathan Fearn, With Distinction - 2/21/2021
Ekaterina Udodova, With Distinction - 2/21/2021
Ashwath Ramdas, With Distinction - 2/21/2021
Joan Murrell, With Distinction - 2/21/2021
Nicolai Waner - 2/22/2021
Michael Verini, With Distinction - 2/22/2021
Andrea Sloter, With Distinction - 2/22/2021
Alden Kramer - 2/23/2021
Colby Wang, With Distinction - 2/23/2021
Francisco Gomez - 2/24/2021
Percy Oliver, With Distinction - 2/24/2021
Alfredo Sanchez, With Distinction - 2/24/2021
Nikki Liao, With Distinction - 2/25/2021
Benjamin Fortunato, With Distinction - 2/25/2021
Brendan Mullen, With Distinction - 2/25/2021
Nathan Medina, With Distinction - 2/25/2021
Brenson Saint Jean - 2/26/2021
Mitchell Pitts, With Distinction - 2/27/2021
Michael Ennis, With Distinction - 2/28/2021
Donovan Hampton, With Distinction - 2/28/2021
Benjamin Vincent, With Distinction - 3/2/2021
Michael Caballero, With Distinction - 3/3/2021
Jeremy Coppels, With Distinction - 3/3/2021
Daniel Skerrett - 3/3/2021
Jaesung Yoon, With Distinction - 3/3/2021
Cagan Friend, With Distinction - 3/4/2021
Arturo Salazar, With Distinction - 3/6/2021
Neal Robin, With Distinction - 3/7/2021
Brian Lee, With Distinction - 3/7/2021
Robert Manning, With Distinction - 3/11/2021
Brian Schroeder, With Distinction - 3/11/2021
Ray Vivas, With Distinction - 3/12/2021
George Baltakian - 3/12/2021
Ivy Nnakabonge, With Distinction - 3/13/2021
Colin Veney, With Distinction - 3/14/2021
Jonathan Hsu, With Distinction - 3/14/2021
Vasudha Kaul, With Distinction - 3/14/2021
Kristen Allen, With Distinction - 3/16/2021
Quinlan Hughes - 3/17/2021
David Morales, With Distinction - 3/17/2021
Aaron Tam, With Distinction - 3/20/2021
Gregory Fernandez, With Distinction - 3/20/2021
Grant Manny, With Distinction - 3/20/2021
Justin Markowitz, With Distinction - 3/21/2021
Isaac Lilien, With Distinction - 3/22/2021
Nicole Orlow - 3/24/2021
Roman.federico, With Distinction - 3/24/2021
Luke Lavelle, With Distinction - 3/25/2021
Todd Sessums - 3/25/2021
Snehann Kapnadak, With Distinction - 3/25/2021
Alden Freddo - 3/25/2021
Yasamin Enshaeian - 3/26/2021
Berkano Kleymeyer, With Distinction - 3/26/2021
William Clark, With Distinction - 3/26/2021
Luca Traverso, With Distinction - 3/27/2021
John Grib - 3/29/2021
Yaashna Kapoor, With Distinction - 3/31/2021
Jack Herring, With Distinction - 3/31/2021
Kelland Drumgoole, With Distinction - 4/2/2021
Joel Lazovitz, With Distinction - 4/2/2021
Christopher Wu, With Distinction - 4/3/2021
Dominic Freschet, With Distinction - 4/3/2021
Jack Zicovich, With Distinction - 4/6/2021
Joaquín Márquez, With Distinction - 4/6/2021
Wen Shao Chen, With Distinction - 4/6/2021
Grant Uberstine, With Distinction - 4/6/2021
Jack Graveline, With Distinction - 4/6/2021
Ankit Mittal - 4/7/2021
Doug Kutzgar, With Distinction - 4/7/2021
Sam Husken, With Distinction - 4/8/2021
Evan Carp - 4/13/2021
Sandrine Scott - 4/13/2021
James Near, With Distinction - 4/15/2021
Thomas Casey, With Distinction - 4/15/2021
Roberto Garcia, With Distinction - 4/15/2021
Landon Munson, With Distinction - 4/17/2021
Arthur Ranque, With Distinction - 4/18/2021
Charles Cook - 4/19/2021
Jeffrey Albaum, With Distinction - 4/20/2021
Nur Izzat Aiman Bin Nur Aziz, With Distinction - 4/20/2021
Morgan Grimsley, With Distinction - 4/20/2021
Jered Baker - 4/20/2021
Darren Rodriguez, With Distinction - 4/21/2021
Fernando Morales, With Distinction - 4/23/2021
Andrew Meyers - 4/23/2021
Jorge Murrieta, With Distinction - 4/23/2021
John Macke, With Distinction - 4/24/2021
Yi Liu - 4/25/2021
Marco Alvarez, With Distinction - 4/25/2021
Gabriella Sullo, With Distinction - 4/26/2021
Grace Carmouche, With Distinction - 4/26/2021
Chalin Fairly, With Distinction - 4/26/2021
Ben Westphal, With Distinction - 4/27/2021
Simin Zhang - 4/27/2021
Alyson Friedman, With Distinction - 4/27/2021
Clay Shaw, With Distinction - 4/27/2021
Tony Dang, With Distinction - 4/27/2021
Daniel Wiggins - 4/27/2021
Sean Kidwell, With Distinction - 4/27/2021
Lorencio Tizol, With Distinction - 4/27/2021
Valerie Hale - 4/27/2021
Kyle Moss-Solomon, With Distinction - 4/27/2021
Cheyenne Knueppel, With Distinction - 4/27/2021
Brenden Rendo - 4/27/2021
Aaron Ferrer - 4/27/2021
Sydney Alvarez - 4/27/2021
Guangfen Cox, With Distinction - 4/27/2021
Robert Leblanc - 4/27/2021
Eli Kovacs, With Distinction - 4/27/2021
Lucas Santana - 4/27/2021
Jordan Feldman - 4/27/2021
Tyler Tran, With Distinction - 4/27/2021
George Morgan, With Distinction - 4/27/2021
Casey Conn - 4/27/2021
Brandon Capon - 4/27/2021
Sean Baran - 4/27/2021
Nicholas Shirkey - 4/27/2021
Brayton Cauchon, With Distinction - 4/27/2021
Luis Naranjo - 4/27/2021
Samuel Cooper, With Distinction - 4/27/2021
Damian Berges, With Distinction - 4/27/2021
Diego Mangandi - 4/27/2021
Charles Duvall, With Distinction - 4/27/2021
Daniel Fixler - 4/27/2021
Leah Purdy, With Distinction - 4/27/2021
James Duke - 4/27/2021
Zachary Hobby, With Distinction - 4/27/2021
Andrew Dobson, With Distinction - 4/27/2021
Samuel Diaz, With Distinction - 4/27/2021
Eduardo Gutierrez, With Distinction - 4/27/2021
Rickey Cardona, With Distinction - 4/27/2021
Nick Dryfoos, With Distinction - 4/27/2021
Leonard Burmann, With Distinction - 4/27/2021
Patrick Traitz, With Distinction - 4/27/2021
Ana Laura Collado Diaz - 4/27/2021
Ashley Kurtzweg - 4/27/2021
Nicholas Neugebauer - 4/27/2021
Ariel Gardelin, With Distinction - 4/27/2021
Minh Tran - 4/27/2021
Noah Mease - 4/27/2021
Kenny Reiss, With Distinction - 4/27/2021
Jose Carapaica - 4/27/2021
Joshua Fidelo - 4/27/2021
Mario Bermudez - 4/27/2021
Reina Rodriguez - 4/27/2021
Bassel Fares - 4/27/2021
Robert Leary - 4/27/2021
Julio Allen - 4/27/2021
Yanelis Pagan - 4/27/2021
Brandon Gonzalez - 4/27/2021
Jazmina Hutchins, With Distinction - 4/27/2021
Nolan Moder, With Distinction - 4/29/2021
Steven Provenzano, With Distinction - 4/29/2021
William Bartlett, With Distinction - 4/30/2021
Christopher Ivsin, With Distinction - 4/30/2021
Ted Baltz, With Distinction - 4/30/2021
Marcus St Paul, With Distinction - 4/30/2021
Daniel Dishi, With Distinction - 4/30/2021
Denys Kashtelian, With Distinction - 5/2/2021
Luke Lecoche, With Distinction - 5/2/2021
Sameir Madden, With Distinction - 5/3/2021
Shubham Kansal - 5/3/2021
Nicholas Boccuzzi, With Distinction - 5/3/2021
Henry Wilhelm, With Distinction - 5/3/2021
Edley Alcide, With Distinction - 5/4/2021
Tomas Mashidlauskas, With Distinction - 5/4/2021
Mark Baker, With Distinction - 5/5/2021
Garret Barnes, With Distinction - 5/5/2021
Sitara Kishore, With Distinction - 5/6/2021
Christopher Lowder - 5/6/2021
Jaxon Kim, With Distinction - 5/6/2021
William Huschka, With Distinction - 5/6/2021
Robert Ceh, With Distinction - 5/7/2021
Oliver Woodruff, With Distinction - 5/7/2021
William Brault, With Distinction - 5/7/2021
Adam Surico - 5/8/2021
John Lyddon, With Distinction - 5/8/2021
Peter Waschenko, With Distinction - 5/8/2021
Riley Rossomanno, With Distinction - 5/8/2021
Jeff Wilhelm, With Distinction - 5/9/2021
Emily Heng - 5/10/2021
Alexander George, With Distinction - 5/10/2021
Tommy Larsen, With Distinction - 5/10/2021
Grant Link, With Distinction - 5/10/2021
John Thomas Schmidt, With Distinction - 5/12/2021
Eduardo Mancilla, With Distinction - 5/13/2021
Deric Obeldobel, With Distinction - 5/13/2021
Matthew Carfaro - 5/14/2021
Dennis Vila, With Distinction - 5/14/2021
Connor Mcadams - 5/14/2021
Luke Stup, With Distinction - 5/14/2021
Raymond Ryder, With Distinction - 5/15/2021
Antonio Lulli, With Distinction - 5/16/2021
Robert Cuthbertson - 5/16/2021
Wayne Thompson, With Distinction - 5/17/2021
Matthew Verrone, With Distinction - 5/17/2021
Sean Scott, With Distinction - 5/18/2021
Arif Momin, With Distinction - 5/19/2021
Gregory Miller - 5/19/2021
Harry Day-Reiss, With Distinction - 5/19/2021
Omar Metwally, With Distinction - 5/20/2021
Andrew Jin, With Distinction - 5/20/2021
Joel Scarbriel, With Distinction - 5/21/2021
Kaitlyn Vogel, With Distinction - 5/21/2021
David Emerson, With Distinction - 5/21/2021
Christopher Bares, With Distinction - 5/21/2021
Osama El-Gizawy, With Distinction - 5/22/2021
Chris Parthum, With Distinction - 5/24/2021
Sean Renken, With Distinction - 5/24/2021
Henry Menn, With Distinction - 5/25/2021
Jonathon Despres, With Distinction - 5/25/2021
Alex May, With Distinction - 5/26/2021
Steven Morrison, With Distinction - 5/26/2021
Cameron Nikroo, With Distinction - 5/26/2021
Jake Dieber, With Distinction - 5/27/2021
Andres Pinate, With Distinction - 5/27/2021
Hannah Nguyen, With Distinction - 5/27/2021
Chris Mendez - 5/27/2021
Don Flora - 5/29/2021
Haonan Liu, With Distinction - 5/29/2021
Aminata Sam - 5/29/2021
Trey Rielly, With Distinction - 5/30/2021
Young Uk Kim, With Distinction - 5/30/2021
Roman Orozov, With Distinction - 5/30/2021
Lorna Wilson, With Distinction - 5/30/2021
Aaliyah St. Louis, With Distinction - 5/31/2021
Kevin Huang, With Distinction - 5/31/2021
Andrew Fernandez - 5/31/2021
Julian Reed - 5/31/2021
Andy Yang - 6/1/2021
Natalia Crescitelli, With Distinction - 6/1/2021
Nick Nicola, With Distinction - 6/1/2021
Jackeline Ramirez, With Distinction - 6/2/2021
Cole Charbonnier, With Distinction - 6/2/2021
Collin Bryant, With Distinction - 6/2/2021
Lorren Royston, With Distinction - 6/2/2021
Rachel Wei, With Distinction - 6/2/2021
Maverick Noack, With Distinction - 6/2/2021
Nicholasludwig_1, With Distinction - 6/2/2021
Silvia Perez - 6/4/2021
Christopher Read, With Distinction - 6/4/2021
Christopher Marin, With Distinction - 6/5/2021
Edward Porter, With Distinction - 6/5/2021
Charles Mccabe, With Distinction - 6/6/2021
Tyson Bryan, With Distinction - 6/6/2021
Noor Elsharif - 6/7/2021
Sean Sindhunirmala, With Distinction - 6/7/2021
Caroline Curran - 6/7/2021
Kyle Trauffler - 6/7/2021
Shan Rodgers, With Distinction - 6/7/2021
Thapelo Tyson Mthembi, With Distinction - 6/7/2021
Joseph Lefors - 6/7/2021
Margaret Schlesinger - 6/7/2021
Cole Barnard, With Distinction - 6/7/2021
James Swartz, With Distinction - 6/7/2021
Jacob Alchek, With Distinction - 6/8/2021
Justin Lloyd, With Distinction - 6/8/2021
Adam Welch - 6/8/2021
Ryan Bowen, With Distinction - 6/8/2021
Suman Gidwani, With Distinction - 6/8/2021
Ding Wang, With Distinction - 6/8/2021
Benjamin Krupp - 6/8/2021
Timothy Brinsek, With Distinction - 6/9/2021
Matthew Newman, With Distinction - 6/9/2021
Rosemary Gong - 6/9/2021
Michael Mcmonigle, With Distinction - 6/9/2021
Daniel Kang Hyung Kim, With Distinction - 6/9/2021
Jacky Cheng, With Distinction - 6/10/2021
Kenneth Fleming - 6/11/2021
Christian Payne, With Distinction - 6/11/2021
Kristen Gao, With Distinction - 6/12/2021
Aris Dhanani - 6/12/2021
Stephen Graziano, With Distinction - 6/12/2021
Kylewuuu18, With Distinction - 6/12/2021
Jessica Weir, With Distinction - 6/13/2021
Igal Sultanov - 6/13/2021
Katherine Rauner, With Distinction - 6/14/2021
Aryeh Halpert - 6/14/2021
Elizabeth Delong - Kritenbrink, With Distinction - 6/14/2021
Tiffany Kaya, With Distinction - 6/15/2021
Tommy Waller, With Distinction - 6/15/2021
Edward Butler, With Distinction - 6/15/2021
Kurt Steinke, With Distinction - 6/16/2021
Stuart Young - 6/16/2021
Elias Ware, With Distinction - 6/16/2021
Kevin Carder, With Distinction - 6/16/2021
Jake Gosnell, With Distinction - 6/16/2021
Ruth Edgar, With Distinction - 6/16/2021
Lauren Greminger, With Distinction - 6/17/2021
Daniel Berenson, With Distinction - 6/17/2021
Eitan Gerszberg, With Distinction - 6/18/2021
Robbie Chaudhri, With Distinction - 6/18/2021
Alexander Lippert, With Distinction - 6/19/2021
Helen Clay - 6/19/2021
Roderick Hughes - 6/19/2021
James Peace, With Distinction - 6/20/2021
Caitlin Jinkins, With Distinction - 6/21/2021
Jon-Paul Dumelle - 6/21/2021
Matthew Kaufman, With Distinction - 6/21/2021
Nicolas Diaz, With Distinction - 6/22/2021
Lily Clarkson, With Distinction - 6/22/2021
Carlos Perez-Hernandez, With Distinction - 6/22/2021
Jake Celeste, With Distinction - 6/22/2021
Kevan Endres, With Distinction - 6/22/2021
Aaron Rose, With Distinction - 6/22/2021
Ephraim Poloner - 6/22/2021
Claire Dickman, With Distinction - 6/22/2021
Alex Leonard - 6/23/2021
Edward Fitzgerald - 6/23/2021
Seth Westerman, With Distinction - 6/23/2021
Clara Zion - 6/23/2021
Igor Kaga, With Distinction - 6/23/2021
Oleg Enik - 6/23/2021
Leah Mogabgab, With Distinction - 6/23/2021
Sean Holahan, With Distinction - 6/23/2021
Steve Martin, With Distinction - 6/23/2021
Jessica Matthews, With Distinction - 6/23/2021
Georgios Karachalios - 6/23/2021
Chris Moore, With Distinction - 6/23/2021
Tahnee German - 6/23/2021
Jennifer Buchanan - 6/23/2021
Tom Van Keppel, With Distinction - 6/23/2021
Lily Myers, With Distinction - 6/23/2021
Ward Frisby - 6/23/2021
Haley Bell, With Distinction - 6/23/2021
Larisa Strungs - 6/23/2021
Andy Paulus, With Distinction - 6/23/2021
Peyton Flory, With Distinction - 6/23/2021
Dallin Curriden - 6/23/2021
Eric Ritchie - 6/23/2021
Calvin Short, With Distinction - 6/23/2021
Will Miner - 6/24/2021
Edward Lindner - 6/24/2021
Taylor Williams, With Distinction - 6/24/2021
Stephanie De Zarraga - 6/27/2021
John Andreasen - 6/27/2021
Douglas Carrescia, With Distinction - 6/28/2021
Darren Wong, With Distinction - 6/28/2021
Jonathan Epstein - 6/29/2021
Madison Rollins - 6/29/2021
Angel Gonzalez, With Distinction - 6/29/2021
Edward Harari, With Distinction - 6/29/2021
Alastair Kilner - 6/30/2021
Arianne Wong, With Distinction - 6/30/2021
Charul Chandra, With Distinction - 6/30/2021
Shannon Comolli, With Distinction - 6/30/2021
Maxx Trotsky - 6/30/2021
Zev Markowitz, With Distinction - 6/30/2021
Ogden Leyens, With Distinction - 6/30/2021
Luis Butz De Leon, With Distinction - 7/4/2021
Yuhao Zhang, With Distinction - 7/5/2021
Charles Adare, With Distinction - 7/6/2021
Max Brodsky, With Distinction - 7/6/2021
Josiah Hatch, With Distinction - 7/6/2021
Halsey Mchenry - 7/7/2021
Clayton Barker, With Distinction - 7/8/2021
Erick Reyes, With Distinction - 7/8/2021
Shikher Verma, With Distinction - 7/9/2021
Mallori Allen - 7/9/2021
Megan Mangines, With Distinction - 7/10/2021
Samika Jain, With Distinction - 7/11/2021
Charlie Jacob, With Distinction - 7/11/2021
Frank Desloge, With Distinction - 7/12/2021
Margot Luria, With Distinction - 7/12/2021
Harrison Jones, With Distinction - 7/12/2021
Timothy Smith, With Distinction - 7/13/2021
Bar Castro Hon, With Distinction - 7/13/2021
James Marinier, With Distinction - 7/13/2021
Marques Bouyer, With Distinction - 7/14/2021
Maya Klaris, With Distinction - 7/14/2021
Alex Charles, With Distinction - 7/14/2021
Alison Hu, With Distinction - 7/14/2021
Jorge Fournier, With Distinction - 7/14/2021
Gage Sanchez, With Distinction - 7/14/2021
Caroline Britt, With Distinction - 7/14/2021
Alyssa Galindo, With Distinction - 7/14/2021
Nix Park, With Distinction - 7/15/2021
Adam James - 7/15/2021
Juan Avila, With Distinction - 7/15/2021
Lauren Hughes, With Distinction - 7/15/2021
Cassie Scandalios - 7/15/2021
Hannah O'Brien - 7/15/2021
William Segal, With Distinction - 7/15/2021
Neil Duggal, With Distinction - 7/16/2021
William Guerriero, With Distinction - 7/16/2021
John Anton, With Distinction - 7/16/2021
Luke Montgomery, With Distinction - 7/16/2021
Kyle Stein - 7/16/2021
Brock Thompson, With Distinction - 7/16/2021
Hannah Mann, With Distinction - 7/16/2021
Sarah Bishop, With Distinction - 7/16/2021
Silas Newsome, With Distinction - 7/16/2021
Carter Steuart, With Distinction - 7/16/2021
Colin Morrison, With Distinction - 7/16/2021
Ethan Benville, With Distinction - 7/16/2021
Kevin Perrone, With Distinction - 7/16/2021
Sanjana Neerumalla, With Distinction - 7/16/2021
Felix Tubiera, With Distinction - 7/16/2021
Benjamin Marshall, With Distinction - 7/19/2021
Logan Rocco, With Distinction - 7/19/2021
Rikki Jack, With Distinction - 7/19/2021
Adam La Croix, With Distinction - 7/19/2021
Ali Almansour, With Distinction - 7/20/2021
Jack Frank, With Distinction - 7/20/2021
Ray Zhang, With Distinction - 7/21/2021
Peter Ballantyne-Barrell, With Distinction - 7/21/2021
Quinn Komen, With Distinction - 7/21/2021
Hunter Shaughnessy - 7/21/2021
Caroline Ward, With Distinction - 7/22/2021
Christopher Melligon - 7/22/2021
Su Jung Choi, With Distinction - 7/23/2021
Mitchell Stark, With Distinction - 7/23/2021
Thomas Porter, With Distinction - 7/24/2021
Julia Cornelissen - 7/24/2021
Luca Civita, With Distinction - 7/25/2021
Alexander Low, With Distinction - 7/27/2021
Eugene Soto-Beregovoy, With Distinction - 7/27/2021
Jeff Zenger, With Distinction - 7/27/2021
Cameron Newton, With Distinction - 7/28/2021
Zachary Goldman - 7/28/2021
Michael Porco, With Distinction - 7/28/2021
Matt Turzewski, With Distinction - 7/28/2021
Liam Stenberg, With Distinction - 7/29/2021
Gabe Quigley, With Distinction - 7/31/2021
Francois Turner, With Distinction - 7/31/2021
Dominic Guan, With Distinction - 8/1/2021
William Dixon, With Distinction - 8/1/2021
Dallin Blank - 8/3/2021
Ayuk Ebang Etah Akoh Ebai, With Distinction - 8/3/2021
Juan.lumbreras, With Distinction - 8/4/2021
William Hamilton, With Distinction - 8/4/2021
Amani Jawhari, With Distinction - 8/5/2021
Jackson Law, With Distinction - 8/5/2021
Jay Lee, With Distinction - 8/5/2021
Monica Pernecky, With Distinction - 8/5/2021
Cooper Mccarthy - 8/6/2021
Brett Ingleby - 8/7/2021
Spiros Buas - 8/7/2021
Garreth Lautz, With Distinction - 8/7/2021
Yash Bazari, With Distinction - 8/8/2021
Will Biderman, With Distinction - 8/8/2021
Cole Berry - 8/9/2021
Dominic Jose - 8/9/2021
Daniel Brennan, With Distinction - 8/11/2021
Claudio Toledo, With Distinction - 8/11/2021
Daniel Smicka, With Distinction - 8/11/2021
Daniel Ugalde, With Distinction - 8/12/2021
Mitch Souza, With Distinction - 8/12/2021
Matthew Rakowich - 8/12/2021
Jacob Cohen - 8/12/2021
Ryancorcoran, With Distinction - 8/13/2021
Jackson Helms, With Distinction - 8/13/2021
Yong-Teng Chang, With Distinction - 8/15/2021
Chase Rebeil - 8/15/2021
Ariel Wolf - 8/15/2021
Miguel Martinez - 8/15/2021
John Cordrey - 8/16/2021
Andrew Tham, With Distinction - 8/16/2021
Connor Kreis, With Distinction - 8/16/2021
Grace Singel, With Distinction - 8/16/2021
Sophie West - 8/16/2021
Ed Johnson, With Distinction - 8/16/2021
Lanier Evans, With Distinction - 8/16/2021
Justin Cafiero, With Distinction - 8/17/2021
George Clark, With Distinction - 8/17/2021
Philip Jones, With Distinction - 8/17/2021
Garrett Andrew, With Distinction - 8/17/2021
Cameron Osiecki, With Distinction - 8/17/2021
Jintae Kim, With Distinction - 8/17/2021
Claire Park, With Distinction - 8/17/2021
Gregory Clancy - 8/17/2021
Valeria Castillo - 8/17/2021
Kate Ryan, With Distinction - 8/17/2021
Christopher Yasko, With Distinction - 8/17/2021
Jun Yong Lee, With Distinction - 8/17/2021
Parker Watson, With Distinction - 8/18/2021
Karim Marshall, With Distinction - 8/18/2021
William Prince, With Distinction - 8/18/2021
Walter Schoultz, With Distinction - 8/19/2021
Maximillian Doctor, With Distinction - 8/19/2021
David Severe - 8/19/2021
Bradley Galazka, With Distinction - 8/20/2021
Clayton Brand, With Distinction - 8/20/2021
Ben Brown - 8/20/2021
Andrew Feibus - 8/20/2021
David Rooney - 8/21/2021
Jackson Mades, With Distinction - 8/21/2021
Kene Orjioke, With Distinction - 8/21/2021
Connor Henderson, With Distinction - 8/21/2021
Connor Rockrohr, With Distinction - 8/21/2021
Sebastian Vanegas, With Distinction - 8/21/2021
Jason Law, With Distinction - 8/22/2021
Michael Aronow, With Distinction - 8/23/2021
Ryan Converse - 8/23/2021
Hayden.glasco, With Distinction - 8/24/2021
Alireza Mohseni-K, With Distinction - 8/24/2021
Yunchao Fu, With Distinction - 8/24/2021
Avery Rustad, With Distinction - 8/24/2021
Arvin I, With Distinction - 8/25/2021
Brice Richardson - 8/25/2021
Nicholas Martucci, With Distinction - 8/25/2021
Max Spitalnick - 8/26/2021
Nathan Viskovich, With Distinction - 8/26/2021
Mary Eason, With Distinction - 8/26/2021
William Ghadimi, With Distinction - 8/27/2021
Jonathan Song, With Distinction - 8/27/2021
Matheus Frosi Amaral, With Distinction - 8/28/2021
Damian Betancourt, With Distinction - 8/28/2021
Rosario Missiti, With Distinction - 8/28/2021
Matthew Sherburne, With Distinction - 8/28/2021
Benjamin Jansen, With Distinction - 8/28/2021
Trent Lupton, With Distinction - 8/29/2021
Austin Settoon, With Distinction - 8/29/2021
Matthew Monahemi - 8/29/2021
Sofia Olivera, With Distinction - 8/30/2021
Trevor Young, With Distinction - 8/30/2021
Jiaqi Deng, With Distinction - 8/30/2021
Davide Frignani, With Distinction - 8/31/2021
Cameron Miller - 9/1/2021
Milton Baxter, With Distinction - 9/2/2021
Cole Borror, With Distinction - 9/3/2021
Mitchell Saltzstein, With Distinction - 9/3/2021
Tasuku Agari, With Distinction - 9/4/2021
Tarik Gezmis, With Distinction - 9/5/2021
Rubin Carlis, With Distinction - 9/5/2021
Elijah Lax - 9/6/2021
Jose De La Tejera, With Distinction - 9/6/2021
Nabil Darmani, With Distinction - 9/6/2021
Connor Laverty, With Distinction - 9/7/2021
Morgan Mccuaig - 9/7/2021
Addy Pillsbury, With Distinction - 9/8/2021
Kris Cisek, With Distinction - 9/8/2021
Richard Hacking - 9/8/2021
Matthew Kelling, With Distinction - 9/8/2021
Josh Leblanc, With Distinction - 9/8/2021
Briana Rayhaun, With Distinction - 9/10/2021
Bennett Ensor - 9/10/2021
Emrose Bhalesha, With Distinction - 9/10/2021
Jeremy Fischer - 9/10/2021
Justin Okumus, With Distinction - 9/11/2021
Richard Lewis - 9/12/2021
Kerry Joyce - 9/12/2021
Timothy Loiseau, With Distinction - 9/13/2021
Jamie Mcnamara - 9/13/2021
Kurt Cullen, With Distinction - 9/13/2021
Ryan Sullivan - 9/13/2021
Mayra Juarez Gutierrez, With Distinction - 9/13/2021
Paul Jakobson - 9/13/2021
Nathan Litwiller - 9/14/2021
Gabrielle Sirazi, With Distinction - 9/14/2021
Pedro Delgado - 9/14/2021
Michael Daniels, With Distinction - 9/15/2021
Chad Duncan, With Distinction - 9/15/2021
Thomas Pirinoli, With Distinction - 9/16/2021
Michelle Man Chi Lo, With Distinction - 9/16/2021
Michael Maskalunas, With Distinction - 9/16/2021
Abigail Jolley - 9/17/2021
Reid Allen, With Distinction - 9/18/2021
Joshua Mader, With Distinction - 9/19/2021
Brandon Li, With Distinction - 9/19/2021
Wen-Hao Chin, With Distinction - 9/20/2021
Angel Oliveras, With Distinction - 9/20/2021
Kristin Webb - 9/20/2021
Tyler Helbing - 9/20/2021
Chase Johnson, With Distinction - 9/21/2021
Anson Shum - 9/21/2021
Alex Chandler, With Distinction - 9/24/2021
Ty Bieber, With Distinction - 9/25/2021
Keith Rosenthal - 9/26/2021
George Abood, With Distinction - 9/27/2021
Ines Andrade, With Distinction - 9/29/2021
Kason Curtis, With Distinction - 9/29/2021
Edward Turner, With Distinction - 9/29/2021
Zhangbai Xia, With Distinction - 9/29/2021
Henry Sullivan, With Distinction - 9/30/2021
Brandon Atchison - 9/30/2021
Nick Menchero, With Distinction - 10/1/2021
Adam Drummond, With Distinction - 10/1/2021
Kamu Kakizaki, With Distinction - 10/2/2021
Corey Hancock, With Distinction - 10/5/2021
Andrew Putney - 10/5/2021
David Fitzpatrick, With Distinction - 10/5/2021
Ethan Vaughan, With Distinction - 10/5/2021
Michael Gibbons - 10/5/2021
Andrei Larion, With Distinction - 10/5/2021
Bradley Buff, With Distinction - 10/5/2021
Bradley Yucht, With Distinction - 10/5/2021
Jack Reddeck, With Distinction - 10/5/2021
Michael Sabat - 10/5/2021
Brittani Nelson, With Distinction - 10/5/2021
Nicholas Sharpe, With Distinction - 10/5/2021
Nicole Barba, With Distinction - 10/5/2021
Spencer Preston - 10/5/2021
Manny Cordova, With Distinction - 10/5/2021
Carson Black, With Distinction - 10/5/2021
John Woodman, With Distinction - 10/5/2021
Brian Piccolo, With Distinction - 10/5/2021
Carolina Varas, With Distinction - 10/5/2021
Matthew Gomez, With Distinction - 10/5/2021
Anthony Cimino, With Distinction - 10/5/2021
Khaled Al Budeiri - 10/5/2021
Matthew Kabolowsky, With Distinction - 10/5/2021
Leah Thompson, With Distinction - 10/5/2021
Sophia Palombo - 10/5/2021
Sophia Palombo - 10/5/2021
Mary Kate Urbanski - 10/5/2021
Jake Duff - 10/5/2021
Francesco Camarda, With Distinction - 10/5/2021
Clark Israeli - 10/5/2021
Louis Danner, With Distinction - 10/5/2021
Chad Brittain, With Distinction - 10/5/2021
Pedro Vintimilla, With Distinction - 10/5/2021
Brayden Curry, With Distinction - 10/5/2021
Joshua Umman, With Distinction - 10/5/2021
Moriah Marquette, With Distinction - 10/5/2021
Morgan Odonnell, With Distinction - 10/5/2021
Alejandro Castrillon - 10/5/2021
Alexis Ashley, With Distinction - 10/5/2021
Thomas Cholnoky, With Distinction - 10/5/2021
Nicolas Hernandez - 10/5/2021
Jayme Morrall, With Distinction - 10/5/2021
Paige Kramer, With Distinction - 10/5/2021
Andrew Greven, With Distinction - 10/8/2021
Maria Lombardi, With Distinction - 10/10/2021
Hope Stephens, With Distinction - 10/10/2021
Andrew Miller, With Distinction - 10/11/2021
Samuel Levin - 10/11/2021
Mark Meigher - 10/13/2021
Tyler.arnold@ufl.edu - 10/13/2021
John Stader, With Distinction - 10/13/2021
Amanda Aaron, With Distinction - 10/14/2021
Matthew Brown, With Distinction - 10/14/2021
Juhi Goyal, With Distinction - 10/16/2021
Samuel Fourman, With Distinction - 10/17/2021
Conner Whitton, With Distinction - 10/17/2021
Andrew Shattuck, With Distinction - 10/18/2021
John Akpan, With Distinction - 10/19/2021
Conrad Tomaszkiewicz, With Distinction - 10/19/2021
Cole Smith, With Distinction - 10/19/2021
Ning Li - 10/20/2021
Gerald Bennett, With Distinction - 10/22/2021
Takis Gounaris, With Distinction - 10/24/2021
Michael Fernandez, With Distinction - 10/24/2021
Chris Armstrong, With Distinction - 10/24/2021
Daniel Gilmartin, With Distinction - 10/25/2021
Spencer Kuhlman, With Distinction - 10/25/2021
Janet Pudelko - 10/26/2021
Anastasia Irodotou, With Distinction - 10/27/2021
Spencer Keenan, With Distinction - 10/28/2021
Oliver Monaghan, With Distinction - 10/29/2021
Kevin Ottati, With Distinction - 10/30/2021
Justin Kim, With Distinction - 10/30/2021
Chase Gaiefsky, With Distinction - 10/30/2021
Aramis Santiago, With Distinction - 11/1/2021
Daniel O'Halloran, With Distinction - 11/1/2021
Thad Doyka - 11/1/2021
Xu Zhang, With Distinction - 11/2/2021
Rohit Kolar, With Distinction - 11/2/2021
Charlie Wigdale, With Distinction - 11/3/2021
Noah Bezar, With Distinction - 11/4/2021
Russell Goodman, With Distinction - 11/5/2021
Sukhmaneet Singh, With Distinction - 11/6/2021
Max-Ulrich Nickel, With Distinction - 11/6/2021
Hosam El-Hammamy, With Distinction - 11/7/2021
Sean Whang, With Distinction - 11/7/2021
Tyler Mead, With Distinction - 11/8/2021
Alexander Ryan - 11/9/2021
Noah Schott - 11/11/2021
Haoying Sun, With Distinction - 11/11/2021
Anthony Trinh, With Distinction - 11/12/2021
Allison Werner, With Distinction - 11/13/2021
Lindsey Stegall, With Distinction - 11/13/2021
Aaron Silver, With Distinction - 11/15/2021
Carmen Zammiello - 11/15/2021
Jack Loewengart, With Distinction - 11/15/2021
Michael Greendyk, With Distinction - 11/15/2021
Nick Salameda, With Distinction - 11/15/2021
Devan Perry, With Distinction - 11/15/2021
Daniel Gorczyca, With Distinction - 11/16/2021
Cole Gandolfo, With Distinction - 11/17/2021
Elizabeth Tillman - 11/17/2021
Charlotte Lefkovitz, With Distinction - 11/17/2021
Alex Crosby, With Distinction - 11/17/2021
Michael Madden - 11/18/2021
James Mendel, With Distinction - 11/19/2021
Moksh Rajput, With Distinction - 11/21/2021
Alex Mcfarland, With Distinction - 11/24/2021
Cooper Cross, With Distinction - 11/24/2021
Robert Reeves, With Distinction - 11/25/2021
Dyesha Jones - 11/26/2021
Kyle Duffy, With Distinction - 11/26/2021
Corban Williams, With Distinction - 11/26/2021
Tyler Brochstein - 11/26/2021
Archer Price, With Distinction - 11/27/2021
Thomas Grazer, With Distinction - 11/27/2021
Weichen Li, With Distinction - 11/27/2021
Reed Bennett, With Distinction - 11/28/2021
Nolan Greeley, With Distinction - 11/28/2021
Hugh Mackay, With Distinction - 11/28/2021
Eric Lysak - 11/29/2021
Scott Weigel, With Distinction - 11/29/2021
John Lee, With Distinction - 11/29/2021
Josh Urwick, With Distinction - 11/30/2021
Kimberly Faist, With Distinction - 11/30/2021
Garrett Besse, With Distinction - 11/30/2021
Brooke Kellam, With Distinction - 11/30/2021
Kameron Mccloskey, With Distinction - 11/30/2021
Madison Crump, With Distinction - 11/30/2021
Larry Buckner, With Distinction - 11/30/2021
Ebee Johnson, With Distinction - 11/30/2021
Logan Gibbons, With Distinction - 12/1/2021
Imran Anwar, With Distinction - 12/1/2021
John Kanaan, With Distinction - 12/1/2021
Jason Sung - 12/2/2021
Winston Fox, With Distinction - 12/2/2021
Alexandru Cojocaru - 12/2/2021
Nick Ureta, With Distinction - 12/2/2021
Reese Howell, With Distinction - 12/3/2021
Michael Pavicic, With Distinction - 12/5/2021
Charley Gates, With Distinction - 12/7/2021
Dennis Kennelly, With Distinction - 12/7/2021
Samuel Hoffmann, With Distinction - 12/7/2021
Kimberly Saintjuste - 12/7/2021
Emily Adrid - 12/7/2021
Matthew Newsome - 12/7/2021
Kelly Zaccaria - 12/7/2021
Mitchell Inloes, With Distinction - 12/7/2021
Michael Malinasky - 12/7/2021
Anthony Thomason, With Distinction - 12/7/2021
Leah Benjamin, With Distinction - 12/7/2021
Lawson Lawrence - 12/7/2021
Jay Patel - 12/7/2021
Elyana Hernandez - 12/7/2021
Daniel Garcia, With Distinction - 12/7/2021
Jessica Graffy, With Distinction - 12/7/2021
Jacob Manor - 12/7/2021
Victoria Johnston - 12/7/2021
Jackson Lee - 12/7/2021
Keaton Mcdonald - 12/7/2021
Emma Stack - 12/7/2021
Thomas Martinez - 12/7/2021
Gabriela Rozo - 12/7/2021
Kyle Horvath - 12/7/2021
Siddi Hussain - 12/7/2021
Fayola Adgar - 12/7/2021
Daniel Rodriguez - 12/7/2021
Jeffrey Banack - 12/7/2021
Derek Lipp - 12/7/2021
Nebi Balla, With Distinction - 12/7/2021
Jessica Bartles, With Distinction - 12/7/2021
Tyler Saavedra, With Distinction - 12/7/2021
Cameron Gonzalez, With Distinction - 12/7/2021
Dalton Wells - 12/7/2021
Michael Mendez - 12/7/2021
Lucy Senseman - 12/7/2021
Tyler Anselm - 12/7/2021
Javier Amaya - 12/7/2021
Nicholas Martino - 12/7/2021
Kasper Kujala - 12/7/2021
Manuel Droz - 12/7/2021
Shaelah Mcgilton - 12/7/2021
Guillermo Amaya - 12/7/2021
Joshua Scharnberg - 12/7/2021
Naama Yair, With Distinction - 12/7/2021
Malik Little - 12/7/2021
Farhan Bari, With Distinction - 12/7/2021
Jordan Lips - 12/7/2021
Junaid Al Balushi, With Distinction - 12/7/2021
Alondra Bravo Martinez - 12/7/2021
Taylor Moorman, With Distinction - 12/7/2021
Aseel Al Sabahi - 12/7/2021
Jensen Helling - 12/7/2021
Andres Hernandez Betancur - 12/7/2021
Zach Martinez - 12/7/2021
Luana Cegarra - 12/7/2021
Yaniel Carrillo - 12/7/2021
Adem Zec - 12/7/2021
William Pritchard, With Distinction - 12/7/2021
Riley Southard - 12/7/2021
Noli Muratovic, With Distinction - 12/8/2021
Brett Barr - 12/10/2021
Jean-Marc Peters, With Distinction - 12/12/2021
Elisa Sacchetti, With Distinction - 12/14/2021
Hongxia Gao, With Distinction - 12/15/2021
Brad Schierhorn, With Distinction - 12/15/2021
Preston Landrum, With Distinction - 12/16/2021
Alex Poulos, With Distinction - 12/17/2021
Julian Lombard, With Distinction - 12/19/2021
Benjamin Schloss, With Distinction - 12/19/2021
Zach Scott, With Distinction - 12/20/2021
Pedro Blanco, With Distinction - 12/20/2021
David Goodrich, With Distinction - 12/20/2021
Michael Merlone, With Distinction - 12/20/2021
Alexander Baker, With Distinction - 12/22/2021
Locke Williamson, With Distinction - 12/22/2021
Ryan Gold, With Distinction - 12/22/2021
Gus Avarello, With Distinction - 12/23/2021
Lane Robertson, With Distinction - 12/23/2021
Nick Larsen, With Distinction - 12/23/2021
Nikhil Patel, With Distinction - 12/26/2021
Kevin Cai, With Distinction - 12/26/2021
Michael Sellis, With Distinction - 12/26/2021
Nicholas Fong, With Distinction - 12/26/2021
James Zubizarreta, With Distinction - 12/27/2021
Mark Lutzker, With Distinction - 12/27/2021
Morgan Hammans, With Distinction - 12/27/2021
Eli Wilson, With Distinction - 12/27/2021
Brandon Fikhman, With Distinction - 12/28/2021
Braxton Smith, With Distinction - 12/29/2021
Brian Robinson, With Distinction - 12/29/2021
Carlos Lopez, With Distinction - 12/29/2021
Miles Colley, With Distinction - 12/29/2021
Ryan Rabinowitz, With Distinction - 12/30/2021
Praveen Akula - 12/30/2021
Aidan Regan - 12/30/2021
Alex Talebi - 12/31/2021
Chuan Huang, With Distinction - 12/31/2021
Teddy Nacos, With Distinction - 1/1/2022
Khalid Yosufzai, With Distinction - 1/1/2022
Moritz Mayer, With Distinction - 1/1/2022
Justin Hatchett, With Distinction - 1/2/2022
Robert Hitchcock, With Distinction - 1/3/2022
Daniel Harkins, With Distinction - 1/3/2022
Robert Curren, With Distinction - 1/3/2022
Julien Bergametti, With Distinction - 1/3/2022
Jaime Uota, With Distinction - 1/3/2022
Anson Call, With Distinction - 1/3/2022
Lucas Luquire, With Distinction - 1/4/2022
Ritvik Chennupati - 1/6/2022
Omar Albudeiri - 1/6/2022
Maxwell Van Hollebeke - 1/6/2022
Eitan Abu, With Distinction - 1/6/2022
Elena Shenkar, With Distinction - 1/7/2022
Broderick Flagg, With Distinction - 1/7/2022
Hayde Gibson, With Distinction - 1/7/2022
Mason Pistone, With Distinction - 1/7/2022
Austin Eassa, With Distinction - 1/7/2022
Evan Bopp, With Distinction - 1/7/2022
Adam Steiner, With Distinction - 1/7/2022
Youngin Kang, With Distinction - 1/7/2022
Nicholas Fortney, With Distinction - 1/7/2022
Max Kingman, With Distinction - 1/8/2022
Clay Garrison, With Distinction - 1/8/2022
Patrick Craig, With Distinction - 1/8/2022
Justin Kurian, With Distinction - 1/8/2022
Timothy Rutten, With Distinction - 1/9/2022
Daniel Kim - 1/9/2022
Zachary Estes, With Distinction - 1/10/2022
Frank Okonkwo, With Distinction - 1/10/2022
Przemyslaw Moson, With Distinction - 1/10/2022
Greg Wanamaker, With Distinction - 1/10/2022
Mitch Stedman, With Distinction - 1/11/2022
Ryan Valte - 1/11/2022
Frank Cerullo, With Distinction - 1/11/2022
Paul Bared, With Distinction - 1/11/2022
Lauren Usleber, With Distinction - 1/11/2022
Nathan Highducheck, With Distinction - 1/12/2022
Brian Kelly, With Distinction - 1/12/2022
Jaison Abraham, With Distinction - 1/12/2022
Nathan Ward - 1/12/2022
David Carroll, With Distinction - 1/12/2022
Michael Fernandez, With Distinction - 1/12/2022
Christopher Durbin, With Distinction - 1/12/2022
Blake Andrus, With Distinction - 1/12/2022
Brennan Maisch, With Distinction - 1/12/2022
Ben Kagan, With Distinction - 1/12/2022
Steven Nikolidakis, With Distinction - 1/12/2022
Joe Rose, With Distinction - 1/13/2022
John Nora, With Distinction - 1/13/2022
Tim O'Neill - 1/13/2022
Darryl Irish, With Distinction - 1/13/2022
Tate Teague, With Distinction - 1/13/2022
Mitchell Levine, With Distinction - 1/13/2022
Jake Green, With Distinction - 1/13/2022
Tessa Huynh, With Distinction - 1/13/2022
Jordan Angel, With Distinction - 1/13/2022
Anthony Konstant, With Distinction - 1/13/2022
Luke Watts-Russell, With Distinction - 1/13/2022
Martin Culver, With Distinction - 1/13/2022
Duke Ballard, With Distinction - 1/14/2022
Timothy Kraics, With Distinction - 1/14/2022
Robert Johnson, With Distinction - 1/14/2022
Stanley Cheung, With Distinction - 1/15/2022
John Orscheln, With Distinction - 1/15/2022
Taylor Samuel, With Distinction - 1/15/2022
Richard Olguin, With Distinction - 1/16/2022
Daniel Flynn, With Distinction - 1/16/2022
Stephanie Nihei, With Distinction - 1/17/2022
Cory Dolins - 1/17/2022
Bruce Park, With Distinction - 1/17/2022
Benjamin Gabayan, With Distinction - 1/19/2022
Abraham Chapa, With Distinction - 1/19/2022
Anna Robinowitz, With Distinction - 1/19/2022
Michael Salusti, With Distinction - 1/20/2022
Devin Cass - 1/20/2022
Maosen Li - 1/20/2022
Gabriel Braun, With Distinction - 1/21/2022
Gianni Lupo - 1/21/2022
Theodore Shurman, With Distinction - 1/21/2022
Sebastian Urcuyo, With Distinction - 1/22/2022
Alex Barnes - 1/22/2022
Robert Forenza, With Distinction - 1/22/2022
Hubert Yang, With Distinction - 1/22/2022
Wilson Purcell, With Distinction - 1/22/2022
Marc Graff - 1/23/2022
Axel Adriel Peluso Nieto, With Distinction - 1/23/2022
Jose Esquerdo - 1/23/2022
Will Larossa - 1/23/2022
Megan Milburn, With Distinction - 1/23/2022
Josh White - 1/23/2022
Giuliano D'Arrigo - 1/24/2022
Paige Peltzer, With Distinction - 1/24/2022
Stefano Biasini - 1/24/2022
Jannette Ruiz - 1/25/2022
David Furst, With Distinction - 1/25/2022
Zachary Schneider, With Distinction - 1/25/2022
John Zuber, With Distinction - 1/26/2022
Max Freeman, With Distinction - 1/26/2022
Francis Weiss, With Distinction - 1/26/2022
Jacob Jaimes, With Distinction - 1/27/2022
Susan Charette - 1/28/2022
Cyrus Johnson, With Distinction - 1/28/2022
Joel Dayton, With Distinction - 1/28/2022
Addison Haas, With Distinction - 1/28/2022
Trevor Du, With Distinction - 1/29/2022
Doug White, With Distinction - 1/29/2022
Cheyenne Jannace, With Distinction - 1/29/2022
Travis Haynes, With Distinction - 1/30/2022
Sang Yoon Park, With Distinction - 1/30/2022
Anna Gorman, With Distinction - 1/30/2022
Alyssa Jordan - 1/30/2022
Matthew Deluca - 1/30/2022
Alberto Ribe, With Distinction - 1/30/2022
Andrea Allison - 1/30/2022
Tj Welch - 1/31/2022
Becca Punch, With Distinction - 1/31/2022
Elizabeth Shawkey - 1/31/2022
Claire Petty, With Distinction - 1/31/2022
Logan Heydt, With Distinction - 1/31/2022
Remi Guyett - 1/31/2022
Edward Ford, With Distinction - 1/31/2022
Bartow Morgan, With Distinction - 1/31/2022
Chris Langley, With Distinction - 1/31/2022
Garrett Daniel, With Distinction - 1/31/2022
Katie Young, With Distinction - 1/31/2022
Eliza Eastman, With Distinction - 2/1/2022
Carter Vincent, With Distinction - 2/1/2022
Violet West - 2/1/2022
Phillip Rinehart, With Distinction - 2/1/2022
Matthew Mitarotonda - 2/1/2022
Tamara Baptiste - 2/1/2022
Barry Stokes, With Distinction - 2/1/2022
Ross Koehn, With Distinction - 2/1/2022
Andrew Johnstone, With Distinction - 2/1/2022
Jared Hobby - 2/1/2022
Alexis Ward, With Distinction - 2/1/2022
Dunklin Anthony, With Distinction - 2/2/2022
Gill Cavazos - 2/2/2022
Adam Smith - 2/2/2022
Taighe Wilson, With Distinction - 2/3/2022
Amanda Aruny - 2/3/2022
Jonathan Fischer, With Distinction - 2/4/2022
Patricio Dieck, With Distinction - 2/5/2022
Juan Diaz - 2/6/2022
Julie Snyder, With Distinction - 2/7/2022
Renzo Figueroa Pacheco, With Distinction - 2/7/2022
Conner Carlson, With Distinction - 2/7/2022
Matthew Bucklaew, With Distinction - 2/9/2022
Casey Christensen, With Distinction - 2/10/2022
Griffin Saltzman, With Distinction - 2/10/2022
Mitchell Rusten, With Distinction - 2/12/2022
Justin Simmons, With Distinction - 2/13/2022
Yechiel Dan - 2/15/2022
A.j. Navarro, With Distinction - 2/15/2022
Aviv Pikary, With Distinction - 2/16/2022
Charles Wolf, With Distinction - 2/16/2022
Andres Defelice, With Distinction - 2/17/2022
Tarek Elkady, With Distinction - 2/18/2022
Daniel Ugalde, With Distinction - 2/18/2022
Michael Herzog - 2/18/2022
Ben Lindau, With Distinction - 2/18/2022
Regan Goldberg, With Distinction - 2/19/2022
Justyna Stachnik - 2/20/2022
Sara Anglin, With Distinction - 2/20/2022
Christopher Adnams, With Distinction - 2/20/2022
Grace Nolan, With Distinction - 2/20/2022
Francisco Castillo, With Distinction - 2/21/2022
Rand Hough, With Distinction - 2/21/2022
Nathaniel Hanson - 2/21/2022
Wilson Lin, With Distinction - 2/21/2022
Isul Kim, With Distinction - 2/21/2022
Joe Alessandro, With Distinction - 2/21/2022
Michael A Richardson, With Distinction - 2/21/2022
Elijah Walsh, With Distinction - 2/21/2022
Ty Price, With Distinction - 2/22/2022
Matthew Arnold, With Distinction - 2/22/2022
Jordany Dominique - 2/22/2022
John Lee - 2/22/2022
David Bailey - 2/22/2022
Socrate Exantus - 2/22/2022
Brianna Sawyer - 2/22/2022
Nicholas Wilder, With Distinction - 2/23/2022
Juan Cortes, With Distinction - 2/23/2022
Max Goldstein, With Distinction - 2/24/2022
Vitaly Polovin, With Distinction - 2/24/2022
Chiharu Watanabe, With Distinction - 2/25/2022
Kathryn Hintze, With Distinction - 2/27/2022
Isaac Shapiro, With Distinction - 2/27/2022
Felix Nguyen, With Distinction - 2/28/2022
Young-Deok Won, With Distinction - 3/1/2022
Bishop Polizzotto - 3/1/2022
Robert Rodman, With Distinction - 3/2/2022
Angelo Culotta, With Distinction - 3/2/2022
Jay Kennedy, With Distinction - 3/3/2022
Jacob Bennett, With Distinction - 3/3/2022
Jack Wang - 3/3/2022
Braxton Barker, With Distinction - 3/4/2022
Sebastian Smith - 3/5/2022
Marshall Shaffar-Roggeveen, With Distinction - 3/5/2022
Kevinnick Pong, With Distinction - 3/5/2022
John Robinson, With Distinction - 3/9/2022
Quintin Farrell, With Distinction - 3/11/2022
Luciano Torres, With Distinction - 3/12/2022
George Carameros - 3/13/2022
Brady Neill - 3/13/2022
Jordan Nesvig, With Distinction - 3/14/2022
Zachary St Vincent, With Distinction - 3/14/2022
Logan Roche, With Distinction - 3/15/2022
Mitchell Berry - 3/15/2022
Maurice Zekaria, With Distinction - 3/16/2022
Daniel Fredericks, With Distinction - 3/19/2022
Idan Tarsky, With Distinction - 3/20/2022
Andrew Howard, With Distinction - 3/20/2022
Douglas Kosann, With Distinction - 3/20/2022
Meeran Amir, With Distinction - 3/21/2022
Jake Hymes - 3/21/2022
Alexander Corbett, With Distinction - 3/21/2022
John Hester, With Distinction - 3/22/2022
Jeff Storer, With Distinction - 3/22/2022
Yun Do Hwang, With Distinction - 3/22/2022
Tevin Johnson, With Distinction - 3/22/2022
Jonah Brunel, With Distinction - 3/22/2022
Andrew Lui, With Distinction - 3/23/2022
Hao Wang, With Distinction - 3/23/2022
Matthew Smith, With Distinction - 3/25/2022
Michael Glaspie - 3/25/2022
Joshua Edwards, With Distinction - 3/25/2022
Lakatos John, With Distinction - 3/26/2022
Gabriela Espinoza Ferrini, With Distinction - 3/26/2022
Arjun Lenin, With Distinction - 3/27/2022
Elijah Gilbert, With Distinction - 3/28/2022
Linsley Truesdale, With Distinction - 3/28/2022
Tyler Crabtree, With Distinction - 3/28/2022
Barira Siddiqui - 3/29/2022
Ryan To, With Distinction - 3/30/2022
Susan Al'Khafaji, With Distinction - 3/31/2022
Matteo Coppola, With Distinction - 3/31/2022
Louay Elsakr - 3/31/2022
Tevi Lawson - 4/1/2022
Elizabeth Romenesko - 4/1/2022
Dayuan Liu, With Distinction - 4/3/2022
Luca Mura, With Distinction - 4/3/2022
Max Feld, With Distinction - 4/3/2022
Steven Taylor, With Distinction - 4/5/2022
Luke Schmit, With Distinction - 4/5/2022
David Irvine, With Distinction - 4/5/2022
Daniel Drew, With Distinction - 4/5/2022
Justin Goodin - 4/6/2022
Zach Finkelstein, With Distinction - 4/7/2022
James Zollinger, With Distinction - 4/7/2022
Alexa Corwin, With Distinction - 4/10/2022
Joshua Luke, With Distinction - 4/11/2022
Nick Rosa, With Distinction - 4/12/2022
Jack Ryan, With Distinction - 4/13/2022
Shaique Rahman - 4/13/2022
Chen Li, With Distinction - 4/13/2022
James Chau, With Distinction - 4/17/2022
Jordan Jachens, With Distinction - 4/17/2022
Michael Tagaris, With Distinction - 4/17/2022
Leon Spies, With Distinction - 4/18/2022
Jared Mittelberg, With Distinction - 4/18/2022
Christopher Hapchuk, With Distinction - 4/19/2022
Gadea Aguado Sierra, With Distinction - 4/20/2022
Seamus Walsh - 4/20/2022
Dean Tal, With Distinction - 4/20/2022
Annika Mccool, With Distinction - 4/22/2022
Francisco Hernandez Ramos, With Distinction - 4/27/2022
Alexander Holler - 4/27/2022
Ammad Mansoor, With Distinction - 4/27/2022
Alexander Makransky, With Distinction - 4/27/2022
Peter Bassil, With Distinction - 4/27/2022
Noah Van Der Burgt - 4/27/2022
Yelena Orlovic - 4/27/2022
Kyle Ryan, With Distinction - 4/27/2022
Thomas Hoyla - 4/27/2022
Katelynn Bontrager - 4/27/2022
Kalyn Gaines - 4/27/2022
Daniel Yalch - 4/27/2022
Didi Malka - 4/27/2022
Devlin Brick, With Distinction - 4/27/2022
Ethan Rossler - 4/27/2022
Alexander Mora - 4/27/2022
Rita Prevosk - 4/27/2022
Liane Chatuel - 4/27/2022
Michael Bitar - 4/27/2022
Leonardo Contreras - 4/27/2022
Emily Lowery - 4/27/2022
Stephanie Flores, With Distinction - 4/27/2022
Dyllan Mastrodicasa - 4/27/2022
Jacob Berard, With Distinction - 4/27/2022
Tanner Fetters, With Distinction - 4/27/2022
Mohammed Al Mahrouqi - 4/27/2022
Reis Ehman, With Distinction - 4/27/2022
Cole Sumner, With Distinction - 4/27/2022
Chetan Patel - 4/27/2022
Lori Rattray, With Distinction - 4/27/2022
Valentina Suero, With Distinction - 4/27/2022
Haley Blatt - 4/27/2022
Michael Barbosa, With Distinction - 4/27/2022
Payal Kumari - 4/27/2022
Macy Santo, With Distinction - 4/27/2022
Katelyn Johnson - 4/27/2022
Esteban Rodnon - 4/27/2022
Aaron Jacobson - 4/27/2022
James Goich, With Distinction - 4/27/2022
Kellen Huntley - 4/27/2022
Katherine Mendez Zambrano, With Distinction - 4/27/2022
Alex Leon - 4/27/2022
Cypress Johnson, With Distinction - 4/27/2022
Jake Perna, With Distinction - 4/27/2022
Sarah Teel - 4/27/2022
Jack Goodkin - 4/27/2022
Samuel Pereira - 4/27/2022
Michael Davanzo, With Distinction - 4/27/2022
Nola Smith - 4/27/2022
Nick Larocca, With Distinction - 4/27/2022
Jaxon Fellers - 4/27/2022
Matthew Miller - 4/27/2022
Mcneilmohen Ridore - 4/27/2022
Ryann Mcgee - 4/27/2022
Amanda Chin - 4/27/2022
Owen Mildner - 4/27/2022
Lola Berastegui - 4/27/2022
Patrick Coppieters, With Distinction - 4/27/2022
Robert Rodriguez - 4/27/2022
William Pham, With Distinction - 4/27/2022
Susan Perez, With Distinction - 4/27/2022
Vismay Patel - 4/27/2022
Brandon Schrot, With Distinction - 4/27/2022
Morgan Sterling, With Distinction - 4/27/2022
Seth Singh - 4/27/2022
Gregory Pasek, With Distinction - 4/27/2022
Kishan Patel, With Distinction - 4/27/2022
Alexander Schebovitz - 4/27/2022
Richard Zhu, With Distinction - 4/27/2022
Rechelle Suggs - 4/27/2022
Garrett Racenstein, With Distinction - 4/27/2022
Adam Glantz - 4/27/2022
Kayla Estrada, With Distinction - 4/27/2022
Anastasiia Mykhailenko, With Distinction - 4/27/2022
Amritpaul Singh - 4/27/2022
Nicholas Taylor - 4/27/2022
Jacob Avni, With Distinction - 4/27/2022
Milton Sanchez - 4/27/2022
Matthew Pineda - 4/27/2022
Tristan Frank, With Distinction - 4/28/2022
James Wood, With Distinction - 4/29/2022
Alexander Siomin - 5/1/2022
Nicholas Catranis, With Distinction - 5/2/2022
Matt Brading - 5/3/2022
Jacob Rodriguez, With Distinction - 5/4/2022
Hoan Vo, With Distinction - 5/4/2022
Kibong Cho, With Distinction - 5/5/2022
Nathaniel Hruby - 5/6/2022
Michael Doxie, With Distinction - 5/8/2022
Sammi Benak, With Distinction - 5/9/2022
Krissy Saraceno, With Distinction - 5/9/2022
Timur Murillo - 5/9/2022
Ian Maclachlan - 5/10/2022
Rick Gropper, With Distinction - 5/11/2022
Caleb Keeney, With Distinction - 5/11/2022
Sarin Kotoyan, With Distinction - 5/12/2022
Kolton Thompson, With Distinction - 5/12/2022
Ryan Krafczik, With Distinction - 5/13/2022
Treivor Cashion, With Distinction - 5/13/2022
Zachary Matz - 5/13/2022
Kitty Mareschi - 5/15/2022
Gyu Eon Kim, With Distinction - 5/15/2022
Carlos Silguero - 5/16/2022
Ahmad Alhuwaidi, With Distinction - 5/16/2022
Adam Tarantino, With Distinction - 5/17/2022
Hunt Mitchell, With Distinction - 5/17/2022
Ismael Concepcion, With Distinction - 5/17/2022
Jon Hartunian, With Distinction - 5/17/2022
Bryce Daneshrad - 5/17/2022
David Paredes, With Distinction - 5/18/2022
Henrique Melo, With Distinction - 5/19/2022
Daniel Sapozhnikov, With Distinction - 5/20/2022
Ismael Almanzar, With Distinction - 5/20/2022
William Marron - 5/20/2022
Mark Delillo, With Distinction - 5/20/2022
Zoe Athanason, With Distinction - 5/21/2022
Aidan Kutner, With Distinction - 5/21/2022
David Stukey, With Distinction - 5/22/2022
Kevin Mohabir, With Distinction - 5/23/2022
Jiliang Qian, With Distinction - 5/24/2022
Jiaming He - 5/25/2022
Markus Schoen - 5/25/2022
Nick Ardakani, With Distinction - 5/25/2022
Dillon Murphy, With Distinction - 5/25/2022
Charles Lynch, With Distinction - 5/25/2022
Keith Gabrielson, With Distinction - 5/26/2022
William Mcbride, With Distinction - 5/26/2022
Alexander Cooperstone - 5/26/2022
Nicholas Gaw, With Distinction - 5/27/2022
Michael Combs, With Distinction - 5/27/2022
Andrew Curran - 5/27/2022
Isaac Kahn, With Distinction - 5/27/2022
Agustin Smith, With Distinction - 5/27/2022
Aidan Cheung, With Distinction - 5/27/2022
Ryan Ruffo, With Distinction - 5/29/2022
Max Weberman, With Distinction - 5/29/2022
Andres Lincon, With Distinction - 5/29/2022
Alwyn Taylor, With Distinction - 5/30/2022
Sterling Stockwell - 5/30/2022
Joshua Simpson, With Distinction - 5/30/2022
Alexandre Hebert, With Distinction - 5/30/2022
Kenneth Akin, With Distinction - 5/31/2022
Jennie Chiu, With Distinction - 6/1/2022
Oleksandra Droval, With Distinction - 6/1/2022
Garret Corr, With Distinction - 6/1/2022
Jay Dempsey, With Distinction - 6/2/2022
Ryan Richard Covington, With Distinction - 6/2/2022
Victor Quan, With Distinction - 6/2/2022
Mack Carter - 6/2/2022
Andrea Troske, With Distinction - 6/2/2022
Eli Kupferberg, With Distinction - 6/3/2022
Isidoro Beraja, With Distinction - 6/3/2022
Andrew Pfeiffer, With Distinction - 6/3/2022
Bennett Biggers, With Distinction - 6/3/2022
Peter Zinsner, With Distinction - 6/4/2022
Alejandro Villanueva - 6/4/2022
Samya Ababou, With Distinction - 6/4/2022
Lisa Gordon, With Distinction - 6/5/2022
Michael Lehmann - 6/5/2022
Logan Hampton, With Distinction - 6/5/2022
Lucas Iacovelli, With Distinction - 6/5/2022
Harrison Koeppel, With Distinction - 6/5/2022
Sauleh Ahmed - 6/6/2022
Jake Stack, With Distinction - 6/6/2022
Brooks Glanton, With Distinction - 6/6/2022
Yvan Martinez, With Distinction - 6/6/2022
Kyle Weldon - 6/6/2022
Joseph Berley - 6/7/2022
Emma Durham, With Distinction - 6/7/2022
Garrett Hinge, With Distinction - 6/8/2022
Brendan Neary, With Distinction - 6/9/2022
Jake Ligos, With Distinction - 6/9/2022
Adam Miah, With Distinction - 6/9/2022
Christen Mungia - 6/10/2022
Conor Neyer, With Distinction - 6/10/2022
James Baugh, With Distinction - 6/10/2022
Weston Gervais, With Distinction - 6/10/2022
Christian Amato, With Distinction - 6/10/2022
Shay Mac Ban, With Distinction - 6/11/2022
Kalani Lucas - 6/11/2022
Patrick Sikorski, With Distinction - 6/13/2022
Sam Baughman, With Distinction - 6/13/2022
Jacob Denison, With Distinction - 6/14/2022
Cole Rodgers, With Distinction - 6/15/2022
Chris Odom, With Distinction - 6/15/2022
Matt Dominguez - 6/15/2022
Margaret Duggan, With Distinction - 6/15/2022
Sean Finnerty, With Distinction - 6/16/2022
James Reilly, With Distinction - 6/16/2022
Brendan Kish, With Distinction - 6/17/2022
Will Marquardt, With Distinction - 6/17/2022
Raul Zserai, With Distinction - 6/17/2022
Gentry Bowen, With Distinction - 6/17/2022
Kyle Saifi, With Distinction - 6/17/2022
Patrick Murdock, With Distinction - 6/17/2022
Jackson Sincerbeaux, With Distinction - 6/17/2022
Mark Baldwin, With Distinction - 6/18/2022
Austin E - 6/18/2022
Jackson Mcginley - 6/18/2022
Ke Tang, With Distinction - 6/19/2022
Kyle Layman, With Distinction - 6/19/2022
Grant Swecker, With Distinction - 6/19/2022
Palmer Lincoln, With Distinction - 6/19/2022
Olivia Tantleff, With Distinction - 6/19/2022
Marisa Brewer - 6/20/2022
Anirban Dasgupta, With Distinction - 6/20/2022
Kenyon Kay - 6/20/2022
Bennett Wooten, With Distinction - 6/20/2022
Daniel Cashdan - 6/20/2022
Matt Pohlen, With Distinction - 6/20/2022
Tim Hensley - 6/20/2022
Rosemary Gong, With Distinction - 6/20/2022
Larkin Mcliney - 6/20/2022
Rebecca Curren - 6/20/2022
Bob Horning - 6/20/2022
Jacob Psyk - 6/20/2022
Gabriel Starms, With Distinction - 6/20/2022
Mahreen Arain, With Distinction - 6/20/2022
Meghan Dieroff - 6/20/2022
Alex Fung, With Distinction - 6/21/2022
Mike Cvejanovich, With Distinction - 6/21/2022
Matthew Trow, With Distinction - 6/21/2022
Jose Sanchez - 6/21/2022
Austin Stacey, With Distinction - 6/21/2022
Nwakaego Uzoh - 6/21/2022
Gonzalo Castiñeira Larrabide, With Distinction - 6/21/2022
Badder Shabbir, With Distinction - 6/21/2022
Rachel Pasternak, With Distinction - 6/22/2022
Jonathan Um, With Distinction - 6/22/2022
Grecia Jimenez, With Distinction - 6/22/2022
Elizabeth Fuller - 6/22/2022
Kristin Houpt, With Distinction - 6/22/2022
Michael Wong, With Distinction - 6/22/2022
Jennifer Deblanc - 6/22/2022
Sheryl Sun, With Distinction - 6/22/2022
Eden Bunce, With Distinction - 6/22/2022
Cory Schraier, With Distinction - 6/22/2022
Adam Faber, With Distinction - 6/23/2022
Brett Baskin - 6/23/2022
Alfonso Orozco Cabeza De Vaca, With Distinction - 6/24/2022
Xiaoyu Wang, With Distinction - 6/25/2022
Eric Kuefler, With Distinction - 6/25/2022
Joseph Yu, With Distinction - 6/26/2022
Daniel Rytel, With Distinction - 6/26/2022
Kenneth Gomez, With Distinction - 6/27/2022
Sammy Indyk - 6/27/2022
Andrew Dittrich, With Distinction - 6/27/2022
Greyson Ergenbright, With Distinction - 6/29/2022
Robert Melkesian - 6/29/2022
Sheeshum Galle, With Distinction - 7/1/2022
Cole Davis, With Distinction - 7/2/2022
Joanna Tang, With Distinction - 7/3/2022
Jie Ma - 7/3/2022
Shantae Shand, With Distinction - 7/4/2022
Peter Joseph, With Distinction - 7/4/2022
Alec Wansikehian - 7/5/2022
Harrison Fulton - 7/6/2022
Jeffrey Martino, With Distinction - 7/6/2022
Terry Larson, With Distinction - 7/6/2022
Dylan Berget, With Distinction - 7/7/2022
Olivia Roncaglia - 7/7/2022
Gunner Miller, With Distinction - 7/8/2022
Robert O'Connor Jr, With Distinction - 7/8/2022
Cameron Deruosi - 7/8/2022
John Gallagher, With Distinction - 7/9/2022
Mariano Moya, With Distinction - 7/10/2022
William Leung, With Distinction - 7/10/2022
Michael Olohan - 7/11/2022
Joe Dillon, With Distinction - 7/11/2022
John Sullivan - 7/11/2022
Zachary Luttrell, With Distinction - 7/12/2022
Dennis Brillantes, With Distinction - 7/12/2022
Thomas Sorbara, With Distinction - 7/12/2022
Noah Englestad - 7/13/2022
Altaz Dharamsi, With Distinction - 7/13/2022
James Mackle, With Distinction - 7/13/2022
Pierre Leonard - 7/13/2022
Mack Weems, With Distinction - 7/14/2022
Will Harned, With Distinction - 7/14/2022
Elliott Rotenberg, With Distinction - 7/14/2022
Scott Westerman, With Distinction - 7/14/2022
Leo Kao - 7/15/2022
Gustavo Boros, With Distinction - 7/15/2022
Steele Burkett, With Distinction - 7/15/2022
Michael Accinelli, With Distinction - 7/17/2022
Nichol Falk - 7/17/2022
Thomas Decker, With Distinction - 7/18/2022
Christopher Carver, With Distinction - 7/18/2022
Taylor Posey, With Distinction - 7/18/2022
Kevin John, With Distinction - 7/18/2022
Scott Sinks, With Distinction - 7/19/2022
Callan Salter, With Distinction - 7/20/2022
Ryan Schwartz, With Distinction - 7/20/2022
Angelo Bonvino, With Distinction - 7/20/2022
Alexandra Cowin, With Distinction - 7/20/2022
Analise Doorhy, With Distinction - 7/20/2022
Nicholas Jackson, With Distinction - 7/21/2022
Mark Driscoll, With Distinction - 7/21/2022
Ernest Adendorff, With Distinction - 7/21/2022
Jimin Lee, With Distinction - 7/21/2022
Daniel Yanes, With Distinction - 7/22/2022
Chris Field, With Distinction - 7/22/2022
Bryce Letcher - 7/23/2022
Marshall Johnson, With Distinction - 7/24/2022
Drake Powell, With Distinction - 7/25/2022
Eric Erdossy, With Distinction - 7/26/2022
Andres Arozarena, With Distinction - 7/26/2022
David Friedland - 7/26/2022
Olivia Mcsweeney, With Distinction - 7/26/2022
Helamana Semo - 7/26/2022
Ben Burgess - 7/26/2022
Matthew Reith - 7/27/2022
Rafael Pinero, With Distinction - 7/27/2022
Patrick Mcelroy - 7/27/2022
Solomon Wistreich, With Distinction - 7/27/2022
Zed Truong, With Distinction - 7/27/2022
Anthony Giuffre - 7/27/2022
Andy Camacho - 7/28/2022
Devin Combs, With Distinction - 7/28/2022
Lila Weston, With Distinction - 7/28/2022
Samuel Jackson, With Distinction - 7/28/2022
Lauren Neumeister, With Distinction - 7/28/2022
Hutch Farris, With Distinction - 7/28/2022
Michelle Montroy, With Distinction - 7/28/2022
Jack Zelezny, With Distinction - 7/29/2022
Cade Lefler, With Distinction - 7/29/2022
Jack Dunavant, With Distinction - 7/31/2022
Tristan Villamagna, With Distinction - 8/1/2022
Logan Walker, With Distinction - 8/1/2022
Kelly Chu, With Distinction - 8/1/2022
John Gerber, With Distinction - 8/2/2022
Armando Chocron Arwas, With Distinction - 8/2/2022
Anastasiia Buiadzhy, With Distinction - 8/2/2022
Tim Knauss, With Distinction - 8/2/2022
Alex Junquera, With Distinction - 8/2/2022
Naomi Santiago-Ruiz, With Distinction - 8/3/2022
Xiaofeng Harman - 8/3/2022
Matthew.berry - 8/3/2022
Michael Hart, With Distinction - 8/3/2022
Kevin Mccormick, With Distinction - 8/3/2022
Nicholas Stailey, With Distinction - 8/3/2022
Jacob Altshuler, With Distinction - 8/4/2022
George Sticca, With Distinction - 8/7/2022
Connor Halligan, With Distinction - 8/7/2022
Jack Kaplan - 8/8/2022
Ryan Smyth, With Distinction - 8/8/2022
Danny Karbowski - 8/8/2022
Casey Mchale, With Distinction - 8/9/2022
Gabriel Grossman, With Distinction - 8/11/2022
Jake Fenlon, With Distinction - 8/11/2022
Benjamin Murrell, With Distinction - 8/11/2022
John Najjar - 8/12/2022
Justin Cross, With Distinction - 8/12/2022
Hannah Spaan, With Distinction - 8/12/2022
Joseph Hobbs, With Distinction - 8/12/2022
Yves Martinez, With Distinction - 8/13/2022
Mev Ajdin, With Distinction - 8/13/2022
Jackson Douglas, With Distinction - 8/13/2022
Emily Murphy - 8/14/2022
Jordan Briceland, With Distinction - 8/15/2022
Ryan Smith, With Distinction - 8/15/2022
Kevin Cho, With Distinction - 8/15/2022
Pierce Skelly, With Distinction - 8/15/2022
Sarah Cannoy, With Distinction - 8/15/2022
Max Molod - 8/15/2022
Anna Tamshinsky, With Distinction - 8/15/2022
Michael Abramovich, With Distinction - 8/16/2022
Samrat Singh, With Distinction - 8/16/2022
Thomas Broderick, With Distinction - 8/16/2022
Sean Sprinkel, With Distinction - 8/16/2022
Riley Quezada - 8/16/2022
Seon Woo Kim, With Distinction - 8/16/2022
Jonah Jacobson, With Distinction - 8/16/2022
Rodrigo Hawit, With Distinction - 8/17/2022
Aditya Reddy, With Distinction - 8/17/2022
Alice Obas, With Distinction - 8/18/2022
Joseph Leddy, With Distinction - 8/18/2022
Joseph Debaca, With Distinction - 8/19/2022
Mathias Thoma, With Distinction - 8/19/2022
Robert Ulrich, With Distinction - 8/19/2022
Chris Tsavoussis - 8/20/2022
Sam Valenti, With Distinction - 8/20/2022
David Dwyer, With Distinction - 8/20/2022
Henry Percy, With Distinction - 8/22/2022
Timothy Wooters - 8/22/2022
Zachary Ericksen, With Distinction - 8/22/2022
Lynn Reed - 8/22/2022
Eli Townsend - 8/22/2022
Tighe Ekern, With Distinction - 8/23/2022
Jake Meyrowitz, With Distinction - 8/23/2022
Elias Zaoutis, With Distinction - 8/24/2022
Jim Farris - 8/24/2022
Daniel Kassis, With Distinction - 8/26/2022
Blake Sufferling, With Distinction - 8/27/2022
Hsiaoying Yau - 8/29/2022
Luke Hodge, With Distinction - 8/30/2022
Sage Lawrence, With Distinction - 8/30/2022
George Koutros, With Distinction - 8/30/2022
Jack Deline, With Distinction - 8/30/2022
Benjamin Wilson - 8/31/2022
Jack Ballato - 9/1/2022
Immanuel Shoyombo, With Distinction - 9/1/2022
Rachel Stringfellow, With Distinction - 9/2/2022
Marcus Williams, With Distinction - 9/2/2022
Christopher Warrington, With Distinction - 9/3/2022
Christopher Ono - 9/4/2022
Eduardo Garcia, With Distinction - 9/6/2022
Jack Mclean, With Distinction - 9/6/2022
Artemios Roussos, With Distinction - 9/6/2022
Patrick Lucas, With Distinction - 9/6/2022
Cody Johnson, With Distinction - 9/7/2022
Marc Devine, With Distinction - 9/7/2022
David Shasha, With Distinction - 9/7/2022
Jocelyn Fan, With Distinction - 9/8/2022
Robert Chen, With Distinction - 9/8/2022
Hasani Hayden, With Distinction - 9/8/2022
Queenie Cao, With Distinction - 9/8/2022
Matthias Ng, With Distinction - 9/9/2022
Ali Wasserman, With Distinction - 9/9/2022
Adam Wohlgemuth, With Distinction - 9/9/2022
Adi Zilbermintz, With Distinction - 9/9/2022
Ryan Kaelin, With Distinction - 9/9/2022
Gussie Gordon, With Distinction - 9/9/2022
Tyler Naughten, With Distinction - 9/9/2022
Brandon Glass, With Distinction - 9/9/2022
Daniella Gomez, With Distinction - 9/9/2022
Kitty Liang, With Distinction - 9/9/2022
William Harris - 9/10/2022
Bradford Deflin, With Distinction - 9/10/2022
Kavon Borghani, With Distinction - 9/10/2022
Benjamin Leary, With Distinction - 9/12/2022
Jack Freefield, With Distinction - 9/12/2022
Inna Holodniuk, With Distinction - 9/12/2022
Blaine Gerick - 9/14/2022
Blake Richter, With Distinction - 9/14/2022
Cole Palmby - 9/14/2022
William D'Orsi - 9/15/2022
Octavio Rueda, With Distinction - 9/15/2022
Tyler Patterson - 9/15/2022
Brodie Whitla, With Distinction - 9/16/2022
Curtis Wong, With Distinction - 9/17/2022
Brendon Bourne - 9/17/2022
Oscar Castelan, With Distinction - 9/18/2022
Constantino Argimon - 9/18/2022
Fabian Kuhn, With Distinction - 9/20/2022
Cole Wilson, With Distinction - 9/21/2022
Benjamin Garrison Brock Jr, With Distinction - 9/21/2022
Shiv Karthik, With Distinction - 9/22/2022
Peter Gottsacker, With Distinction - 9/22/2022
Sean Madden, With Distinction - 9/23/2022
Jiayi Tan - 9/23/2022
Ian Kumar, With Distinction - 9/23/2022
James Cacciola, With Distinction - 9/24/2022
Zixiao Tong - 9/25/2022
Ethan Hunsucker, With Distinction - 9/26/2022
Grant Meyer, With Distinction - 9/28/2022
Nick Baldwin - 9/28/2022
Ryan Sullivan, With Distinction - 9/29/2022
Hartej Dale, With Distinction - 9/30/2022
Amedeo Rodio, With Distinction - 9/30/2022
Mary Sweitzer, With Distinction - 9/30/2022
Adonis Duarte, With Distinction - 10/1/2022
Matthew Mattia, With Distinction - 10/1/2022
Brian Stutz, With Distinction - 10/1/2022
Spencer Small - 10/1/2022
Kailey Poore - 10/4/2022
Michael Brown, With Distinction - 10/4/2022
Josh Silverman, With Distinction - 10/4/2022
Luke Hurbanis, With Distinction - 10/4/2022
Kimi Orlin, With Distinction - 10/4/2022
Jorge Sardinas, With Distinction - 10/4/2022
Zachary Wilson, With Distinction - 10/4/2022
Victoria Kane, With Distinction - 10/4/2022
Kyle Nguyen, With Distinction - 10/4/2022
Charles Marquardt - 10/4/2022
Mariana Villicana - 10/4/2022
Harrison Haber, With Distinction - 10/4/2022
Ethan Coakley - 10/4/2022
Angel Vicioso - 10/4/2022
Domenic Ciricillo - 10/4/2022
Zachary Brandon, With Distinction - 10/4/2022
Megan Magee, With Distinction - 10/4/2022
Aaron Lazar - 10/4/2022
Connor Tamarkin, With Distinction - 10/4/2022
Bennett Davis - 10/4/2022
Isabella Moore - 10/4/2022
Sarah Cornide, With Distinction - 10/4/2022
Coryell Dreyer, With Distinction - 10/4/2022
Bryan Madeya, With Distinction - 10/4/2022
Lillyan Magley - 10/4/2022
Muellerzane, With Distinction - 10/4/2022
Michael Van Ness, With Distinction - 10/4/2022
Tristan Harvey - 10/4/2022
Houyu Xie, With Distinction - 10/4/2022
Jenny Kim, With Distinction - 10/4/2022
Maximilian Kühnl, With Distinction - 10/5/2022
Benjamin Perez, With Distinction - 10/6/2022
Alexander Garovi, With Distinction - 10/7/2022
Albert Valdes - 10/7/2022
Surender Singh - 10/8/2022
Baleigh Yancy - 10/10/2022
Thao Le, With Distinction - 10/11/2022
Gabriel Guzman, With Distinction - 10/11/2022
Conor Downey, With Distinction - 10/11/2022
Terry Mangham, With Distinction - 10/12/2022
Gabe Stern, With Distinction - 10/12/2022
Jelena Milosev, With Distinction - 10/13/2022
Jack Koreyva, With Distinction - 10/13/2022
Joe Binkowski, With Distinction - 10/13/2022
Mark Murphy, With Distinction - 10/13/2022
Zachariah Popp, With Distinction - 10/15/2022
Oran O'Donnell, With Distinction - 10/16/2022
William Perry, With Distinction - 10/17/2022
Alexander Baur, With Distinction - 10/17/2022
Robert Carmichael, With Distinction - 10/18/2022
Blair Brown, With Distinction - 10/19/2022
Christian Gray, With Distinction - 10/19/2022
Yamilet Polanco, With Distinction - 10/20/2022
David Gahagan, With Distinction - 10/21/2022
Dylan Connelly - 10/24/2022
Tzu-Hsiang Cho - 10/24/2022
Oliver Dennis, With Distinction - 10/24/2022
Jasmeen Randhawa - 10/24/2022
Henry Smith, With Distinction - 10/25/2022
Joshua Hay, With Distinction - 10/25/2022
Jonathan Kluger, With Distinction - 10/25/2022
Caleb Green - 10/25/2022
Christopher Nicol, With Distinction - 10/26/2022
Mario Martinez, With Distinction - 10/26/2022
Christopher Durbin, With Distinction - 10/26/2022
Riley Wood, With Distinction - 10/26/2022
Samantha Hoyle - 10/27/2022
John Engh, With Distinction - 10/27/2022
Jordan Ohara, With Distinction - 10/27/2022
Luke Annicharico, With Distinction - 10/28/2022
Jacob Verner, With Distinction - 10/30/2022
Christian Herrera, With Distinction - 10/30/2022
Jessie Kelley, With Distinction - 10/30/2022
Morgan Hampel, With Distinction - 10/30/2022
Bryan White, With Distinction - 10/31/2022
Diego Lozano, With Distinction - 10/31/2022
David Abel - 10/31/2022
Seth Gergel, With Distinction - 10/31/2022
Bobby Morales, With Distinction - 10/31/2022
Brett Lauritzen, With Distinction - 10/31/2022
Nicholas Clifford, With Distinction - 10/31/2022
Alex Cesta - 10/31/2022
Jacob Donick, With Distinction - 10/31/2022
Alex Burd, With Distinction - 10/31/2022
Stephen Quinn, With Distinction - 10/31/2022
Zachary Weinger, With Distinction - 11/1/2022
Douglas Gensler, With Distinction - 11/1/2022
Cole Fisher, With Distinction - 11/1/2022
Alex Johnstone - 11/1/2022
Hogan Wierda, With Distinction - 11/2/2022
Nicola Viggiani - 11/3/2022
Andrew Miner, With Distinction - 11/4/2022
Andre Evans - 11/4/2022
Alain Kasparian, With Distinction - 11/4/2022
Pradip Lalitcumar - 11/6/2022
Benjamin Schuster, With Distinction - 11/6/2022
Michael Lizanich, With Distinction - 11/6/2022
Eric Diego Ocampo - 11/7/2022
John Prus, With Distinction - 11/7/2022
Reem Al Shehhi, With Distinction - 11/7/2022
Alexander Azar, With Distinction - 11/8/2022
Colin Theye - 11/8/2022
Leonardo Neumayer, With Distinction - 11/8/2022
Jack Guenoun, With Distinction - 11/9/2022
Maryam Alali, With Distinction - 11/10/2022
Wesley Van Steenbergen, With Distinction - 11/10/2022
Brendan Boyle - 11/11/2022
Charles Remington, With Distinction - 11/11/2022
Brendan May, With Distinction - 11/12/2022
Scott Griffin, With Distinction - 11/14/2022
Jeremy Kauffman, With Distinction - 11/14/2022
Ethan Dorman, With Distinction - 11/16/2022
Lalit Jagtap, With Distinction - 11/16/2022
Katharina Shultz, With Distinction - 11/17/2022
Joshua Moore, With Distinction - 11/20/2022
Todd Manjuck, With Distinction - 11/21/2022
Caleb Harris - 11/23/2022
Riley Shantz, With Distinction - 11/23/2022
Carter Bateman, With Distinction - 11/23/2022
Duke Zherka, With Distinction - 11/24/2022
Chris Cho, With Distinction - 11/24/2022
Charles Anania, With Distinction - 11/25/2022
Calvin Mooney - 11/26/2022
Erik Digirolamo, With Distinction - 11/27/2022
Ken Bown, With Distinction - 11/29/2022
Robert Lin, With Distinction - 11/30/2022
Christopher Ruiz, With Distinction - 12/1/2022
Frank Winkler, With Distinction - 12/3/2022
Dion Huey, With Distinction - 12/3/2022
Jonathan Betschart - 12/3/2022
John Wilson, With Distinction - 12/3/2022
Gladys Atienza, With Distinction - 12/4/2022
Edwin Mendez, With Distinction - 12/5/2022
Kanan Azizli, With Distinction - 12/5/2022
Brian Pham - 12/5/2022
Thomas Martin, With Distinction - 12/5/2022
Alvaro Ruiz, With Distinction - 12/7/2022
Andrea Granados Pechkova, With Distinction - 12/7/2022
Alan Albagli Link, With Distinction - 12/9/2022
Joseph Alston, With Distinction - 12/9/2022
Emmanuel Soriano, With Distinction - 12/9/2022
Connor Newton, With Distinction - 12/12/2022
Eleanor Mccoy - 12/15/2022
Nate Hoffman - 12/15/2022
Pedro Rodrigues De Castro Jalles, With Distinction - 12/15/2022
Christopher Alvarez, With Distinction - 12/16/2022
Ben Spencer, With Distinction - 12/16/2022
Bobby Distler, With Distinction - 12/16/2022
Reed Bender, With Distinction - 12/17/2022
Douglas Woolley, With Distinction - 12/18/2022
Adam Margolis, With Distinction - 12/19/2022
Alan Grynberg, With Distinction - 12/19/2022
Justin Evans, With Distinction - 12/19/2022
Whit Shelburne, With Distinction - 12/20/2022
Isaac Benedict, With Distinction - 12/21/2022
Christian Wolf - 12/21/2022
Christian Sullivan, With Distinction - 12/22/2022
Mongting Tsai, With Distinction - 12/22/2022
Alexander Bakke - 12/22/2022
Akhilesh Saravanan, With Distinction - 12/23/2022
Hale Johnson, With Distinction - 12/23/2022
Jeremy Bowinkel, With Distinction - 12/23/2022
Matthew Harris, With Distinction - 12/23/2022
Mark Erbstoesser, With Distinction - 12/24/2022
Anthony Milliano, With Distinction - 12/24/2022
Kevin Iniguez, With Distinction - 12/25/2022
Sandy Lee, With Distinction - 12/26/2022
John Sullivan, With Distinction - 12/27/2022
Max Capogrosso, With Distinction - 12/27/2022
Adrian Nowak, With Distinction - 12/27/2022
Jacob Dubay, With Distinction - 12/28/2022
Hunter Loncar - 12/28/2022
Dallin Vallejo - 12/28/2022
Taylor Frey, With Distinction - 12/29/2022
Ryan Arinaga, With Distinction - 12/29/2022
Matthew Beelman, With Distinction - 12/29/2022
Tyler Hamel, With Distinction - 12/29/2022
Kyler Johns, With Distinction - 12/30/2022
Rhett Saltiel, With Distinction - 12/30/2022
Isaac Abraham Iii, With Distinction - 12/30/2022
Jenna Resnick - 12/30/2022
Robert Galos, With Distinction - 12/30/2022
Noora Albastaki, With Distinction - 12/31/2022
Kenneth Li, With Distinction - 1/1/2023
Scott Henson, With Distinction - 1/2/2023
Yayi Ding - 1/2/2023
Grant Martin, With Distinction - 1/2/2023
Chance Gordon, With Distinction - 1/4/2023
Aneesh Kumar, With Distinction - 1/5/2023
Jonathan Stern, With Distinction - 1/5/2023
Ben Applebaum, With Distinction - 1/6/2023
Max Hermacinski, With Distinction - 1/7/2023
Henry Su - 1/8/2023
Rami Rifai - 1/8/2023
Alyssa Shapiro - 1/10/2023
Aliakbar Hassonjee - 1/10/2023
Bryan Wynne, With Distinction - 1/11/2023
Mohammed Al-Banaa - 1/11/2023
Jackson Gill, With Distinction - 1/12/2023
Hunter Pflueger - 1/12/2023
Sean Wallisch - 1/13/2023
Stephen Ramkelawan - 1/13/2023
Talis Stockton, With Distinction - 1/14/2023
Ash Zahran - 1/14/2023
Alexis Zecua, With Distinction - 1/16/2023
Drew Balser, With Distinction - 1/16/2023
Hayden Stroop, With Distinction - 1/18/2023
Patrick Xander, With Distinction - 1/20/2023
Simone Stanton, With Distinction - 1/21/2023
Slater Hobbs, With Distinction - 1/21/2023
Steven Wang, With Distinction - 1/22/2023
Grant Houde, With Distinction - 1/22/2023
Mohammed Al-Hadhrami, With Distinction - 1/23/2023
Albert Martinezarizala, With Distinction - 1/23/2023
Chaitanya Guthikonda, With Distinction - 1/23/2023
Tyler Wilson, With Distinction - 1/24/2023
Yan Zhou, With Distinction - 1/24/2023
Georgy Bellani Orvid, With Distinction - 1/25/2023
Brian Jennett, With Distinction - 1/26/2023
Kim Nguyen Lam, With Distinction - 1/27/2023
Brad Leventhal - 1/27/2023
Solomon Zarling, With Distinction - 1/29/2023
Shane Pizzo, With Distinction - 1/30/2023
Sunny Kim - 1/30/2023
George Stedfast, With Distinction - 1/30/2023
Jake Levine, With Distinction - 1/31/2023
Gregory Robinson - 1/31/2023
Eric Hansen, With Distinction - 2/1/2023
Jose Prado, With Distinction - 2/1/2023
Mark Shoenfeld, With Distinction - 2/1/2023
Kevaneau Green, With Distinction - 2/3/2023
John Kelly, With Distinction - 2/4/2023
Champion Whitton - 2/5/2023
Nicholas Davies, With Distinction - 2/5/2023
Conner Ogdon, With Distinction - 2/6/2023
Daniel Snoey, With Distinction - 2/6/2023
Michael Hines, With Distinction - 2/8/2023
Nicolas Chaves - 2/8/2023
Zachary Feldman - 2/8/2023
Elliot Kim, With Distinction - 2/10/2023
Isaiah Suggs, With Distinction - 2/11/2023
Stephen Holt - 2/11/2023
Nate Branham, With Distinction - 2/12/2023
Daniel Kelly, With Distinction - 2/12/2023
Nikit Reddy, With Distinction - 2/13/2023
Franco Mellone, With Distinction - 2/13/2023
Easton Moore, With Distinction - 2/13/2023
Michael Jackson Ii - 2/14/2023
Devin Fleischer, With Distinction - 2/14/2023
Max Nunan, With Distinction - 2/17/2023
Marek Sullivan, With Distinction - 2/18/2023
Gerry Wheaton, With Distinction - 2/19/2023
Andrew Leogrande, With Distinction - 2/20/2023
Keith Frantz - 2/20/2023
Connor Barry - 2/22/2023
Steven Vrablic, With Distinction - 2/23/2023
Sam Rooney, With Distinction - 2/23/2023
Joshua Horner, With Distinction - 2/25/2023
Colby Mead - 2/26/2023
Tyler Maghen, With Distinction - 2/26/2023
Lizzie Benedict, With Distinction - 2/27/2023
Andrew Whitcomb, With Distinction - 2/28/2023
Júlio Villalobos-Torres - 3/2/2023
Chao Ma, With Distinction - 3/2/2023
Andres Cepeda, With Distinction - 3/2/2023
Andrew Grant - 3/5/2023
Mytiah Caldwell, With Distinction - 3/6/2023
Hutton Wooters - 3/7/2023
Nick Englhard, With Distinction - 3/8/2023
Hunter Lazare, With Distinction - 3/9/2023
John Solis, With Distinction - 3/9/2023
Kevin Conde, With Distinction - 3/10/2023
Arshnoor Singh, With Distinction - 3/10/2023
David Stewart, With Distinction - 3/10/2023
Enzo Jiannalone, With Distinction - 3/11/2023
Nathan Horgan, With Distinction - 3/12/2023
Sebastian Olavarria - 3/13/2023
Timothy Keller, With Distinction - 3/14/2023
Jayesh Patel, With Distinction - 3/15/2023
Luis Fernando Machado, With Distinction - 3/15/2023
Jesus Sapien, With Distinction - 3/16/2023
Erick Martinez, With Distinction - 3/16/2023
Domenic Caniglia, With Distinction - 3/17/2023
Dustin Villwock - 3/18/2023
Tommy Segars Iii, With Distinction - 3/19/2023
Fritz Loewy - 3/19/2023
Dani Alameddine - 3/26/2023
Guillermo Ivan Sanchez Ramirez - 3/26/2023
Peerati Upatising - 3/27/2023
Quinton Cheney, With Distinction - 3/27/2023
Veronica Hernandez Delgado - 3/27/2023
Richard Nealy, With Distinction - 3/30/2023
Serge Du Lau D'Allemans, With Distinction - 3/30/2023
Giuseppe Penna, With Distinction - 3/30/2023
Jared Paul, With Distinction - 3/31/2023
Sean Bailey, With Distinction - 4/1/2023
Alice Hagemann - 4/3/2023
Chad Call, With Distinction - 4/4/2023
Luke Metzger, With Distinction - 4/5/2023
Samuel Cremieux, With Distinction - 4/5/2023
Ashley Henthorn - 4/6/2023
Othmane Lazrak, With Distinction - 4/10/2023
David Phillips, With Distinction - 4/11/2023
Alex Li, With Distinction - 4/12/2023
Jack Sorenson, With Distinction - 4/12/2023
Ty Chau, With Distinction - 4/14/2023
Abel Torres, With Distinction - 4/14/2023
James Fowler, With Distinction - 4/17/2023
Ben Pobuda, With Distinction - 4/17/2023
Walter Wyatt, With Distinction - 4/17/2023
Raegan Brown, With Distinction - 4/18/2023
Miller Hamilton, With Distinction - 4/18/2023
Carson Hoover, With Distinction - 4/19/2023
Felix Galan, With Distinction - 4/19/2023
Aditya Singh, With Distinction - 4/19/2023
Zeke Galloway, With Distinction - 4/20/2023
Logan Shanahan, With Distinction - 4/20/2023
David Lawson, With Distinction - 4/22/2023
Jack Gebhardt - 4/24/2023
Jackson Dembski, With Distinction - 4/24/2023
Zachary Maghsoud, With Distinction - 4/24/2023
Long Ma, With Distinction - 4/24/2023
Austin Olvera, With Distinction - 4/24/2023
Brandon Barkwell, With Distinction - 4/24/2023
Ryan Childers, With Distinction - 4/25/2023
Josh Buck, With Distinction - 4/25/2023
Larry Suprun - 4/26/2023
Eric Garibian, With Distinction - 4/27/2023
Emmanuel Ndikum, With Distinction - 4/28/2023
Marco Siracusa, With Distinction - 4/28/2023
Stefani Feldman, With Distinction - 4/29/2023
Sebastian Rivero - 5/3/2023
Evan Chien - 5/4/2023
Colton Hoisager, With Distinction - 5/5/2023
Ford Eldredge, With Distinction - 5/8/2023
David Tang - 5/8/2023
Richard Tamkin - 5/9/2023
Summit Schmerse, With Distinction - 5/10/2023
Henry Dupont - 5/10/2023
Samuel Adams - 5/13/2023
Chris Crawford - 5/14/2023
Clayton Rae, With Distinction - 5/15/2023
Taylor Channell - 5/17/2023
Kaleo Nelson, With Distinction - 5/20/2023
Femi Aina, With Distinction - 5/20/2023
Nasir Prade, With Distinction - 5/20/2023
Carlo Zarro, With Distinction - 5/20/2023
Tobi Ojeyemi - 5/20/2023
Wood Boone - 5/21/2023
Mitchell Pagliuso, With Distinction - 5/21/2023
Ayo Kolawole - 5/22/2023
Taylor Hornsby, With Distinction - 5/25/2023
Kai Xiao - 5/25/2023
Michael Kim, With Distinction - 5/26/2023
Maxime Guillotin - 5/26/2023
Spencer Brown, With Distinction - 5/26/2023
Daniel Lin, With Distinction - 5/27/2023
Destry Straight, With Distinction - 5/29/2023
Zaire Marin - 5/30/2023
Will Bennett - 5/30/2023
Dain Rohtla, With Distinction - 5/30/2023
Jack Kelley, With Distinction - 5/31/2023
Jonathan Arroyo, With Distinction - 5/31/2023
Andrew Spalti - 5/31/2023
Osmand Bobadilla, With Distinction - 5/31/2023
Evan Holt, With Distinction - 5/31/2023
Sebastian Baltodano, With Distinction - 6/1/2023
Anthony Antillon, With Distinction - 6/1/2023
Frank Anastasio, With Distinction - 6/1/2023
Timothy Parker, With Distinction - 6/2/2023
Avi Kwestel, With Distinction - 6/2/2023
Miguel Angel Tortolero Casarrubias - 6/3/2023
Angela Pham, With Distinction - 6/3/2023
Brandon Tatis - 6/3/2023
Diego Torrealba, With Distinction - 6/4/2023
Austin Dear, With Distinction - 6/4/2023
Harrison Casagrande - 6/5/2023
Jack Gallagher - 6/5/2023
Vera Socolsky - 6/5/2023
Matthew Bryant, With Distinction - 6/5/2023
Mathias Salmon - 6/5/2023
Peter Leone, With Distinction - 6/5/2023
Eric Rivas, With Distinction - 6/6/2023
Aram Apanian, With Distinction - 6/6/2023
Jake Fishman, With Distinction - 6/6/2023
Myles Campbell - 6/7/2023
Andrea Johnson, With Distinction - 6/7/2023
Zachary Clifford, With Distinction - 6/7/2023
Mega Martina - 6/7/2023
Andrew Williams - 6/7/2023
Jennifer Kim, With Distinction - 6/8/2023
Caleb Bridges - 6/8/2023
Avramie Schwalb, With Distinction - 6/8/2023
Level 3 Certification Holders
Listed chronologically
Bruce Kirsch, With Distinction – 9/11/12
Bulkeley Banks, With Distinction – 9/11/12
Matthew Marquart, With Distinction – 9/11/12
Dilshad Abeygunawardana, With Distinction – 10/27/12
Kristen Joe, With Distinction – 12/18/12
Philip Baron – 12/21/12
Eric Salit, With Distinction – 12/28/12
Hua Tang – 2/5/13
David Dawson, With Distinction – 5/6/13
Olivia Speck – 6/21/13
Nicholas Gonzalves, With Distinction – 8/1/13
Mark Silverman – 9/11/13
Luther Ross – 9/13/13
Paul Gherini – 9/19/13
JP Losman, With Distinction – 10/1/13
Anthony Huerta, With Distinction – 10/4/13
Jeremy Rauch, With Distinction – 10/11/13
Deepti Maheshwari – 10/11/13
Amit Urban, With Distinction – 10/12/13
Jacob Verghese – 10/17/13
Justin Moore – 11/3/13
Huyen D. Ngo – 11/3/2013
Justin Moore – 11/3/2013
Chris Reed – 12/28/2013
Jeremy Sloan Reynolds, With Distinction – 12/28/2013
Matthew Albert, With Distinction – 1/11/2014
Chris , With Distinction – 1/21/2014
Daniel Prendiville – 1/25/2014
Zachary J Greenky, With Distinction – 2/1/2014
Yi Xue – 3/4/2014
Jonathan Blank – 3/7/2014
Mariana Sonu , With Distinction – 4/2/2014
Jenghiz von Streng – 4/9/2014
Steven Samuelson, With Distinction – 4/28/2014
Lydia Zaleski , With Distinction – 5/8/2014
William David Lawrence Beagles – 5/29/2014
Valentin Staller, With Distinction – 6/3/2014
Nason Khomassi, With Distinction – 6/6/2014
Seth Hewitt – 6/13/2014
Tony Gullo, With Distinction – 7/16/2014
William G. Law, With Distinction – 7/16/2014
Eugene Shevaldin – 7/30/2014
Sean Michael O'Donovan, With Distinction – 8/5/2014
Tyler Wood, With Distinction – 8/6/2014
Seth Knoll – 8/13/2014
William McGarry, With Distinction – 8/16/2014
Denis Gulyarenko – 8/29/2014
John Tarantino, With Distinction – 9/8/2014
Catherine Saunders – 9/13/2014
Jing Yu, With Distinction – 9/21/2014
Thomas Threadgill, With Distinction – 9/22/2014
Christopher S. White, With Distinction – 10/8/2014
Michael Loc Tran, With Distinction – 10/19/2014
Omid Bensal – 11/15/2014
Caleb Sheldon, With Distinction – 11/20/2014
Jason Eng Ken Yap, With Distinction – 11/25/2014
Katherine Moore Hokanson, With Distinction – 12/8/2014
Christopher Bruner – 12/19/2014
Clarence E. Wong, With Distinction – 12/26/2014
Panpan Rao, With Distinction – 12/27/2014
Yifan Yang, With Distinction – 12/27/2014
Gabrielle COUZIN – 12/31/2014
Masayo Allen, With Distinction – 1/8/2015
Stuart Carr – 1/19/15
Ian Lesyk, With Distinction – 2/4/2015
James Vu, With Distinction – 2/6/2015
Elan Gordon – 2/20/2015
Adam Elrod, With Distinction – 2/26/2015
Michael Grilli, With Distinction – 2/28/2015
Benoit Rochard – 3/1/2015
Horacio Villarreal – 3/1/2015
Jeff Dayov, With Distinction – 3/4/2015
Jason Archer, With Distinction – 3/13/2015
David Muren, With Distinction – 3/15/2015
Thomas Kochak, With Distinction – 3/22/2015
Cole Ungar – 3/26/2015
Matthew John Kennedy, With Distinction – 4/1/2015
Gregory Zartarian, With Distinction – 4/3/2015
Kyle Barnas, With Distinction – 4/8/2015
Elliott Farmer, With Distinction – 4/12/2015
Jeremy Kubiak, With Distinction – 4/28/2015
Benjamin deLeon – 4/29/2015
Chad Bonham, With Distinction – 4/29/2015
Ryan Lowry, With Distinction – 5/5/2015
Benjamin deLeon, With Distinction – 5/9/2015
Michael Nieliwodski – 5/9/2015
Benjamin Doran – 5/10/2015
Ken Harpster – 5/10/2015
Derek Hutchison, With Distinction – 5/13/2015
Geoffrey Palmer – 5/16/2015
Joseph Miller, With Distinction – 5/16/2015
Gisela Prudden, With Distinction – 5/17/2015
Jared Ray – 5/17/2015
Geoffrey Palmer, With Distinction – 5/18/2015
Christopher A. Aiello – 5/19/2015
Eric Fink, With Distinction – 5/20/2015
Roman Blum, With Distinction – 5/22/2015
Christopher A. Aiello, With Distinction – 5/23/2015
Damian Albrycht – 5/25/2015
Damian Albrycht, With Distinction – 5/25/2015
Joshua Bush, With Distinction – 5/26/2015
Michael Hall, With Distinction – 5/28/2015
Mark Lewis, With Distinction – 6/1/2015
Thomas Foley, With Distinction – 6/5/2015
Chris Dodd, With Distinction – 6/7/2015
David Gleitman – 6/7/2015
Michael Begg – 6/8/2015
Bradley Eral, With Distinction – 6/10/2015
Wilford Wong, With Distinction – 6/16/2015
Arvo Hartikainen – 6/17/2015
Spencer Todd Anderson, With Distinction – 7/2/2015
Maria Kowalski, With Distinction – 7/3/2015
Dean Vidal, With Distinction – 7/8/2015
Hamilton Cole Wilson, With Distinction – 7/15/2015
George Fraser – 7/15/2015
Hamilton Cole Wilson, With Distinction – 7/15/2015
Mark G Carney – 7/15/2015
Zach Lebwohl – 7/23/2015
Brian Clement, With Distinction – 7/27/2015
Taylor Briggs Davis, With Distinction – 7/30/2015
Robin Ahmadi, With Distinction – 7/30/2015
R. George Abood Jr., With Distinction – 8/3/2015
Sik Pun – 8/4/2015
Daniel Marati, With Distinction – 8/6/2015
Alexander Mollozzi – 8/11/2015
Michael Hunter Webb – 8/13/2015
Connor Bortolazzo – 8/14/2015
Reginald Holley, With Distinction – 8/18/2015
Brandon Daniels – 8/19/2015
Matthew Whitermore – 8/21/2015
Victoria Lash, With Distinction – 8/27/2015
Oliver Peterson, With Distinction – 9/13/2015
Christopher Fletcher, With Distinction – 9/19/2015
Michael Carlone, With Distinction – 9/23/2015
Alex Savage, With Distinction – 10/7/2015
Hayden Healy, With Distinction – 10/13/2015
Reid Boggus, With Distinction – 10/19/2015
Brett Zimmerman, With Distinction – 10/21/2015
Colin John Scarola, With Distinction – 10/25/2015
E H Held – 10/30/2015
Yu Ding – 10/31/2015
Haitham K, With Distinction – 11/5/2015
Christian Meyer, With Distinction – 11/6/2015
Bradley R Morales, With Distinction – 11/6/2015
Yifei Dai, With Distinction – 11/7/2015
Kathryn Morales, With Distinction – 11/9/2015
Ryan Hutchins – 11/9/2015
Josh Strelzik, With Distinction – 11/11/2015
John Lee, With Distinction – 11/18/2015
Andres Castillo Lima – 11/18/2015
Mike Gallegos, With Distinction – 11/18/2015
Brian Huang, With Distinction – 11/18/2015
Jeffrey Marver, With Distinction – 11/18/2015
Anastasiia Gubarieva – 11/23/2015
Christopher Rubacha – 11/24/2015
Michael Dornbusch, With Distinction – 11/27/2015
Jacob H Smith – 12/2/2015
Justin Kennell, With Distinction – 12/4/2015
Brant Patton – 12/5/2015
Rohit Muralidhar, With Distinction – 12/10/2015
Alexander Hondros – 12/15/2015
Kevin Caskey – 12/21/2015
William Tavoulareas – 12/23/2015
Matthew C. Dolins, With Distinction – 12/25/2015
Kamar Calixte – 12/26/2015
Cheolmin Cho – 12/27/2015
Jerome Raymond – 12/29/2015
Jeff Sifen, With Distinction – 12/30/2015
David Carpenter – 12/30/2015
Ming Che Lee – 12/31/2015
Thomas S. Casey, With Distinction – 1/1/2016
Yuxie Li, With Distinction – 1/1/2016
Chad O'Connor – 1/3/2016
Eric David Kasenetz, With Distinction – 1/7/2016
Kanan Azizli – 1/7/2016
Hanjie Tang, With Distinction – 1/8/2016
Kyle Van Natta – 1/8/2016
Brian Hinds, With Distinction – 1/9/2016
Kristina Sparrow – 1/10/2016
Dong Zhu, With Distinction – 1/11/2016
FANGFANG XIE, With Distinction – 1/11/2016
Albert Blanck – 1/12/2016
Alexander McPherson, With Distinction – 1/12/2016
Christopher G Rosser – 1/12/2016
Dan Zhao, With Distinction – 1/12/2016
Aaron Glenn Kinsey, With Distinction – 1/13/2016
Charles Haack, With Distinction – 1/13/2016
Yichen Xie, With Distinction – 1/13/2016
Lance Johnson – 1/14/2016
Michael Borden – 1/14/2016
Samuel Arnholz – 1/14/2016
Jessica Thao-Nghi Huynh, With Distinction – 1/17/2016
Justin Kivel, With Distinction – 1/17/2016
Clayton Watson, With Distinction – 1/18/2016
Motoi Kojima – 1/22/2016
Xanaan A. Salim – 1/22/2016
Zachary Speigel, With Distinction – 1/22/2016
Enrique Claverie Martinez, With Distinction – 1/31/2016
Tim Barhite, With Distinction – 1/31/2016
Omar Moid, With Distinction – 2/8/2016
Angelo Evangelatos – 2/10/2016
Elizabeth Louise Smyth, With Distinction – 2/14/2016
Anthony Mera, With Distinction – 2/18/2016
Chiwei Zhong – 2/20/2016
Timothy John Sullivan – 2/21/2016
Stephen Stewart – 2/23/2016
Timothy Eife – 2/23/2016
Les Trake – 3/2/2016
Dave Hou – 3/6/2016
Joseph R Adie, With Distinction – 3/6/2016
Harold Thomas, With Distinction – 3/8/2016
Matthew G Lish – 3/8/2016
Chad E. Leines – 3/14/2016
Ryan Key – 3/19/2016
Addie Hargett, With Distinction – 3/20/2016
Sandra Choy, With Distinction – 3/20/2016
Matthew Muehlstein, With Distinction – 3/21/2016
Adam Daniel Nourafchan, With Distinction – 3/21/2016
Timur Kamalovich Ali-Zade – 3/21/2016
Jasmine Polson – 4/2/2016
Ariel Weiser, With Distinction – 4/3/2016
Ben Barlow, With Distinction – 4/8/2016
Chad Rheingold – 4/22/2016
Luke Koczela, With Distinction – 5/2/2016
Daniel Lenze – 5/3/2016
Eric Marcella, With Distinction – 5/4/2016
Michael Payton – 5/4/2016
Kevin Lutz, With Distinction – 5/7/2016
Saniya Gupta – 5/7/2016
Jack Noonan Ford, With Distinction – 5/8/2016
Danny Biega, With Distinction – 5/9/2016
Brian Dunn – 5/12/2016
Giovanni Wrobel – 5/13/2016
Victoria Marks, With Distinction – 5/15/2016
James Vallely – 5/16/2016
Kelly Whelan – 5/20/2016
Jonathan Trott – 5/23/2016
Jerry Hsieh – 5/26/2016
Joshua Mitchell, With Distinction – 5/26/2016
Nicole Iglehart, With Distinction – 6/4/2016
Nick Liu – 6/9/2016
Ryan Kalaf, With Distinction – 6/10/2016
Thomas Focht, With Distinction – 6/14/2016
Shitong Sun, With Distinction – 6/23/2016
Charles Cochran – 6/27/2016
John B. Pearson, With Distinction – 6/29/2016
Dylan Joshua Kriz – 6/30/2016
Emily Balazik, With Distinction – 6/30/2016
Anthony Nathaniel Cohen, With Distinction – 7/3/2016
Wei Hsuan Huang, With Distinction – 7/10/2016
Daniel Dembek – 7/18/2016
Greg Liautaud – 7/20/2016
Luke Symonds, With Distinction – 7/22/2016
Timothy Willis, With Distinction – 7/24/2016
William David Woods – 7/24/2016
Robert Michael Fox, With Distinction – 8/3/2016
Thomas John Courlas, With Distinction – 8/4/2016
Andreas Dal Piaz, With Distinction – 8/7/2016
Robert Alan Conroy, With Distinction – 8/12/2016
Daria Anne Rose – 8/17/2016
Emily Abbott – 8/30/2016
Mason Garry Waite, With Distinction – 9/6/2016
Cheng Zhang, With Distinction – 9/7/2016
Yu Huang – 9/8/2016
Colton Hager, With Distinction – 9/12/2016
Robert Hall, With Distinction – 9/14/2016
Barron Panson, With Distinction – 9/19/2016
Andrew Greiner, With Distinction – 9/20/2016
Tyler Darden, With Distinction – 9/22/2016
Chris Economou – 9/25/2016
Hayden Scillitoe, With Distinction – 9/27/2016
Keenan Klett, With Distinction – 9/29/2016
George Hajjar – 10/1/2016
Zeke John Patterson, With Distinction – 10/3/2016
Michael Carter – 10/6/2016
David Powers – 10/20/2016
Hairong Yin – 10/23/2016
Harrison M. M. McCarthy, With Distinction – 10/27/2016
Lau Ka Yan, With Distinction – 10/28/2016
Jose Nunez – 10/31/2016
Frank Joseph Koziara III, With Distinction – 11/2/2016
Ryan Davenport – 11/6/2016
Javier Henriquez, With Distinction – 11/13/2016
Justin Lai, With Distinction – 11/15/2016
Jonathan Lachance, With Distinction – 11/15/2016
Christopher Monsour, With Distinction – 11/22/2016
Thomas Manglaviti Jr., With Distinction – 11/23/2016
Brendan Kruzan, With Distinction – 11/26/2016
Matthew Turzewski, With Distinction – 12/1/2016
William Yang, With Distinction – 12/1/2016
Jonathan Petrini, With Distinction – 12/4/2016
Zachary Lasorsa, With Distinction – 12/8/2016
S.M. Amirul Arefine – 12/9/2016
Gregory Kosh, With Distinction – 12/9/2016
Kevin Wang, With Distinction – 12/19/2016
Matthew Rose, With Distinction – 12/20/2016
Elissa Wu, With Distinction – 12/22/2016
Grace Fu, With Distinction – 12/23/2016
Elaine Liu, With Distinction – 12/27/2016
Jon Kegerize, With Distinction – 12/30/2016
Matthew Bowyer, With Distinction – 12/30/2016
Adam Tannenbaum, With Distinction – 12/30/2016
Gregory Weisen, With Distinction – 1/2/2017
William Gandre, With Distinction – 1/4/2017
Jonathan Cleary, With Distinction – 1/6/2017
Weston Bronconnier, With Distinction – 1/6/2017
Evan Solomon, With Distinction – 1/7/2017
Clare Losey – 1/8/2017
Mark A. Rios – 1/8/2017
Mason Alsbrooks – 1/8/2017
Hunter Graham – 1/9/2017
Xiao Hu – 1/9/2017
Carl Stephens – 1/10/2017
Ford DuBose – 1/10/2017
John Schell, With Distinction – 1/10/2017
Joseph P. Cabral – 1/10/2017
Lauren Kofoet, With Distinction – 1/10/2017
Parker Todd, With Distinction – 1/10/2017
Quentin Monaghan, With Distinction – 1/10/2017
Zachary Martin, With Distinction – 1/10/2017
Zane Carman – 1/10/2017
Christian James Segner – 1/11/2017
Jacob Brown – 1/11/2017
Joshua Giles – 1/11/2017
Kevin Patrick Rushing – 1/11/2017
Kristi Leonard, With Distinction – 1/11/2017
Margaret Stewart – 1/11/2017
Richard Armstrong – 1/11/2017
Robert Arthur McClendon – 1/11/2017
Sarah J Shaw – 1/11/2017
Sherine Elgamal – 1/11/2017
Vincent Holub – 1/11/2017
Arnold Chu – 1/12/2017
Arvind Dharur, With Distinction – 1/12/2017
Benjamin T Jackson – 1/12/2017
Brenden William Duffey, With Distinction – 1/12/2017
Crystal Calhoun – 1/12/2017
David Bryson Burtnett, With Distinction – 1/12/2017
Grant Speakes – 1/12/2017
Hansen Harris, With Distinction – 1/12/2017
Jackson Randolph – 1/12/2017
James Johnson – 1/12/2017
Jessica Greene – 1/12/2017
John David Bertelson, With Distinction – 1/12/2017
John Peacock – 1/12/2017
Katrina Benson – 1/12/2017
Kyle Parker – 1/12/2017
Monica Huffer – 1/12/2017
Nicholas Lamb – 1/12/2017
Ross Ohlrich Johnson – 1/12/2017
Scott Edward Smith – 1/12/2017
Taylor Bedford, With Distinction – 1/12/2017
Vincent Fasone – 1/12/2017
Yiwei Chen, With Distinction – 1/12/2017
Yiwei Wu, With Distinction – 1/12/2017
Alex Janeck, With Distinction – 1/13/2017
Val E Cadena III, With Distinction – 1/15/2017
Maxwell Baird, With Distinction – 1/16/2017
Michael Roukis – 1/16/2017
Nicholas George File – 1/16/2017
Amit Zaman – 1/17/2017
Andrew Michael Howe, With Distinction – 1/21/2017
Michael Glynn, With Distinction – 1/22/2017
Richard Mayer Segal – 1/22/2017
Anthony Marsala, With Distinction – 1/23/2017
Justin Allamano, With Distinction – 1/26/2017
Mitchell Logan Nachman – 1/26/2017
Alexandre Cole, With Distinction – 1/29/2017
Je Hoon Kim, With Distinction – 1/29/2017
Samuel Bryce Welty – 2/1/2017
Huijing Zhang, With Distinction – 2/2/2017
Bahman Dashti, With Distinction – 2/6/2017
Angelo Koutoupis, With Distinction – 2/7/2017
Margaret Barry, With Distinction – 2/9/2017
Jeong Min Cho – 2/11/2017
Adam Wolfson – 2/17/2017
Randy J. Marble-Lobo – 2/22/2017
Jimmy Warren, With Distinction – 2/23/2017
Garrett P. Hughes, With Distinction – 2/24/2017
Priya Chopra – 2/26/2017
Shuo Wang, With Distinction – 2/28/2017
Justin A. Capuano, With Distinction – 3/7/2017
Robert Hugh Deng, With Distinction – 3/7/2017
Timothy Maslow, With Distinction – 3/7/2017
Michael Renna, With Distinction – 3/8/2017
Rami Chehabi – 3/13/2017
Charles A. Steelman, With Distinction – 3/16/2017
Jeffrey Reed, With Distinction – 3/17/2017
Andy Herg, With Distinction – 3/19/2017
Ming Che Lee, With Distinction – 3/19/2017
Scott Angell, With Distinction – 3/19/2017
Margaret Duffy, With Distinction – 3/22/2017
Hiradean Sadik, With Distinction – 3/26/2017
Zach Sobel, With Distinction – 3/30/2017
John Walker – 4/1/2017
Scott A Davidson, With Distinction – 4/3/2017
Mauricio Gutierrez, With Distinction – 4/10/2017
Jose Antonio Lorido, With Distinction – 4/14/2017
Francesc Garcia Uriel, With Distinction – 4/16/2017
Ryan Irvin, With Distinction – 4/17/2017
Calvin Tong, With Distinction – 4/18/2017
Neil E Ostrander – 4/22/2017
Genguo Ju – 4/23/2017
Jaden Rosselli – 4/23/2017
Garrett Pisarik, With Distinction – 4/25/2017
Braeden Wilson, With Distinction – 5/3/2017
Robert Gerard Hudert – 5/4/2017
Ethan Bidna, With Distinction – 5/8/2017
Richard Joseph Lorenzen, With Distinction – 5/8/2017
Travis Beane, With Distinction – 5/14/2017
Bryant Abiyatar, With Distinction – 5/17/2017
Jared Steinberg – 5/17/2017
John Foster – 5/17/2017
Jonathan Keren, With Distinction – 5/17/2017
Joshua Villarreal, With Distinction – 5/17/2017
Christian Hay, With Distinction – 5/19/2017
John Gibson, With Distinction – 5/22/2017
Russell Tunes, With Distinction – 5/22/2017
Matthew DeBoth, With Distinction – 5/25/2017
Taylor M. Epperson, With Distinction – 5/25/2017
Dustin Shaw-Krivosh – 5/26/2017
Kristen Hook, With Distinction – 5/26/2017
Augustus Haney, With Distinction – 6/1/2017
Joseph Scuderi, With Distinction – 6/2/2017
Mary Jordan Burns, With Distinction – 6/5/2017
Mitchell Bowman – 6/5/2017
Virginia Burns, With Distinction – 6/5/2017
Cornelis de Nysschen – 6/13/2017
Andrew Bunting – 6/14/2017
Zachary Robbins, With Distinction – 6/14/2017
Alexander Hein – 6/17/2017
Christopher Lloyd, With Distinction – 6/17/2017
Diego Garza – 6/18/2017
Alexander Legakis, With Distinction – 6/21/2017
Robert McKay Siegel, With Distinction – 6/21/2017
Steven Dumanski, With Distinction – 6/21/2017
Alexander B Chamberlain, With Distinction – 7/3/2017
Bowei Wang, With Distinction – 7/11/2017
Benjamin Torchman, With Distinction – 7/13/2017
Brandon Sultanik – 7/13/2017
John Richard Mak, With Distinction – 7/13/2017
Ray Seely, With Distinction – 7/13/2017
Tyler M. Whitt, With Distinction – 7/14/2017
Morgan Plaster – 7/17/2017
Joe Dunne, With Distinction – 7/20/2017
Lawren Doyle, With Distinction – 7/21/2017
Brian Patrick Cucinelli, With Distinction – 7/24/2017
Jeffrey Begley – 7/25/2017
Alexandra Bennett – 7/26/2017
Hanna Galvin – 7/26/2017
Brice Eidson, With Distinction – 7/29/2017
Michael T Ward – 7/29/2017
Nate Wilson, With Distinction – 7/29/2017
Victor Villagran – 7/29/2017
Marc Baecht – 8/4/2017
Thomas Ford Moriarty – 8/4/2017
Akashchandra Pandey, With Distinction – 8/7/2017
Landon A. Gull, With Distinction – 8/7/2017
Scott Tocco – 8/8/2017
Paul Bagnasco – 8/9/2017
Jared King, With Distinction – 8/14/2017
Foley George – 8/15/2017
Dan Shanahan – 8/16/2017
Sergey Ermolaev, With Distinction – 8/16/2017
Kaitlyn Marcisz – 8/24/2017
Thomas Griffin, With Distinction – 8/27/2017
Michael Francescani, With Distinction – 8/28/2017
Phillip Melton, With Distinction – 8/28/2017
Yijun Wang – 9/1/2017
Christine McGuire, With Distinction – 9/3/2017
Ivan Mak, With Distinction – 9/11/2017
Ashton Summers, With Distinction – 9/18/2017
Batkhuu Pad, With Distinction – 9/20/2017
Devin Ondre'us Deloney-Forte' – 9/20/2017
Thomas Castelli, With Distinction – 9/21/2017
Robert F Cronenberg III, With Distinction – 9/26/2017
Travis Bourgeois, With Distinction – 9/26/2017
Wayne Watson – 10/2/2017
Ryan M. Miller, With Distinction – 10/3/2017
Peter Riley, With Distinction – 10/5/2017
Su Zhang, With Distinction – 10/7/2017
Joshua Welch, With Distinction – 10/8/2017
John Bennett, With Distinction – 10/9/2017
Brian Page, With Distinction – 10/10/2017
Savannah Haney – 10/11/2017
Brandon Kaller, With Distinction – 10/11/2017
Adrien Deniau, With Distinction – 10/15/2017
Fabrizzio O. Chaves, With Distinction – 10/24/2017
Kurt Turley, With Distinction – 10/27/2017
Ryan Karbowicz, With Distinction – 10/27/2017
Max Rather – 10/29/2017
Alex Rifkind – 10/30/2017
Thomas Chamieh – 11/1/2017
Franz William Rassman, With Distinction – 11/4/2017
Armand Hershowitz, With Distinction – 11/18/2017
Rachel Suppa, With Distinction – 11/28/2017
Chris Nesbitt, With Distinction – 11/29/2017
Jade Yingyu Liu, With Distinction – 12/6/2017
William Guerriero, With Distinction – 12/13/2017
Robert Nathaniel Solomson – 12/14/2017
Bartholomew Mullin – 12/15/2017
Craig Ferreira, With Distinction – 12/17/2017
Brendan Calafiore – 12/18/2017
Noah Tillipman, With Distinction – 12/18/2017
Chandler Kennell, With Distinction – 12/21/2017
Eric Buchalter – 12/29/2017
Mark Marash Lucaj – 12/29/2017
Adam Cristelli, With Distinction – 1/1/2018
Anne Wahl, With Distinction – 1/2/2018
Yi Dai – 1/4/2018
John Hogan, With Distinction – 1/5/2018
Seth Damrow – 1/5/2018
Paul Anslow, With Distinction – 1/6/2018
Ethan Argov, With Distinction – 1/7/2018
Andrew William Katzfey – 1/9/2018
Ashley Zubizarreta – 1/9/2018
Justin Hunt, With Distinction – 1/9/2018
Keith Read – 1/9/2018
Reagan Booth – 1/9/2018
Alexander N Riba – 1/10/2018
Alison Gray – 1/10/2018
Andrew Montemayor – 1/10/2018
Anthony Osburn – 1/10/2018
Avi Ginsburg – 1/10/2018
Benjamin Ross Bonilla – 1/10/2018
Brian Bormann – 1/10/2018
Cecilee Cook, With Distinction – 1/10/2018
Chance Jones, With Distinction – 1/10/2018
CHANG JOO CHA, With Distinction – 1/10/2018
Charles White – 1/10/2018
Connor Beardmore – 1/10/2018
Daniel Rueda, With Distinction – 1/10/2018
Ellen Hevenor – 1/10/2018
Garrett Anthony Notzon – 1/10/2018
Jeffrey Gustafson – 1/10/2018
John Kerns Dickson Jr, With Distinction – 1/10/2018
John-Bradley Greene, With Distinction – 1/10/2018
Dexter Fulbright, With Distinction – 1/10/2018
Jacob Maloy, With Distinction – 1/10/2018
Holden Penn – 1/11/2018
Joseph Elder – 1/10/2018
Katherine Miller – 1/10/2018
Koy Moody – 1/10/2018
Nathan Piers Welty – 1/10/2018
Remli Price – 1/10/2018
Samuel Koch Orton – 1/10/2018
Stephen Brooks Wheatcroft – 1/10/2018
David Brock – 1/11/2018
Jordan Mastrogiovanni – 1/11/2018
Kolten Booher, With Distinction – 1/11/2018
Raymond Gabe Terrell, With Distinction – 1/11/2018
Tyler Bond – 1/11/2018
Ali Samee, With Distinction – 1/14/2018
Ryan McClure, With Distinction – 1/14/2018
Jordyn Smith, With Distinction – 1/15/2018
Justin Raes – 1/16/2018
Bryce S Martin, With Distinction – 1/17/2018
Giancarlo Paone – 1/17/2018
Ben Livingston, With Distinction – 1/17/2018
Stephen Matthew Florence – 1/17/2018
Connor Jaeger, With Distinction – 1/19/2018
Greg Bohenko – 1/23/2018
Randy Streig, With Distinction – 1/27/2018
Christopher Hatton Landis – 1/30/2018
Neha Shetty – 2/4/2018
Kevin Weiqun Cao, With Distinction – 2/8/2018
Jason Langford, With Distinction – 2/11/2018
John O'Keefe – 2/16/2018
Cole Cherney, With Distinction – 4/7/2020
Alexander Samsonov – 2/18/2018
Harrison Braha, With Distinction – 2/19/2018
Matthew Ornstein, With Distinction – 2/25/2018
Garrett Mills – 2/26/2018
Sean Bare, With Distinction – 2/28/2018
Ranj Dhaliwal, With Distinction – 3/2/2018
Katherine Loaiza – 3/4/2018
Zachary Tronti – 3/5/2018
Man Chung Max Wu – 3/7/2018
Whalen MacHale, With Distinction – 3/7/2018
Christopher Dixon – 3/9/2018
Brent Smith – 3/9/2018
Joseph NGUYEN, With Distinction – 3/10/2018
Taylor Malboeuf, With Distinction – 3/13/2018
Gianrovic Perez Gulino – 3/14/2018
Paul Egiyan, With Distinction – 3/14/2018
Gregory Adams – 3/15/2018
James Levy – 3/16/2018
Clark Everett, With Distinction – 3/19/2018
Daniel Yun, With Distinction – 3/24/2018
Charles Morphis, With Distinction – 3/25/2018
gabriele fanciulli, With Distinction – 3/26/2018
Rex Warner, With Distinction – 3/27/2018
Rachel Kreamer – 3/30/2018
Raymond Mazzie – 4/4/2018
Jesse Garrett, With Distinction – 4/5/2018
Michael Rosenson, With Distinction – 4/6/2018
Hunter Schwarz – 4/6/2018
Alain Kasparian, With Distinction – 4/9/2018
Connor Beaumont – 4/10/2018
Yawen Liu – 4/11/2018
David O'Harra, With Distinction – 4/15/2018
Mike De Carlo – 4/19/2018
Simon Yeramian – 4/20/2018
Matthew Tsung, With Distinction – 4/23/2018
Zachary Howell – 4/24/2018
Xinzhu Fan, With Distinction – 4/25/2018
William Fay, With Distinction – 4/25/2018
Alex Evans – 4/28/2018
Allie McGehee – 5/3/2018
Chad Williamson – 5/8/2018
Warren Fuller, With Distinction – 5/11/2018
Lawrence Guarnieri, With Distinction – 5/13/2018
Justin Strinka, With Distinction – 5/13/2018
Tristan Lamontagne – 5/17/2018
Ryan Archambo, With Distinction – 5/21/2018
George Adams – 5/23/2018
Jimmy Caracheo – 5/24/2018
Joshua Smith – 5/24/2018
Jordan Toumanidis – 5/27/2018
Cam Lawson, With Distinction – 5/29/2018
Daniel Klein, With Distinction – 6/6/2018
Eric Moore, With Distinction – 6/11/2018
Zachary Armstrong – 6/14/2018
John Guillett – 6/17/2018
Jose Ramirez, With Distinction – 6/18/2018
Nikolai Sadeghi – 6/19/2018
Noori Han, With Distinction – 6/19/2018
Angelo Koutoupis, With Distinction – 6/19/2018
Taras Sarvas, With Distinction – 6/20/2018
Keith Hoddinott, With Distinction – 6/20/2018
Edward Odgers, With Distinction – 6/22/2018
Madison Trasher – 6/23/2018
Justin Patton – 6/24/2018
Nicholas Armstrong – 6/24/2018
Matthew Strahan, With Distinction – 6/26/2018
Tyler Retzloff – 6/29/2018
Ilvea Morris – 6/29/2018
Júlio Villalobos-Torres, With Distinction – 6/30/2018
Seth LOHT LOHT – 7/1/2018
Meghan Pellens, With Distinction – 7/6/2018
Quefei Zhang, With Distinction – 7/7/2018
Daniel Nomura – 7/9/2018
Kurt Cullen, With Distinction – 7/10/2018
Connor Monaghan – 7/10/2018
Alec Li, With Distinction – 7/11/2018
Maxwell Kelly, With Distinction – 7/11/2018
Yisroel Weinstein, With Distinction – 7/11/2018
Bill MacEwen, With Distinction – 7/12/2018
Bryan Hulburd – 7/12/2018
Tasha Beal – 7/13/2018
Sean Lindsay, With Distinction – 7/13/2018
Sam Banks – 7/13/2018
Alex Krauss – 7/16/2018
Zach Spencer, With Distinction – 7/17/2018
Moulin Deliwala, With Distinction – 7/18/2018
Matthew Daniels, With Distinction – 7/19/2018
Tarah Gilbreth – 7/19/2018
Joe Hoscheit – 7/19/2018
Trevor Stroebel, With Distinction – 7/19/2018
George Hill – 7/19/2018
Hannah McReynolds – 7/19/2018
Cole Murphy – 7/19/2018
Megan Vickery – 7/19/2018
Alana Szilagyi – 7/19/2018
Chase Arrington – 7/19/2018
Taylor Press, With Distinction – 7/19/2018
Ina Koch – 7/20/2018
Eduardo Paz, With Distinction – 7/20/2018
Jeffrey Colston – 7/20/2018
Michael Loya, With Distinction – 7/22/2018
Matthew Billings, With Distinction – 7/23/2018
Conor Horowitz, With Distinction – 7/25/2018
Doug Walterhouse, With Distinction – 7/25/2018
Brijesh Patel, With Distinction – 7/26/2018
Benjamin Bowlby – 7/26/2018
Forrest Greenwalt, With Distinction – 7/26/2018
Jack Thompson, With Distinction – 7/26/2018
Samuel Boyd – 7/26/2018
Ana Pedrajo – 7/26/2018
Raul Tamez, With Distinction – 7/26/2018
Chris Rusbuldt – 7/26/2018
Beau Brand – 7/26/2018
Dana Bowman, With Distinction – 7/26/2018
Mike Sullivan – 7/26/2018
Daphne Owens, With Distinction – 7/26/2018
Hewsan Pang – 7/26/2018
Alex Perkins – 7/26/2018
Remy Midkiff, With Distinction – 7/26/2018
Jungwon Choi – 7/26/2018
Matthew Schaney – 8/1/2018
Carlos Bermudez, With Distinction – 8/2/2018
Patrick Maney, With Distinction – 8/2/2018
Tianliang Zhang, With Distinction – 8/6/2018
Daryn Smith, With Distinction – 8/6/2018
Shotaro Watanabe, With Distinction – 8/7/2018
Mary-Catherine Riley – 8/7/2018
John Nicolson – 8/8/2018
Farid Sheikh, With Distinction – 8/9/2018
Camilo Padilla, With Distinction – 8/12/2018
Patrick Domville – 8/20/2018
Daniel Frechter, With Distinction – 8/21/2018
Forrest Williams, With Distinction – 8/21/2018
Victoria Holsey, With Distinction – 8/21/2018
Clint McClellen, With Distinction – 8/23/2018
Michael Hobbs – 8/24/2018
Tim Gillespie – 8/24/2018
Jacob Leen – 8/24/2018
Taylor Herrmann – 8/26/2018
Samuel Nichols, With Distinction – 8/26/2018
Spencer Solomon – 8/26/2018
Adrian Jasso, With Distinction – 8/26/2018
Katlyn Krause – 8/27/2018
Taylor Ellner – 8/27/2018
Matthew Long, With Distinction – 8/28/2018
John Ferguson, With Distinction – 8/29/2018
Hao-Heng Frank Fu – 8/30/2018
James Zaepfel, With Distinction – 9/3/2018
Stephen Monaco – 9/4/2018
Matthew Leonard, With Distinction – 9/9/2018
Charles Welch – 9/10/2018
Eric Popp – 9/11/2018
Juan Scharffenorth – 9/11/2018
Alexander Williams, With Distinction – 9/11/2018
Desmond Kieo, With Distinction – 9/12/2018
Andrew Reppert, With Distinction – 9/12/2018
Marvin Wong, With Distinction – 9/15/2018
Blake Dean, With Distinction – 9/15/2018
Tais Coelho, With Distinction – 9/18/2018
Joseph Grabinski, With Distinction – 9/18/2018
James Cooper, With Distinction – 9/19/2018
Connor Sprenkel, With Distinction – 9/19/2018
Luke Deitz – 9/19/2018
Colin Campbell, With Distinction – 9/20/2018
Jordan Banks, With Distinction – 9/22/2018
Paul Hernandez – 9/24/2018
Jordan Bayne – 9/26/2018
Domenica Chiriboga – 9/27/2018
Miho Weisbly, With Distinction – 9/27/2018
Paisley Freund – 9/28/2018
Matthew Thomas, With Distinction – 10/1/2018
David Storch – 10/1/2018
Ekaterina Volkova, With Distinction – 10/4/2018
Jeffrey Estano, With Distinction – 10/4/2018
Patty McPoland – 10/5/2018
Matt Stein, With Distinction – 10/5/2018
Joseph Dagostino – 10/5/2018
Alexander Lazo – 10/5/2018
Philip Winn – 10/7/2018
weibin zeng – 10/7/2018
Michael Garruto, With Distinction – 10/9/2018
William Hespe – 10/9/2018
Wesley Quinzani, With Distinction – 10/13/2018
Rubin Xu – 10/13/2018
Evan Butters – 10/15/2018
Nick Carney, With Distinction – 10/22/2018
Lucian LaTourelle, With Distinction – 10/22/2018
Andrew Ngo, With Distinction – 10/22/2018
Liam Fitzpatrick, With Distinction – 10/22/2018
Maxwell Liporace, With Distinction – 10/22/2018
Bennett Wallander – 10/23/2018
Joseph Holmes, With Distinction – 10/28/2018
hunter patterson – 10/31/2018
Lauren Savett – 10/31/2018
Roberto Gallegos – 11/2/2018
Sammy Alkhatib – 11/4/2018
Garrett Gill, With Distinction – 11/6/2018
jingjing zhu – 11/11/2018
Ryan Gaughan – 11/11/2018
Tanner Wilson, With Distinction – 11/12/2018
Christopher Hitch – 11/13/2018
Chris Turner – 11/13/2018
Austin Decell – 11/13/2018
Matthew Price – 11/16/2018
Thomas Grubb, With Distinction – 11/16/2018
Arya Deniz, With Distinction – 11/16/2018
Blake Joyner – 11/18/2018
Nick Zocher, With Distinction – 11/18/2018
Aaron Manji, With Distinction – 11/18/2018
LAUREN KNUTSON – 11/19/2018
varun rajan – 11/19/2018
Elliot Condos – 11/19/2018
Chance Schlenk – 11/19/2018
Kyle McAndrews – 11/19/2018
Daniel Molina, With Distinction – 11/19/2018
tyler henschel – 11/19/2018
joel curtis – 11/20/2018
Justin Malekan, With Distinction – 11/20/2018
James Looney – 11/20/2018
cameron scheib – 11/20/2018
sanjana bysani srinath, With Distinction – 11/21/2018
Cristina Istrate, With Distinction – 11/25/2018
Igor Vaysbeyn – 11/26/2018
Brian Jacobs – 11/26/2018
Kevin Powell – 11/28/2018
Alex Motiuk, With Distinction – 11/29/2018
Jesus Carrasco, With Distinction – 11/30/2018
Tommy Ng, With Distinction – 12/2/2018
Jaque Liu, With Distinction – 12/4/2018
Brock Hudson, With Distinction – 12/4/2018
Daniel Bui – 12/6/2018
Hugo Santiago Ruiz – 12/6/2018
Daniel Gawley – 12/7/2018
Jacob Clark, With Distinction – 12/9/2018
amit bohra – 12/17/2018
Paxton Hoogland – 12/22/2018
Clark Elwell – 12/24/2018
Chaim Schulman – 12/27/2018
Allison Grona – 12/27/2018
trevante watson – 12/28/2018
Elizabeth Guthrie – 12/29/2018
Matthew Kirchner – 12/30/2018
Hannah Solomon, With Distinction – 12/31/2018
Timothy Landry, With Distinction – 1/2/2019
Samuel Auvermann, With Distinction – 1/2/2019
Andrew Estrada – 1/2/2019
Chelsea Holub, With Distinction – 1/4/2019
Clarence Marsh, With Distinction – 1/4/2019
Jing Yi Ng, With Distinction – 1/4/2019
Dustin Smith, With Distinction – 1/5/2019
Jesse Lazarus, With Distinction – 1/5/2019
Connor White – 1/5/2019
Galen Sulistyo, With Distinction – 1/5/2019
Sycerika McMahon, With Distinction – 1/6/2019
Danielle Watkins – 1/6/2019
Carter Neill, With Distinction – 1/6/2019
Carley Smith, With Distinction – 1/7/2019
Tyler Pruett – 1/7/2019
Autry Warren – 1/8/2019
Reid Malley, With Distinction – 1/8/2019
Connor Pieratt, With Distinction – 1/8/2019
Steven Lubrano, With Distinction – 1/8/2019
Andrew Nixon, With Distinction – 1/8/2019
Michael Ricciardi, With Distinction – 1/8/2019
Ryan Thompson, With Distinction – 1/8/2019
Cole Kenefsky – 1/8/2019
Marc Farris – 1/8/2019
Kyle Doerre, With Distinction – 1/8/2019
Brian Jones, With Distinction – 1/8/2019
Nicholas Boehm – 1/9/2019
Brandon Edmonds – 1/9/2019
Trenton Forbes – 1/9/2019
Austin Alves – 1/9/2019
Anastasia Megdanis – 1/9/2019
Carlos Suarez – 1/9/2019
Chloe Velasco, With Distinction – 1/9/2019
Morgan Pavloske, With Distinction – 1/9/2019
Cole Wade – 1/9/2019
Paul Marczak, With Distinction – 1/9/2019
Taek Kim – 1/9/2019
Sara Butler – 1/9/2019
Harrison Conly, With Distinction – 1/9/2019
Mitchell Rigamonti – 1/9/2019
Krishtian Bazan, With Distinction – 1/9/2019
Travis Williamson – 1/9/2019
Cecelia Swanson, With Distinction – 1/9/2019
Kelon Oberg – 1/9/2019
Whitney Allen, With Distinction – 1/9/2019
BRETT BALDA – 1/9/2019
Christian Koeijmans – 1/9/2019
William McDonough – 1/9/2019
Brendan Thompson, With Distinction – 1/9/2019
Wren Averyt – 1/9/2019
Wendy Pierre – 1/9/2019
Harrison Heim – 1/9/2019
Cody Carpenter – 1/9/2019
Tucker Burns – 1/9/2019
Martin Spradley – 1/9/2019
Joseph Cheek – 1/9/2019
Noah Burns – 1/9/2019
Angus Isles – 1/10/2019
Ezra Brathwaite, With Distinction – 1/10/2019
Bryan Hyland, With Distinction – 1/10/2019
Jacob Nelson, With Distinction – 1/10/2019
Michael Lia – 1/11/2019
Ulysses Auger, With Distinction – 1/13/2019
Benjamin Lewis, With Distinction – 1/13/2019
ashutosh pant, With Distinction – 1/13/2019
David Kasten – 1/14/2019
HAO CAO, With Distinction – 1/17/2019
Ying Li, With Distinction – 1/18/2019
Matt Tortorello – 1/19/2019
Florian Huber, With Distinction – 1/21/2019
Edgar Garnys, With Distinction – 1/22/2019
rong xu, With Distinction – 1/23/2019
Ed Newman, With Distinction – 1/23/2019
Loukas Zimianitis, With Distinction – 1/27/2019
Emory Parker, With Distinction – 1/27/2019
Dylan Smith – 1/29/2019
Alex Seff, With Distinction – 1/30/2019
Andrew Siderides, With Distinction – 1/31/2019
Adam Powell – 1/31/2019
Nicole Chan – 2/1/2019
Manuel Del Campo, With Distinction – 2/1/2019
Joseph McKay, With Distinction – 2/3/2019
David Ross, With Distinction – 2/3/2019
Garrett Hoopes, With Distinction – 2/4/2019
Templeton Stump, With Distinction – 2/4/2019
Cheng Zhong, With Distinction – 2/5/2019
Jacob Anderson, With Distinction – 2/5/2019
Florian Bauer, With Distinction – 2/6/2019
Kevin Walsh, With Distinction – 2/6/2019
Wilson P Hightower IV – 2/6/2019
Conor Sweeney, With Distinction – 2/7/2019
Charlie Tyler, With Distinction – 2/7/2019
Eunjong Lee, With Distinction – 2/9/2019
Nick Luckow – 2/11/2019
Mitchell Le, With Distinction – 2/12/2019
Brian Albers, With Distinction – 2/12/2019
Michael Clements, With Distinction – 2/13/2019
William Montgomery, With Distinction – 2/14/2019
Joshua Isackson, With Distinction – 2/18/2019
Kendall Hatch, With Distinction – 2/20/2019
Nhung Lam, With Distinction – 2/21/2019
Maria Maiwald – 2/26/2019
Kenneth Hamby – 2/26/2019
Scott Magaluk – 2/27/2019
Robin Stenlund – 3/3/2019
Brandon Miller, With Distinction – 3/6/2019
Kevin Campbell, With Distinction – 3/6/2019
MK EVANS, With Distinction – 3/6/2019
Alexander Blagoi – 3/9/2019
Stephen Okawaki – 3/9/2019
Hengkun Liang – 3/10/2019
Dylan Mikson, With Distinction – 3/12/2019
Ron Cruz – 3/19/2019
Joseph McLean, With Distinction – 3/20/2019
Ben Marks – 3/20/2019
Mitchell Hoffman, With Distinction – 3/21/2019
Mark Palace, With Distinction – 3/23/2019
Elena Frattaroli, With Distinction – 3/24/2019
Justin Fortner, With Distinction – 3/24/2019
Shawn Fang, With Distinction – 3/24/2019
Clay Garrett, With Distinction – 3/25/2019
Moritz Schäfer – 3/29/2019
Stefan Coburn, With Distinction – 3/30/2019
Rhet Porter – 3/30/2019
Joshua Lee – 4/6/2019
Laszlo Syrop, With Distinction – 4/7/2019
Benjamin Cooper, With Distinction – 4/8/2019
William Trenkelbach, With Distinction – 4/8/2019
Tianzhou Wu, With Distinction – 4/10/2019
Diego Mion, With Distinction – 4/11/2019
Steven Saxey, With Distinction – 4/13/2019
Shane Maher, With Distinction – 4/13/2019
Francis Monsada, With Distinction – 4/18/2019
Jason Tiensvold, With Distinction – 4/18/2019
Anthony Minute, With Distinction – 4/19/2019
Mark Bredemann, With Distinction – 4/19/2019
Mason Bartlett – 4/19/2019
Darren Smith, With Distinction – 4/19/2019
Travis Howe, With Distinction – 4/23/2019
Pablo Castaneda, With Distinction – 4/26/2019
Andrew MacDonald, With Distinction – 4/27/2019
Joseph Zaniboni, With Distinction – 4/28/2019
Jared Pierce – 5/3/2019
Robert Gill – 5/4/2019
Quentin Campbell – 5/6/2019
Bernd Wesendahl, With Distinction – 5/6/2019
James Barrios – 5/8/2019
Phu Vu – 5/9/2019
Steven Hickman – 5/10/2019
Jeramy Staton – 5/10/2019
J. Alex Albarracin, With Distinction – 5/11/2019
Michael Guardiola – 5/12/2019
Kendrick Logan, With Distinction – 5/12/2019
Matthew Luther, With Distinction – 5/14/2019
Riley Duncan – 5/15/2019
Ryan OConnell, With Distinction – 5/16/2019
PAK MING YUEN, With Distinction – 5/16/2019
Simon Lim, With Distinction – 5/18/2019
Drake Dickerson, With Distinction – 5/19/2019
John-Bradley Greene – 5/19/2019
DAVID LINCOLN – 5/20/2019
Anne Rosenblatt, With Distinction – 5/22/2019
Vidit Hirani, With Distinction – 5/24/2019
James Farrar, With Distinction – 5/24/2019
Evan Ott, With Distinction – 5/24/2019
Leonard Allen-Smith – 5/26/2019
Malak Benmassaoud, With Distinction – 5/27/2019
James Roberts, With Distinction – 5/28/2019
Benjamin Miller, With Distinction – 5/28/2019
Michael Reed, With Distinction – 5/28/2019
Robert Sobczak, With Distinction – 5/29/2019
Thayer Hunt, With Distinction – 5/29/2019
Gina Tersini – 5/30/2019
Lee Cohen – 5/30/2019
Jackson Huggett, With Distinction – 5/31/2019
Yiorgos Takoudis, With Distinction – 6/1/2019
Demetri Demascus – 6/2/2019
Nick Ignaczak – 6/2/2019
Landon Cibulka, With Distinction – 6/3/2019
Kevin Buxton, With Distinction – 6/3/2019
Harrison Kalt, With Distinction – 6/4/2019
Themistoklis Kosmidis, With Distinction – 6/4/2019
Conrad Classen – 6/6/2019
Tianran Xu, With Distinction – 6/7/2019
Bruce Grant, With Distinction – 6/9/2019
Shay Aslani, With Distinction – 6/9/2019
Chris Adams, With Distinction – 6/9/2019
Joseph Vuskovich – 6/10/2019
Ronald Bedway, With Distinction – 6/11/2019
Micayla Oniskey – 6/12/2019
Erica Yaguchi, With Distinction – 6/13/2019
Will Adefehinti – 6/15/2019
Tyler Suchman, With Distinction – 6/18/2019
Jason Lu – 6/18/2019
Sydney Goode – 6/20/2019
Michael Genovesi – 6/21/2019
Andrew Bull, With Distinction – 6/22/2019
Michael Rose – 6/26/2019
Logan Zeigler, With Distinction – 6/26/2019
Crystal Gamboa – 6/30/2019
mario diloreto, With Distinction – 6/30/2019
William Kern – 7/1/2019
Bryon Wells, With Distinction – 7/1/2019
Grace Gardner, With Distinction – 7/2/2019
Vale Fitzpatrick, With Distinction – 7/2/2019
Alfonso Valencia, With Distinction – 7/3/2019
Markus Jones, With Distinction – 7/7/2019
Conner Cheves, With Distinction – 7/9/2019
Peyton Dandridge, With Distinction – 7/9/2019
Kevin Ken – 7/9/2019
Will Jackson, With Distinction – 7/10/2019
Anthony Chammah – 7/10/2019
Nick Catalano – 7/11/2019
Jenna Moustafa, With Distinction – 7/11/2019
Dylan Plummer – 7/11/2019
Max Mazzone, With Distinction – 7/15/2019
Jie Zhou, With Distinction – 7/15/2019
Kyra Perry – 7/15/2019
Sam Young, With Distinction – 7/17/2019
KYLE Mannheimer, With Distinction – 7/18/2019
PATRICK TIMPERIO, With Distinction – 7/19/2019
Luciano Lara, With Distinction – 7/21/2019
Alex Elbogen, With Distinction – 7/23/2019
Jacob Hamel, With Distinction – 7/28/2019
Antonios Bernakos, With Distinction – 7/28/2019
Courtney Druckman, With Distinction – 7/30/2019
Graham Murphy, With Distinction – 7/31/2019
Geoff O'Connor – 8/1/2019
Philip Meisner, With Distinction – 8/1/2019
Oren Richkin, With Distinction – 8/2/2019
Matthew Hausman, With Distinction – 8/2/2019
Austin Holmes – 8/5/2019
Dan Schlesinger, With Distinction – 8/6/2019
Anthony Richards – 8/6/2019
William Morey, With Distinction – 8/7/2019
Matthew Bowen – 8/7/2019
Lingyan Yao – 8/7/2019
Grant Waldron, With Distinction – 8/8/2019
Benjamin Carlson, With Distinction – 8/10/2019
Federico Fermin – 8/10/2019
Michael Bertakis – 8/11/2019
CHRISTIAN BANISTER – 8/11/2019
Jose Paneda, With Distinction – 8/11/2019
Nicolas Zaia, With Distinction – 8/11/2019
Lucas Sherrod – 8/11/2019
Gabrielle Cambronne, With Distinction – 8/12/2019
Jadde Rowe, With Distinction – 8/12/2019
Suying Zhang – 8/12/2019
Robert Dymond, With Distinction – 8/14/2019
Zac Jones – 8/15/2019
Paige Taylor, With Distinction – 8/16/2019
Jo Napolitano – 8/17/2019
Chase Calderon, With Distinction – 8/17/2019
Daniel Lin, With Distinction – 8/18/2019
Si Yuan Kuang, With Distinction – 8/21/2019
Max Chapin, With Distinction – 8/21/2019
Louis Jackson – 8/22/2019
Ryan McWilliams, With Distinction – 8/22/2019
Matthew Brantley, With Distinction – 8/23/2019
Andrew Reiley OConnor, With Distinction – 8/25/2019
Erik Thunberg – 8/27/2019
Brandon Wendt – 8/29/2019
Nikolay Nedev, With Distinction – 8/30/2019
Brendan Mairs, With Distinction – 8/30/2019
Sunwoo Kim, With Distinction – 8/31/2019
Tyler Arrington, With Distinction – 9/5/2019
Nathan Matos – 9/10/2019
Jarrod Woodley, With Distinction – 9/11/2019
Reid Hofstetter – 9/12/2019
Taylor McClendon – 9/18/2019
Nicholas Goff, With Distinction – 9/19/2019
Brad Foster, With Distinction – 9/19/2019
Dallin McKenzie – 9/20/2019
Gaurav Dhume, With Distinction – 9/24/2019
Mitchell Bowman – 9/28/2019
Bretton Bowman – 9/28/2019
Keith Eckert – 9/30/2019
brian tucker – 9/30/2019
Jeremiah Watson – 10/1/2019
Carson Pierce – 10/2/2019
William McClintic – 10/4/2019
Lazare Herzi, With Distinction – 10/5/2019
Schuyler Velten, With Distinction – 10/9/2019
Jacob Carlson, With Distinction – 10/12/2019
Arturo Vidal, With Distinction – 10/13/2019
Michael Brunelli, With Distinction – 10/14/2019
Friederike von Bunau – 10/16/2019
Brent Sander, With Distinction – 10/17/2019
Sam Mishra, With Distinction – 10/22/2019
Darren Critchlow – 10/23/2019
, With Distinction – 10/23/2019
Tristan Huerta – 10/23/2019
, With Distinction – 10/28/2019
, With Distinction – 10/29/2019
Sean Montgomery – 10/30/2019
Liam Stewart, With Distinction – 11/4/2019
Ramon Fondren, With Distinction – 11/7/2019
James Jenkins, With Distinction – 11/12/2019
Grace Stephens – 11/13/2019
Kyle Heath, With Distinction – 11/15/2019
Matthew Johnson, With Distinction – 11/15/2019
Patrick O'Reilly – 11/15/2019
Douglass Shumaker – 11/16/2019
Jesse Bailey, With Distinction – 11/17/2019
Ford Corbett – 11/17/2019
Steven Carlisle, With Distinction – 11/18/2019
Simon Graff, With Distinction – 11/19/2019
, With Distinction – 11/20/2019
jaden Theodora, With Distinction – 11/20/2019
Kris Simmons, With Distinction – 11/21/2019
Alexander King, With Distinction – 11/21/2019
Trevor Kierecki, With Distinction – 11/22/2019
Weston Nalley – 11/22/2019
Scott Hiler, With Distinction – 11/22/2019
Alexander Breinin, With Distinction – 11/22/2019
James Poulnot, With Distinction – 11/22/2019
Gabriel Lazcano, With Distinction – 11/23/2019
Sahil Patel, With Distinction – 11/24/2019
Anna Gallegos, With Distinction – 11/24/2019
Micah Kessler – 11/25/2019
Connor Bennett, With Distinction – 11/25/2019
Joel George, With Distinction – 11/26/2019
Mark Hughes, With Distinction – 11/27/2019
, With Distinction – 11/28/2019
Junjie Tan, With Distinction – 11/28/2019
– 11/28/2019
Marc Philippi – 11/29/2019
, With Distinction – 12/1/2019
David Martin – 12/2/2019
Elizabeth Grater, With Distinction – 12/2/2019
– 12/2/2019
Dimitris Poulis – 12/2/2019
– 12/4/2019
, With Distinction – 12/5/2019
Abeyalew Alemneh – 12/5/2019
Andrew Gomez – 12/5/2019
Matthew Fairchild – 12/5/2019
Luis Flores, With Distinction – 12/5/2019
marissa stavola, With Distinction – 12/5/2019
Luis Garcia Reyes, With Distinction – 12/5/2019
Logan Kemper – 12/5/2019
Luke Pappas – 12/5/2019
John Saylor, With Distinction – 12/5/2019
Alexis Nunez Marrufo, With Distinction – 12/5/2019
Jagger Havlik, With Distinction – 12/5/2019
Brittney Ortiz, With Distinction – 12/8/2019
David Zahedi Brown – 12/10/2019
Peter Griffith – 12/11/2019
James Lonergan – 12/11/2019
Monica Brendsel – 12/13/2019
Alexander Candoo, With Distinction – 12/15/2019
Shaharyar Ahsan – 12/16/2019
John Hunter – 12/18/2019
Madison Baker – 12/19/2019
Bailey Dawson – 12/19/2019
Matt Anderson – 12/20/2019
Eric Fallon, With Distinction – 12/26/2019
Adam Hurd, With Distinction – 12/26/2019
Mason Ellard, With Distinction – 12/28/2019
Tianyi Fan – 12/29/2019
Avi Ginsburg, With Distinction – 12/30/2019
Maureen Cohen – 12/31/2019
David Reddy – 1/2/2020
Max Waple – 1/3/2020
Brian Santana De La Rosa, With Distinction – 1/3/2020
Willis Melvin – 1/4/2020
Brooke Gray, With Distinction – 1/6/2020
Joshua Fern – 1/6/2020
Richard Wilkinson – 1/6/2020
Ford Childress – 1/6/2020
Jordan Bernstein, With Distinction – 1/6/2020
Samantha Graves – 1/7/2020
William Corrigan – 1/7/2020
Reid Gillings – 1/7/2020
Justin Nutt, With Distinction – 1/7/2020
Zoey Pawlik – 1/7/2020
Valarie Bradley – 1/7/2020
Shelbi Greaves – 1/7/2020
Braden Horton, With Distinction – 1/7/2020
texas tappa – 1/7/2020
Andrew DeVries – 1/7/2020
Jordan Nguyen – 1/7/2020
Colin Trautman – 1/7/2020
Stephen Mikeska – 1/7/2020
Will Rouse, With Distinction – 1/7/2020
Thomas Byers, With Distinction – 1/7/2020
Cassidy Springer – 1/7/2020
Taylor Dahlgren – 1/7/2020
Karsten Greil – 1/7/2020
Caleb Snow – 1/7/2020
Logan Jones – 1/7/2020
Caleb Smoot – 1/7/2020
Blake Wampler, With Distinction – 1/7/2020
Brian Griffith, With Distinction – 1/7/2020
Reagan Heddins – 1/7/2020
Carlton Orange – 1/7/2020
Nathan Federico – 1/7/2020
John Bormann, With Distinction – 1/7/2020
Ryan Sandles – 1/7/2020
Connor Russell, With Distinction – 1/8/2020
Will Burns – 1/8/2020
Ryan McCollum – 1/8/2020
Travis Schauer, With Distinction – 1/8/2020
Clayton Bryan – 1/8/2020
Kurt Hoelscher, With Distinction – 1/8/2020
Garrison Kinsel – 1/8/2020
Caitlin Edwards – 1/8/2020
Tristan Quizeo, With Distinction – 1/8/2020
Lucas Duhon, With Distinction – 1/8/2020
Garrett Newman, With Distinction – 1/8/2020
Connor Schwartz – 1/8/2020
Matthew Kulbicki – 1/8/2020
Sloan Crady – 1/8/2020
Samuel Woolsey, With Distinction – 1/8/2020
Kevin Burbano – 1/9/2020
Yasamin Rahmanparast, With Distinction – 1/9/2020
Matthew Concordia, With Distinction – 1/9/2020
James Todd, With Distinction – 1/9/2020
Caroline Weisstuch, With Distinction – 1/10/2020
HARRISON THAYER, With Distinction – 1/10/2020
Alicia Mendoza, With Distinction – 1/10/2020
Jason Pollan – 1/10/2020
samantha triolo, With Distinction – 1/10/2020
Garrett Pisarik – 1/10/2020
Brendan McKeon, With Distinction – 1/11/2020
Thomas Kennedy – 1/13/2020
Sasha Jules – 1/13/2020
Ruiqian Yang, With Distinction – 1/13/2020
Max Wasserman – 1/13/2020
Ben Wiggins, With Distinction – 1/13/2020
Austin Baker, With Distinction – 1/14/2020
Bianca Di Mauro, With Distinction – 1/14/2020
Sean Willson, With Distinction – 1/14/2020
Farbod Jahanshahi – 1/14/2020
Asi Ackerman, With Distinction – 1/14/2020
Harrison Hart – 1/14/2020
Matthew Sinclair, With Distinction – 1/14/2020
Spencer Langley, With Distinction – 1/15/2020
Eric Stahl, With Distinction – 1/16/2020
Jesse Ross, With Distinction – 1/16/2020
Jose Aguilar, With Distinction – 1/17/2020
Austin Pendergist – 1/17/2020
Stephen Bush, With Distinction – 1/17/2020
Jordan Howe, With Distinction – 1/17/2020
Tim Busch, With Distinction – 1/17/2020
Julia Cooper – 1/17/2020
Ira Green, With Distinction – 1/17/2020
Bryce Long – 1/17/2020
Elizabeth Porter – 1/17/2020
Timothy Racine – 1/17/2020
Josh Graf, With Distinction – 1/17/2020
Joseph Bryan – 1/17/2020
James Cathcart – 1/17/2020
Clayton Korell – 1/17/2020
Ian Schrager – 1/17/2020
Alina Salvail, With Distinction – 1/17/2020
Daniel Geary – 1/18/2020
Stephen Patton, With Distinction – 1/19/2020
Shannon Ormel – 1/19/2020
Tyler Hodgdon, With Distinction – 1/20/2020
Reasat Bhuiyan, With Distinction – 1/20/2020
Marshall Smith – 1/20/2020
Jim Frazier, With Distinction – 1/22/2020
Jacqueline Victoria Teer – 1/23/2020
Adam Giordano, With Distinction – 1/24/2020
Lyles Davis, With Distinction – 1/24/2020
Daniel Raynor, With Distinction – 1/24/2020
Ryan Kriftcher, With Distinction – 1/24/2020
Joseph Toledo, With Distinction – 1/25/2020
Rachel Bradshaw, With Distinction – 1/25/2020
Bennett Ellis – 1/25/2020
Thomas Henry, With Distinction – 1/26/2020
Tyler Salter – 1/26/2020
Brendan Swinehart, With Distinction – 1/26/2020
Kyle Galin, With Distinction – 1/27/2020
Michael Gobin, With Distinction – 1/27/2020
Reed Jones, With Distinction – 1/27/2020
JAMES GREGG, With Distinction – 1/27/2020
Jalecia Coley – 1/28/2020
James Byrd – 1/28/2020
Brett Wippler – 1/28/2020
Peter Schropp, With Distinction – 1/29/2020
Tyler Pilgrim, With Distinction – 1/29/2020
Joseph Barbarito – 1/30/2020
Jake Salmirs – 1/30/2020
Blake John, With Distinction – 1/30/2020
Mathew Ronk – 1/30/2020
Katie Gache, With Distinction – 1/30/2020
Madrid Danner-Smith – 2/1/2020
Steve Da Cruz – 2/2/2020
Yifeng Xie, With Distinction – 2/2/2020
molly wilson, With Distinction – 2/3/2020
Melvin Strasser-Nicol, With Distinction – 2/4/2020
Luke Bricca, With Distinction – 2/6/2020
Alexander Updyke, With Distinction – 2/9/2020
Henry King – 2/9/2020
Meaghan Philbin, With Distinction – 2/11/2020
Kyle Montiel-Berner – 2/11/2020
Stella Haglund, With Distinction – 2/12/2020
Camilo Mexsen, With Distinction – 2/15/2020
Runhua Xu, With Distinction – 2/17/2020
Jason Zhang, With Distinction – 2/17/2020
Dominique Alves, With Distinction – 2/18/2020
Weston Clark – 2/19/2020
Ismael Ahmed – 2/20/2020
Dylan Clancy – 2/20/2020
Lane Baker – 2/20/2020
Jessy Gendelman – 2/21/2020
Jack Lovell, With Distinction – 2/22/2020
Dann Smith, With Distinction – 2/23/2020
Michael Boyd, With Distinction – 2/24/2020
Taylor Bills, With Distinction – 2/25/2020
Erika Jobson, With Distinction – 2/25/2020
Sang Hyun Kim – 2/26/2020
Jack McCann, With Distinction – 2/26/2020
Christopher Osuna – 3/2/2020
Perry Tindle – 3/3/2020
Pascal Herrmann, With Distinction – 3/5/2020
Charles Laing, With Distinction – 3/11/2020
Patrick Leugers – 3/12/2020
Jonathan Gubbay, With Distinction – 3/15/2020
Yang Qiao, With Distinction – 3/16/2020
Dimitris Nikas, With Distinction – 3/21/2020
Evan Campbell, With Distinction – 3/22/2020
– 3/23/2020
Jackson Peacock – 3/23/2020
Rodrigo de los Santos, With Distinction – 3/23/2020
Nicholas Sommariva, With Distinction – 3/23/2020
Michael Scarnato – 3/24/2020
Max Lico – 3/24/2020
Conner Gray – 3/25/2020
Zachary Halpryn – 3/26/2020
Evan Burrer – 3/27/2020
Fabrice Golay, With Distinction – 3/28/2020
Juan Acosta – 3/28/2020
Ryan Lipps, With Distinction – 3/29/2020
Shannon Bergen – 3/29/2020
Razvan Druga, With Distinction – 3/30/2020
Nicholas Ferran – 3/30/2020
Or Levy, With Distinction – 3/30/2020
, With Distinction – 3/31/2020
Spyros Davaris, With Distinction – 4/1/2020
Carter Ransom, With Distinction – 4/6/2020
Ferran Brown – 4/6/2020
Aaron McIntyre, With Distinction – 4/8/2020
Dhalia Dupree – 4/10/2020
Santiago Eliaschev – 4/12/2020
– 4/13/2020
Weston Popp – 4/13/2020
Andrew Lifferth – 4/14/2020
Kopal Maheshwari Mulay, With Distinction – 4/15/2020
Hubert Golay, With Distinction – 4/15/2020
Grant Robey, With Distinction – 4/16/2020
Bryan Diangson, With Distinction – 4/17/2020
Alejandro Alvarez Mitre, With Distinction – 4/18/2020
Mahinthan Subramaniam – 4/19/2020
Ian McIntyre, With Distinction – 4/20/2020
William Glosson – 4/21/2020
Wyatt Martin, With Distinction – 4/22/2020
Spencer Vickers, With Distinction – 4/22/2020
Donald Monroe III – 4/24/2020
William Schuettler, With Distinction – 4/25/2020
Yue Dou – 4/26/2020
Marek Malik, With Distinction – 4/26/2020
, With Distinction – 4/28/2020
Benjamin Ader, With Distinction – 4/29/2020
Anders Meyer, With Distinction – 4/29/2020
Cole Bamberger, With Distinction – 4/30/2020
Givi Karbelashvili, With Distinction – 4/30/2020
Mirko Djujic, With Distinction – 4/30/2020
Liyan Zhang, With Distinction – 5/2/2020
Stephen Sawicki – 5/5/2020
Jared Wisen – 5/5/2020
Rahmaan Hamid, With Distinction – 5/5/2020
Shelby Griggs, With Distinction – 5/7/2020
Matthew Rosenfeld, With Distinction – 5/9/2020
Colleen Ryan, With Distinction – 5/10/2020
– 5/11/2020
Matthew Homsher, With Distinction – 5/13/2020
Griffin Vasile – 5/15/2020
Apostolos Kalantzis – 5/15/2020
Andrew Ionescu – 5/17/2020
Li-Yan Chang, With Distinction – 5/19/2020
Evan Bolender, With Distinction – 5/19/2020
Joshua Kim, With Distinction – 5/19/2020
Mario Lagnese, With Distinction – 5/20/2020
Tyler Arnold – 5/20/2020
Kunal Patel, With Distinction – 5/23/2020
Jeremy Mack, With Distinction – 5/25/2020
John McDavid V, With Distinction – 5/25/2020
Alberto Figueroa, With Distinction – 5/26/2020
Jason Graves – 5/26/2020
Guy Petrie – 5/27/2020
Pierce Corpening, With Distinction – 5/27/2020
, With Distinction – 5/28/2020
Francis Henry, With Distinction – 5/28/2020
Don R Hause, With Distinction – 5/29/2020
Caiden Comito – 5/31/2020
Ravi Mann – 6/1/2020
, With Distinction – 6/3/2020
Marco Varela, With Distinction – 6/4/2020
Michael Messina, With Distinction – 6/4/2020
Jonathan Liesch, With Distinction – 6/5/2020
Bowen Clymer, With Distinction – 6/7/2020
Doris Shiju Zhang, With Distinction – 6/9/2020
Yuhao Wang – 6/10/2020
William Shepley, With Distinction – 6/10/2020
Raj Patel, With Distinction – 6/11/2020
Koji Fujita, With Distinction – 6/13/2020
Brad Davey – 6/14/2020
Nimi Kalmanovich, With Distinction – 6/14/2020
Tim Hemmersmeier, With Distinction – 6/15/2020
Christopher Raphel, With Distinction – 6/15/2020
Christian Jensen, With Distinction – 6/16/2020
Jamie Cantrell, With Distinction – 6/16/2020
Vahe Nokhoudian, With Distinction – 6/17/2020
Dan Trulli – 6/18/2020
Josh Klein, With Distinction – 6/18/2020
Chad Morgan, With Distinction – 6/19/2020
Collin Blanchard, With Distinction – 6/21/2020
Travis Duhn – 6/24/2020
Steven Mulkhan Mulkhan – 6/24/2020
Zachary Nar, With Distinction – 6/24/2020
Anna Ding, With Distinction – 7/4/2020
jeff koby, With Distinction – 7/5/2020
Nick Dmochowski, With Distinction – 7/6/2020
Mackin Boylan, With Distinction – 7/7/2020
Sophia Linkas, With Distinction – 7/8/2020
Spencer Ward, With Distinction – 7/8/2020
Alex Baldwin – 7/9/2020
Norman Yam, With Distinction – 7/13/2020
Reid Watler – 7/15/2020
Sean Kelly – 7/16/2020
Humberto Arechiga – 7/18/2020
Colton Cortese – 7/19/2020
Kevin Dixon, With Distinction – 7/21/2020
Zhen Wu – 8/3/2020
Shakiel Randolph – 8/9/2020
Tiffany Poon – 8/10/2020
Cameron Coughlin, With Distinction – 8/16/2020
Bret Heath – 8/20/2020
John Jackson – 11/23/2020
Brian James, With Distinction – 12/2/2020
Fredrik Diederichs, With Distinction – 12/9/2020
David Yedlin, With Distinction – 12/28/2020
Paul Zaharia, With Distinction – 12/31/2020
Grant Butler – 2/4/2021
Bryant Riley, With Distinction – 2/7/2021
Forrest Greenwalt, With Distinction – 2/26/2021
Ameya Bhalerao, With Distinction – 3/4/2021
Robert Lawton, With Distinction – 3/18/2021
Srikanth Ganduri, With Distinction – 5/15/2021
Jack Kenny, With Distinction – 7/4/2021
Hayden Glasco – 8/19/2021
William Perry, With Distinction – 10/19/2022
Christopher Bartlett - 7/22/2019
Bretton Bowman - 10/9/2019
Madison Whalen, With Distinction - 12/13/2019
Christopher Holder - 1/7/2020
Zhe Zhang, With Distinction - 2/3/2020
Ford Childress - 2/3/2020
Spencer Langley, With Distinction - 2/6/2020
Manuel Del Campo, With Distinction - 2/15/2020
Roberto Gallegos - 2/20/2020
Shruti Prod, With Distinction - 3/12/2020
Joseph Escobar, With Distinction - 4/3/2020
Tyler Arnold, With Distinction - 4/5/2020
Cole Cherney, With Distinction - 4/7/2020
Alejandro Tellez Vazquez, With Distinction - 4/11/2020
Ernie Pichardo - 4/12/2020
Jack Campbell - 4/14/2020
Fernando Del Valle Soriano - 4/20/2020
Joe Scheck, With Distinction - 4/26/2020
Kyle Ruperto, With Distinction - 4/27/2020
William Haire - 4/27/2020
Nick Catalano - 4/28/2020
Anders Meyer - 4/28/2020
Chris Comet, With Distinction - 4/29/2020
Adam Hurd, With Distinction - 4/30/2020
Shruti Mehta, With Distinction - 4/30/2020
Christian Jones - 4/30/2020
Connor Nolan - 5/1/2020
Alvaro Carrillo-Sanchez - 5/4/2020
Bryan Butler, With Distinction - 5/4/2020
Joseph Burke, With Distinction - 5/6/2020
Joshua Kim - 5/6/2020
Kevin Lopez - 5/7/2020
Tracy Huang, With Distinction - 5/9/2020
Jason Zhang, With Distinction - 5/10/2020
Vincent D'Aguilar - 5/10/2020
Shruti M11 - 5/11/2020
Jorge Arozarena, With Distinction - 5/13/2020
Andrew Wright - 5/13/2020
Patrick Watkins - 5/13/2020
Oab269, With Distinction - 5/14/2020
Nichole Horton - 5/14/2020
Ting Zhang - 5/15/2020
Andrew Hayward, With Distinction - 5/18/2020
Moises.coriat - 5/21/2020
Jeremy Mack, With Distinction - 5/25/2020
Nolan Slovinsky - 5/27/2020
Evan Fichter - 5/28/2020
Greg Drakos, With Distinction - 5/30/2020
Giancarlo Foppiano - 6/4/2020
Joe Duggan, With Distinction - 6/6/2020
Peter Graves - 6/8/2020
Christie Audet, With Distinction - 6/9/2020
Nick Desatnick - 6/10/2020
Lee Gilbert - 6/10/2020
Doris Shiju Zhang, With Distinction - 6/10/2020
Ashley Anderson - 6/10/2020
Liam Conner - 6/10/2020
Sara Graham, With Distinction - 6/10/2020
Edward Fitzgerald - 6/10/2020
Rafaela Bayas, With Distinction - 6/10/2020
Jake Celeste - 6/10/2020
Guy Petrie - 6/11/2020
Huriyet Anaz - 6/11/2020
Songyi Wang, With Distinction - 6/11/2020
Warren Crummett - 6/11/2020
Julian Ford - 6/12/2020
Christopher Cortes, With Distinction - 6/12/2020
Marcos Vidal, With Distinction - 6/13/2020
Dan Litt, With Distinction - 6/14/2020
Kelly Kaine, With Distinction - 6/14/2020
Erik Ekstrom - 6/14/2020
Fares Albanna - 6/16/2020
Chris Nguyen, With Distinction - 6/16/2020
Alexandre Fisse - 6/19/2020
Ian Ozimec - 6/20/2020
Alejandro Banuelos, With Distinction - 6/20/2020
Emanuele Mortara - 6/21/2020
Carter Jones, With Distinction - 6/22/2020
Gunnar Lawler, With Distinction - 6/22/2020
Trevor White - 6/24/2020
Julian Oquendo - 6/26/2020
Brian Yang - 6/26/2020
Daniel Shuman - 6/26/2020
Brooks Arundel - 6/28/2020
Jonathan Hammond - 6/30/2020
Benjamin Dankner, With Distinction - 7/1/2020
David Sargent - 7/1/2020
Jason Platkin, With Distinction - 7/4/2020
Madison Phillips, With Distinction - 7/5/2020
Zachary Janfaza - 7/6/2020
Joseph Addeo - 7/7/2020
Daniel Smith, With Distinction - 7/8/2020
Reid Blynn, With Distinction - 7/8/2020
Matthew Loving - 7/11/2020
Hunter Douglas - 7/12/2020
Ryan Naidu, With Distinction - 7/13/2020
Zbigniew Szczerba - 7/14/2020
Matthew Dobson - 7/15/2020
Claire Mueller - 7/15/2020
Reetinder Brar - 7/15/2020
Grace Amandes - 7/15/2020
Cornell Dayne, With Distinction - 7/16/2020
Sam Byczek, With Distinction - 7/16/2020
Hannah Jurgensmeyer, With Distinction - 7/16/2020
Benjamin Coden, With Distinction - 7/17/2020
Trevor Lundquist, With Distinction - 7/17/2020
Daniel Mullen, With Distinction - 7/18/2020
Ben Baker, With Distinction - 7/19/2020
Conor Flannery, With Distinction - 7/20/2020
Eric Rutledge, With Distinction - 7/20/2020
Michael Ifejika - 7/22/2020
Gershom Espinoza, With Distinction - 7/22/2020
Garrett Smith, With Distinction - 7/23/2020
Daniel Ciapka - 7/24/2020
Harrison Fertitta - 7/24/2020
Pat Portillo, With Distinction - 7/26/2020
Luke Bingaman - 7/27/2020
Christopher Lubrano, With Distinction - 7/28/2020
Alec Deane, With Distinction - 7/28/2020
Jacqueline Yackow, With Distinction - 7/28/2020
Marcus Minami - 7/29/2020
Ethan Ravencamp, With Distinction - 7/29/2020
Mandeep Badesh, With Distinction - 7/29/2020
Kevin Ruiz-Jimenez - 7/30/2020
Michael Zhou, With Distinction - 7/30/2020
Jack Mclaughlin2 - 7/30/2020
Jacob Epstein, With Distinction - 7/31/2020
Austin Fields, With Distinction - 7/31/2020
Christopher Rawlings, With Distinction - 8/4/2020
Jason Oelbaum - 8/4/2020
Michael Genovesi - 8/5/2020
Ibrahim Mozawalla, With Distinction - 8/6/2020
Reagan Rainwater, With Distinction - 8/6/2020
Jonathan Stern - 8/6/2020
Rully Adisuryo - 8/9/2020
Kyle Stoker, With Distinction - 8/9/2020
Katherine Pfluger, With Distinction - 8/12/2020
Caleb Billingsley - 8/14/2020
Isaiah Charles, With Distinction - 8/15/2020
Eurner, With Distinction - 8/15/2020
Renauld Edwards, With Distinction - 8/15/2020
Robert Lee, With Distinction - 8/15/2020
Tyler Ramatowski, With Distinction - 8/16/2020
Alex Rosen, With Distinction - 8/16/2020
Chandler Gee, With Distinction - 8/17/2020
Benyamin Shaker, With Distinction - 8/17/2020
Jenna Rediker, With Distinction - 8/17/2020
Kyle Vizzo, With Distinction - 8/17/2020
Eli Roddey, With Distinction - 8/19/2020
Jenn Barenbaum, With Distinction - 8/19/2020
Brian Dentry - 8/19/2020
Julia Hong - 8/20/2020
Matt Fanelli - 8/20/2020
Harlan Schade, With Distinction - 8/20/2020
Robert Faith, With Distinction - 8/20/2020
Kaylen Bach, With Distinction - 8/20/2020
Austin Mose - 8/20/2020
Eason Zheng - 8/20/2020
Ryan Tice, With Distinction - 8/21/2020
Alec Delgado, With Distinction - 8/21/2020
Jared Gentry, With Distinction - 8/21/2020
Joshua Polner, With Distinction - 8/22/2020
Jose Latorre, With Distinction - 8/22/2020
Michael Shudoma - 8/22/2020
Jessica Monterrubio, With Distinction - 8/23/2020
Evan Kessler, With Distinction - 8/23/2020
Michael Hall, With Distinction - 8/23/2020
Cari Lieberman - 8/23/2020
Cristina Griffith - 8/23/2020
Alberto Irazola, With Distinction - 8/23/2020
Armando A Zapata M, With Distinction - 8/23/2020
Alexandra Marban - 8/23/2020
Francisco Boccardo, With Distinction - 8/24/2020
Tineke Klaassen, With Distinction - 8/24/2020
Scott Porter, With Distinction - 8/24/2020
Bo Li, With Distinction - 8/24/2020
Cameron Chuback - 8/24/2020
Zachary Bertucci - 8/24/2020
Antwan Felton, With Distinction - 8/24/2020
Harrison.moir, With Distinction - 8/25/2020
Dakota Brown, With Distinction - 8/26/2020
Dylan Dimarchi, With Distinction - 8/27/2020
Jared Donaldson, With Distinction - 8/27/2020
Catherine Laspina, With Distinction - 8/28/2020
Stephen Schraedel, With Distinction - 8/30/2020
Gabriel Diaz, With Distinction - 8/30/2020
Emily Zhou - 8/30/2020
Stephanie Barton - 8/31/2020
Zachary Port, With Distinction - 8/31/2020
Olivia Cherry, With Distinction - 8/31/2020
Murtatha Ali, With Distinction - 8/31/2020
William Phinney, With Distinction - 9/2/2020
Travis Winston, With Distinction - 9/2/2020
Travor Nguyen - 9/3/2020
Francisco Flores, With Distinction - 9/3/2020
Nicholas Favorito, With Distinction - 9/3/2020
Emily Viera, With Distinction - 9/4/2020
Shuai Li - 9/7/2020
Keaton Sheffert - 9/7/2020
Luoya Xu, With Distinction - 9/7/2020
Nicki Pu - 9/8/2020
Gary Li, With Distinction - 9/8/2020
Miles Farlow - 9/11/2020
Christopher Nickels - 9/13/2020
Tiffany Meng, With Distinction - 9/14/2020
Charles Jackson - 9/15/2020
Jason Freedland, With Distinction - 9/16/2020
Landon Wood - 9/16/2020
Robert Price - 9/17/2020
Austin Hall, With Distinction - 9/18/2020
Sam Boxley, With Distinction - 9/18/2020
Lucian.fox, With Distinction - 9/21/2020
Jett Brookes - 9/21/2020
Antonio Chopitea - 9/22/2020
Grayson Grisanti - 9/22/2020
Hannah Radziewicz, With Distinction - 9/23/2020
Bryan Grimm, With Distinction - 9/23/2020
Kmmcgee - 9/23/2020
Parker Nielsen - 9/23/2020
Kert Kaiser, With Distinction - 9/23/2020
Sabrina Tahir, With Distinction - 9/24/2020
Grant Foster - 9/25/2020
Max Claussen - 9/28/2020
Graham Palmer - 9/28/2020
Jon Dehaan - 9/29/2020
Joshua Lurie, With Distinction - 9/29/2020
Danah Yoon - 9/30/2020
Vivek Kadiwar - 9/30/2020
Coleman Green - 10/1/2020
Jane Walsh - 10/2/2020
Eliza Ross, With Distinction - 10/2/2020
Cody Kuhne, With Distinction - 10/3/2020
Domenica Ulloa Rampani, With Distinction - 10/5/2020
Maria Noy, With Distinction - 10/5/2020
Julian Sarrola, With Distinction - 10/6/2020
Matthew Henkel - 10/7/2020
Benjamin Burnap - 10/7/2020
Michael Parrott - 10/8/2020
Chak Pan Lee, With Distinction - 10/8/2020
Robert Lawton - 10/9/2020
Blanka Thibaud - 10/11/2020
Shane Faulkner, With Distinction - 10/12/2020
Jason Teitelbaum, With Distinction - 10/12/2020
Jiang Jiang - 10/12/2020
Christopher Schade, With Distinction - 10/13/2020
Michael Deantonio, With Distinction - 10/13/2020
Shahid Feroz Patel, With Distinction - 10/13/2020
Justin Delavalle - 10/13/2020
Abdulaziz Almansour - 10/14/2020
Romil Sorathia, With Distinction - 10/14/2020
German Kurbaji - 10/14/2020
Parker Dietz, With Distinction - 10/14/2020
Aaron Weidner - 10/15/2020
Andrew Hyans, With Distinction - 10/15/2020
Sebastian Coello, With Distinction - 10/15/2020
Lonlubert11, With Distinction - 10/17/2020
Michael Glozman, With Distinction - 10/17/2020
Jonathan Solomon, With Distinction - 10/18/2020
James Hughes - 10/19/2020
Julian Olin, With Distinction - 10/20/2020
Sean Noone, With Distinction - 10/20/2020
Gina Shelton - 10/22/2020
Mike Hayes, With Distinction - 10/24/2020
Steven Vasquez, With Distinction - 10/26/2020
Emil Jabbour, With Distinction - 10/26/2020
Pfaender, With Distinction - 10/26/2020
Jack Lovell - 10/26/2020
Mark Gately, With Distinction - 10/28/2020
Jonathan Ellis - 10/28/2020
Robert Abookire, With Distinction - 10/30/2020
Phillip Ruschmeyer, With Distinction - 10/30/2020
Yilin Wang - 10/30/2020
William Massaro, With Distinction - 10/31/2020
Cameron Ayles, With Distinction - 11/1/2020
Jacob Carlton, With Distinction - 11/1/2020
Riley Duncan, With Distinction - 11/2/2020
Gregg Infante, With Distinction - 11/2/2020
Jikai Lu - 11/4/2020
Stephanie Decena, With Distinction - 11/4/2020
William Knight - 11/9/2020
Philip Lee, With Distinction - 11/11/2020
Dylan Katz - 11/12/2020
Niko Ludwig, With Distinction - 11/12/2020
Julie Saunders, With Distinction - 11/13/2020
Matthew L. O'Sullivan - 11/13/2020
David Brena, With Distinction - 11/14/2020
Benjamín Dueñas, With Distinction - 11/15/2020
Nicholas Harris, With Distinction - 11/15/2020
Elvins Derisma, With Distinction - 11/16/2020
Givi Karbelashvili, With Distinction - 11/16/2020
Kevin Garden, With Distinction - 11/17/2020
Jonathan Garfinkel - 11/17/2020
Donovan Varney, With Distinction - 11/18/2020
Tyler Rix, With Distinction - 11/19/2020
Kelsey Clay - 11/19/2020
Matthew Huff - 11/20/2020
George De Rossi, With Distinction - 11/20/2020
Blake Burger, With Distinction - 11/22/2020
Caleb Augustyn, With Distinction - 11/23/2020
Alexander Wajsman - 11/24/2020
Michael Bass, With Distinction - 11/24/2020
Amber Little, With Distinction - 11/24/2020
Jacob Swartz - 11/24/2020
Maria Muzaurieta, With Distinction - 11/24/2020
Noah Rolnick, With Distinction - 11/24/2020
Andrew Bechtel, With Distinction - 11/24/2020
Blake Paradise, With Distinction - 11/24/2020
Matthew Christopher, With Distinction - 11/24/2020
Maxwell Eisenberg, With Distinction - 11/24/2020
Cameron Cunningham, With Distinction - 11/24/2020
Jason Banky, With Distinction - 11/24/2020
Barry Mcdonnell, With Distinction - 11/24/2020
Dylan Stavitsky, With Distinction - 11/24/2020
Nishan Singh, With Distinction - 11/24/2020
Erin Elferdink, With Distinction - 11/24/2020
Justin Mackler, With Distinction - 11/24/2020
Charles Madden, With Distinction - 11/24/2020
Cheney Hedrick, With Distinction - 11/24/2020
Sammy Coker, With Distinction - 11/24/2020
Shayne Burgess, With Distinction - 11/24/2020
Daniel Becker, With Distinction - 11/24/2020
David Rieth, With Distinction - 11/24/2020
Fabiana Matiz, With Distinction - 11/24/2020
Eric Amrhein, With Distinction - 11/24/2020
Victoria Noska, With Distinction - 11/24/2020
Evan Moorhouse - 11/24/2020
Drew Davis, With Distinction - 11/24/2020
Noah Liebling - 11/24/2020
T2mo2424, With Distinction - 11/24/2020
Katherine Rosica, With Distinction - 11/24/2020
James Shea, With Distinction - 11/24/2020
Jesse Clark, With Distinction - 11/24/2020
Andrew Hall, With Distinction - 11/24/2020
Brett Bohannon - 11/24/2020
Wyatt Andrews, With Distinction - 11/24/2020
Saya Perez - 11/24/2020
Reis Spicer - 11/24/2020
Matthew Mosiello, With Distinction - 11/24/2020
Michael Gorman, With Distinction - 11/24/2020
Kyle Hongamen, With Distinction - 11/24/2020
Jacob Eisenberg, With Distinction - 11/24/2020
Patrick Farese - 11/25/2020
Neal Patel, With Distinction - 11/25/2020
Michael Ackerman, With Distinction - 11/25/2020
Robert Blaine, With Distinction - 11/28/2020
Nick Beardslee, With Distinction - 11/28/2020
Guillermo Del Camino, With Distinction - 11/30/2020
Patrick Ford, With Distinction - 11/30/2020
Mengyuan Zhang, With Distinction - 12/1/2020
Matthew Candler, With Distinction - 12/1/2020
David Okin - 12/1/2020
Chad Price, With Distinction - 12/2/2020
Christopher Elder, With Distinction - 12/2/2020
Daniel Sarman - 12/4/2020
Louis Fischer, With Distinction - 12/5/2020
Alex Guindon, With Distinction - 12/9/2020
Charles Buckner, With Distinction - 12/10/2020
Adam Elbaz, With Distinction - 12/11/2020
Michael Madden - 12/13/2020
Nolan Schmitz - 12/15/2020
Taji Abdullah - 12/15/2020
Emily Bethel, With Distinction - 12/15/2020
Zachary Brown, With Distinction - 12/16/2020
Tyler Hitch, With Distinction - 12/17/2020
Romel Fernandez - 12/17/2020
Scott Tully, With Distinction - 12/18/2020
Jiaoyang Wang, With Distinction - 12/18/2020
Darvin Hosseinyoun, With Distinction - 12/21/2020
Nicholas Tsoutsouras, With Distinction - 12/21/2020
Jared Fried, With Distinction - 12/22/2020
Ryan Smith, With Distinction - 12/23/2020
Jaryd Rudolph - 12/23/2020
Jack Gottlieb, With Distinction - 12/23/2020
Craig Buchanan - 12/24/2020
Rikesh Patel, With Distinction - 12/25/2020
Mercy Angaine, With Distinction - 12/26/2020
Nicholas Pereira, With Distinction - 12/27/2020
Aaron Farzan - 12/27/2020
Corey James, With Distinction - 12/28/2020
Tommy Romano, With Distinction - 12/30/2020
Will Long - 12/30/2020
Benjamin Wichlacz - 12/31/2020
Andrew Johnson, With Distinction - 1/1/2021
James Brunelli, With Distinction - 1/2/2021
Tucker Raney - 1/2/2021
Samantha Sugarman, With Distinction - 1/3/2021
Bobby Trickett - 1/4/2021
Zade Dwaik - 1/5/2021
Sebastian Corte, With Distinction - 1/5/2021
Steven Nguyen - 1/5/2021
Danny Shurtz, With Distinction - 1/6/2021
Mariel Arias - 1/7/2021
Stephen White - 1/8/2021
Samuel De Leon, With Distinction - 1/9/2021
Octavio Rueda - 1/9/2021
Brandon Bannigan - 1/11/2021
Patrick Ryan, With Distinction - 1/12/2021
Arman.boroumand, With Distinction - 1/13/2021
Michael Rapoli, With Distinction - 1/14/2021
David Ballman, With Distinction - 1/14/2021
Tj Fleming - 1/14/2021
Peng Jen Su - 1/15/2021
Yi-Cheng Lu - 1/16/2021
Thomas Jung - 1/17/2021
Tara Gupta, With Distinction - 1/17/2021
Caleb Aldrich, With Distinction - 1/18/2021
Cameron Hsieh - 1/18/2021
Dominick Isom, With Distinction - 1/19/2021
Desmond Ellis - 1/19/2021
Jacob Harper - 1/20/2021
Gregory Lopez, With Distinction - 1/21/2021
Ankur Chadha, With Distinction - 1/21/2021
Zach Mandel, With Distinction - 1/21/2021
Andrew Kim - 1/22/2021
Mohamad Ramadan, With Distinction - 1/23/2021
Yu Zhang, With Distinction - 1/23/2021
David Gold-Matejka - 1/24/2021
Alexis Devaney, With Distinction - 1/24/2021
Eitan Newfield, With Distinction - 1/25/2021
Daniela Graterol, With Distinction - 1/25/2021
Troy Trecroce, With Distinction - 1/25/2021
Paolo Palazzolo Russo, With Distinction - 1/26/2021
Cooper Dolan - 1/26/2021
Padraic Walsh - 1/27/2021
William Carlson - 1/28/2021
Kirk Lindberg, With Distinction - 1/28/2021
Sam Atefyekta, With Distinction - 1/29/2021
Felix Bruglemans, With Distinction - 1/29/2021
James Williams, With Distinction - 1/29/2021
Sebastian Ordonez - 1/31/2021
Ryan Henkels, With Distinction - 2/2/2021
Terry Fields, With Distinction - 2/7/2021
Jamie Honsberger - 2/9/2021
Junyu Huang, With Distinction - 2/9/2021
Michael Denapoles, With Distinction - 2/11/2021
Taisiia Tsvilyniuk, With Distinction - 2/11/2021
Matthew Shell, With Distinction - 2/11/2021
Isaac Zhang, With Distinction - 2/12/2021
Nikki Thompson - 2/12/2021
Ariel Ilarslan Russo, With Distinction - 2/12/2021
Christian D'Emilia - 2/16/2021
James Pantano, With Distinction - 2/16/2021
Aaron Kline - 2/17/2021
Tom Stewart, With Distinction - 2/17/2021
Brooke Womack, With Distinction - 2/18/2021
Marshall Warnock, With Distinction - 2/19/2021
Alec Drury-Singh, With Distinction - 2/19/2021
Joseph Pody, With Distinction - 2/20/2021
Ekaterina Udodova - 2/21/2021
Logan Risk, With Distinction - 2/23/2021
Nick Dinunzio, With Distinction - 2/24/2021
Carter Maass, With Distinction - 2/25/2021
Bailey Dial - 2/26/2021
Nicolai Waner, With Distinction - 2/26/2021
Jack Parmele - 2/26/2021
Catherine Vilar, With Distinction - 2/27/2021
Nick Ingram - 3/1/2021
Kyle Kilgore, With Distinction - 3/1/2021
Tanner Lloyd - 3/1/2021
Mason Anderson, With Distinction - 3/1/2021
Jake Paladino, With Distinction - 3/1/2021
Robert Carmer, With Distinction - 3/1/2021
Riley Lam, With Distinction - 3/1/2021
Creed Simonton - 3/1/2021
Abby Oltmann, With Distinction - 3/2/2021
Stone Coburn, With Distinction - 3/2/2021
Andrew Robeson, With Distinction - 3/2/2021
Roby Martin - 3/2/2021
Julia Howes, With Distinction - 3/2/2021
Levi Cope - 3/2/2021
Matthew Vincent - 3/2/2021
Nick Turner, With Distinction - 3/2/2021
Andrew Simms, With Distinction - 3/2/2021
Logan Mahurt, With Distinction - 3/2/2021
Benjamin Farzley, With Distinction - 3/2/2021
Kevin Tran, With Distinction - 3/2/2021
Jacob Hall - 3/2/2021
Carter Perkins - 3/2/2021
Taylor Price, With Distinction - 3/2/2021
Joel Burgess - 3/2/2021
Rose Chambers, With Distinction - 3/2/2021
Niko Prokos - 3/2/2021
Luke Bryan, With Distinction - 3/2/2021
Peyton Wann - 3/2/2021
Ben Cook - 3/2/2021
Will Harding - 3/2/2021
Jared Ross - 3/2/2021
Parker Lowe - 3/2/2021
Tyler Walters, With Distinction - 3/2/2021
Ashley Sekhon, With Distinction - 3/2/2021
Max Gee - 3/2/2021
Andrew Gootos - 3/2/2021
Cesar Torres, With Distinction - 3/2/2021
Reed Hollingsworth, With Distinction - 3/2/2021
Camri Farmer, With Distinction - 3/2/2021
Taylor Halsey, With Distinction - 3/2/2021
Alexander Durham - 3/2/2021
Ehlysa Ingalls, With Distinction - 3/2/2021
Chanpraseth Soam - 3/2/2021
Benjamin Gatewood - 3/2/2021
Jake Vaughn, With Distinction - 3/2/2021
Brenden Manivong, With Distinction - 3/2/2021
Spencer Miller, With Distinction - 3/3/2021
Liheng Fan - 3/5/2021
Nikki Liao - 3/6/2021
Michael Caballero, With Distinction - 3/7/2021
Andrew Gordon, With Distinction - 3/7/2021
Alfredo Sanchez, With Distinction - 3/7/2021
Ziqi Lin, With Distinction - 3/8/2021
Jake Waltemire, With Distinction - 3/9/2021
Percy Oliver, With Distinction - 3/11/2021
Talisha Rice - 3/12/2021
Joey Hakola, With Distinction - 3/12/2021
Jaesung Yoon - 3/12/2021
Sophie Huimin Tsai - 3/13/2021
Robert Manning, With Distinction - 3/16/2021
Saurav Sharma - 3/16/2021
Tiffany Ning, With Distinction - 3/17/2021
Colin Veney - 3/17/2021
Tracy Germany, With Distinction - 3/20/2021
Michael Mena, With Distinction - 3/21/2021
Connor Mcadams, With Distinction - 3/23/2021
Todd Sessums, With Distinction - 3/25/2021
Matthew Murphy, With Distinction - 3/25/2021
Isaac Lilien - 3/26/2021
Yasamin Enshaeian, With Distinction - 3/27/2021
Kevin Carlson - 3/28/2021
Pierson Souza - 3/29/2021
Andrew Chan - 3/30/2021
Quinlan Hughes, With Distinction - 3/31/2021
Luke Lavelle, With Distinction - 3/31/2021
Jason Carter - 4/1/2021
Alden Freddo, With Distinction - 4/1/2021
Jonathan Fearn - 4/2/2021
Christopher Wu, With Distinction - 4/5/2021
Will Davis, With Distinction - 4/5/2021
Wen Shao Chen, With Distinction - 4/6/2021
Grant Uberstine, With Distinction - 4/7/2021
Ankit Mittal, With Distinction - 4/8/2021
Charles Rusch, With Distinction - 4/16/2021
Kevin Dicalvo, With Distinction - 4/19/2021
David Gibbs - 4/20/2021
Morgan Grimsley, With Distinction - 4/20/2021
Arthur Ranque, With Distinction - 4/20/2021
Jack Zicovich, With Distinction - 4/20/2021
Thomas Casey, With Distinction - 4/21/2021
Sandrine Scott, With Distinction - 4/21/2021
Nur Izzat Aiman Bin Nur Aziz, With Distinction - 4/21/2021
Jered Baker, With Distinction - 4/22/2021
Jason Moses, With Distinction - 4/23/2021
Dylan Rogers, With Distinction - 4/26/2021
Steven Provenzano, With Distinction - 4/29/2021
Margo Black - 4/29/2021
Aaron Tam, With Distinction - 5/2/2021
Sam Husken, With Distinction - 5/4/2021
Jeffrey Albaum, With Distinction - 5/4/2021
William Bartlett - 5/5/2021
John Macke, With Distinction - 5/5/2021
James Near - 5/5/2021
Daniel Dishi - 5/6/2021
Edley Alcide - 5/6/2021
Matt Stringham - 5/10/2021
Fernando Morales, With Distinction - 5/11/2021
Eduardo Mancilla, With Distinction - 5/13/2021
Sameir Madden, With Distinction - 5/13/2021
Jonathan Gibson, With Distinction - 5/15/2021
Luke Lecoche, With Distinction - 5/16/2021
William Huschka, With Distinction - 5/17/2021
Nolan Moder - 5/18/2021
Matthew Verrone, With Distinction - 5/18/2021
Deric Obeldobel - 5/19/2021
Eduardo Rincón Gallardo Maldonado - 5/19/2021
Sean Scott, With Distinction - 5/19/2021
Joel Scarbriel, With Distinction - 5/21/2021
Kaitlyn Vogel, With Distinction - 5/21/2021
Robert Compean, With Distinction - 5/21/2021
Wayne Thompson, With Distinction - 5/21/2021
Harry Day-Reiss, With Distinction - 5/22/2021
Nicholas Boccuzzi - 5/23/2021
Shubham Kansal - 5/23/2021
Ted Baltz, With Distinction - 5/23/2021
Antonio Lulli, With Distinction - 5/24/2021
Jack Herring, With Distinction - 5/27/2021
Matthew Carfaro, With Distinction - 5/27/2021
Jonathon Despres, With Distinction - 5/27/2021
Sean Renken, With Distinction - 5/27/2021
Cameron Nikroo, With Distinction - 5/28/2021
Carlos Figueroa, With Distinction - 5/28/2021
Dennis Vila - 5/28/2021
Jake Dieber, With Distinction - 5/29/2021
Lorna Wilson, With Distinction - 5/30/2021
Trey Rielly, With Distinction - 5/30/2021
Aminata Sam, With Distinction - 5/31/2021
Aaliyah St. Louis, With Distinction - 5/31/2021
Alex May, With Distinction - 5/31/2021
Haonan Liu, With Distinction - 6/1/2021
Andres Pinate - 6/1/2021
Andrew Fernandez - 6/1/2021
Chris Parthum, With Distinction - 6/2/2021
Arif Momin, With Distinction - 6/3/2021
Gregory Miller, With Distinction - 6/3/2021
Zaki Colabawala - 6/4/2021
Jakob Roney, With Distinction - 6/4/2021
Cameron Snavely, With Distinction - 6/4/2021
Will Schroth, With Distinction - 6/4/2021
Christopher Marin, With Distinction - 6/5/2021
Young Uk Kim, With Distinction - 6/5/2021
Cole Charbonnier, With Distinction - 6/6/2021
Henry Wilhelm, With Distinction - 6/11/2021
Daniel Kang Hyung Kim - 6/11/2021
Ben Westphal, With Distinction - 6/12/2021
Nicholas Cipolle, With Distinction - 6/12/2021
Neal Robin, With Distinction - 6/13/2021
Nick Nicola - 6/13/2021
Edward Butler, With Distinction - 6/16/2021
Andy Yang, With Distinction - 6/17/2021
Stuart Young - 6/18/2021
Cameron Hsieh, With Distinction - 6/18/2021
Elias Ware - 6/18/2021
Robbie Chaudhri - 6/20/2021
Kevin Carder, With Distinction - 6/22/2021
Benjamin Krupp - 6/22/2021
Christian Payne, With Distinction - 6/23/2021
Kurt Steinke - 6/23/2021
Thomas Blitchok, With Distinction - 6/24/2021
Andrew Jin, With Distinction - 6/24/2021
Eitan Gerszberg, With Distinction - 6/24/2021
Haley Bell, With Distinction - 6/25/2021
Nicolas Diaz, With Distinction - 6/25/2021
Calvin Short, With Distinction - 6/26/2021
Madison Rollins, With Distinction - 6/29/2021
Aaron Rose, With Distinction - 6/29/2021
James Swartz, With Distinction - 7/1/2021
Angel Gonzalez, With Distinction - 7/2/2021
Douglas Carrescia, With Distinction - 7/2/2021
Oleg Enik, With Distinction - 7/5/2021
Elizabeth Delong - Kritenbrink - 7/8/2021
Charul Chandra - 7/9/2021
Chalin Fairly - 7/9/2021
Charles Adare, With Distinction - 7/10/2021
Charlie Jacob - 7/12/2021
Megan Mangines, With Distinction - 7/12/2021
Steven Morrison - 7/12/2021
Maxx Trotsky - 7/12/2021
Taylor Williams - 7/12/2021
Marques Bouyer, With Distinction - 7/14/2021
Maura Beyer, With Distinction - 7/15/2021
Clayton Barker, With Distinction - 7/15/2021
James Marinier, With Distinction - 7/16/2021
Charles Cook, With Distinction - 7/19/2021
Christopher Melligon, With Distinction - 7/23/2021
Ray Zhang, With Distinction - 7/24/2021
Su Jung Choi, With Distinction - 7/26/2021
John Anton, With Distinction - 7/28/2021
William Guerriero, With Distinction - 7/28/2021
Jack Frank, With Distinction - 7/28/2021
Hunter Shaughnessy - 7/28/2021
Thomas Porter, With Distinction - 7/29/2021
Ray Vivas - 7/29/2021
Matt Turzewski, With Distinction - 7/29/2021
Denys Kashtelian, With Distinction - 7/31/2021
John Andreasen - 8/2/2021
Grace Carmouche, With Distinction - 8/2/2021
Joaquín Márquez, With Distinction - 8/4/2021
Ming Hong Choi, With Distinction - 8/4/2021
Liam Stenberg, With Distinction - 8/5/2021
Francois Turner - 8/7/2021
Spiros Buas, With Distinction - 8/7/2021
Jackson Law, With Distinction - 8/11/2021
Alexander Lippert, With Distinction - 8/12/2021
Cameron Newton, With Distinction - 8/12/2021
Garreth Lautz, With Distinction - 8/12/2021
Brett Ingleby, With Distinction - 8/14/2021
Peter Ballantyne-Barrell, With Distinction - 8/15/2021
Kristen Gao, With Distinction - 8/15/2021
Juan.lumbreras - 8/17/2021
Robert Cuthbertson - 8/17/2021
William Prince, With Distinction - 8/18/2021
Maximillian Doctor, With Distinction - 8/20/2021
Walter Schoultz, With Distinction - 8/20/2021
Matthew Kaufman, With Distinction - 8/22/2021
Sebastian Vanegas - 8/22/2021
Osama El-Gizawy - 8/23/2021
Connor Henderson, With Distinction - 8/24/2021
Yunchao Fu, With Distinction - 8/24/2021
Luis Butz De Leon, With Distinction - 8/25/2021
Yong-Teng Chang, With Distinction - 8/25/2021
Bradley Galazka, With Distinction - 8/25/2021
Alok Abhilash - 8/27/2021
Benjamin Jansen, With Distinction - 8/28/2021
Connor Rockrohr, With Distinction - 8/30/2021
Gonzalo Trapote, With Distinction - 8/30/2021
Austin Settoon, With Distinction - 8/30/2021
Rosario Missiti, With Distinction - 9/1/2021
Cole Barnard, With Distinction - 9/1/2021
Nathan Viskovich, With Distinction - 9/1/2021
Arturo Salazar, With Distinction - 9/2/2021
Daniel Smicka, With Distinction - 9/3/2021
Ogden Leyens, With Distinction - 9/3/2021
Matthew Monahemi, With Distinction - 9/4/2021
Milton Baxter - 9/4/2021
Berkano Kleymeyer, With Distinction - 9/6/2021
Kene Orjioke, With Distinction - 9/7/2021
Andrew Feibus, With Distinction - 9/8/2021
Parker Watson, With Distinction - 9/9/2021
Michael Aronow, With Distinction - 9/9/2021
Connor Laverty, With Distinction - 9/9/2021
Trent Lupton, With Distinction - 9/10/2021
Jiaqi Deng, With Distinction - 9/10/2021
Skylar Staib - 9/10/2021
Richard Lewis, With Distinction - 9/12/2021
Nabil Darmani, With Distinction - 9/13/2021
Justin Okumus, With Distinction - 9/14/2021
Cameron Miller, With Distinction - 9/15/2021
Josh Leblanc - 9/15/2021
Eugene Soto-Beregovoy, With Distinction - 9/16/2021
William Clark - 9/16/2021
Thomas Pirinoli, With Distinction - 9/16/2021
Michael Maskalunas - 9/16/2021
Joshua Mader - 9/19/2021
Cole Borror, With Distinction - 9/20/2021
Angel Oliveras, With Distinction - 9/21/2021
Tyler Helbing, With Distinction - 9/22/2021
Elijah Lax - 9/23/2021
Michelle Man Chi Lo - 9/24/2021
Benjamin Vick - 9/26/2021
Alex Chandler - 9/27/2021
Ben Rinke - 9/28/2021
Keith Rosenthal, With Distinction - 9/28/2021
Reid Allen, With Distinction - 9/29/2021
George Abood, With Distinction - 9/29/2021
Matheus Frosi Amaral, With Distinction - 9/30/2021
Zhangbai Xia, With Distinction - 9/30/2021
Jeff Zenger, With Distinction - 9/30/2021
Wen-Hao Chin, With Distinction - 10/1/2021
Jun Yong Lee, With Distinction - 10/1/2021
Nicholas Martucci, With Distinction - 10/2/2021
Jintae Kim, With Distinction - 10/4/2021
Adam Drummond, With Distinction - 10/4/2021
Edward Turner - 10/5/2021
Corey Hancock, With Distinction - 10/5/2021
Mark Freis, With Distinction - 10/6/2021
Roman Orozov, With Distinction - 10/9/2021
Samuel Levin - 10/13/2021
Nicole Orlow, With Distinction - 10/13/2021
Nick Menchero, With Distinction - 10/14/2021
Conrad Tomaszkiewicz, With Distinction - 10/20/2021
John Akpan, With Distinction - 10/20/2021
Emrose Bhalesha, With Distinction - 10/22/2021
Daniel Gilmartin, With Distinction - 10/25/2021
Mark Meigher, With Distinction - 10/25/2021
Ning Li, With Distinction - 10/25/2021
Amanda Aaron, With Distinction - 10/26/2021
Clayton Brand, With Distinction - 10/27/2021
Stanislas Turon-Barrere, With Distinction - 10/27/2021
Conner Whitton, With Distinction - 10/28/2021
Takis Gounaris - 10/30/2021
Oliver Monaghan, With Distinction - 10/30/2021
Tasuku Agari, With Distinction - 11/4/2021
Rohit Kolar, With Distinction - 11/4/2021
Michael Fernandez, With Distinction - 11/7/2021
Hosam El-Hammamy, With Distinction - 11/7/2021
Haoying Sun, With Distinction - 11/11/2021
Simin Zhang - 11/11/2021
Chase Gaiefsky, With Distinction - 11/12/2021
Anthony Trinh, With Distinction - 11/12/2021
Justin Kim, With Distinction - 11/13/2021
Aaron Silver, With Distinction - 11/15/2021
Thomas Beckett, With Distinction - 11/15/2021
Sukhmaneet Singh - 11/16/2021
Thapelo Tyson Mthembi, With Distinction - 11/17/2021
Matthew Kelling, With Distinction - 11/18/2021
Charlotte Lefkovitz, With Distinction - 11/18/2021
Russell Goodman - 11/19/2021
Clark Israeli, With Distinction - 11/23/2021
Spencer Preston, With Distinction - 11/23/2021
Daniel Gorczyca, With Distinction - 11/25/2021
Thomas Grazer, With Distinction - 11/27/2021
Nik Ademdom, With Distinction - 11/28/2021
Maher Alkanhal, With Distinction - 11/28/2021
Moksh Rajput, With Distinction - 11/29/2021
Nolan Greeley, With Distinction - 11/29/2021
Jack Loewengart, With Distinction - 11/30/2021
Carolina Varas, With Distinction - 11/30/2021
Joshua Umman, With Distinction - 11/30/2021
Maria Lombardi, With Distinction - 11/30/2021
Andrei Larion, With Distinction - 11/30/2021
Paige Kramer, With Distinction - 11/30/2021
Nicholas Sharpe, With Distinction - 11/30/2021
Jake Duff, With Distinction - 11/30/2021
John Woodman, With Distinction - 11/30/2021
Carson Black - 11/30/2021
Pedro Vintimilla, With Distinction - 11/30/2021
Jack Reddeck, With Distinction - 11/30/2021
Anthony Cimino, With Distinction - 11/30/2021
Brittani Nelson, With Distinction - 11/30/2021
Manny Cordova, With Distinction - 11/30/2021
Matthew Gomez, With Distinction - 11/30/2021
Michael Sabat, With Distinction - 11/30/2021
Ethan Vaughan, With Distinction - 11/30/2021
Leah Thompson, With Distinction - 11/30/2021
Khaled Al Budeiri, With Distinction - 11/30/2021
Brayden Curry, With Distinction - 11/30/2021
Nicole Barba, With Distinction - 11/30/2021
Francesco Camarda, With Distinction - 11/30/2021
Mary Kate Urbanski, With Distinction - 11/30/2021
Louis Danner, With Distinction - 11/30/2021
Matthew Kabolowsky, With Distinction - 11/30/2021
Chad Brittain, With Distinction - 11/30/2021
Nicolas Hernandez, With Distinction - 11/30/2021
Michael Gibbons, With Distinction - 11/30/2021
Morgan Odonnell, With Distinction - 11/30/2021
Moriah Marquette, With Distinction - 11/30/2021
Alejandro Castrillon, With Distinction - 11/30/2021
Sophia Palombo, With Distinction - 11/30/2021
Sophia Palombo, With Distinction - 11/30/2021
Claudia Verdecia, With Distinction - 11/30/2021
Jayme Morrall, With Distinction - 11/30/2021
Bradley Yucht, With Distinction - 11/30/2021
Alexis Ashley, With Distinction - 11/30/2021
Hope Stephens, With Distinction - 12/2/2021
Brian Piccolo, With Distinction - 12/3/2021
Brooke Kellam, With Distinction - 12/3/2021
Grant Link, With Distinction - 12/3/2021
Hugh Mackay, With Distinction - 12/13/2021
Nick Ureta, With Distinction - 12/14/2021
Thomas Cholnoky - 12/14/2021
Bradley Buff, With Distinction - 12/15/2021
Spencer Kuhlman, With Distinction - 12/21/2021
Preston Landrum, With Distinction - 12/21/2021
Hongxia Gao, With Distinction - 12/22/2021
Matthew Brown - 12/23/2021
Alexander Ryan - 12/23/2021
Nikhil Patel, With Distinction - 12/26/2021
Morgan Hammans - 12/28/2021
Alex Poulos, With Distinction - 12/29/2021
Xu Zhang, With Distinction - 12/29/2021
George Baltakian, With Distinction - 12/29/2021
Carlos Lopez, With Distinction - 12/31/2021
Praveen Akula, With Distinction - 12/31/2021
Alex Talebi - 1/1/2022
James Zubizarreta, With Distinction - 1/2/2022
Justin Hatchett, With Distinction - 1/2/2022
Jacky Cheng, With Distinction - 1/2/2022
Miles Colley, With Distinction - 1/2/2022
Chuan Huang, With Distinction - 1/3/2022
Benjamin Schloss, With Distinction - 1/3/2022
Allison Werner, With Distinction - 1/5/2022
Michael Sellis, With Distinction - 1/5/2022
Daniel Harkins, With Distinction - 1/5/2022
Avery Rustad, With Distinction - 1/6/2022
Omar Albudeiri, With Distinction - 1/7/2022
Elisa Sacchetti - 1/8/2022
Alex Crosby, With Distinction - 1/9/2022
Hayde Gibson, With Distinction - 1/9/2022
Jean-Marc Peters, With Distinction - 1/9/2022
Max-Ulrich Nickel, With Distinction - 1/9/2022
Anson Call - 1/9/2022
Julien Bergametti, With Distinction - 1/10/2022
Elena Shenkar, With Distinction - 1/10/2022
Aidan Regan - 1/10/2022
Kyle Cunningham, With Distinction - 1/12/2022
David Goodrich, With Distinction - 1/12/2022
David Carroll - 1/13/2022
Timothy Kraics, With Distinction - 1/14/2022
Christopher Durbin, With Distinction - 1/14/2022
Frank Cerullo - 1/15/2022
John Orscheln, With Distinction - 1/16/2022
Elizabeth Tillman, With Distinction - 1/16/2022
Austin Eassa, With Distinction - 1/16/2022
Chris Armstrong, With Distinction - 1/16/2022
Eitan Abu, With Distinction - 1/17/2022
Zachary Estes, With Distinction - 1/19/2022
Nick Salameda - 1/20/2022
Michael Salusti, With Distinction - 1/20/2022
Maosen Li, With Distinction - 1/20/2022
Robert Ceh - 1/21/2022
Richard Hacking, With Distinction - 1/22/2022
Przemyslaw Moson, With Distinction - 1/22/2022
Ryan Rabinowitz, With Distinction - 1/22/2022
Richard Olguin, With Distinction - 1/23/2022
Gabriel Braun, With Distinction - 1/23/2022
Greg Wanamaker - 1/23/2022
Jose Esquerdo, With Distinction - 1/23/2022
Will Larossa, With Distinction - 1/23/2022
Axel Adriel Peluso Nieto, With Distinction - 1/23/2022
Josh White, With Distinction - 1/24/2022
Sebastian Urcuyo, With Distinction - 1/24/2022
Stefano Biasini, With Distinction - 1/24/2022
Giuliano D'Arrigo, With Distinction - 1/24/2022
Frank Okonkwo, With Distinction - 1/25/2022
Alexander Baker, With Distinction - 1/25/2022
Paige Peltzer, With Distinction - 1/25/2022
Zachary Schneider, With Distinction - 1/26/2022
Abraham Chapa, With Distinction - 1/26/2022
Locke Williamson, With Distinction - 1/27/2022
Jaime Uota, With Distinction - 1/30/2022
Hubert Yang, With Distinction - 1/30/2022
John Zuber, With Distinction - 1/31/2022
Broderick Flagg, With Distinction - 2/1/2022
Imran Anwar, With Distinction - 2/2/2022
Addison Haas, With Distinction - 2/2/2022
Quinn Komen, With Distinction - 2/2/2022
Cooper Mccarthy, With Distinction - 2/4/2022
Jacob Jaimes, With Distinction - 2/5/2022
Charley Gates, With Distinction - 2/5/2022
Timothy Rutten - 2/6/2022
Julian Lombard, With Distinction - 2/7/2022
Conner Carlson, With Distinction - 2/9/2022
Claudio Toledo - 2/10/2022
Mitchell Rusten, With Distinction - 2/13/2022
Trevor Young - 2/15/2022
Jannette Ruiz, With Distinction - 2/16/2022
Kyle Bentz, With Distinction - 2/17/2022
Winston Fox, With Distinction - 2/17/2022
Anton Storchak, With Distinction - 2/17/2022
Chris Langley - 2/18/2022
Charles Wolf - 2/18/2022
Andrew Johnstone, With Distinction - 2/19/2022
Justyna Stachnik, With Distinction - 2/20/2022
Robert Fox, With Distinction - 2/21/2022
Christopher Adnams, With Distinction - 2/22/2022
John Grib - 2/23/2022
Rand Hough, With Distinction - 2/23/2022
Regan Goldberg, With Distinction - 2/23/2022
Andres Defelice, With Distinction - 2/24/2022
Casey Christensen, With Distinction - 2/25/2022
Joel Dayton, With Distinction - 2/26/2022
Felix Nguyen, With Distinction - 3/2/2022
Sang Yoon Park - 3/5/2022
Michael Greendyk - 3/8/2022
Jack Wang - 3/8/2022
Megan Milburn, With Distinction - 3/9/2022
John Robinson, With Distinction - 3/10/2022
Marshall Shaffar-Roggeveen, With Distinction - 3/10/2022
Isaac Shapiro, With Distinction - 3/10/2022
Juan Diaz - 3/12/2022
Travis Haynes, With Distinction - 3/13/2022
Cyrus Johnson, With Distinction - 3/14/2022
George Carameros - 3/14/2022
Brady Neill, With Distinction - 3/15/2022
Zachary St Vincent, With Distinction - 3/17/2022
Justin Simmons, With Distinction - 3/20/2022
Conoly Koontz, With Distinction - 3/20/2022
Vanessa Whittington, With Distinction - 3/20/2022
Idan Tarsky, With Distinction - 3/20/2022
Jordan Nesvig - 3/21/2022
Robert Rodman, With Distinction - 3/21/2022
Daniel Fredericks - 3/21/2022
Braxton Barker, With Distinction - 3/23/2022
Yun Do Hwang, With Distinction - 3/23/2022
Scott Weigel - 3/23/2022
Martin Culver - 3/26/2022
Kevinnick Pong - 3/27/2022
Andrew Lui, With Distinction - 3/27/2022
Kason Curtis, With Distinction - 3/28/2022
Luciano Torres, With Distinction - 3/28/2022
Arjun Lenin - 3/29/2022
John Hester, With Distinction - 3/30/2022
Barira Siddiqui, With Distinction - 3/31/2022
Linsley Truesdale, With Distinction - 4/1/2022
Timothy Smith - 4/1/2022
Joshua Edwards, With Distinction - 4/2/2022
Noah Schott, With Distinction - 4/6/2022
Larry Buckner, With Distinction - 4/6/2022
Zach Finkelstein, With Distinction - 4/7/2022
David Irvine - 4/8/2022
Taylor Samuel, With Distinction - 4/8/2022
Steven Taylor, With Distinction - 4/8/2022
Matthew Smith, With Distinction - 4/8/2022
Luca Mura - 4/9/2022
Dayuan Liu, With Distinction - 4/10/2022
Jay Kennedy - 4/11/2022
Justin Goodin, With Distinction - 4/12/2022
Nix Park, With Distinction - 4/14/2022
Juan Cortes, With Distinction - 4/14/2022
Jordan Jachens, With Distinction - 4/17/2022
Jack Ryan, With Distinction - 4/18/2022
Louay Elsakr, With Distinction - 4/18/2022
Shaique Rahman, With Distinction - 4/19/2022
Stephanie Nihei - 4/21/2022
Omar Metwally - 4/23/2022
Michael Glaspie - 4/25/2022
Nemesie Esteves, With Distinction - 4/25/2022
Elijah Walsh, With Distinction - 4/25/2022
Matthew Arnold, With Distinction - 4/25/2022
Jonathan Peters, With Distinction - 4/25/2022
John Lee, With Distinction - 4/25/2022
Michael A Richardson - 4/25/2022
Jordany Dominique - 4/25/2022
Ty Price, With Distinction - 4/25/2022
Wolfgang Hueck, With Distinction - 4/26/2022
Luke Schmit, With Distinction - 4/27/2022
Lakatos John, With Distinction - 4/28/2022
Daniel Drew, With Distinction - 4/28/2022
Nathan Ward, With Distinction - 4/30/2022
Anuroy Vyas - 5/3/2022
Jeff Storer, With Distinction - 5/4/2022
Kibong Cho, With Distinction - 5/5/2022
Bruce Park, With Distinction - 5/8/2022
Rick Gropper, With Distinction - 5/11/2022
Sarin Kotoyan - 5/12/2022
Francisco Hernandez Ramos, With Distinction - 5/13/2022
Carlos Silguero, With Distinction - 5/16/2022
Kolton Thompson, With Distinction - 5/17/2022
Treivor Cashion, With Distinction - 5/19/2022
Jon Hartunian, With Distinction - 5/19/2022
Jake Hymes - 5/19/2022
Sammi Benak, With Distinction - 5/19/2022
Matt Brading, With Distinction - 5/19/2022
Joe Alessandro, With Distinction - 5/20/2022
Khalid Yosufzai, With Distinction - 5/20/2022
David Paredes - 5/20/2022
Ismael Almanzar, With Distinction - 5/22/2022
Zoe Athanason, With Distinction - 5/23/2022
David Stukey, With Distinction - 5/25/2022
Chen Li, With Distinction - 5/25/2022
Henrique Melo, With Distinction - 5/25/2022
Ryan Krafczik, With Distinction - 5/25/2022
Stone Barcomb - 5/27/2022
James Chau - 5/29/2022
Matthew Bucklaew, With Distinction - 5/29/2022
Evan Blum, With Distinction - 5/30/2022
Jiliang Qian, With Distinction - 5/30/2022
Agustin Smith, With Distinction - 5/30/2022
Alexander Cooperstone, With Distinction - 5/31/2022
Isaac Kahn, With Distinction - 5/31/2022
Nick Ardakani, With Distinction - 6/1/2022
Alwyn Taylor - 6/2/2022
Keith Gabrielson, With Distinction - 6/2/2022
Andres Lincon - 6/2/2022
Joshua Simpson, With Distinction - 6/2/2022
Sterling Stockwell, With Distinction - 6/2/2022
Jay Dempsey, With Distinction - 6/3/2022
Ryan Richard Covington, With Distinction - 6/3/2022
Michael Combs, With Distinction - 6/4/2022
Lisa Gordon, With Distinction - 6/5/2022
Isidoro Beraja, With Distinction - 6/5/2022
Daniel Sapozhnikov, With Distinction - 6/5/2022
Aidan Cheung, With Distinction - 6/5/2022
Duke Ballard, With Distinction - 6/5/2022
Samya Ababou, With Distinction - 6/5/2022
Harrison Koeppel, With Distinction - 6/5/2022
Alejandro Villanueva, With Distinction - 6/5/2022
Lucas Iacovelli, With Distinction - 6/5/2022
Renzo Figueroa Pacheco, With Distinction - 6/6/2022
Michael Lehmann, With Distinction - 6/6/2022
Peter Zinsner, With Distinction - 6/6/2022
Ryan Ruffo, With Distinction - 6/6/2022
Sauleh Ahmed, With Distinction - 6/6/2022
Joseph Berley, With Distinction - 6/7/2022
Andrew Pfeiffer, With Distinction - 6/7/2022
Matteo Coppola, With Distinction - 6/7/2022
Brooks Glanton, With Distinction - 6/8/2022
Yvan Martinez, With Distinction - 6/8/2022
Jake Stack, With Distinction - 6/8/2022
Emma Durham, With Distinction - 6/8/2022
Brendan Neary - 6/9/2022
Garrett Hinge, With Distinction - 6/10/2022
Christen Mungia, With Distinction - 6/13/2022
Jake Ligos, With Distinction - 6/15/2022
Drake Powell, With Distinction - 6/15/2022
Chris Odom, With Distinction - 6/16/2022
Cole Rodgers, With Distinction - 6/19/2022
James Wood, With Distinction - 6/19/2022
Jacob Denison, With Distinction - 6/20/2022
Brendan Kish, With Distinction - 6/20/2022
Margaret Duggan, With Distinction - 6/20/2022
Will Marquardt, With Distinction - 6/20/2022
Hoan Vo, With Distinction - 6/21/2022
Raul Zserai, With Distinction - 6/21/2022
Mitchell Pitts, With Distinction - 6/21/2022
Nick Rosa, With Distinction - 6/22/2022
Kenyon Kay, With Distinction - 6/22/2022
James Reilly, With Distinction - 6/22/2022
Larkin Mcliney, With Distinction - 6/24/2022
Kalani Lucas, With Distinction - 6/26/2022
Bennett Wooten - 6/27/2022
Britton Webb, With Distinction - 6/28/2022
Jonathan Um, With Distinction - 6/29/2022
Mack Carter, With Distinction - 6/30/2022
Kyle Layman, With Distinction - 6/30/2022
Kristin Houpt, With Distinction - 7/1/2022
Joanna Tang, With Distinction - 7/4/2022
Mark Baldwin, With Distinction - 7/4/2022
Adam Miah, With Distinction - 7/5/2022
Weston Gervais, With Distinction - 7/5/2022
Austin E, With Distinction - 7/6/2022
Irwin Wong - 7/7/2022
Patrick Murdock, With Distinction - 7/7/2022
Bryce Daneshrad, With Distinction - 7/8/2022
Terry Larson, With Distinction - 7/8/2022
Sammy Indyk, With Distinction - 7/11/2022
Andrew Dittrich - 7/11/2022
Yuhao Zhang, With Distinction - 7/13/2022
Dennis Brillantes - 7/14/2022
Patrick Sikorski, With Distinction - 7/16/2022
Xiaoyu Wang, With Distinction - 7/17/2022
Cole Davis, With Distinction - 7/17/2022
Michael Accinelli, With Distinction - 7/18/2022
Andrea Troske, With Distinction - 7/18/2022
Scott Westerman, With Distinction - 7/18/2022
Altaz Dharamsi - 7/19/2022
Tim Hensley, With Distinction - 7/19/2022
Alfonso Orozco Cabeza De Vaca, With Distinction - 7/21/2022
Taylor Posey, With Distinction - 7/21/2022
Angelo Bonvino, With Distinction - 7/21/2022
Gunner Miller, With Distinction - 7/22/2022
Conor Neyer, With Distinction - 7/24/2022
Alexandra Cowin, With Distinction - 7/26/2022
Elizabeth Fuller, With Distinction - 7/26/2022
Ryan Schwartz, With Distinction - 7/26/2022
Timur Murillo, With Distinction - 7/26/2022
Jimin Lee, With Distinction - 7/27/2022
Alec Wansikehian, With Distinction - 7/29/2022
Rafael Pinero - 7/29/2022
Cory Schraier - 7/29/2022
Kayla Kling - 7/29/2022
Ernest Adendorff, With Distinction - 7/29/2022
Elijah Gilbert, With Distinction - 7/30/2022
Daniel Cashdan, With Distinction - 7/31/2022
Joe Dillon, With Distinction - 8/1/2022
Kelly Chu, With Distinction - 8/1/2022
Mack Weems, With Distinction - 8/2/2022
Michael Hart, With Distinction - 8/3/2022
Matthew.berry, With Distinction - 8/3/2022
Naomi Santiago-Ruiz, With Distinction - 8/5/2022
Tim Knauss, With Distinction - 8/5/2022
Dominic Guan, With Distinction - 8/6/2022
Patrick Mcelroy, With Distinction - 8/6/2022
Will Miner - 8/7/2022
Jack Zelezny - 8/8/2022
Brett Barr, With Distinction - 8/10/2022
Alex Junquera, With Distinction - 8/11/2022
Peter Joseph, With Distinction - 8/12/2022
Jacob Altshuler, With Distinction - 8/12/2022
Nicholas Stailey, With Distinction - 8/14/2022
Jackson Douglas, With Distinction - 8/16/2022
Kevin Cho, With Distinction - 8/17/2022
Yves Martinez, With Distinction - 8/18/2022
Nathan Highducheck, With Distinction - 8/19/2022
Zachary Luttrell, With Distinction - 8/21/2022
David Dwyer, With Distinction - 8/21/2022
Nicholas Jackson, With Distinction - 8/21/2022
Chris Tsavoussis, With Distinction - 8/22/2022
Aditya Reddy, With Distinction - 8/22/2022
Jake Fenlon, With Distinction - 8/22/2022
Tighe Ekern, With Distinction - 8/24/2022
Sam Valenti, With Distinction - 8/24/2022
Tristan Villamagna, With Distinction - 8/24/2022
Zachary Ericksen, With Distinction - 8/24/2022
Seon Woo Kim, With Distinction - 8/25/2022
Joseph Leddy - 8/25/2022
Anastasiia Buiadzhy, With Distinction - 8/26/2022
Gabriel Grossman, With Distinction - 8/27/2022
Marshall Johnson, With Distinction - 8/29/2022
Danny Karbowski, With Distinction - 8/30/2022
Alice Obas, With Distinction - 8/30/2022
Lynn Reed, With Distinction - 8/30/2022
Cade Lefler, With Distinction - 8/31/2022
John Gerber, With Distinction - 9/1/2022
Thomas Broderick, With Distinction - 9/1/2022
Jack Ballato - 9/1/2022
Jie Ma, With Distinction - 9/5/2022
Marcus Williams, With Distinction - 9/6/2022
Badder Shabbir, With Distinction - 9/8/2022
William Harris, With Distinction - 9/10/2022
Hsiaoying Yau, With Distinction - 9/12/2022
Max Gagliardi, With Distinction - 9/12/2022
Jonah Jacobson, With Distinction - 9/13/2022
Gussie Gordon, With Distinction - 9/13/2022
Jack Mclean, With Distinction - 9/14/2022
Artemios Roussos - 9/14/2022
Christopher Carver - 9/16/2022
Kavon Borghani, With Distinction - 9/17/2022
Benjamin Leary, With Distinction - 9/19/2022
Octavio Rueda, With Distinction - 9/20/2022
Ryan Smyth, With Distinction - 9/21/2022
Cody Johnson, With Distinction - 9/27/2022
Sean Madden, With Distinction - 9/30/2022
Andy Camacho, With Distinction - 9/30/2022
Noah Englestad, With Distinction - 10/4/2022
Erick Reyes, With Distinction - 10/4/2022
Samuel Hoffmann - 10/5/2022
Daniel Yanes, With Distinction - 10/6/2022
Cole Palmby, With Distinction - 10/6/2022
Fabian Kuhn, With Distinction - 10/6/2022
Tyler Brochstein, With Distinction - 10/8/2022
Benjamin Perez - 10/11/2022
Brian Stutz - 10/12/2022
Benjamin Garrison Brock Jr, With Distinction - 10/14/2022
Blaine Gerick - 10/15/2022
Kailey Poore - 10/16/2022
William Perry, With Distinction - 10/17/2022
Jelena Milosev, With Distinction - 10/18/2022
Gabe Stern, With Distinction - 10/18/2022
Ryan Sullivan, With Distinction - 10/18/2022
Ben Burgess, With Distinction - 10/19/2022
Steele Burkett, With Distinction - 10/20/2022
Christian Amato, With Distinction - 10/21/2022
Elias Zaoutis, With Distinction - 10/27/2022
Mario Martinez, With Distinction - 10/29/2022
Joshua Hay, With Distinction - 11/1/2022
Joe Binkowski, With Distinction - 11/2/2022
Thomas Decker, With Distinction - 11/2/2022
Alexander Baur, With Distinction - 11/4/2022
Henry Percy, With Distinction - 11/6/2022
Christopher Durbin - 11/7/2022
Dylan Connelly - 11/8/2022
John Prus, With Distinction - 11/8/2022
Khaleel Clark, With Distinction - 11/10/2022
David Gahagan, With Distinction - 11/10/2022
Michael Lizanich, With Distinction - 11/13/2022
Taylor Crawford, With Distinction - 11/13/2022
Zachariah Popp, With Distinction - 11/13/2022
Oliver Dennis, With Distinction - 11/15/2022
Alex Mcfarland, With Distinction - 11/15/2022
Brendan Boyle - 11/16/2022
Halsey Mchenry, With Distinction - 11/22/2022
Jeremy Kauffman, With Distinction - 11/23/2022
Jack Guenoun - 11/23/2022
Andres Arozarena, With Distinction - 11/25/2022
Chris Cho, With Distinction - 11/25/2022
Alexandre Hebert - 11/25/2022
Calvin Mooney, With Distinction - 11/27/2022
Tristan Harvey, With Distinction - 11/30/2022
Joshua Moore, With Distinction - 11/30/2022
Brandon Glass - 12/2/2022
Evan Bopp, With Distinction - 12/6/2022
Michael Brown, With Distinction - 12/6/2022
James Davilmar, With Distinction - 12/6/2022
Ethan Coakley, With Distinction - 12/6/2022
Isabella Moore, With Distinction - 12/6/2022
Jorge Sardinas, With Distinction - 12/6/2022
Victoria Kane, With Distinction - 12/6/2022
Michael Van Ness, With Distinction - 12/6/2022
Domenic Ciricillo, With Distinction - 12/6/2022
Josh Silverman, With Distinction - 12/6/2022
Sarah Cornide, With Distinction - 12/6/2022
Kimi Orlin, With Distinction - 12/6/2022
Mariana Villicana, With Distinction - 12/6/2022
Megan Magee, With Distinction - 12/6/2022
Aaron Lazar, With Distinction - 12/6/2022
Nicola Moreland, With Distinction - 12/6/2022
Harrison Haber, With Distinction - 12/6/2022
Luke Hurbanis, With Distinction - 12/6/2022
Coryell Dreyer, With Distinction - 12/6/2022
Bennett Davis, With Distinction - 12/6/2022
Charles Marquardt - 12/6/2022
Ezekiel Silverman, With Distinction - 12/6/2022
Kyle Nguyen, With Distinction - 12/6/2022
Jasmeen Randhawa, With Distinction - 12/6/2022
Houyu Xie, With Distinction - 12/6/2022
Muellerzane - 12/6/2022
Connor Tamarkin, With Distinction - 12/6/2022
Lillyan Magley - 12/6/2022
Angel Vicioso - 12/6/2022
Zachary Brandon - 12/6/2022
Charles Remington, With Distinction - 12/6/2022
Jenny Kim, With Distinction - 12/6/2022
Pierce Skelly, With Distinction - 12/7/2022
Robert Carmichael, With Distinction - 12/7/2022
Cole Fisher, With Distinction - 12/8/2022
Joseph Yu, With Distinction - 12/8/2022
Ethan Hunsucker, With Distinction - 12/9/2022
Alan Albagli Link, With Distinction - 12/9/2022
Alexander Azar, With Distinction - 12/10/2022
Katharina Shultz, With Distinction - 12/12/2022
Jonathan Kluger, With Distinction - 12/13/2022
Jacob Rodriguez, With Distinction - 12/15/2022
Christopher Ruiz, With Distinction - 12/16/2022
Pedro Rodrigues De Castro Jalles - 12/17/2022
Reed Bender - 12/19/2022
Wesley Van Steenbergen - 12/20/2022
Hartej Dale, With Distinction - 12/20/2022
Amedeo Rodio, With Distinction - 12/20/2022
Nate Hoffman, With Distinction - 12/20/2022
Erik Digirolamo, With Distinction - 12/22/2022
John Wilson, With Distinction - 12/22/2022
Christopher Alvarez, With Distinction - 12/22/2022
Kyle Coffin, With Distinction - 12/23/2022
Gladys Atienza, With Distinction - 12/26/2022
Sandy Lee, With Distinction - 12/26/2022
Bruce Kirsch, Refai®, With Distinction - 12/28/2022
Charles Lynch - 12/29/2022
Hale Johnson, With Distinction - 12/29/2022
Jacob Dubay, With Distinction - 12/29/2022
Ethan Dorman, With Distinction - 12/29/2022
Duke Zherka, With Distinction - 12/30/2022
Whit Shelburne, With Distinction - 12/30/2022
Tyler Hamel - 12/31/2022
Rhett Saltiel, With Distinction - 12/31/2022
Vitaly Polovin, With Distinction - 1/2/2023
Matthew Harris, With Distinction - 1/3/2023
Kyler Johns, With Distinction - 1/3/2023
Benjamin Fortunato - 1/5/2023
Scott Henson, With Distinction - 1/6/2023
Carter Bateman, With Distinction - 1/7/2023
Thomas Sorbara, With Distinction - 1/8/2023
Henry Su - 1/8/2023
Ben Applebaum, With Distinction - 1/8/2023
Isaac Benedict - 1/8/2023
Scott Griffin, With Distinction - 1/9/2023
Logan Walker, With Distinction - 1/12/2023
Alyssa Shapiro, With Distinction - 1/15/2023
Oscar Castelan - 1/17/2023
Adam Margolis, With Distinction - 1/17/2023
Ash Zahran, With Distinction - 1/18/2023
Rachel Stringfellow, With Distinction - 1/18/2023
Talis Stockton, With Distinction - 1/19/2023
Aneesh Kumar, With Distinction - 1/20/2023
Hayden Stroop, With Distinction - 1/20/2023
Jeremy Bowinkel, With Distinction - 1/21/2023
Bryan Wynne, With Distinction - 1/22/2023
Albert Martinezarizala, With Distinction - 1/23/2023
Drew Balser, With Distinction - 1/23/2023
Chaitanya Guthikonda, With Distinction - 1/26/2023
Kim Nguyen Lam, With Distinction - 1/27/2023
Tyler Wilson, With Distinction - 1/31/2023
Ismael Concepcion, With Distinction - 2/1/2023
Solomon Zarling - 2/2/2023
Champion Whitton, With Distinction - 2/6/2023
Robert Galos, With Distinction - 2/6/2023
Brad Leventhal, With Distinction - 2/7/2023
Conner Ogdon, With Distinction - 2/10/2023
Zixiao Tong, With Distinction - 2/10/2023
Yan Zhou, With Distinction - 2/13/2023
Nicholas Davies, With Distinction - 2/14/2023
Stephen Holt - 2/14/2023
Grant Houde, With Distinction - 2/16/2023
Jonathan Betschart, With Distinction - 2/17/2023
Georgy Bellani Orvid, With Distinction - 2/19/2023
Curtis Wong - 2/20/2023
Sean Wallisch - 2/21/2023
Nicolas Chaves - 2/21/2023
Brian Jennett - 2/21/2023
Marek Sullivan - 2/22/2023
Hogan Wierda, With Distinction - 2/22/2023
Elliot Kim, With Distinction - 2/23/2023
Benjamin Vincent - 2/23/2023
Bennett Biggers - 2/24/2023
Ryan Arinaga, With Distinction - 2/28/2023
Easton Moore - 2/28/2023
Sam Rooney - 2/28/2023
Júlio Villalobos-Torres, With Distinction - 3/2/2023
Andrew Leogrande - 3/3/2023
Joseph Alston - 3/8/2023
Chao Ma, With Distinction - 3/8/2023
Michelle Montroy - 3/14/2023
Jesus Sapien, With Distinction - 3/16/2023
Andres Cepeda, With Distinction - 3/16/2023
David Stewart, With Distinction - 3/17/2023
Douglas Woolley - 3/19/2023
Andrew Grant - 3/19/2023
Kevin Iniguez, With Distinction - 3/20/2023
Enzo Jiannalone, With Distinction - 3/21/2023
Kevin Conde - 3/22/2023
Max Hermacinski, With Distinction - 3/23/2023
Theodore Shurman - 3/26/2023
Mark Erbstoesser, With Distinction - 3/29/2023
Anthony Milliano, With Distinction - 3/29/2023
Peerati Upatising, With Distinction - 3/29/2023
Veronica Hernandez Delgado - 3/31/2023
Maximilian Kühnl, With Distinction - 3/31/2023
Serge Du Lau D'Allemans, With Distinction - 4/1/2023
Richard Nealy, With Distinction - 4/1/2023
Maryam Alali, With Distinction - 4/3/2023
Reem Al Shehhi, With Distinction - 4/3/2023
John Lauder, With Distinction - 4/5/2023
Sean Bailey, With Distinction - 4/8/2023
Ashley Henthorn, With Distinction - 4/11/2023
Jared Paul - 4/11/2023
Patrick Xander, With Distinction - 4/12/2023
Jordan Hawley, With Distinction - 4/13/2023
Matthew Compton, With Distinction - 4/13/2023
Grant Siverhus, With Distinction - 4/13/2023
Max Nunan, With Distinction - 4/13/2023
Caleb Harris, With Distinction - 4/18/2023
David Phillips, With Distinction - 4/20/2023
Ty Chau, With Distinction - 4/21/2023
David Lawson, With Distinction - 4/22/2023
Ben Pobuda, With Distinction - 4/23/2023
Jackson Dembski, With Distinction - 4/24/2023
Austin Olvera, With Distinction - 4/24/2023
Aditya Singh, With Distinction - 4/24/2023
Zachary Maghsoud, With Distinction - 4/24/2023
Carson Hoover, With Distinction - 4/24/2023
Zeke Galloway - 4/24/2023
Ryan Childers, With Distinction - 4/25/2023
Brandon Barkwell, With Distinction - 4/26/2023
Giuseppe Penna - 4/27/2023
Joshua Luke, With Distinction - 4/30/2023
Samuel Cremieux, With Distinction - 4/30/2023
Eric Garibian - 5/3/2023
Kenneth Coyle - 5/7/2023
Keith Frantz - 5/10/2023
Luis Fernando Machado, With Distinction - 5/10/2023
Jackson Gill - 5/13/2023
Frank Desloge, With Distinction - 5/15/2023
Summit Schmerse - 5/17/2023
Mohammed Al-Hadhrami - 5/22/2023
Chris Crawford - 5/22/2023
Femi Aina, With Distinction - 5/23/2023
Nasir Prade, With Distinction - 5/25/2023
Luke Metzger, With Distinction - 5/25/2023
Kaleo Nelson - 5/26/2023
Long Ma, With Distinction - 5/29/2023
Osmand Bobadilla, With Distinction - 5/31/2023
Evan Holt, With Distinction - 6/1/2023
Frank Anastasio, With Distinction - 6/2/2023
Richard Tamkin, With Distinction - 6/2/2023
Brendan May - 6/3/2023
Aliakbar Hassonjee, With Distinction - 6/3/2023
Charles Anania - 6/3/2023
Diego Torrealba, With Distinction - 6/4/2023
Harrison Casagrande, With Distinction - 6/5/2023
Guillermo Ivan Sanchez Ramirez, With Distinction - 6/5/2023
Dion Huey, With Distinction - 6/5/2023
Jack Gallagher, With Distinction - 6/5/2023
Stephen Cox - 6/5/2023
Peter Leone, With Distinction - 6/5/2023
Sebastian Baltodano, With Distinction - 6/6/2023
Eric Rivas, With Distinction - 6/6/2023
Vera Socolsky, With Distinction - 6/6/2023
Jacob Palecki - 6/6/2023
Brandon Tatis, With Distinction - 6/6/2023
Carlo Zarro, With Distinction - 6/8/2023
Zhe Zhang, With Distinction - 2/2/2020
Dane Reinhart, With Distinction - 5/1/2020
Nick Premer - 6/11/2020
Jing Hai - 6/12/2020
Hayden Gordon - 6/21/2020
Joseph Leon, With Distinction - 8/1/2020
Jacob Richter, With Distinction - 8/2/2020
Spencer Sorfleet - 8/19/2020
Joseph Keifer, With Distinction - 11/29/2020
Robert Miyajima, With Distinction - 12/23/2020
Jason Luu, With Distinction - 1/4/2021
Lucas Jones, With Distinction - 1/4/2021
Allyson Mason, With Distinction - 1/28/2021
Spencer Tsai - 1/29/2021
Alexander Low, With Distinction - 8/26/2021
William Ghadimi, With Distinction - 8/28/2021
Juhi Goyal, With Distinction - 10/16/2021
Brad Schierhorn, With Distinction - 12/17/2021
Nick Larsen, With Distinction - 12/28/2021
Eli Wilson - 1/2/2022
Moritz Mayer, With Distinction - 1/2/2022
Nicholas Fong - 1/3/2022
Blake Andrus, With Distinction - 3/5/2022
Gianni Lupo, With Distinction - 3/11/2022
Krissy Saraceno, With Distinction - 5/23/2022
William Marron, With Distinction - 7/12/2022
Vedanth Shetty, With Distinction - 7/13/2022
Gustavo Boros - 8/3/2022
Justin Cross, With Distinction - 8/22/2022
Mark Murphy, With Distinction - 10/13/2022
Zed Truong, With Distinction - 11/3/2022
John Solis, With Distinction - 3/16/2023
Nathan Horgan, With Distinction - 3/17/2023
Steven Vrablic - 3/20/2023
Ben Spencer, With Distinction - 3/20/2023
Mitchell Rice - 4/14/2023