Description
Adopted by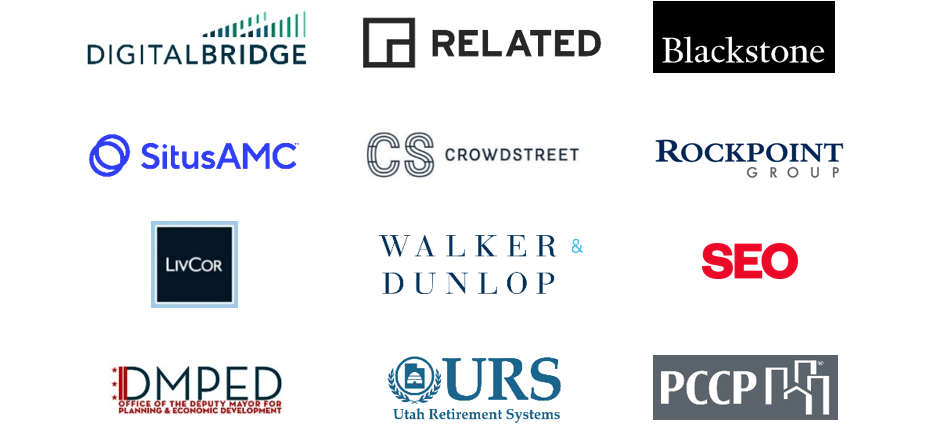 This Course Is For You If You Want To
This is a good fit if you want to:
Prepare yourself for job interviews at your target firms
Challenge yourself to earn a valued credential for your resume that shows your seriousness about breaking into or rising up in commercial real estate
Fill in gaps in your knowledge base so you can reach your professional potential more quickly
Attain a competitive level of knowledge and skill so you can get your first or next analytical role in CRE
Have a structured guide through the Linneman/Kirsch textbook that includes rigorous testing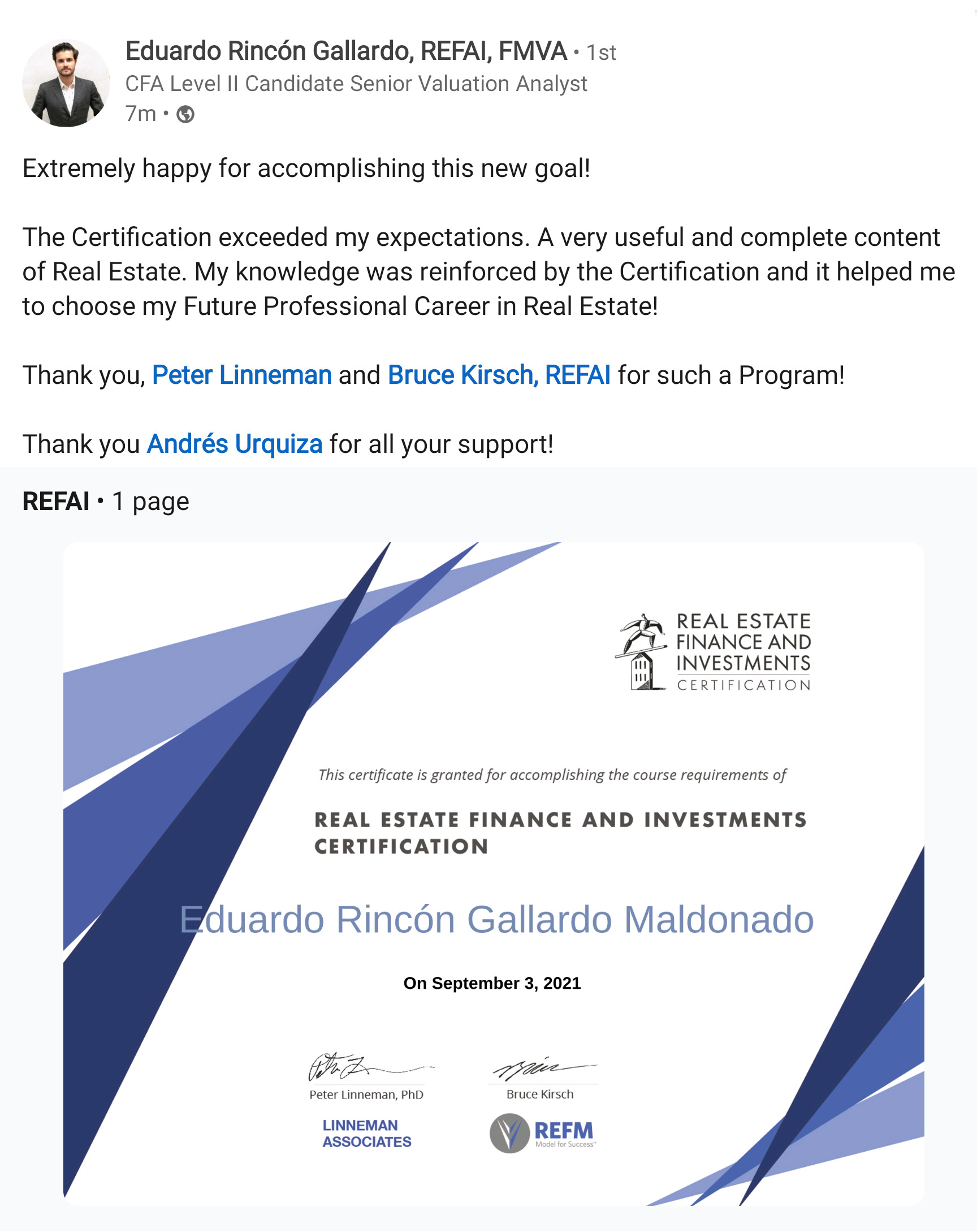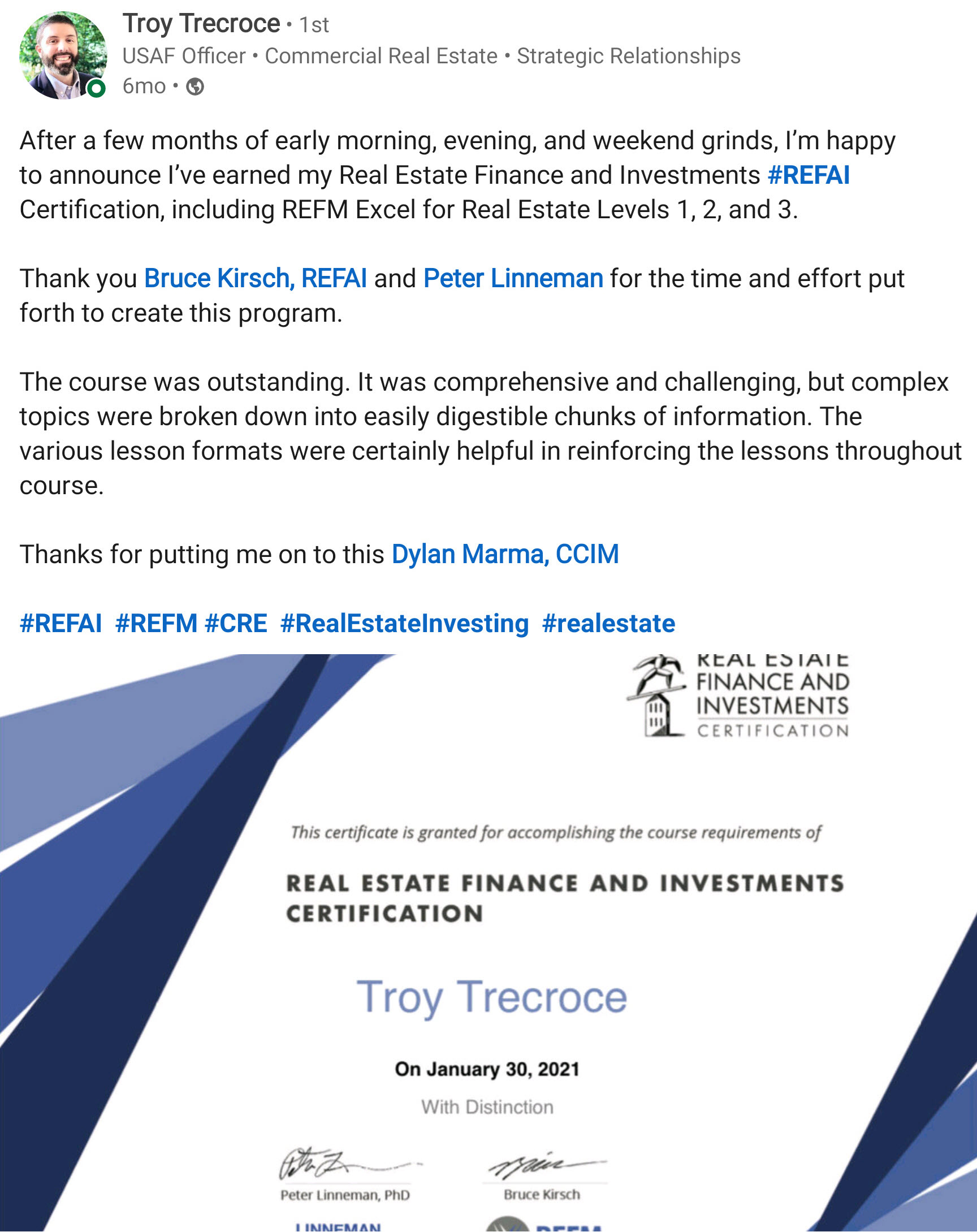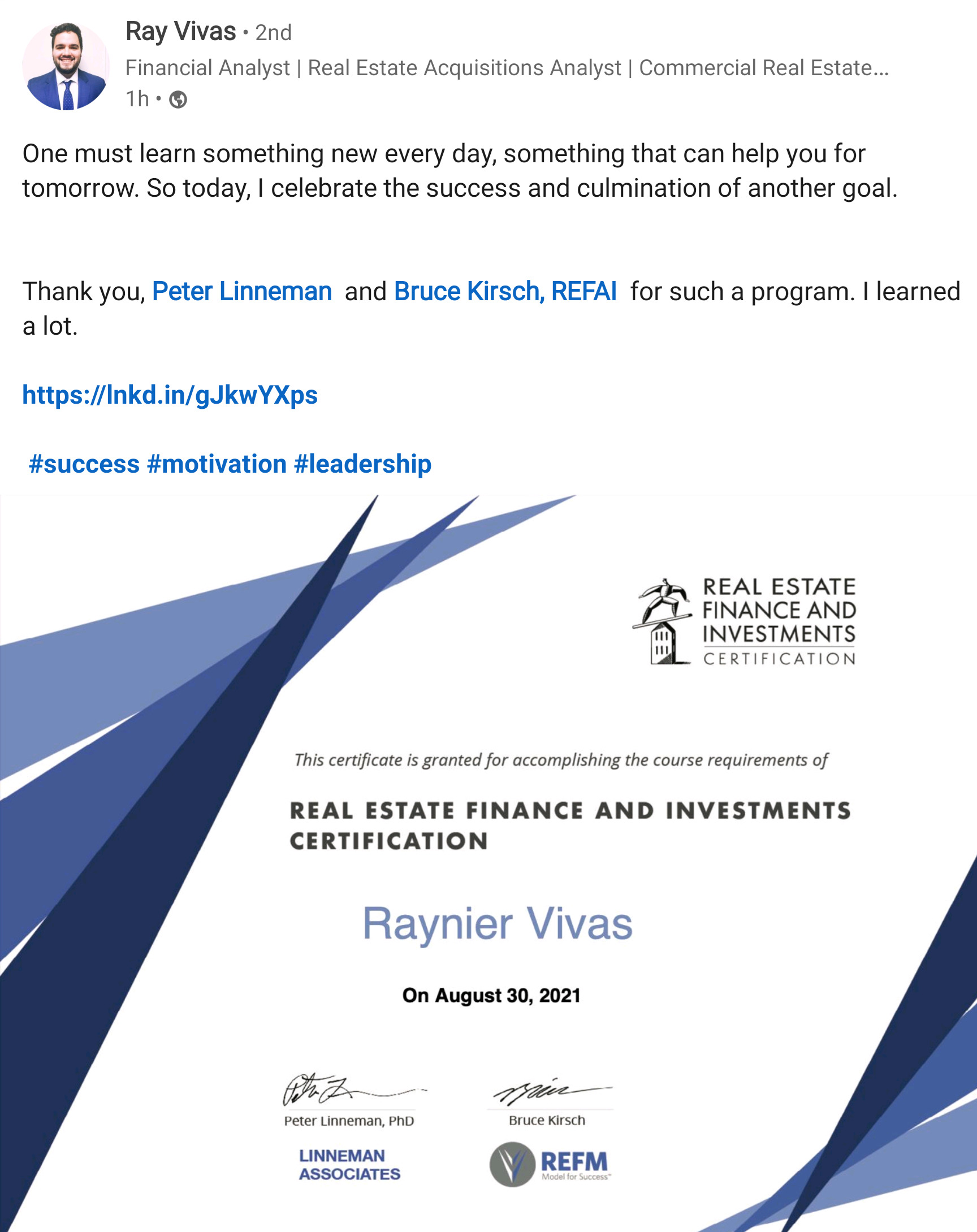 Applicable Analysis Types
Stabilized and Value-add Acquisitions
Ground-up Development
Commercial Leasing
Equity Joint Venture Partnerships
Private Equity Funds
All Property Types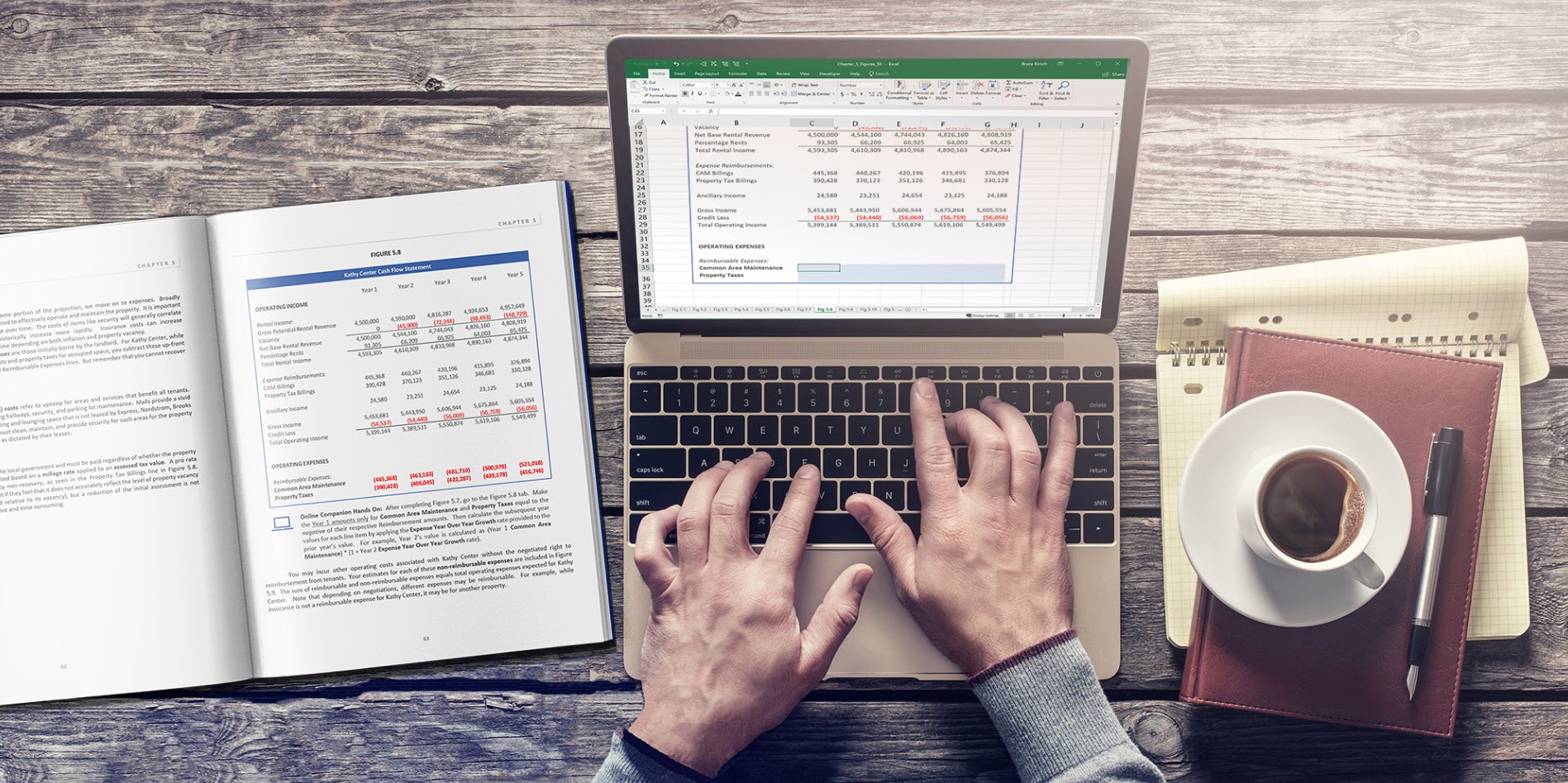 The Real Estate Finance and Investments Certification (REFAI®) from Linneman Associates and Real Estate Financial Modeling is a rigorous educational self-study program that is focused on practical, high-impact outcomes for its candidates. Registration includes lifetime access to the course. The course can be taken with the goal of Certification, or just for one's educational development. REFAI is delivered via a mobile-friendly online learning environment.
Holding the REFAI Certification signifies proficiency in the ability to apply knowledge and overlay sound analytical frameworks on real world problems. Candidates must earn a minimum passing grade of 70% to achieve the Certification. Passing With Distinction requires an overall grade of at least 85%.
Included in the program materials are:
a hard copy of the acclaimed Fifth Edition of the Linneman/Kirsch Real Estate Finance and Investments: Risks and Opportunities textbook
30 hours of module-specific streaming videos
300+ PDF slides
The Linneman Kirsch Tapes audio series on a flash drive, containing 7+ hours of in-depth insights on the book
60 short-form author audio interviews on nuances in chapter topics
5 REFM Excel-based skills and modeling video tutorials:

Excel for Real Estate Bootcamp *
Real Estate Finance Bootcamp *
Comparative Lease Analysis Modeling From Both Landlord and Tenant Perspectives
Office Building Development Modeling
Equity Joint Venture Waterfall Bootcamp *.
* If you have already completed these REFM modules and have passed the associated exams, you can pass through these modules in REFAI upon request.
The REFAI Program examines:
Basic financial analysis and metrics
Dynamic financial modeling in Excel
Selection of discount and capitalization rates
Dynamic financial modeling in Excel
Development feasibility
Lease negotiation
Preferred return, promote and catch-up structures
Corporate rent versus own decisions
Owner exit strategies
Investing internationally
Dynamic financial modeling in Excel
Valuation of properties subject to ground leases
REITs
Going public as a real estate company
Real estate entrepreneurship
Upon completion, REFAI Certification Holders will be able to perform in Excel:
Forecasting property income and expense cash flows
Building a mortgage payment schedule with an Interest-Only component
Calculating IRR and NPV
Allocating construction costs according to a bell-shaped curve
Valuing a ground-up development site on a residual basis
Forecasting an asset's future stabilized Net Operating Income
Performing sensitivity analyses around the driving variables in a transaction
Calculating loan interest for multiple layers of debt financing
Evaluating whether a corporation should own or rent facilities.
In addition to reading the textbook, candidates will learn on the online course platform through various media, including recorded video and audio lectures, spreadsheet modeling exercises, multiple choice quizzes and exams.
This self-paced program requires 120-160 hours to complete the course content, and complete the exercises, quizzes, midterm and final exams. Some have finished in 5 days, some in 300, but the norm is around 90 days.
Lifetime access is provided to all course materials.
The backbone of REFAI is the textbook Real Estate Finance and Investments: Risks and Opportunities, "the Blue Bible of real estate," authored by Dr. Peter Linneman and Bruce Kirsch. In circulation for 20 years and based on his Wharton classes, the book reflects Dr. Linneman's frustration with texts that concentrate excessively on theoretical detail and literature, while ignoring important aspects of financial analysis and decision making. This book balances the "real world" aspects of real estate finance without compromising key theoretical underpinnings. It covers the basic mathematics of real estate finance and investments, while stressing the ambiguity of decision making.
The book, and the REFAI program by extension, is an exploration of the key concepts of real estate finance and investment strategy, not a mere formulaic analysis of numbers designed to give you "the answer" to any and all real estate investment decisions.
Online quizzes for each of the 12 Modules are open book, subject to a 15-minute time limit
Midterm and final exam are open book, subject to a 90-minute time limit
All quizzes provide correct answers and commentary once taken
There are optional duplicate review quizzes that are ungraded, which you can use an unlimited number of times to study for the midterm and final
Across the 30 quizzes and exams, candidates will answer more than 500 questions
There are 2 optional case studies for completion.
While the pass rate is quite high, you're not guaranteed passing and you need to get approximately 350 questions correct of the approximately 500 questions in the course. REFAI is your chance to both learn and to demonstrate you have mastered the material.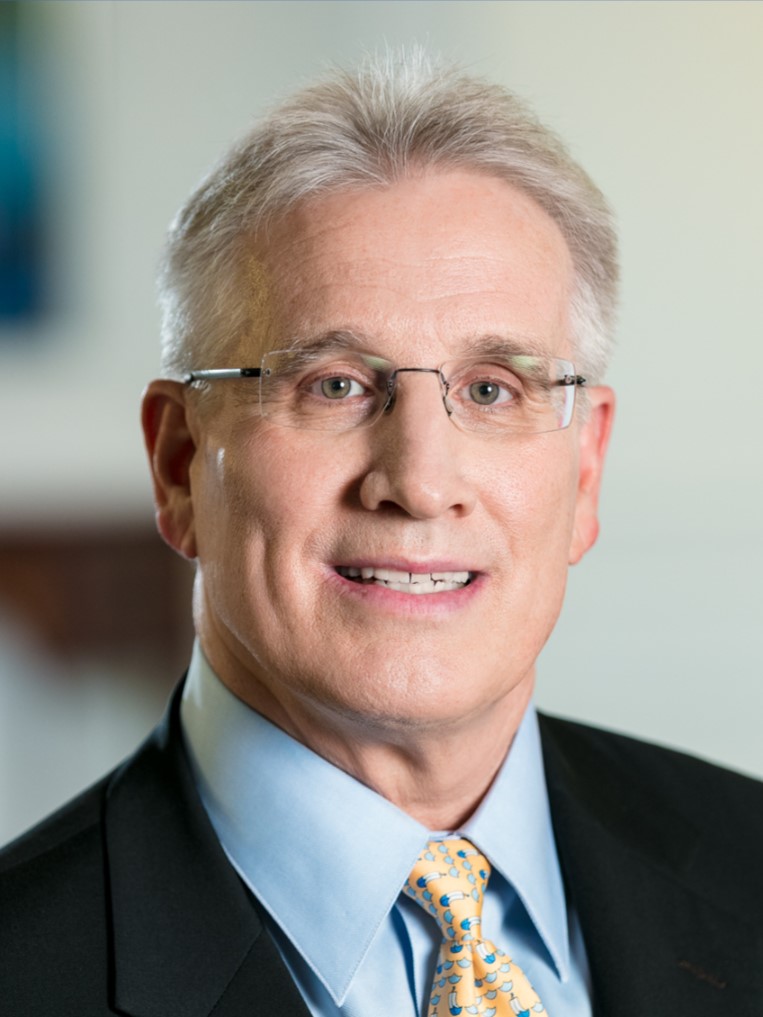 Peter Linneman, PhD | CEO of Linneman Associates
For over 40 years, Dr. Peter Linneman's unique blend of scholarly rigor and practical business insight has won him accolades from around the world, including PREA's prestigious Graaskamp Award for Real Estate Research, Wharton's Zell-Lurie Real Estate Center's Lifetime Achievement Award, Realty Stock Magazine's Special Achievement Award, being named "One of the 25 Most Influential People in Real Estate" by Realtor Magazine and inclusion in The New York Observer's "100 Most Powerful People in New York Real Estate".
After receiving both his Masters and Doctorate in Economics under the tutelage of Nobel Prize winners Milton Friedman, Gary Becker, George Stigler, Ted Schultz and Jim Heckman, Peter had a distinguished academic career at both The University of Chicago and the Wharton School of Business at the University of Pennsylvania. For 35 years, he was a leading member of Wharton's faculty, serving as the Albert Sussman Professor of Real Estate, Finance and Public Policy as well as the Founding Chairman of the Real Estate Department and Director of the prestigious Zell-Lurie Real Estate Center.
During this time, he was co-editor of The Wharton Real Estate Review. In addition, he published over 100 scholarly articles, four editions of the acclaimed book Real Estate Finance and Investments: Risks and Opportunities, and the widely read Linneman Letter quarterly report.
Peter's long and ongoing business career is highlighted by his roles as Founding Principal of Linneman Associates, a leading real estate advisory firm; CEO of American Land Fund; and CEO of KL Realty. For more than 35 years, he has advised leading corporations and served on over 20 public and private boards, including serving as Chairman of Rockefeller Center Properties, where he led the successful restructuring and sale of Rockefeller Center in the mid-1990s.
Although retired from Wharton's faculty, Dr. Linneman continues his commitment to education through his Save A Mind, Give A Choice educational charity for orphans and children of extreme poverty in rural Kenya. He has been married for over 40 years and is an exercise enthusiast.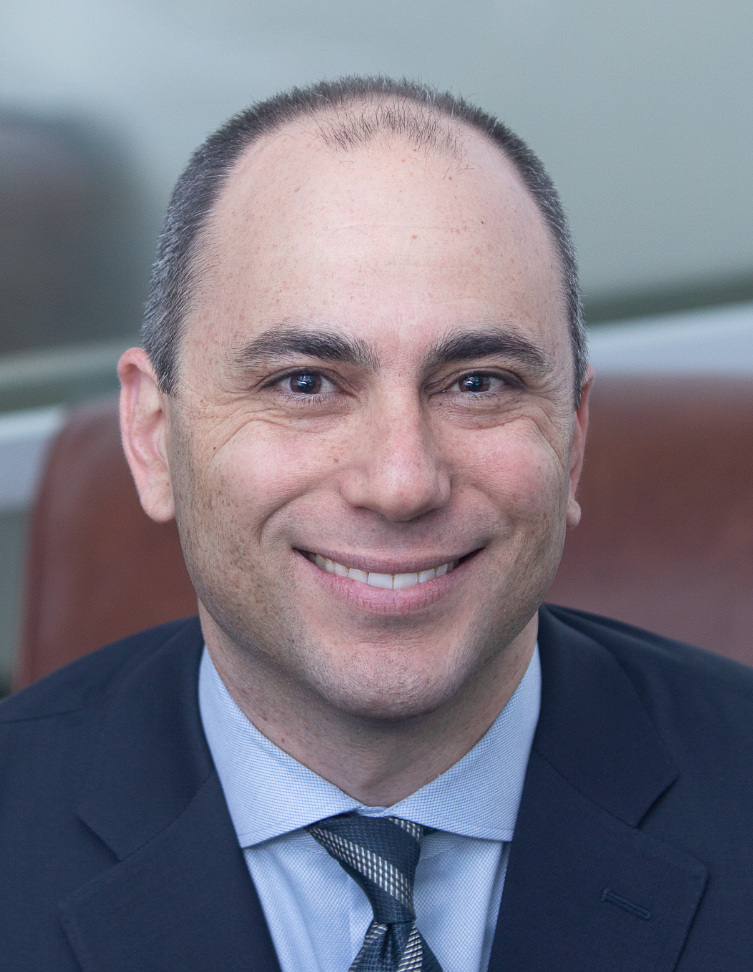 Bruce Kirsch, REFAI | CEO of Real Estate Financial Modeling
As the founder and CEO of Real Estate Financial Modeling (REFM), Bruce Kirsch has trained thousands of students and professionals around the world in Excel-based projection analysis. In addition, REFM's self-study products, Excel-based templates and its Valuate® property valuation and investment analysis software are used by more than 150,000 professionals. Mr. Kirsch's firm has assisted with modeling for the raising of billions of dollars of equity and debt for individual property acquisitions and developments, as well as for major mixed-use projects and private equity funds. Mr. Kirsch has also maintained a blog on real estate financial modeling, Model for Success, authoring more than 500 posts.
Mr. Kirsch began his real estate career at CB Richard Ellis, where he marketed highrise New York City office buildings for re-development in the Midtown Manhattan Investment Properties Institutional Group. After CBRE, Mr. Kirsch was recruited to lead acquisitions at Metropolis Development Company, and later joined The Clarett Group, a programmatic development partner of Prudential.
While at The Clarett Group, Mr. Kirsch was responsible for making development site recommendations for office, condominium and multi-family properties in the greater Washington, D.C. metropolitan area. In addition, Mr. Kirsch had significant day-to-day project management responsibilities for the entitlement, financing and marketing of the company's existing D.C.-area development portfolio.
Mr. Kirsch holds an MBA in Real Estate from The Wharton School of the University of Pennsylvania, where he was awarded the Benjamin Franklin Kahn/Washington Real Estate Investment Trust Award for academic excellence. Prior to Wharton, Mr. Kirsch performed quantitative equity research on the technology sector at The Capital Group Companies. Mr. Kirsch served as an Adjunct Faculty member in real estate finance at Georgetown University School of Continuing Studies. Mr. Kirsch graduated with a BA in Communication from Stanford University.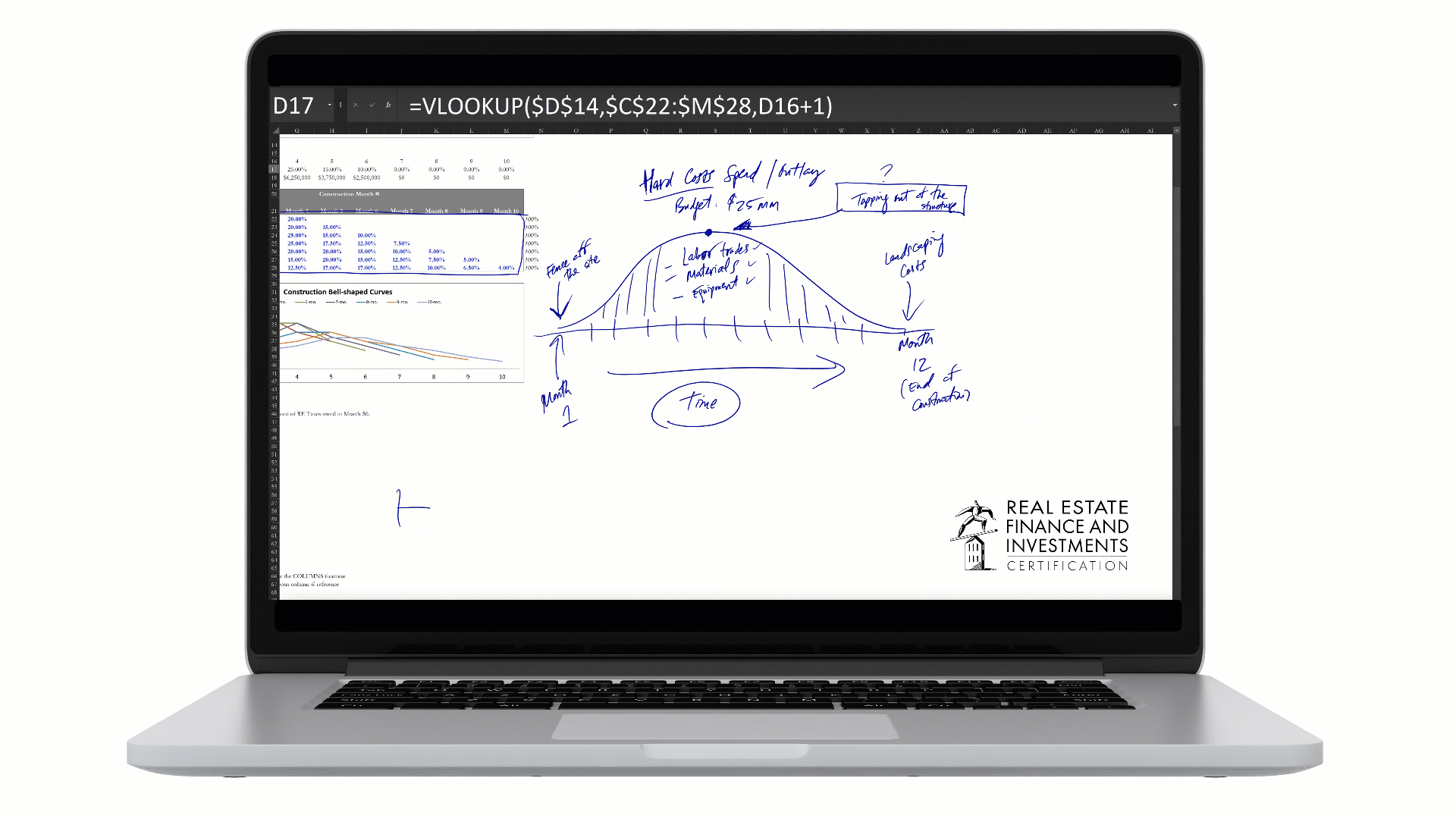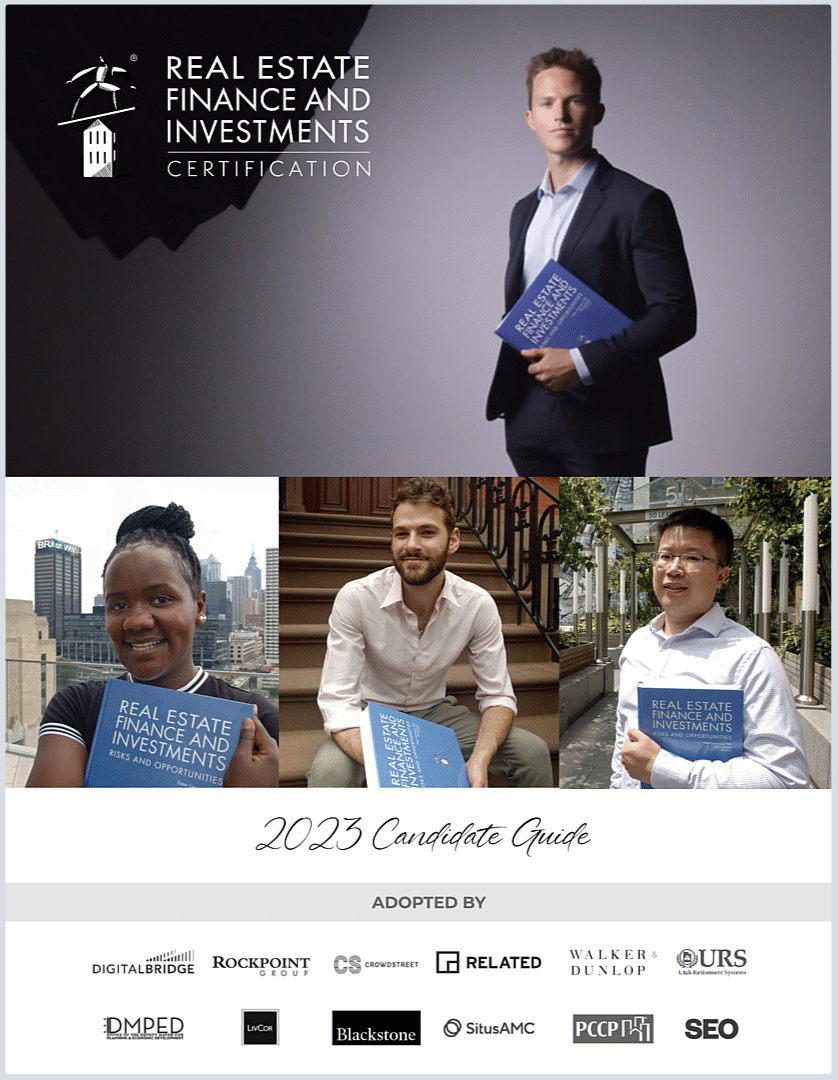 WHAT CERTIFICATION HOLDERS SAY
I have no doubt that the skills I learned in REFAI helped me get my dream job. People will really give you credit for REFAI because they know its rigor. – Matt Shell
REFAI Certification is perfect for anyone looking to advance their real estate business career. It gave me the confidence to do my job better. – Mercy Angaine
What attracted me to the REFAI program was that I could learn to improve my career and get to the next level. You can use these skills for the rest of your life. – Daniel Litt
"The course is a complete program with both the technical side of the real estate science and the reasoning side. Moreover, the customer service and the quality of digital content are outstanding. I'm thrilled with the program." – Benjamin Duenas, Rome, Italy
"The course is outstanding and the content is great. I didn't expect the amount of accountability associated with passing but think it's awesome. I'm taking the class to learn how to invest my own money, so I take it very seriously. Great job!" – Carter Ransom, Oklahoma
"I specifically like how the videos reinforce the concepts from the book. The guidance for learning in a prescribed order across the various media and quizzes results in an effective program." – Sam Mishra, New York
"As a college student who wants to start a career in the commercial real estate industry, this course provided me with the necessary tools and concepts used currently in the industry." – Alejandro Tellez Vazquez, Texas
"It really does a great job of teaching you a topic through the book, then pounding it in your head through the lecture then understanding it analytically with the Excel." – Chris Comet, Los Angeles
"Incredible course, especially for an experienced analyst looking to get a very in-depth understanding of the equity side of acquisitions. Thanks again for a great course – best CRE training out there."  – Connor Nolan, Washington D.C.