Description
This Course Is For You If You Want To
This is a good fit if you want to:
Learn how to harness the power of Excel for real estate analysis
Pass an exam to add a known and valued skills Certification to your resume and LinkedIn profile
Set yourself up for success and make your skill set competitive as a student or employee
REFM's Certification in Excel for Real Estate program has existed since 2011, and thousands of certifications have been granted. Certification holders use their REFM credentials to prove their skills and to support their career moves.
Applicable Analysis Types
Stabilized and Value-add Acquisitions
Ground-up Development
All Property Types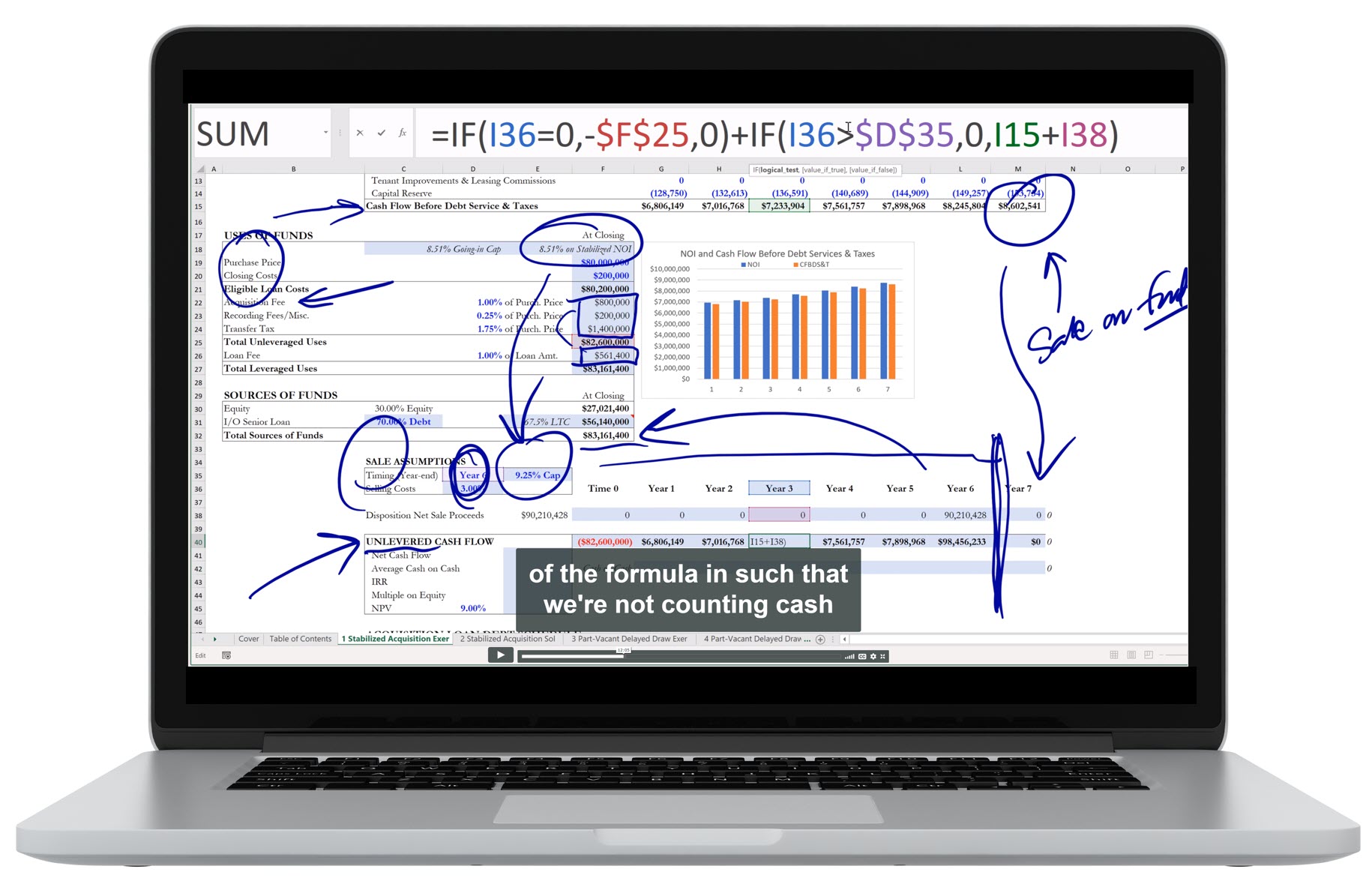 Lifetime online access to:

An easily-navigated 3-hour video tutorial, with captions available and playback controls up to 2x speed. Videos are playable on any device including PC, Mac, phones and tablets.
Accompanying fully-unlocked, annotated Excel file, compatible with Excel on both PC and Mac, which you can re-purpose for future analyses.
Access to the Certification exam, as well as to 35 practice questions with answer explanations to help you prepare.

Ability to upgrade to the Level 1, 2, 3 Certification Bundle by just paying the difference in price.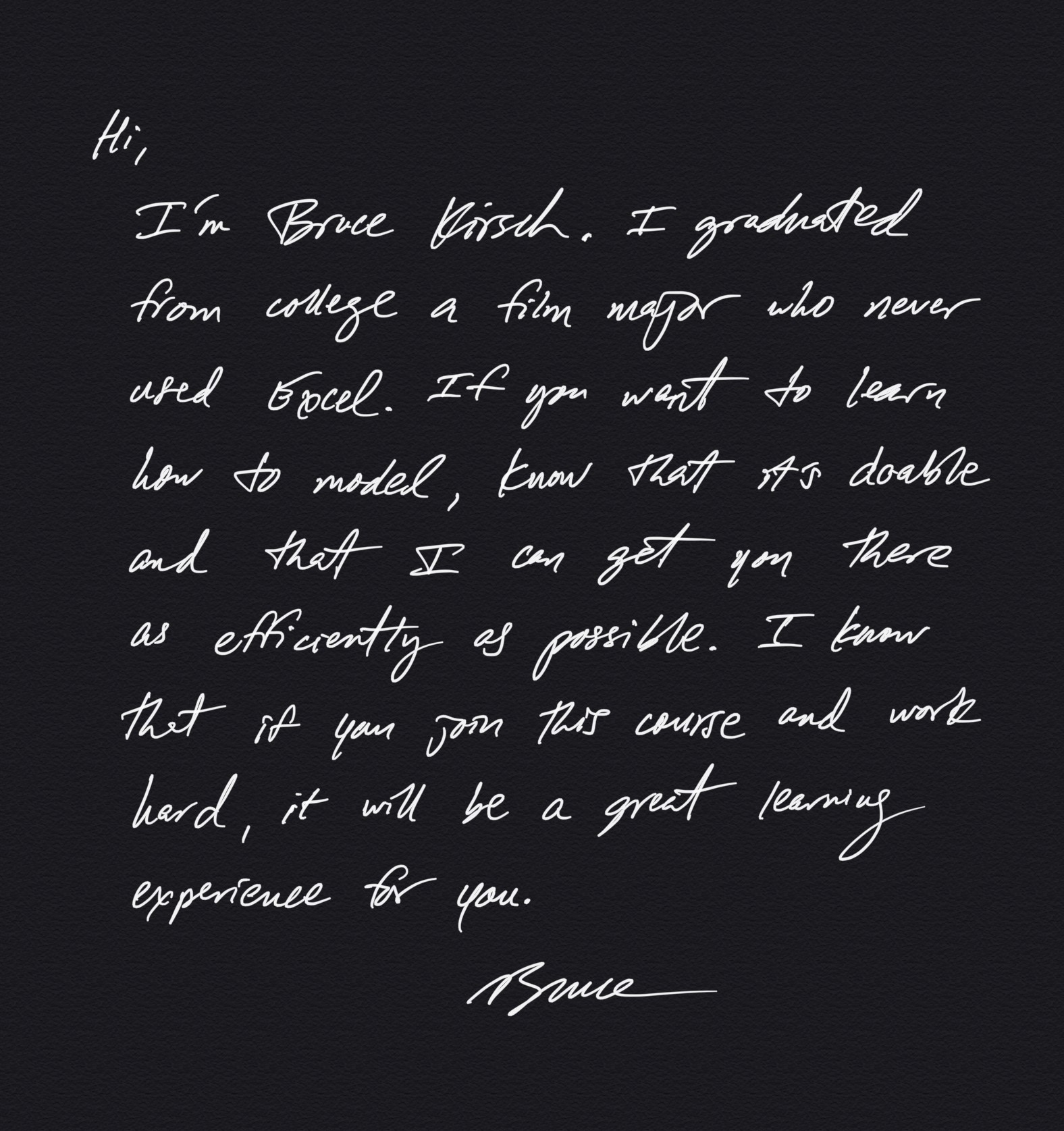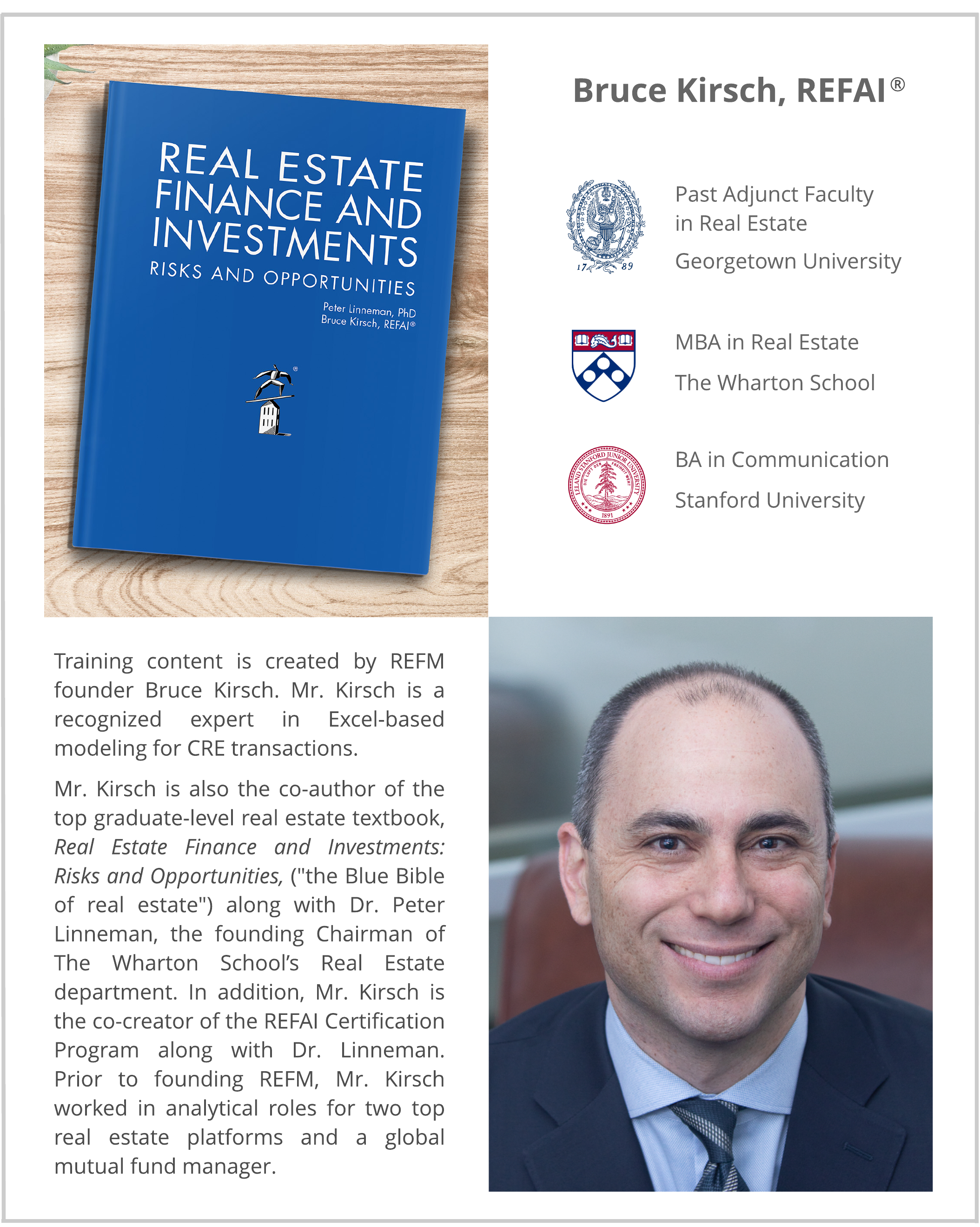 Since 2009, top companies and educational institutions have trusted REFM to train thousands of their employees and students.
Amherst
ASB Capital Management
Barings
BentallGreenOak
BrightSpire
Brixmor
Brookfield
CapitalOne
CBRE Global Investors
CCRE
Centennial Bank
Citibank
ColonyNorthstar
Conrex
CPPIB
CRC Companies
CreditSuisse
Crescent Communities
Crow Holdings
DDG
DLA Piper
Greystar
GTIS Partners
Hodes Weill & Associates
Houlihan Lokey
Howard Hughes
Jamestown
JBG Smith
JPMorganChase
Kennedy Wilson
Link Logistics
LivCor
Lubert-Adler
Macys
Oxford Properties
Park Hill
Peterson Companies
PGIM
PN Hoffman
Prometheus
QuadReal
Related
Revantage
SEO
Skanska USA
Square Mile Capital
USAA Real Estate
Asset Living
CBRE Global Investors
Clark Enterprises
Comstock Homes
Conor Commercial
Crescent Communities
Federal City Property
Flournoy
Four Seasons
Grosvenor
GTIS Partners
Hines
Hoffman
Howard Hughes
HPET
Hunt Companies
Insight Property Group
Kettler
LaSalle Investment
MadisonMarquette
Markwood
Mesa Capital
Midway
Miller Valentine
Panoramic Interests
PEG Development
Renaissance Downtowns
Rockefeller Group
Skanska USA
Snavely Group
Trammell Crow Residential
Trion Properties
Vornado
Excel File Tabs
Keyboard Shortcuts
Spreadsheet and Formula Basics
Cell Formatting
Arithmetic
Statistics
Relative vs. Absolute References
Insert and Delete Rows and Columns
Dates
SUMIF and COUNTIF
Paste Special, Transpose
VLOOKUP and HLOOKUP
Conditional Statements
Conditional Statements Solution
Conditional Formatting
TVM and Financial Functions
Financial Functions Exercise
Mortgage Payment
Mortgage Payment Exercise
Mortgage Payment Exercise Solution
CUMPRINC and CUMIPMT
Formula Auditing
Data Source
Data Tables
Circular References
Best Practices